A tale of two drafts
#CoveringTheCoverage: WNBA draft edition.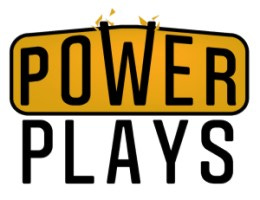 Hello, and welcome to Power Plays, a newsletter about sexism in sports, written by me, Lindsay Gibbs! We've gotten through another week of lockdown madness, and I hope you're all taking care of yourselves.
If you're new here, sign up so you don't miss a Power Plays newsletter. Plus, if you can, consider becoming a paid subscriber. I'm currently running a Maya Moore special — 23% off for a year!
(And if you can't afford a paid subscription right now, I have a few to donate. Just send me an email: lindsay@powerplays.news. No explanation necessary.)
Thank you for your support, it means the world to me.
That's enough of a preamble for today. Friends, let's do this.

The WNBA draft ratings broke records. But was it enough?
Last Friday night, the WNBA barreled forward with optimism in the face of this summer's uncertainty, and held its draft for the 2020 season. The virtual event, which aired on ESPN, lasted for two hours, and was, by most counts, a success.
There were relatively few technical glitches, all things considered, and it was fun to go into the living rooms of draftees, and see them dress up and celebrate with friends and family when their dreams came true.
Perhaps even more importantly, it was the most-watched WNBA draft in 16 years. Ratings ratings increased a staggering 123% over last year's draft. (Being on ESPN instead of ESPN2 was a huge deal.) All social media metrics saw a greater than 100% increase year-over-year, too. This is all great news, and proves what we have always known here at Power Plays: If you showcase the sport properly, the fans will tune in!
Of course, as you probably expect from me by now, there is a "but" coming.
As good as the draft was for the WNBA, and as helpful as it was in driving coverage of the league across the country — more on that in a minute — it still felt like a missed opportunity, especially when compared to the NFL Draft that started this Thursday night and will continue, in some form or another, for eternity.
When the WNBA draft was first announced, it was scheduled to be on ESPN2. Within 24 hours, it was moved to ESPN, which was a relief considering there are zero live sports happening right now. Unfortunately, the coverage of the entire WNBA draft, which was three rounds and 36 picks total, was squished into a two-hour broadcast window. This meant that while ESPN did give some individual coverage to the first 16 picks of the draft, the final 20 picks were rushed through so quickly that it was impossible to keep track. ESPN would come back from a commercial break, and just flash picks 17-20 up on the screen, and then go to an interview with WNBA commissioner Cathy Engelbert. In the third round, while ESPN aired a moving tribute to Kobe and Gigi Bryant, the draft picks would occasionally scroll down on the bottom of the screen. If you blinked, you'd miss them. Literally.
Comparatively, three different networks — ABC, ESPN, and the NFL Network — dedicated four hours to the first round of the NFL draft on Thursday night, which consisted of 32 picks. For every pick, we got a peek into the at-home draft rooms of the coaches and general managers in charge of the teams, and streams from the living rooms of most draftees, too. There were packages of highlights ready to be broken down, and we learned fun, sometimes emotional, facts about the players. Analysts told us how they'd fit into their new teams. The players got their moment.
All seven rounds of the NFL draft will be broadcast full on multiple channels this weekend, and while not every single draft pick will get the attention that the first 32 received, rest assured that they will all be taken seriously.
Ultimately, that's what was missing from ESPN's broadcast of the WNBA draft. The second hour was treated as an afterthought. Storylines that could have been compelling — Kiah Gillespie, who was in the first round of many mock drafts, fell to the end of the third; Stella Johnson from the unheralded Rider University, as well as Kamiah Smalls from James Madison, Jaylyn Agnew from Creighton, and Lauren Manis from Holly Cross, all showed you don't have to play in pedigree programs to get noticed; two 20-year-old German players were drafted back-to-back in the second round, ahead of Maryland's Kaila Charles — were completely ignored.
We didn't get to hear much about how these players might fit with the teams, or who was being overlooked, or which coaches were making questionable decisions. Besides 26th-overall pick Erica Ogwumike, the sister of former No. 1 draft picks and current WNBA stars Nneka and Chiney Ogwumike, players drafted in the second and third rounds rarely even heard their names uttered aloud on ESPN.
The WNBA draft itself couldn't even take center stage during a broadcast devoted to the WNBA draft! It was maddening.
And the disrespect was only exacerbated on Thursday night, when high-profile ESPN personalities (like Adam Schefter, who is a Company Man through and through) pretended that the WNBA draft didn't even happen.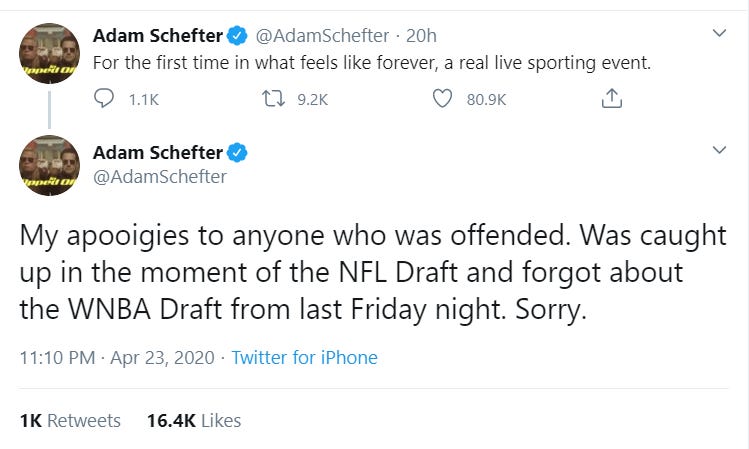 I'm not advocating for anything to be as big of a deal as the NFL draft is; it is an extreme. But there has to be a middle ground. There has to be a way to air the WNBA draft in a way that doesn't scream, "I'm sorry we have to air the WNBA draft, please be patient with us, here's Kobe." We know ESPN can do this. It employs some of the best WNBA analysts and reporters in the business. For the most part, it did everything right during the first hour last Friday night. Then, it lost the plot.
I know I should be grateful that the draft happened at all. But ultimately, the league — and mainly the players — deserve far better. Women's sports don't deserve to be background noise in their own coverage windows.

#CoveringTheCoverage: WNBA Draft Edition
Last week, in honor of the WNBA Draft, I revived the #CoveringTheCoverage initiative, with the help of Power Plays reader Tori Burstein.
For this particular project, we looked at the print editions of 16 newspapers for five days surrounding the WNBA draft: Thursday, April 16 through Monday, April 20. We did not tally all women's sports stories, just WNBA draft stories. We picked the 16 newspapers in question by looking for at least one major newspaper in the market of every WNBA team, and focusing on some national papers, too.
The sweet 16 we studied were: The Washington Post, Wall Street Journal, USA Today, New York Times, Los Angeles Times, Dallas Morning News, Chicago Tribune, Chicago Sun Times, Minneapolis Star Tribune, New York Post, New York Daily News, Seattle Times, Las Vegas Review Journal, Atlanta Journal-Constitution, Arizona Republic, Hartford Courant, and Indianapolis Star. Phew!
What we found was, honestly, more promising than I expected. Still, there's tons of room for improvement.
Here are the main takeaways:
The NFL still reigns supreme: Overall, in the five days, 60 out of 830 sports stories were about the WNBA draft. Comparatively, 167.5 out of 830 stories were about the NFL draft.

Every single one of the five days — including the day of the WNBA draft and the day right after, there were more NFL draft stories than WNBA draft stories collectively in the 16 newspapers.
The front-page treatment: In the five days, there were 248 front-page stories in sports sections. Of those, 25.5 of them were about the WNBA draft.

No blackouts: Every single newspaper included at least one WNBA draft story in the five monitored days. Fifteen of the 16 papers included at least two WNBA draft stores. The Wall Street Journal was the only paper that had only one story about the WNBA draft in the five-day span, but the WSJ has a very limited sports section and only ran eight sports stories during those five days.

Leaders of the pack: The Arizona Republic, Washington Post, Dallas Morning News, Seattle Times, and Atlanta Journal-Constitution all had five WNBA stories in the paper during those five days.

Cover stars: The Arizona Republic was the winner; it put four WNBA stories on the cover during this span. The Washington Post, Minneapolis Star Tribune, Seattle Times, and Hartford Courant all showcased three each.

The only papers without any WNBA coverage on the front page during those five days were the Chicago Tribune and the Chicago Sun Times.
Now, for a deeper dive into the data, we're going to examine what I call the Sabrina Bump, look at some examples of dynamic local coverage of the draft, and address the biggest problem I came across: How quickly the WNBA draft vanished from the headlines.
The Sabrina Bump
Look, I'm one of those wet blankets that gets annoyed when the media hype about one star is so enormous that it overshadows the entire sport. It's something I see happen often with Serena Williams in tennis — media tends to think covering just Serena Williams means they're covering all of women's tennis — and I've seen a similar pattern with Sabrina Ionescu over the past year. Don't get me wrong; she deserves all the doting in the world. She is remarkable. I just think a lot of other amazing stories have gotten lost in the shuffle.
However, I have to say: Sabrina Ionescu in New York, playing at the Barclays Center, has to be one of the best things that has ever happened to the WNBA. She is such a big story that national media — and, perhaps even more importantly, New York media — cannot ignore her.
In previous versions of #CoveringTheCoverage, USA Today always came up extremely short when it came to the WNBA. It doesn't employ any women's basketball beat reporters, and generally just seems to not prioritize the sport.
But here's USA Today on April 16th, the day before the WNBA draft, leading its sports section with a huge story on Ionescu.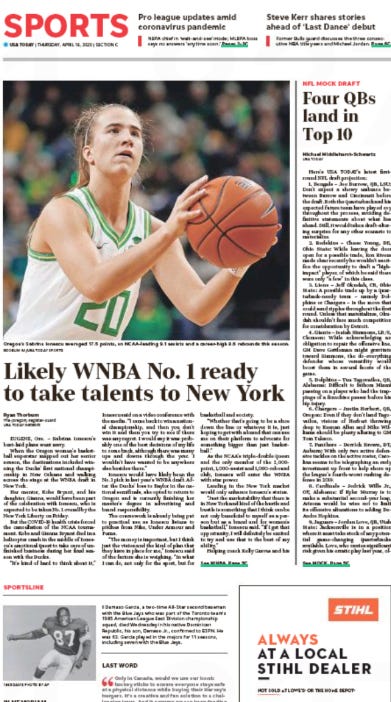 And friends, that's not all. Coverage breeds coverage. On April 17, USA Today featured two more WNBA draft preview articles — one feature about Bella Alarie, and another just setting up the draft as a whole. Amazing!!
The biggest Sabrina Bump, by far, was seen in New York. Yes, this makes sense. But I also cannot overstate how strange it is to have to actually monitor the New York Daily News and New York Post for WNBA coverage; normally, I don't even bother to check those papers. In fact, in the few years I've been covering the league regularly, I don't remember ever hearing a NYDN or NYP reporter on a conference call. But Sabrina has changed that.
In an ideal world, all markets are created equally. In reality, it does the WNBA far more good to have a star like Sabrina in New York, especially now that the Liberty have escaped from Westchester and are finding synergy with the Brooklyn Nets.
Here's the New York Post back cover (which is the front cover for the sports section) the day of the WNBA draft: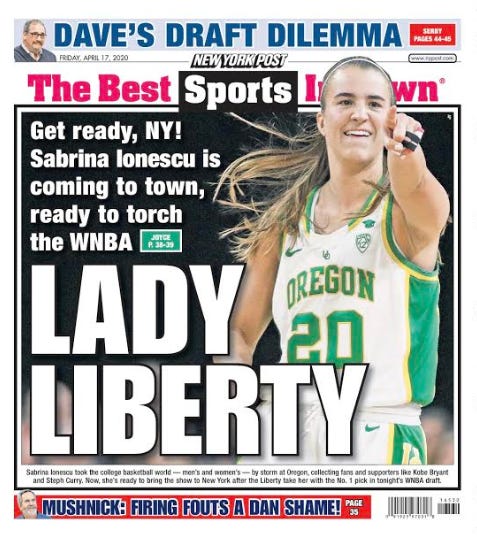 And here's the glorious Post spread the day after the draft!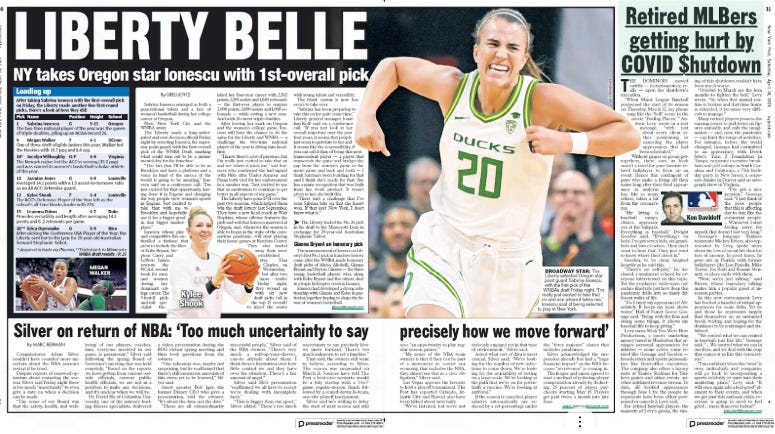 The Post also had a good spread on the Tina Charles spread on April 16. Again, while I wish all Tina Charles news had received this much coverage in NYC, I must believe that it helped they could peg this to the Ionescu draft.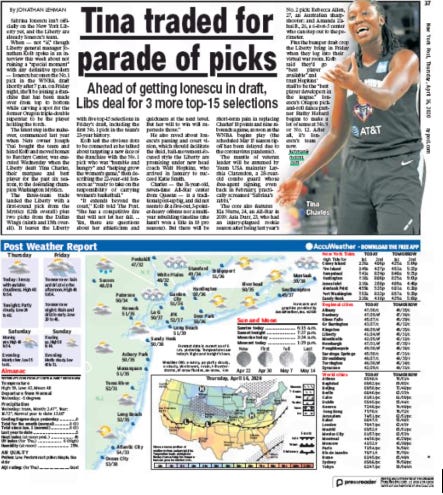 The New York Daily News, which I know has a smaller staff than the Post, also did a great job with its Sabrina coverage. Here is its back cover on Saturday, April 17: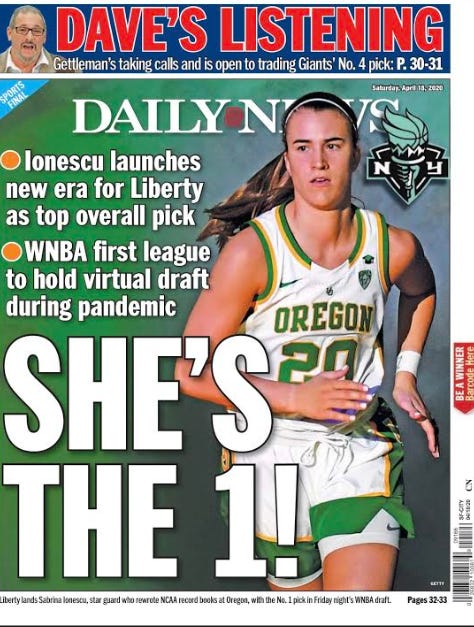 And here's the great spread inside: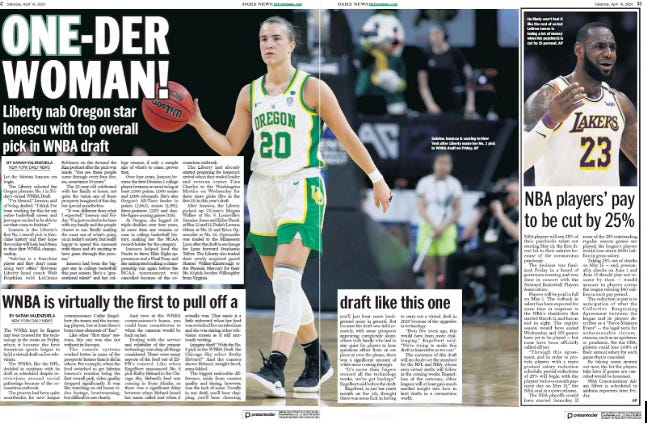 Goodness gracious does this make my former NYC-dwelling self pumped.
The local outlook
Now, look. Do I want everyone to cover the WNBA more? Of course. But I also wanted to shout out a few local papers that I thought did a phenomenal job covering the draft beforehand and afterwards.
Let's start with the Minneapolis Star Tribune, who published a piece on Friday looking at the many different possible directions the Minnesota Lynx could go in the draft.
And then the day afterwards, there were multiple stories about the Lynx's selections, offering analysis of the picks themselves and of the overall strategy. MORE OF THAT, PLEASE!!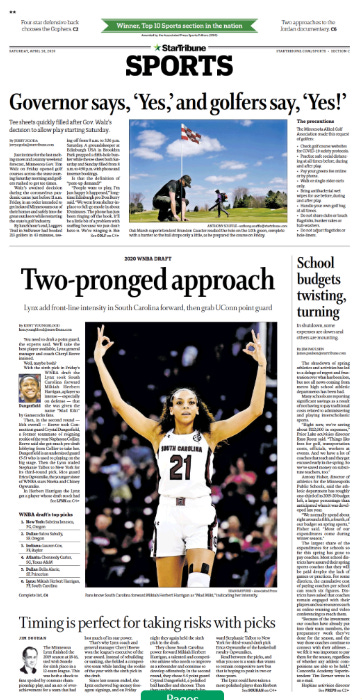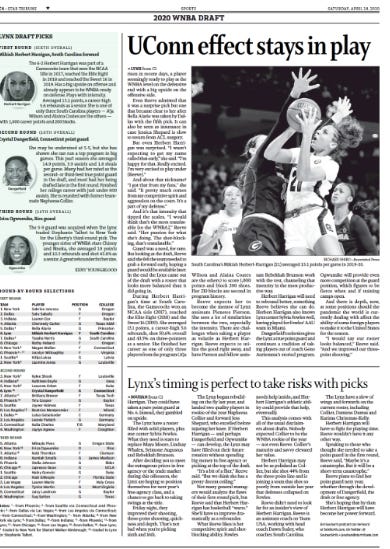 The Washington post was also excellent, even though the Washington Mystics did not have a high-profile draft. On Friday, the great Ava Wallace wrote a phenomenal feature on Alarie, who grew up right outside of Washington, DC.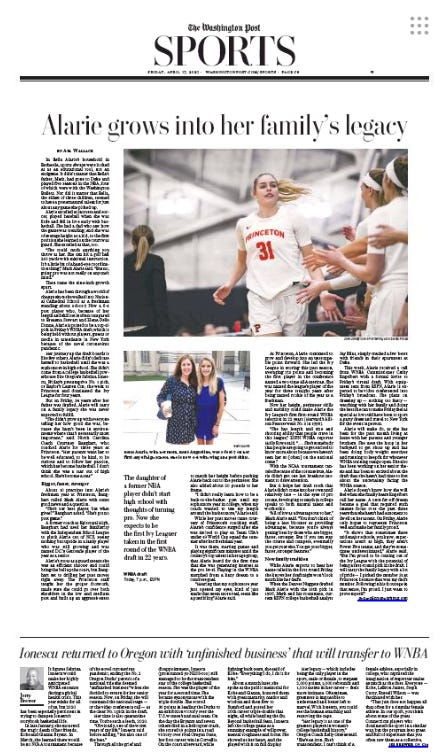 WaPo also had a feature on Friday about Sabrina's legacy at Oregon, and a preview of the draft as a whole, including the Mystics' needs and predictions for Maryland seniors.
I appreciated the Dallas Morning News, too. The paper did a good job highlighting its star college players, such as Lauren Cox from Baylor and Chennedy Carter from Texas A&M, and the selections of the Dallas Wings. Well done.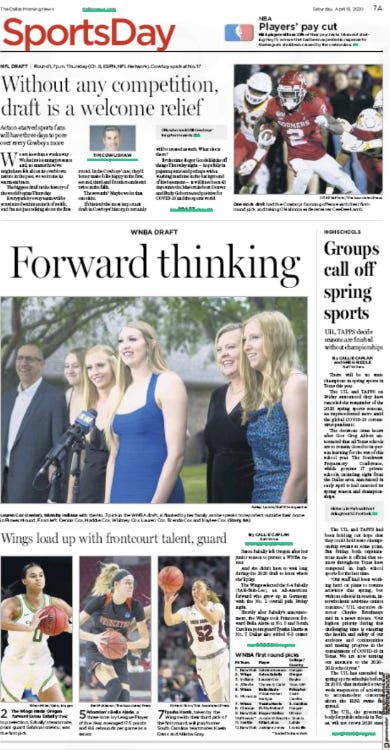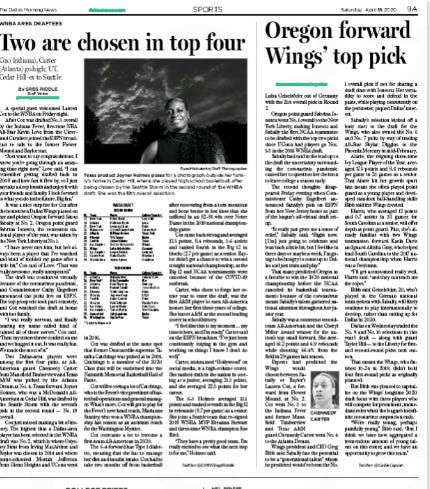 I loved this layout in the Chicago Sun Times, which combined big-picture WNBA stories with Chicago Sky specific coverage: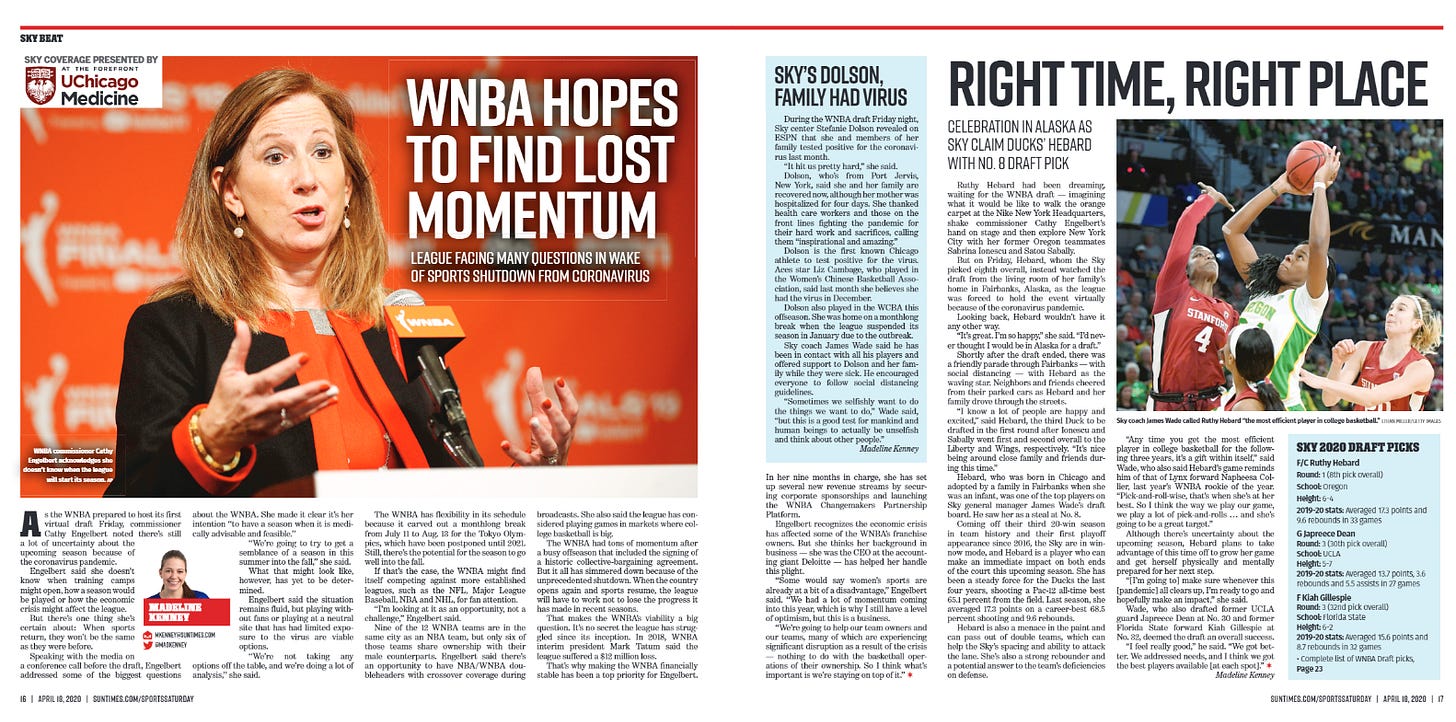 And I have to give a shout out to the Arizona Republic, which featured Shatori Walker-Kimbrough on its front page the day after the draft. Earlier in the week, Walker-Kimbrough was traded from the Washington Mystics to the New York Liberty as part of the Tina Charles trade. On draft day, the Liberty sent Walker-Kimbrough to the Phoenix Mercury in exchange for Jocelyn Willoughby, the No. 10 overall pick.
Good to see a trade piece featured so prominently, along with a second WNBA draft story.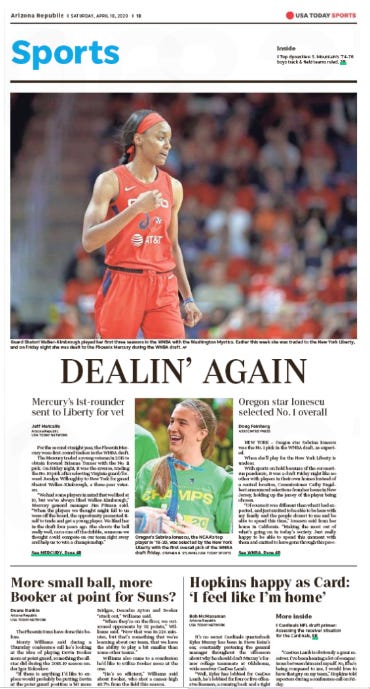 The good news? This is far from a comprehensive list of the highlights.
The bad news? The WNBA draft disappeared from headlines overnight
The most concerning part of this exercise was seeing how swiftly the WNBA draft coverage disappeared from the newspapers.
Look at these numbers:
On Thursday, April 16, there were 12 WNBA draft stories in the 16 papers, compared to 31.5 NFL stories. (At that point, the WNBA draft was one day away, the NFL draft was a week away.) Four WNBA stories were on the front pages.

On Friday, April 17, there were 20 WNBA stories combined, including 10 on the front pages. There were 24 NFL draft stories.

On Saturday, April 18 — the day after the draft — there were 23 WNBA draft stories in the 16 papers, compared to 28 NFL draft stories. On the front pages, there were 11.5 WNBA draft stories.

By Sunday, April 19, there were only FOUR WNBA draft stories, compared to 43 NFL draft stories. Zero WNBA draft stories made the front page.

Finally, on Monday, April 20, there was only one WNBA draft story in all 16 papers combined, compared to 41 NFL draft stories.
The WNBA draft was on a Friday night. I thought that some of the coverage of the draft could extend through the weekend, and into Monday. I was incredibly wrong, which was very disappointing.
There are a lot of reasons for this, of course. The endless churn of NFL draft content made it simple for sports desks to simply make the switch fully over to NFL land once the WNBA draft was complete. Additionally, not all teams were good at making draftees, coaches, and general managers available for media availability in a timely manner, which I know made it much more difficult for reporters to keep different angles coming.
Overall I think this just shows how much harder the WNBA has to work in order to get coverage that other leagues take for granted. It is moving in the right direction, for sure, but the road ahead is rocky.

Thanks for your support and patience this week, friends. It's been a slow week, but next week will more than make up for it.
Be generous with yourselves, and with others.