At long last, Damiris Dantas is getting her due
Amidst a pandemic and personal tragedy, the Minnesota Lynx forward from Brazil is playing the best basketball of her career.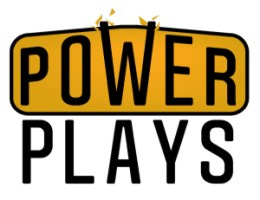 Hi! Welcome to Power Plays, your no-bullshit home for coverage of women's sports, written by me, Lindsay Gibbs.
As I hope you know, it is officially WNBA playoffs time. I highly recommend you subscribe to two other newsletters — Here's Basketball and The Next — to keep you up-to-date on every second of the fun. Tonight (Thursday, September 17) is Round 2, which features two single-elimination games:
(4) Minnesota Lynx vs. (5) Phoenix Mercury; 7:00 p.m. ET (ESPN2)

(3) Los Angeles Sparks vs. (7) Connecticut Sun; 9:00 p.m. ET (ESPN2)
The winners of these two games will advance to the best-of-five semifinals. The highest seed remaining will face the (2) Seattle Storm, while the lowest seed remaining will face the (1) Las Vegas Aces. The semifinals start on Sunday.
In today's newsletter, I have a special treat — Roberta Rodrigues is back, and she will be telling the full story of Lynx star Damiris Dantas, a 27-year-old who has started every game this season for Cheryl Reeve's squad. Rodrigues is Brazilian, as is Dantas, so this article includes information that has not been well-covered in the American press.
Freelance pieces — and everything I do here at Power Plays, really — is only possible thanks to your support. Please use the buttons below to sign up for free, become a paid subscriber of Power Plays, and/or spread the word.
Okay, friends. Let's do this.

Damiris Dantas finds herself in a familiar position, facing an unfamiliar spotlight
By Roberta Rodrigues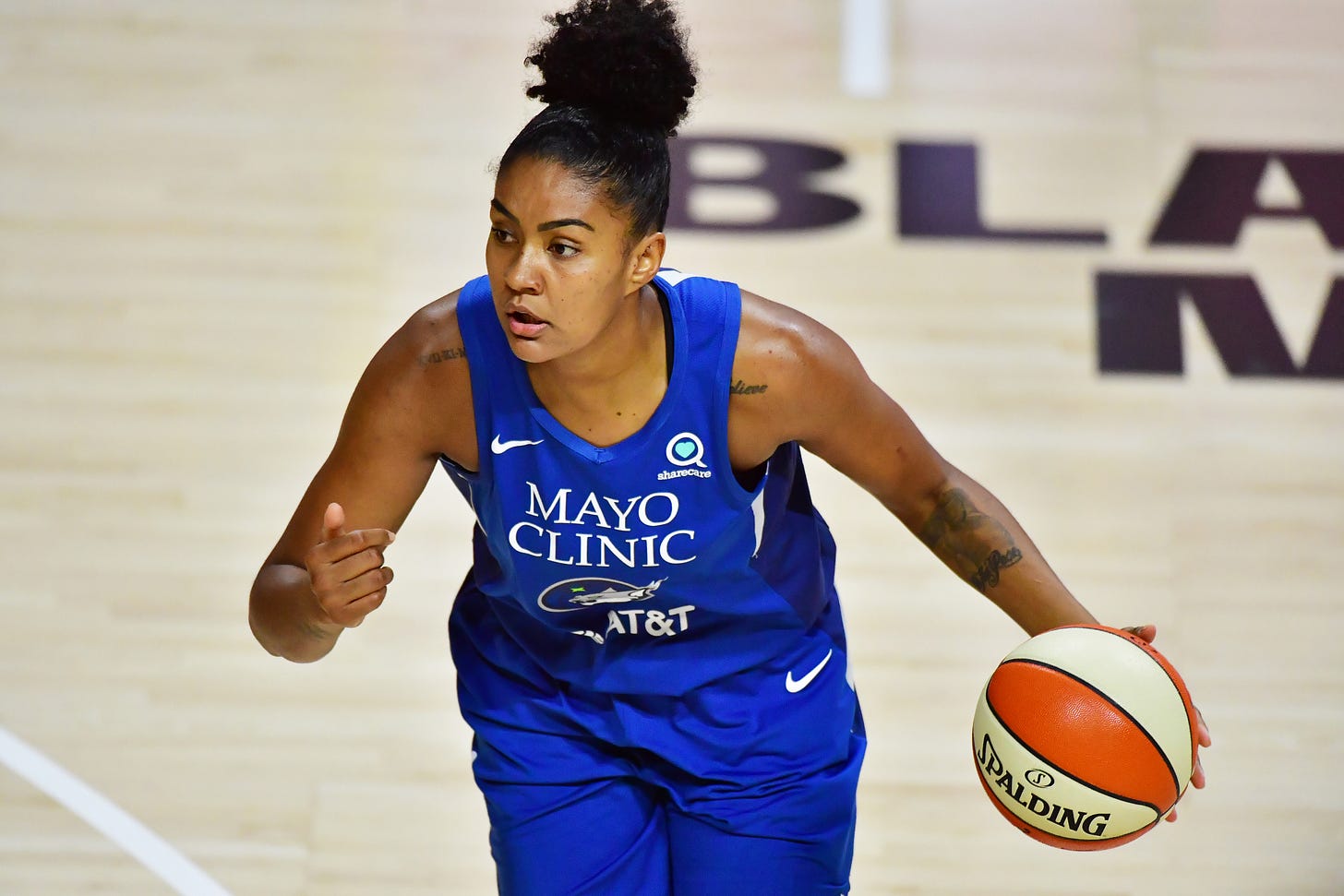 (Damiris Dantas; via Getty Images)
The Minnesota Lynx's playoff journey tips off on Thursday night inside the WNBA's pandemic-proof wubble in Bradenton, Florida. Ahead of the game, most of the attention has been focused on the return of 2017 WNBA MVP Sylvia Fowles to the lineup, and the talent of three other Lynx starters — this year's Rookie of the Year, Crystal Dangerfield; last year's Rookie of the Year, Napheesa Collier, and All-Star guard Odyssey Sims, who just gave birth in April.
But recently, there's been more buzz around the fifth starter on the floor, Damiris Dantas, a 6'3" forward from Brazil. And that buzz is more than deserved; Dantas has one of the most inspiring stories in the entire WNBA.
The 27-year-old took the road less traveled to make it to the WNBA. She was drafted 12th overall in 2012 by the Minnesota Lynx, but she didn't play in the WNBA until 2014, at the age of 21. Unlike many of her teammates, she wasn't a high-school stand-out or an NCAA star, and she's never made the cover of traditional basketball publications, or been heralded as the league's next-big-thing.
But Dantas is having the best season of her WNBA career, averaging 12.9 points, 6.1 rebounds, 2.6 assists, and 1.1 steals per game, and shooting 43.3% from outside. She's started all 22 games for the team, and is a huge reason why the Lynx overachieved this season to earn the No. 4 seed.
And she's doing it all while playing through the grief of losing her grandmother and best friend to coronavirus. For Dantas, being in Bradenton this summer meant planning funerals from afar and being away from loved ones as the pandemic rages in her community. While she loves the sport, this summer, Dantas played because she needed the money; she supports multiple family members and friends back in Brazil, including her two sisters, a niece, and select aunts, uncles, and cousins.
Financially, the decision paid off. She earned $105,000 for the season, and last week, the Lynx announced a fully-protected, two-year contract extension for Dantas, worth $126,000 in 2021 and $129,780 in 2022. Thanks to the conversion rate, those paychecks will go a long way towards taking care of her loved ones.
"This is a big reward and it came much earlier than I expected," Dantas told Brazilian press in a zoom conference call on Wednesday. 
From the outside, it's astounding that Dantas has been able to have such a successful season while dealing with so much personal turmoil. But playing through tragedy and providing for her family are nothing new for her. The only thing new is that finally, people are paying attention.
An assist by a legend, and a long journey
Dantas was born in a city named Ferraz de Vasconcelos, in the state of São Paulo, Brazil, with very few opportunities to even reach the lower middle class. Her mom passed away when she was only nine years old, and she and her sisters grew up in the favelas, raised by extended family members.
She was an incredibly athletic child, and by middle school, was showing a particular affinity for basketball. At the age of 13, a friend invited her to a draft for the institute created by a very well-known name: Janeth Arcain, a legendary Brazilian basketball player. There were 80 girls trying out that day to be trained and mentored by the four-time WNBA champion, but Dantas was the only one chosen for the program.
18 anos de saudade ...
Te amo mãe ✊🏿🙏🏿🖤😢
"She was very tall and had a wingspan that would really help our team at the time. She had also shown to be a fast learner," Arcain told Power Plays. "We didn't have that much time at the try outs, but of the few things we attempted to teach the girls that day, Dantas was the one who picked them up the fastest." 
In the United States, many elite basketball academies come with room and board. But the Janeth Arcain Institute could only afford to pay for transportation. So Dantas would attend middle school from 8:00 a.m. to noon, and then at 1:30 p.m., after lunch, , she would depart her house, walk to the train station nearby, take a two-hour ride to Santo André, and then walk 15 minutes to the Janeth Arcain Institute, where she would train. She made that round-trip commute every afternoon and evening for four years.
Because her family had so little money, there was pressure on Dantas to turn pro as soon as possible, so she could use her salary to help support her sisters, uncle, aunt and grandmother. But her transition was not a smooth one.
When she was only 16 years old, she went to play for a school in Spain, and was promised she would be granted eligibility to play for a pro team. That chance never came, and she was back in Brazil six months later, without earning a dime. She started playing for Brazilian teams, where the average pay is approximately $600 a month. Since her teams took care of most of her housing, transportation, and food needs, she sent almost all of that money back to her family.
"Family has always been the number one concern in Damiris' mind. And it is not even out of obligation, it is pure love. She thinks about her sisters the whole time", said Arcain.
Gratidão 🙏🏽 por estar vivendo esse momento com minhas irmãs e sobrinha... Olhar pra arquibancada e ter vcs lá gritando meu nome e torcendo, é a realização de um sonho. "Deus é bom o tempo todo ."
@daiane_evelyn
@tauanedantas
Não tem nada mais gratificante, do que ver o sorriso no rosto de vcs .. TODO MEU AMOR ❤😍🙏🏽😘
Everything changed for her at the U19 World Championships in 2011, when Brazil secured a bronze medal by defeating Australia in the third place match, 70-67. The 18-year-old center was named the MVP, as the tournament's top scorer and rebounder with 20.9 points and 12.6 rebounds per game. FIBA also selected her for the All-Tournament Team alongside Astou Ndour (Spain), Rui Machida (Japan), Ariel Massengale (USA) and Breanna Stewart (USA).
The next year, Cheryl Reeve drafted her as the 12th pick in the first round of the WNBA draft. For Dantas, it was a dream come true.
WNBA success, and family sorrow
Dantas didn't move to the USA right away, because in 2012, her focus was on the preparation for the Olympic Games in London. She finally arrived in Minnesota in 2014, against the will of her national team coach at the time, who asked her to stay in Brazil to prepare for the FIBA World Cup. Her mind, however, was set on playing among the WNBA stars. And so she did.
On May 16, 2014, Damiris Dantas stepped on the court as a professional WNBA player for the first time. She was a starter with the Minnesota Lynx, next to Maya Moore, Seimone Augustus, Janel McCarville ,and Lindsay Whalen. In her league debut, she had six points, five assists, and 12 rebounds.
But her success didn't shelter her from tragedy.
In the middle of the 2014 season, Dantas was informed that her aunt had been admitted to a hospital and was in critical condition. Without many options, and at the risk of losing her contract, she took a flight to Brazil to take care of the woman whom she considered to be her mom.
She didn't stay long, though, because she wanted to continue the WNBA season. Only two days after landing back in the States, her aunt had passed away. Basketball was the only way she could forget the pain. As a rookie, she left a good mark, with averages of 6 points, 5.1 rebounds and 21.8 minutes per game.
There wasn't much time for grief. With the responsibility of providing for her whole family, she had to play. And she still didn't know what was ahead of her. The year after starting with the Lynx, she was traded to the Atlanta Dream, in the three-way deal that sent Sylvia Fowles to Minnesota and Érika de Souza to the Chicago Sky.
In 2016, Dantas made a decision rather uncommon for recently signed players, especially international ones, and sat out the WNBA season to stay with her family and prepare for the Olympic Games in Rio de Janeiro. That summer, her uncle was the one admitted to a hospital in very serious condition due to cancer. He was not able to attend games and see his niece — who was practically his daughter — play in his own country.
Dantas did well in the 2016 Olympics, scoring a team-high 16.8 points per game, but the Brazilian team struggled as a whole. In 2017, she came back to the USA to play with the Atlanta Dream, a few years older and wiser, and playing a new position, forward. She came off the bench for the Dream during the 2017 season, and in 2018, she only played 19 games before injuring her ankle.
But Coach Reeve had promised Dantas she'd try to get her back on the Lynx, and in 2019 she did just that. Last year, Dantas started all 26 games she played for the Lynx, averaging a career-high 9.2 points and 3.2 assists per game. This year, with Fowles sidelined for most of the season with a hamstring injury, she's been an even more central figure for the team.
"Being able to play in the WNBA was already a hard job. Proving myself worthy to be kept in the team was even harder," Dantas said. "Ever since I got to the Minnesota Lynx I had several challenges put in front of me, always with the trust of coach Reeve."
Finding her voice, and getting the recognition she deserves
Family remains the most important part of Dantas's life, by far. Recently, her sister, who has cerebral palsy, had a daughter. A quick scroll through Instagram shows just how much love she has for her sister and niece. But Dantas is starting to really embrace that her impact goes beyond her family, too. The young girls in Brazil watch her and send her messages about how she has impacted their lives.
She's been involved in the WNBA's Black Lives Matter and #SayHerName activism campaigns this summer, and has been taking that message back to Brazil, where anti-Black racism still runs rampant.
"I have been more vocal since I joined the WNBA because there is so much support for me to express myself as a Black woman," Dantas said. "I won't stop and I will keep being the strong person I have always been, because I see there are people who are inspired by me."
Even though this is her sixth season in the WNBA, Dantas is only just beginning to get national media attention. Some of that is because she's quiet, and because she's typically played on teams loaded with stars. But it's likely bias from American-centric media plays a role, too.
Arcain said when she was in the WNBA, she certainly felt overlooked at first because she was a Black Latina.
"My beginning in the WNBA was hard. I was South American and not white, so people didn't pay much attention to me," Arcain said. "Only when I started winning championships and being a key part of the Houston Comets I got some recognition. Eventually I was well treated and remembered by the league."
Things are shifting for Dantas, too, both back home and in the WNBA.
While she has always been well-revered by basketball insiders in Brazil, her stand-out performance during this pandemic, when many Brazilian athletes have been sidelined, has significantly raised her profile in her home country. This week, there was a conference call with 15 prominent Brazilian journalists ahead of the Lynx's playoff game. 
When Dantas scored a career-high 28 points on September 3, she was profiled on multiple WNBA-centric and Lynx-centric websites in the United States. A couple of games later, when the Lynx were playing a game on ESPN, reporter Holly Rowe specifically highlighted Dantas's on-court success, and the losses she suffered due to the coronavirus before the season began.
For the first time, the Brazilian's play is being noticed, and her story is truly being featured. Dantas herself has a hard time believing it.
"For me it is something out of this world and I really enjoy it," she said.
"I can hardly believe people are talking about me. That was not a thing. 'Damiris' wasn't a name that would be around, and I'm happy that it finally is."
---
Roberta Rodrigues is a Brazilian journalist known for fomenting conversations about women's basketball and its intersection with feminism and major human rights movements. Her passion for women in sports and communication brought her to the United States in 2016 in order to take a shot into learning more and developing new skills. As a queer, POC and immigrant (undocumented for most of that time) in America, fighting for minorities has turned into her life mission.
Her newsletter, Beta Basket, provides Portuguese-language women's basketball news and updates for Brazilians.
---

Thanks so much for supporting Power Plays. Remember, paid subscriptions make freelance contributions like this possible. For only $8 a month or $72 a year you can become a Power Plays subscriber, which also gives you access to the Book Club, a Slack channel, and a few subscriber-only posts every month.