Data shows the staggering state of gender inequity in sports
Fuel up, friends. We've got a long way to go.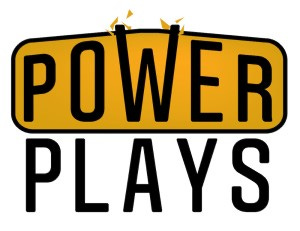 Hi friends, welcome to Power Plays! We've got a special Tuesday edition, since I know yesterday a lot of people weren't in the office on Monday due to Martin Luther King Jr. day in the United States.
On that note, if you haven't, now is a great time to read — or re-read — King's critique of white moderates in "Letter From a Birmingham Jail."
And an important reminder from King's daughter, Bernice King

First, my usual plea: Help me take down the sports patriarchy one newsletter at a time by subscribing, if you haven't already, and sharing. Thank you!
Today, we're diving into the Women's Sports Foundation's incredibly comprehensive new report, "Chasing Equity: The Triumphs, Challenges, and Opportunities in Sports for Girls and Women." I love this report so much, because it gives such a thorough overview of gender inequity in sports, and also provides a blueprint about how to go forward.
You can read the whole thing here, or the executive summary here, or the fact sheet here. I've picked out the statistics that stuck out the most to me below, but there's plenty of important stuff I didn't include. It's worth spending time with it all.
All of the data below is taken directly from the WSF report.
Okay, friends. Let's do this.

The opportunity gap isn't closing
On every single level, the opportunity gap between men and women in sports is sizable and isn't showing significant signs of closing.
In high school, girls only have 42.9% of all high school opportunities in sports.

Annually, boys receive more than 1.13 million more opportunities to play sports in high school than girls do.

(Graphic via WSF)

In college, women had 62,236 fewer participation opportunities in sports than men did during the 2017-18 school year.

A staggering 87% (943 of 1,084) of school across all three NCAA divisions offered disproportionately higher rates of athletic opportunities to male athletes compared to their enrollment.

Only 8.6% of Division I institutions offer athletic opportunities to female athletes proportional to their enrollment.

(Graphic via WSF)

As you can see in the graphs above, the gender participation gap in high school and college has remained relatively stagnant for the last 20 years.
Title IX compliance and awareness is still a mess
You might be thinking, doesn't Title IX exist? Why is the opportunity gap still so wide when there is an actual law in place to prevent it? Well, that's because enforcement of Title IX is pitiful.
Fifty-one percent of high school athletic administrators were unaware of who their Title IX coordinator was, or were unsupported by their Title IX coordinator.

In college, just over 30% of coaches were aware who their Title IX coordinator was.

Nearly 40% of NCAA Division I and III athletes indicated in a survey that they did not know what Title IX is.

And 83% of college coaches said they never received any formal training about Title IX as part of their job preparation.
Glad to see we're all taking this problem seriously!
Classim, racism, and homophobia persists
Sexual minorities (lesbian, gay, bi-sexual, mostly heterosexual) were 46%-76% less likely to participate in team sports than their same-sex heterosexual peers.

Homophobia in sports is rampant — 84% of Americans indicated that they either witnessed or experienced anti-LGBTQ attitudes in sports.

Girls in immigrant families report lower rates of sport participation than boys in similar families.

The drop-out rate for girls of color in urban centers is twice that of suburban white girls.

By the age of 14, 24% of girls in urban areas dropped out, while 13% of girls from rural areas dropped out by this age, and only 6% of girls from suburban areas dropped out.

White girls were found to be three times more likely to be involved in sport through a private organization (21% to 7%). African American girls were more likely to participate in programs offered through schools (65%, compared to 50%).
Considering so many schools aren't Title IX compliant, and so many of our elite sporting institutions rely on pay-for-play system, you can see why there is such big race gap in sports like softball, soccer, and hockey.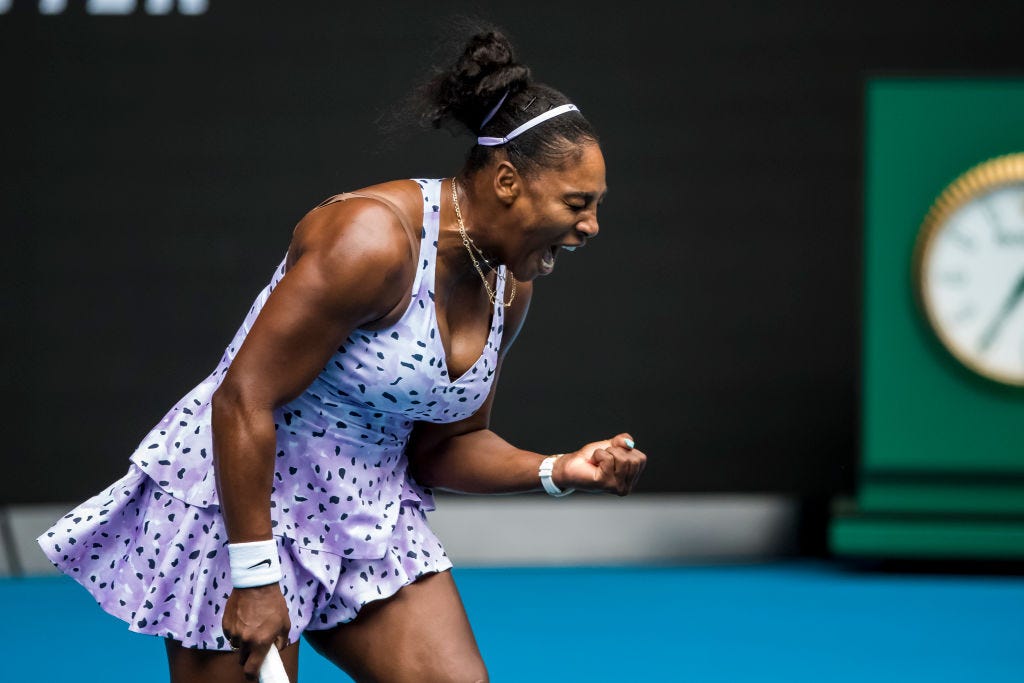 (Serena Williams; photo via Getty Images)
White men still run the sports world, even women's sports
It's hard to see how any of this is going to change as long as white men are still in charge of everything.
Only 24% of all coaches in college sports are women.

Since Title IX was enacted in 1972, the number of female head coaches in college women's sports has declined from 90% to 43%.

Only 11% of all athletic directors in NCAA Division I are women.

Women only compose 29% of the members in the International Olympic Committee (IOC).

Women only compose 37.5% of the members of the U.S. Olympic and Paralympic Committee (USOPC), and 33% of the board positions on U.S. national governing bodies.

At the 2018 Olympic Winter Games, only 12.1% (eight of 66) of the primary coaches for Team USA were women. Of the eight female head coaches, seven coached figure skating or ice dancing.

Sixty-three percent of female sports leaders reported experiencing sex discrimination in the workplace.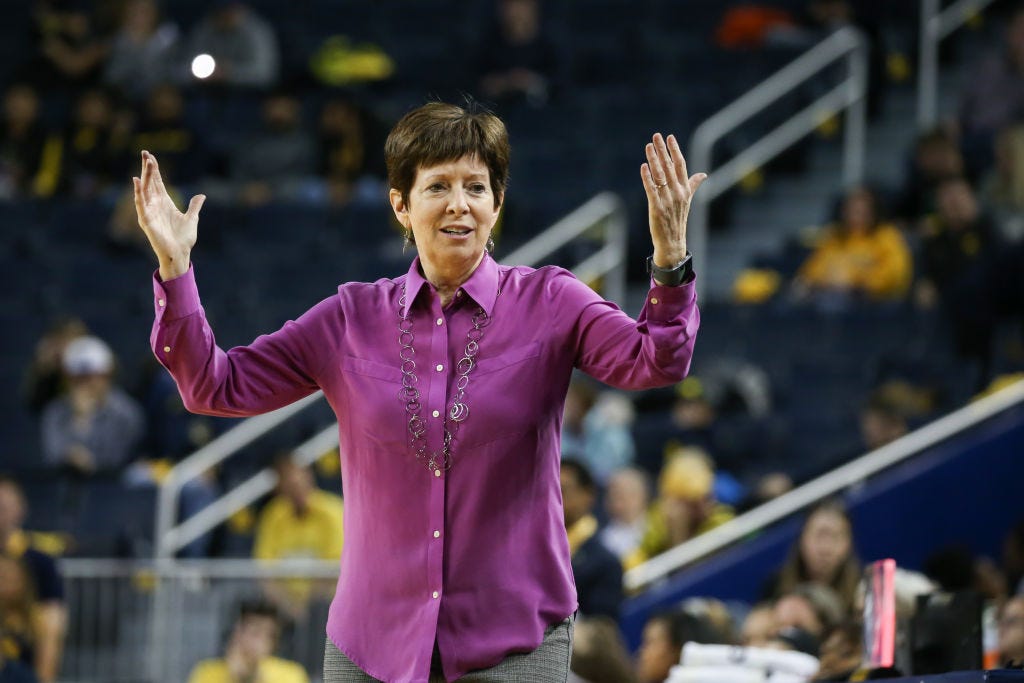 (Muffet McGraw; photo via Getty Images)
The lack of media coverage has a huge impact
Coverage of women's sports declined between 1989 and 2014.

In 2014, only 3.2% of sports coverage was devoted to women's sports.

And ESPN's SportsCenter devoted only 1.3-2.2% of its coverage to women's sports from 1999-2014.

There aren't many women behind the scenes, either. Ninety percent of sports editors, 69.9% of sports assistant sports editors, 83.4% of columnists, 88.5% of reporters, and 79.6% of copy editors/designers were men — and the vast majority were white men.

This stuck out to me the most: Seventy percent of female leaders say lack of media coverage limits girls' sport participation.

When sports media ignores women's sports, we're actively failing the next generation.

Okay, that's all for today. I'll be back tomorrow, so I better get to work! Use these statistics to fuel you, day in and day out. We've got a long way to go, but we can get there if we work together.
Remember, you can read the entire WSF report here. Sign up for Power Plays, share today's newsletter, and email me if you need anything, lindsay@powerplays.news.