Embracing the power of call-out culture
Hey friends. Let's change the world, shall we?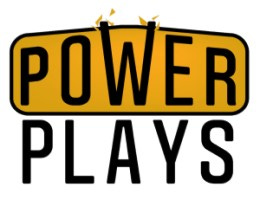 Hello! Welcome to Power Plays, your home for a no-bullshit look at sexism in sports. This newsletter will hit your inbox every Monday, Wednesday, and Friday.
This is an independent venture, and you can support it by signing up. Every day, people in positions of power in the sports media industry let me know that they don't think there's a full-time space for this work. Help me prove them wrong.
Hi, friends! Sorry for the tardiness today, travel has my body very confused about what time it is and battling a bug. BUT there are a couple of things I have to talk with you all about today, so let's have a quick little meeting, shall we?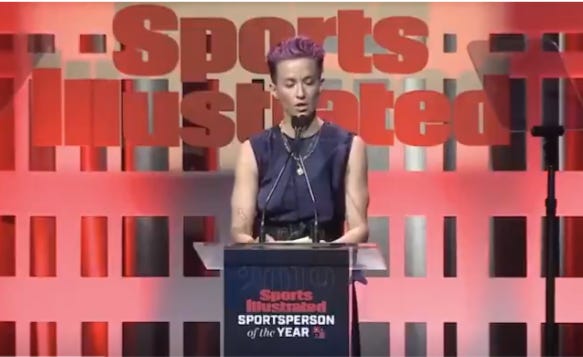 Megan Rapinoe calls this meeting to order.
We've got two weeks left in 2020, and here at Power Plays, I want to spend most of that time focused on the community we have created here in such a short time, and figuring out how we can harness this, well, POWER, and take it into the new decade.

First off, let's create the media we want to see in the world
Okay, so, I've been devouring best-of-the-decade content lately, because I savor any opportunity to reflect and debate. But, I've been predictably upset with the best-of lists coming from the sports world. At the most, each list includes an 80-20 split, men's sports vs. women's sports.
Well, we can do better than that.
Here at Power Plays, I want to create an all-encompassing list featuring the Top 20 Most Important Women's Sports Moments Of The Decade.
I'm going to need your help, though.
Tomorrow (Tuesday, December 17), Power Plays will be hosting its first discussion thread!!
How will that work? Well, you'll get an email in the morning alerting you that the thread is open. You'll click on a button to join the discussion thread — which will work basically just like comments in a post — and there, you can put all of your suggestions for the best women's sports moments of the decade.
I'll me making the final calls on events to include on the list, which I will publish in two parts, on Friday, December 27 and Monday, December 30. But I'm crowd-sourcing the research, because I just know you all are going to remember things that I don't.
I will be in the thread for a few hours starting about 12:00 p.m. ET, so this will also be a good time to Ask Me Anything!
Mostly, I'm excited to get a community thread going. At the Substack fellowship meetings last week, I was in awe of the communities created by the other fellows. My favorite part about starting Power Plays has been getting to hear from so many of you from across this women's sports universe. But I want us to all have a chance to chat together, because we're much more powerful when we unite. Hopefully this will be the beginning of something really beautiful. (Don't disappoint me, pls.)
Our next big project: Covering the coverage
Over the past week, I have not been able to stop thinking about Megan Rapinoe's speech at the Sports Illustrated Sportsperson of the Year award ceremony, where she called out the magazine for how rarely they choose women for the award, and for the lack of gender and racial diversity on their editorial staff.
It was a beautiful moment, because it showcased the best of call-out culture: Using whatever power you have to push people to be better. It reminded me that we do not have to be happy just to be here, or be grateful for whatever crumbs we get as womxn in the sports world. Progress is no good if it doesn't fuel further progress.
So, I was inspired to go ahead and launch a project I've been thinking about for some time: Covering the Coverage (Of Women In Sports.)
Again, I need your help.
Let's start small. Over the next couple of weeks, if you see any example of the lack of coverage of women in sports (or hey, we'll accept positive submissions, too!) take a picture or screenshot and send my way.
There are two ways to submit to what I envision turning into a database: Email the picture and description to coverage@powerplays.news (PLEASE send to that email, and not my personal PowerPlays email, because I'm behind on email and it will get lost in my personal inbox.)
AN EVEN BETTER WAY TO SUBMIT is to take it right to Instagram, and tag the Power Plays Instagram, @powerplays.news, which I am getting up and running this week. Just post on your personal Instagram, tag Power Plays, and use the hashtag #coveringthecoverage.
IMPORTANT NOTE: If you are sharing coverage from your local papers, please include the name of the paper, the date, and the breakdown of men's vs. women's sports stories. If you're talking about television (games broadcast, local highlights, SportsCenter Top 10), please be as specific as possible — date, channel, and direct breakdown of men's vs. women's coverage.)
Here are a few examples of things that would make good submissions, if a tad more detail was included.
espn.com/womens-college…
Every top 25 men's college basketball game is televised today. None of the top 25 women's college basketball games are televised today. Your daily reminder that the coverage of men and women's sports is very different.
Women's College Basketball Women's Basketball Scores - Women's College Basketball Scoreboard - ESPN
Real-time Women's College Basketball Women's Basketball scores on ESPN
espn.com
I am still figuring out the best way to go about tracking all of this formally, but the sooner we start with the info gathering, the better! Let's call people out!
Additionally, if you have ideas about ways to formalize this project, or maybe are a professor or a data journalist or a social guru and would be interested in partnering, please reach out: coverage@powerplays.news.
I'm so, so excited.

From the archives: 'The point is … women never forget they are females'
December 18, 1977; The New York Times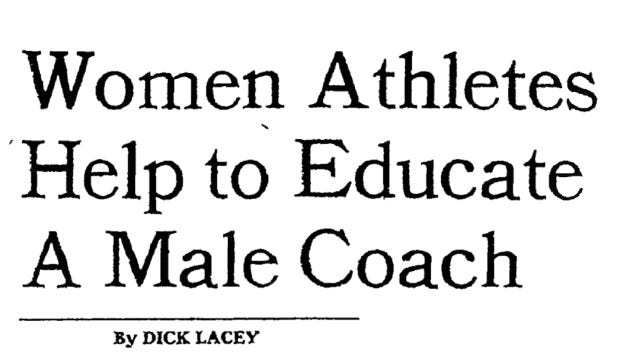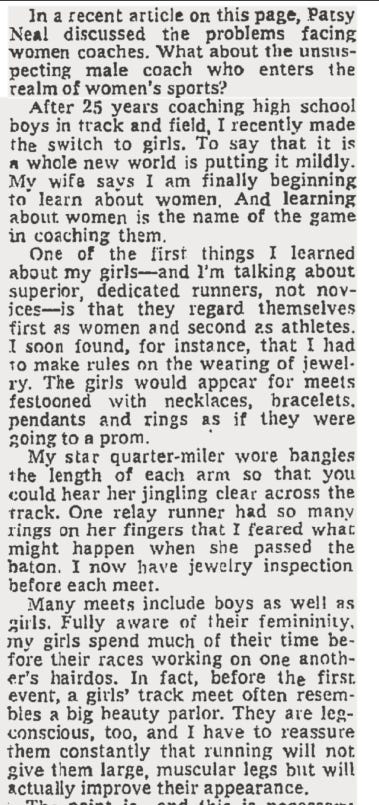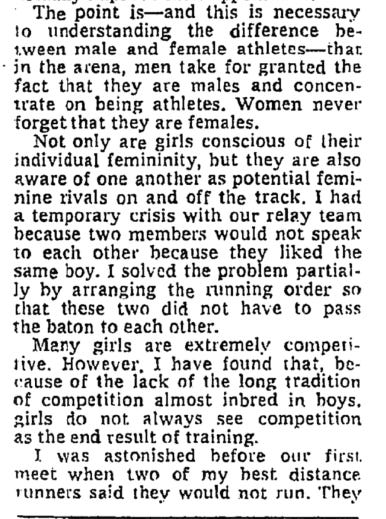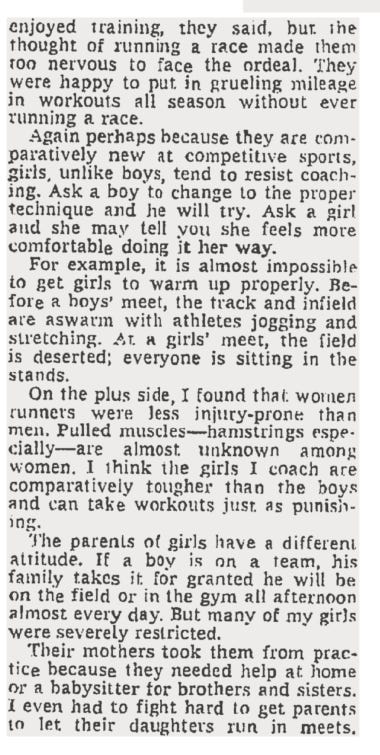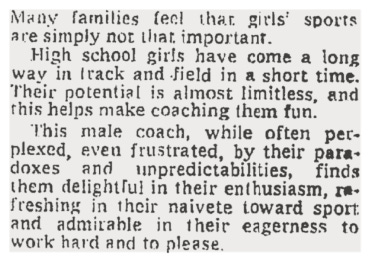 That's all for today! I'll be back in your inbox early tomorrow with a link to the first discussion thread, and on Wednesday we'll return to our normal newsletter schedule. I'm working on an exciting/outrage-inducing story, and can't wait to share.
Remember, I'm lindsay@powerplays.news.