Exclusive: USA Softball's quest to undermine women's pro softball
2020 will be a big year for softball. Let's check in on the sport's gatekeepers.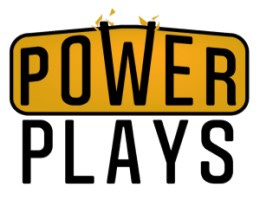 Welcome to Power Plays, a no-bullshit newsletter about sexism in sports. You can support this independent work by subscribing to the newsletter in the box below, and by sharing it with your friends and family.
Today's newsletter is focused on disturbing allegations of corruption against USA Softball. This is a story I plan to continue following. If you are a member of the softball community and want to talk, please reach out: lindsay@powerplays.news.
Okay, let's do this.

Women's softball is poised to have a huge 2020. It is back in the Olympics for the first time since 2008. In the past 12 years, since the United States lost to Japan in the gold-medal game in Beijing, softball has exploded on popularity on the collegiate level. It is now officially one of the precious few NCAA revenue sports.
But is the sport in a position to capitalize on the increased exposure provided by Tokyo? (Exposure that isn't guaranteed to repeat itself, since softball won't be included in the Paris Games in 2024.)
Unfortunately, it doesn't seem so.
An investigation by Power Plays found that headed into this pivotal year, USA Softball, the national governing body of the sport, is mired in allegations of corruption and dysfunction, and has essentially no working relationship with National Pro Fastpitch (NPF), the women's pro softball league in the United States, which is headed into its 17th season.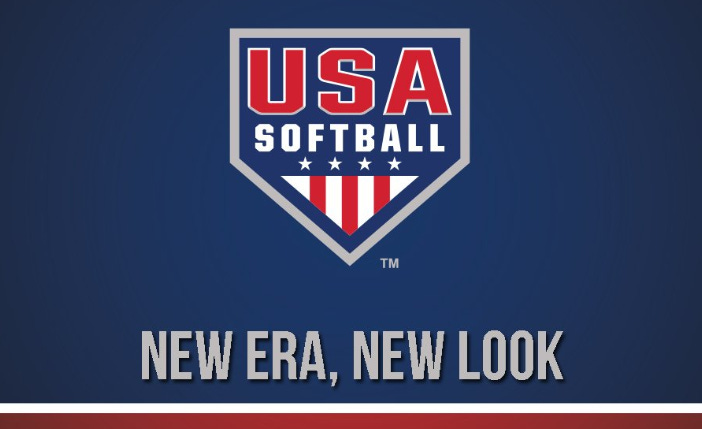 This investigation included a review of nearly 1,000 pages of deposition transcripts and court filings, and interviews with half a dozen people in the softball community, most who spoke on the condition of anonymity out of fear of retribution.
Among other things, the investigation uncovered that:
In 2017 and 2018, USA Softball worked behind the backs of NPF leadership to attempt to establish a rival pro fastpitch league.

USA Softball has essentially no working relationship with the NPF, and views the league as competition.

The U.S. Olympic and Paralympic Committee (USOPC) has appointed the law firm Arent Fox to investigate allegations of impropriety against USA Softball. (I am still working to confirm the scope and timeline of the investigation.)
Power Plays reached out to USA Softball with a number of questions, but did not get a response before this newsletter was published. If the organization does respond, its statements will be included in future newsletters.

USA Softball worked to undermine the NPF by establishing a rival pro softball league
At the beginning of 2018, the reigning NPF champions, the Scrap Yard Dawgs, abruptly announced that it was leaving the league, a mere days after the NPF's annual owners meeting.
Days later, the Scrap Yard Dawgs announced that they would be continuing to operate as an independent entity, and that they were hosting a series against the 2018 USA Softball Women's World Championship Team.
The NPF felt that this was a violation of the non-competition clause in its franchise agreement, and decided to sue the Scrap Yard Dawgs.
In discovery, it was revealed that this was not a last-minute decision by the Scrap Yard Dawgs. In fact, for at least six months, Joel Bartsch, the owner of the team, had been in regular communication with USA Softball about establishing a new pro softball league that would rival the NPF.
Power Plays has reviewed the deposition transcripts of Craig Cress, the executive director of USA Softball, and Chris Sebren, the director of USA Softball national teams. Cress's deposition took place in December 2018, while Sebren's took place in October 2018.
According to Cress, way back in 2015, he and Bartsch started talking about "how (Bartsch) could help … USA Softball with its mission of having the best opportunities for training for USA Softball athletes."
Cress said he thought Bartsch was talking about giving a financial commitment, and nothing immediate came from their 2015 discussion.
But talks between the two resumed a couple of years later. And this time, the two weren't talking just about money. Bartsch was proposing the idea of partnering with USA Softball to launch its own
In July 2017, Bartsch texted Cress, "Instead of USA softball joining NPF … ASA/USA Softball starts new pro league … 3 year prototype experiment … teams based in OK, TX, LA … low cost, high impact."
Cress responded, "I like the idea — but would we be looked at as the bad guys for adding confusion to this landscape — or does the professional landscape need a shock?"
In September 2017, Bartsch sent a wire transfer to USA Softball for $250,000. Bartsch earmarked $125,000 as a donation to USA Softball, and $125,000 to potentially start a new softball league. Cress said this was the largest individual donation USA Softball had received during his time with the league. (The NPF's case also against Bartsch involved multiple allegations of money laundering, which I won't be getting into here, but you can read some about it on ESPN.)
Remember: All of this was happening while Bartsch's team was still competing in the NPF. Ultimately, Cress ended up returning the $125,000 earmarked for starting a new league that December, because there wasn't a concrete business plan in place.
But in Cress's deposition, it is clear he was taking the idea seriously, and even brought it up with his board.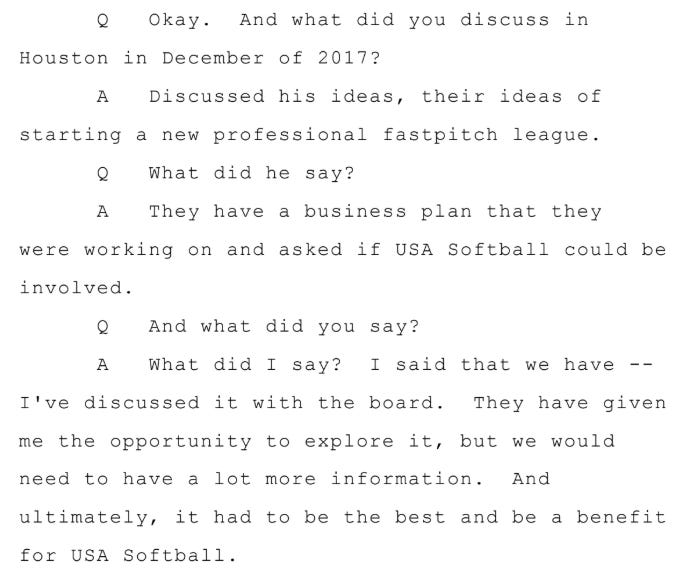 When asked why he was exploring the idea of starting a new league behind the back of a league that had existed for 14 years at the time, and with an owner who was currently competing in said league, Cress responded, "Why wouldn't we?"

The NPF ultimately dismissed the case against Scrap Yard Dawgs and co. with prejudice this summer. The defendants have asked that their court fees be paid by the plaintiffs, and that ruling is still pending.
But no matter the outcome of the case itself, the information gathered in discovery paints a troubling picture of what USA Softball is up to behind the scenes — not just in terms of undermining the NPF, but controversies over the fairness of the team selection process, financial violations, and multiple allegations of mismanagement.
USA Softball could have tried to work with the established league to make the pro softball landscape a better place. Instead, they worked against them.
The U.S. Olympic and Paralympic Committee was alerted to the allegations of corruption behind-the-scenes that surfaced during the case, and earlier this year, the USOPC appointed the law firm Arent Fox to conduct an independent investigation. Power Plays is still working on confirming the scope and timeline for that investigation.
USA Softball views the NPF as competition
The relationship between USA Softball and the NPF has been strained for years. In his deposition, Chris Sebren, director of national teams, could only recall one time that USA Softball partnered with the NPF — back in 2004, the league's first year in existence.
USA Softball often forced its players to choose between playing for the national team and playing for the NPF. In 2011, Jessica Mendoza made waves when she chose the NPF over USA Softball. Many other high-profile players have followed her lead in the years since. Graham Hays at espnW has reported regularly on this rift over the years.
One of the biggest clashes between the two entities is over the schedule. Both are operating in a limited summer window, and there's only so much time players can commit to both. So, it would make sense for the two to work together on scheduling.
But in his deposition, Cress said that he never once thought to call up Kempf or another NPF representative to coordinate schedules.
When asked why not, he responded, "Why would we?"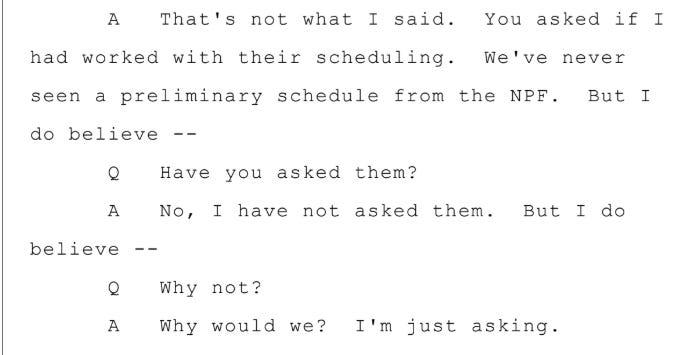 Throughout his deposition, Cress details the frequent contact — via text messages, emails, phone calls, and in-person vists — he had with Bartsch and his associates.
But when he was asked whether he ever reached out to Kempf — who, again, is at the helm of the pro league that employs most of the best softball players in the country — Cress admitted that he didn't. His reasoning? He's a busy guy.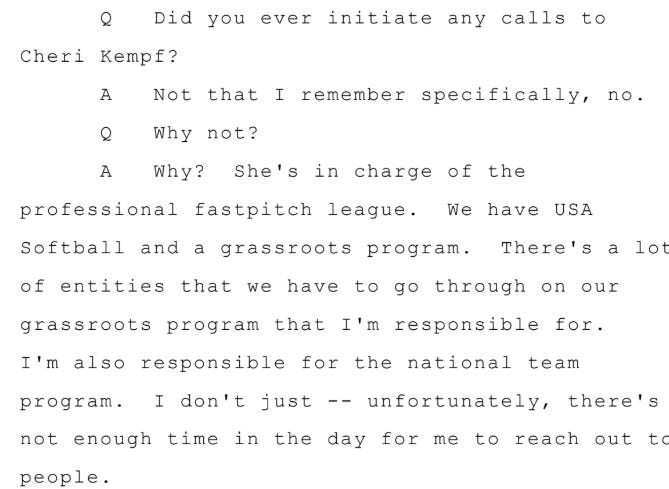 According to Kempf, she has regularly tried to reach out to USA Softball to work with them.
"We've reached out to USA Softball on a constant and consistent basis since I became commissioner," Kempf told Power Plays. "With no luck."
In his deposition, Cress gave a big clue about why he hasn't been responsive.
Cress was asked early in the deposition if he viewed the NPF as competitors, and at first he said he did not. But when the question was revisited later in the questioning, he changed his tune.

This is the leader of a national governing body of a sport viewing a pro league not as collaborators, but as competitors.
Cress also admitted in the deposition that he viewed the United States Specialty Sports Association (USSSA) — a nonprofit that governs a lot of softball leagues on the grassroots level across the nation — as competitors, too. Notably, until a couple of months ago, the USSSA sponsored and ran a very successful team in the NPF, the USSSA Pride.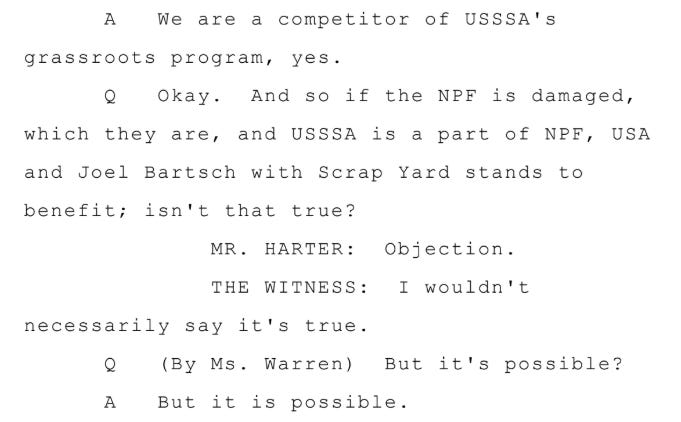 Of course, it's worth noting that the deposition was taken a year ago. While USA Softball did not return a request for comment, Kempf said that their current relationship is pretty much the same today.
"I'm a former player and a former coach, so I'm behind and rooting for USA Softball to do well for the Olympics," Kempf said. "In terms of the administration, I think we're fine. NPF has never had a beef with USA Softball."
She expressed frustration that USA Softball had not scheduled any scrimmages against NPF teams in the lead-up to the Olympics.
"We'd love to help them win a gold medal," she said. "But right now, there's no relationship with them."

There is so much more to this story, and Power Plays will continue to work to uncover it. If you have any information on this subject — or on other governing bodies in women's sports — please reach out to me, lindsay@powerplays.news.
This is just the beginning.
If you think this kind of reporting is important, please be sure you have subscribed to Power Plays, and please tell a friend.