Going first
Amidst a pandemic and protests, female athletes are showing the way forward, on and off the field.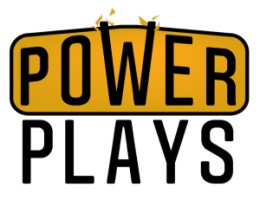 Hello! Welcome to Power Plays, a no-bullshit newsletter about sexism in sports, written by me, Lindsay Gibbs. I'm going to keep this intro extremely brief today, because I ended up writing about three newsletters in one, because I felt extremely strongly that this was a story that needed to be told together.
If this post is too long and gets cut off in your email browser, please click here to read it on the web at powerplays.news.

In April, when it became clear that the coronavirus was changing the world as we knew it, and sports in the United States would be on pause indefinitely, I very publicly made a plea that, "When sports start back, let the women go first."
Well, I guess my wish came true. But I certainly didn't envision that any sports would be returning while the pandemic was still surging, and amid a long-overdue national reckoning over systemic racism and police brutality sparked by the police murders of George Floyd and Breanna Taylor.
It's 2020. I should have known to be more specific.
Nonetheless, as MLB owners tried to stiff their players out of millions, and MLS and NBA leaders scrambled to secure bubble-lite atmospheres in Disney World that have enough elite enough accommodations to satisfy their A-list stars, women's pro softball and the National Women's Soccer League (NWSL) locked down logistics to get back on the field before the end of June.
Over the past 10 days, these women have risked their health, fallen prey to the virus, been used as political pawns, had their voices taken away, and snatched them right back. They've come together in staggering displays of unity, and showed the fractures that can form when coworkers stop papering over racial differences, and truly addresses them, head on. There have been tears of hope and tears of trauma, tears of triumph and tears of exhaustion, and far too many high-fives and hugs for (my) comfort.
This summer in sports will be one for the history books. Most tales will begin with the NBA's Disney World extravaganza, and perhaps end with whatever horrors await us as rich white men across the nation ignore the Faucis of the world, and attempt to force football upon us this fall. But that's far from the whole story.
These women went first. And goodness, did they ever pave the way.
The tweet that changed softball forever
On June 22, at the United States Specialty Sports Association (USSSA) complex in Viera, Florida, the Scrap Yard Dawgs took the field to face the USSSA Pride in the first game of a 25-game summer series between the two teams. With the Olympics postponed until 2021, and the National Pro Fastpitch league taking the season off due to the coronavirus, these 36 players held the 36 of the most coveted spots for professional women's softball players this summer.
Not only was this a chance to play and be paid, but with most of the sports calendar still cancelled due to the pandemic, it was a phenomenal chance to get their beloved sport some much-needed attention. Everyone was excited and proud.
Then, during the game, Connie May, the general manager and owner of the Houston-based Scrap Yard Dawgs, sent out a tweet from the team's primary account. May tweeted a photo of her players standing during the national anthem directly to president Donald Trump, and stressed, "Everyone respecting the FLAG!"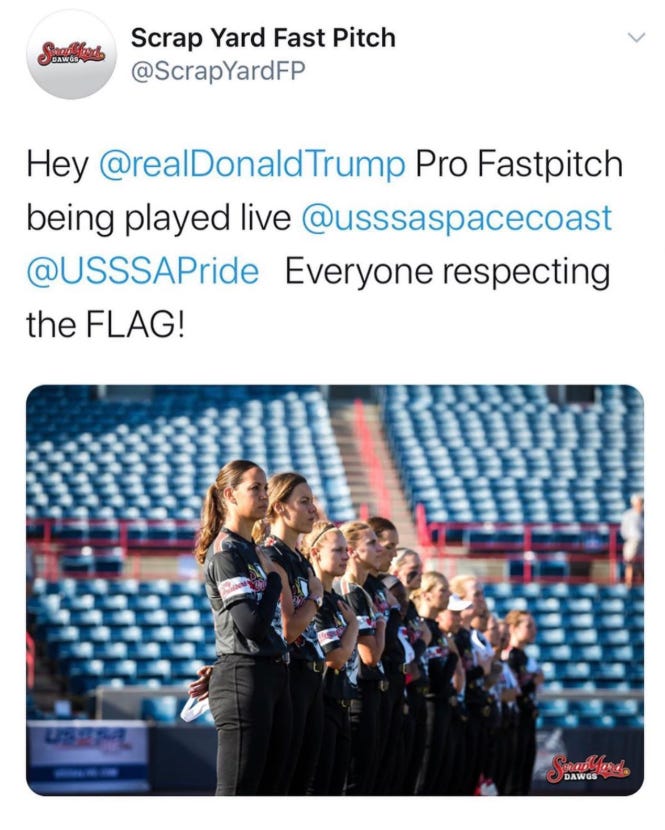 Softball is an overwhelmingly white sport, and there were only two Black players on Scrap Yard —Kiki Stokes and Kelsey Stewart. Stewart was not with the team for that game, and saw the tweet (which was deleted during the game) in real time. She texted a screenshot of it to Stokes.
It was the first thing Stokes saw when she returned to the locker room after the loss.
Last week, Stokes spoke to Dr. Amira Rose Davis, associate professor of history and African American studies at Penn State, about the incident for a special episode of the Burn It All Down podcast. (I am one of five co-hosts of the podcast, along with Dr. Davis, but was not involved in the making of this episode, and can unbiasedly say it is a must-listen.)
Stokes said that as she stared at her phone and tried to process the text from Stewart, throughout the locker room, her teammates were discovering the tweet for themselves.
"As the moment just keeps building up on itself, I just broke down. I couldn't think of anything else. I just felt betrayed, I felt hurt," Stokes told Dr. Davis. "And then my teammates, on top of it, are just going in. They're angry, they are fuming, talking amongst each other, trying to console me and make sure that I'm okay."
Stokes, her teammates, and coach all accurately viewed the tweet as a racist attack against the Black Lives Matter movement. Stokes instantly knew she could no longer play for an organization that wouldn't stand up for her. When May came into the locker room to address the players, she didn't say anything to change Stokes' mind. Instead, she defended the tweet, and while Stokes' teammates continued to argue against her logic, May declared that, "All Lives Matter."
"That was when I kind of blacked out," Stokes said. "I don't really remember anything else that she said. Because I just knew she did not understand where I was coming from. She did not get it. I'm sitting here crying. She never apologized to me. She never said anything to me. She was looking at everybody else but me."
The final straw came when May talked about how uncomfortable the moment was on her. Stokes couldn't sit there and hear anymore.
"I walked out of the locker room, because she failed me, failed my people," she said.
How "This is Us" was born
Sam Fischer, Stokes' teammate, doesn't want to revisit what happened in the locker room that fateful night, or address the tweet itself.
"Collectively as a group, we've been talking so much about pushing forward, moving forward, so we have to do that now in in conversations as well," Fischer told Power Plays on Monday.
Two minutes after Stokes walked out, Fischer and her teammates packed up their stuff and followed her. They were done with May, done playing for the Scrap Yard Dawgs. But they had no clue what was next, whether they'd play another inning of softball that summer, whether they wanted to, whether it was even possible.
It could have been a moment that broke them, that fractured the sport. It could have been an end. But they didn't let that happen.
Right away, they had the first of many, many team meetings that would take place that week.
"That night, we met as a team, and thought, what do we want to do? We can go home, or we can continue to play," Fischer said.
"Very quickly, everyone seemed on board that yes, we wanted to play. We were there for a reason, to play. And now, that reason looked different, of course; there's this whole other purpose on top of that."
Within the next 24 hours, the now-teamless teammates sent out personal messages on their social media pages expressing disdain for the tweet, support for their Black teammates, and solidarity with the Black Lives Matter movement. Most messages included two messages: "This isn't us" and "We're done."
The women still wanted to play. But how? The Scrap Yard organization was responsible not only for paying their salaries, as meager as some of were, but also housing and travel and uniforms and food and equipment, and likely other things that the team wasn't even considering, because they'd never had to.
Thankfully, their condos in Florida were already paid for through the end of the month, so they knew they had at least a few days to figure it out. Despite the fact that softball is not known as a very progressive sport, quickly, they realized they weren't going to have to figure out all the answers alone. They received so much support from USSSA players and ownership, and organization after organization in the softball community reached out to offer assistance.
Less than 48 hours after May's tweet, on June 24th, the players all released a statement on social media, indicating that they were taking steps forward as an independently-run team.
"This is Us," the statement read. "We are here to spark a necessary change in the softball community, gaining and sharing knowledge about racial injustice in our community. We are here to encourage our community to love, accept, and to confidently stand up for themselves, those around them, and the Black community."
By June 26th, the team had put together a video and a website unveiling the team's name, "This is Us," and began accepting donations from the community in order to go forward.
The very next day, on Saturday, June 27th, the "This is Us" team took the field against the USSSA Pride and continued the series. Every player wore a shirt that said, "This Is Us" on the front, and the names of great Black softball players on the back. After the game — which "This is Us" won — they held a panel with fans about racial justice.
In just five days, they went from political props for a woman trying to gain favor with a racist president, to a powerful, independent, player-led team, determined to be a force of anti-racism in the softball community. They already have a main sponsor, Smash It Sports, and plan to stay in Florida to play a 16-game schedule against the Pride.
"It just shows that we as women, we can be so powerful when we take a stand for things," Stokes said. "When we stand up for the right things, we can we can move mountains."
Women's soccer takes the stage
That same Saturday, across the country, the NWSL was making its 2020 debut in the Challenge Cup, an eight-team, month-long tournament, taking place without fans in Utah.
The opening game between the North Carolina Courage and Portland Thorns was broadcast on CBS, and fans, media, and players and executives from sports leagues around the world were all tuned in to see not only how the NWSL handled coronavirus protocols and playing without a crowd, but also how (or if) the players would use their platforms to bring attention to the Black Lives Matter movement and the quest for the end of police brutality and systemic racism.
I'll address the former in a bit. But the league immediately sent a message that they were not going to back down from addressing the latter. All players and coaches wore "Black Lives Matter" t-shirts during warm-ups, "Black Lives Matter" banners were shown on screens surrounding the field, and players wore "Black Lives Matter" arm bands during the game.
During the national anthem, all Thorns and Courage starters took a knee at midfield. (In soccer, typically only the 11 starters on each team are on the field for the anthem.) The teams — fierce rivals on the field — released a joint statement explaining in very direct terms why they took a knee.
Then, before the game began, all the starters went to their position on the field and the public address announcer in-arena issued a statement:
We now pause for a moment of recognition. Across the nation and around the world, the Black Lives Matter movement has provided new platforms for oppressed voices to be heard. With a moment of silence, we ask you to recognize the countless names of victims of racial injustices here and abroad, and to stand with those who have fought for equality worldwide, and those who continue to fight today. With our collective voices, we emphatically say: Black Lives Matter.
All players on the field and everyone on the sidelines proceeded to take a knee for a 46-second moment of silence in honor of George Floyd, the Black man in Minneapolis who was murdered in May when a police officer knelt on his neck for eight minutes and 46 seconds.
It was, in my opinion, a stunning show of support for Black lives and against racism, especially from a league that has not always risen to the moment in that regard. A few weeks ago, when I wrote that Washington Spirit rookie Kaiya McCullough planned to take a knee during the anthem at the Challenge Cup, there was a real possibility that she might be doing so alone.
In addition to the messaging about Black Lives Matter, the league showed it was taking the coronavirus seriously. While the Challenge Cup got off to a poor start in this regard, with the Orlando Pride pulling out before the tournament began due to too many players and staff members testing positive for the virus, on the field, there were plenty of protocols in place. In addition to the lack of fans in the stands, players and coaches on the sidelines wore masks, and social distancing was observed during interviews and in the broadcast booth.
Under the given circumstances, it's hard to hit all the right marks. But I thought the NWSL's start was about as strong as one could hope — and it didn't hurt that according to Meg Linehan at The Athletic, the opening game on CBS drew 572,000 viewers, smashing the previous NWSL viewership record. Going first has its perks.
The anthem became a distraction
During the first game, most national attention was on the Courage and Thorns starters taking a knee during the anthem. The players and league were widely praised for the stance. But in right-wing circles, a photo began circulating of the one player on the sidelines who stood during the anthem, Courage backup goalie Samantha Leshnak-Murphy. Her family proudly shared the image of Leshnak-Murphy standing on Facebook and defended her on Twitter, as the #MAGA crowd praised her, well, "courage."
Saturday night, before the second game of the tournament between the Chicago Red Stars and Washington Spirit, most players from both teams took a knee during the anthem again. However, the camera focused in on a striking image of Casey Short, a Black player on the Red Stars, on her knees and sobbing, while being consoled by her white teammate, Julie Ertz. On the other side of Short, another white teammate, Rachel Hill, remained standing, and just gently put her hand on Short's shoulder.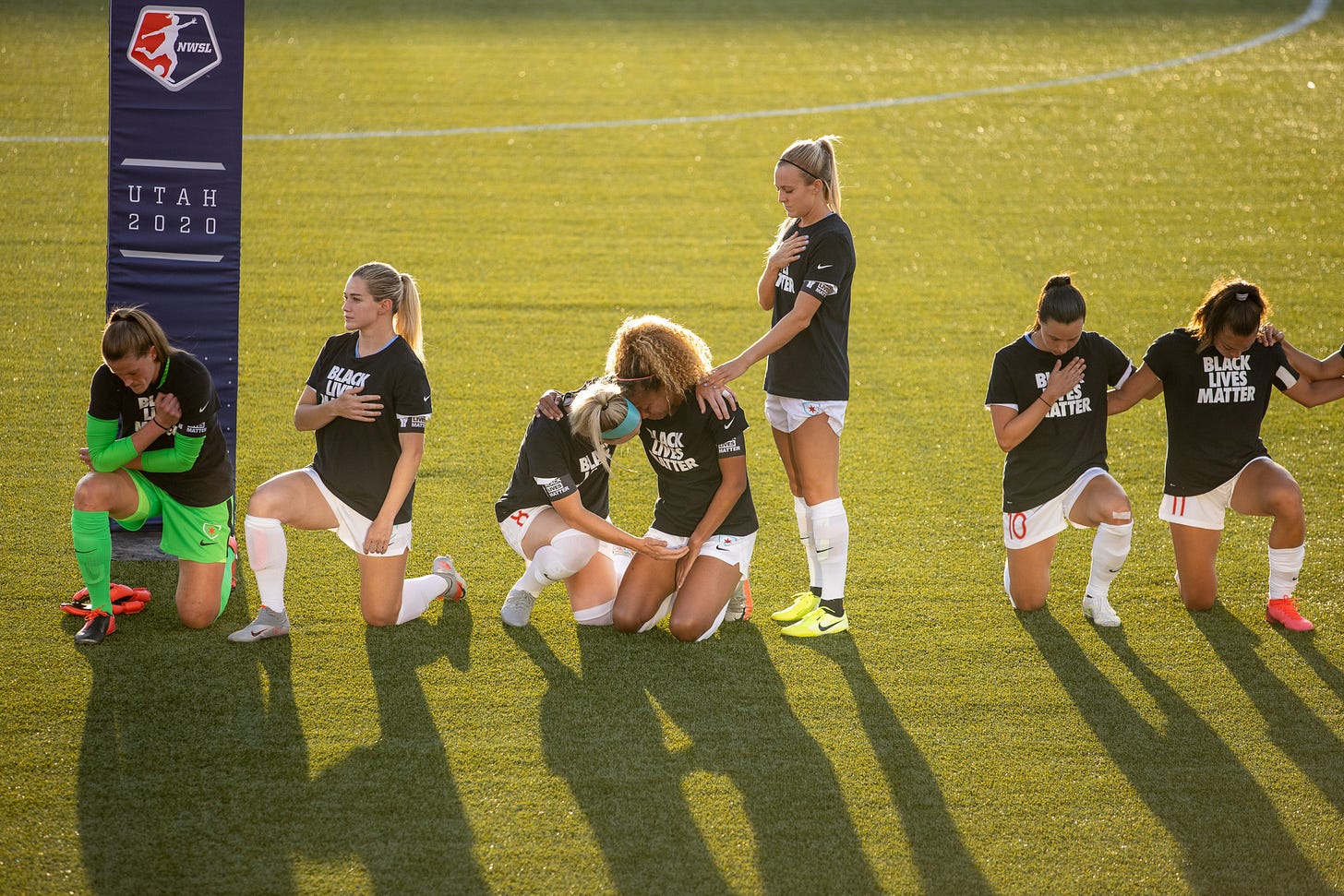 (Photo via Getty)
This game was only streamed on the CBS All Access app, and therefore wasn't viewed by nearly as many people as the early game. However, a close-up shot of Short, Ertz, and Hill's hand during the anthem quickly went viral, and instantly, people began projecting their own feelings onto it. For many, Short's agony showcased the pain of the Black community at large, while Ertz and Hill showcased both the potential and limits inherent in white allyship.
The way the image went viral, and how it was even used in promotional material by the league, struck many as exploitative, and downright disrespectful to Short.
NWSL fans and media members — most notably Kim McCauley of SBNation — publicly called for the league to stop playing the national anthem before games, to avoid putting players through those emotions, and to prevent bad-faith actors from using them as political props.
But NWSL commissioner Lisa Baird opted to keep the national anthem as part of the pre-game routine, albeit changing the rules to give the players more options. Any player or coach or staff member, not just the starters, could line up midfield for the anthem if they pleased. They could also remain on the sidelines or in the locker room, stand or kneel.
Linehan reported that this decision was made partly because some players "felt that to skip the anthem would essentially give away their right to kneel."
Yes, this moment is fraught. Yes, it's emotionally exhausting and makes some uncomfortable. Yes, parts of the fanbase will be angry no matter what happens. But in this moment, it seems, many players wanted to send a message, anyways.
But players fought hard to control the narrative
On Tuesday, the four other NWSL teams played. In the early game, it appeared that the entire Utah Royals and Houston Dash teams lined up midfield for the anthem, with the entire Royals team taking a knee, and the majority of the Dash players doing the same.
That night, Sky Blue FC and the OL Reign used their platforms to make an even stronger statement. Before the game, Sky Blue released a message from the players, announcing that, "With the exposure the NWSL Challenge Cup is providing, we feel it is our responsibility as citizens and players in this American league to speak up and take action against police brutality and racial injustice." The players said that they would each be donating to the New Jersey Institute for Social Justice for every goal scored in the tournament .
Meanwhile, the Reign released an extremely powerful video highlighting privilege and systemic racism, which was written and narrated by the Black players on the team.
During the anthem, all players and staff members from both teams joined midfield, and all but one took a knee. On the right sleeves of the Reign's Black Lives Matter shirts, and on masks many of them wore, was the name, "Manuel Ellis." Ellis — a Black man, musician, and father of two — was killed by police in Tacoma, Washington on March 3, after the officers arrested him and put him in a chokehold.
During the game, Reign forward Jasmyne Spencer wore a headband with the names of Black men and women killed by the police.
Back in 2016, Megan Rapinoe was the only NWSL player to take a knee during the national anthem. On Tuesday night, Rapinoe — who is a member of the Reign, but opted out of playing the Challenge Cup due to health concerns — was cheering on her teammates from afar.
There's nothing comfortable about any of this, and perhaps that's the point
Over the past 10 days, there's been a permanent pit in the bottom of my stomach.
Truthfully, I'm not comfortable with anyone playing sports right now, and I'm particularly concerned for the "This is Us" and USSSA softball players, who are not being tested for coronavirus during their series, have fans attending their games without masks, and have limited — and largely self-policed — safety measures in place, all while playing in Florida.
I'm not comfortable with the white players who still, somehow, refuse to take a knee with their Black teammates during the national anthem; with coaches taking off their Black Lives Matter shirts once the game begins; or with Black players having to expose their racism battle scars time and time again, for trauma-hungry media members and ignorant teammates.
I'm not comfortable with how little these athletes are being paid, or that so little is known about the coronavirus that we don't even know exactly what they're risking. I'm not comfortable that softball players, who already play for pennies, had to give up any semblance of security because of one woman's horrific racism, and I'm certainly not comfortable with the reality that I probably wouldn't be writing about them at all if they hadn't.
But despite the discomfort — or maybe because of it — I'm in absolute awe at what these women are doing.
As someone who is literally writing a book on female athlete activism, I can say that what we've seen over the past 10 days in softball and the NWSL — two predominantly white sports, that have far too often failed their Black players and fans — is unparalleled.
The most indelible image from the past 10 days will likely be Short, Ertz, and Hill during the anthem. For years, maybe decades, people will look at that photo and project their own politics and beliefs onto it. But it's crucial that we go beyond the photo, and listen to what the players had to say. On Tuesday, Short and Ertz released a joint statement, in an attempt to reclaim their narrative. (Emphasis mine.)
"For the past few weeks, we have shared our stories, we have shared a deep empathy towards one another and ultimately, a common sense of hopelessness. This moment of hopelessness was overwhelming for many reasons including, frustration in not having a clear answer for change, the hurt in each other's voices, and our black teammates and friends who have emotionally poured out every ounce of their hearts to us. All of these intense and emotional moments have been difficult but ultimately very necessary. That moment during the anthem was difficult, very difficult. We are still searching but we are humbled by the outpouring of support. Our actions going forward WILL be the change!

…

"Through our continuous conversations we wanted to make sure that whatever we decided to do, it would not be an empty gesture. It would be a gesture that portrayed that we have heard those who needed to be heard, validated and loved.

…

"Those tears were the first time we felt hope in a long time. In a time when we were truly at a loss for words, we prayed. We asked for clarity, we asked for God to clean our hearts, and we asked to come together so that we don't fall apart. We talked about suffering together to one day being able to rejoice together."
Casey went on to add that she had spoken with Rachel Hill, and that the conversation was "unapologetically authentic."
"I have to ask where my hope lies. It lies in my faith and those types of conversations that have been long overdue. These types of conversations that are raw and uncomfortable, that can lead to real impactful change," Short said.
Hill released her own statement, noting that she spent a lot of time thinking about whether she should kneel or stand, but ultimately decided to stand "because of what the flag inherently means to my military family members and me." She said she put her hand on Short's shoulder and bowed her head to show she supported her peers, and noted that she's had "genuine conversations" with her teammates, specifically Short, Ertz, and Sarah Gorden, another Black player on the Red Stars, who expressed her reasons for kneeling on her Instagram.
"I support the black lives matter movement wholeheartedly. I also support and will do my part in fighting against the current inequality. As a white athlete, it is way past due for me to be diligently anti-racist," Hill said.
Hill's statement won't cut it for many NWSL fans — after all, it's not about the flag! — but it does ultimately prove that the movement is working. The whole point of taking a knee and wearing the shirts and releasing the joint statements is to spark the difficult conversations, to educate, and to change minds. That's exactly what's happening, on the Red Stars, on teams across the NWSL, in women's softball, and in living rooms across the world, who are watching these games, or even just seeing the photos on social media.
I don't know what's next. I don't know if these largely symbolic gestures will spur real action, if players and owners and fans will follow through on their commitment to eradicating systemic racism and police brutality. I don't know if the Challenge Cup or the USSSA-Pride series will be completed, or if the coronavirus will shut everything down again. I don't even know if we're going to get to see what the WNBA players have planned in terms of activism in Bradenton next month, when their season is supposed to begin.
But I do know that when I think back on the last 10 days, I'm not going to think about May's racist tweet; I'm going to think about "This is Us," and how in five days, 18 softball players realized their own strength. I'm not going to think about Short's trauma, and the way it was exploited for clicks; I'm going to think about the hope that both Short and Ertz said they felt in that moment.
And when I look back at the summer that we decided to just bulldoze through and play sports in a pandemic, I'm not going to think of a $150 million Disney World bubble; I'm going to think about the women who went first.

Thanks for supporting Power Plays, friends. Among other things, paid subscribers get access to an exclusive Power Plays slack channel, which we've discovered this week is a lot of fun during NWSL games.
But if you can't support financially right now — or would rather donate to "This is Us," which is something you should definitely do — I totally understand. It helps a lot when you simply share the work on social media.