How a cold call and an impersonation broke the NFL's glass ceiling
An exclusive interview with Dr. Jen Welter, the first female coach in NFL history.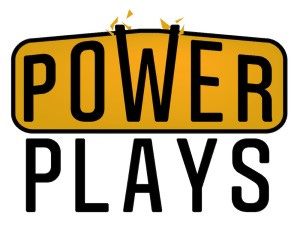 Hello! Welcome to Power Plays, your favorite no-bullshit newsletter about sexism in sports.
Today, we're talking women in coaching. I talk to Dr. Jen Welter, the first female coach in NFL history, about how she broke the glass ceiling in 2015. Then, I look at the lessons we can learn from her story, and the current state of women in coaching. My interview with her was so inspiring, I simply couldn't wait to share it with you all.
Remember, you can reach me at lindsay@powerplays.news. And if you haven't yet, please sign up for the newsletter, so you get every edition right into your inbox.
First, a simple plea: It's so important that you actually sign up. I used to not be an email newsletter person, so I get if you're hesitant, and would rather just read Power Plays when it comes across your twitter feed. But every single person who actually signs up helps me prove, concretely, that there's an audience for this type of journalism, despite the fact that every single day, People in Power in this industry tell me otherwise.
So, even if you usually don't subscribe to newsletters, consider making an exception for this one. Here, I'll put the link below, so you don't even have to scroll up two paragraphs. It just takes two seconds.
And please, keep sharing the word. We're in this together, friends.

Wait, one more thing before I get started: On December 16, Dr. Jen Welter, who I interviewed for this newsletter, will be a part of the first ever BreakThrough Summit, a free live digital summit focusing on leadership skills for women in sports. It's a joint production between Hudl and WeCOACH, and it will feature legends such as two-time World Cup champion Jill Ellis, ESPN women's basketball analyst LaChina Robinson, former Tennessee women's basketball head coach Holly Warlick, WNBA star Layshia Clarendon, and many more.
The best parts: It's completely free. And completely online. And anyone can join. You can find out more about it and sign up on the link below — one of the things I'm the most excited about is the fact that it's interactive and there will be networking opportunities for those watching at home. Do I completely understand how this all will work? No. But I can't wait to find out.
Here's where you sign up:
https://www.breakthroughsummit.live/
This newsletter is ad free, and I promise never to recommend anything I don't believe in. But this looks like an event we can all learn from.
Okay, let's do this.

A cold call changed NFL history
Like most football coaches, Dr. Jen Welter started out as a football player. And a really great one, at that. She was a star linebacker in women's football, where she won four titles with the Dallas Diamonds and was a two-time Women's World Champion as a member of Team USA.
In 2014, she became the first female running back to play men's professional football, when she was signed by the Texas Revolution of the Champions Indoor Football league. On February 12, 2015, the Revolution made history again when then-head coach Wendell Davis, a former Dallas Cowboy, hired Welter as their linebackers and special teams coach. She was the first woman to ever coach in any men's professional football league.
Five months later, the Arizona Cardinals hired her as a training camp/preseason intern on their coaching staff.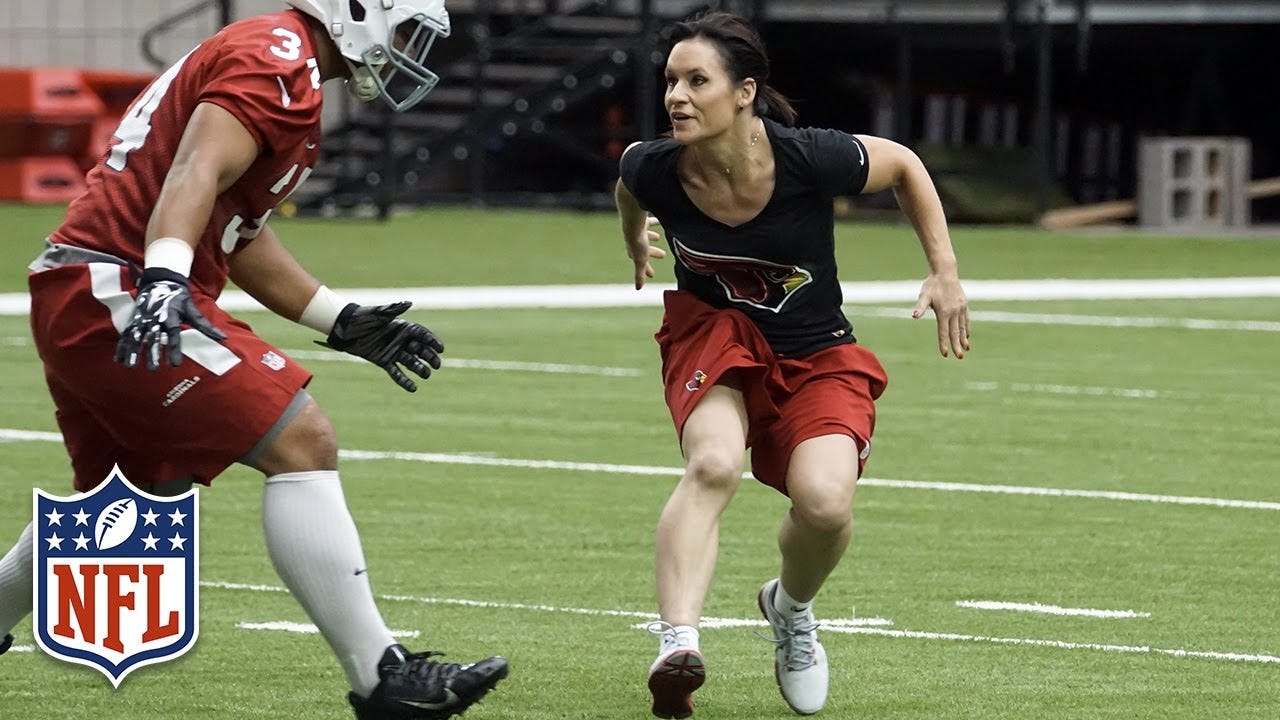 So, how did she go from coaching for a semi-pro team where players make about $75 per game to becoming the first female NFL coach in just FIVE MONTHS?
Well, around the same time that Welter was hired by the revolution, Sarah Thomas became the first full-time female referee in NFL history. After that historic hiring, a reporter asked then-Arizona Cardinals head coach Bruce Arians if there would ever be a female coach in the NFL. Arians responded, "The second a woman proves that she can make these guys better, she'll be hired."
Welter heard that interview, and was moved. She knew she could make those guys better. She was already doing that on a day-in, day-out basis.
So, she literally just went to the Arizona Cardinals website, found the phone number on their "contact" page, and called up their main phone line. She didn't call as herself, though. She pretended to be an assistant to the head coach of the Revolution, Devin Wyman. (Davis was let go halfway through the 2015 season.) In character, she talked her way through the Cardinals' phone tree, saying that her coach (Wyman) wanted Arians to know that there already was a woman coaching in men's pro football, and that he should consider hiring her.
"Apparently I sounded really convincing, because I worked my way to Bruce's assistant Wes," Welter told Power Plays, laughing.
Wes told Welter that he thought Arians would want to take the call, but that it might be a few weeks, since the NFL draft was just a few days away.
"I completely thought I had gotten blown off but I was really proud of myself for having the balls to call the Cardinals," Welter said.
But about two weeks later, Arians did, in fact, call Wyman. They talked for about an hour, and Arians ended up inviting Welter out to Arizona to meet in person. 
"At the end of our conversation, he essentially said, 'I don't know yet if I can make this happen. I have to get a whole lot of yesses. But I want you to know, it's in my heart to try,'" Welter said. "He really just asked for me to trust him."
The first, but not the last
Arians was not naive about what a big deal this would be, and he went about making the hire very purposefully. It wasn't a top-down decision; he wanted to make sure everyone was on board.
"Bruce actually went to the leaders of his locker room and told them what he was thinking, and got their buy-in," Welter said. "It wasn't like, 'Oh, we're going to change all of football and you're gonna like it.' It was like, 'Guys we have an opportunity to do something really special. This person is qualified.'"
Thankfully, he didn't have to do a lot of pleading. The players supported the decision.
Welter's stint only lasted through training camp -- that was the extent of her contract. But she considers her time with the Cardinals a huge success. She has continued to stay close with many of the players, and most importantly, other women have come behind her. Since Welter broke through the glass ceiling in 2015, there have been more than 15 women who have served as assistant coaches or coaching interns on NFL staffs. (It's always a good sign when there have been too many to quickly google and get an accurate count!)
This spring, the Tampa Bay Buccaneers became the first team in NFL history to hire two full-time female coaches -- assistant defensive line coach Lori Locust and assistant strength and conditioning coach Maral Javadifar. It makes sense that such history was made in Tampa; after all, Arians is now the head coach there.
"As a first, the opportunity and the responsibility is to ensure that you're not the last," Welter said. "It can't just be, 'Is the door open for me?' It's, 'Is the door open?'"
Welter — who now holds football camps for girls, and recently became the first head coach in Madden NFL history — has really come to understand the power of representation.
"I know when I played they always called football, the final frontier for women in sports," Welter said. "I kind-of took that as a challenge, right? If we could win in football, we could do anything.
"We're showing the girls that there's no game they cannot play, and no field they do not belong in or on."
Men, you are a huge part of the solution
So, I obviously I loved the story about the cold call. It's going to stay with me for years, and I will use it as inspiration every time I try to talk myself out of making a scary professional phone call. (Honestly, I'm a millennial and every phone call terrifies me, so I plan to refer back to it frequently.)
But I want to be clear: I am not sharing that part of her story as an evangelist for the "Lean In" approach to fixing systemic sexism — if women could simply assert their way to toppling the patriarchy, trust me, we would have already done so. Women are smart.
Yes, it's important for all of us to advocate for ourselves and to take chances. But It's also absolutely crucial for those who are already within the system — men, I'm mainly talking to you!! — to do their part.
Welter's cold call wouldn't have been successful if Arians hadn't been willing to hear her out and open his mind. And Welter wouldn't have had even thought to make that cold call if Wendell Davis hadn't forced her to become a coach in the first place.
And I use that word "force" very deliberately! When Davis was hired by the Revolution as head coach and a coaching vacancy opened up for the 2015 season, Davis was the one who sought Welter out and offered the job.
Initially, she declined. Twice.
"I literally was like, 'No, I don't coach football. Women don't coach football. What are you doing?'" Welter recalled. "And he said, 'Not a lot of guys are going to give you this opportunity. You're taking this job.'"
Welter still said no, but the next day, Davis called her back and told her he accepted the job on her behalf, and she was going to be coaching for him.
"He said, 'You can't quit. Otherwise the entire narrative surrounding women coaching in men's professional football will be, We had a girl once and she quit,'" Welter said.
Well, that snapped her out of it, and she obviously accepted the job and ended up excelling. But it's incredibly telling that Welter was one of the best and most accomplished female football players in the world, and yet, it never crossed her mind that she could coach men's football. Because it just wasn't done.
When she told me that story, I was reminded of Asjha Jones, who was just promoted to assistant coach of the Washington Mystics, after serving as a player development coach with the team for the past two years. Two years ago, Jones — who won a NCAA championship, WNBA championship, and Olympic gold medal as a player — was working in insurance in Florida after retiring from the WNBA. Coaching wasn't on her radar. But Mystics head coach Mike Thibault, who had coached Jones on the Connecticut Sun, reached out to her, and said he was creating this part-time position on his staff, and wanted her to have it. That call changed everything for her.
Thibault did something similar this summer with Shey Peddy. Peddy is a point guard who has played most of her pro career overseas, but she was invited to Mystics training camp this year and was the last player cut before the final roster was finalized in May. Thibault ended up signing her to a short-term contract when Emma Meesseman and Kim Mestdagh were playing EuroBasket in June and July. But when they returned to the fold, Thibault wasn't ready to say goodbye; he thought Peddy had promise as a coach, and offered her a job as a video and analytics assistant on the team. Now, Peddy has a WNBA championship on her resume, and valuable coaching experience to help launch her coaching career, whenever she decides she's done playing overseas.
There are still so few opportunities for female athletes to transition into coaching, that many don't even see it as a possibility. It's imperative for men in charge to use their power and privilege to make the possibility crystal clear.

From the archives: "Talk about aggressive!"
September 9, 1961 Philadelphia Daily News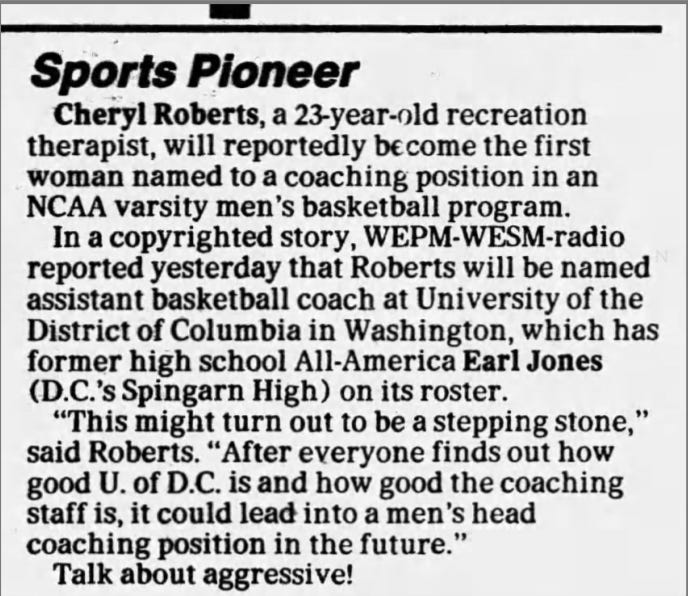 (Unfortunately, it was not a stepping stone. Today, there is still only one female assistant coach in NCAA Division I men's basketball — Edneisha Curry at Maine. If you're interested in finding out more about Curry, read the interview I did with her earlier this year at ThinkProgress.)

That's all for today! I hope you enjoyed Welter's story as much as I did. I'll be back in your inbox on Friday morning with the Power Plays Gift Guide!! I'm so excited.
Until then, sign up, share, and make that cold call.