How a trailblazing female general manager transformed the worst franchise in the NWSL
Spoiler: Free beer helped.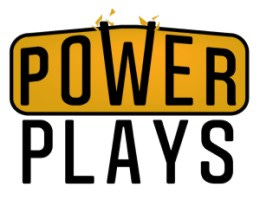 Hello! Welcome to Power Plays. In today's newsletter, I talk with Alyse LaHue, one of only two female general managers in the National Women's Soccer League (NWSL), about how she's transformed Sky Blue FC in less than a year.
Then, we examine some ridiculously sexist headlines — one from last week, and one from 50 years ago.
Remember, this work is only possible because of YOU. So please, if you haven't yet, subscribe to Power Plays and spread the word.
Power Plays goes on the road!
Since launching Power Plays and starting to work from home for the first time in more than four years, I've spent a lot of time and money getting my home office just right. (This process involved — well, involves — a lot of candles.) But as happy as I am with my revamped space, I don't want to spend too much time here, because I don't think I can properly cover the issues facing women in sports unless I am out in the proverbial field.
For that reason, I am fully committed to making travel and in-person coverage a regular part of Power Plays.
When I launch subscriptions in a few weeks, you all will be directly supporting that effort, so I want to keep you all apprised of the travel schedule.
This week, I'll be at the NWSL draft in Baltimore on January 16. On January 27, I'll be in Hartford, Connecticut for Team USA vs. UConn women's basketball. (I'll definitely be planning a Power Plays meetup in Hartford; please let me know if there's interest in one at the NWSL draft, too.) I'm also working on planning a women's hockey reporting trip in early February.
If there are events you'd like to Power Plays cover, or if you have ideas of what you'd like me to cover at the events I attend, please reach out: lindsay@powerplays.news. East coast events are the most accessible right now, but I'm dreaming big.
Also: As you may have noticed, I was forced to take a couple of sick days last week, so look out for a couple of bonus newsletters coming your way this month. Apologies for any inconvenience.
Alright, that's enough preamble. Let's do this.

Meet Alyse LaHue, general manager of Sky Blue FC
We spend a lot of time in Power Plays focused on how the Powers That Be are failing women in sports. But it's crucial to focus on the success stories, too.
And, in my opinion, the way that Sky Blue FC general manager Alyse LaHue has turned around the fortunes of Sky Blue FC in the last year is one of the most impressive stories in sports right now.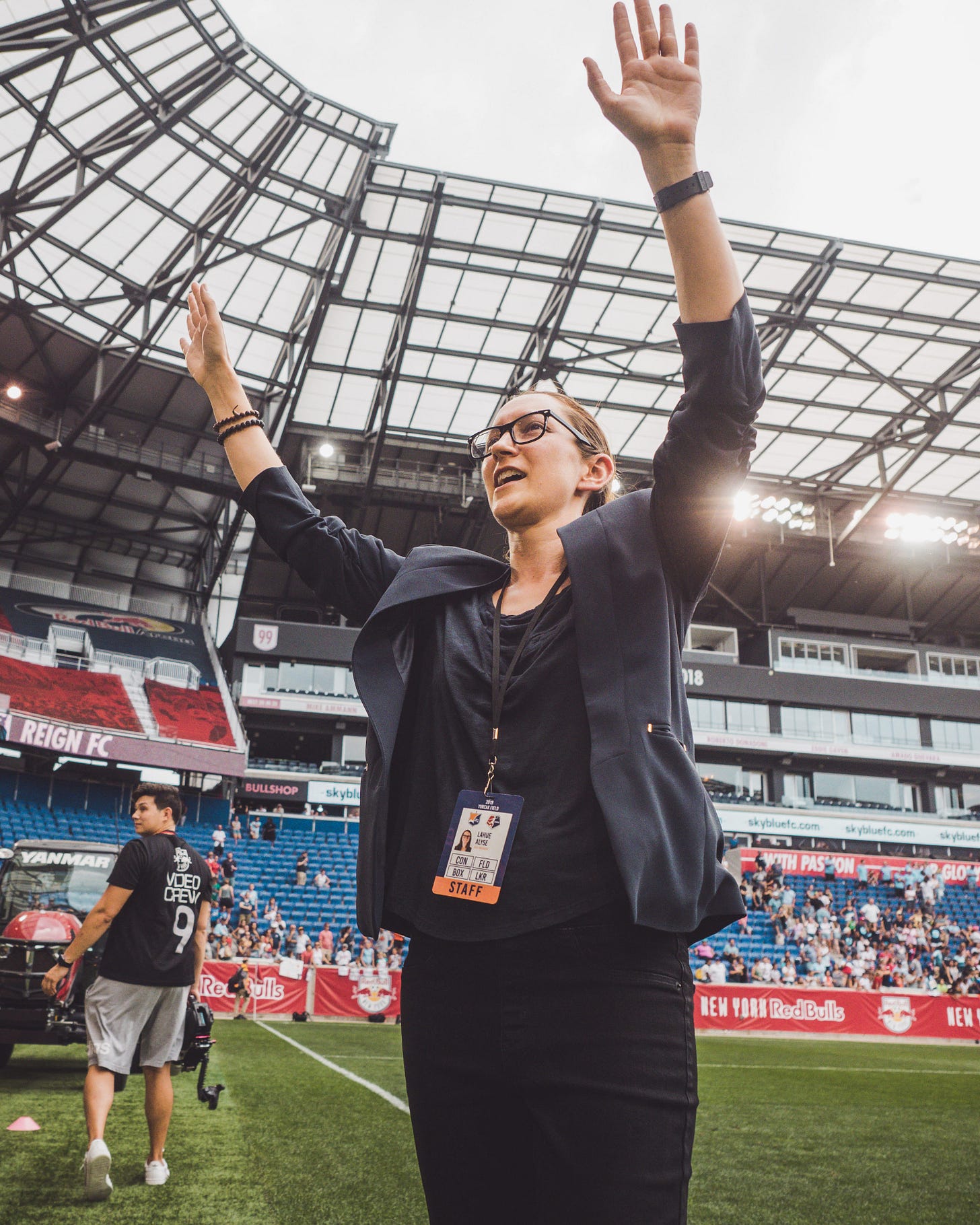 All hail Alyse! (Photo credit: Sky Blue FC)
I'm fascinated by this story for a few reasons:
LaHue is one of only two female general managers in the entire NWSL. Currently, Sky Blue also has the only female coach in the NWSL, Freya Coombe. (I'll have more on gender in coaching, particularly in the NWSL, very soon.)

I think it's so important to cover women's sports as a business, and to learn from the inner-workings of the franchises.

Last time I wrote about Sky Blue FC, it was not for good reasons. During the 2018 NWSL season, reports surfaced from The Equalizer and Once A Metro about the deplorable conditions Sky Blue players were dealing with. They were being housed in apartments that had plastic bags or sheets of cardboard for windows, their training facilities had no running water, and players (including Carli Lloyd!) had to take ice baths in trash cans. The team only won one game that year, and in 2019, the team's two first-round draft picks refused to sign with the club.
Last week, I had a long chat with LaHue about her journey. You will be able to listen to part of that interview on the feminist sports podcast I co-host, Burn It All Down, on Tuesday. But based on our conversation, I've mapped out a four-step guide to turning around a flailing franchise.
Step 1: Know your shit
LaHue was named the interim general manager of the Sky Blue in April, and was given the job on a permanent basis beginning last September.
But her NWSL story starts far earlier than that. LaHue worked with the NWSL's Chicago Red Stars from 2008-2016, and served as the team's GM from 2012-2016. She then left the soccer world and spent a year working in the sponsorship department of the WNBA's Seattle Storm.
She wasn't necessarily planning on coming back to the NWSL — and certainly wasn't planning on working for Sky Blue — but in 2018 she took a job as a vice president at the club to help her friend, Denise Reddy, who was Sky Blue's head coach at the time.
"To be fair, I had worked in the league for a long time, so I knew some of the challenges of Sky Blue, and some their previous reputation around the league," LaHue told Power Plays. "So I wouldn't suggest it was necessarily destination that I was looking for at that point in my career."
LaHue started right just weeks before Sky Blue's management issues became front-page news in the soccer world. Thankfully, she wasn't the only force trying to turn things around. Sky Blue is owned by New Jersey governor, Phil Murphy. Murphy had a pretty hands-off ownership style, but when the team's problems became public, Murphy's wife, Tammy Murphy, became much more involved in the day-to-day team operations. She's really helped push forward the transformation, too.
But it wouldn't have been possible without LaHue and her years of experience working in women's sports.
"Obviously I've done what I can to push things as quickly as possible forward," LaHue said. "Because I do believe in this club, in this market. I believe the New York City, New Jersey market should be one of the preeminent destinations in this league for players in the U.S. and around the world."
Step 2: Take care of the basics
When LaHue arrived at Sky Blue, she immediately got to work taking care of the fundamentals.
"I think one of the first things was making sure that we had a set training facility," LaHue said. "You know, the previous year, the club kind of moved around a bit. And by the end of (2018), we're training at a location that that wasn't suitable really for the pro game. I think there was enough mentioned in the news about it that I don't have to go into it."
Last March, Sky Blue officially announced that it would be training at Georgian Court University in Lakewood, New Jersey for the 2019 season — a high-end training facility that included two grass fields and a brand new turf field, and a fully-stocked wellness center with ice baths, locker rooms, meeting spaces, and a hydro room.
The other big piece to fix? Housing. That involved going to the league, and asking for permission to spend more money.
"The league used to have a housing cap. So there was only so much that each team could spend in terms of housing for players. And I'll be really honest, in a market like New Jersey, it just doesn't stretch very far. So the housing cap wasn't even suitable to cover, I'm not even talking about the full roster, but even part of the roster," LaHue said.
Sky Blue was able to get a waiver so that it could immediately spend more money on housing, and the league has since increased the housing cap dramatically, which gives owners much more flexibility about how they go about housing players. Since then, there haven't been any more public complaints about nightmare housing situations in New Jersey — well, at least from Sky Blue players. That's a huge step in the right direction.
"When the players come in, it's where are they training, and where do they live? I mean, that's where they're going to spend the majority of their time, so you've got to get those pieces right," LaHue said.
Step 3: Reach out to fans
When LaHue was named GM in April, her first big goal was to re-establish a relationship with the fanbase, which had been very vocal about ousting former Sky Blue president and GM, Tony Novo.
This is where the beer comes in.
"Our biggest goal as a staff, when I took over, was that we needed to rebuild the trust with fans. They didn't trust this club anymore. They didn't trust us, they didn't trust the people here. And you can't survive — the fans, they own the team. It's their team. It's the community's team. We're just the conduits that that bring it forth. So that was crucial for us.
"And what does that mean? For me, it's being as transparent as I possibly can as a leader. It's not always easy, but I share as much as I can. I try to remain as honest as possible. I think I'm a straight shooter. You know, I never want to say anything or over promise something that I don't think I could deliver on," LaHue said.
"You know, I joked about the free beer. But that all started from a place of transparency."
Sky Blue played at Rutgers since 2009. Last summer, just two days before a big World Cup homecoming game, LaHue found out that Rutgers had lost its liquor license. That was terrible news, because LaHue had promised fans there would be a beer garden at that marquee game.
"It was one of those things where I had an option, do I just suck it up and tell the fans what's going on? Or do we keep quiet and they show up and there's no beer garden? I just said, there's no way, I have to tell everybody. So we just put it out there and went into repair mode and figured out what we can do," LaHue said.
Repair mode included an impromptu ShopRite trip, where LaHue bought four shopping carts worth of beer to turn the sold-out game into a free beer tailgate.
The fans ended up rallying around her; not only did they appreciate the honesty, they appreciated the effort that she put into making their experience a great one, even if it was all a bit unconventional.
"That all started from a place of just being honest. And I realized, you know, fans are really forgiving of you if you are honest and transparent with them," LaHue said.
"I think that that for me was my starting place."
Step 4: Set the bar high
So often in women's sports, the basics are enough for the Powers That Be. Again, this sets LaHue apart. Once she took care of the basics, her work was just beginning.
LaHue had her sights set on a new home for the team: Red Bull Arena. Rutgers just wasn't cutting it anymore; it only sat 5,000 fans, wasn't located near public transportation, and had sub-par facilities compared to the rest of the league. Red Bull Arena, meanwhile, seats 25,000, is much closer to New York City than Rutgers, and accessible by public transportation. It's the home stadium for the MLS's New York Red Bulls, so everything is state-of-the-art.
"That was always, you know, my top target coming in as a general manager — even in the first week, I said, 'We have to play in Red Bull arena … and we can't wait until 2020, let's play there this year. Let's let's get in there and see how the fans respond," LaHue said.
"So that obviously that took a lot of negotiating — especially since I came into the role in April, so the season's really starting at that point, you're really running behind the ball. So it took a lot of effort."
LaHue and Tammy Murphy joined forces to negotiate with Red Bull last year, and they were able to work out deals to hold two games there last season. With only about 12 days notice for each game, they were able to set the top two attendance records in franchise history — there were 9,415 fans at the first game against the Seattle Reign on August 18, and 8,314 at the game against the Orlando Pride on September 29.
After those two good showings, LaHue and Tammy Murphy were able to negotiate a deal to play all of Sky Blue's home games in Red Bull this season.
With improved housing, training facilities, and a new home field, it's a good bet that this week, Sky Blue's draft picks won't flee the country to play abroad the second LaHue selects them. Something special is brewing in Jersey.
"I've dreams of getting this team to the playoffs and I don't want it to take three or four years," LaHue said. "I want to move now."

Present-day bullshit: SHE HAS A NAME
So, this happened:
ABC13 Houston responded by apologizing to JJ, not Kealia.
Of course, as friend of the newsletter Stephanie Yang pointed out on Twitter, it is downright laughable for ABC13 Houston to suggest that they have "loved doing stories on (Ohai's) many talents and accomplishments over the years." They never saw Kealia as anything other than JJ's fiancee. And unfortunately, they're not the only ones. This bullshit is way, way too common.

From the archives: "Soccer Goes Sexy South of the Border"
Yeah, I'm just going to leave this one here. It's a wire article that was printed in the New York Times on June 27, 1971.
There is a lot to digest.

That's all for today, friends! Thrilled to be back in action. Please remember to subscribe and share; let's keep building something special.