How Nike's abuse of female athletes was exposed
It all started because a female reporter asked a question nobody else was asking.
Welcome to  Power Plays, a newsletter for people who are sick of hearing bullshit excuses, and ready to see equality for women in sports.
I'm Lindsay Gibbs, your captain on this journey. I'm so glad that you're here. My email is lindsay@powerplays.news. I look forward to hearing from you, as we work together to build Power Plays into a true, well, power player. (Sorry, I couldn't help myself.)
If you haven't already, please subscribe and share.
In this issue, I talk with New York Times journalist Lindsay Crouse about her harrowing story with runner Mary Cain about the emotional and physical abuse Cain suffered at the Nike Oregon Project.
Then we look at some examples of the media perpetuating myths about women's sports.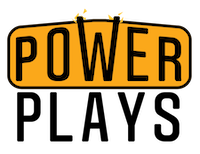 First, some good news: I am honored to announce that I am one of the inaugural recipients of the Substack Fellowship for Independent Writers. This is such a thrilling opportunity that will help Power Plays thrive, and it encapsulates why Substack was the perfect place to launch this newsletter — they really do care about writers and journalism.
We've made it through week 2, and I've got a lot planned for week 3. (Including a promise, that I expect all of you to hold me to, that from here on out the newsletter will be in your inbox by 7:30 a.m. ET on Monday, Wednesday, and Friday, so it can become a part of your morning routine.)
If you like what you're reading so far, please share.
Thank you all so much for the support. I really do feel like you all just get me.

Mary Cain's body and career were destroyed by a system created by men, for men
Yesterday, the New York Times released an op-ed article and video by Mary Cain, a former running prodigy: "I Was the Fastest Girl in America, Until I Joined Nike."
It was a devastating look at how a promising career and a confident young woman were torn down by an abusive, male-dominated system at Nike's Oregon Project.
"I joined Nike because I wanted to be the best female athlete, ever," Cain said. "Instead, I was emotionally and physically abused by a system designed by (star coach Alberto Salazar), and endorsed by Nike."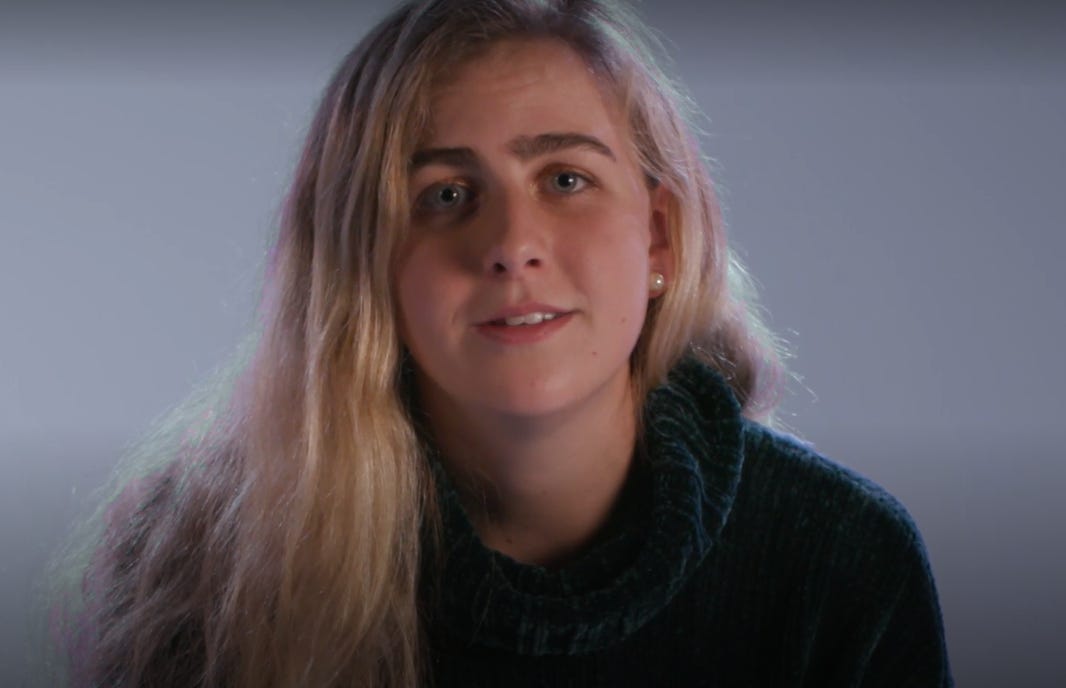 You need to take a few minutes to watch the whole video and read the entire article, because summaries can't really do it justice.
Cain says that when she first arrived at Nike's Oregon Project, she was advised by a system full of men that in order to be faster, she had to get "thinner, and thinner, and thinner."
I was astonished to find out that there wasn't a certified sports psychologist or a certified nutritionist in Cain's program — one of the top programs for runners in the entire world.
Salazar and the friends he hired for his team arbitrarily gave Cain a number on the scale to hit, and didn't care how she got there. Cain ended up developing RED-S, didn't have a period for three years, and her bones became brittle due to a lack of estrogen, which resulted in five broken bones. She had suicidal thoughts, and was pretty open about cutting herself. But nobody helped. Salazar just continued to berate her in public about her poor performances and weight.
"I wasn't even trying to make the Olympics anymore, I was just trying to survive," Cain said. "This system is sick."
We have Lindsay Crouse to thank for this powerful story
When I read this story yesterday, my first reaction was: How has this not been reported before? This seems like a story that was hiding in plain sight. After all, Cain was an incredibly well-known athlete when she entered the program, and Nike's Oregon Project gets a lot of attention.
Lindsay Crouse, an avid runner who works as a video producer for New York Times Opinion, brought this story to life. On Thursday, I reached out to her to get the story behind the story.
Crouse told Power Plays that Cain reached out to her directly, ready to tell her story. But she didn't pick Crouse's name out of a hat. Cain reached out to Crouse because of the wonderful work Crouse did this summer, exposing Nike's lack of maternity rights for its female athletes.
Crouse, who pays very close attention to the running community, had picked up on what she called "coded language" by female runners when they returned from pregnancy — language that seemed to imply that Nike had not supported them.
So, she reached out to Alysia Montaño, a runner who became an inspirational symbol for the power of women because she competed in races while extremely pregnant. Of course, Crouse found out that there was much more to the story.
In May, the NYT Opinion published Montaño's story, "Nike Told Me to Dream Crazy, Until I Wanted a Baby." After that story received such a positive response, Allyson Felix, one of Nike's most prominent female athletes, came forward with her story in the NYT exposing the lack of maternity protections provided by Nike.
That journalism led to Nike, and many other sponsors, to begin to reform their maternity policies.
Cain saw Felix's story, and that's when she decided to reach out to Crouse. The courage became contagious. And it all started because one reporter listened closely to what these women were saying in public, read between the lines, and asked the right questions.
"I think what's really important to note about all of these stories is that nothing is illegal. Nothing is actually fundamentally wrong," Crouse told Power Plays. "No one's breaking any rules. Rules are set up to not support the women that they are hurting."
"It's why you want to have women in these spaces, because they're showing us the truths that are kind-of more in that gray space, but are equally important."
What's next for Nike
The Nike Oregon Project has recently been shut down because of doping allegations, and Salazar has been suspended for four years, due to antidoping violations. But, as Cain said in the NYT video, that's not addressing the root of the problem.
"They're not acknowledging that there is a systemic crisis in women's sports and at Nike, in which young girls' bodies are being ruined by an emotionally and physically abusive system, that's what needs to change," Cain said.
"We need more women in power," Cain added. "I got caught in a system designed by and for men which destroys the bodies of young girls."
Nike released a statement on Thursday in response to Cain's allegations, saying it was launching an investigation, but also essentially blaming Cain for not opening up to them with these problems — even though they were the ones enabling such behavior.
Other female runners have openly supported Cain's story, with some stating they having similar stories of abuse.
But it goes beyond just Nike — the media must change, too
This isn't just a story about the failures of Nike's patriarchal system; it's a story about how patriarchal systems uphold one another.
Women only account for 13% of all sports reporters and editors, and the numbers are much more bleak for women of color, transgender, and nonbinary reporters. This is bad for all of us, because it means so many stories get overlooked.
Crouse thinks Nike needs to overhaul it's system. But the media must evolve, too.
"I think the people charged with telling our stories need to change, because they're the ones that are shaping national dynamics and the national dialogue," Crouse said.
"I was a history major in college, and one of the best lessons they taught you is that so much of history is subjective. You're told what was important by the people who decided it was important. I think sports -- or anything in journalism -- is exactly the same way."

Frequently in Power Plays, we're going to look back at bullshit that women in sports have had to deal with and barriers they've broken throughout the ages. Submissions are encouraged. Please send old newspaper clippings, recent examples, enraging quotes, and anything else you can think of to lindsay@powerplays.news.
FROM THE VERY RECENT ARCHIVES: How the media perpetuates the myth that women's sports are in peril.
Last week, we talked about how the myth that women's sports are in peril is perpetuated by the men in charge of them.
Well, guess what? The media has a huge role in that narrative, too.
I want to show you two exampled of New York Times pieces that are egregious, not necessarily for the framing of the pieces themselves, but for the incredibly misleading photo selections chosen to accompany the articles.
Both pieces are about how women's sports are struggling, and they feature lead photos showcasing nearly-empty stadiums.
From June 29, 2015:
Here's another, from May 28, 2016: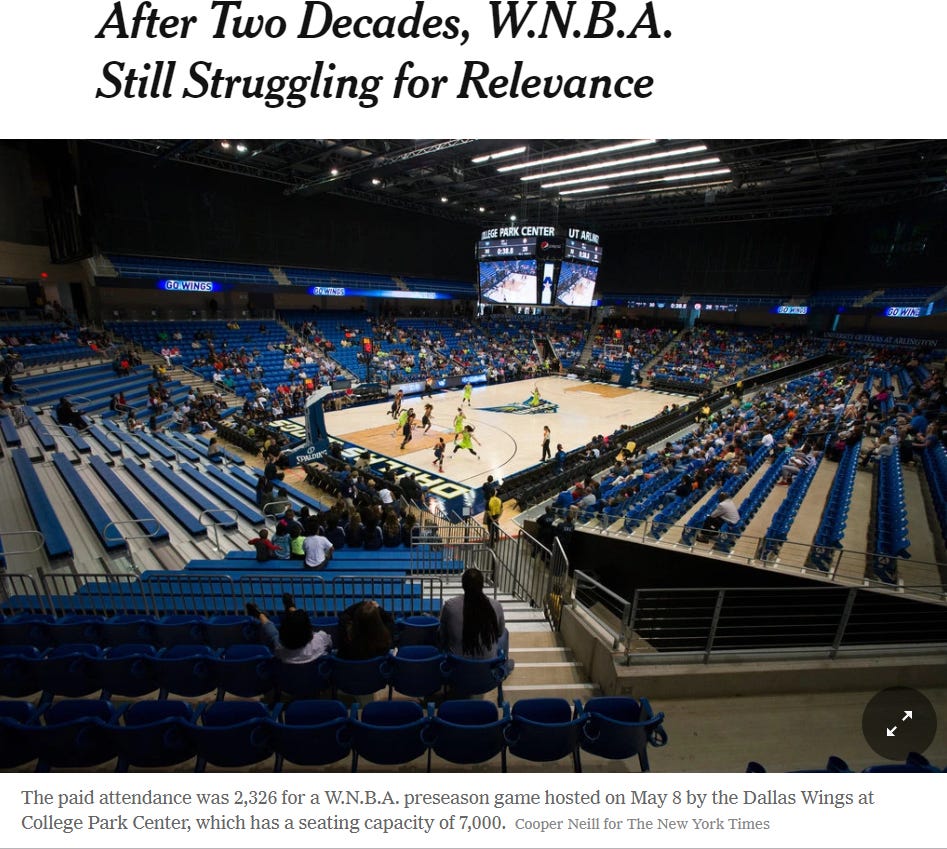 If you don't see what's wrong, look a little bit closer: In the first one, about women's sports struggling for fans, the photo is not of a game that nobody is attending; it's from a PRACTICE WORK-OUT!! Of course the stands are empty!
The second one is from a PRESEASON GAME. It was, in fact, the very first preseason game for the Dallas Wings, ever, after a relocation from Tulsa.
The article includes this sentence, buried deep within:
"The first regular-season home game, a victory over the San Antonio Stars in a sellout arena, was a better early indicator of local interest in the relocated team that will try to break through in a crowded market."
That is, my friends, peak bullshit. Let that fury carry you through the weekend. I'll see you back here on Monday.

Okay, that's all for today—thank for reading Power Plays! The next edition will hit your inbox on Monday morning. Don't miss it.
Questions? Comments? Tips? I'm lindsay@powerplays.news. I would love to hear from you — especially about whether you enjoyed this deep dive into the archives, and would like to see more posts like this in the future? We're figuring this all out together, friends.
You can share the website version of the newsletter by using the button below.