'I was out of there': Ali Krieger and Ashlyn Harris open up about playing for homophobic NWSL owner
"How can I give my best to a club like that?"
Welcome to  Power Plays, a newsletter for people who are sick of hearing bullshit excuses, and ready to see equality for women in sports.
I'm Lindsay Gibbs, your captain on this journey. I'm so glad that you're here. If you haven't already, please subscribe by adding your email in the box below. That's the only way to keep this thing going.
Today's newsletter is a special one. On Tuesday, I made the trip to New York City for the Athlete Ally Action Awards, where among other things, World Cup champions Ashlyn Harris and Ali Krieger were honored for their advocacy work on behalf of the LGBTQ community.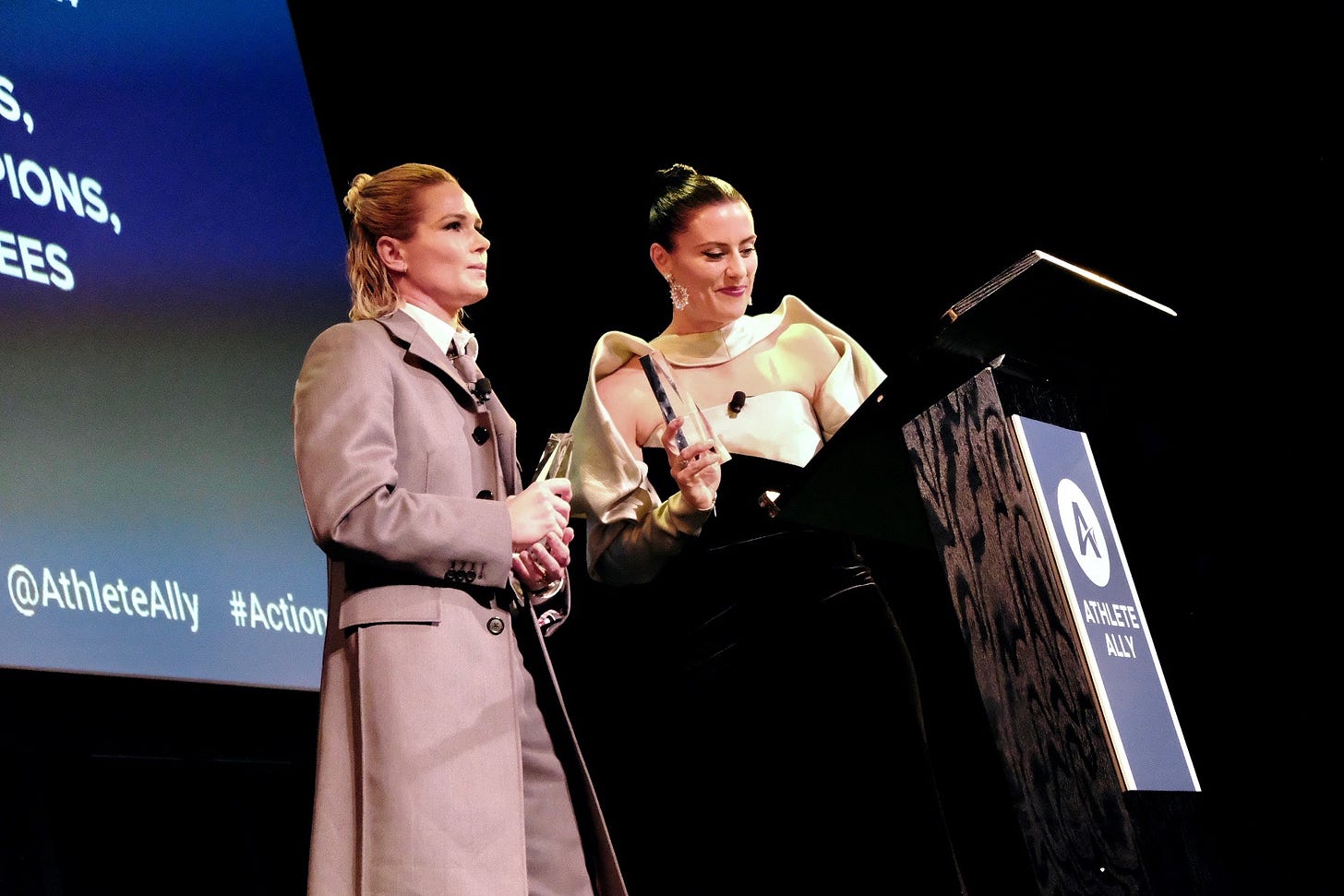 (Photo credit: Sylvia Padiasek)
The two USWNT stars — who are getting married next month — spoke to a very small group of journalists, including Power Plays, prior to the ceremony. They got candid about playing for the Washington Spirit when the team refused to host an official Pride night; the fears they had about coming out publicly; and what they thought of Megan Rapinoe's decision to take a knee during the national anthem in 2016.
Excited? Yeah, me too. Let's do this.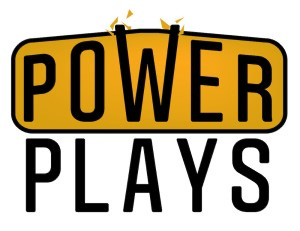 Bill Lynch's refusal to hold a Pride night drove the stars away from the Washington Spirit
Since announcing their engagement eight months ago, Ashlyn Harris and Ali Krieger's lives have been a whirlwind of photo shoots and red carpets, on-the-field victories and Instagrammed celebrations.
They've done it all together. Holding hands, gazing lovingly at one another, dressed in coordinated attire, perfectly cotoured to show their individual personalities. It looks glamorous, effortless.
So effortless, in fact, that it's tempting to take their visibility for granted. To think that they've always been supported and celebrated for being exactly who they are — outspoken lesbian soccer superstars, who aren't afraid of anything.
But that's not their story.
In 2013, when the National Women's Soccer League (NWSL) launched, Harris and Krieger — who were already dating at the time — were two of the three national team players allocated to play for the Washington Spirit. While the rest of women's soccer was taking strides forward when it came to LGBTQ inclusion, it quickly became apparent that Bill Lynch, the majority owner of the team, did not support the LGBTQ community.
Every June, the Spirit were the only team in the NWSL not to hold an official Pride Night. In 2015, the Spirit were the only NWSL team that didn't openly celebrate the Supreme Court's ruling on marriage equality.
"It was somewhat shameful. Really disappointing," Krieger told Power Plays, when asked about Lynch's refusal to hold a Pride night. "Maybe worse than disappointing, because he was willing to — or the club was willing to — celebrate any other holiday."
It has been widely speculated that Lynch's homophobia was a factor in Harris and Krieger leaving the team. But on Tuesday, they opened up about that difficult period in their lives.
"I just didn't feel like I was playing for a club that really respected me and supported me and my lifestyle. How can I give my best to a club like that? That was so hard to deal with," Krieger said.
"I was out of there," added Harris.
After the 2015 NWSL season, Harris was selected by a new NWSL team, the Orlando Pride, in the expansion draft. Krieger — who is from the DC area and was incredibly devoted to the Spirit — remained in Washington for the 2016 season.
She kept fighting behind the scenes to get the team to change its ways. She recalled stopping by the office of Ashlee Comber, the COO of the Spirit from 2012 to 2016, and stressing how terrible it was for the Spirit to refuse to hold a Pride Night — especially since every other team in the league was doing so.
"For us to go against that and to purposely not celebrate the LGBTQ community? That's half our team," Krieger said. "And even if not just for us, (they should hold one) for the fans."
Since the Spirit didn't hold an official Pride Night, their fan club, the Spirit Squadron, held one instead.
"These people are coming and paying to be here and they're a part of our community and you need to be willing to accept them," Harris added.
Krieger said she never got a straight answer about why exactly Lynch wouldn't hold a Pride night, just that it wasn't something he was willing to budge on.
Megan Rapinoe's protest during the national anthem changed everything
In 2016, tensions on the Spirit boiled over during the last regular-season home game against Megan Rapinoe's team, the Seattle Reign. The week prior, Rapinoe had taken a knee during the national anthem of a Reign game in solidarity with then-San Francisco 49ers quarterback Colin Kaepernick's protest of systemic racism and police brutality. Rapinoe said that as a gay person, she understood what it felt like to live in a country that didn't protect your liberties.
Lynch didn't give Rapinoe a chance to take a knee when she played the Spirit, though. He played the national anthem when the teams were still in the locker room, and then released a scathing statement during the game saying he did so in order to prevent Rapinoe from "hijacking our organization's event." (Ed. note: I was at the Maryland Soccerplex that night reporting for my former outlet, ThinkProgress, and it was truly, to quote Rapinoe, "fucking unbelievable" to watch the events unfold.)
"I do think that Bill Lynch is homophobic," Rapinoe said after the game.
Krieger, the captain of that Spirit team, helped organize a statement from the players condemning Lynch's decision. That offseason, she was traded to Pride, where she reunited with Harris on the field. Multiple other high-profile players left the Spirit that offseason, too.
"A lot of us were just like, this is not where we want to be," Krieger said.
"All in all, the ownership did some shady things," Harris said. "It's not just about the queer community. It's about racial justice for all and having the freakin anthem played when players are in the locker room. There's this shady shit all across the border and like, no one did anything about it."
At first, Harris and Krieger were uncomfortable with Rapinoe's protest
The way Lynch handled Rapinoe's protest during the national anthem provided a moment of clarity regarding his toxic leadership and bigotry. But the initial days and weeks surrounding Rapinoe taking a knee were a confusing time for Harris and Krieger.
"I don't know if I necessarily at that time agreed with her," Krieger said. "Like, I support you because you're one of my best friends and I will support your views and your values, but I don't know if I can kneel with you, so to speak."
"When it first started, I think we were uncomfortable," Harris said. "That's what change is about, though."
Suddenly, reporters were reaching out to them and asking their thoughts on the protest and police brutality and systemic racism and patriotism — topics they weren't used to addressing publicly. Meanwhile, they were holding their breath watching how U.S. Soccer responded, and wondering whether their friend would be kicked off the team. It was scary. But it was also important. Because it forced them to reckon with intersectionality and systemic oppression in new ways, and made them really examine how they wanted to use their platform.
"That might have been a changing point," Krieger said. 
"It made you think about things," Harris said. 
After years — decades, even — of being told to stay in their lanes, to just be happy with whatever they were given as female athletes, to basically just shut up and play, silence no longer felt like a tenable option.
"I think the hierarchy, and the fear of the men at the top to take our pay away — that's a real fucking fear. These men who pay us up top, they pay my mortgage, our food, our water, like everything. So I think at the beginning we were so fearful of what may happen if we actually speak up about heavy topics that matter," Harris said.
"And now I think we're at a place where we know how incredible we are and we know what we bring to the table and what we deserve. And there's just no looking back at this point."


Still, they were afraid of the ramifications of coming out publicly
Even as Harris and Krieger became more comfortable as activists, they remained silent about the most important thing in their lives: their relationship.
That changed on March 13, 2019, when they announced their engagement via People Magazine. It was, obviously, not a decision they took lightly.
"I think for so long we were like, fuck, are we gonna lose our sponsorships? Are they gonna be okay with this?" Harris said.
"Or am I going to lose my job?" Krieger added. (She followed that up by saying, "But then I did anyway," a reference to the fact that she was left off the USWNT roster for nearly two years in the lead-up to this summer's World Cup.)
But they had a lot of long, hard conversations with Rapinoe and former USWNT player Lori Lindsey, and ultimately the fear of repercussions and the desire for privacy was overshadowed by the realization that just by living authentically they could help so many young people — and adults! — be more comfortable in their own skin.
"It was time," Harris said.
"It's a real thing, you know, and it was difficult to come to the decision, but we're at a point in our lives where we're like, you know what? We're willing to risk it all to really just authentically be ourselves."
They were flooded with champagne and candy from sponsors, and received calls and texts of support from everyone in positions of power at U.S. Soccer, including then-USWNT head coach Jill Ellis and U.S. Soccer president, Carlos Cordeiro.
The outpouring of support has been so positive and invigorating, that they've wondered at times why they didn't come out much sooner.
But, of course, they had their reasons.
Last year, Lynch sold his majority stake of the Spirit to local tech executive Steve Baldwin. Lynch is still a minority owner of the team.
This summer — three months after Harris and Krieger announced their engagement — the Spirit held their first official Pride night.

Motivational quote of the day
"If you have a platform, fucking stand for something."

-Ashlyn Harris

That's all for today's edition of Power Plays. I've got a lot more to report about the Athlete Ally Action Awards, and there's even more to share from my conversation with Harris and Krieger, so stay tuned.
If you were forwarded this email or came here from a direct link, don't forget to subscribe, so you'll get the next edition directly into your inbox on Friday.
And please, if you like what you've read so far, and want to see more analysis and reporting and in-depth conversations like this with your favorite athletes, tell a friend about Power Plays. I publish newsletters every Monday, Wednesday, and Friday.

If you haven't already subscribed to
@linzsports
Power Plays newsletter, get your life together!
powerplays.news/p/how-nikes-ab…
Lindsay Gibbs @linzsports
You probably read @runmarycain's harrowing story about Nike's abuse yesterday. For Power Plays, I talked with @lindsaycrouse to get the story behind the story. "I think the people charged with telling our stories need to change." https://t.co/xeIRzlWCF5
Make sure you are subscribed to Power Plays from
@linzsports
(
powerplays.news
). Some great Team USA historical perspective and insight from Dawn Staley in the latest!
Lindsay Gibbs @linzsports
1. **Fires up PERSONAL NEWS twitter** This week, I am launching Power Plays, a no-bullshit newsletter for fans who are sick of sexism, and ready to see equality for women in sports. https://t.co/adLaagqR8g
Want to get in touch? lindsay@powerplays.news.