In the NHL, it's time for a woman to call the shots
Marisa Ingemi writes about Katie Guay, a history-making female hockey offical. PLUS: Watch the NWHL draft!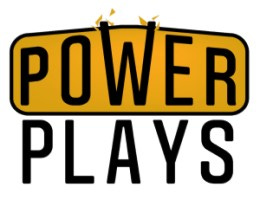 Hello, all and welcome to Power Plays, a newsletter for people who are sick of bullshit excuses and ready to see equality for women and gender minorities in sports, written by me, Lindsay Gibbs.
If you're new here, please sign up! It'll be fun, I promise.
Today's newsletter is actually not written by me! This article, on trailblazing hockey referee Katie Guay, was written by the incomparable Marisa Ingemi.
Remember, your paid Power Plays subscriptions are allowing me to pay freelancers who have been impacted by this pandemic. So, thank you!
One quick announcement before I turn it over to Marisa: The National Women's Hockey League draft is tonight and tomorrow night! You can watch it on twitter.
Also, join this twitch livestream to watch with our friends over at The Ice Garden.
We're going to have a lot more reporting on the women's hockey world over the next couple of weeks, starting, well, right now!
Okay friends, let's do this.

Katie Guay is whistling her way through gender barriers in hockey
---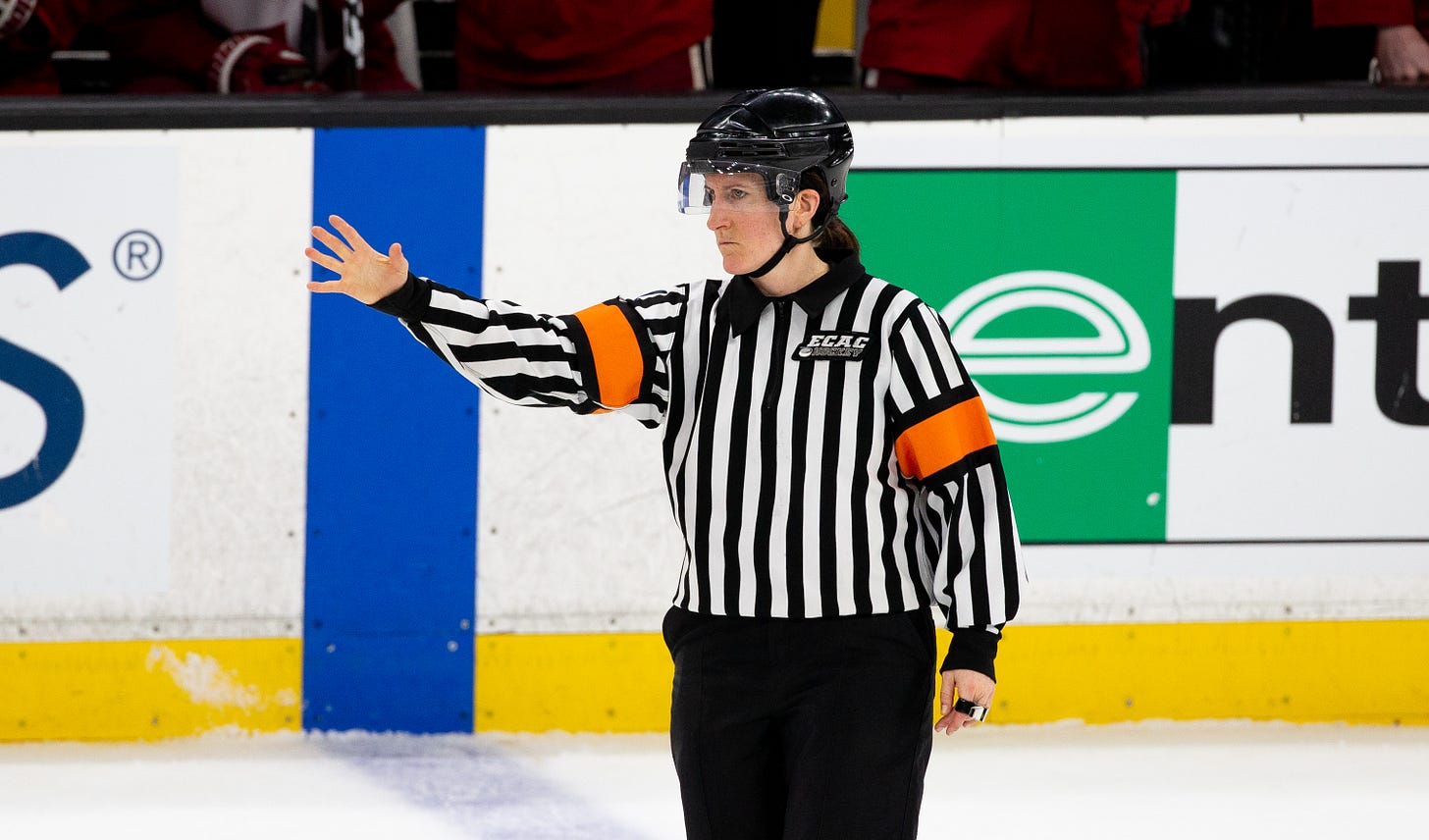 (Katie Guay in action, via Getty Images)
---
If you've watched women's or college hockey the past few years, you've likely seen Katie Guay action. Over the past couple of years, she has become one of the most promising hockey officials in New England.
Even the NHL has taken notice.
Last fall, Guay was one of four women officials from the league's officials camp — along with Kendall Hanley, Kelley Cooke, and Kirsten Welsh — selected to officiate at one of the four NHL rookie camps (mini-training camps for minor league players) across the country. Guay was assigned the camp in Anaheim.
This was the second time that any female official was invited to participate in the NHL's officials camp, and the first time a female official was selected to work a rookie camp.
It was her first experience at the NHL level, but not her first officiating men, or officiating at the professional level.
Guay worked the men's Beanpot — the prestigious tournament between the four Boston college hockey teams — in 2019, becoming the first woman to do so in the history of the prestigious tournament. She's also worked NWHL games, and was one of the officials for the Team USA and Canada women's scrimmage at the NHL All-Star Game in 2020.
Before that, she had officiated in a men's game in 2014 in the Southern Professional Hockey League.
She's used to breaking barriers; but Guay's career trajectory seemed to expand tenfold though once the NHL got involved.
"It's a great opportunity for women," she said of the NHL in the fall. "They're opening up some doors for us….I never imagined when I first started officiating that I'd be sitting in Orange County getting ready to go to a rink to go to an NHL rookie tournament. I never really set my sights on the NHL, I never thought it was a possibility."
An unexpected timeout
Hockey is currently sidelined, along with all other sports, due to the covid-19 outbreak. That means Guay is spending a lot of time at home right now, which is unusual; she is not used to an empty schedule.
"This is such a challenging time for everyone," said Guay. "Sports play such a huge role in so many people's lives, but what's going on is so much bigger than sports. The most important thing right now is making sure people stay healthy."
Her March is usually filled with the NCAA tournament. This year, it was canceled before it could begin due to coronavirus concerns.
Players aren't the only ones who battle to make the postseason. It takes a solid year of officiating to earn the pedigree to call the most important games of the season.
"March is tough," she said. "March is the time all the players and officials want to be on the ice for the playoffs. Having the NCAA tournament cut short was really tough for players and officials. We work hard the previous six months for the chance to skate on a big stage at the NCAA level. There's the high school tournament in Massachusetts cut short as well, the IIHF tournament, so a lot of disappointment.
"I really feel badly for the seniors out there, college and high school level, who had the last shot at being part of their team. For me I look at others in more difficult situations like that…. I hope there are other chances down the road, for some of those student athletes, it was their last team to wear their team's jersey."
When hockey returns, Guay will be ready to keep making history
Guay doesn't have access to the ice during the lockdown, but she's working hard to keep herself in officiating shape.
For now, she's doing Crossfit every morning at home and using several apps and DVDs to work out and keep fit. When she's called back to officiate the biggest moments in the game, she'll be ready.
"Eventually the rinks will open back up," said Guay. "The players will be able to take the ice and get back to playing, so as officials we have to be ready for whenever that comes."
No matter what the challenge, Guay has taken it head-on, whether it's a new sport undertaking, officiating the highest levels or, working as oftentimes the only woman on the ice. Away from the rink, Guay competed at the Red Bull Crashed Ice downhill speed skating event at Fenway Park last year after qualifying as a wild card competitor. The tournament hit Boston for the first time in 2019, where Guay competed in the women's division.
The Westfield, Massachusetts native says she doesn't think she'll return to the sport, but it was a unique experience.
As the director of philanthropy with USA Hockey, Guay has plenty to keep her busy in her career while she continues to officiate as her second job. The former assistant coach at Noble and Greenough School in Massachusetts has seen her hockey life grow and evolve as an official, entering the world of men's hockey with her continuous path in women's hockey.
It's rare to see women officiating at the highest levels of men's sports, but progress is being made. In 1997, Violet Palmer and Dee Kantner became the first female referees in the NBA. In 2019, the NBA named Jenna Schroeder as just its sixth full-time female official; Stephanie Frappart became the first female official to work a major men's soccer final in Europe; and Sarah Thomas made history as the first woman to officiate an NFL playoff game.
The NHL is lagging behind — it has yet to have a female official work a preseason, regular season, or postseason game. Thanks to the hard work of Guay and her female colleagues, that is barrier is bound to break soon.
When hockey comes back, Guay will be there. She just hopes, like the rest of us, that it's back on sooner rather than later.
---
Marisa Ingemi is a freelance sports reporter, who most recently was a Boston Bruins beat reporter for the Boston Herald. She is a must-follow on twitter for all your women's hockey needs.
---

Thanks, all! I'll see you again in a day or two, depending on whether or not you're a paid subscriber.
We'll get through this together.
-Lindsay