In USWNT equal pay lawsuit, Ashlyn Harris says support from men's national team players is 'the f*@king thing that's missing'
"We need men to step up."
Welcome to  Power Plays, a newsletter for people who are sick of hearing bullshit excuses, and ready to see equality for women in sports.
I'm Lindsay Gibbs, your captain on this journey. I'm so glad that you're here. My email is lindsay@powerplays.news. I look forward to hearing from you, as we work together to build Power Plays into a true, well, power player. (Sorry, I couldn't help myself.)
If you haven't already, please subscribe by adding your email in the box below. That's the only way to keep this thing going.
Today, we're looking at the USWNT's equal pay lawsuit. I talked with Ashlyn Harris and Ali Krieger about it last week at the Athlete Ally Action Awards, and trust me, you want to read what they had to say.
Thank you all so much for your support of Power Plays these first couple of weeks. Please, keep spreading the word!
Okay, let's do this.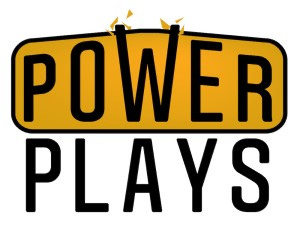 Where the lawsuit stands
So, before we really get into it, let's all get on the same page. As most of you are likely aware, the U.S. Women's National Team is suing U.S. Soccer for equal pay.
This gender discrimination lawsuit was filed by all 28 members of the USWNT on March 8, 2019, which happened to be International Women's Day. (That was not a coincidence.)
It was not resolved prior to the Women's World Cup, and in France, after the USWNT won its second consecutive World Cup — and fourth overall — chants of "equal pay" broke out all over the stadium.
The two sides met in August for mediation, but talks broke down and on August 19, District Judge R. Gary Klausner set May 5, 2020 as the date of the trial. (Mark your calendars, friends.)
On November 8, Klausner granted the USWNT class status, which expands the suit beyond the original 28 players to include all players who have been called up to camp or played in a game since February 14, 2014.
While this is not an official ruling on the lawsuit, it does signal that Klausner is taking the USWNT's arguments seriously.
"The failure to provide the (women's National Team) with equal working conditions is a real (not abstract) injury which affects each Plaintiff in a personal and individual way," the judge ruled. "Plaintiffs also have offered sufficient proof of this injury. Indeed, Plaintiffs have submitted declarations establishing that WNT players were subject to discriminatory working conditions."
Molly Levinson, a spokeswoman for the players, called it a "historic step forward in the struggle to achieve equal pay."
Meanwhile, as U.S. Soccer continues to put up roadblocks, other federations are embracing progress. On November 6, Football Federation Australia reached announced a groundbreaking agreement to close the revenue gap between men's and women's soccer.
Where is the support from the men?
While it's been a good few weeks in the world of equal pay fights, as the trial approaches and the Women's World Cup gets further in the rear-view mirror, the USWNT players know that they need as many allies as possible.
When I asked Ashlyn Harris and Ali Krieger about the lawsuit at the Athlete Ally Action Awards last week, Harris expressed immense frustration that the women weren't receiving more support from their male counterparts.
"I think at the end of the day, we need men to step up, and we need we need these men to see our value and to see our worth and take a stance and say, 'You know what? This is not okay. We need to make a change and our children need to make a change.' And I think that is right now the fucking thing that's missing," Harris said.
"It's like, we can inspire women all day, we can give them courage to live their truth and speak up and create change, but we need men to follow the same guidelines. I need boys and teenagers and adult men to really value and appreciate these women who are giving so much but just fucking aren't treated the same. You know, at the end of the day, they're just not fucking treated the same. We're not valued the same as our male counterparts," Harris continued.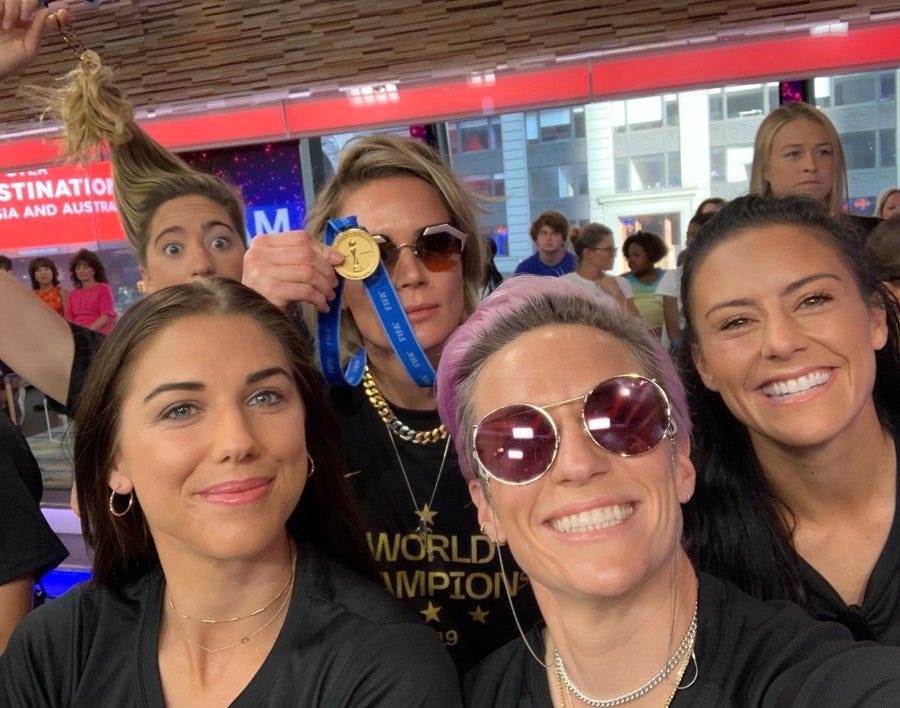 (Photo via USWNT twitter)
Harris went on to directly call out the members of the U.S. Men's National Team for staying relatively silent during their fight.
"How often do you see the men's national team saying, 'You know what? That is fucked up. These are the best players in the world," Harris said.
Kriedger, nodding along throughout the rant, added, "Not one tweet."
According to my research, no member of the men's national team has publicly tweeted support for the equal pay lawsuit. However, in July, the USMNT players association released a statement in support of the USWNT's "pursuit of fair compensation" and suggested that U.S. Soccer was not acting in good faith when accounting for revenue brought in by the women's team.
But Harris clearly didn't feel like that statement from the players association was enough.
"Have you heard one fucking national team player support anything publicly?" Harris asked. "How easy would it be for us to make a stance finally, to feel what we feel every day?"
U.S. Soccer's arguments are falling apart at the seams
Over the past few months — even years, dating back to the USWNT's equal pay campaign in 2016 — there have been many breakdowns of the pay gap in soccer between the U.S. men and U.S. women. It can get a bit complicated, when accounting for the differing pay structures (U.S. Soccer subsidizes salaries for USWNT players playing in the National Women's Soccer League) and schedules.
U.S. Soccer often lumps together payments to argue that it actually pays the women more, without reckoning with the fact that the only reason they've paid the women more is because the women have played more and won far more often than the men.
Last week, in a scathing, must-read column for the Washington Post, Sally Jenkins did the best job I've seen showcasing the strength of the USWNT's case. I've included a few relevant paragraphs from Jenkins below, but please be sure to read the entire thing.
The USWNT played 19 more games than their male counterparts from 2015 to 2019. Over that period, they had to spend more time practicing, training, traveling, playing and promoting. Yet they earned a maximum of $99,000 per year if they played 20 friendly matches, while men who played in 20 friendlies made $263,320.

From January 2017 through October 2019, (Alex) Morgan and (Megan) Rapinoe et. al. won 83 percent of their games, while the men's team won just 48 percent. The women racked up a record of 48-4-6. The men went 21-11-13 over the same stretch. The women played 58 matches, with 46 friendlies, five World Cup qualifiers and seven World Cup games. The men played just 44 matches with no World Cup games.

So yes, Morgan made $1,201,449.64 over that period, more than her male peer. But had she been paid at the same rate as him for the same work, she'd have made $4,104,920.65.

For Rapinoe, the difference between being an American woman player and an American man was the difference between $1.16 million and $3.7 million. For (Carli) Lloyd, $1.2 million versus $4.1 million. For Becky Sauerbrunn, $1.18 million versus $4.17 million.
Yeah. That pretty much sums it up.
The players know this fight is much bigger than U.S. soccer
Last week, Krieger was absolutely beaming when asked about the judge's decision grant the USWNT class status.
"Incredible," she said. "Honestly, like, We're so happy. Because all the work that we put in behind the scenes, it's progress and it's being noticed and being talked about and being appreciated. And so I think people are seeing what we actually really deserve. And it's just so refreshing."
Krieger stressed that they're all incredibly aware that this fight is much bigger than just them. They truly feel like they're fighting for women everywhere.
"We're constantly … not only fighting for us, but fighting for all women across all industries. So it's nice that we keep that conversation going. The judge, you know, (granted us class-action status). And then other women in other industries might be like, 'You know what? I'm going to speak up, and I'm going to say something because I feel discriminated against,or I feel like I'm not getting what I deserve in my workplace.' So I think it just keeps the conversation going. And that's what we're fighting for."
In the past couple of years, there has been a surge of collective action from women's soccer players all over the globe demanding better wages. Just last week, Spanish women's soccer players decided to go on strike after failing to reach a new collective bargaining agreement.
In August, USWNT players partnered with the entertainment industry's Time's Up movement to raise money to support women in all workplaces as they fight for equal pay.

From the archives: The fight between the USWNT and U.S. Soccer has been going on for decades!
I went back into the archives for some proof that nothing about this is new. This fight has been ongoing as long as the USWNT has existed.
Los Angeles Times; December 6, 1995: "We cannot reward mediocrity."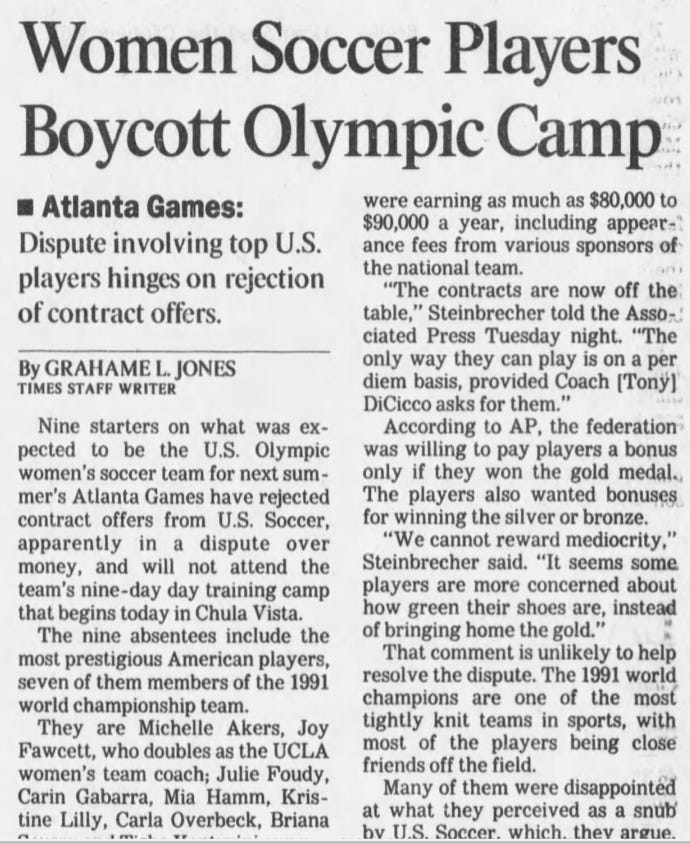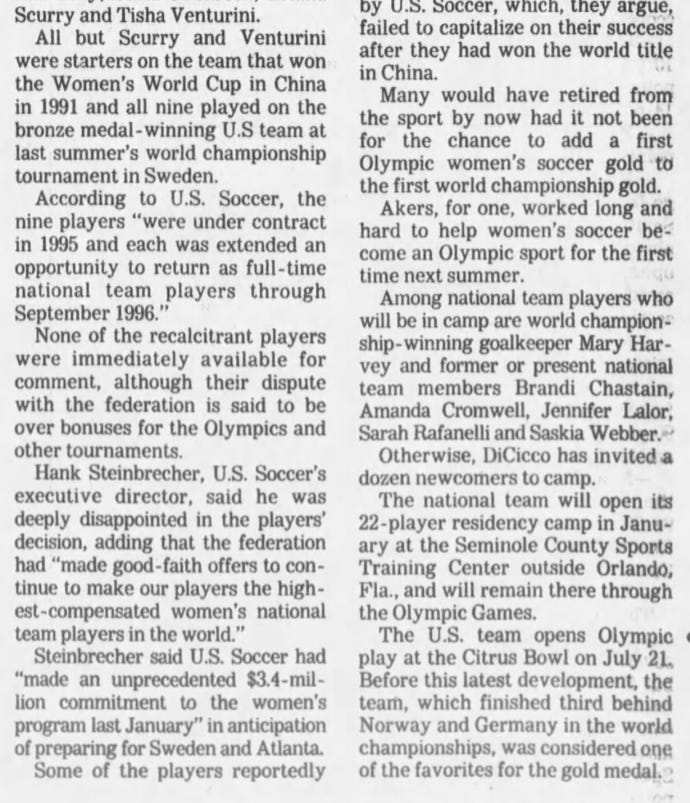 The Tennessean; December 24, 1999: "That agreement would result in a pay cut for many of the players."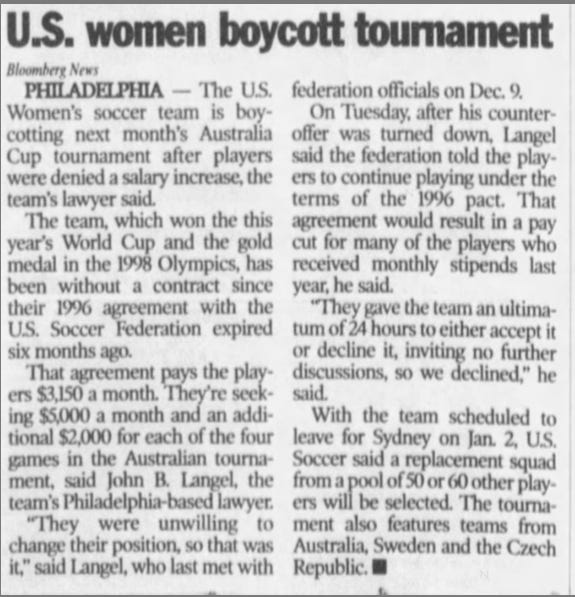 That's all for this Monday! I'll be back in your inbox on Wednesday.
As always, say hi: lindsay@powerplays.news.
Please, if you were forwarded this email or came from a direct link, subscribe so you don't miss any more editions of Power Plays:
And share with your friends: