Discover more from Power Plays
A no-bullshit newsletter about sexism in sports.
Over 9,000 subscribers
Inside the culture of fear and abuse in Colombia women's soccer
The awful treatment of Colombian girls and women within Colombian soccer has become commonplace.
Hi, friends. I'm really excited to share today's newsletter with you, which is a continuation of our collaboration with Global Sports Matters on the Modern Sportswoman issue. This particular article is written by my good friend Dr. Brenda Elsey, who takes us inside the abuse, retaliation, and fear that runs rampant in Colombia women's football. Ahead of the Women's World Cup — which starts in two weeks! — this piece provides invaluable reporting on a team that doesn't receive much coverage in English-speaking media. I hope you will all take time to read it, because corruption at this level needs our attention.
-Lindsay
Power Plays is a reader-supported publication. To receive new posts and support my work, consider becoming a free or paid subscriber.
'Café con mala leche': Colombian women's football in crisis
By Dr. Brenda Elsey
To love women's soccer is to feel constant ambivalence punctuated by moments of joy and horror. That's because women's soccer operates under a corrupt system steeped in misogyny. And the men who wield power within that system have escaped consequences time and again.
Over the past several months, Colombia's best women's soccer players have wondered if they will represent their country at the Women's World Cup when they kick off on July 24 against South Korea in Sydney's Allianz Stadium. Several of the country's most talented players have not been called up to play – retribution for speaking out about the conditions in the national team. Since 2015, active and former players, trainers, and their families have reported disturbing cases of sexual harassment, assault, and wage theft. In short, the men who run Colombian football have shown that their corruption and sexism overpower their desire to build a winning team.
The awful treatment of Colombian girls and women within Colombian soccer has become commonplace. By unpacking the struggles between players and governing bodies, we can better understand how misogyny thrives in global soccer.
That's because women's soccer operates under a corrupt system steeped in misogyny. And the men who wield power within that system have escaped consequences time and again.
Soccer's governance structure is intentionally confusing. The more labyrinthine it is, the easier for those in charge to shirk responsibility. Whenever there's mention of corruption and sexism in soccer, most people immediately jump to FIFA. However, FIFA is, at its heart, an assembly of sovereign national federations. Those national federations, like the Colombian Football Federation, oversee all aspects of soccer, including amateur and youth divisions, professional leagues, and national teams. Federation leaders oversee ticket sales, development money, hiring, and policy. Men and women players, coaches, and staff operate within the same structure.
To add to the confusion, the men who run different branches of football often hold positions in multiple governance bodies. For example, the president of the Colombian federation, Ramón Jesurún, simultaneously serves on the FIFA Executive Council and holds the position of Vice President and Chair of Finance for CONMEBOL (Confederación Sudamericana de Fútbol), the regional governing body that lies between FIFA and South America's national federations. When players have a complaint about their treatment by the Colombian federation, they could approach CONMEBOL or FIFA, but Jesurún wields influence in both those spaces. There isn't a truly independent governance body to help players and staff when they have workplace complaints. (The Colombian Football Federation did not respond to requests for interviews regarding the allegations in this story.)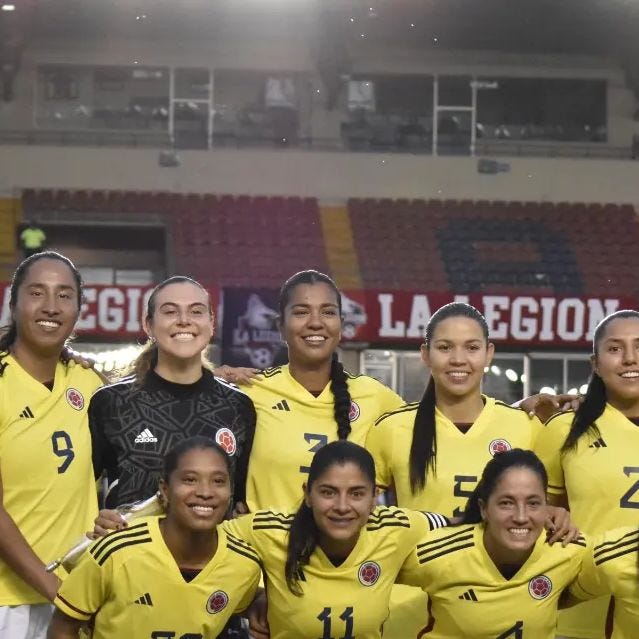 Officials like Jesurún further neutralize players' complaints by portraying their relationship with athletes as personal rather than professional. When Jesurún says that he thinks of his national team players as his "daughters and others as my granddaughters," he is portraying himself as a benevolent patriarch rather than a responsible public official.
The lack of independent organizations to support players has hurt women's soccer. Take the case of Daniela Montoya, one of Colombia's stars and the first player to score a goal for her country at the Women's World Cup 2015. By the time of the 2015 tournament, then-24-year-old Montoya had risen through youth divisions and played in the 2011 Women's World Cup. That year, Montoya and her teammates advanced the Colombia women's team past group stages for the first time in its history. Although they were defeated 0-2 by the United States in the Round of 16, it felt like a watershed moment for Colombian women's soccer.
After their unprecedented success, however, things quickly unraveled for the Colombian women's team. In September 2015, Montoya alerted the media that players had yet to receive payment for the World Cup. She explained that each player had received an envelope with only $60 for their expenses during the tournament in Canada. In the months that followed, the players heard nothing more about prize money or compensation. Montoya told the press that this was an ongoing issue with the federation, and she hinted that there were even worse problems. Six months later, Montoya was inexplicably left off the roster for the 2016 Olympics.
Montoya's Olympic dreams were dashed, and she was left devastated. She claimed that Jesurún refused to meet with her. Team captain Natalia Gaitán vouched for Montoya's description of the federation's disorganization and payment irregularities. Later, she declared publicly that she had written letters, as early as 2012, asking the federation for more support and transparency. Gaitán requested multiple meetings with the federation leaders, to no avail. An editorial by El Espectador, a major newspaper, supported Montoya's claim that her exclusion from the team was retribution for her criticism of the federation. After a prolonged absence, Montoya was reintegrated into the national team for the 2018 Copa América tournament, and she hopes to be named to this year's World Cup squad when the final roster is announced this month. (Editor's Note: Since this piece was originally published in Global Sport Matters, Montoya has been officially selected for the Colombia's Women's World Cup team.)
Seeking to build on the momentum of their breakout 2015 World Cup performance, the players of the national team and women's coaches formed a professional league in Colombia. Long-time women's clubs, like Formas Íntimas, spearheaded the effort to create Liga Femenina BetPlay DIMAYOR. The hope was that a thriving professional league would open pathways for girls and help strengthen the national team. Still, most big men's clubs declined to support or partner with the new women's league.
In a surprise move, the South American confederation, CONMEBOL, began to pressure clubs to develop women's sides. It's unclear if CONMEBOL wanted to shore up its monopoly over women's football, felt pressure from the media, or acted with some other motivation. The confederation created a rule that required clubs to have a women's team to compete in the continental club competition, the Copa Libertadores. Many directors of men's clubs met these new regulations with hostility. Gabriel Camargo, the late president and owner of top-division club Deportes Tolima, described women's football as a "petri dish of lesbianism." Camargo declared that women's football could never be profitable. A former national senator and businessman, Camargo wielded significant power. He received no disciplinary actions from the federation for his statements, and he continued to oversee Tolima's women's team.
After their historic win, players were told that the $55,000 prize would not be awarded to them, but to Diego Perdomo, a businessman who helped finance the women's section of the club. The award already seemed paltry compared to the $23 million given to the winner of the men's tournament.
Despite the obstacles, the women's side of Atlético Huila, part of the new Liga Femenina, became the first Colombian side to win South America's Copa Libertadores tournament in 2018. After their historic win, players were told that the $55,000 prize would not be awarded to them, but to Diego Perdomo, a businessman who helped finance the women's section of the club. The award already seemed paltry compared to the $23 million given to the winner of the men's tournament. Players contacted the media to complain about this situation. Ultimately, the club dissolved the team. Star midfielder Yorelí Rincón had committed to playing for Atlético Huila rather than a European club because she wanted to contribute to the overall growth of women's football in Colombia. After she complained about Atlético Huila's plan to absorb all the prize money, Rincón was left off the national team roster.
Rincón has suspected her inconsistent inclusion on the national team, despite her international success, was a punishment for her criticism of the league and federation. Continuous sabotage of the women's professional league convinced Rincón to join the Italian club UC Sampdoria. The situation pushed other players to retire from the national team in their prime, including Isabella Echeverrí and Melissa Ortiz.
The women who rebelled against the Colombian Federation have endured constant abuse from critiques of their physical fitness to rape threats. In a recent interview, former Colombian national team player Natalia Ariza spoke openly about these continued repercussions. Citing the case of Yoreli Rincón, Ariza said the retaliation struck fear into players and "because of that fear, they don't speak out about many things that need to change and to be spoken about."
Dubious agents, training academies, and coaches also exploit the fervent desire of girls to play football professionally. These men have close ties to the national team and the Colombian federation. The Colombian federation faced a new crisis in 2019, when the families of girls who played under U17 national team coach Didier Luna filed criminal charges against him. The families attempted to work with the federation, but officials stonewalled them. On the heels of these charges, the team's physical trainer, Carolina Rozo, also denounced Luna for sexual harassment and attempted assault. Rozo substantiated the girls' claims that Luna had propositioned them and touched them inappropriately. For example, Rozo said she witnessed Luna attempting to enter one underaged player's hotel room without her consent. Following the reports of abuse, FIFA released a statement energetically condemning what had transpired. However, as of this writing, none of the disciplinary committees in FIFA or CONMEBOL have fully investigated the cases.
The women who rebelled against the Colombian Federation have endured constant abuse from critiques of their physical fitness to rape threats.
Instead, the survivors of Luna's abuse were pushed out of Colombian football. Soon after filing complaints with the federation, Rozo was fired and began to receive threatening phone calls. Players and staff who supported survivors were not called to train with the team.
Despite being denied any position within Colombian football, Rozo persisted in denouncing Luna in the courts and in the press. After more than a year of contesting the case against him, Luna accepted a plea bargain that included financial damages and 28 months in prison. As of this writing, he has yet to serve his sentence.
I asked Rozo if she thought Luna would ever serve his time, and she said, "To tell you the truth, no." Luna continues to be an invited guest at the federation, he speaks to various teams, and he frequently attends conferences at the federation. Rozo, unlike the criminal she turned in, is no longer welcome at the Colombian federation.
The landscape of Colombian football continues to be a dangerous place for girls. Just this past year, families of players at the football academy Club Besser filed criminal charges against owners Pedro Ignacio Rodríguez and Sebastián Esteban Rodríguez. The father and son have been charged with grooming and sexually assaulting underage girls in their club. Pedro Ignacio Rodríguez previously coached the Colombian U17 and U20 women's national teams. He and his son promoted the club as a vehicle to help players land college scholarships in the United States and national team tryouts. Again, this case has seemingly proceeded without the support of the federation.
Selección Colombia on Instagram: "📝𝗖𝗼𝗻𝘃𝗼𝗰𝗮𝘁𝗼𝗿𝗶𝗮 𝗖𝗼𝗽𝗮 𝗠𝘂𝗻𝗱𝗶𝗮𝗹 𝗙𝗲𝗺𝗲𝗻𝗶𝗻𝗮 𝗱𝗲 𝗹𝗮 𝗙𝗜𝗙𝗔 𝗔𝘂𝘀𝘁𝗿𝗮𝗹𝗶𝗮-𝗡𝘂𝗲𝘃𝗮 𝗭𝗲𝗹𝗮𝗻𝗱𝗮 𝟮𝟬𝟮𝟯 🇦🇺🇳🇿 𝑹𝒆𝒄𝒐𝒓𝒅𝒂𝒎𝒐𝒔 las 23 elegidas por Nelson Abadía que 𝒑𝒆𝒓𝒔𝒆𝒈𝒖𝒊𝒓𝒂́𝒏 𝒆𝒍 𝒔𝒖𝒆𝒏̃𝒐 𝑴𝒖𝒏𝒅𝒊𝒂𝒍𝒊𝒔𝒕𝒂.
#TodosSomosColombia
🇨🇴"
The men in charge of Colombian football have maintained their positions despite their harm to women athletes and staff members. And those aren't the only ethical violations they have committed. Jesurún and his associates have been under investigation by the Colombian government for illegal ticket sales and other financial wrongdoings. Women's successes and development have been used to downplay corruption, and, in turn, corrupt institutions ensure that those who harm women rarely face consequences. Colombia has long struggled to rebuild its criminal justice system following long periods of civil war and narcotrafficking activity. The weak state of courts has created obstacles to addressing gender discrimination and violence. In 2019, the year the families of U17 girls filed their criminal charges, Colombia reported 15,408 denunciations of sexual violence against minors, 90 percent of which went unpunished or uninvestigated.
To be fair, the current executives of Colombian football stepped into a system that was thoroughly corrupt already. For instance, Jesurún won his position after his close associate, Luis Bedoya, was charged with racketeering by the U.S. District Attorney's office. Bedoya admitted to receiving millions in bribes to a Swiss bank account. Those bribes were found to have bought Bedoya's votes on major issues within FIFA, such as hosting rights for the men's FIFA World Cup.
Large-scale networks of corruption depend upon making associates complicit. After Bedoya's arrest, Jesurún changed nothing of the system Bedoya had built and instead compromised international governance even further. On his recommendation, the FIFA Congress appointed María Rojas, a very inexperienced judge from Colombia, as head ethics investigator. FIFA's own reports questioned Rojas for failing to disclose her personal friendship with Bedoya. The European Council, among others, sharply criticized FIFA president Gianni Infantino for supporting Rojas's appointment. Infantino countered that it showed progress for gender diversity.
The recent wave of Latin American feminists interested in sports has breathed new life into clubs and sparked demands for transparency in governance. They have looked to ministries of gender equity to promote change. The current government of Colombian President Gustavo Petro, the first elected leftist administration in the country's history, offered a glimmer of hope. Petro appointed former Olympic weightlifting champion María Isabel Urrutia as Minister of Sport. In his appointment of Urrutia, President Petro pointed toward the need to professionalize women's soccer. Women players expressed enthusiasm for the appointment of a woman and an Afro-Colombian athlete to head the ministry.
Women's successes and development have been used to downplay corruption, and, in turn, corrupt institutions ensure that those who harm women rarely face consequences.
After less than a year, however, Urrutia resigned because of corruption charges, specifically that she approved hundreds of irregular contracts. Urrutia countered that she had accomplished much in her short tenure, including the reinvigoration of women's football. But when it came to addressing at least one serious instance of sexual abuse, Urrutia doesn't appear to have accomplished much. In May 2022, the FIFA Ethics Committee announced that it had begun proceedings against two referees with dozens of harassment charges. The Colombian federation had been made aware at least two years prior but refused to take action. Urrutia's ministry did not take any steps to reorganize sport institutions.
One of the few organizations to help protect women soccer's labor rights is the International Federation of Professional Footballers (FIFPRO), a confederation of player associations. Camila García Pérez, the funding director of the Chilean women players' association ANJUFF and Vice President of FIFPRO, emphasizes that the state of women's soccer is precisely why FIFPRO has prioritized it in recent years. García and her colleagues have tirelessly sought to mobilize FIFPRO's resources to benefit women. García pointed to the new commitment of FIFA to pay women players directly for their work in the Women's World Cup as important progress, but she cautioned that "there is still excessive discretion in the utilization of funds transferred by FIFA and CONMEBOL." It is a challenge for women's soccer development in the region – in other words, when the federations have little oversight over how they spend development monies.
FIFPRO on Instagram: "🚨 Isabella Echeverri to
#FIFPRO
, here we go! The former Colombia international and
#GlobalPlayerCouncil
member joins
#FIFPRO
full-time to help player unions from around the world develop and implement national strategies for women's football. She'll help them further develop pathways for women's players to reach their full potential, while advocating for gender equality within the game. Players supporting players 🙌"
Whenever I've written about these issues, the question is invariably "what can be done?" Clearly, strengthening players' unions and demanding independent bodies of investigation and regulation has been effective. FIFPRO has worked diligently to incorporate players' associations in the women's game, which has resulted in significant pay increases for World Cup participation. FIFPRO also has successfully supported cases of gender discrimination in football. Collective action also protects players from the retribution of their federations and leagues. Strikes, letters, and on-field protests have worked to force officials to listen to women's demands. Independent sports' governing bodies have shown promise in tackling discrimination in sport, but so have government agencies responsible for gender equity, such as Chile's Ministry of Women and Gender Equity. I would also add that understanding the intersection of gender violence and corruption, not an easy task, is a crucial step toward reimagining soccer governance.
The Colombian women's national team players have fought their way into this FIFA Women's World Cup 2023. They deserve the chance to show the world their brilliance and soak up the accolades that will come with their appearance. The men in charge of their league and federation do not.