Inside the 'culture of fear' that permeates global gymnastics
Gymnasts around the world are speaking up about an abusive system that goes far beyond Larry Nassar's crimes.
Hello, and welcome to Power Plays, a newsletter about sexism in sports, founded by Lindsay Gibbs.
Today, freelance contributor Jessica Taylor Price returns with a deep dive into the reckoning taking place in the global gymnastics community in the wake of the new Netflix documentary, "Athlete A."
Paid subscribers help support freelance work here at Power Plays. You can purchase a subscription by clicking on the button above, or you can click here to donate a subscription or here to gift a subscription.
---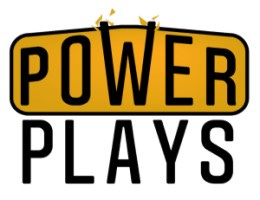 Athlete A — the Netflix documentary on Larry Nassar's abuse, the ensuing scandal, and various organizations' failure to protect U.S. gymnasts — was released last month. During what should have been an Olympics season, the film renewed public interest about sexual abuse in gymnastics. That much was expected.
But the documentary did something else: It also opened the floodgates for gymnasts around the world to open up about the toxic culture of gymnastics as a whole.
"Athlete A details a heartbreaking series of events, which never should have happened," a group of British gymnasts — including Olympians Hannah Whelan, Lisa Mason, and Jennifer Pinches — said a few days after the documentary was released, in statement on social media, penned by Pinches, with the hashtag #gymnastalliance.
"Gymnastics training is hard work but can be done in the right way to create beautiful, joyful, awe-inspiring results, without sacrificing young people's wellbeing."
In a sport where abuse is so normalized — even the VP of the International Gymnastics Federation (FIG) recently implied that retaliation for abuse in the U.S. is out of control, and that not all the plaintiffs in lawsuits against Nassar were sexually assaulted by him — accepting the realities of the abuse is a tough journey, and coming forward with allegations is even tougher.
But amidst a global pandemic, with life and sports in a holding pattern for many, gymnasts have had time to reflect on their own horrific experiences. Many of them are seeing their gymnastics careers in a new light, and recognizing abuse and mistreatment for what it was. 
Now, they're sharing their stories with the world, forcing the sport to go beyond reckoning with Nassar's crimes and begin reckoning with the global culture that made Nassar's crimes possible. As we listen to these women tell similarly devastating stories about what was billed as the price of admission into the sport they loved, it's time to look back at how gymnastics' culture became so rotten, whether those in charge really care, and whether there's any way to save it. 
The floodgates open
Around the same time the #GymnasticsAlliance statement was released, other British gymnasts began sharing their own stories of abuse on social media, and a few news outlets picked them up. "Beaten and starved," reads one ITV headline. "I was screaming and begging for him to stop," reads another.
From there, dozens followed suit. Reading through the stories of abuse, patterns began to form — ones that, to anyone who watched Athlete A, would sound familiar to what many U.S. gymnasts faced for years for the sake of winning medals: Berating gymnasts over their weight, restricting food, forcing gymnasts to compete while injured, emotionally abusing and manipulating athletes, etc., etc., with complaints being ignored and the treatment causing harm that would take years to overcome. 
"I've had shoes thrown at me," 2000 Olympian Lisa Mason said in an Instagram story. Another account of physical abuse came from retired elite Catherine Lyons, who told ITV that she was beaten with a stick during training. Lyons and Mason both say they were forced to train injured, too. And Becky and Ellie Downie, both of whom are in the running for 2021, spoke up on Twitter, with Becky saying she was "over trained to the point of physical breakdown." An eight-year-old gymnast told ITV that coaches ignored her cries of pain during practice, a good reminder that abuse in gymnastics doesn't discriminate based on age or skill level.
Stories of physical abuse are what made headlines first. But the most common allegations I've seen are of coaches inflicting pain that can't be seen. 
"Physical and emotional abuse is not seen in the same way. It has the same long-term, lifelong impact, but it's just not viewed in the same way," Downie's former teammate Nicole Pavier told Power Plays. In terms of emotional abuse, "We need to draw the line, and a lot of coaches see the line and run a hundred miles past it." 
Pavier was featured in a BBC article where she alleges that she was weighed twice a day and that her coach wrote gymnasts' weights on a whiteboard for all to see. She said that as an elite gymnast, she was put on a restrictive diet and that her bag was searched for food.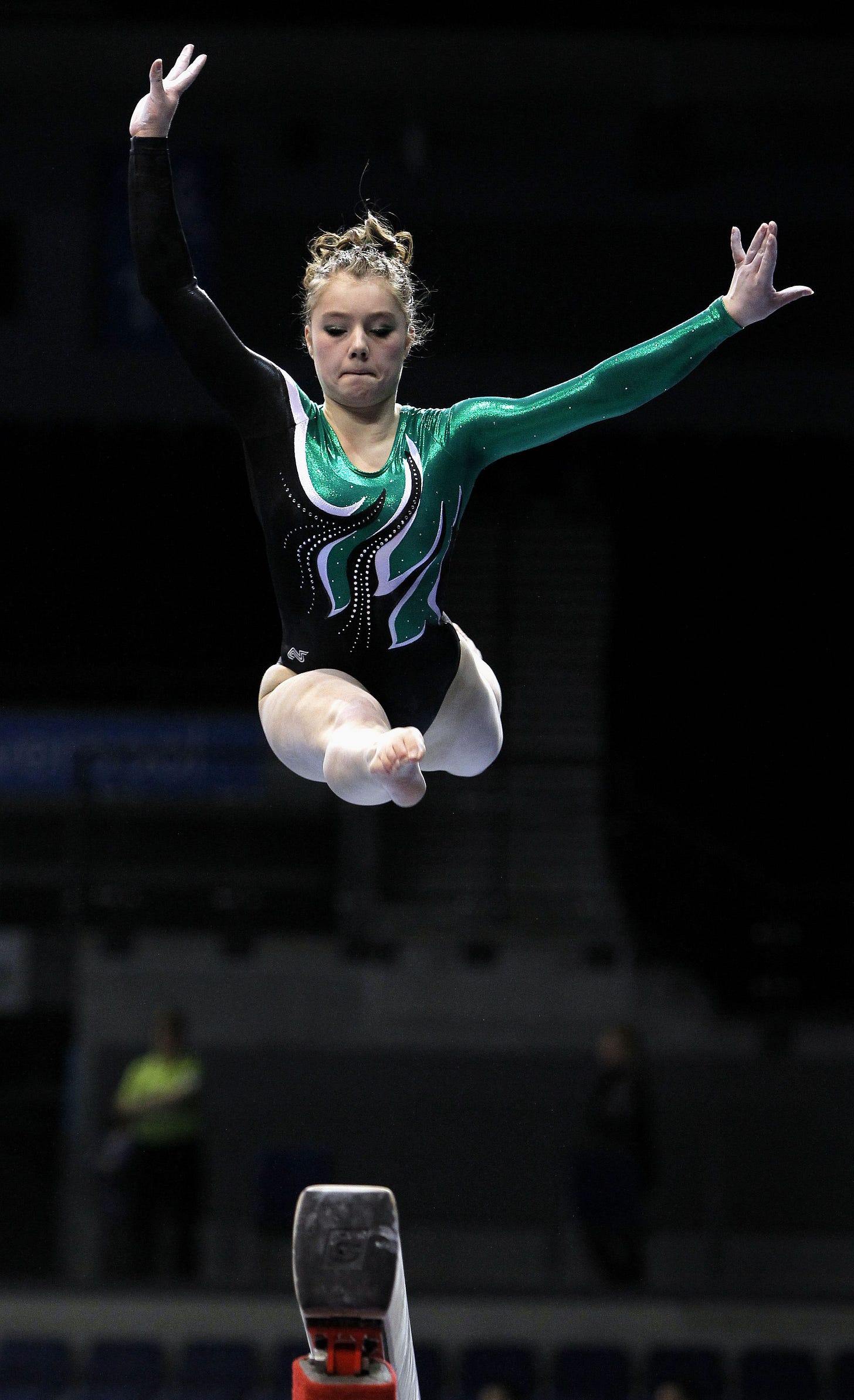 (PIC: Nicole Pavier at the British Championships in 2013; via Getty)
"My coaches were constantly telling me that if I lost weight my performance would improve, and the lighter you are, the easier it's going to be," she said.  But this system had a counter effect that led to her retirement at just 17. "I was tired all the time," she says. "[There was] no nutritionist input … I ended up with very brittle bones and lots of stress fractures." 
She retired due to injuries as well as "an eating disorder caused by abusive coaching." Pavier named her coach, who admitted to the BBC that she weighed gymnasts and used a whiteboard at the time, but denied being abusive. "Throughout my career I have followed British Gymnastics best practice and I continue to treat the welfare of the gymnasts I coach as my top priority."
Unfortunately, Pavier's story isn't unique. Lyons said she started limiting her food intake at just 10. Former Scottish gymnast Carly Sarah Smith wrote on Instagram that her pockets were checked for food. Ellie Downie wrote in her joint statement with Becky that she was consistently told she was too heavy from around age 14. "I was told by a nutritionist to provide photo evidence of everything that entered my mouth," she wrote. "And send daily pictures of me in my underwear to ensure I wasn't lying."
"This never-ending focus on my weight has left deep scars that will never heal," Downie wrote.
The emotional abuse isn't restricted to weight-related issues, though. Former British gymnast Lucy Mein described screaming, swearing, and humiliation at her gym, and said that at times she was ignored and called "worthless." Former elite Leah Jacobs told ITV that she "lived in a state of constant fear" during her career. 
Then, there's the gaslighting. Victoria Clow, who was an artistic gymnast before switching to rhythmic at age 10, told Power Plays that at one point,  she was told her back pain was psychosomatic; but when she went to get an X-Ray, it turned out her back was broken. In another incident, Clow says she injured her ankle but was still told to do her routines. "I did my routines as best I could on one foot and was told I was lazy, it wasn't that sore, I was making a big deal from nothing," she said. "And part of me believed her." She had torn a ligament in her ankle. 
A global — and institutional — problem
If the U.S. survivors paved the way for the British gymnasts, the Brits seem to be doing the same for gymnastics programs around the world. 
"A culture of fear exists throughout gymnastics, across many countries," 2012 British Olympian Jennifer Pinches told Power Plays.
Shortly after the stories from British gymnasts emerged, Irish Olympian Ellis O'Reilly posted on Twitter that she was forced to train through injuries, and was bullied over her weight, screamed at, starved, and weighed constantly. France's Anne Kuhm wrote about body shaming that led to an eating disorder as well as "overtraining that led to exhaustion." Courtney McGregor, a 2016 Olympian representing New Zealand, tweeted, "so you're telling me coaches from other sports don't call their athletes fat pigs? how nice for them." A Human Rights Watch report found that at least one Japanese gymnast was hit and her nose broken. Dutch gymnast Joy Goedkoop said she was "beaten and kicked" by famed coach Vincent Wevers. (Wevers denied physically abusing gymnasts but expressed remorse for his past behavior).
"It has been very hard for me to admit this," wrote Australian Alex Eade on Instagram. "But I do not look back on my gymnastics career fondly." Eade says she had food portions controlled at age 10 and was called fat daily, that she trained to exhaustion, and that she trained through injuries. She is one of 30 Australian gymnasts who have retained a lawyer to urge Gymnastics Australia to investigate abuse in the sport.
Many of the governing bodies for gymnastics in these countries have released statements in response. For one, Jane Allen, the CEO of British Gymnastics, said she's "appalled and ashamed by the stories I have heard." The CEO of Gymnastics Australia said in a letter, "I am 100% committed to ensuring that Gymnastics is a safe sport and a trusted sport in our community."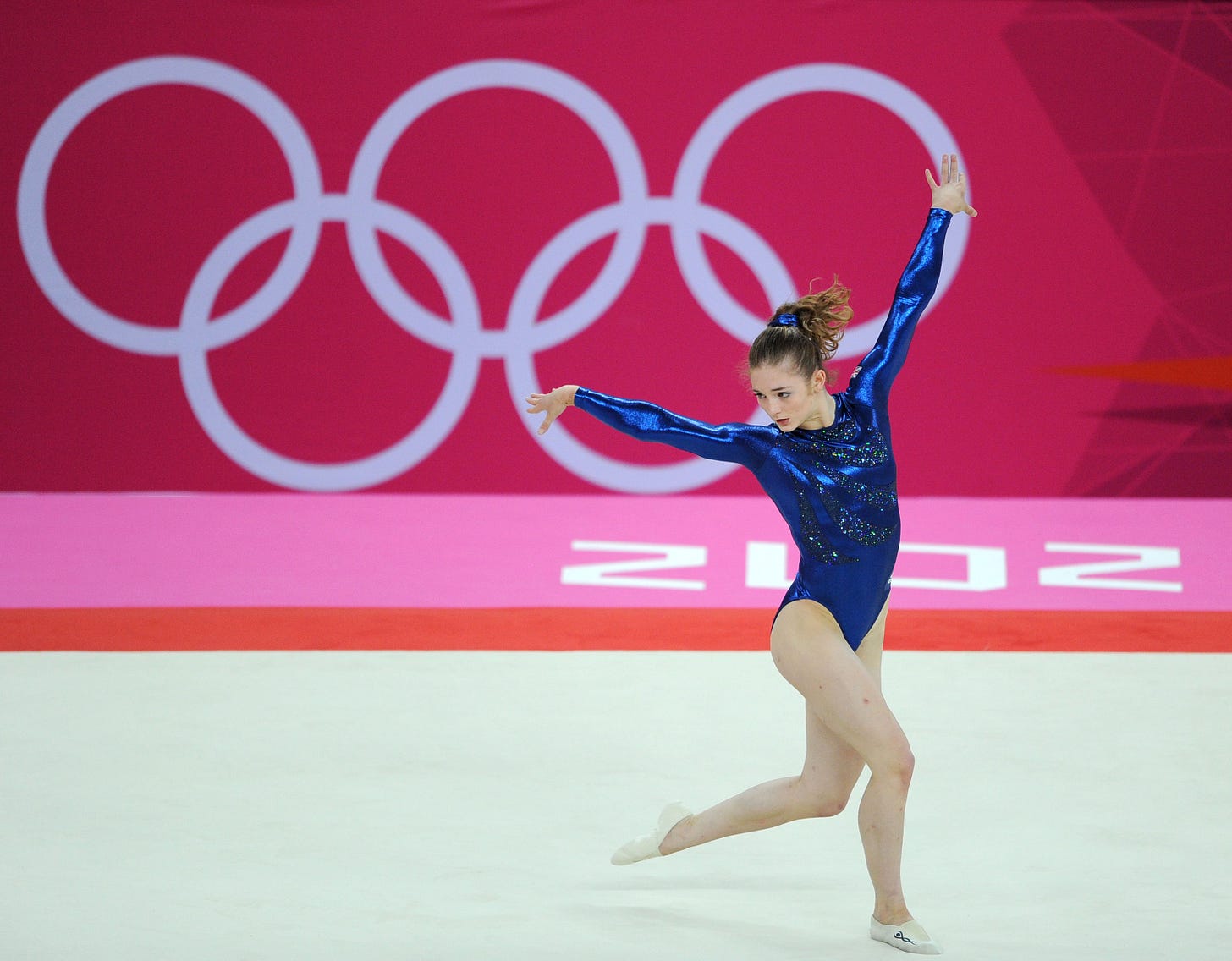 (PIC: Jennifer Pinches competes during the 2012 London Olympics; via Getty)
Meanwhile, the International Gymnastics Federation (FIG) released a statement, saying, "As well as any form of physical violence clearly being intolerable, insults and threats have no place in any training hall. Whatever is at stake, Gymnastics must remain, above all, a fun sport to practice."
Of course, whether FIG's word can be trusted on this subject remains to be seen.
Nellie Kim, the VP o FIG  and a former Soviet gymnast who competed through the 1970s, said in a recent interview (translated here from Russian for the blog Gymnovosti) that many survivors of Nassar's abuse "just tried to attach themselves to [the lawsuits] even though they've never worked with him." When asked whether she would consider opening a gym in the United States, she said no, decrying the state of gymnastics in the U.S.: 
Now, gymnastics coaches are walking a tightrope — falling here or there. Where's the line — whether a teacher is strict and demands discipline or he switched to rudeness and insults? The line is different for everyone and no one has described and separated those two parts yet … Imagine that a child got upset at a coach because he didn't learn an element or didn't achieve certain results ... This may play a role years later: we invested so much and got nothing. We'll retaliate against you for calling my daughter stupid and fat and making her stand in a corner 10 years ago. Yes, even this will be remembered … At most, I'll open a gym for children's general development, so that they would just play. We won't strive for any big results. It costs a lot of energy and emotions and the consequences often lead to a fight between the coach and the athlete. And then the lawyers join.
When asked for comment, the FIG said, "Ms Kim responded to this interview on her own behalf. The comments expressed reflect her personal views."
The influence of the Karolyis
How did a culture this abusive come to permeate practically every corner of the gymnastics community? Many believe it stems from the Karolyis.
"I think their influence is far greater than we think. There are a lot of generations of coaches that admire the Karolyis," Pavier said.  
The latest 30 for 30 podcast "Heavy Medals" — about the famous coaching duo who led Nadia Comaneci, Mary Lou Retton, and the U.S. women's national team to success for decades — begins with how Martha and Bela Karolyi revolutionized the sport in the 1970s by singling out talented young children to mold into champion gymnasts. According to former Karolyi choreographer Geza Pozsar, the gymnasts they trained in Romania were physically and emotionally abused, and judging by what we know now about the U.S. national team training camps at the Karolyi Ranch, a culture of fear seems to be something they brought with them when they defected to the United States. 
"It's scary, it's hard, when we were driving down that dirt road [to the Ranch]," former U.S. elite Norah Flatley told Power Plays in an interview about her time at the Ranch. "You just get a flood of anxiety and you don't know what those feelings are just because you're so young, but you feel tense and you feel scared."
After Bela coached a slim, 14-year-old Nadia Comaneci to a gold medal at the 1976 Olympics, Pavier says, coaches worldwide tried to emulate the Karolyis' coaching style and train their athletes to fit the same mold. "You had that ideal 14-year-old gymnast who hasn't gone through puberty and who is super skinny; coaches who have been in the sport for a long time seem to be completely obsessed with that being the ideal athlete to coach."
From there, it seemed the Karolyi method became the gold standard, the only way many coaches knew. Former gymnast Jade Salim wrote on Twitter that abusive practices became so normalized in the sport as the only way to attain success that a coach said to her, "I'll only change if others do so it's a level playing field." 
In an interview with NBC News Dateline in 2018, the Karolyis have acknowledged that training at the Ranch was "intense" and denied that they were verbally abusive, but said that in terms of emotional abuse, "it depends on the person." In the interview, Bela admits to hitting gymnasts during his time coaching in Romania but denies doing so in the U.S.
What's next for gymnastics
Whatever the motive — a concern for athlete welfare or for public image — many countries' governing bodies have already taken action in response to the brave athletes who continue to come forward and speak out against the systems that abused them. British Gymnastics announced earlier this month that an independent investigation will be conducted by UK Sport and Sport England, with the support of the British Athletes Commission, who also set up a confidential hotline for gymnasts. 
Others have followed suit. On Thursday, Gymnastics Australia announced that it requested that the Australian Human Rights Commission conduct an independent investigation into the matter. Investigations have been launched in other parts of the world, like the Netherlands, Switzerland, Belgium, and New Zealand, and Dutch Gymnastics has called on the FIG to review the matter. 
The Dutch have also taken by far the strongest (and most welcome) approach to handling allegations of abuse in its program. On Wednesday, the federation shut down their elite program until its own investigation concludes, and they suspended a high-ranking coach.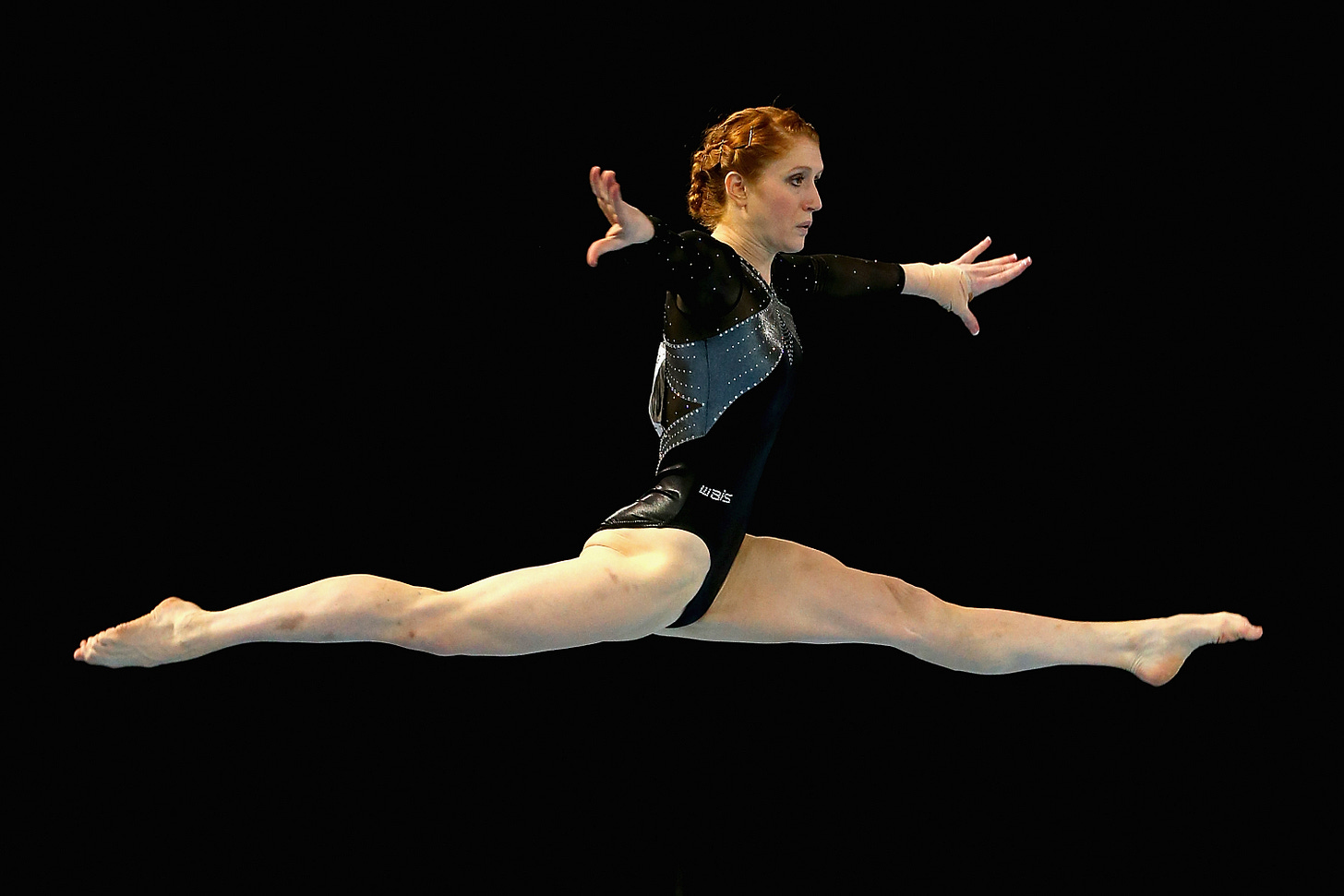 (PIC: Olivia Vivian at the Australian National Championships in 2014; via Getty)
But while investigations are all well and good, what the sport's governing bodies need the most is a change in policies. There must be consequences for coaches, accountability for institutions, and processes in place that guarantee athletes' complaints will be taken seriously. Pavier listed other changes she wants to see at the institutional level, including a change of leadership, an ex-athlete panel at British Gymnastics, independent investigations, and a coach database to clearly track a coach's record.
In some cases, gymnasts are already seeing change, and hopeful for the future. "I think the majority of staff within BG want what's right for gymnastics and gymnasts," Pinches said.  
"We had a shift in leadership and new policies are in place," former Australian elite Olivia Vivian told Power Plays. "It is different now and [they're] trying to change the overall culture, it just takes a little bit of time for others to see and recognize change." 
At the end of the day, though, the damage happening on a daily basis comes from one-on-one coaching interactions in gyms around the world. What will it take to convince individual coaches that what they're doing is wrong? 
"I insisted on winning, at the expense of everything," Gerrit Beltman, a former coach accused of abuse, told the Dutch press last week after gymnasts came forward accusing him of abuse. "I mistreated and humiliated young gymnasts to win medals. I am deeply ashamed … the behavior I showed is in no way justifiable."
I showed is in no way justifiable." Beltman's admission came as a pleasant surprise in the gymnastics community. If others took a leaf from his book, maybe we'd get somewhere.
The good news? "It can be done"
The biggest question hanging over the gymnastics community today remains: Is it possible to coach gymnasts in a healthy way and get results?
Absolutely, says Norah Flatley. She knows, because she experienced it herself. "I know it's possible to have an amazing coach and still be able to be successful at a high level," she told Power Plays.
Flatley was a fan favorite as a U.S. junior elite for her beautiful beam work. Injuries kept her out of senior competition, and she retired from elite to compete for UCLA, one of the top gymnastics programs in the country. At the beginning of our interview, she made something very clear: While she can only speak from her own personal experience, as far as she's concerned, her hometown coach is not a part of the problem. 
Coach Liang Chow, known for coaching U.S. Olympic champions Shawn Johnson and Gabby Douglas, was Flatley's personal coach from 2010 until her retirement in 2017. Throughout that time, Flatley says, "he always protected us," Flatley said. "[He] watched out for us, and made sure we were healthy and happy."
Flatley first went to the Karolyi Ranch to train when she was nine or 10, she estimates, then began going to training camps consistently at 13. As a frequently injured athlete, it was easy for her to feel invisible in Martha's eyes. "You felt like you didn't exist when you were hurt at the Ranch," she says. But when it came to overtraining and restricting food there, Flatley credits Chow with protecting herself and her teammates, at risk of incurring Martha's wrath.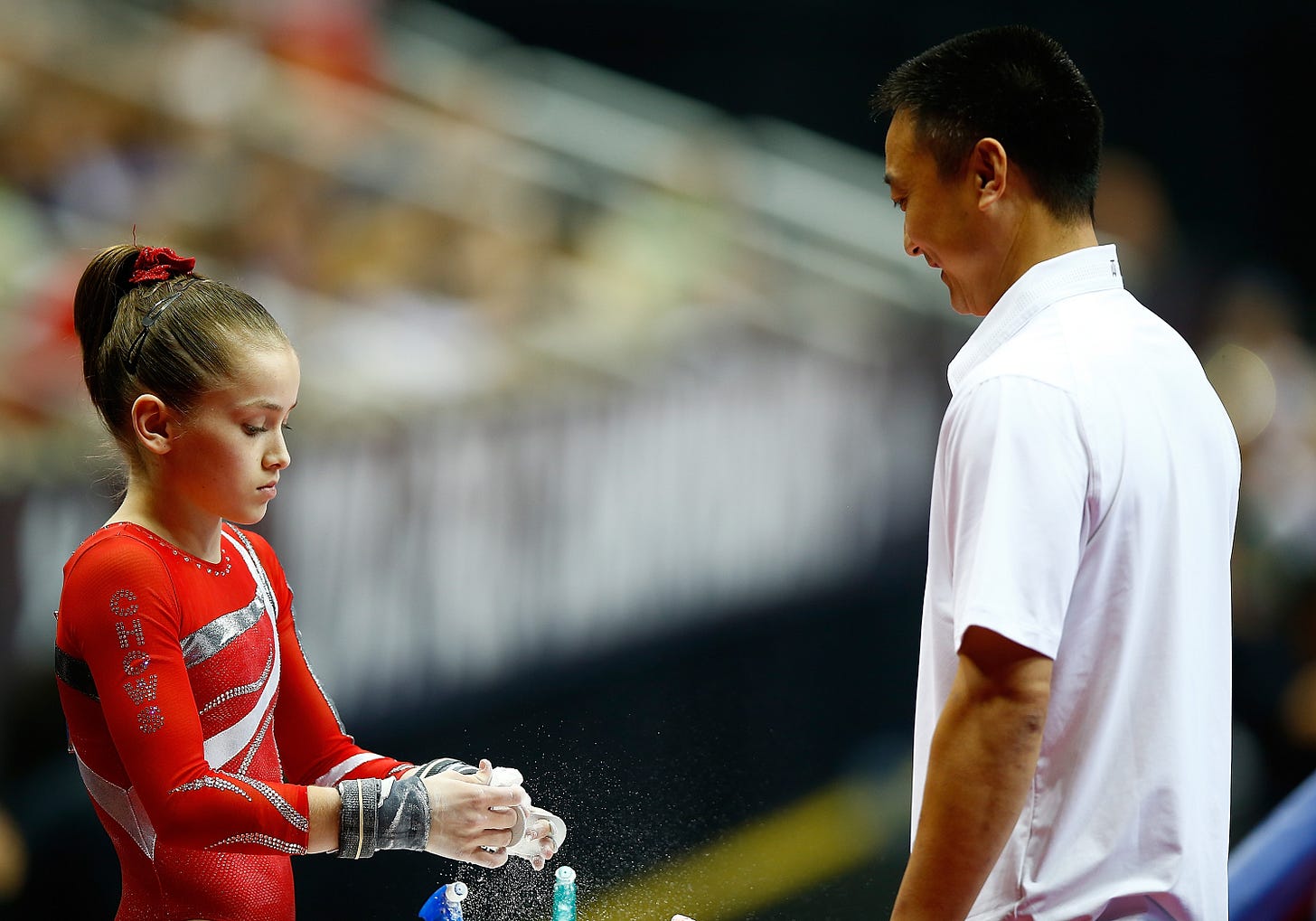 (PIC: Norah Flatley and her coach, Liang Chow, in 2014; via Getty)
"He would make sure we had food and get us snacks," she says. "[He would] sneak it to us, obviously." And when he didn't want his athletes to participate in a workout, they'd go into another room and do their own.
Her 30-hour training weeks were relatively mild compared to her teammates'. She was never forced to train on an injury or lose weight. They played games in the gym so they wouldn't get bored with training. Chow made them laugh, treated them "like humans," she says. "I feel so lucky that I had him. He's probably saved me a lot of hurt and pain in my life." And she still made it to UCLA, though now, she says, she struggles with survivor's guilt.
As far as Great Britain goes, despite Pavier's negative experience, she also knows that it's not inclusive: "We have some really fantastic examples of coaches in the UK doing it right and producing great gymnasts and well-rounded human beings. So it can be done." Pinches was also careful to clarify that not all coaches are part of this problem: "Many coaches are already demonstrating these healthier methods, but we want to make sure all coaches put wellbeing first."
What's more, we have evidence that a positive coaching environment can lead to greater success: Aimee Boorman, for one, by all accounts bases her relationships with athletes on trust and respect. She was the longtime personal coach to none other than Simone Biles (McKayla Maroney once said, "Simone's coach Aimee just lets her smile which I'm just super jealous of").
"It's crazy that people haven't locked on to healthy gymnasts being better," Pavier says. Her former teammate Becky Downie shared a tweet noting that after Becky and her sister took more control over their training, they both won world medals. "THIS," Becky wrote. "It didn't need to take almost my whole career for someone to finally listen !!"
"They're clinging hard to a damaging rhetoric," said Clow. "Every study has clearly pointed to the opposite; happy, healthy people will always do better than those who are afraid, anxious and broken."
Thank you to Stephanie for reading an early version of this piece, and to Luba, Emma, dutchgymnerd, and the rest of the gymternet for finding and sharing many of these stories.
---

Thank you so much for supporting Power Plays. Every subscription, free sign-up, share, and shout-out also helps grow this independent newsletter. Thanks so much for your support.