Inside the downfall of Brazilian women's basketball
How sexism, neglect, and corruption took Brazil from world champions to international irrelevancy.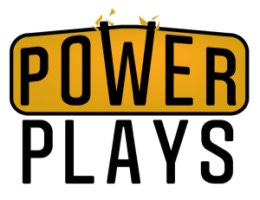 Hello, and welcome to Power Plays, a no-bullshit newsletter about sexism in sports written by me, Lindsay Gibbs.
Today we're getting right into it, because we have a *phenomenal* freelance contribution from Roberta Rodrigues that dives into Brazil's journey from 1994 FIBA women's world championships, to not even qualifying for the most recent Olympics or world championship.
Remember, this work is only possible thanks to the support of paid subscribers.
Okay, friends. Let's do this.

Inside the downfall of Brazilian women's basketball
By Roberta Rodrigues
---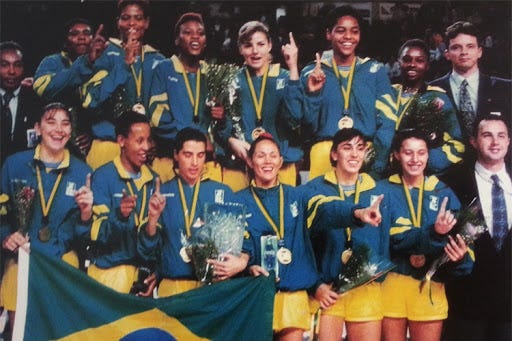 (PHOTO: Team Brazil celebrates the 1994 FIBA world championship victory; via Roberta Rodrigues.)
---
To date, only four countries have ever won a FIBA women's world championship or an Olympic gold medal in women's basketball: The Soviet Union, the United States, Australia, and Brazil.
Yes. You read that right. Brazil.
Back in 1994, at the world championships in Australia, Brazil shocked the world by upsetting a star-studded United States team — which featured Dawn Staley, Sheryl Swoopes, Teresa Edwards, and Lisa Leslie, among others — in the semifinals, 110-107, then taking down China in the final, 96-87. 
Brazil was so inexperienced and unproven on the international scene that when rookie head coach Miguel Angelo da Luz told reporters in a pre-tournament press conference that his team could win the championship, three journalists laughed in his face. Weeks later, they showed up at the victory party to apologize. 
I grew up in Brazil, but was only two years old when that happened. Fifteen 15 years later, when I was the editor of the only blog exclusively about the WNBA in Portuguese, a friend sent me a copy of that epic semifinal. As I watched Hortencia Marcari, Magic Paula, Janeth Arcain, and the rest of the team making history and doing the unthinkable, I gained a sense of pride and valorization even bigger than what I already had for those national treasures from my own country. 
"We were able to leave our mark on a generation at the buzzer," said Hortencia Marcari, one of the greatest Brazilian basketball players of all time, and a member of the Women's Basketball Hall of Fame and the Naismith Memorial Basketball Hall of Fame. 
"If you're not world champion you don't get to do that. When you make history, no one can take that from you."
---
---
But now, thinking about that moment of triumph is bittersweet. Because today, the Brazilian women are a non-factor on the international stage. 
This downfall didn't happen overnight. The talented Brazilian squad followed up its 1994 world championship medal with a silver at the 1996 Olympics, a bronze at the 2000 Olympics, and fourth-place finishes at the 2004 Olympics and the 2006 world championships.
But 2006 was the last time the country had a shot at a medal in a competition outside the Americas. Since then, its best finish in an international competition has been ninth. Brazil only qualified for the 2016 Olympics because it was the host country, and the team didn't win a single game in Rio. It didn't qualify at all for the 2018 world championships, or the 2020 Olympics. 
This decline wasn't due to a lack of talent or desire by the players. Rather, it's the result of decades of neglect and mistreatment, deep-seated corruption at the federation, and pervasive sexism that left officials more concerned about showcasing sex appeal than sustaining success.
Forgotten by the federation
Throughout the 2000s, Brazilian women had great success in professional leagues across Europe, and in the WNBA. Janeth Arcain won four rings with the Houston Comets, Érika de Souza won a WNBA championship with the Los Angeles Sparks in 2002, and helped the Atlanta Dream make the 2010, 2011, and 2013 WNBA Finals, alongside another Brazilian, Izíane Castro. Alessandra Santos played for the Washington Mystics, Helen Luz and Adriana Moises (Adrianinha) played for the Miami Sol, Cíntia dos Santos played for the Orlando Miracle, and Damiris Dantas currently plays for the Minnesota Lynx. That is far from an exhaustive list.
But this success in the most elite women's basketball league in the world did not translate to wins for the Brazilian national team.
That's because, despite the success of the team in the '90s, Confederação Brasileira de Basquete (CBB, or Brazilian Basketball Federation in English) did nothing to capitalize on the acclaim and seed new talent.
"It was very frustrating to go from such a winning generation to then seeing how the lack of good administration and investments resulted in younger players losing the opportunity to develop their talent and display their game on a high level,"  said Adrianinha, who spent 17 years as a point guard for the national team. "After that time, we lost key sponsors, plus the constant change on the coaching staff did not bring us the structure we needed to evolve as a team."
---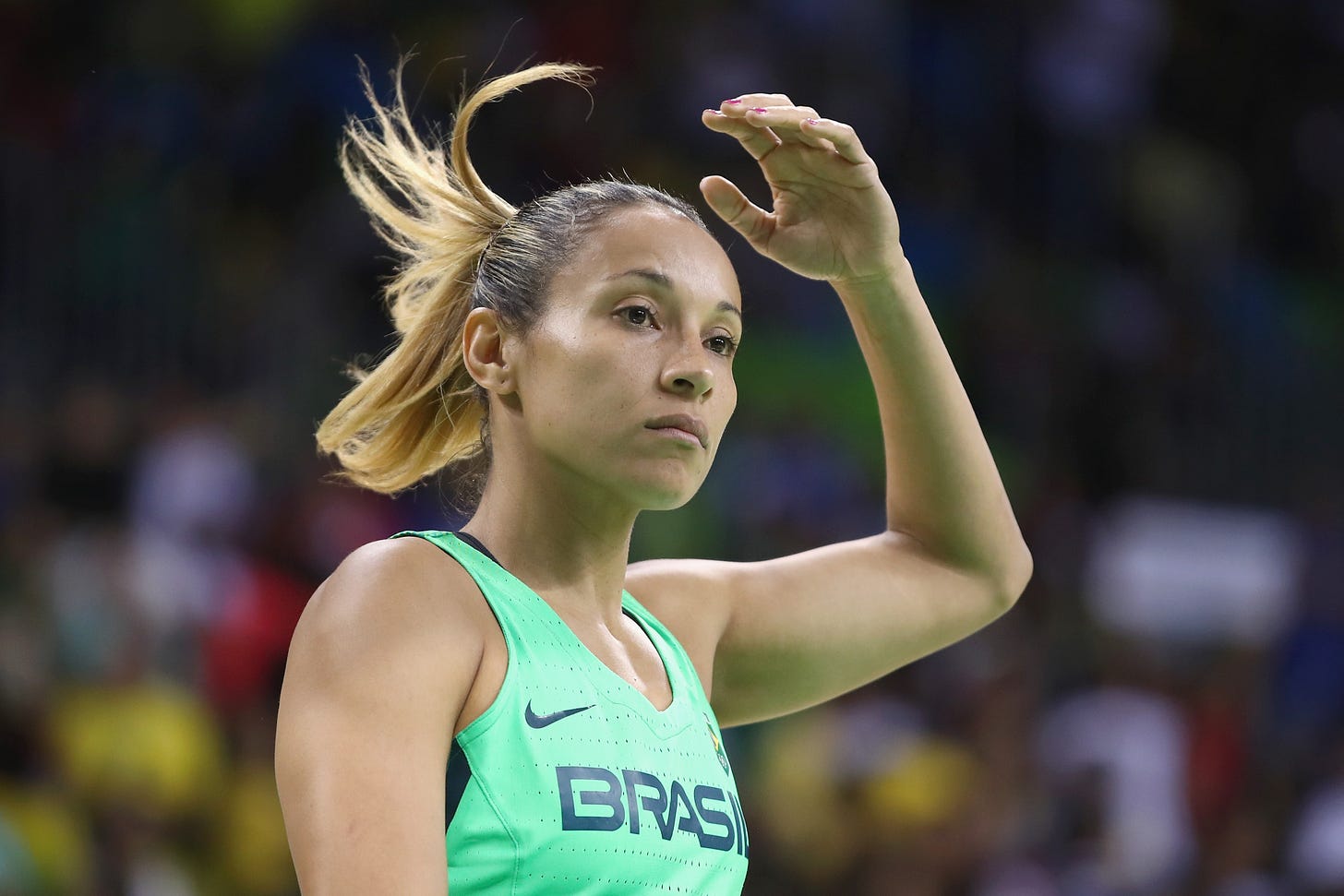 (PHOTO: A dejected Adrianinha as the team crashes out of the Rio Olympics without winning a game; via Getty Images)
---
For decades, the CBB has been run by white, rich, cisgender men, who have openly neglected the women's program. 
One player, who spoke on the condition of anonymity out of fear of retaliation from the CBB, said that the women's team has been forced to practice in facilities that were falling to pieces, stay in run-down hotels, eat food that was not appropriate for elite athletes, subsist on daily stipends during competitions that were laughably small, and deal with broken promise after broken promise from the CBB.
 Meanwhile, the men's team was treated to state of the art facilities and first-rate travel conditions.
"It hit us hard when we saw that all the money was spent with the guys," she said.
"The federation promised us more international friendly games so we could gain experience, a development league for young athletes, and also junior teams to take part in the professional league. But none of that happened. Whatever we conquered was through our own effort and resources."
Behind the scenes, the reality was even darker. According to a study by journalist Fabio Balassiano, by 2015, the CBB accrued serious debt, owing approximately $8 million in public titles. It turns out that the federation was often using money allocated towards the development of women's basketball and young athletes for personal use by the president at the time, Carlos Nunes.
As a result, women's championships were cancelled nationwide and statewide. single-season contracts became the norm, and the national team had their training camp time for international competitions cut down to 15 to 20 days prior to boarding. 
Because of this, if female players wanted to seriously pursue a career in basketball, they had no choice but to move away from their families at an early age.
---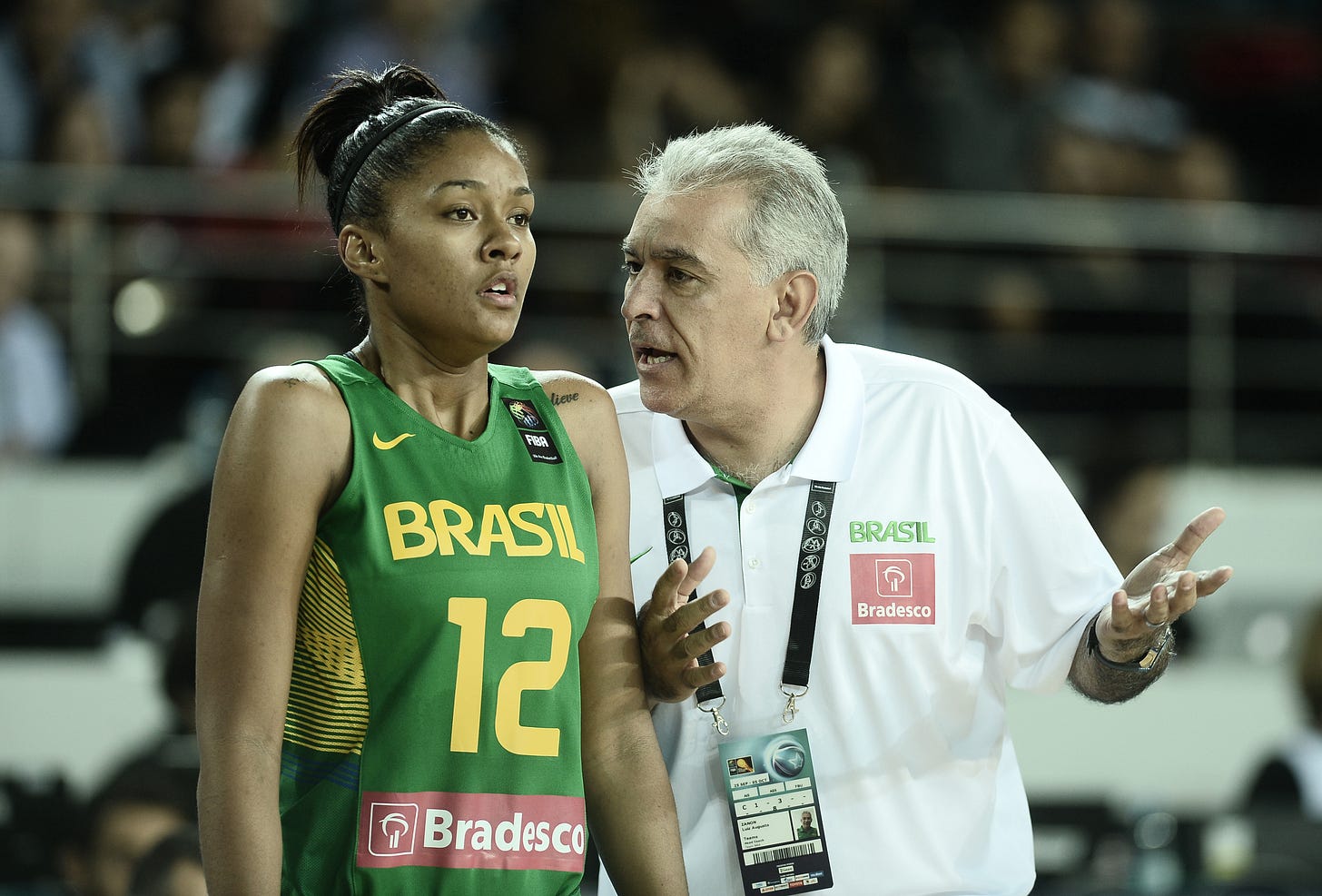 (PHOTO: The national team coach Luiz Zanon talks to Damiris Dantas at the 2014 FIBA world championships; Brazil finished the tournament in 11th place; via Getty)
---
"It is really sad to experience such a shift in reality. While I was playing in Europe or the United States, teams and franchises made sure to present everything perfectly, including details with the staff and locker room. Whenever I came back to a team in Brazil, we had a terrible structure: broken arena, showers with no hot water, no proper chairs for the bench," said Érika de Souza, a three-time WNBA All-Star.
"This makes a whole difference. That's why these countries that I mentioned are successful and deliver results on court: There is investment and athletes are treated as people, not products. Unfortunately, this difference makes me feel like not going back to my own country, which I love wholeheartedly, at all".
A domestic league obsessed with sex appeal
In 2008, a movement started by male clubs took the CBB's authority away from Brazil's domestic league and ushered in the same format used by the NBA. In the new Liga Nacional de Basquete (LNB, or National Basketball League in English), the franchises made the decisions. Two years later, in 2010, the women's league followed in its footsteps. 
The first years of Liga de Basquete Feminino (LBF, or National Women's Basketball League, in English) were filled with high hopes. Because of federal subsidies, teams that had been struggling to find local support were thrust back on the national scene, and were finally able to offer players some job stability. A few teams were taken over by rich owners, who had enough money to attract top international players, such as Tiffany Hayes, Erica Wheeler, Briann January and Sancho Lyttle. De Souza even returned to Brazil during this time. 
But while the structure of the league was an improvement, misogyny and systemic sexism still permeated everything. 
In 2014, I worked at the communications department of LNB as a public relations and social media intern. During this time, I met with the heads of marketing at the LBF, who were looking for guidance on how to bring more visibility to the league. But it turns out, they weren't truly interested in my feedback. In the meeting, two men rambled at length about their passion for making basketball more feminine for women, which is why they chose the colors purple and pink for the new logo. Inspired by the uniforms used by Brazil and Australia in the 2000's, they wanted to bring tight jumpsuits to the court "so players' curves could be valued." Plus, they had an idea of making a commercial with the athletes in high heels and sensual dresses.
---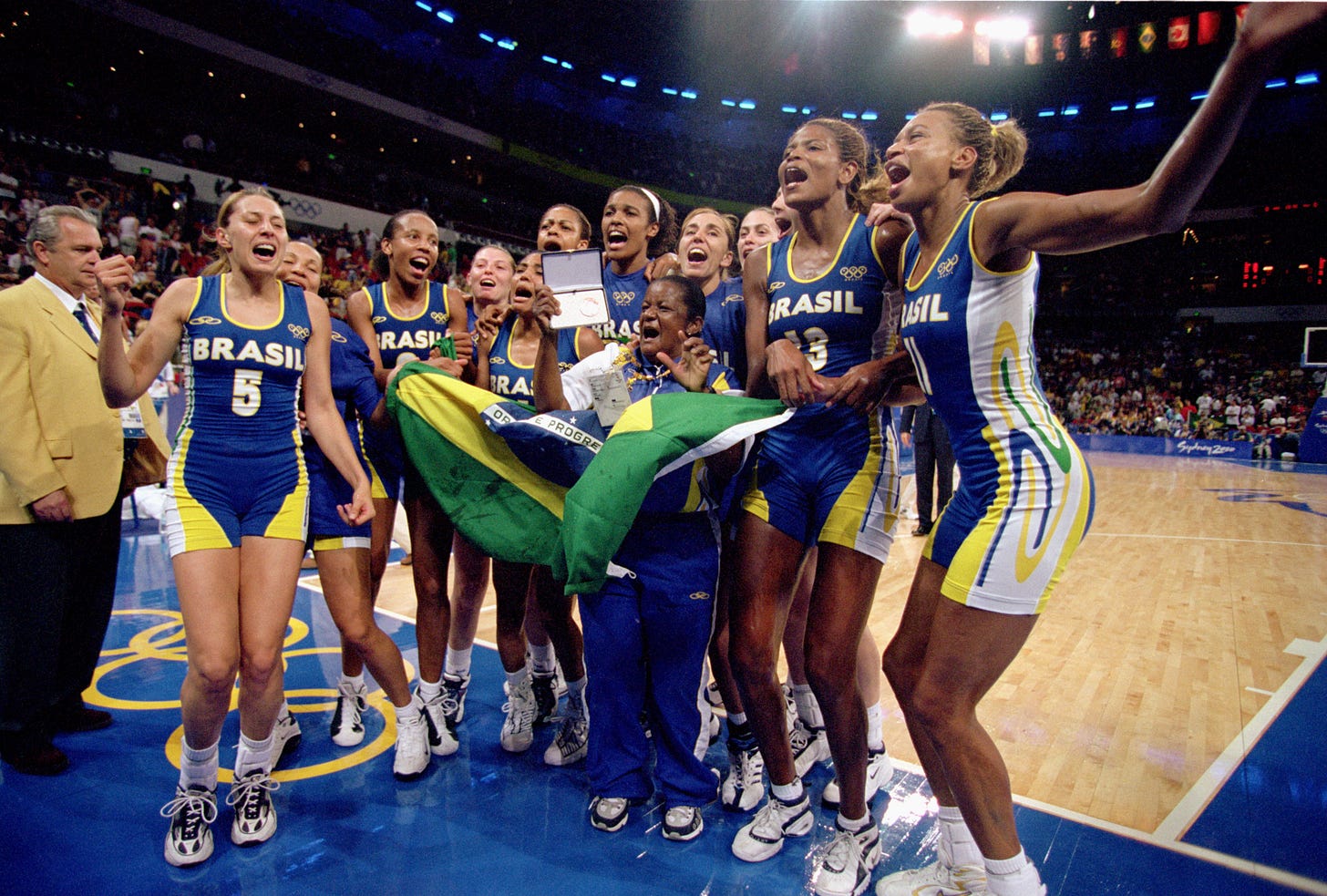 (PHOTO: Team Brazil celebrates capturing the bronze at the 2000 Sydney Olympic Games. wearing the tight unitards that the LBF wanted to bring back; via Getty Images)
---
There were no concerns as to how to make basketball more accessible to young girls or raise salaries and guarantee multiple years contracts to the majority of the players; they were only thinking about how to make the game more attractive to men. 
Thankfully, the players stuck together and refused any hint at returning to the unitard days, and there wasn't enough money to make the sexualized commercial of the LBF's dreams. But instead of taking on other initiatives to grow the game, the marketers at the LBF did nothing at all.
Ricardo Molina takes over the LBF
In the last decade, Americana emerged as an LBF powerhouse. The club won national titles in 2012, 2014, 2015, 2017, and 2018, and was brimming with players from the national team. 
But despite its success, Americana was plagued with financial problems; due to the general lack of respect for women's basketball in the country, the club's main sponsor, the health insurance giant Unimed, opted not to renew its contract in 2011.
This left an opening for a man who has become one of the most controversial figures in Brazilian women's basketball: Ricardo Molina.
Molina is an entrepreneur from the health insurance industry with plenty of money to spare and even more opinions to offer. Starting in 2011, he took control of Americana, using his influence to find sponsors and new investors, and eventually controlling everything that happened at Americana, on and off the court. He would even sit courtside during games and bark orders. If players disagreed with him, there were consequences.
"Molina liked to be praised. He wanted everyone to admire him, and if we didn't do exactly what he wanted, he would go beyond measures to make our lives harder," said a former Americana player, who again requested anonymity out of fear of retribution from Molina and the LBF.  
---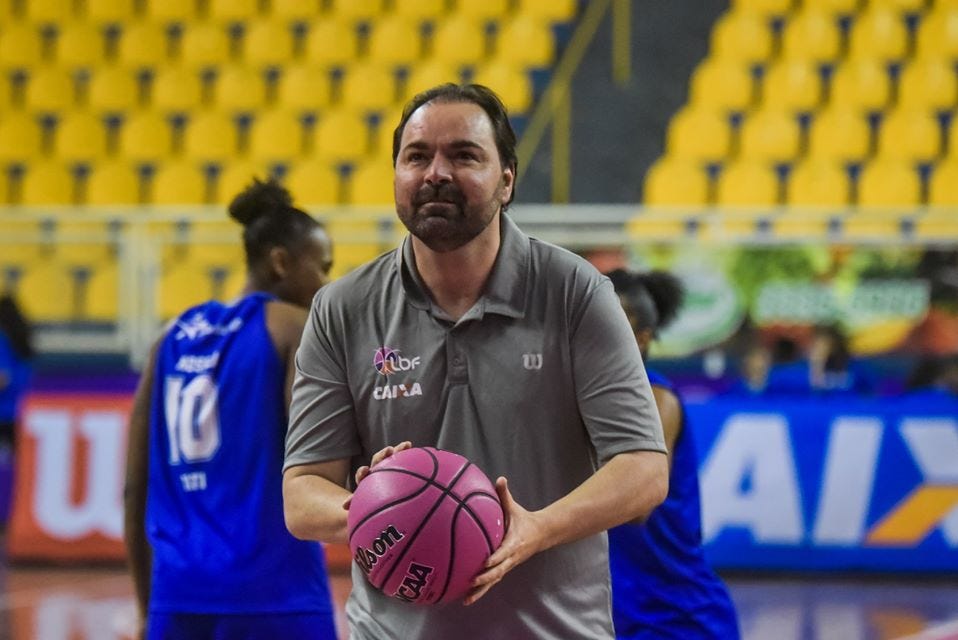 (PHOTO: Ricardo Molina playing with the LBF's pink ball; via Roberta Rodrigues)
---
Soon, Molina wasn't just Americana's problem. In 2017, he was named president of LBF.
While Molina does possess administrative know-how, he certainly lacks clarity on what his role should be as the leader of the main female league in the country.  Two years ago, he became a politician and abandoned the LBF for six months while running for state representative. He is also associated with one of the most conservative parties in the country; his own Twitter bio says, "Bolsonaro follower."
Bolsonaro refers to the president of Brazil, Jair Bolsonaro, who has been bashed all around the world for his dictatorial techniques and complete disregard for minorities rights, especially women. In his own words, women should make less money, because they are prone to getting pregnant. He is explicitly homophobic, and believes only conventionally attractive and feminine women can be the victims of sexual misconduct.
It's devastating to watch a league that is supposed to serve as a beacon of hope and power for Brazilian women taken over by a man who so clearly has no respect for them, personally, politically, or professionally. 
Players aren't happy, either, especially because it is clear that Molina is using the LBF as a stepping stone to reach his main goal, which is leader of the CBB. 
"Basically every woman who plays basketball in Brazil knows that he is greedy and will do whatever it takes to have his will prevail, whether it's for the good or bad. He could take his own money to throw us celebratory parties and use his network to find a last minute sponsor, all while delaying payments and not providing medical care and basic essentials for certain athletes because he had a beef with them," the former Americana player said.
"There are all sorts of sketchy stories."
Under Molina's watch, the excitement that surrounded the LBF when it was launched has sputtered. The league has contracted from 11 teams to eight teams, elite international players no longer sign with LBF teams, and at the end of last season, Caixa, the league's primary sponsor, dropped out. The future of the once-promising league is uncertain.
But at last, someone is listening
While the situation in the LBF continues to be concerning, on the national level, there is reason to be cautiously optimistic. In 2017, Guy Peixoto was appointed the head of the CBB.
Damiris Dantas, the only Brazilian in the WNBA today, says that Peixoto, has been much more open than previous presidents, and shown a genuine interest in women's basketball.
"There is a real concern there. For the first time ever, a high executive from our federation has been listening to members of the national team and asking what is it that we need to have better work conditions," Dantas said.
"It seems surreal, but apparently they have been listening and paying attention to the women's rights movements in sports that are taking over the United States and it is amazing."
---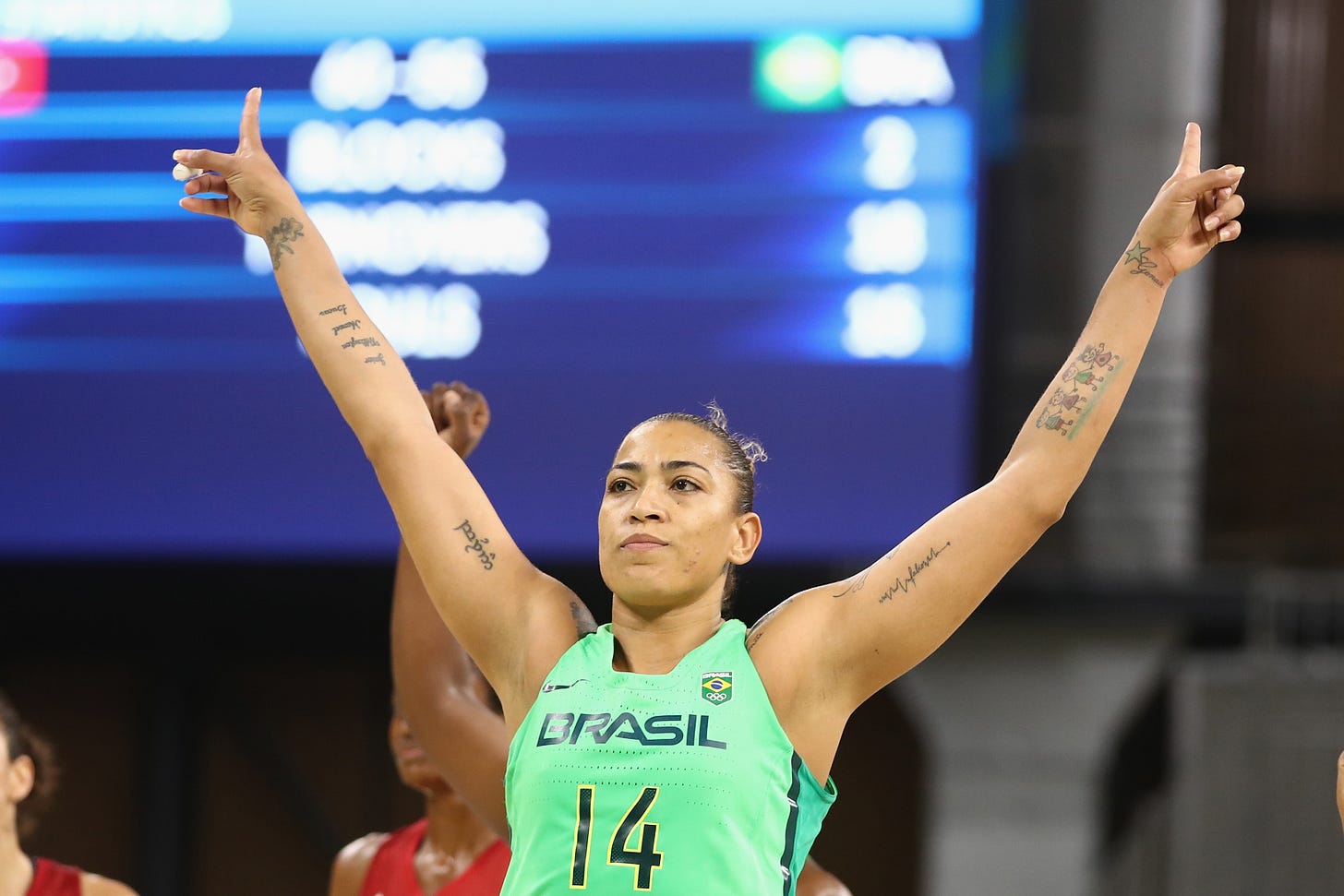 (PHOTO: Erika de Souza at the Rio Olympics; via Getty)
---
Over the past two years, facilities and travel accommodations for the women have improved, though they still aren't on equal footing with the men. And last year, Peixoto appointed José Neto to be the new head coach of the women's national team. Neto's first step? Actually giving space for the athletes to speak.
"For me, it's a brand-new experience. I have never had this chance before, of a coach actually asking for my opinion and valuing all my experience", said Erika de Souza. 
"I finally feel like someone is seeing me as a person, not only an athlete-machine."
Neto's approach has been so positive that in the short period of six months, Brazil has risen again as a Latin America powerhouse, with its most recent conquest being the gold at the 2019 Pan American Games. For the first time in years, there is actually a long-term plan set up to prepare the women's team for the next cycle of international competitions, so that no more world championships or Olympics go by without them. 
Covid-19, of course, has put all plans on pause for the foreseeable future. But, talking with the players, there is a sense of hope that Brazil can, once again, become a presence in global competitions. Thanks to the 1994 team, they know that with a little institutional support, anything is possible. 
"That (90's) generation had an impact not only on me but on everything related to women's basketball in Brazil," said Adrianinha. "Even the younger players who are on the national team nowadays benefit from, and are inspired by, that group."
---
---
Roberta Rodrigues is a Brazilian journalist known for fomenting conversations about women's basketball and its intersection with feminism and major human rights movements. Her passion for women in sports and communication brought her to the United States in 2016 in order to take a shot into learning more and developing new skills. As a queer, POC and immigrant (undocumented for most of that time) in America, fighting for minorities has turned into her life mission.
---

Roberta spent an immense amount of time working on this piece. Your support helps keep the Power Plays freelance program alive during a time when it is needed the most.
Please, consider becoming a paid subscriber, donating a subscription, or gifting a subscription so the work can continue. If you cannot contribute financially, spreading the word and signing up for the free newsletter is a big help, too. Thank you all so much for reading.