It's time to view ending NCAA amateurism as a women's rights issue, too
Let's do some reframing, shall we?
Welcome to the second edition of Power Plays, a newsletter for people who are sick of hearing bullshit excuses, and ready to see equality for women in sports.
I'm Lindsay Gibbs, your captain on this journey. I'm so glad that you're here. My email is lindsay@powerplays.news. I look forward to hearing from you, as we work together to build Power Plays into a force of nature.
Before we go any further, if you're not a subscriber, please rectify immediately by putting your email in the box below. If you are a subscriber (THANK YOU!) please forward this to a friend.
Today we're going to look at this week's "big" NCAA announcement, and examine how amateurism impacts female athletes.
Plus: A message from the Pope, remembering the Mystics, and adorable Halloween photos.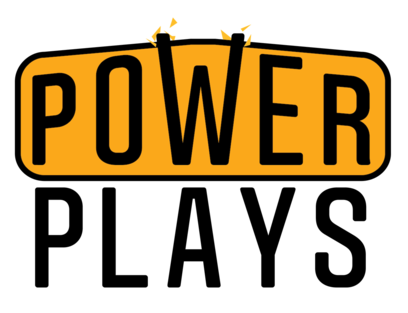 First of all, don't believe the NCAA's bullshit
This week, many big-time outlets pushed out breaking-news alerts announcing the NCAA was finally going to allow college athletes to profit off of their own image and likeness.
If that sounds too good to be true, because, well, the NCAA, then you've got some good instincts.
"I laughed out loud at my computer," said Tammi Gaw, attorney and founder of the sports consulting firm, Advantage Rule.
"The one thing that the NCAA is great at is announcing that they're going to look at things. This is a committee to form a committee to talk about having a committee."
Undoubtedly, change is on the horizon thanks to the passing of California's Fair Play Act last month, which allows college athletes to have make money off of their image and likeness beginning in 2023. Right now, 20 other states are proposing similar legislations, and lawmakers in the federal government are tackling the topic on a bipartisan basis. 
But with the announcement this week, the NCAA is merely trying to buy time so they can figure out how to make slight changes, while still holding onto the "collegiate model" they've profited on — you know, the one that puts all the power in the hands of the coaches, administrators, and NCAA officials.
(For a more info on the NCAA's announcement this week, read fellow substacker Patrick Hruby's takedown over at Hreal Sports.)
Reframing NCAA amateurism as a feminist issue
Perhaps you've heard pundits fear-mongering over the years that ending amateurism in the NCAA will signal the death of Title IX, and I'm here to tell you, that is not true. (I give a full breakdown of why in this ThinkProgress piece.)
Do not fight to save this current exploitative system in order to protect women's sports. In fact, ending amateurism can be viewed as a women's rights issue, too. 
Women have far fewer opportunities in the sports world once their college athletic days have ended, so stripping away their rights and money-making opportunities during college is particularly damaging.
(Don't get me wrong: The root of amateurism is still racism, and takes the most money and power away from college football and men's basketball players, who are disproportionately black, and that is reason enough for any feminist to want to change the status quo. We're just adding another layer of intersectionality here.)
Some female athletes lose out on millions
The most obvious examples of women hurt by these rules are Olympic swimmers and gymnasts: Missy Franklin had to give up millions of dollars after her 2012 Olympic breakthrough to keep her NCAA eligibility; Olympic champion Katie Ledecky retained her eligibility for two years after the 2016 Olympics in order to swim at Stanford, but eventually, she turned pro and had to stop swimming for the school. She was simply losing too much money.
Remember pitcher Mo'ne Davis? She had to make tough decisions on what she capitalized on after her success in the Little League World Series as a 14-year-old to retain her NCAA eligibility. Fourteen!
Elite gymnasts also have to make this choice at an absurdly early age. In 2016, 2012 Olympic champion Kyla Ross and 2016 Olympic champion Madison Kocian became the first Olympic gold medalists to ever compete at the NCAA level, both at UCLA; as just teenagers -- Ross was only 15 in London -- they had to decide between taking full advantage of the money and fame coming their way via Olympic gold, or getting a full scholarship to college. It's absurd that they were forced to make that choice at all.
And for many female college athletes, college is where they get the most exposure and have the most influence, especially among local fans. The popularity of college women's basketball is surging, softball is now officially a revenue sport, and college women's basketball features some of the most recognizable female athletes in the nation.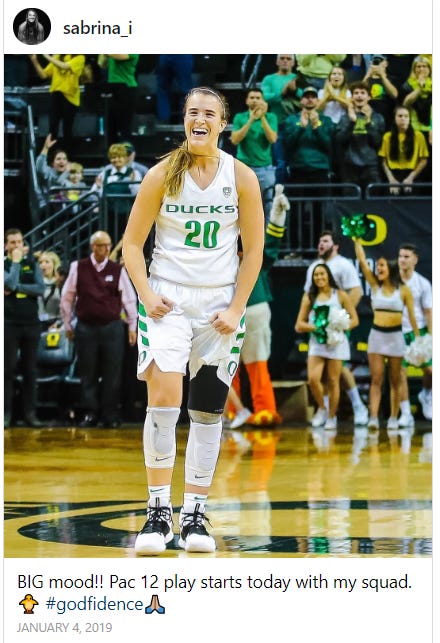 Wouldn't it be nice if the Sabrina Ioniescus of the world could go ahead and start earning money during their college years? If A'ja Wilson -- who literally has a statue on the South Carolina campus -- could have pulled in some endorsements a few years earlier? It might even take the financial pressure off of these stars when they turn pro and enter the WNBA, and alleviate some of the need to play basketball year-round. And women's basketball stars are some of the luckier female athletes, since women's basketball has a far more robust post-collegiate professional system than most women's sports. In softball and volleyball, among other sports, the post-collegiate pro situation is much more dire.
Yes, Title IX has been a huge boost for female athletes. But limiting the power and money they have access to while benefiting from Title IX is counterproductive, to put it mildly.
But amateurism isn't just an injustice for the high-profile female athletes
A former Division I golfer, who requested to remain anonymous, sent me an absolute horror story about her experience with the NCAA, and I'm going to paraphrase the basics for you: She only received a partial (60%) scholarship, and because of the demands of being on the golf team, she struggled to work part-time so that she cover the rest of her expenses.
She said she was told, "If I got a job, it would be noted that golf was not my priority, and outside activities were." She perceived that as a threat. She had a part-time job for a while, but had to quit it due to scheduling conflicts related to golf.
However, she had a following on Instagram, and companies were reaching out to her to see if she wanted to advertise for them. But when she ran this option by the compliance department, they told her it would be an "instant violation." She was left more or less financially stranded, an was unable to finish her degree because she couldn't afford housing for the final semester of her schooling -- which further angered her school, because they get a negative mark from the NCAA on their record when college athletes don't graduate in five years.
Tell me again why ending this system would be bad for women in sports?

Each newsletter, we're going to look back at bullshit that women in sports have had to deal with throughout the ages. Submissions are encouraged. Please send old newspaper clippings, recent examples, enraging quotes, and anything else you can think of to lindsay@powerplays.news.
FROM THE ARCHIVES: The Pope has some thoughts on 'the dignity and grace peculiar to women.' Cool.
 November 13, 1933, The New York Times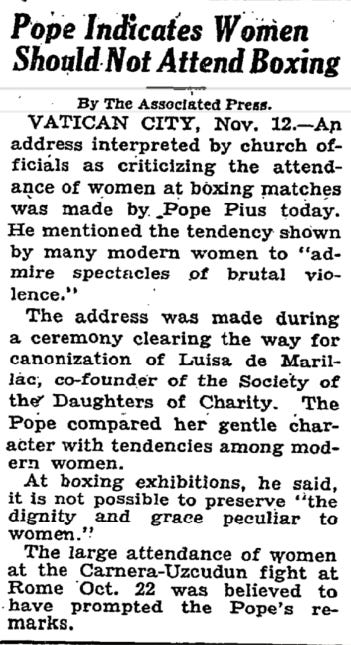 FROM THE PRESENT DAY: The Mystics won the WNBA championship 3 weeks ago, but it's already been forgotten.
Look, for the most part, I was happy with how the DC community embraced the Mystics, and most local news segments and papers and fans included the Mystics' championship in the story of D.C. sports success along with the Washington Nationals' World Series triumph this week and the Washington Capitals' Stanley Cup victory last year. 
But this tweet, from a team owned by the same company as the Mystics, still makes me mad, and is a reminder that we have a long way to go. (Though, I must admit, the replies are making me happy.)
Also, I wish the Mystics' players hadn't had to go overseas so quickly, so that they, too, could have run through D.C. fountains. It's what they deserve. 
HAPPY HALLOWEEN PHOTOS TO WRAP THIS UP
My plan was to end each issue with a sexist quote to rile us all up, but it's been a long week, and I'd rather us just look at a few photos of kids dressed up as their female athlete heroes, instead.
OK, that's all for today—thank for reading the second issue Power Plays! Trust me, the fun has only just begun.
The next edition will hit your inbox on Monday. Don't miss it.
Questions? Comments? Tips? I'm lindsay@powerplays.news. I would love to hear from you. And you can share the website version of the newsletter by using the button below.