LPGA's historic $1.5 million payday can't cover up systemic sexism in golf
Golf's wage gap is widening.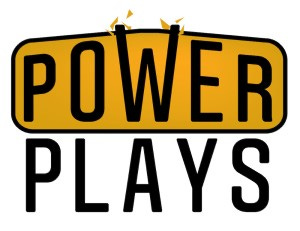 Welcome to  Power Plays, a newsletter for people who are sick of hearing bullshit excuses, and ready to see equality for women in sports.
I'm Lindsay Gibbs, your captain on this journey. If you haven't already, please subscribe by adding your email in the box below. That's the only way to keep this thing going.
Today's edition is going to be all about the LPGA: moving stories, historic pay days, sexist media, sponsorship struggles, and insight from the founders.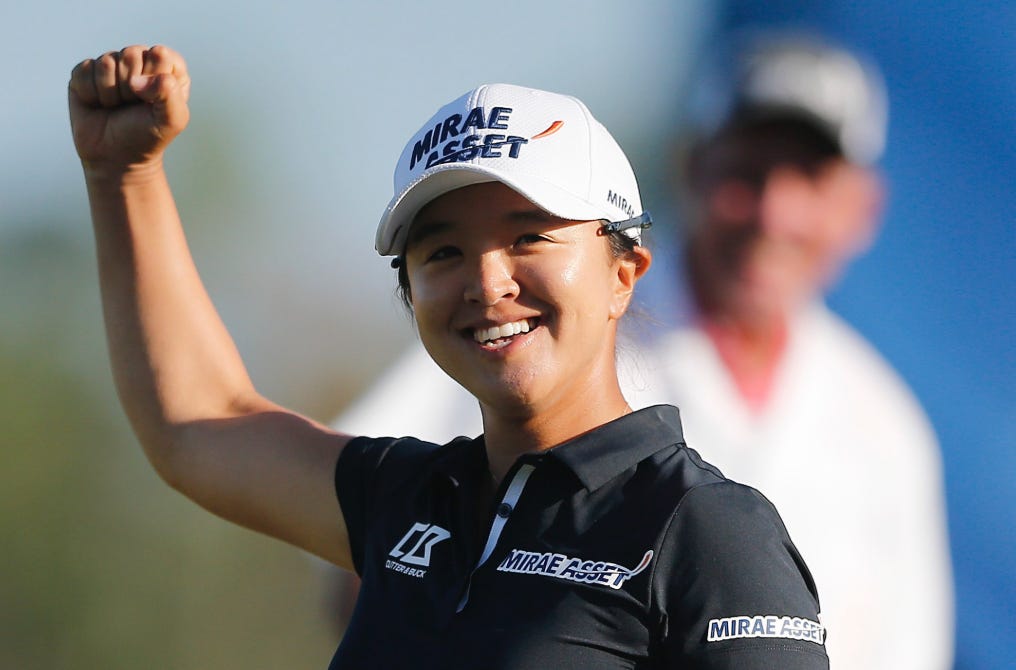 Credit: LPGA twitter
But first: Thank you! I requested mailbag questions last week, and you all delivered. So much so that Wednesday and Friday's newsletters will both be mailbag editions! I'm grateful to get to take a day or two off for Thanksgiving, and I'm especially grateful for all the wonderful questions that you all sent in — the Power Plays community is already shaping up for a special one. I probably have space for 1-2 more questions, so hurry up and send if you want to get in on this: lindsay@powerplays.news.
Please keep spreading the word, too. Every little bit helps.

"Women's golf is the winner today"
So, we're going to get into some frustrating stuff in this newsletter, because that's just what we do. But first, let's talk about a few phenomenal moments in women's golf that happened over the past few days.
Last Thursday, Carlota Ciganda of Spain received $1 million for winning the season-long Aon Risk Reward Challenge. The challenge tracked how players performed on select holes at 28 events throughout the year, and the winner was the player with the lowest score relative to par on those holes.
If that sounds complicated, then I'm doing a poor job of explaining it, but don't get caught up on the details. The main takeaway here is that Aon ran this challenge on the men's and women's tour, and gave the winner of both challenges $1 million! I do believe this is the first true "equal prize money" moment in golf history.
Men get $1 million paydays in golf on a weekly basis, but women have had less than a dozen. Ever. (Including the record three this season.)
Ciganda, who has two LPGA victories in her career, was overwhelmed with emotion when accepting the honor. Seriously, watch this video.
"I'm the winner, but women's golf is the winner today. The LPGA is the winner," Ciganda said.
Another great moment this week? When Jeongeun Lee6 accepted her Rookie of the Year award. Lee6, who goes by "Six" because there are six Jeongeun Lees on the Korean LPGA Tour, won the U.S. Women's Open this year, which also came with a $1 million prize. She memorized her heartfelt speech, and practiced it for weeks, and it was incredible. (I mean, I do not like that she felt so much pressure to learn English. That makes me sad.)
Finally, we have the actual year-end tournament this weekend! It was the CME Group Tour Championship, and a $1.5 million check — the biggest payday in LPGA history — was on the line.
Sei Young Kim, 26, led wire to wire. But that doesn't mean it wasn't dramatic. England''s Charley Hull had five birdies on the back nine, including on the final three holes, to finish 17-under par. That meant that Kim had to birdie the 18th in order to avoid a playoff. And with a phenomenal 25-foot strike that just slid in through the hole's side door, she did it.
LOOK AT THIS PUTT.
Pretty amazing.
The wage gap in golf is actually widening
This is the time when we take a step back for some perspective. In my opinion, the LPGA doesn't get nearly enough credit for being the oldest women's pro sports league in the United States. (I have many theories as to why, but will save for another newsletter — or it could be a good mailbag question, hint hint.) The LPGA first launched in 1950, when its 13 founders put together a season that included 13 events and $50,000 in prize money.
By 1970, LPGA players competed in 21 events with a total purse of $435,040; by 1980, total prize money had surpassed $5 million; by 1990, the pot grew to $17.1 million. In 2000, there were 39 official money events, and $36 million in prize money.
But in the 2000s, the tour started to go backwards. In 2008, the total prize money was over $60 million. In 2009 it fell to $47.6 million, and by 2010 it was $41.4 million. The financial crash hit the tour hard, as did Carolyn Bivens' disastrous four-year run as commissioner — among other things, she tried to implement a policy that would suspend foreign-born players who weren't able to converse with sponsors in English. (Yeah. I now.)
Mike Whan became commissioner 10 years ago, and has done a good job righting the ship. He's restored the LPGA's relationships with existing sponsors and built many new bridges — the record-setting pay days mentioned above are truly a testament to his hard work. It's an exciting time, for sure.
Whan recently signed a contract extension, and is bullish that this is only the beginning of the growth. Refreshingly, he's willing to call out companies that brag about their commitment to equality but don't practice what they preach.
"How is it that nearly every company claims equal opportunity is a cornerstone of their business, but 95% of all corporate sports sponsorship dollars are spent on male sports," Whan wrote in a letter to LPGA membership last week.
This season, there were 32 official LPGA events and a record $70.2 million in prize money; next season will surpass that. But he's far from content.
"It would be embarrassing for me if this was as good as it gets. It would be embarrassing for the LPGA," Whan said. "This can't be where women's golf plateaus, and if it plateaus here, shame on all of us."
Indeed, there is still a lot of work to do; LPGA players only play for 17% of the PGA Tour's prize money. Seventeen. Percent. And when it comes to television exposure, well, there's no comparison. (The final round of the CME Group Tour Championship was live on NBC, but the first three rounds were all tape delayed on the Golf Channel.)
Want to hear something even more depressing than 17%? Over the past 20 years, the prize money gap between men and women has actually increased — in 2000, LPGA players played for 21% of the PGA Tour's purse.
*big sigh*
This year, the No. 100 player on the LPGA's money list, Mariah Stackhouse, earned $127,796 — which, when you account for the 10% that caddies earn, agent fees, coach fees, and travel, means she probably barely broke even, if that.
Carlos Ortiz, who was No. 100 on the PGA Tour's money list at the end of the 2018-19 season, earned $1.175 million.
Sexism in golf media perpetuates the inequities
None of this exists in a vacuum, and I firmly believe that the sexist culture that is pervasive in golf — particularly golf media — perpetuates this inequity.
Don't believe me? Well, Golf.com couldn't even be bothered to name Sei Young Kim in its headline when covering her history-making victory.
She was merely "Pro."

"PRO." (I might never get over this.)
Of course, this reeks of racism and xenophobia, too. My hunch is that they would have found a way to fit her name into the headline if she was white and/or blonde and/or American. Or maybe if she was wearing a bikini on the course?
Yes, so many golf media entities still view women as sex objects first, athletes second.
As recently as 2017, Golf Magazine/Golf.com was putting out an annual edition of the "Most Beautiful Women in Golf," which lumped LPGA players in with WAGs of PGA players, beauty pageant winners who were fans of golf, and golf broadcasters. As recently as 2016, Golf Channel was posting "Women Crush Wednesday" articles on its website, which were basically photos of women with some affiliation to golf posing in bikinis. (Some have been deleted, though you can see the URLs, and some remain online.)
And let's not leave out Golf Digest from this. The magazine rarely features LPGA players on its cover. So, understandably, people were upset when Paulina Gretzky — daughter of Wayne, then-fiancee of PGA star Dustin Johnson — was their cover star for a 2014 fitness issue.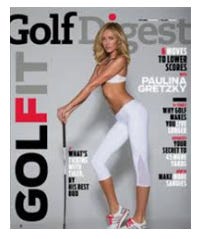 The following year, Golf Digest did finally feature an LPGA star on its cover — Lexi Thompson. However, she was shirtless, with only a towel draped over her chest.
When the magazine received criticism for the choice, Jerry Tarde, the editor in chief of Golf Digest, issued the worst non-apology apology ever:
First, let me dispense with the details of this historic Golf Digest cover, although I might point out that Rory McIlroy wasn't wearing a shirt on last month's cover, either. (No, not a trend--just a sign of the fitness of today's top players.)

…

We've come a long way from a year ago when the LPGA condemned our choice of Paulina Gretzky (and Holly Sonders in 2013) as the cover images for Golf Digest's annual fitness issue. Mea culpa, ladies. You can have stunning beauty and the highest level of golf performance at the same time, as demonstrated this year by Lexi, Stacy Lewis, Cheyenne Woods and Michelle Wie (pictured): Have you ever seen anyone more fit in evening wear?
The next year, Golf Digest put Paige Spirnac on the cover, an Instagram model who played golf in college and has never qualified for an LPGA event.
The LPGA players just want to be respected
It's not just the media that shows these women disrespect, though. Regular golf sponsors do, too.
In an article for Golfweek, former No. 1 Stacy Lewis wrote about how differently the women are treated by sponsors — things like courtesy cars at tournaments are a given for the men, but a two-times-a-year luxury for the women, and some top women even have to pay out of pocket for the basics.
"Club manufacturers across the golf industry have begun to pull back on sponsorships on both sides, but this has been a huge hit to our tour. Callaway and PXG are the only companies consistently out every week, and we all so appreciate their investment, but neither have a tour van," Lewis writes. "I saw at least 10 companies with their trucks in Houston for the guys. The LPGA has a full-time employee who has to drive a van to service our players. I have heard of very good players having to buy their own equipment."
If the men wouldn't tolerate such treatment, the women shouldn't have to, either.
But remember, this is a sport which is still trying to make sure that all of its venues will allow women on the grounds! No wonder the wage gap is increasing.
Inequities compound one another, and make the women feel not just overlooked, but out of place in the sporting community they've dedicated their lives to. Which is why, when discussing the big paydays happening recently, the exact dollar amount seemed secondary; it was more about the message those checks sent to players.
"When you look at Carlota and the way she reacted to winning the $1 million for the Aon Challenge and this, there's a feeling of respect," 2004 Women's British Open champion Karen Stupples told Ron Sirak of LPGA.com.
"They feel valued," Stupples said.

From the archives: 'If some of the plumper girls do it, we give them a gentle hint.'
July 2, 1967; Tallahassee Democrat
WOW THERE IS A LOT TO UNPACK HERE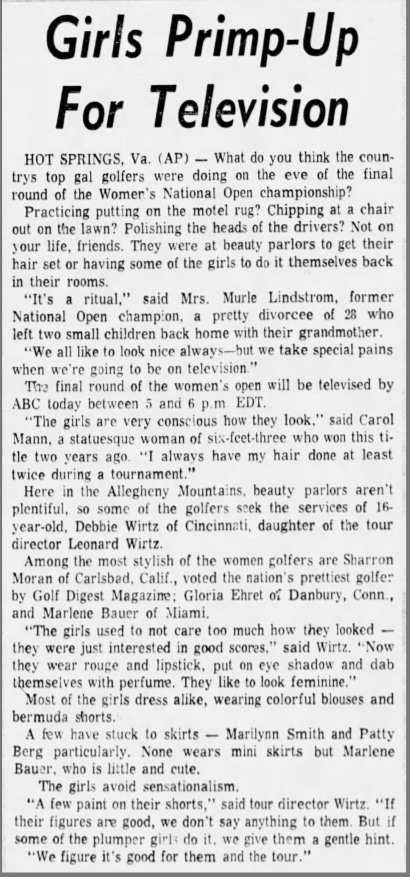 Spit take: What commitment!

Thank you so much for reading! I'll be back on Wednesday morning. Don't forget to sign up and share, my friends.