Mainstream media is sleeping on the most exciting WNBA free agency season in history
Here's our first official installment of #CoveringtheCoverage.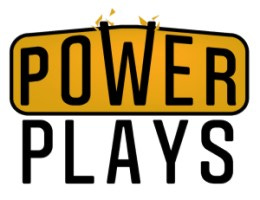 Hello, friends! Welcome to Power Plays. If you're new here, my name is Lindsay Gibbs, and I write this newsletter about sexism in sports three times a week. This work is only possible with your support, so please sign up and share:
Today, we're diving fully into our #CoveringtheCoverage mission, a mere two months after I announced the launch of the project! This newsletter is all about the coverage of WNBA free agency.
Okay, let's get right to it!

WNBA free agency began on Monday. Thanks to the new CBA — which increased the amount of cap space for each team, reduced the number of times a team can core a player ("coring" is like a franchise tag, essentially), and made max contracts much more enticing for elite players — it has been the most consequential free agency season in WNBA history, and we're only three days in.
I've been glued to my twitter timeline, eagerly awaiting updates from High Post Hoops, Winsidr's Rachel Galligan, and Women's Basketball 24/7, a site run by former WNBA All-Star Mo Currie. Matt Ellentuck at SB Nation has provided phenomenal coverage, as has The Athletic WNBA, and beat reporters around the country such as Madeline Kenney for the Chicago Sun Times, Jeff Metcalfe of the Arizona Republic, Ava Wallace at the Washington Post, Bria Felicien at the Atlanta Journal Constitution, Alexa Philippou at the Hartford Courant, and many more.
If you're dialed in, and you wanted to seek out information about WNBA free agency, the information has been there. And it's been thrilling to follow. I agree with Matt Ellentuck when he says:
(The salary database maintained by Howard Megdal at High Post Hoops deserves a lot of credit for this uptick, too.)
But, as amazing as all of this coverage is, it still has a limited audience. To really figure out whether any of this excitement was breaking through, I wanted to look at how mainstream media was covering WNBA free agency. So, I watched seven hours of ESPN and looked at the print newspaper coverage of 14 papers — one big-time local paper in each WNBA team's market, plus USA Today and The Wall Street Journal — to see if casual fans were being exposed to the excitement of a free agency season involving moves or significant re-signings by Elena Delle Donne, Jonquel Jones, DeWanna Bonner, Skylar Diggins-Smith, Kristi Toliver, Angel McCoughtry, and more.
For this exercise, I was specifically looking for WNBA free agency coverage — and in the local markets, I was looking for coverage of their team. General women's basketball stories didn't count. Here's what I found.
ESPN talking heads ignored it completely
I was cautiously optimistic about how ESPN would cover free agency, because on Monday night during the UConn vs. South Carolina game on ESPN2, they had big free agency news running on the ticker, and after the game, they went to a studio where a group of hosts, including Rebecca Lobo, broke down some of the news.
But in the seven hours of ESPN I watched on Tuesday and Wednesday — including High Noon, Highly Questionable, Around The Horn, Pardon The Interruption, SportsCenter, Get Up, and First Take — WNBA free agency wasn't mentioned once. Instead, every single show recycled the exact same topics: Philip Rivers and Tom Brady's free agency options (NFL free agency is more than a month away), Joel Embiid's twitter account, and Zion.
I truly thought that at least one two-minute segment in at least half of those shows would be devoted to WNBA free agency. It was infuriating that the only time I heard it shouted out was when Rachel Nichols gave Elena Delle Donne props for signing a new four-year contract with the Mystics as The Jump was going off air.
There are so many talented people at ESPN who could talk about the WNBA free agency drama, and the storylines are so good that its biggest talents should want to engage with them. I promise if nothing else, it'll allow them to save one Brady take for a later show. They've got to be running out by now!
And need I remind anyone that ESPN is the WNBA's television partner?!
Gracing the cover: Las Vegas Review-Journal, Atlanta Journal Constitution, Washington Post, Arizona Republic
Let's start with the positive.
Free agency kicked off with Angel McCoughtry leaving the Atlanta Dream and signing with the Las Vegas Aces. The Las Vegas Review-Journal gave the deal the front-page treatment it deserved, and added a phenomenal headline to boot. This is the only newspaper that gave a WNBA free agency move front page, above-the-fold treatment with a photo. More of that, please.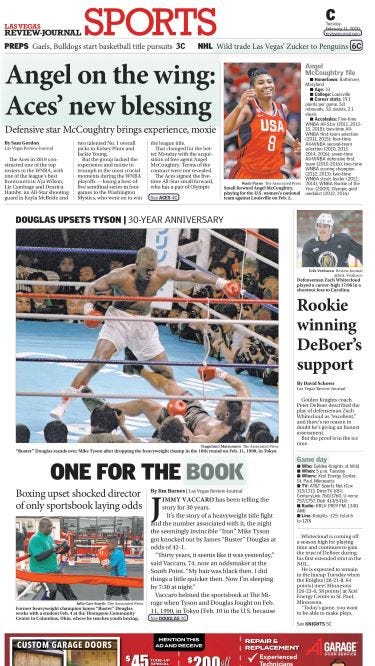 (A screenshot of the Las Vegas Review-Journal, 2/11/2020)
Unfortunately, the LVRJ didn't publish any follow-up coverage of the big move on Wednesday, but there will be time for that.
Meanwhile in Atlanta, the McCoughtry move did make the front page of the Atlanta Journal-Constitution, even though it was below the fold. The rest of the McCoughtry article continued on the second page, and included a little information about the Brittney Sykes and Marie Gulich trade for Kalani Brown. That was really nice to see.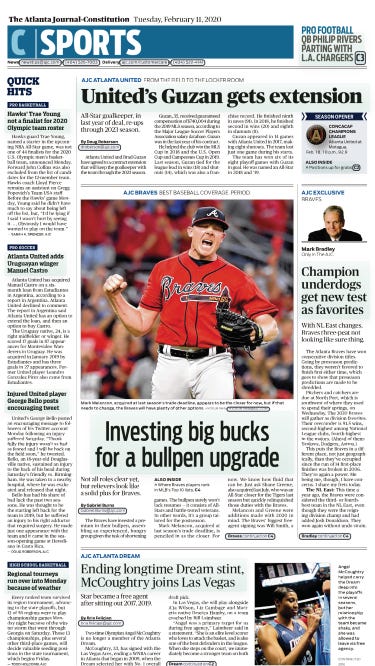 (A screenshot of Atlanta Journal-Constitution, 2/11/2020)
Like in Vegas, there was no follow-up in Wednesday's paper, but in their defense, the Dream haven't made any other moves yet.
The other huge news on Monday was Kristi Toliver leaving the Washington Mystics and going back to her former team, the Los Angeles Sparks. The Washington Post put a great story by Ava Wallace in a sidebar on the front page.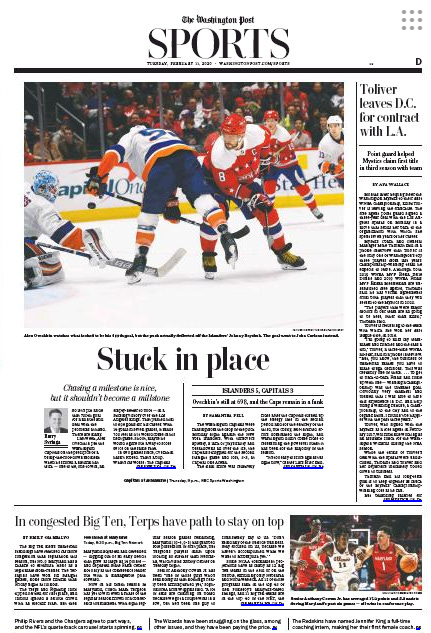 (A screenshot of The Washington Post, 2/11/2020)
I was more frustrated with the Post's story placement on Wednesday. On Tuesday, news broke that Elena Delle Donne — the reigning MVP and by far the most talented and accomplished basketball player in the city right now — had inked a four-year deal to stay with the team. Now, this wasn't exactly a surprise; all indications had been that she'd return. But still, locking up the city's best player for four more years seems like front-page news to me.
Instead, it was on the sixth page of the sports section. There was a very small note about the news on the front page, but it would be quite easy to miss. (In fact, I have drawn a beautiful arrow below so that you don't.)
(A screenshot of The Washington Post, pages D and D6, 2/12/2020)
To round out our front-page treatment, we have the Arizona Republic. Now, look. I honestly have a hard time giving them any props. DeWanna Bonner's free agency was one of the three biggest stories heading into this free agency season, and yet, on Tuesday, the Arizona Republic had absolutely zero coverage of it in the paper. None. No speculation, no analysis, nothing.
But on Wednesday, after it was announced that she was traded to the Connecticut Sun, Bonner's departure did get crammed onto the front page. Do I think this was good enough for a player that has meant so much to the franchise for so long? Absolutely not. But it's there.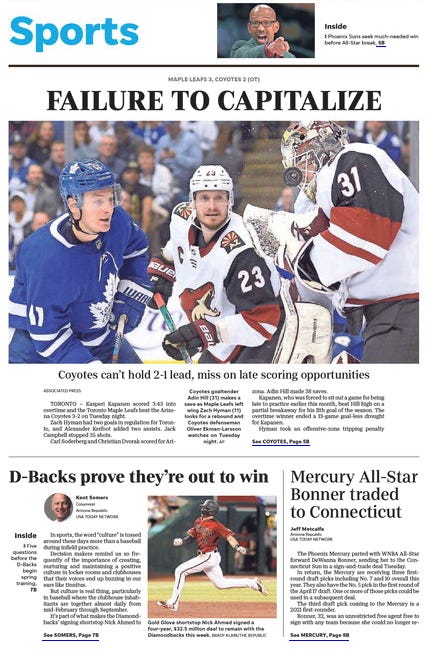 (A screenshot of the Arizona Republic, 2/12/2020)
Now, if the Phoenix Mercury landing Skylar Diggins-Smith isn't the biggest front-page story in Thursday's paper, it's time to revolt.
Partial credit: The Hartford Courant
The Hartford Courant has some of the best women's basketball coverage in the nation, with a full-time reporter on the UConn women and the Connecticut Sun, Alexa Philippou. And I understand that they're pretty wrapped up in college season right now.
Still, the Sun were the finalists last year, and have had two of the biggest moves in WNBA free agency so far — re-signing Jonquel Jones, and trading for DeWanna Bonner. However, neither of those stories made it anywhere close to the front page of the sports section. In fact, they were both buried pretty far back in the sections.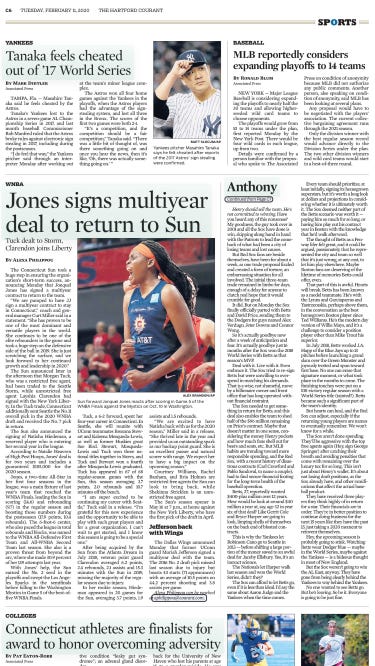 (A screenshot of The Hartfod Courant, page C6, 2/11/2020)
It was slightly understandable on Tuesday, since UConn just suffered a big loss to South Carolina the night before. But on Wednesday, I mean, I've put the front page for you all below so you can see if anything could have been shifted back to accommodate the blockbuster Bonner news.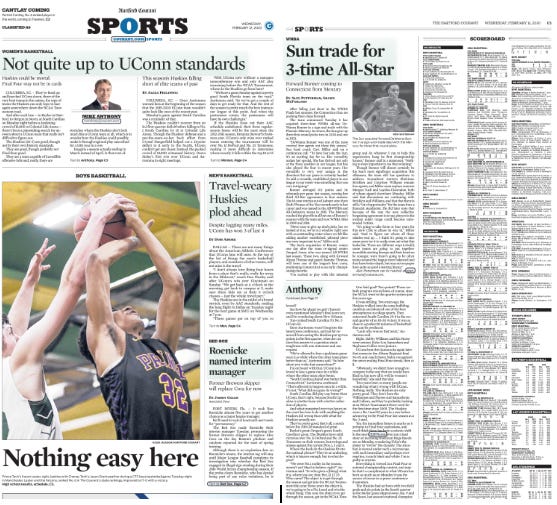 (A screenshot of The Hartford Courant, pages C and C5, 2/12/2020)
Barely scraping by: The Seattle Times, Los Angeles Times, and Dallas Morning News
The Seattle Storm have been relatively quiet in free agency so far, in part because they have such a talented squad in place. But you would need to be actively scouring the The Seattle Times to even know it's free agency season. There was nothing at all in Wednesday's paper, and in Tuesday's paper, the news about acquiring Morgan Tuck was buried in a bigger section about Swin Cash and Lauren Jackson being named to the Women's Basketball hall of Fame.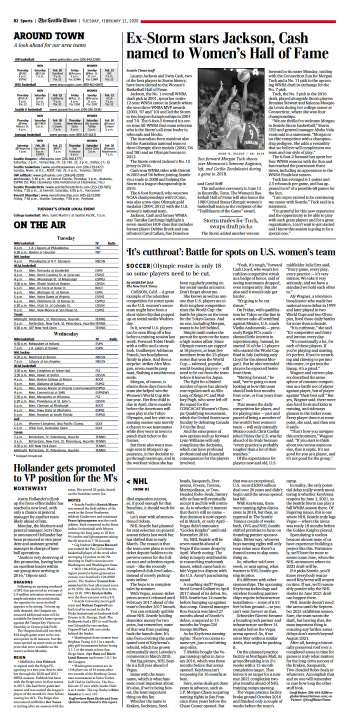 (A screenshot of The Seattle Times, page B3, 2/11/2020)
Given how big the story was, I was even more upset with how the Los Angeles Times handled Kristi Toliver returning to the Los Angeles Sparks. It was on the final page of the section, after at least three Philip Rivers features.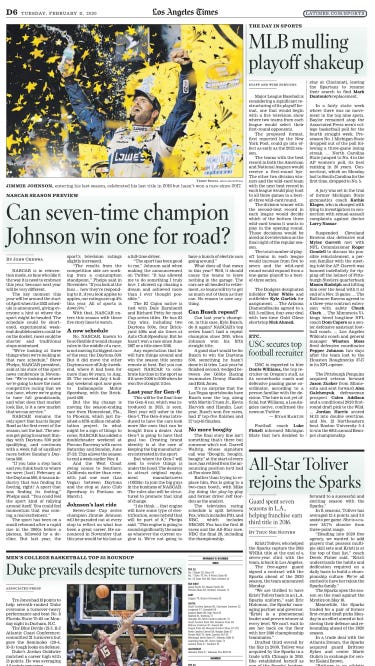 (A screenshot of The Los Angeles Times, page D6, 2/11/2020)
There was zero follow-up on Wednesday.
Meanwhile, while the Dallas Wings and pending Skylar Diggins-Smith trade was the x-factor hanging over the first two days of free agency, you wouldn't have even known there was any story there at all if you were just reading the Dallas Morning News.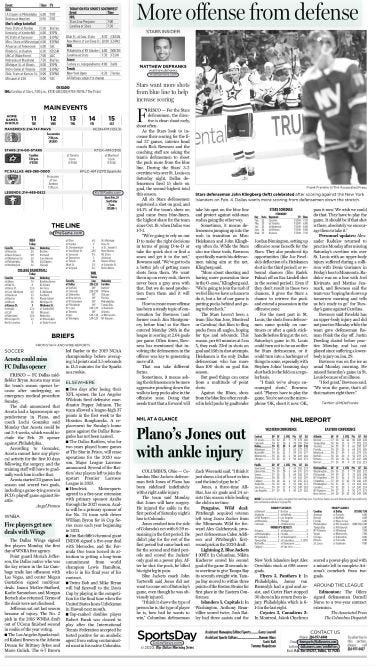 (A screenshot the Dallas Morning News, page 2C, 2/11/2020)
It's not like they forgot about WNBA free agency altogether. In case you can't see it in the above screenshot, I've zoomed in for you, so you can see the cunning analysis.
The blurb doesn't even mention Skylar Diggins-Smith's name! How is that possible? And things weren't any better on Wednesday. It was relegated to the same bottom left corner round-up, this time all about Isabelle Harrison, with no mention of the face of the franchise awaiting a trade.
(A screenshot of the Dallas Morning News, page 2C, 2/12/2020)
I'm honestly flabbergasted by that. It's Skylar Diggins-Smith! I'll be curious if Thursday's paper will mention her, now that she's officially been traded to the Mercury. (I'm not holding my breath.)
Facing a failure: IndyStar, The Chicago Tribune, USA Today, New York Times, Star Tribune, and Wall Street Journal
I'm not giving out final grades, because we're only a few days into free agency, and a few of these papers are in markets that haven't made any splashy moves yet.
Still, it's hard to imagine any of these papers being radio silent at the start of NBA free agency. So they're on thin ice.
(And, honestly, the New York Times and USA Today have zero excuses. They should be embarrassed.)
Main takeaway: So much bullshit is written and said about men's sports
Being immersed in newspapers and ESPN talk shows over the past two days has really hammered one thing home to me: Everyone is telling the exact same stories about men's sports, over and over again. There is a lot of space to fill, in papers and on television, and its being filled with so much meaningless bullshit.
Yes, I'm aware of ratings and popularity and the fact that men's sports are far ahead of women's pro sports when it comes to building fanbases. And I know the coverage of women's sports is moving, ever incrementally, in the right direction. But I also know that some of these free agency moves are objectively more important, short-term and long-term, for both individual markets and the sports landscape at large than a midseason NBA game, Tom Brady liking a Philip Rivers post on Instagram, or a 10-minute argument in early February about whether or not Zion Williamson can be the NBA's Rookie of the Year. I know that local and national audiences will give a damn if they're exposed to it. And I know that I am beyond done accepting the bare minimum.
Nobody is asking for 100% coverage equality overnight. But the Powers That Be must immediately stop actively burying significant women's sports stories. It's time to add a little water, step back, and watch them bloom.

Phew. That's all for today. Follow Power Plays on Instagram, where I will keep #coveringthecoverage.
lindsay@powerplays.news.