NBA Live and NBA 2K need to stop treating the WNBA as a sideshow
Yes, basketball lends itself to equality. But you wouldn't know it from playing video games.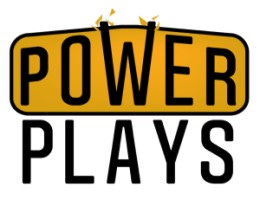 Hello, friends! Welcome to Power Plays, the no-bullshit newsletter about sexism in sports, founded by me, Lindsay Gibbs.
Today I've got a special treat for you — a deep dive from Power Plays contributor Ben Mock, who previously wrote for Power Plays about the exclusion of women's soccer in the video game Football Manager. Today, Mock looks at how the biggest basketball video games on the market have tried — and, up to this point, failed — to implement the WNBA.
If you want to read more about this subject, I highly recommend this piece in Matt Ellentuck's excellent new women's basketball newsletter, Here's Basketball. And be sure to subscribe, too!
Remember, it's only possible for me to have contributors because of paid subscribers. Right now, all subscriptions are 23% off. (Aptly, it is the Maya Moore Special.)
It also helps so much when you tweet or facebook or email about Power Plays — it's very easy to do if you click the "share" button below.
Okay, friends. Let's do this.
Basketball video games need to start showing the WNBA the respect it deserves
By Ben Mock
"Basketball lends itself to equality," Mike Mahar, a senior producer at the video game developer EA, told Katie Barnes of ESPN in July of 2018. 
Mahar was in the middle of promoting NBA Live 19. When it came to sports games, EA had found success with games like FIFA and Madden.
However, their basketball franchise had always struggled, and the 2010s had been particularly bad for the series. The company hoped that this newest installment could revive the series, and maybe even put it on par with the immensely more popular NBA 2K franchise, which was made by rival publishers, 2K Sports.
Basketball video games are some of the most popular in the sports game genre. But until a couple of years ago, video games ignored the fact that women play basketball.
EA broke the gender barrier in 2017, when NBA Live 18 became the first basketball game to feature WNBA teams. However, they could only be used in a single-game exhibition mode known as "Play Now" where commentators rarely used team or player names. Oh, and there were some, uh, issues with how the character models looked and behaved. 
But Live 19 would be different. This time, WNBA players would be included in the single-player mode known as "The One," which  revolves around your custom character playing alongside NBA and WNBA talent on a pro-am circuit. 
EA heavily publicized this addition to the game, and touted it as a boon for gender equality. As Mahar told Barnes:
"We wanted to make sure that our females were on the same footing as the males"
Unfortunately, it's a bold claim that the game doesn't live up to.
Despite what EA claimed, icons, ratings, and game modes prove that the footing is far from equal
Even before you've finished making your character in NBA Live 19, the inequality is clear. A big feature of character creation is the icon system. This mechanic ties big names from the world of basketball to the game's eleven playstyles. After choosing your playstyle, you choose an associated icon to emulate. This mechanic works by giving your character specific stat boosts.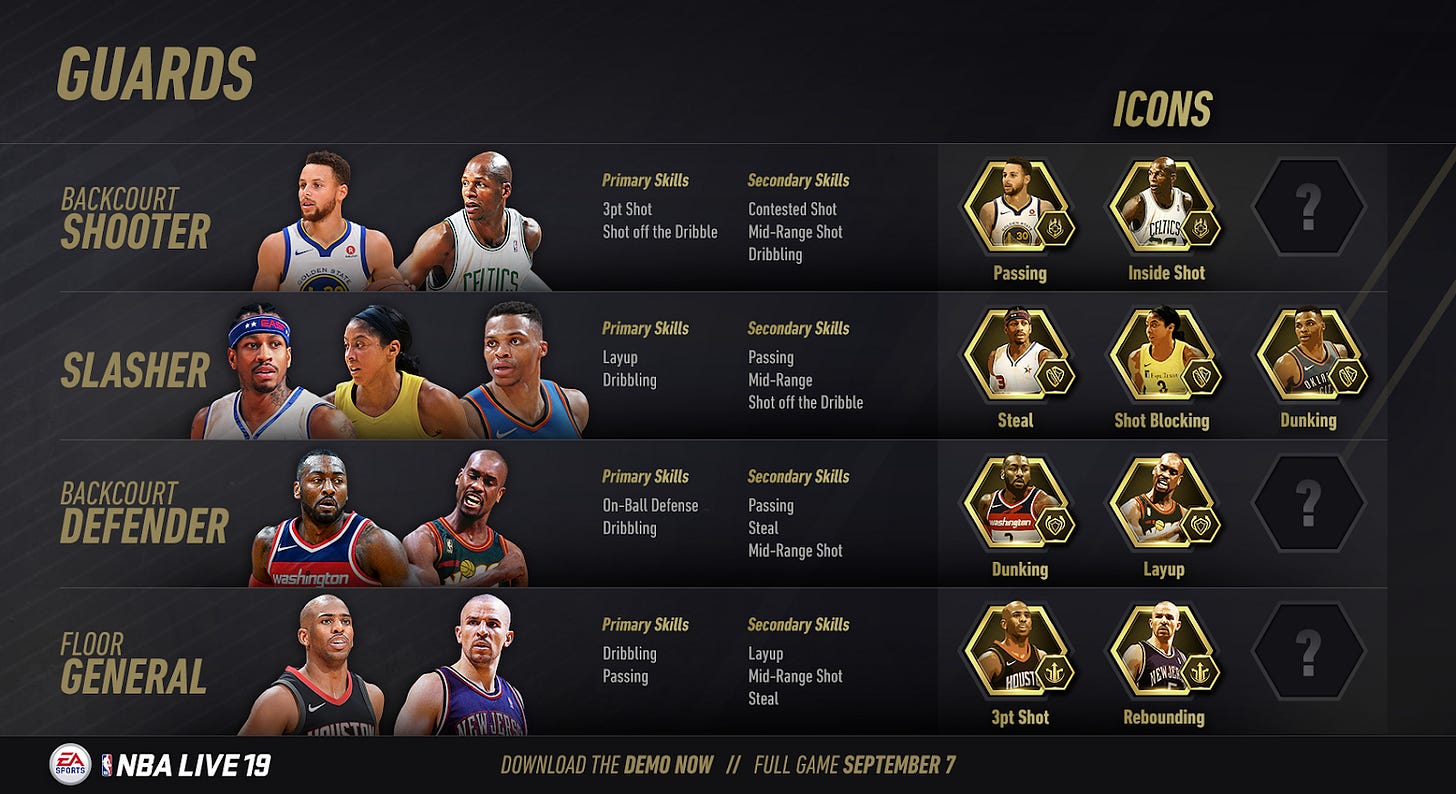 EA Sports via Reddit
In total, there are 22 icons from the NBA and three from the WNBA. So even before you get into the actual gameplay, the game already prioritizes men's basketball. And if that wasn't enough, all three of the WNBA icons are active players while half of the NBA icons are retired legends. This means that EA ignores the WNBA's history while actively celebrating the NBA's. 
The game's other failings come from issues surrounding the gameplay itself. When it came to player ratings, EA was very clear that they had employed universal ratings across the players in the game. This means that if a player was rated as a 90, it meant the same thing regardless of the league the person played in. The problem with this approach is that placing everyone in the same talent pool means you end up comparing WNBA players to NBA players, something that will only ever hurt the WNBA talent. The highest-rated WNBA star at launch was Maya Moore at 93 Overall. Meanwhile, Lebron is a 97 Overall while players like Breanna Stewart, Sue Bird, Candance Parker, Elena Delle Donne, and Britney Griner all find themselves in the high 80s to low 90s. Maybe the developers truly believe WNBA talent is inferior to that of the NBA. Maybe they wanted to avoid the inevitable backlash of putting a WNBA star on par with the likes of Lebron or Steph Curry. But whatever the reason for this design choice, the WNBA players ended up with suppressed ratings.
But in the end, the ratings for the WNBA players are almost insignificant. EA gave players two ways to play with WNBA talent in NBA Live 19 — the aforementioned "The One" mode as well as the returning "Play Now" mode. "Play Now" didn't improve much between Live 18 and Live 19; it still features generic commentary from non-WNBA announcers, with minimal usage of team or player names, and only allows for one game at a time, played in complete isolation from anything else. Meanwhile, with the men's game, you can guide your favorite team to a new NBA dynasty or your created player to a Hall of Fame career.
Ratings play a big part in long-term game modes, such as ones available to NBA teams and male characters. Their tendency to change with age and performance will dictate key aspects of player management. But since neither WNBA mode in NBA Live 19 utilizes the mechanic of fluid ratings, why would you use anyone but the highest rated players?
(EA Sports via YouTube)
Additionally, neither WNBA mode can be described as competitive basketball. There are no rookies to debut, no titles to win. Either you play exhibition games in Play Now or become a really good barnstormer with a WNBA supporting cast in The One. By not providing a proper WNBA to play in, EA denies women the opportunity to play meaningful games of basketball. This is inexcusable for myriad reasons, not least of which is the fact that this was EA's second game to feature WNBA talent.
EA cancelled NBA Live 20 in October 2019. The official reason was so that the development team could retool the series for the next generation of consoles set to be released by PlayStation and Xbox this year. However, the changes to The One hadn't been enough to bring the series level with NBA 2K, whose 2019 game, 2K20, was the best-selling game of the year. The cancellation felt the death knell for EA's basketball dreams.
I reached out to EA for answers to everything I've mentioned so far, including what their plans were for the WNBA in the franchise's next installment. They declined to comment.
NBA 2K finally debuted the WNBA in 2019, but had many of the same problems
As the release of NBA 2K20 neared, 2K Games announced that they too would be making the WNBA playable. Gameplay director Mike Wang told Business Insider that they had been working on bringing WNBA to the franchise for "many years" but now they finally felt ready to do so. (Competition helps!)
Upon the game's release, at least on the surface, it appeared that 2K had once again upstaged EA. They had their own "Play Now" mode, which felt much more dynamic and alive compared to that of NBA Live. The commentary team actually appear to be following the game you're playing, using player names frequently and filling possessions with talk about things such as where the WNBA could expand to next and how great individual players in the current matchup are. However, like EA, 2K did not use WNBA announcers for the commentary team.
Alongside this, 2K also included a WNBA MyLeague option. MyLeague is one of the NBA 2K game modes that allows you to play as a team's GM. And now you could do that with a WNBA franchise.
Media outlets were quick to worship at the feet of 2K, praising their inclusion of women. Owen S. Good at Polygon wrote an overwhelmingly positive article called "The WNBA in NBA 2K20: Proof of a long-overdue concept" while Business Wire proclaimed "Next up in NBA 2K20: Make way for the WNBA."
But, if you haven't already guessed, there were some problems with what 2K had included.
First of all, it was only a MyLeague mode. There was no option to create a player and guide them through a WNBA career, like you could do with a male player. This feature, known as MyCareer, is one of the biggest selling points of the game. It also turned out that the WNBA MyLeague mode was locked to a single season, which is why 2K had been calling it 'Seasons Mode' in all of the promotional material. While you can play nearly a century into the future with an NBA team, you get the 2019 WNBA season and that's it. This basic and extremely limited offering makes the mode feel more akin to a demo than a meaningful WNBA experience. 
This single-season limitation has a huge ripple effect. It is most likely the reason as to why player editing and the ability to make trades are both disabled. Player editing would be useful as some of the decisions 2K's team made are questionable, at best. 
Let me start by saying that there are no glaring flaws with the overall ratings. No one is especially under or over rated and players not being 100% happy with their rating is essentially part of the game's cycle at this point. But the problems start to show when you go beneath the surface.
A player's overall rating is determined by how they are rated in various attributes like layups, ball handling, shot IQ etc. These attributes are assigned along a scale of 25 to 99 and, well, when it came time to assign ratings for 'standing dunk' and 'driving dunk', 2K gave every WNBA player a score of 25. While the WNBA is not dunk heavy, it feels incredibly lazy to say that the 6-8 Liz Cambage, who dunked at the fucking Olympics, is equally as bad at dunking as her 5-5 Opals teammate Leilani Mitchell. Liz's historic dunk excluded, the height difference alone should push her above "the worst possible dunker."
Mitchell: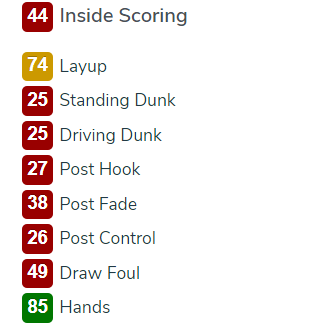 Cambage: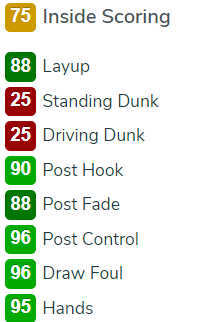 (Ratings taken from 2kratings.com)
Let's just talk about this for a moment- look at how Liz's rating for Inside Scoring is dragged down to a 75 by the fact that the devs have given her no dunking ability. How is this a fair representation of the player?
The game also uses ratings derived from a player's 2018 season stats… despite it being in development during the 2019 WNBA season. For example, Maya Moore, who didn't play in the 2019 season, is a) in the game and b) tied for the third-highest rating in the WNBA at 93 overall. Meanwhile, Washington's Aerial Powers was a top-20 shooter in three-point percentage in 2019. And yet, her rating for three-point shooting is only one higher than that of Jackie Young, who is not regarded as a three-point shooter by any stretch of the imagination. Sure, you're playing the 2019 season but given that the game was released about a week before the WNBA Finals, a patch could have easily been released to better reflect the players in 2019. After all, NBA players get weekly adjustments to their ratings based on their real world performances, as seen below with Damian Lillard.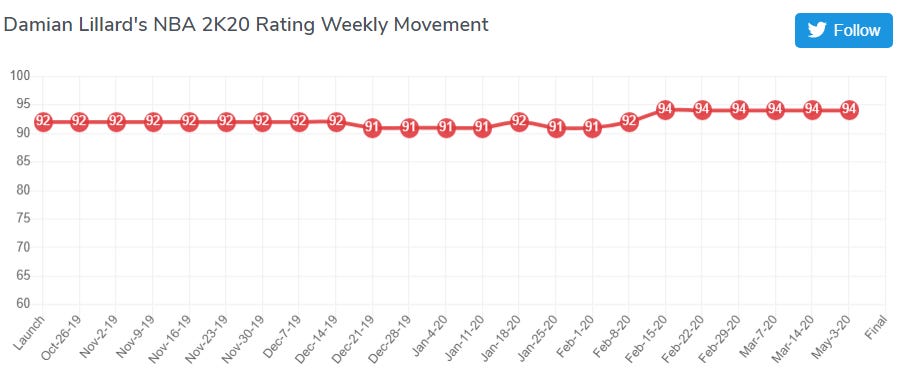 (Graph courtesy of 2kratings.com.)
As for trading, the only way you can "trade" players is to take control of multiple teams and swap players around. This means there is nothing to stop you trading Elena Delle Donne and Emma Meesseman to your favourite team for a pair of bench players. The only natural roster moves you can make are free agent signings, except the game uses end of season rosters, meaning that players like Megan Gustafson and Karlie Samuelson are already signed. It's also worth mentioning that there has been no post-launch roster updates for the WNBA, while the NBA side of the game receives regular updates to reflect cuts, trades etc. 
All of these limitations mean that depending on who you choose to play as, the game loses a lot of its fun. Take the Dallas Wings for example.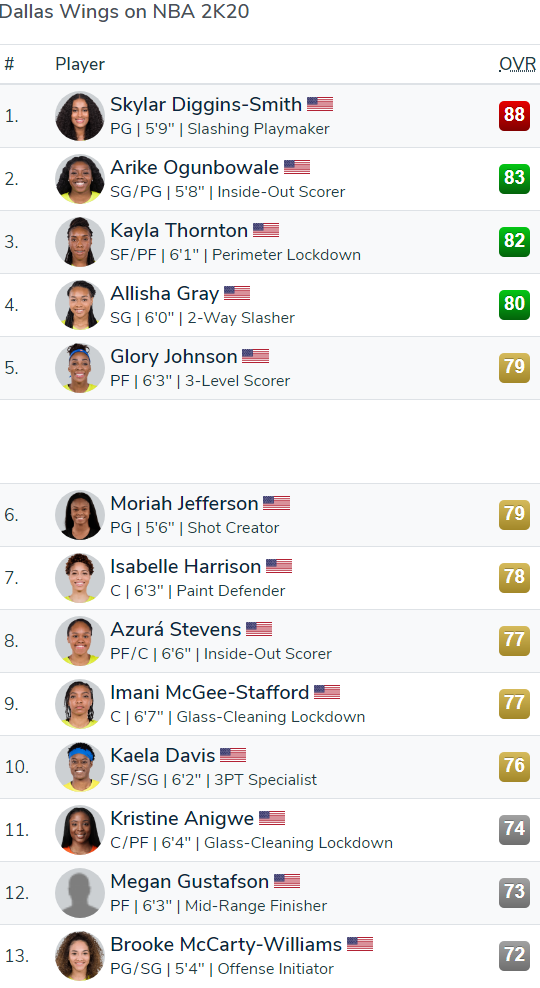 (The Wings' roster on NBA 2K20, via 2kratings.com)
The use of rosters accurate to the end of the 2019 season means it acknowledges Dallas' state of the rebuild, with your best players being an 88-overall Skylar Diggins-Smith (ironically no longer in Dallas), and an 83-overall Arike Ogunbowale. You don't have Liz Cambage because she was traded prior to the 2019 season. The picks Dallas got for Cambage don't exist because there's no draft. And you have no other option than to try and be competitive because you only play one season.
And once you get into the games of the season, you'll notice the character models leave a lot to be desired. Some players, like Kelsey Mitchell of the Indiana Fever, are almost unrecognizable. Liz Cambage took to Twitter soon after the game's release to roast 2K about forgetting her eyelash extensions. Aerial Powers told SB Nation she felt she looked "constipated" in-game. 
But one of the worst sins is that 2K replaced all the WNBA coaches with generic men — including the four women who held head coaching positions in the league last season.
When I reached out, 2K refused to comment when questioned about the limitations to the WNBA mode, which it claims it spent years working to develop.
Same Old Story, Just Different Words
Before we get to the whys and what nexts, we have to acknowledge that the inclusion of the WNBA in both these games means a lot to people around the league.  Elena Delle Donne described being an icon in NBA Live as "incredible". Meanwhile, Aerial Powers, who is well-known as an avid gamer, expressed her thoughts about being in NBA 2K as part of an interview with Matt Ellentuck. 
But it could, and should, have been better. This is androcentric game design as its finest — women's basketball is a sideshow, a respite, from the main attraction of the NBA. People will rise to the defense of both games by saying, "Well, it's just a work in progress! At least they put women in the game!" But why does the WNBA have to play second fiddle? Why is it the WNBA that gets stuck as a work in progress? It's just as much of a pro league as the NBA, and deserves to be treated as such. These developers have the technology to do it, they just need to dedicate the resources to its development.
As Matt Ellentuck pointed out in our conversation, "[NBA 2K] is going to be the primary basketball thing for a lot of people, especially if there's no season for the WNBA or NBA."
As for where these franchises go next, we'll have to wait and see. Both companies are expected to release a game towards the end of this year. And notably, NBA 2K figurehead "Ronnie 2K" tweeted at a bunch of women's basketball journalists asking them to get in touch with him. (Including Power Plays' own Lindsay Gibbs.)
But for me, it's not just about incremental improvements; it's about dedicating the same time and effort to the WNBA modes as these companies give the NBA modes. The WNBA modes should not feel inferior.
Yes, basketball lends itself to equality. But you wouldn't know it from playing video games.
Benjamin Mock is a sportswriter who's as sick of the suppression of women's sports as you are. You can find them on Twitter. 

Thanks so much for reading, and for making journalism like this possible with your support. See you on Wednesday!