Oregon's epic win over Team USA sent a message. Was anyone in power listening?
Thank you, Diana Taurasi and Sue Bird.
Welcome to  Power Plays, a newsletter for people who are sick of hearing bullshit excuses, and ready to see equality for women in sports.
I'm Lindsay Gibbs, your captain on this journey. I'm so glad that you're here. My email is lindsay@powerplays.news. I look forward to hearing from you, as we work together to build Power Plays into a true, well, power player. (Sorry, I couldn't help myself.)
If you haven't already, please subscribe by adding your email in the box below. That's the only way to keep this thing going.
Today, we're talking about the event of the weekend: Oregon's upset over USA Basketball on Saturday night.
I look at how this series came about, what this result means for women's basketball, and why it almost didn't happen at all.
Plus, a Power Plays exclusive: USA Basketball and University of South Carolina head coach Dawn Staley's thoughts on the upset, and what she remembers from the only other time Team USA lost to a college team, back in 1999.
Staley was on the 1999 team, which looked like this: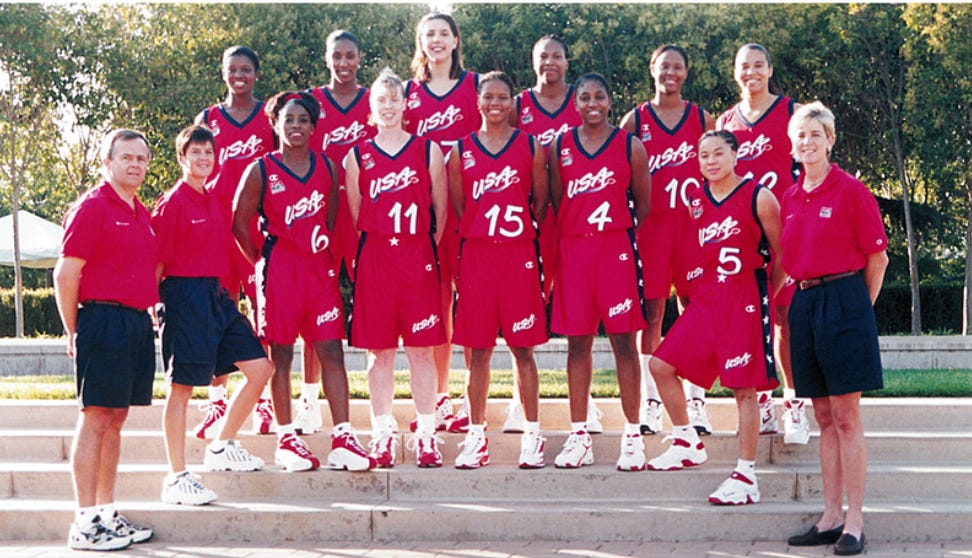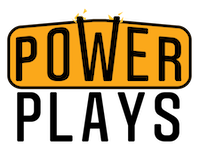 First, another THANK YOU for all the kind words about Power Plays. Please, keep spreading the word!

Thank you so much for this,
@linzsports
. It's only been two issues, but Power Plays is already such vital reading and looking forward to it becoming even more of a power player! Get on board here:
powerplays.news/p/how-nikes-ab…
Lindsay Gibbs @linzsports
You probably read @runmarycain's harrowing story about Nike's abuse yesterday. For Power Plays, I talked with @lindsaycrouse to get the story behind the story. "I think the people charged with telling our stories need to change." https://t.co/xeIRzlWCF5

Before we dive into deeper issues, let's take a moment to celebrate Sabrina Ionescu, shall we?
I understand that some of you might not have been glued to the Pac-12 app or website on Saturday night, for some perplexing reason. So let's have a quick recap.
USA Basketball plays in an Olympic qualifying tournament in Argentina this week. In the lead-up, they've been playing exhibition games against top college programs. Last week, they beat Stanford, Oregon State, and Texas A&M in three entertaining games, that Team USA won convincingly in the end.
Then came Oregon, the preseason No. 1, with the best player in college basketball, senior triple-double queen Sabrina Ionescu.
In front of a crowd of an electric crowd of 11,530, Oregon showed poise beyond their years, especially late, to take down a team starring Diana Taurasi, Sue Bird, Sylvia Fowles, Nneka Ogwumike, and Skylar Diggins-Smith, 93-86.
Ionescu took over the game in the third quarter, where she scored 20 of her 30 points by doing things like this:
I MEAN COME ON.
Honestly, it was one of the most thrilling sporting events I've watched in a long time. It's one thing to keep things close against an exhausted Team USA roster that's missing the last two WNBA MVP winners, Elena Delle Donne and Breanna Stewart.
But to finish the job? It was breathtaking to watch. And I mean that literally. All throughout the second half, I kept forgetting to breathe. It was exhilarating.
Prior to last week, the Powers That Be had abandoned the College Tour for 12 years
If all scheduling decisions were left solely up to the head honchos at USA Basketball, this game would never have happened.
You see, the first time USA Basketball did anything like this was back in 1995, when they put together a year-round women's national team tour to get ready for the 1996 Olympics in Atlanta. The goal was to increase the visibility and cohesion of the team, and get Team USA back to the top of the podium — at the 1992 Olympics and 1994 World Cup, the United States had only won bronze.
Well, the program worked, the women in the casual photo below became legends, and there was so much interest in women's basketball stateside that the NBA discovered that women existed, and launched the WNBA. (Along the way, the NBA squashed another pro women's league that started in the U.S. in 1996, the American Basketball League, but that's a story for another day.)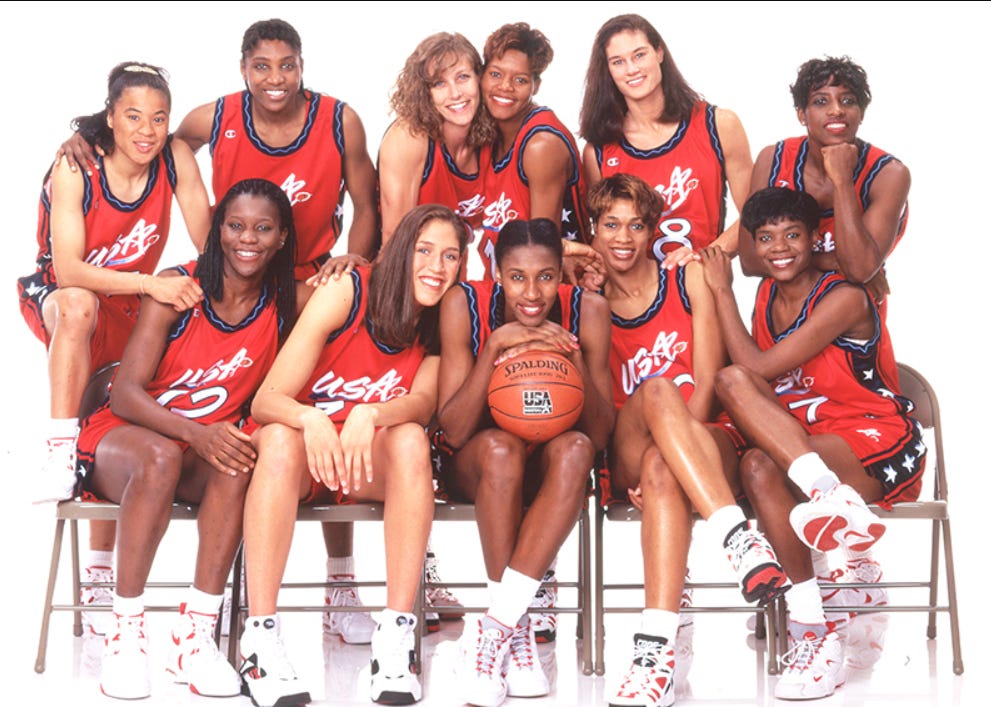 A big part of that team's popularity came from a college tour, which included 10 games aired on ESPN or ABC.
Similar —albeit shorter —college tours were replicated in the lead-up to the 2000 and 2008 Olympics. But until last week, the last time Team USA played a college team was November 15, 2007.
(Quick detour: Below you will find USA Basketball's lead photo choice for the 2007-08 national team. After spending far too much time researching, I have discovered is from the 2008 Good Luck Beijing tournament, which featured just four members of the eventual Olympic team. Team USA went 4-2 and grabbed a silver medal, and as you can see from their facial expressions, they were thrilled. Please, tell me whose face is your favorite. I keep leaning towards Courtney Paris, then Sylvia Fowles saps my soul, then Candice Wiggins surges to the front, but then there's Swin Cash and Lindsey Harding and Lisa Leslie and Kara Lawson and Taj and oh my gosh, I can't choose.)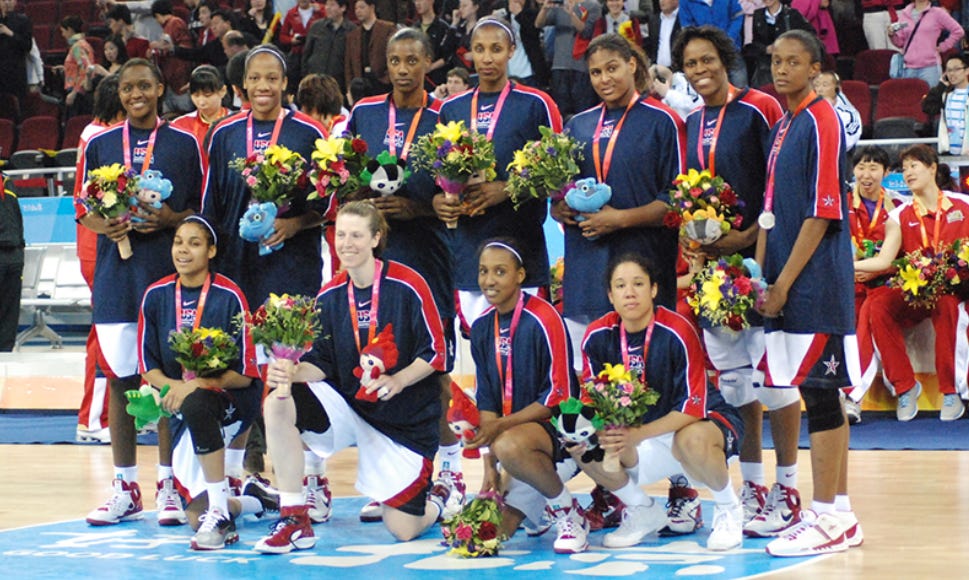 Diana Taurasi, Sue Bird, and a crayon brought this tour back to life
An ongoing theme in Power Plays is the fact that advances in women's sports usually come because female athletes take matters into their own hands. This is no different.
The only reason this college tour returned is because of Diana Taurasi and Sue Bird.
At this year's WNBA All-Star Game in Las Vegas, Taurasi and Bird joined USA Basketball to announce this extended women's national team program leading up to the 2020 Olympics in Tokyo.
"It started as me and D (Diana Taurasi) just sitting in a cafe kind of talking trash the way we do, and that conversation led to some ideas written in crayon," Bird said. "That was the only pen we could find. And from a crayon-written paper, it turned into this idea, which turned into a conversation with (Carol Callan, women's national team director), a conversation with Jim Tooley (CEO of USA Basketball), a conversation with (General Martin Dempsey, chairman of the USA Basketball board of directors), and then it turned into more of a presentation on how we can actually get this done."
Both Bird and Tuarasi wanted to figure out a way to make their final Olympics in Tokyo extra special. They wanted to find more opportunities for the team to come together and train in the lead-up; they wanted more opportunities to play in front of their home-town fans; they wanted to build excitement for a team that most of the public takes for granted.
Thanks to her girlfriend, soccer star Megan Rapinoe, Bird saw first-hand how U.S. Soccer was able to generate buzz headed into the World Cup this summer. She wanted to create a similar atmosphere for women's basketball.
"I think that's a big part of this idea is just visibility. I think watching Megan go through her U.S. soccer preparation for the World Cup really the last two, three years, there's definitely things I got to see firsthand and learn from, and definitely I think things that women's basketball can benefit from," she said.
Eight players have committed for the entire program: Sue Bird, Diana Taurasi, Sylvia Fowles, Elena Delle Donne, Nneka Ogwumike, A'ja Wilson, Skylar Diggins, and Chelsea Gray. They are getting compensation to help offset the money they're missing out from due to not playing overseas. The other roster spots will be filled by other players in USA pool's, depending on availability and need.
Both Bird and Taurasi repeatedly praised those in charge at USA Basketball, the WNBA, and the NCAA for working well together to make this possible. They didn't do this alone. But it started with two legends who weren't satisfied with the status quo, and decided to do something about it.
Dawn Staley expects this loss to make Team USA mad, which is bad news for the rest of the basketball world
Prior to Saturday night, Team USA had only lost one game ever to a college team. On November 7, 1999, the University of Tennessee upset them 65-64, thanks to a game-winning shot by Kara Lawson.
Dawn Staley was a member of that U.S. squad in 1999. On Sunday, she was in Maryland to face (and defeat) the Terrapins, and I asked her what she remembered from that loss.
"What I remember is — and probably people won't know this, and she'll probably deny this — but (then-U.S. national team coach, Nell Fortner) told the officials to call it lopsided. To err on the side of Tennessee. And then that ended up biting us in the bullet. Because they did. I don't know what the foul discrepancy was, but it was large. It was large," Staley told Power Plays.
(Staley is the head coach of the U.S. national team, but due to her job as the head coach at South Carolina isn't participating in this tour; Minnesota Lynx head coach Cheryl Reeve is filling her spot.)
Our friend Kurtis, who runs the invaluable women's basketball statistics site Across the Timeline, uncovered a box score showing that, indeed, the foul discrepancy in the game was 23-11 in Tennessee's favor.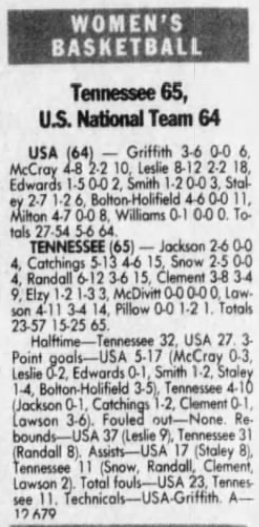 When I asked Staley whether the '99 team was able to grow from that loss, she shook her head.
"No, we were mad. Obviously, we were mad," Staley said. "We're competitive people. I'm sure that Sue, Diana, and everybody else that played in the game last night are upset, as they should be, because they're highly competitive and driven women that didn't get it done. So we'vs got our work cut out for us for Tokyo. That's why we did the college tours, to get us some really good competition. And we got it."
The real loss for Team USA is the lack of ingenuity of those in charge of women's basketball
While this game certainly puts an exclamation point on Oregon's status as preseason favorites for the national title, there's no reason at all for Team USA to panic. I have no doubt that they will bounce back quickly.
The much more pressing concern? Whether the power brokers in women's basketball are up to the task of growing the game.
If anything, the success of this college series and the buzz it created shows how much untapped potential there is in the sport, and how absolutely devastating it has been for the sport to have the league's biggest stars overseas for 7-8 months every year in order to make a decent living.
Visibility breeds more visibility. Excitement is contagious. A spark has to have oxygen to truly catch fire and burn.
For more than two hours after Oregon won, fans were lined up for autographs and photos. That doesn't have to be an exception to a rule; that can be the normal. The love for the sport is there, just waiting to be fostered and engaged. Too often, it's ignored.
This game was not broadcast on television anywhere. In order to watch it, you had to go to the Pac-12 app or website. Now, thankfully, they did make the stream accessible even to those without a Pac-12 network subscription. But there was so little publicity for it, I'm sad thinking about the people who would have absolutely loved to have watched this game, but weren't given the chance. A game with this much potential deserves to actually be televised. I know it's football season, and that complicates things. But figure it out.
Those in charge of the sport seem to underestimate its potential at every turn. Remember: Players made this happen.
Because of the work these athletes have put in over the past few decades, the future of women's basketball is blindingly bright. That's what Oregon showed the world on Saturday night. That the next generation is here, that there are new stars and new fans and new culture-shifting moments ready to rise to the occasion and steal the spotlight.
Unfortunately, the size of the stage hasn't grown in tandem with the talent and grassroots energy. In fact, it often feels like the opposite has happened; like we've got Broadway-caliber performances stuffed into high-school gymnasiums. It's not good enough.
There will be another college tour in the lead-up to an Olympic qualifying event in late January/early February, and the three other training blocks are scheduled, in theory, to synergize with NBA All-Star week, the women's Final Four, and the lead-up to to the 2020 WNBA season.
Let's see if momentum can keep building. I'm skeptical. I'm hopeful. I'm watching.
From the archives: The more things change …
May 14, 1995; The Arizona Republic
I'm not sure how much the women's national team is making for this year's tour (if anyone knows and wants to tell me, lindsay@powerplays.new, anonymity is yours). But it's certainly less than what most of these stars can earn overseas — which is why we're not seeing superstars like Brittney Griner and Tina Charles in the mix during this tour.
It's just so frustrating that this is still a thing.

Okay, that's all for today—thank for reading Power Plays! The next edition will hit your inbox on Wednesday. Don't miss it.
Questions? Comments? Tips? I'm lindsay@powerplays.news.
You can share the website version of the newsletter by using the button below.