The check-in: Bring Brittney Griner home
Plus: Equal pay?!?!
Hi. I don't have a big intro for today's newsletter. Most things in the world feel overwhelmingly bad right now, and I'm just sending out love and light and strength to all of you. We've got a brief version of the check-in today, and much more in-depth coverage of the women's sports world on the way. When all else fails, listen to Pat Summitt: Left foot, right foot, breathe. Then repeat.
Okay, friends. Let's do this.
1. Bring Brittney Griner home.
Last Friday, Brittney Griner's lawyer announced that her pretrial detention in Russia has been extended by one month. This comes on the heels of news earlier this month that the U.S. government has reclassified her case to officially declare her "wrongfully detained."
T.J. Quinn over at ESPN has been doing the best work on this case, so I'll let him tell you what this means:
The change in official designation means that the U.S. government will no longer wait for Griner's case to play out through the Russian legal system and will seek to negotiate her return. It also means that Griner's fellow WNBA players and supporters in Congress will be told they have the family's blessing to bring as much attention to her case as they wish.
Additionally, a couple of weeks ago, the U.S. arranged a prisoner swap with Russia to free former U.S. Marine Trevor Reed, who had been imprisoned in Russia for three years and whose health was in steep decline. That was considered a positive sign, one that is bolstered by the fact that former U.S. ambassador to the United Nations Bill Richardson — who helped secure Reed's release — is now working directly on Griner's case.
But the timeline for Griner's return is still horrifyingly uncertain, and the implications of any potential move are massive. It's absolutely unfathomable that Griner is still detained in Russia, that the WNBA season is simply going on without her.
I know most of us feel completely helpless right now, but here are a few things you can do to help:
Sign this Change.org petition calling for the White House to bring Griner home.

Help out a charity that means a lot to Griner by donating money directly to the Phoenix Rescue Mission (note "BG" in the comments of your donation, so it can be tracked), or, if you're in Phoenix, by donating new or gently-used shoes throughout the 2022 season at Mercury home games. Griner has partnered with the Phoenix Rescue Mission since 2016 to run BG's Heart and Sole Shoe Drive to provide shoes and other resources to people in need in the Phoenix community, and the Mercury are continuing that work.

Also, if you're in a local WNBA market, keep an eye out for your team's individual initiative — all 12 markets will be holding drives to support BG's Heart and Sole Shoe Drive.

And, as Brianna Turner suggested, do something nice for a stranger:
I highly recommend listening to today's ESPN Daily podcast with Pablo Torre and T.J. Quinn to get a full view of what is happening and what it means in this case. It's so, so much more complicated than a hashtag, friends.
2. EQUAL PAY OMG.
Literally right as I was about to publish this newsletter I saw the news that the U.S. Soccer federation and women's and men's national team unions have agreed to historic collective bargaining agreements guaranteeing true equal pay between the men's and women's teams.
I want to designate a whole newsletter to dive into the details of this, but until then, I highly recommend you read the pieces at The Athletic and The Equalizer to find out how this happened.
CELEBRATE THIS WIN!!!!!!!!!! And raise a toast to the power of unions and labor solidarity. Fuck yearh.
3. Iga Swiatek is taking over the world.
Look. We need to take a second to talk about Iga Swiatek. I'm afraid I have a lot of people reading this who only pay attention to women's tennis when Serena or Naomi are involved. And I love them, and you should watch them and worship them always. But what Iga Swiatek is doing right now? It's PEAK-SERENA level stuff.
On Sunday she defeated Ons Jabeur 6-2,6-2 to win her second straight title in Rome. This was her 28th-straight win on the WTA tour, a win streak we haven't seen since Serena Williams in 2013. It's also her fifth straight title. She is just the second player to ever win four or more WTA 1000 titles (the tier just below majors) in a single season. It's MID MAY.
WATCH THIS POINT:
I just really, really love her.
LOVE her.
Enjoy your tiramisu, my friend.
(Did I mention she's only 20? That part is actually annoying so I don't like to think about it too much, but STILL.)
4. THE ROAD TO THE WOMEN'S COLLEGE WORLD SERIES STARTS NOW.
Sorry for yelling, but I'm very excited. Here's the bracket.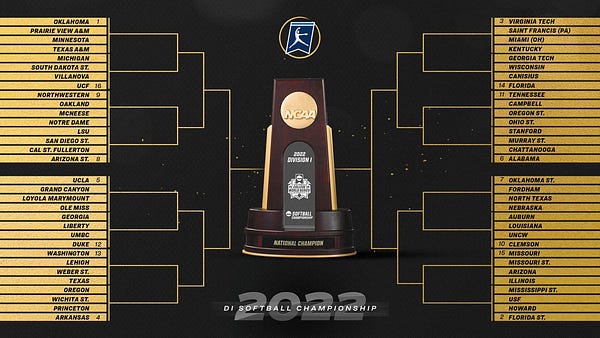 Look and see if there is a regional near you this weekend, and if there is, go! I'm going to be at Duke watching some of those games, and cannot wait.
5. It's absurd how good Rhyne Howard is already.
We're a little over a week into the WNBA season, and Rhyne Howard — the No. 1 overall draft pick this year for the Atlanta Dream — is already looking like a generational, franchise-shifting talent. She was named Eastern Conference Player of the Week, and apparently is the first rookie to receive the honor in the first week of their WNBA career in 20 years. (The last one to do so? Tamika Catchings. Wonder what happened to her?)
In her first five games, Howard averaged 20.4 points, 4.6 rebounds, and two assists. That's ridiculous. (It should be said that the top three players in this year's draft class are all making big impacts early on — No. 2 NaLyssa Smith is averaging a double-double with 13 points and 10 rebounds per game through five games with the Indiana Fever, and No. 3 Shakira Austin led the Washington Mystics with 20 points, 8 rebounds, and two blocks in a win on Tuesday night against the Dallas Wings.)
If you want an intense happy cry, check out these videos of Howard's Kentucky teammates, coaches, and fans taking the bus to Indianapolis to watch her play in the pros against the Fever:
6. This made me SOB.
Speaking of crying, look at this bedroom that Taryn — a true SuperMom, if I've ever seen one — decorated for her daughter, a fan of the NWSL expansion team San Diego Wave.
Speaking of the Wave, they are an undefeated 3-0 and atop the standings early in the NWSL season, so kudos to Taryn's daughter for being much better at picking fandoms than I ever have been.
7. Happy fifth anniversary, Burn It All Down.
Most of you, hopefully, know that I am a co-host of the Burn It All Down podcast along with Jessica Luther, Shireen Ahmed, Dr. Amira Rose Davis, and Dr. Brenda Elsey. This week, we hit our 250th episode and celebrated five years of podcasting. That's a pretty big deal.
Many tears were shed during this recording, and while I wish I could muster thousands more coherent words in this newsletter to describe how much I love and appreciate my cohosts and our listeners, I'm just going to share the episode with you all below. As I mention towards the top of the show, there is no Power Plays without Burn It All Down.
Burn on, but not out.