Discover more from Power Plays
A no-bullshit newsletter about sexism in sports.
Over 10,000 subscribers
The check-in: The NWSL championship, a nightmare and a daydream
Plus: Women's college basketball is back and as bananas as ever.
Power Plays is a reader-supported publication. To receive new posts and support my work, consider becoming a free or paid subscriber.
1. Ali Krieger's career had a perfect ending.
On Saturday night in San Diego, California, Gotham FC defeated OL Reign 2-1 to win the 2023 NWSL Championship in dramatic, thrilling, excruciating game that had jaw-dropping goals from both teams and one of the most chaotic regular-time endings you'll ever see in a soccer game.
Tiktok failed to load.
Enable 3rd party cookies or use another browser
The entire weekend was a special celebration of women's soccer and how far the NWSL has come. The game was on primetime on CBS. It was held at a neutral site, but still set the NWSL championship attendance record, with 25,011 fans in the stands. Gotham, which just five years ago was an embarrassing example of incompetence and disinvestment, completed a worst-to-first comeback for the ages, and gave one of the best people in the game, Ali Krieger, a fairytale send-off. There were so many reasons to cheer.
Here are a few of my favorite celebration pictures — kudos to the content teams for Gotham and the NWSL, who did a phenomenal job bringing us into the party.
Also? Mana Shim and Sinead Farrelly are NWSL champions!!!!!!!!!! Truly one of the best stories in all of sports.
2. I'm still so mad and sad about Pinoe's inury, though.
Of course, there was one awful thing about the NWSL championship game: Less than three minutes into play, Megan Rapinoe fell, sans contact, and likely tore her Achilles. The build-up to the game had been all about Rapinoe and Krieger both playing in the final game of their careers, and suddenly, there was Rapinoe limping off the field and subbing out before the game really got started.
"Unfair" isn't strong enough of a word to describe the moment. "Cruel" comes close. This Meg Linehan article does a good job of summing up the moment.
While the players on both teams did a good job rebounding, and I truly meant what I wrote above about how special the game turned out to be, it simply wasn't as special as it was supposed to be without a healthy Pinoe getting a chance to finish her career with both feet firmly on the ground. I know we'll see her around often in her retirement, but I must admit, I miss her already.
In true Pinoe fashion, she did give us one of the best quotes ever on her way out, though.
3. The first week of the women's college basketball season was wild.
On Thursday night, I was lucky enough to be in Charlotte, North Carolina at the Spectrum Center for the Ally Tipoff game between No. 3 Iowa and No. 8 Virginia Tech. And friends? The game and the atmosphere were absolutely elite. Overall, 15,961 fans packed out an NBA arena in a neutral site to watch women's basketball in November, the largest crowd for women's basketball in North Carolina history — quite a feat for two OUT-OF-STATE teams.
Now, was a lot of the crowd there for Caitlin Clark? Yes, absolutely. The Caitlin Clark Effect is a real phenomenon. Her talent has absolutely transcended any presumed niche-ness the sport has and turned Iowa games into must-watch attractions everywhere she goes. And after watching her drop 44 points, eight rebounds, and six assists, it's safe to say I believe the hype.
But I also think the night was a humongous credit to what Kenny Brooks has built in Virginia Tech. Because Hokies fans turned out big time on Thursday night, too. And yes, Charlotte is only three hours away from Blacksburg, but as a North Carolinian I can assure you that Tech is not at all considered to be a local team. Brooks, Liz Kitley, Georgia Amoore and company have clearly captured the hearts of their fanbase and ignited something really special with their ACC championship and Final Four run last season.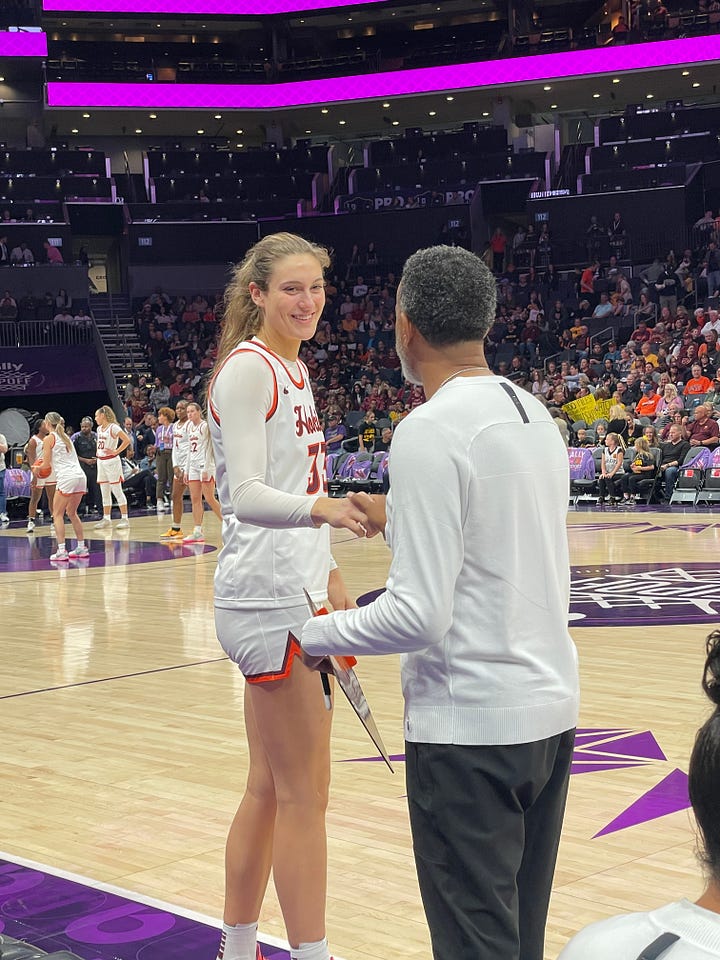 Tech lost the game 80-76 to Iowa, but it was a tight one from start to finish, with 11 lead changes. For a while it was a good old-fashioned duel between Clark and Amoore, who had 31 points, including a stunning half-court shot to end the first quarter.
It was clear that being a part of a record-setting night in the sport meant a lot to the Hokies, too.
Here's head coach Kenny Brooks' full opening statement at the press conference:
First and foremost, I want to thank Charlotte Sports Club, Ally. That was awesome. It was awesome. We went to the Final Four last year, and this atmosphere rivals that, you know, it even got little bit louder, obviously he had some Hokies in the building. But it was electric. And, you know, I want to thank everybody who put on the event who had a say in it. It was unbelievable, from the way that we walked into Charlotte and we saw our faces on billboards, the way that they publicized it .. the police escort was unbelievable. It was big time, it was really big time. And for me, it's so gratifying. I used to coach on the men's side, and I switched over to the women's side. And I've been fighting and championing for the cause for a long time, for women to be able to get this opportunity. And tonight, it was like a dream come true. And again, we were in the Final Four last year. And tonight, the atmosphere, the way that was put on. I mean, we walked into a locker room, you thought this was Ally's building. It was just unbelievable. And so for me as a coach, me as a father, for them to be able to experience this, it means everything to me, it means everything, because I know how hard they work.

We're disappointed as hell with losing the game. But I thought it was a fantastic game. For game number two, to go out there and put that on. It wasn't perfect. We know we weren't perfect number, I'm sure [Iowa head coach Lisa Bluder] would say they weren't perfect, but you had perfect intent. And these kids went out and they worked their butts off. And we'll get better. We'll get better. I promise you we will. You know, we're still learning each other. We're trying to form our identity. You know, they had luxury, I think they had maybe six or seven kids, maybe even eight, who played in the Final Four last year. We had three, and we're trying to figure it out. But I'm proud of our kids, proud of the effort. And I'm excited about that. So again, I can't say it enough. We'll walk away from here, we were glad we were a part of it. We hope that we helped women's basketball move forward tonight. And I'm so proud of these kids, and to Ally to Charlotte Sports Club, thank you guys so much for having us.
The man is just the epitome of class, he impresses me every single time I see him.
I also loved this quote from Amoore:
It was absolutely unreal. For our second game in November to have a 15,000 turnout, like it's, it's what you dream of when you come to college. And you know, like being a woman in sports, we've been in gyms that have not many people, we've been in gyms that have had not the best facilities, so to be put on spotlight in the NBA arena with a great opponent, that's just what you could dream of and asked about. And being a team, when I came in my freshman year we were not great in nonconference, and we couldn't have ever believed we'd be in the situation we are right now. So it's absolutely massive for us, but also for women's basketball in general, I hope that we inspired many younger girls or even high school girls to really aspire to play college basketball because it's massive. And it's it's so beneficial.
Iowa/Virginia Tech wasn't the only electrifying game during the first week of the women's basketball season, though. Elsewhere:
No. 20 Colorado d. No. 1 LSU 92-78

No. 21 USC d. No. 7 Ohio State 83-74

No. 18 Florida State d. No. 11 Tennessee 92-91

Oklahoma d. No. 12 Ole Miss 80-70

NC State d. No. 2 UConn 92-81

No. 15 Stanford d. No. 9 Indiana 96-64

No. 6 South Carolina d. No. 10 Notre Dame 100-71

No. 6 South Carolina d. No. 14 Maryland 114-76
This season is going to be one of the most fun in history, I can already feel it.
4. Congrats to Canada for winning the Billie Jean King Cup.
Canada won the Billie Jean King Cup on Sunday evening in Seville, Spain, taking down Italy 2-0 in the final behind phenomenal performances by Marina Stakusic and Leylah Fernandez in singles.
Stakusic, ranked No. 258 in the world (!!!!), had the best week of her life, notching three top-100 wins, including her 7-5, 6-3 victory over No. 43 Martina Trevisan in the final. And Fernandez, ranked No. 20, was undefeated all week long, showing the type of tennis that took her to the U.S. Open final just two years ago. It's easy to forget that she's only 21 years old, and her best days are definitely ahead of her.
I must say, I absolutely love the BJK Cup mascot:
5. The new NWSL television plan is very, very good.
We'll get more into the weeds of this in a later newsletter, but I wanted to go ahead and put it here ICYMI: Last week, the NWSL announced a new TV rights deal with CBS, ESPN, Prime, and Scripps, beginning next season. Here are the basics:
The deal lasts four years, meaning they will get to negotiate a new deal right after the 2027 Women's World Cup, which is ideal timing for maximum leverage.

The deal is worth about $240 million, or $60 million annually. Their previous rights deal was worth about $1.5 million a year. So this is a humongous upgrade.

This means 91 games will be televised on television between CBS, CBS Sports, ESPN, ABC, and ION. (ION is a broadcast network that reaches 123 million homes; it began airing WNBA games on Friday nights this season and that partnership was successful. You do not need to have a cable subscription to watch ION. If you're wondering which channel it is, it's the one that is always playing SVU reruns.)

ION will air Saturday night double-headers AND have a pre-game show!!

An additional 27 games will be streamed on Prime Video, including one every Friday night.

It is still TBD how the other games will be distributed, but hopefully we will find out more information soon.

Read more about it over at The Equalizer.
I really, really like this plan. Of course, finding out about the distribution model for the other games will be a key part for die-hards like us, but this puts so many more games on linear television and will make it easier to attract fans that way. I know some might not find it ideal that there are so many media partners involved, but honestly, that's the way it goes in pretty much every major sport these days, so it doesn't bother me as long as it is done thoughtfully — which so far (very early days!!!) it seems like this was. For the announcement, NWSL commissioner Jessica Berman had representatives from every network in the partnership present on one stage, which is a big deal.
My first instinct is always to be skeptical, but this feels like a massive step forward. It's nowhere near the mountain top, but sixty-million dollars a year is an attention-grabbing amount.