The continued exclusion of women's soccer in Football Manager is indefensible
Female athletes deserve representation in video games, too.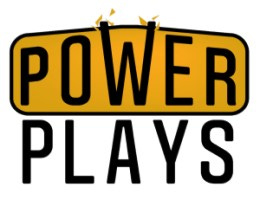 Hello, welcome to Power Plays, your favorite no-bullshit newsletter about sexism in sports, written by me, Lindsay Gibbs.
First, I want to send my love to the trans community on this Trans Day of Visibility. Unfortunately, yesterday, Governor Brad Little in Idaho signed two anti-trans bills into law, which ban trans girls from playing women's sports. This bill will be challenged in court, and Power Plays will keep you posted on the legal battle. It's an unconscionable law, and it is imperative for the entire women's sports community to continue to fight against it.
Today I have something very special for you all — our first freelance contribution. Sports reporter Ben Mock will tell you all about the lack of representation for women's sports in video games, particularly in the case of Football Manager. I'm so proud to be publishing this piece, and proud of the freelances pieces in the pipeline.
As I announced last week, I am using the travel budget I had set aside for reporting trips over the next few months to pay freelance writers and continue to grow Power Plays. I'm very close to reaching my paid subscriber goal for the month, which will help me increase the number of writers I can pay and the number of newsletters I can put out during a time when the whole industry is struggling. You can help me reach that goal by paying for a subscription of your own — it is 23% off right now! — or by donating a subscription to readers in need.
Okay friends, let's do this.

Football Manager wants to shine a light on women's soccer, just not by including it in its popular video game
By Ben Mock
On February 6th — just one day after the 34th annual National Girls & Women in Sport Day — Football Manager, a popular soccer video game, announced on Twitter it had become the new sponsor of the popular women's soccer podcast, "The Offside Rule- WSL Edition." This was welcome news. Just days earlier, "The Offside Rule" — one of the few mainstream podcasts dedicated to women's soccer — announced it would be suspending the podcast due to a lack of funds.
So far the story sounds great, right? A successful video game developer doing something positive to help out a crucial piece of women's sport media. There's just one problem.
You can't actually manage women's teams in Football Manager.
Football Manager has existed in one form or another since 1992. In the latest installment, Football Manager 2020, you can manage in 118 leagues from 53 nations, as well as being able to manage a substantial number of international sides. But not a single women's side, club or international.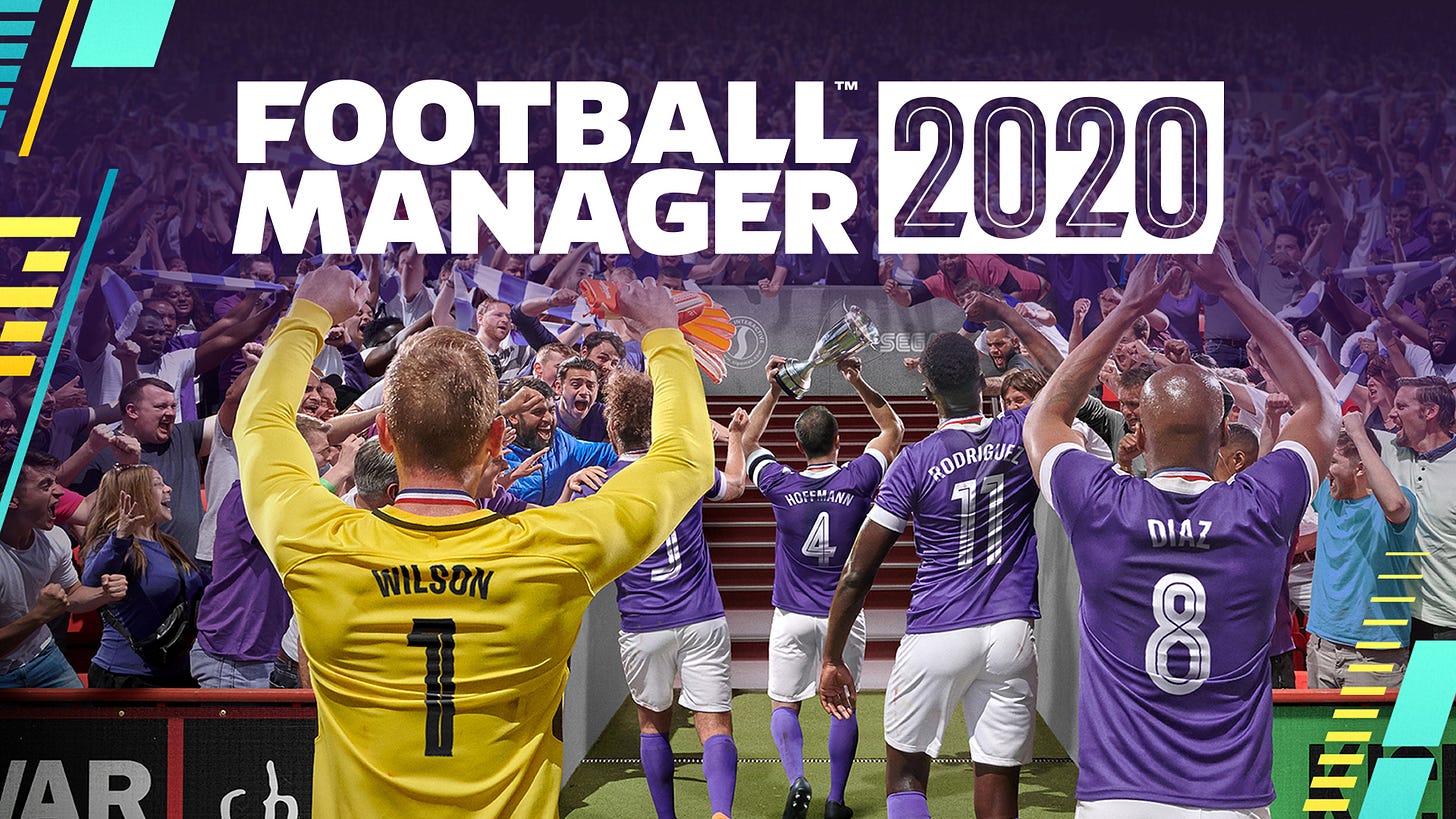 And when you look at who is included in the game, the absence of women becomes even more ridiculous. You can manage in the Hong Kong Premier League, where the average attendance in the 2019-20 season was just 774. Compare that to the National Women's Soccer League (NWSL), where in 2019 the average attendance was 7,337. Even if you remove the figures for the Portland Thorns, who exceeded 20,000 fans per game, the league's average attendance was still over 5,000. The HKPL had one team with an average attendance that exceeded 1,000; the NWSL didn't have a single team with an average attendance of under 3,000.
Women are left out while smaller, and sometimes even non-professional, men's leagues are freely available. Case in point: Recent updates to the game include making the Gibraltar national team and the semi-professional second tier of Welsh soccer playable.
But hey, it's a good thing Football Manager is helping shine "a light on the women's game" by sponsoring a podcast!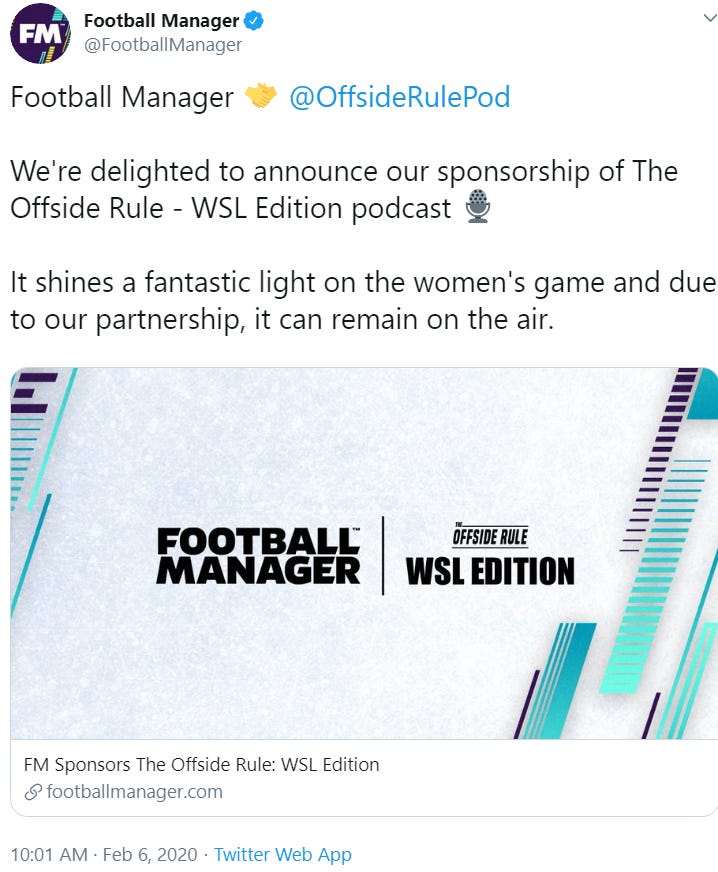 The catch-22 of "financial viability"
In a press release accompanying the sponsorship announcement, Sports Interactive, the studio behind Football Manager, said it didn't put women in Football Manager due to "financial viability."
Given the dichotomy between what they support and what their product contains, I reached out to Sports Interactive to learn more.
In an email, Sports Interactive's communications director Ciaran Brennan pointed me towards an interview that studio director Miles Jacobson gave to The Telegraph in June 2019. According to Jacobson, adding women to the game would cost "in the region of seven figures". This cost estimate covered a "variety of updates" including "maternity leave, pregnancy, and the feminisation of 1.5 million words translated in 20 languages" as well as "changing player animations to have women's body shapes, such as altering their hip bones."
Video game development is not cheap but it's a convenient way to avoid making progress. For what it's worth, Sports Interactive is owned by Sega, one of the biggest video game publishers in the world, which spends billions each year. The seven-figure price to add women to the game would presumably be a one-time expenditure; after that, adding more women's teams should be as easy as adding more men's teams.
But alas, this is a common barrier for women's sport — the sport isn't viewed as viable so companies refuse to invest, while the same companies demand the sport to increase its perceived viability to earn their investment. This sentiment is even highlighted by Sports Interactive in its press release about the initial sponsorship:
 "…without ('The Offside Rule- WSL Edition'), and shows like it, the sport itself has a much smaller chance to break through that glass ceiling that it's constantly facing…"
The message is clear: If women's soccer wants to be viable enough to earn a place in Football Manager, it's on the sport and related media to make that happen.
Don't worry, we have the "not too distant future" to look forward to
Sports Interactive remains deliberately vague about when they hope to see women become playable in Football Manager. Here is their Twitter account responding to a reply to their original sponsorship announcement: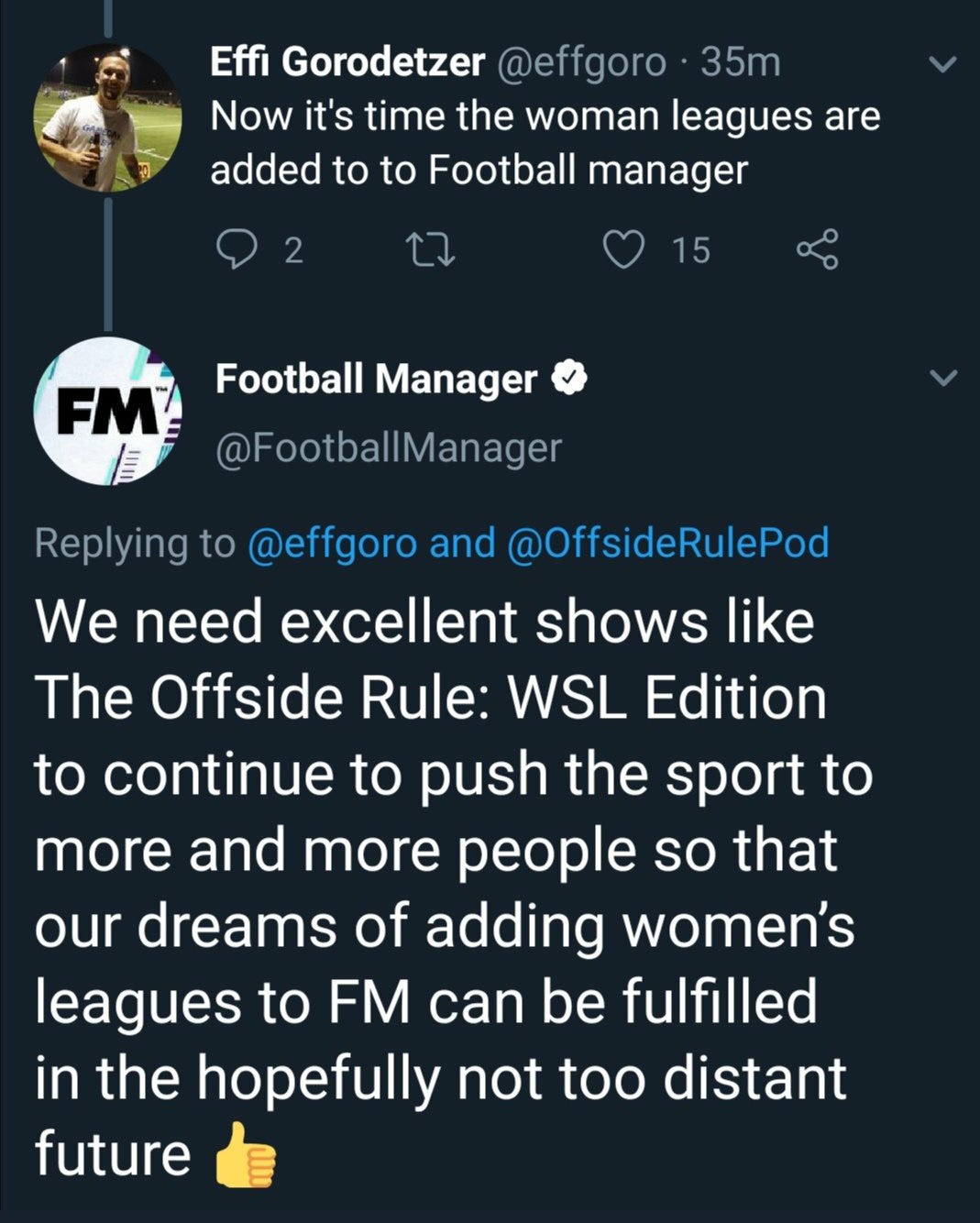 That's right. They have "dreams of adding women's leagues" in the "not too distant future!" 
When I asked Sports Interactive to elaborate, Brennan was extremely noncommittal. 
"I'm afraid we can't be any clearer than that at the moment. We are in discussion with a number of parties, but none of those discussions have progressed far enough for us to be in a position to make any announcement," she said. 
It's a beautifully shitty statement that gives the studio an easy out. And when combined with the cost/financial viability argument, Sports Interactive have the perfect combination of arguments to never do anything more than fund a podcast.
And while we can credit Sports Interactive for providing "The Offside Rule" the means to stay on the air, that's where this line of credit ends. Sports Interactive are clearly happy to sit back and bask in the praise of being the big, strong savior of women's sport, all the while holding the ace that allows them to say that they provided a chance for women's soccer to flourish, but the interest just isn't there.
Muddy Knees Media, the production company behind "The Offside Rule - WSL Edition," was contacted about the views expressed by Sports Interactive. They did not respond to that inquiry.
Of course, the problem isn't just limited to Football Manager; it touches almost every sports video game franchise. On the rare occasion that women do appear in a game, their inclusion is often flawed due to a lazy implementation -- so you're stuck with either no women at all, or women who have been treated as an afterthought.
But by definition, sports games are anchored in reality. Women's sport exists in the real world so there is no reason for it to not exist in the virtual one. Women's soccer's absence from Football Manager is just yet another example of women's soccer being shoved to one side and not being shown the respect it deserves. You can't be what you can't see and Football Manager sure as hell doesn't want you to see it.
Ben Mock is a sportswriter who's just as tired of the suppression of women's sports as you are. They can be found on Twitter (@DMBenjy).

Thank you so much for your support, everyone.
I'll be back tomorrow for paid subscribers, for an archival dive that will prep us for our book club discussion about "Sum It Up" on Friday. (The discussion will be in a thread that will be emailed out to paid subscribers on Friday about noon ET, I'll have more details tomorrow.)
I can be reached at lindsay@powerplays.news. If you have emailed me about a freelance contribution, I'm a bit behind, but will get back to you by the end of the week.