The evolution of WNBA fashion, as told through every draft's class photo
Get ready for tonight's WNBA draft by going back in time.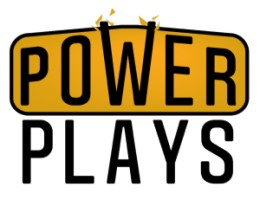 Hi, friends! Welcome to Power Plays, your no-bullshit home for coverage of sexism in sports. It's been another difficult week, so today, I thought we'd keep things cheery.
The WNBA draft is tonight. One of the things that always makes me happy about the WNBA draft, besides the drafting itself, is the group photo taken of all the draftees who were invited to the draft. (Lately, there have been 10 invitees. As you will see in a minute, that number used to be much higher.) I call them "class photos." They are fun snapshots in time, and typically everyone dresses up, and it's just fun.
Of course, because of *motions broadly at everything*, we won't get a class photo this year. The draft is virtual. (Though there will still be a #WNBASlay virtual orange carpet, on Instagram Live at 6:30 p.m. ET. The draft itself starts at 7 p.m. ET on ESPN.)
So, to make myself feel better, I started looking back at old WNBA draft class photos. And I thought maybe you'd all like to look back with me. So, I have collected all I could find below. This is going to be fashion-focused, even though I am the least fashionable person alive, and it will all be pretty surface and in good fun and light, and sometimes, that's okay. In fact, sometimes that's needed.
So, join me now for a trip down memory lane. I will try to point out all current WNBA players and Big Names, but certainly will miss some.
P.S. There is a good chance that since this post is so image heavy, you won't be able to read it all in your email. Have no fear. Go to PowerPlays.news and you can read the whole post in your browser.

1997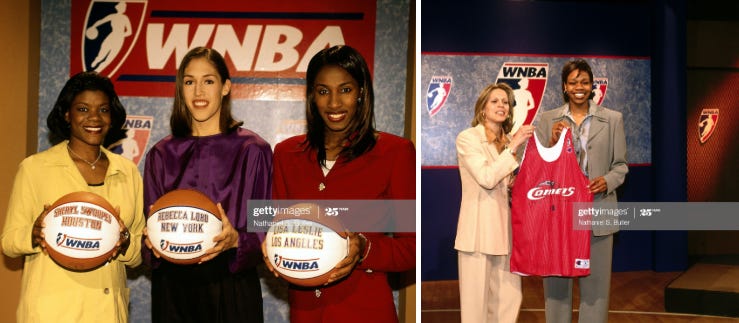 1997, the inaugural season, had many draft-like events! On the left, we have Sheryl Swoopes, Rebecca Lobo, and Lisa Leslie at the "Initial Player Allocation Draft." On the right, there's Tina Thompson — who is hard to recognize sans her signature lipstick — with the WNBA's first commissioner, Val Ackerman. Thompson was the No. 1 pick in the first WNBA college draft. She is the only one I allowed to be included who wasn't in a group pic. From now on, group pics only.
1998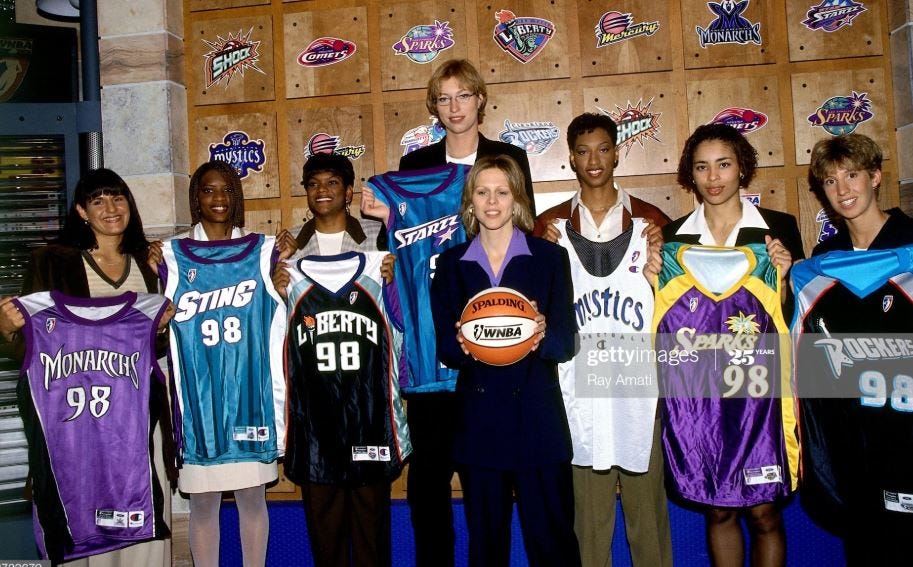 Here are the top 7 picks in the '98 draft, featuring the late, great 7'2" Margo Dydek in the center, and the legendary Ticha Penicheiro, whom I did not recognize through those AMAZING bangs, on the far left. Fashion-wise, this was the look for the next few years: Job Interview Chic.
1999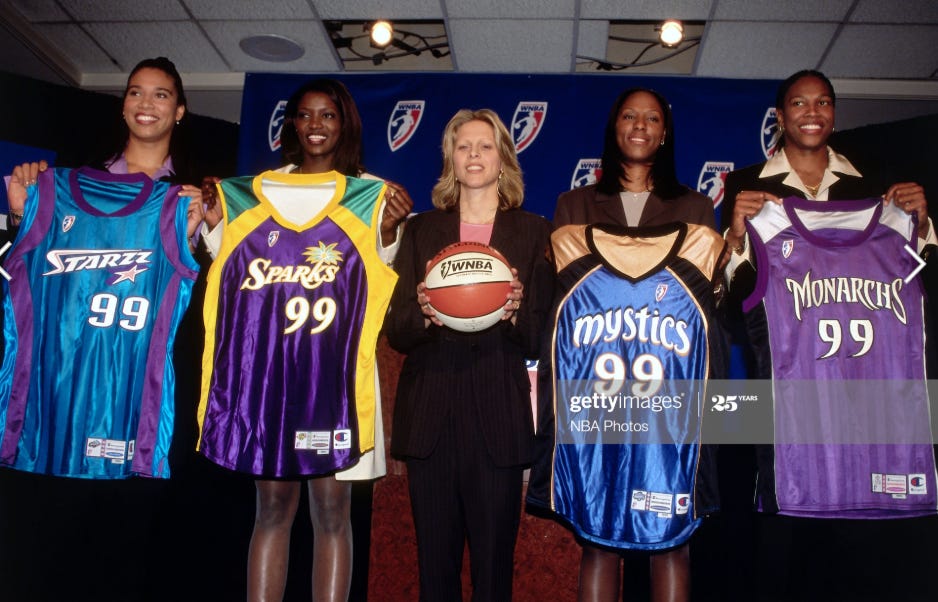 This is an awful angle to show some legends, and an even worse one to showcase fashion. This was the year Chamique Holsdclaw (Mystics jersey) was No. 1. The others, from L to R, are Natalie Williams, DeLisha Milton-Jones, and Yolanda Griffith. Decent top four. I couldn't find a pic with the other draftees from that night, who, in theory, exist.
2000
There seems to be zero photographic evidence that this draft ever existed. Cool. Moving on. (Ann Wauters, a 19-year-old Belgian who I don't believe was even in the States for the draft, was the top pick.)
2001
There are individual photos of this draft, but I can't find a group photo, so to save bandwith we'll skip it. But please click here to see the most perfect flipped-out hair of all time, courtesy of Katie Douglas. (Douglas was the 10th pick; Lauren Jackson was the first, Tamika Catchings was the third.)
2002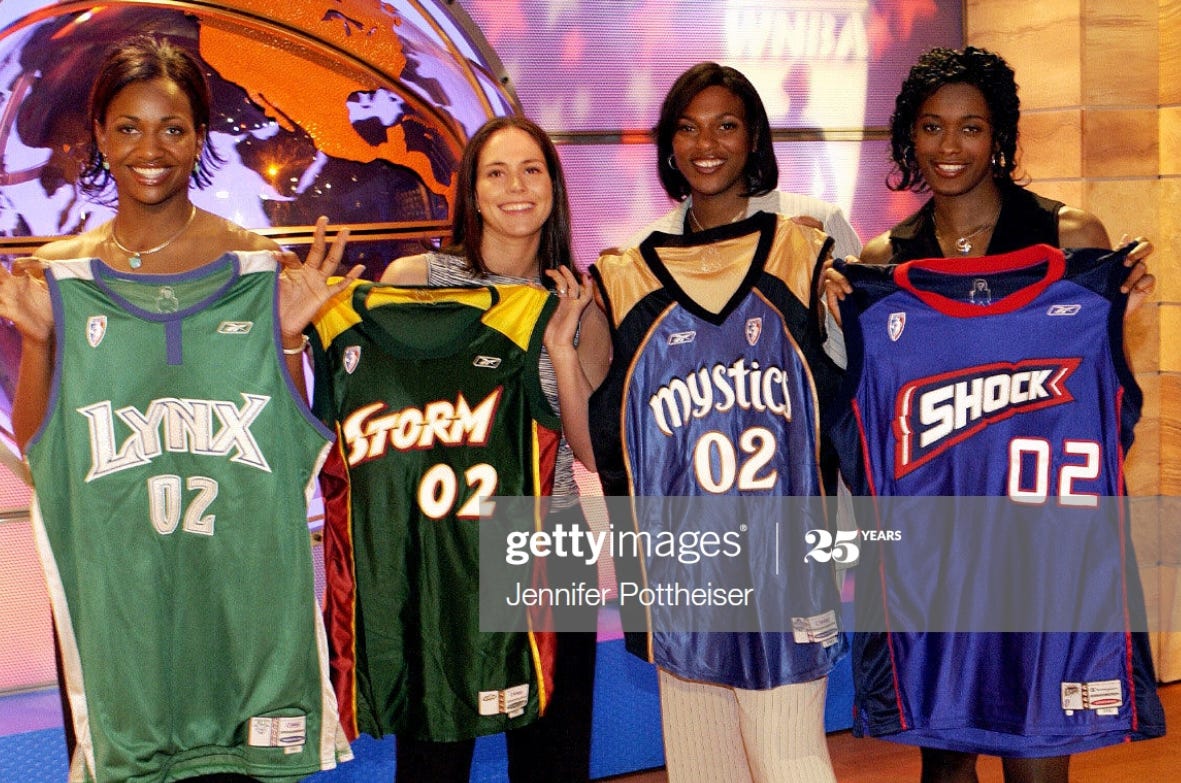 After all but ignoring the draft for two years, photographers rediscovered the WNBA in 2002. I believe it was the Sue Bird Effect. Unfortunately, I still couldn't find a full class photo. Thankfully, we have this UConn reunion photo, w/ (L-R) Tamika Williams, Sue Bird, Ashja Jones, and Swin Cash. (Sue and Swin were the top 2 picks; Asjha was 4 and Tamika was 6.)
2003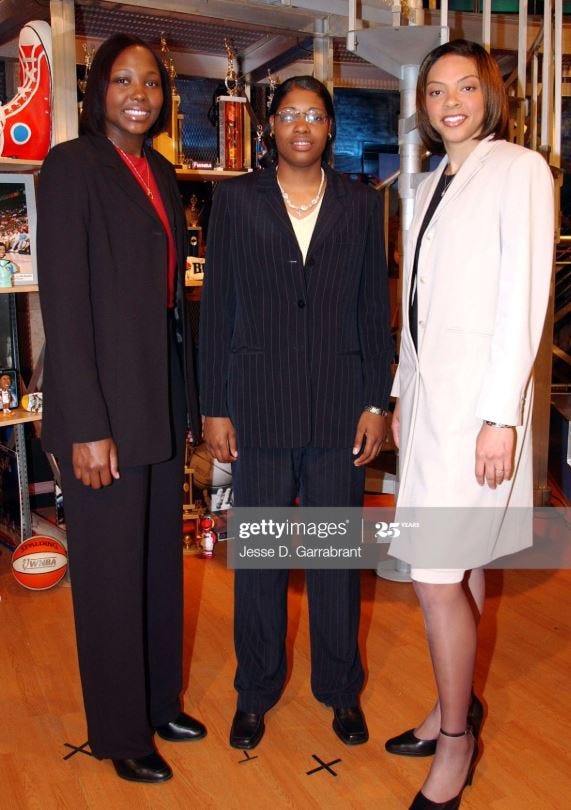 Welp, friends, we've finally found a photo where the jerseys are not in the way of the fashion. And my goodness. This is bleak. 2003 was a rough year. LaToya Thomas, center, was the top pick. The legendary Cheryl Ford (L) went 3rd, Alysha Smith (R) went 7th. They look in pain.
2004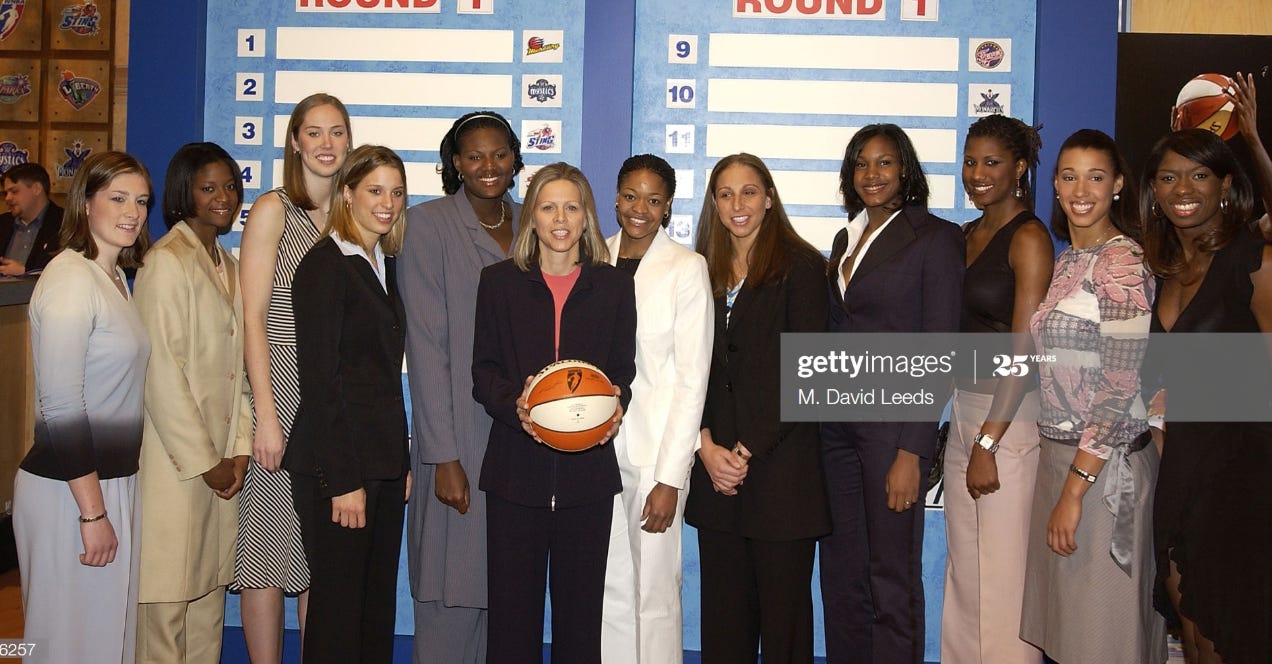 FINALLY a proper group photo!!!! There's Lindsay Whalen on the far left, Alana Beard to the right of the commissioner, and BABY TAURASI next to her, followed by BABY REBEKKAH BRUNSON. What a class. (Also, we're *starting* to see the beginnings of the Fashion Show that the WNBA Draft would become. There are … subtle hints. Very, very subtle.)
2005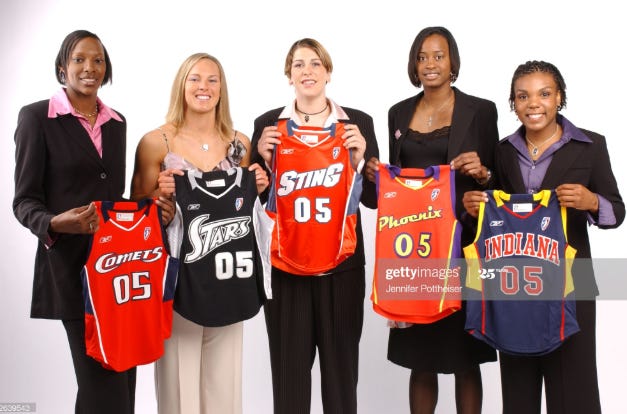 HAHAHAHAHA WHY ARE THE JERSEYS SO SMALL?!?!?! Janelle McCarvelle, center, was your top pick, and she's with the rest of the top 5 picks, including Sancho Lyttle on the far left. (We'll come back to 2005 later, but I had to show the tiny jerseys photo, it is too funny.)
2006
MY GOODNESS they invited so many people to the 2006 draft, that is TOO MANY PEOPLE. Let me point out Cappie Pondexter, second from the left on the back row, who had clearly not yet become the STYLE ICON we know today. Mo Currie is in the back, center, in the striped sweater with the chunky necklace, one of the most 2006 outfits I've ever seen. In the front row, third and fourth from the left, we have Candice Dupree and Seimone Augustus, who have about 100 All-Star appearances between them.
2007

Again? TOO. MANY. PEOPLE. It is clear, in 2007, that the WNBA started to realize that this could be a "glam" event. I mean, there's still a lot of job-interview attire, but there are behind-the-scenes shots on Getty of makeup and hair getting done, so, you know, "glam." You can also tell from this photo that flared pants were IN. Overall, this wasn't the most successful draft class. Ivory Latta, second from the left in the front row, is the only draftee who made an All-Star appearance, and she was picked 11th. Lindsey Harding, on the right in the white skirt, was the top pick.
2008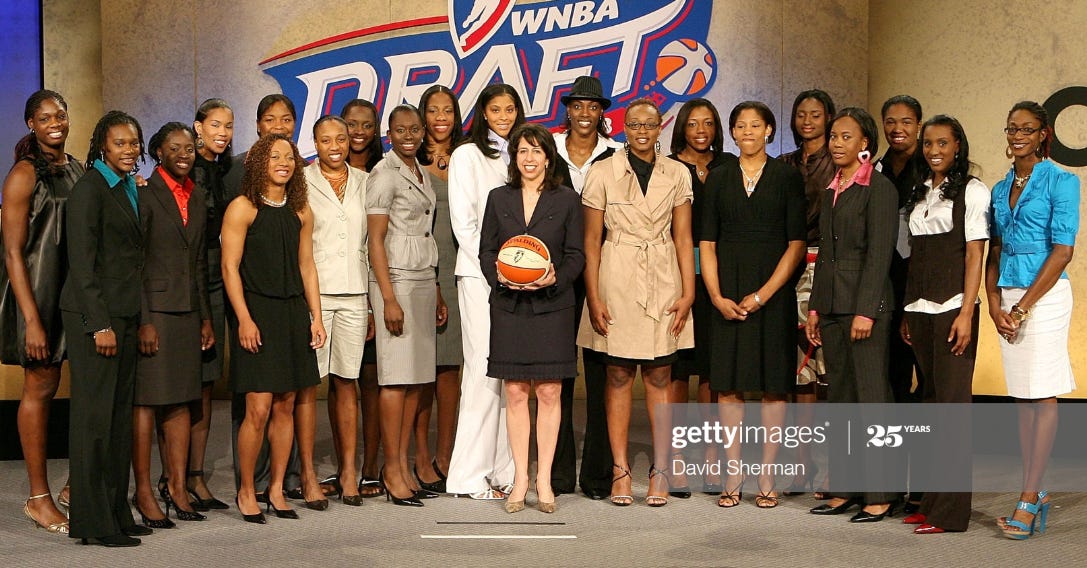 You see Sylvia Fowles there, in the center, to the right of Candace Parker? Yeah, I believe Sylvia's Hat changed the game when it came to WNBA draft fashion. Parker's white suit was good, too. But Fowles's hat — and vest! — sent a message that you could truly use the WNBA draft to showcase your personality and style. (If there's a doubt, look at her with Parker and Candice Wiggins in this photo of the top three picks.)
There are still Too Many People there, but see if you can spot Ty Young, Crystal Langhorne, LaToya Sanders, Essence Carson, and Erlana Larkins in there. (I looked at all these photos from the '08 draft for so long and didn't realize Carson was there until I saw the draft order. Times, they have changed. For the better.)
FUN FACT: Twenty players were invited to this draft. You know who wasn't invited, and who wasn't drafted until midway through the 2nd round, 22nd overall? Allie Quigley.
2009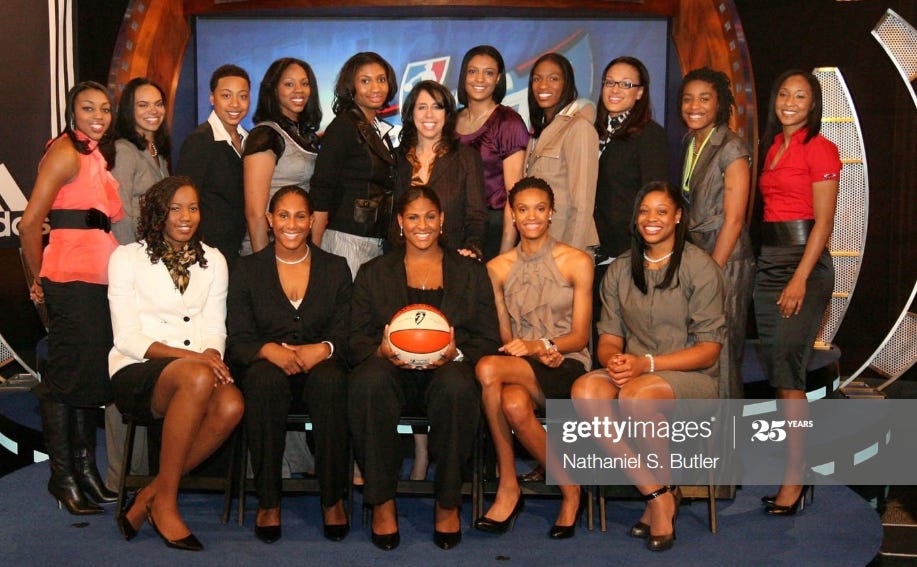 PHEW, in 2009 they went down from 20 to 15 draft invitees, making my job much, much easier.
Angel McCoughtry was the No. 1 pick in this draft, but she got overshadowed in the fashion department by a lot of her peers. PEEP Renee Montgomery's boots on the left! And Kristie Toliver's GLOW? Love the red on Briann January, far right. Color! What a concept! In the front row, we've got the Paris twins, Courtney and Ashley, next to DeWanna Bonner and Kia Vaughn. Marissa Coleman and Shavonte Zellous are back there, too.
2010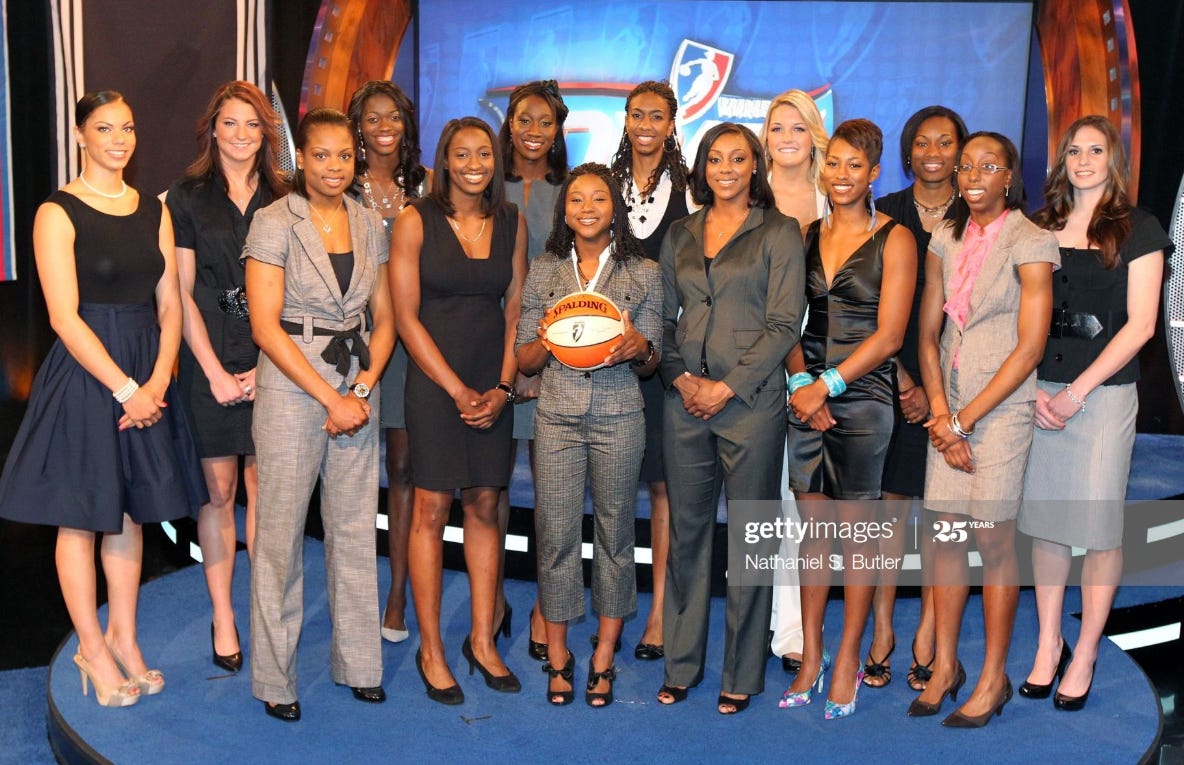 Okay, we're moving a bit more towards cocktail party attire here, though Allison Hightower, with the pink blouse, seems to be the only one who knows about color. This was the Tina Charles draft, and she's fourth from the left, looking lovely. Alysha Clark is, I believe, the only other active WNBA player other than Charles in this photo, she's on the far left looking like a Stepford Wife, but in a good way, I think. Epiphanny Prince was the fourth pick in this draft, and she's still playing, but I don't think she's in this photo, though I could be wrong. 2010 was a weird year.
2011
Oh my goodness. One of my favorites, talent wise. This was the year that Maya Moore was the top pick, and while she does look lovely in the back center, later in the night she took off her jacket, and she should always do that, because omfg those arms. Liz Cambage was the No. 2 pick, and I'm obsessed with everything about this look. The feathers! The side-swiped hair! She's the only one who took anything close to a fashion risk in this class. If you look around you'll also see Jantel Lavender, Jasmine Thomas, Danielle Robinson, Sydney Colson, Jessica Breland, Danielle Adams, Courtney Vandersloot, and Carolyn Swords.
2012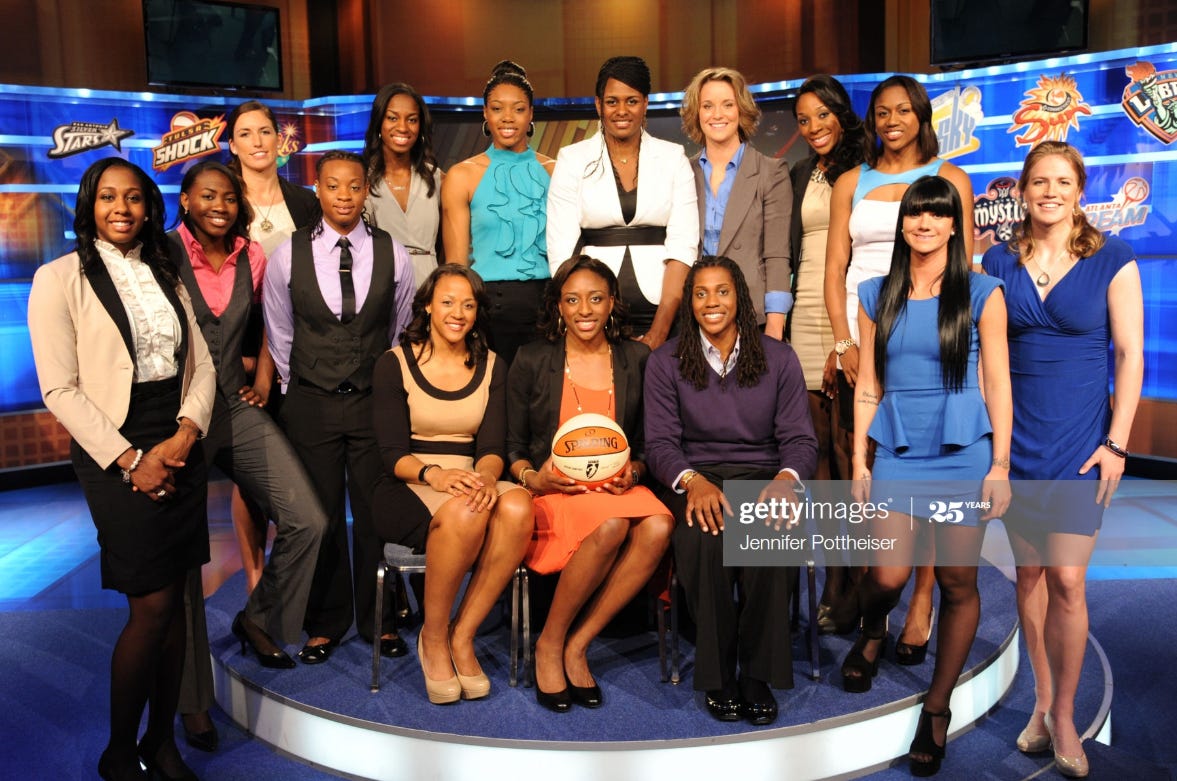 This was the First Ogwumike draft, when Nneka, looking beautiful in the orange, was the top pick. I like that there are some color choices, and some slightly unique twists on suits and dresses. Look around and you'll spy Glory Johnson. Lynetta Kizer, Deveraux Peters. Shekinna Stricklen, Riquna Williams, and Tiffany Hayes.
2013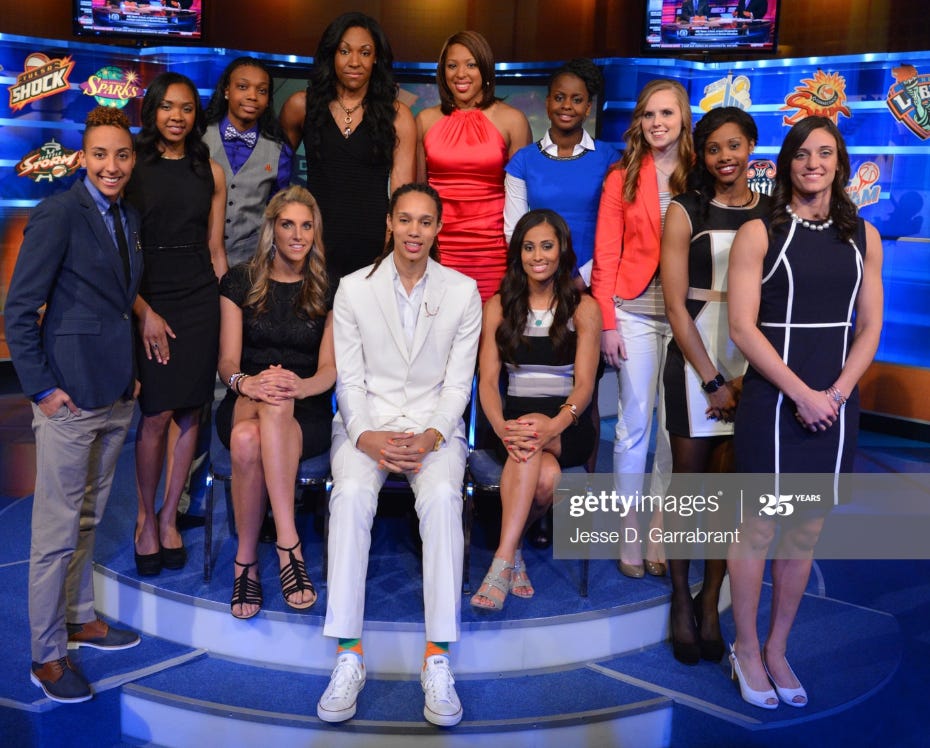 We've mad it to the THREE TO SEE draft. Brittney Griner's white suit was another draft moment that pushed fashion forward. Truly iconic. Looking at Elena Delle Donne, Griner, and Skylar Diggins-Smith there, it's impossible to overstate how much they have meant to women's basketball on and off the court. Layshia Clarendon is also bringing it with her suit and tie. I'd say the only big faux-pax I see here is Tayler Hill's black stockings; I think by 2013, those were over. Other familiar faces in this pic include Kelsey Bone, Alex Bentley, Tianna Hawkins, and Sugar Rodgers.
We've now cut the number of invitees down to 12.
2014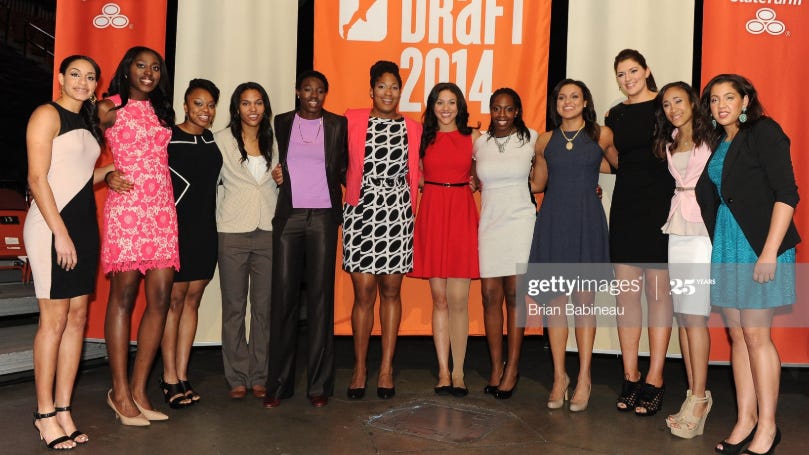 I don't have a lot to say about 2014, to be honest. Everyone looks nice! Natasha Howard's leather pants might be my favorite, and the pink on Chiney Ogwumike (who was the top pick) is great. Lots of talent in this class. We've got Alyssa Thomas, Chelsea Gray, Natalie Achonwa, Stephanie Dolson, Kayla McBride, Shoni Schimmel, Bria Hartley, and Odyssey Sims hanging out, too.
Eight All-Stars selected in the first round. This was a deep class, too. One player in the second round (Astou Ndour), and four players in the third round — Theresa Plaisance, Stephanie Talbot, Jamierra Faulkner, Asia Taylor — all played in the WNBA last season. That's rare.
2015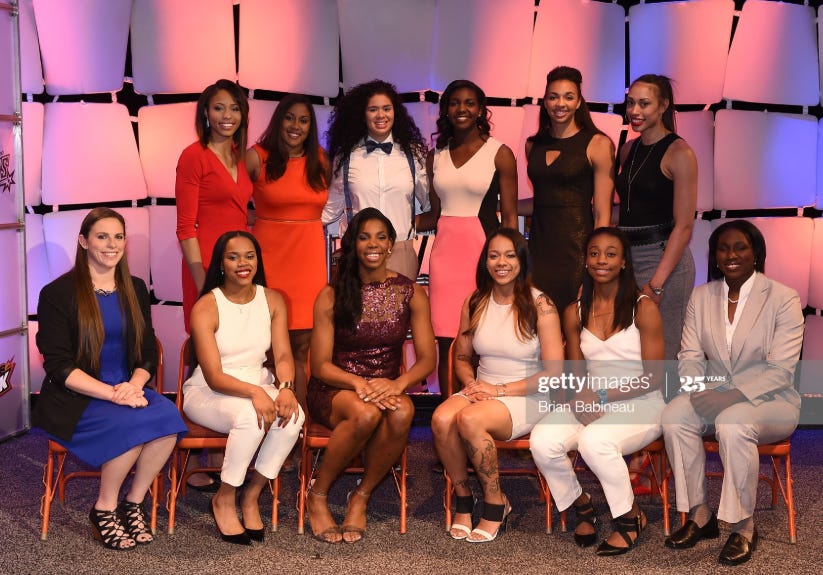 Okay. 2015! Hi. This was Jewell Loyd's year as the top seed, and while I think she's a little casual, her arms are so phenomenal it does not matter. Elizabeth Williams is the only other All-Star in this class (so far, obv.) Up there on the top row, Williams and Isabelle Harrison (who I barely recognized) and Kalaena Mosqueda-Lewis all look like hot corporate lawyers in a Shonda Rhimes show. Amanda Zahui Bowtie is so precious I can't even stand it. You'll also recognize Kiah Stokes, Brittany Boyd, and Dearica Hamby.
Reshanda Gay (front, in the SPARKLE), is the best dressed here. By far.
Wow, I just realized a quarter of this picture are New York Liberty players.
2016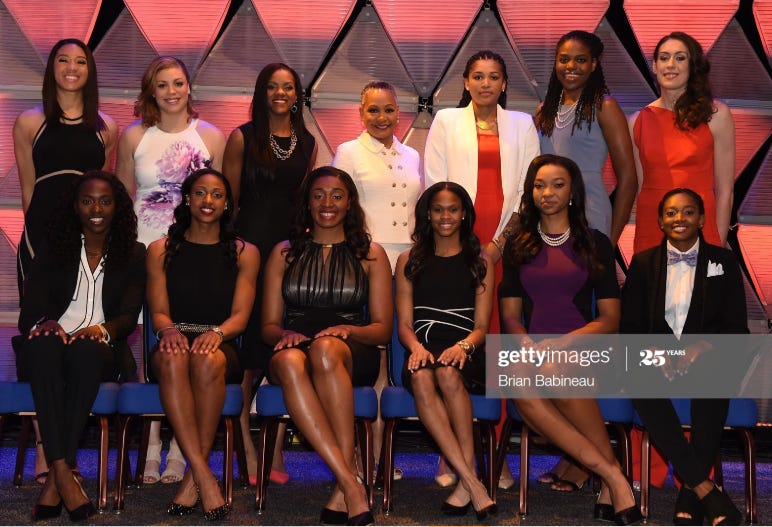 This class? This is the one where everyone turned into Stepford Wives for a night. We've got Jonquel Jones and Imani McGee-Stafford in pearls, Rachel Banham ready to recruit me to her sorority, and then Courtney Williams (!!), Aerial Powers, Tiffany Mitchell, Morgan Tuck, and Moriah Jefferson all wearing short, black dresses. Kahleah Copper mixed it up a bit with the pants and white blows, and she looks effortlessly chic.
Breanna Stewart owned this night, both as the top pick and as the most fashionable. The orange jumpsuit is perfect.
2017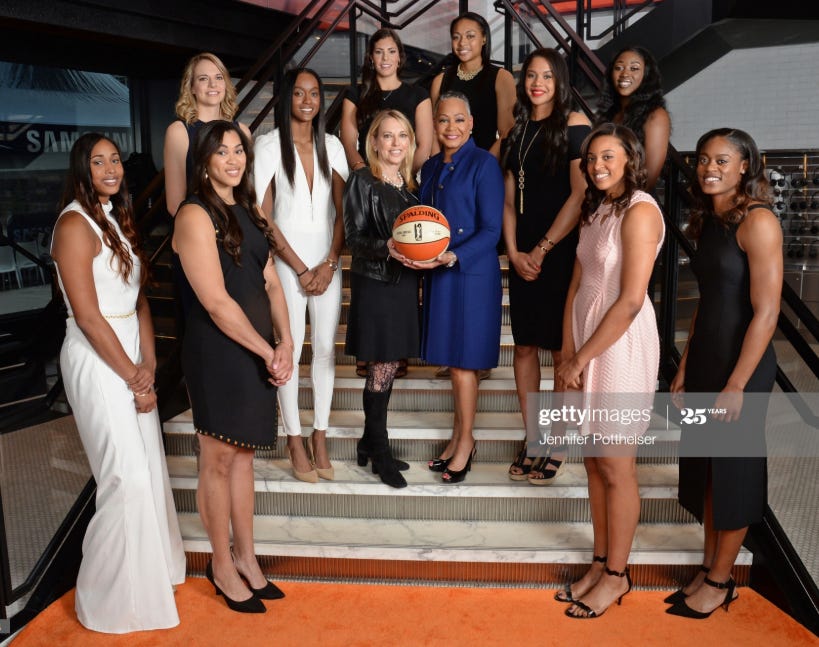 This is the year where we cut the number of invitees down to 10! And it's also the year that apparently was a black-and-white invitational? Blush pink from Erica McCall is the most color we got out of anyone. Honestly, this is disappointing.
But the saving grace? Shatori Walker-Kimbrough's jumpsuit-cape-combo, which might be my favorite draft outfit of all time. That deep v-neck, the fit, it's all so perfect.
Everyone else is fine, but pretty forgettable fashion-wise. This was the year Kelsey Plum was the top pick. Elsewhere we have Alaina Coates, Bri Jones, Sydney Wiese, Allisha Gray, Nia Coffey, Alexis Jones, and Kaela Davis.
2018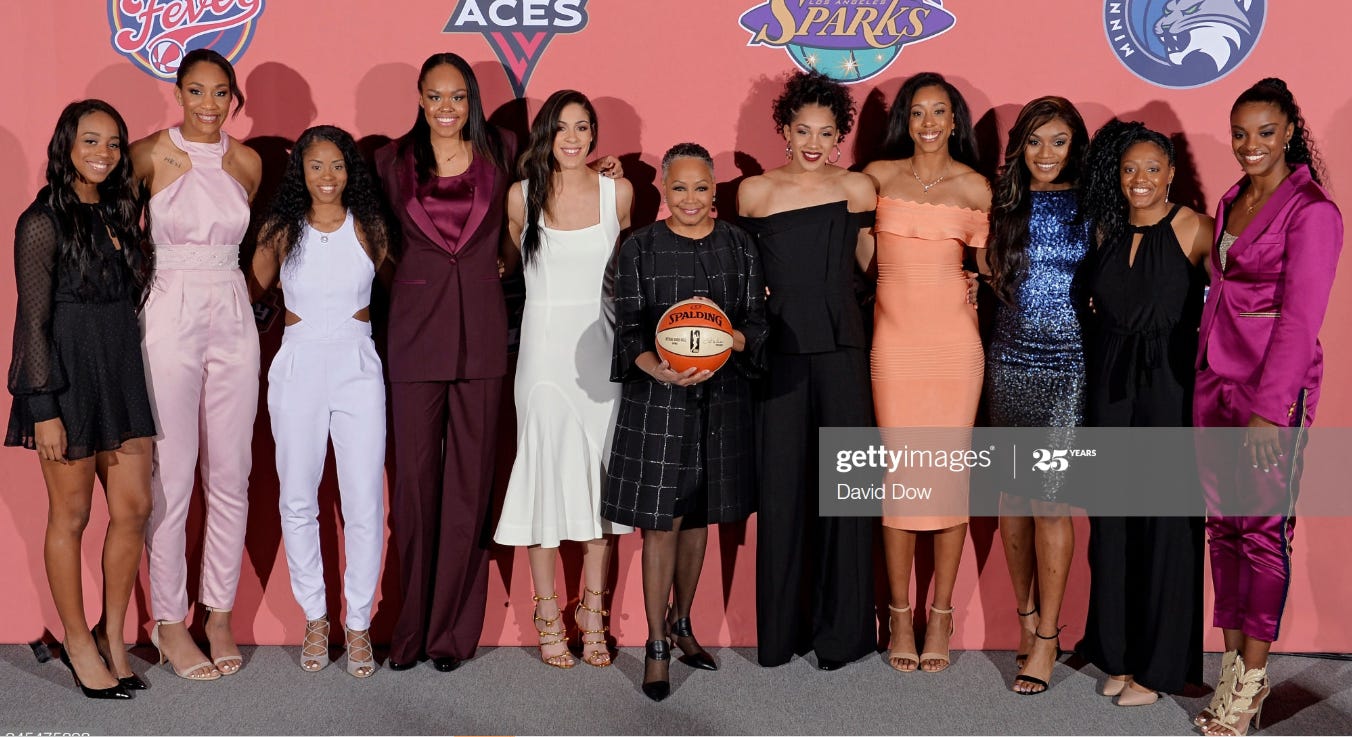 NOW WE ARE GETTING SOMEWHERE. This is the year players started to really go all-out for the orange carpet and almost everyone has a blast with it. And there is color! Now, I don't think all of these looks worked perfectly. But I like that they were bold. My favorites were Gabby Williams (off-the-shoulder black pantsuit, deep red lipstick), Victoria Vivians (SPARKLES), Jordin Canada (white jumpsuit, cut-outs), and Diamond Deshields , because everything about that look is fun.
We've also got Lexi Brown, A'ja Wilson (top pick), Azura Stevens, Monique Billings, and Kelsey Mitchell. Good job pushing the envelope, friends.
2019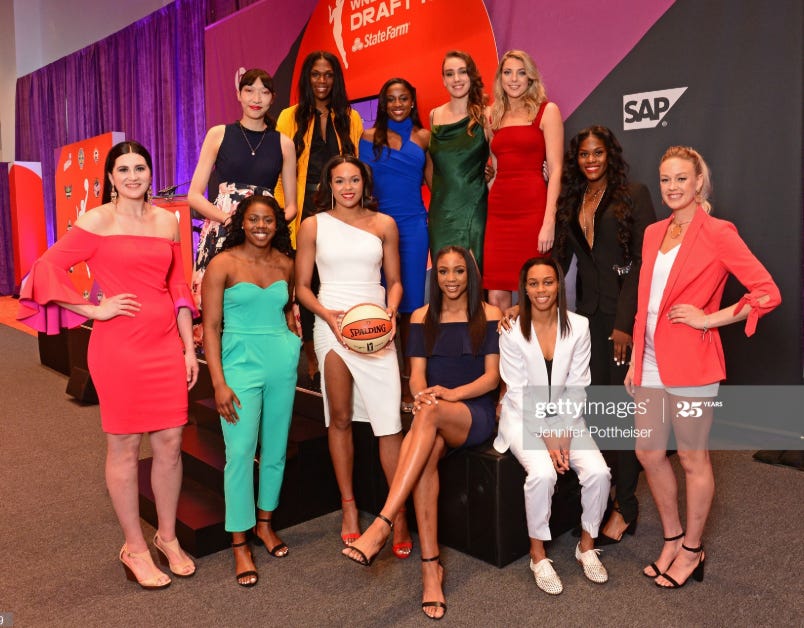 LOOK AT THEM!!!! THE COLORS!!!!!!!!!!!!! Last year's draft class was the ultimate, in my opinion. So many different colors, so many different styles, so many different personalities and twists on dresses and suits. It's hard to pick a favorite. I love Megan Gustafson wearing the pink and showing the shoulders. Arike Ogunbowale's teal, strapless jumpsuit is effortless. Napheesa Collier's slit!!!! Han Xu's everything. Tierra McCowan's yellow jacket. Jackie Young's bold blue, with the creative neckline. Kalani Brown's plunge. Sophie Cunningham's shorts. Asia Durr's bedazzled loafers. And even Kristine Anigwe, Alanna Smith, and Katie Lou Samuelson, who all went for more standard dresses, all look smoking hot and colorful.
All I'm saying is, we've come a long way, friends: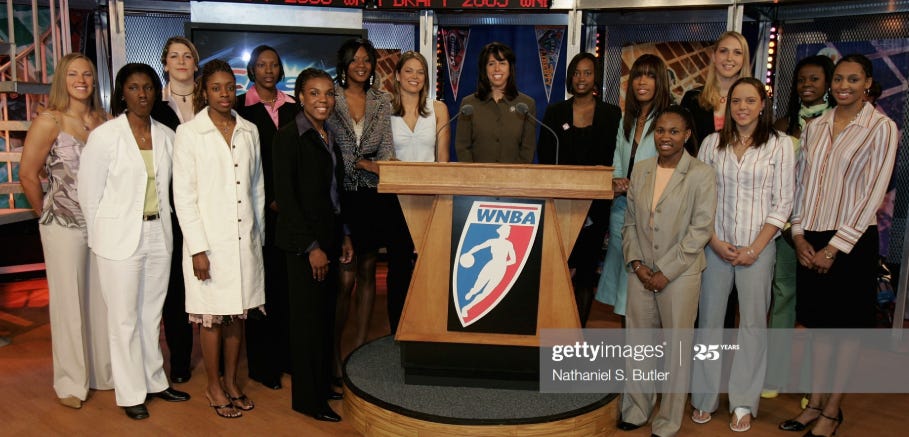 (Remember how I told you I was going to come back to 2005? Yeah, here's there full class picture.)

I hope you all had as much fun with that as I did. Can't wait for tonight. If you're a paid subscriber, there will be an open thread where we can discuss the draft as it happens!