The IOC's abuse of power
Plus: A big announcement about what's next for Power Plays.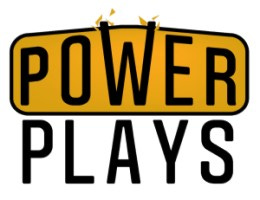 Hello, everyone. Welcome to Power Plays, a newsletter for people who are sick of hearing bullshit excuses, and ready to see equality for women in sports.
In today's newsletter, I've got a BIG ANNOUNCEMENT. Then, we look at the International Olympic Committee's ridiculous new crackdown of political protests, and as part of Black History Month, we celebrate the activism of two black female athletes, Gwen Berry and Toni Smith-Thompson.
Thank you for continuing to sign up and spread the word, friends. I hope it inspires you to know that you're in good company; the wonderful Lori Lindsey, a member of the 2011 U.S. Women's World Cup squad — is out there converting subscribers, too! (Yes, this is a brag.)

It's time to make this thing official
Okay. So, it's finally time. In fact, it's probably past time, but this step is scary for me, so I stalled a bit.
In two weeks, Power Plays is moving to a subscription model.
For three and a half months, every single issue of Power Plays has been completely free. Three times a week, you've gotten in-depth reporting, analysis, and interviews about women in sports directly to your inbox. No other website in the world is producing the work that I do at Power Plays on a full-time basis.
And that's the key: Full-time. This isn't a side project for me. This is my primary focus. And to keep it going, I'm turning to paid subscriptions. I believe in the power of this community, and I believe that together, we can defy the odds and make a huge difference in how women in sports are covered and considered all around the globe.
I'm going to be talking a lot about this transition over the next couple of weeks, but here's what you need to know right now:
Next Monday, February 24, will be the first day you can purchase subscriptions.

There will be really great deals for early subscribers, and both monthly and yearly payment options.

Wednesday, March 4 will be the first subscribers-only post.

One email every week will remain free for everyone. (Usually that will be the Monday newsletter.) If you're already signed up, you will keep getting one Power Plays per week, even if you don't pay to subscribe.

Beyond just getting two extra newsletters per week, subscribers will have access to the Power Plays Book Club, a regular "What to Watch" section to keep you up-to-date on when and where to watch the biggest events in women's sports each week, and the ability to participate in Power Plays threads, which have already become a phenomenal way for readers to network, support one another, and share knowledge.
Stay tuned to all Power Plays newsletters over the next two weeks to find out more about this big change and how to come along for the ride. And, of course, email me if you have any questions or concerns: lindsay@powerplays.news.
Okay, friends. Let's get to the actual newsletter.

The IOC Rule
A theme we will keep coming back to time and time again here at Power Plays is that sports are inherently political, and anyone who tries to pretend otherwise is up to absolutely no good.
The International Olympic Committee (IOC), it seems, is part of that category.
Last month, the IOC released new guidelines that are clearly trying to limit the amount of political statements made at the Tokyo Olympics this summer.
The added guidelines were pretty transparently a response to what happened at the Pan American Games last year, when U.S. hammer thrower Gwen Berry raised and U.S. fencer Race Imboden took a knee on their respective medal stands during the anthem. Both were protesting social injustice, and both were put on probation for 12 months by the U.S. Olympic and Paralympic Committee.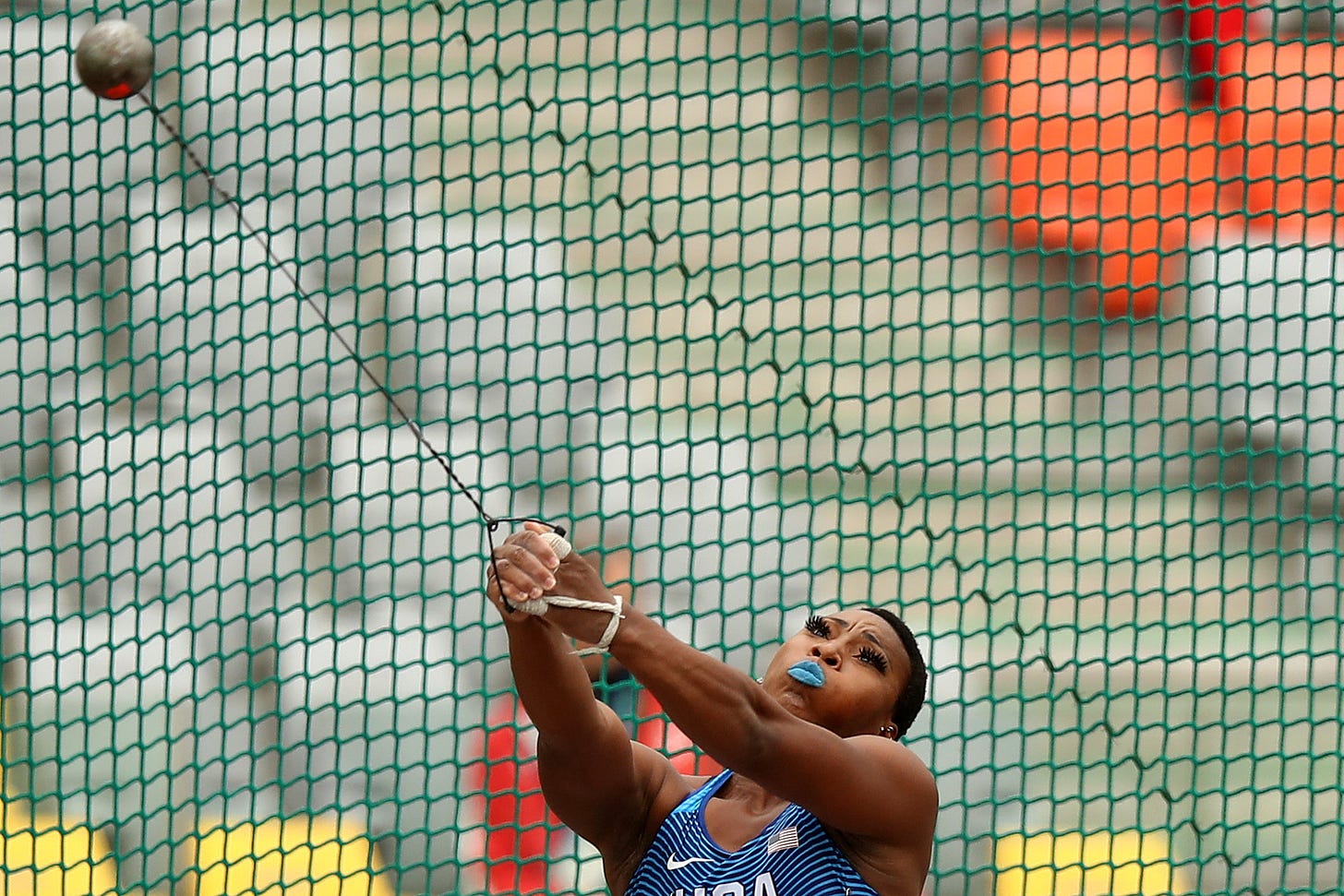 (Gwen Berry at the 2019 Pan Am Games, via Getty Images)
"It is a fundamental principle that sport is neutral and must be separate from political, religious or any other type of interference," the new guidelines state. "Specifically, the focus for the field of play and related ceremonies must be on celebrating athletes' performance, and showcasing sport and its values."
This is, of course, absolutely ridiculous. Tommie Smith and John Carlos, who raised gloved fists in a black power salute during the medal ceremony at the 1968 Olympics, were punished by the IOC in 1968, but are now honored at the Olympic museum in Lausanne, Switzerland.
And yet, the IOC hasn't learned anything from that change of heart. These rules seem specifically targeted to keep any Colin Kaepernick-like protests away from the medal stand and out of step with national anthems.
Heaven forbid an athlete protest oppression, racism, or human rights abuses of any kind during the biggest moment of their careers; such a thing might make an IOC sponsor, like Visa or AirBnB or Bridgestone or Coca Cola, slightly uncomfortable as they count up their millions.
Notably, Olympians are still allowed to be political on their social media feeds, and punishments for protests on the medal stands are still very much at the discretion of the IOC; I can't imagine what acts they will deem punishable, and which acts they won't condemn qwhite as harshly.
Ultimately, it's another way the IOC is abusing its power. It's what it does best.
Why Gwen Berry rose her fist
As many of you know, I am lucky enough to co-host a weekly feminist sports podcast, Burn It All Down, with four phenomenal women: Dr. Amira Rose Davis, Dr. Brenda Elsey, Shireen Ahmed, and Jessica Luther.
A couple of weeks ago, Dr. Davis interviewed Gwen Berry for the podcast, and I wanted to share some of Berry's answers with you, because they moved me so much. (For the full interview, subscribe to BIAD, and listen to episode 143.)
First, though, take a second to watch Berry's powerful protest:
Berry told Dr. Davis that she grew up in Ferguson, Missouri, on the same street that Michael Brown did before he was murdered by a police officer in the summer of 2014. She went to his school, attended the same basketball games, walked the same streets. His death hit home for her; it's part of her story.
But why, exactly, did she decide to raise her fist on the podium last fall?
What made me throw up my fist at Pan Am, it was 50/50. It was 50 my personal experience and my personal life, things that I've been through, things that I've overcome. The track meet reminded me of that, because it was a really, really hard track meet. It was after a very stressful selection to make the World Championship team. That meet was stressful and then I had to fly right to Peru, so the weather and the conditions, my body took a hit. So I feel like I rose from that, I grew from that, and then I overcame a hard situation with the whole year I had been dealing with, that was one.

The other reason why I raised my fist was to definitely bring awareness about the things that are not being talked about and the things that are being pushed under the rug in America —that's racial discrimination. Unarmed black men are being killed by the police, unarmed black women are being killed by the police. People are dying in prison, children don't have opportunity that they would have if they had wealth, the racial wealth gap, all these things that I see literally every day. I drive to university every day, and I live in the suburbs and it's a good area, it's really nice, and then you drive 35 minutes down the road and people live in shacks. It's ridiculous. It breaks my heart every day. I see it every day, it's the same thing.
Berry's reaction to the IOC's rule change
Berry raised her fist after winning the gold at the Pan Am Games in Peru on August 10, 2019, with a winning distance of 74.62. She was put on probation by the USOPC along with Race Imboden — the white, male fencer who took a knee — on August 20, 2019.
The IOC didn't release their new guidelines for nearly five months. What was her reaction when she heard them?
My immediate reaction was that I had to laugh, because I feel like in certain ways me and Race were targeted because some of the things that they described were things that we did at Pan American Games. So it was pretty funny that they said those things. Those things are historical for protests in past Olympic Games. Today athletes who did those types of protest are being praised, so it's ironic and it's kind of hypocritical that they would put those guidelines down, and praise them at the same time.
Berry was struck by how wide-ranging the guidelines were, and how unknown the actual punishments would be.
"In the past they've taken medals, they've kicked athletes out the village, they've kicked athletes out of the sport. You just never know, and that's their form of control," Berry told Dr. Davis.
Ultimately, though, Berry recognized that this is all about the IOC protecting their image.
Like I said on MSNBC, they're trying to protect their investment. The IOC, because they don't pay any of the athletes to perform at the Olympic Games, it's basically like we're actors, right? They get paid all the big bucks, all the sponsors come to them, they want to throw money into the Olympic event, so in order for them to protect their business they have to say, "Alright guys, this is the script, stick to the script and then go home to your regular lives, go home to all the drama and all the horrible things you've experienced on the way here." It's almost like they want you to forget where you came from or the things you hold with you while competing. It's crazy.
How to support Berry
Berry still hasn't made the Olympic team, and won't know if she's on the team until Olympic trials this summer, so any questions about a potential protest in Tokyo are completely premature; she has a long way to go before she can even start thinking about that.
In the meantime, however, she gave some great advice on how to support her and other athletes who are protesting racial injustice and systemic oppression.
I feel like just keep letting athletes know that they are not alone, that they are being heard and are being appreciated. Just giving them time, even if they write a great post on Instagram and Twitter, just two seconds out of your day to say I agree, I stand with you. Small things like that go a long way.

From the archives: Toni Smith-Thompson protests during the national anthem, Geno Auriemma calls it 'disrespectful'
In 2003, long before Colin Kaepernick took a knee, Toni Smith-Thompson, a guard for the Division III Manhattanville women's basketball team, turned her back from the American flag during the national anthem to protest inequities in America and war.
I'm posting this article so that you can learn about her protest and the reaction at the time, and also because I was a bit surprised at how forceful Geno Auriemma's comments were. I'd be curious how — or if — he has evolved on the issue over the years.
This article is from the Chicago Tribune on March 8, 2003.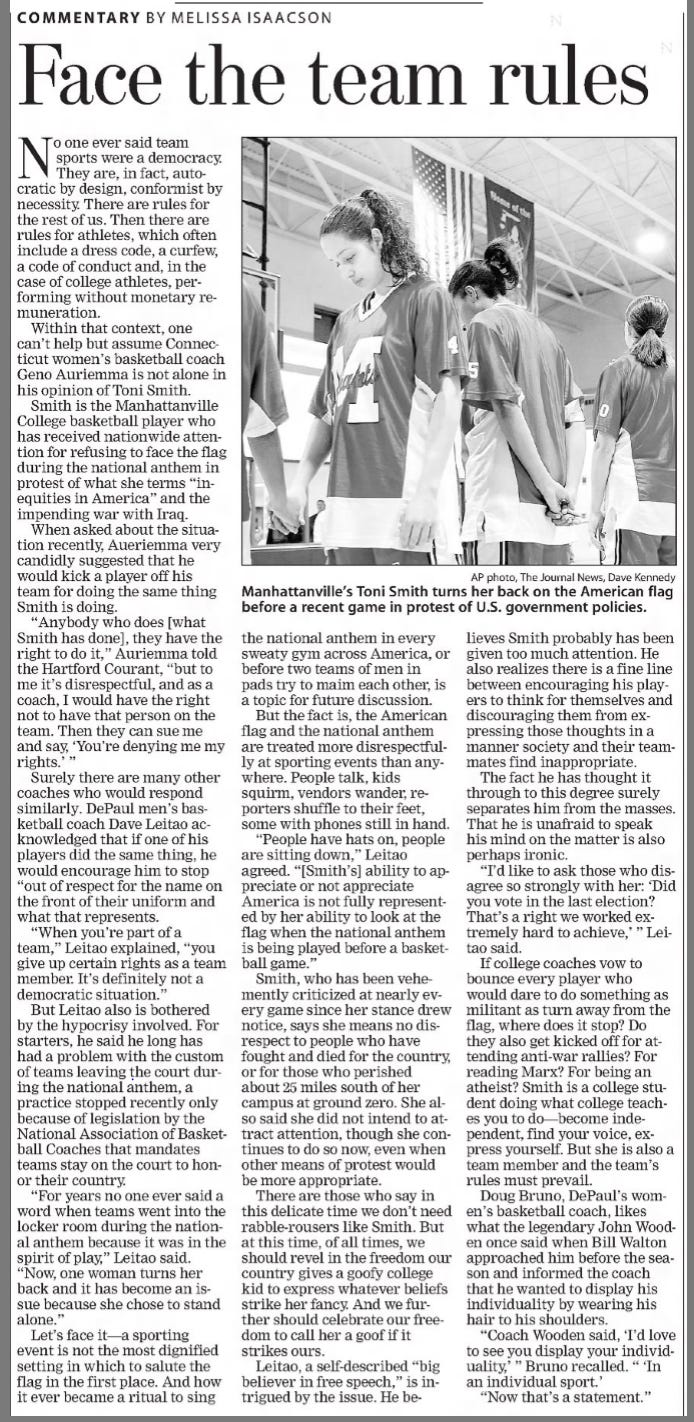 (I'd be remiss not to mention that Dr. Davis — an assistant professor at Penn State and the go-to historian on all things about black, female athletes — has also interviewed Smith-Thompson twice on Burn It All Down, and you can listen to those interviews here and here.)

Okay, friends. That's all for today. Sorry this came out so late in the day, the nerves got to me!! But I'll be back in your inboxes tomorrow with a new edition of #CoveringtheCoverage, and more information about the subscription launch.