The myth that women's sports are in peril is perpetuated by the men in charge of them
Let's examine where this narrative comes from, and who benefits from it.
Welcome to the first edition of Power Plays, a newsletter for people who are sick of hearing bullshit excuses, and ready to see equality for women in sports.
I'm Lindsay Gibbs, your captain on this journey. I'm so glad that you're here. My email is lindsay@powerplays.news. I look forward to hearing from you, as we work together to build Power Plays into a force of nature.
If you've been forwarded this email, you can subscribe yourself right now.
Today we're going to look at how men in leadership positions in women's sports are holding them back, particularly when it comes to the NWSL and WNBA.
Then, among other things, we'll take a trip to the NYT archives to find out how housewives can stop pestering their husbands with silly questions about athletic competition. All equally useful information.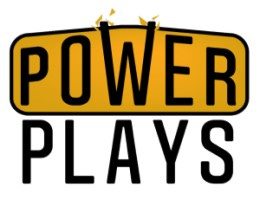 Behind every women's sports celebration is a man threatening that it will be the last
This month, I was lucky enough to be at every game of the WNBA Finals between the Washington Mystics and Connecticut Sun, and at the NWSL championship game between the North Carolina Courage and the Chicago Red Stars. It's likely that I'm not just the only media member, but the only person in the world, who can say that. (Like I said: Ridiculously. Lucky.)
This means I saw two franchises win championships in front of sold-out, electric home crowds. I saw two often-underrated and overlooked international players, Debinha of the Courage and Emma Meesseman of the Mystics, shine on their respective biggest stages, and be awarded with the championship MVP trophy. I saw the two regular-season MVPs, Sam Kerr and Elena Delle Donne, give everything they had to capture their first NWSL/WNBA championship. I saw the tears of pure elation and relief when Delle Donne was triumphant, and the tears of agony when Kerr wasn't.
As I drove back to Washington, D.C. on Sunday night after watching the Courage's victory in Cary, North Carolina, I was overcome with emotion and excitement about the present and future of professional women's sports in the United States.
I didn't think anything could ruin my buzz.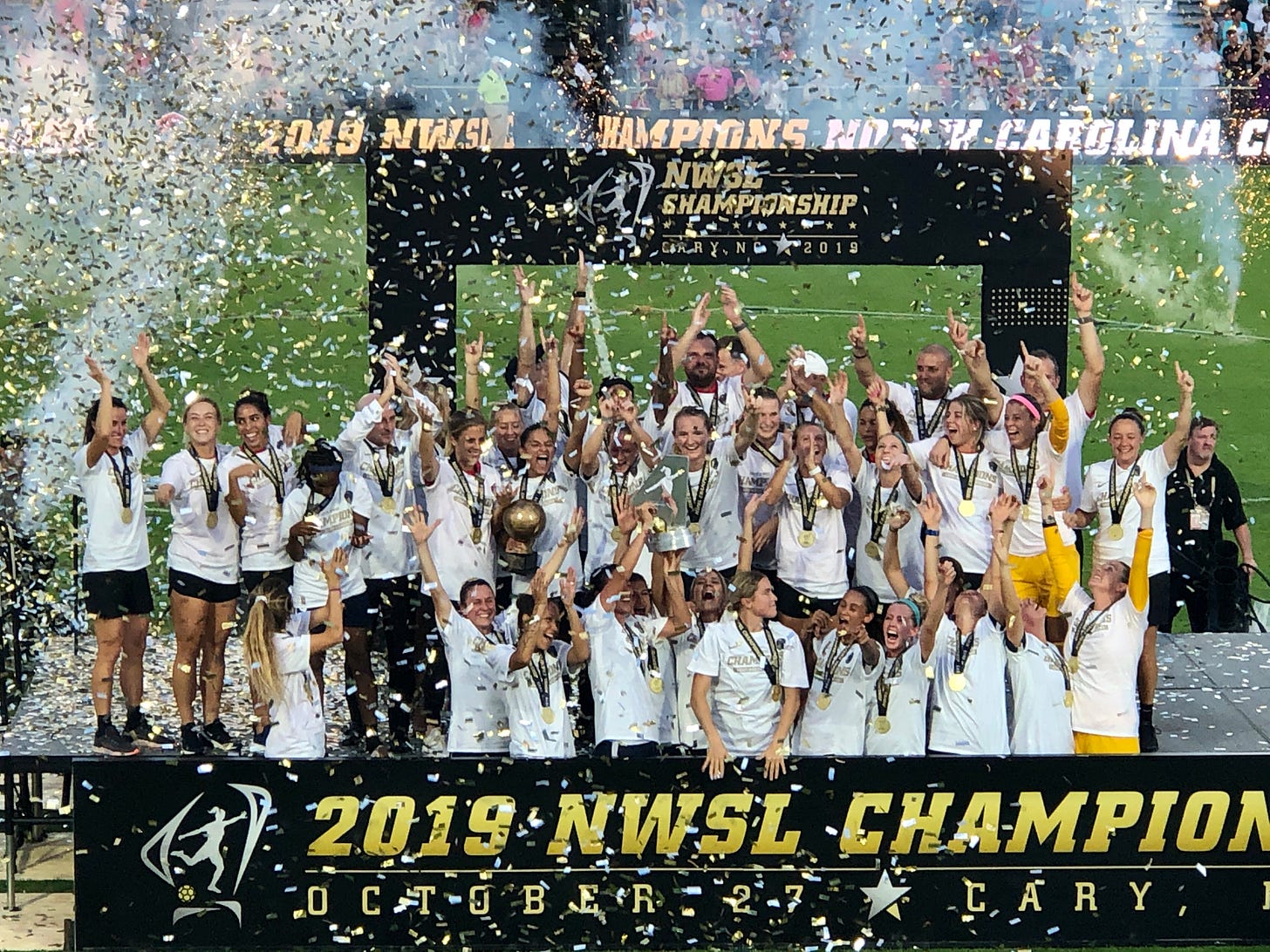 How foolish of me.
The very next day, as first reported by the incomparable Meg Linehan of The Athletic (who I insist you follow), the U.S. Soccer Federation filed a new document in its ongoing equal pay lawsuit against the U.S. Women's National Team.
On page eight, U.S. Soccer not only said that there wouldn't be a present for the NWSL without their support, but that there was no future for the league without them, either. It read as a thinly-veiled threat — stop asking for more, or you'll have nothing.
"Without U.S. Soccer's agreement to pay the salaries of its marquee players, U.S. Soccer doubts the ability of the NWSL to pay them equivalent (if any) salaries or, indeed, to survive as a league at all," it read.
(I'm not going to get into the weeds of the lawsuit today, but I will have ongoing and detailed coverage of this equal pay fight in Power Plays, so stay tuned.)
Publicly dismissing the popularity of the league that you own is a baffling thing to do
This messaging, coming out the day after the conclusion of a successful seventh season of the NWSL — and the same day as the announcement of the new USWNT head coach, Vlatko Andonovski — is absolutely infuriating.
Yes, U.S. Soccer's support has been crucial for the NWSL. But let's not pretend that that it wasn't a mutually beneficial investment. Having a viable domestic league to keep elite U.S. players in the United States has been crucial to growing the domestic fanbase, developing USWNT players, and even growing the coaching pipeline — Andonovski has coached in the NWSL for all seven of its seasons, five as the head coach of Kansas City FC, and two as the head coach of the Seattle Reign.
The USWNT has had its most success since the launch of the NWSL — it won the past two World Cups, as you might have heard, and before that, had not won a World Cup since 1999.
And yet, despite the obvious ways the league benefits U.S. Soccer, the governing body has often neglected to nurture the NWSL, and insisted on spreading the message that it is a league in peril.
It's mystifying. And, while it's not an apples to apples comparison, it reminds me so much of the way NBA commissioner Adam Silver (and David Stern before him) has often talked about the WNBA. During the rare moments when journalists have asked him about the WNBA, Silver starts his answer by citing how much money the WNBA is losing, and how disappointed he is in its growth.
Last year, after Silver went onto ESPN and complained about the lack of attendance at WNBA games, two-time WNBA MVP Elena Delle Donne snapped back.
"First of all, the negativity in those comments need to stop, because there's enough trolls out there," Delle Donne told me last year in an interview on the feminist sports podcast I co-host, Burn It All Down.
"We need our leaders to be showing the brightness of the future of the WNBA."
The negative narrative becomes a self-fulfilling prophecy
It's hard to pick just one example of how these messages become self-fulfilling prophecies, but let's stick with Silver and the WNBA for a minute.
As with most women's sports, the WNBA suffers from a lack of television exposure.
There's an anecdote from a 2016 New York Times article by Richard Sandomir, "After two decades, the WNBA is still struggling for relevance," that I haven't been able to stop thinking about for three years.
In January, ESPN and league officials met to discuss plans for the upcoming season and narrowly avoided what could have been a major slight. The league's original 2016 television schedule omitted an opening-night game, an oversight John Skipper, the ESPN president, said he rectified.

Skipper said: "I asked what day the season opened and what game we were doing, and I was told we weren't doing a game. And I said: 'Guys, that's an issue. We can't be the league's partner and not to do an opening-day game.'"

Silver was relieved at Skipper's intervention.

"I had accepted that we'd gotten all we could out of ESPN and was thrilled when John added the opening-day game," Silver said. "It was a reminder of how much more we need to do.
Think about that for a minute. Let it settle in. Re-read it.
ESPN, the WNBA's television partner, originally had zero plans to air a game on the opening night of the WNBA's 20th season.
And it wasn't the WNBA or the NBA who pushed to fix this. It was the president of ESPN. Silver didn't even think to ask for it.
And, if you think that served as a wake-up call for Silver, think again. While the WNBA's television exposure has increased a bit over the past few years, players still want to see more growth. Last fall, Mirin Fader of Bleacher Report asked Silver about the players' desire for more games to be aired on ESPN.
"I'm a little bit frustrated by that demand," he told Fader. "I thought [ESPN] was very generous with the exposure they've given us. That's not to say we shouldn't be fighting for even more, but to me, the biggest issue with the WNBA right now is not the need for more exposure on ESPN."
Why does this keep happening?
Despite all of this, I still firmly believe that the future is bright for the NWSL and the WNBA, thanks primarily to the players and the fans that have stuck by them, through thick and thin.
This offseason, the NWSL is moving towards a model that will be much more independent of U.S. Soccer (yes, we'll be staying on top of that story), and this year, for the very first time, the NBA hired a WNBA commissioner (Cathy Engelbert), not merely a WNBA president.
This growth is happening despite the fact that the people in power seem determined to undermine the validity of the women's sports leagues that they own. But once you see the pattern, the obvious next question is: Why?
There's no simple answer, and Power Plays will explore this question time and time again.
But, right now, I keep coming back to a conversation I had with retired ski jumper Lindsey Van last year. She was one of the main activists who fought to get women's ski jumping added as an Olympic sport, and received an immense amount of pushback from every gatekeeper imaginable. Her working theory of the case stuck with me.
"In every other sport you can see that gender gap. Then in ski jumping, there is hardly any gender gap, it's smaller than any other sport. I don't think that does our sport favors. I think people see that and they want to bury it," she told ThinkProgress.
"It's one of those original extreme sports, so if women are doing it, is it as extreme? Is it perceived as as extreme?"
Sometimes it seems that those in positions of power in the sports world aren't afraid of what happens if women's sports fail; they're afraid of what would happen if women's sports are truly allowed to flourish.

Each newsletter, we're going to look back at bullshit that women in sports have had to deal with throughout the ages. Submissions are encouraged. Please send old newspaper clippings, recent examples, enraging quotes, and anything else you can think of to lindsay@powerplays.news.
FROM THE ARCHIVES:
Stop pestering your husbands with silly questions, housewives!
September 18, 1948, The New York Times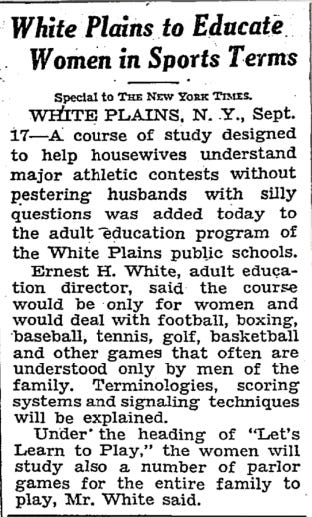 FROM PRESENT DAY: An accomplished female athlete, reduced to the role of 'unnamed girlfriend'
On October 22 at the World Series in Houston, the Fox broadcast showed Houston Texans star J.J. Watt in the crowd.
His fiancee was sitting next to him, and she instantly became a meme, due to the way she was peering at his phone. This isn't about the meme, though. It's about the fact that Fox didn't even identify her, despite the fact that she's a Houston sports star as well.
She is Kealia Ohai, the captain of the Houston Dash, and a former USWNT player. Fox, which aired the Women's World Cup, should be ashamed.
A MOTIVATIONAL QUOTE TO WRAP THIS UP
"I hope the girls don't waste their time and make this a human rights issue. That's silly, and all that will do is piss people off."

-Dick Pound, Canadian member of the International Olympic Committee,
Pound said this in 2006, when women (not girls!) were fighting to get ski jumping added into the 2010 Olympics in Vancouver. (It wasn't added until Sochi, and there is still only one ski jumping event for women, compared to three for men.)
I urge you all to go forth. Make inequality in sports a human rights issue. Piss people off.

OK, that's all for today—thank for reading the first issue Power Plays! Trust me, the fun has only just begun.
The next edition will hit your inbox on Friday morning. Don't miss it.
Questions? Comments? Tips? I'm lindsay@powerplays.news. I would love to hear from you. And you can share the website version of the newsletter by using the button below.