The NWSL is at a crossroads
This is a big month for the National Women's Soccer League. Let's talk about what's at stake.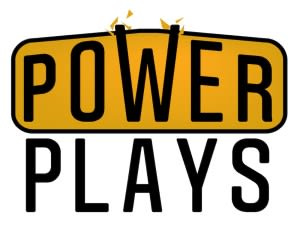 Hi, everyone. Welcome to Power Plays, your home for a no-bullshit look at sexism in sports. This newsletter will hit your inbox every Monday, Wednesday, and Friday.
This is an independent venture, and you can support it by signing up. Every day, people in positions of power in the sports media industry let me know that they don't think there's a full-time space for this work. Help me prove them wrong.
Hello from San Francisco! I'm in the Bay Area for the first time in my life, so before you keep reading, please send me all of the recommendations to lindsay@powerplays.news. Thank you in advance.
The primary reason I'm here is for the Substack Fellowship Program. Tuesday was a long, phenomenal day spent meeting my fellow fellows and talking with some brilliant minds about how to take Power Plays to the next level. It was a whirlwind, and I can't wait to implement everything here — I got so much advice about how to engage and grow this community, and some really fun initiatives are in the works.
But this means I have been busy, so today's newsletter is going to be a bit shorter, though hopefully just as useful and entertaining and fabulous as always.
We're going to be talking about the National Women's Soccer League (NWSL), and the many things on the line for the league this month — including independence.
(I haven't been able to get this song out of my head while writing this newsletter, so now I'm blessing you with it, too.)
First, remember to tweet a compliment about Power Plays and tag me in it. It helps spread the word about this space we're building, and it makes me feel GREAT.
Okay, friends. Let's do this.

The current state of the NWSL
The NWSL just completed its seventh season, which already makes it a huge success — the previous two women's professional soccer leagues in the United States, the Women's United Soccer Association and Women's Professional Soccer, both only lasted three seasons each.
The seventh season was its most successful one yet.
Thanks to the popularity of the Women's World Cup — and the momentum gained from six full seasons prior to this one — most teams around the league broke attendance records, and the league brought on a new sponsor, Budweiser, that is elevating the game when it comes to sponsors for women's sports leagues.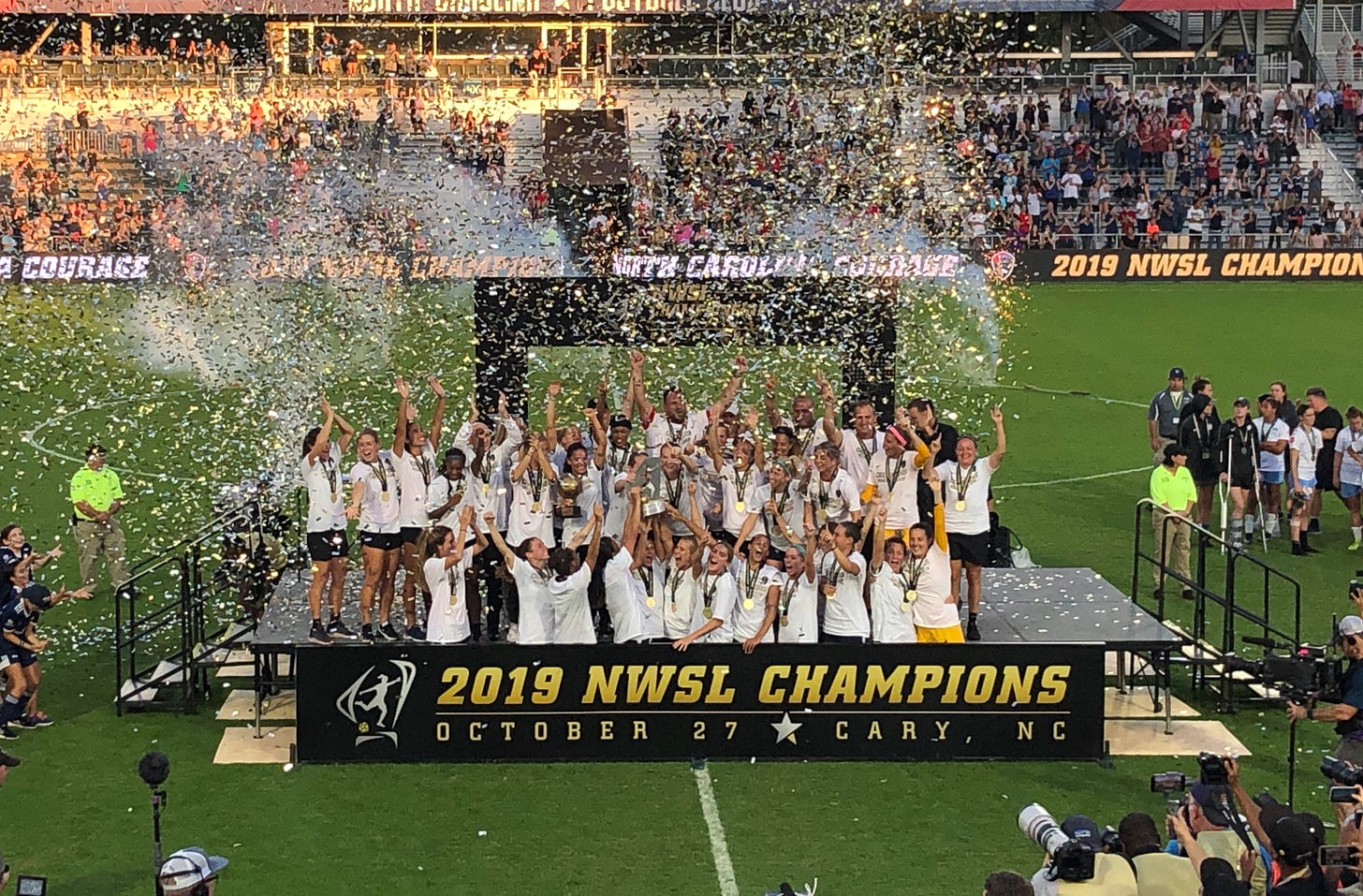 The league has also partnered with Octagon for media rights consulting and marketing help.
After this season, the NWSL owners voted to raise the salary cap by 20 percent, and allow each team to spend $300,000 in allocation money to attract international stars or top U.S. players who aren't allocated USWNT players. The league hopes that this will help it keep top talent from going to play for big-money clubs in Europe, though it wasn't enough to keep Sam Kerr. (The Equalizer does a great job breaking all of this down.)
Perhaps most importantly, all of the teams from last year are coming back in 2020, an expansion team in Louisville has already been announced for 2021, and there might even be another team in 2020 if the league and U.S. Soccer can figure things out this week.
U.S. Soccer and there NWSL are trying to separate, but there are custody disagreements
Here's where we get to the drama.
There have been very credible reports that Sacramento wants to have a NWSL team in 2020. But, I mean, it's December 11! As Meg Linehan has written over at The Athletic, we are running out of time for the Sacramento announcement to happen; the draft is January 16, and current NWSL coaches, such as the North Carolina Courage's Paul Riley, are getting antsy.
So, what's the hold-up? Well, the biggest question lingering for the NWSL is what U.S. Soccer's role will be going forward. Since the NWSL was launched, U.S. Soccer has been at the helm, meaning it has final say on all of the league's decision. Many NWSL owners are ready to branch out. The prevailing sentiment seems to be that U.S. Soccer — which provided such crucial sustainability throughout the league's infancy — is ultimately holding it back. After all, it's not the organization's top priority. 
The current agreement between the NWSL and U.S. Soccer expires on December 31 of this year, and going into the U.S. Soccer board meetings last weekend, there was optimism that a new deal could be reached.
But there was a snag. Caitlin Murray reported at Yahoo Sports that U.S. Soccer actually declined a proposal by NWSL owners to make the league independent, and instead offered to continue managing the league for a year while negotiations continue.
NWSL owners wanted U.S. Soccer to agree to fund NWSL operations through 2028, with $7 million next year and $5 million a year after that — a total commitment of $47 million over nine years. 
But according to Murray, U.S. Soccer isn't comfortable making that financial commitment because it doesn't think all NWSL owners are on the same page, and there's still no NWSL commissioner in place.
I wonder how Katie Meyer feels about all of this?
Same.
To complicate things further, about a month ago, Grant Wahl of Sports Illustrated reported that several ownership groups in the United Soccer League -- a governing body that overseas lower-level soccer leagues in the United States and Canada -- were interested in launching their own Division I women's league, which would directly compete with the NWSL. (UGH.)
Oh, and U.S. Soccer is going through turmoil of its own after the New York Times reported on a toxic workplace culture this summer and a plethora of negative Glassdoor reviews surfaced. Plus, it is still searching for a CEO, and, of course, there's the lawsuit. 
Henry Bushnell reported for Yahoo Sports that U.S. Soccer plans to spend $9 million next year fighting multiple lawsuits, including the gender discrimination suit filed by the U.S. Women's National Team, which was just granted class-action status.
Some say you have to spend money to make money. Apparently, U.S. Soccer thinks you have to spend money to keep others from making money. Which is certainly a strategy.
So, where does this leave the NWSL?
Well, basically, now we're in a waiting game.
Can U.S. Soccer and NWSL come to an agreement to assure the NWSL's independence in 2020? If they do, will that deal be in place in time to add Sacramento to the 2020 schedule, or will the indecision cause the league to miss out on an incredibly exciting expansion opportunity?
There's a lot to pay attention to over the next few weeks, and we'll be following it all at Power Plays.
But I have to say, if there's one thing that excites me, it's that NWSL owners are starting to think big. They want to compete financially with overseas teams. They want bigger stadiums and more freedom. They want to take this league to the next level.
There are plenty of question marks, but if they can successfully navigate a separation from U.S. Soccer and find a way to have more financial flexibility, they could pave a brave new path for women's pro sports in the United States. I, for one, am here for it.
To finish, I want leave you with a quote from Merritt Paulson, the owner of the Portland Thorns.
"We have the best women's soccer product in the world and we need to sell it as such," Paulson told SBNation's Kim McCauley in this essential read on the NWSL's future.
"I don't think we should be bashful at all about pounding our chest about the excellence of the product. Shame on us, shame on ownership, if we can't sell the excellence that resides in our league, because in our hands is the best product in the world."
More of that energy from all women's sports owners, please.

MUST WATCH: Rapinoe calls out Sports Illustrated while being rewarded by Sports Illustrated
There's no archive today. I just want you all to listen this moment from Megan Rapinoe's speech when she accepted the Sportsperson of the Year award.
And if you haven't already, read Jenny Vrentas' SI feature on Rapinoe.

Alright. That's all for today. Don't forget to sign up and share, I'll be back on Friday.