The NWSL's successful return provides a pandemic playbook for the sports world
With 2,000 coronavirus tests and zero positives, women are once again leading the way.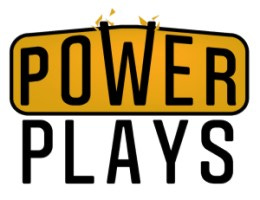 Hello, friends! Welcome to Power Plays, a no-bullshit newsletter about women in sports, written by me, Lindsay Gibbs. Two quick announcements up top:
I have extended the WNBA Opening Weekend Special through tomorrow! So for the next, say, 27.5 hours, you can get 22% off of an annual Power Plays subscription!

Also, this WNBA season is so condensed and so high intensity and there are so many games, all happening so close together, that I once again must highly recommend that you subscribe my friends over at The Gist. It's a free newsletter, written by women, for gender (though I promise all genders will enjoy it), and it will keep you in the loop on all the sports news you need to know.
Okay? Let's do this.

What the Challenge Cup taught us about playing in a pandemic
A couple of weeks ago, at the end of a thirty-minute phone call with National Women's Soccer League (NWSL) commissioner Lisa Baird, I thanked Baird for her time, and congratulated her on the success of the Challenge Cup so far.
"Don't say that!" she interrupted. "Don't say congratulations until after July 26, will you?"
Her superstition was understandable. The NWSL was the first professional team sports league back in action during the pandemic. In lieu of a regular season, the league held a World Cup-style tournament in Utah. The tournament began on June 27, ended July 26, and featured 23 soccer matches between some of the most talented players in the world.
The Challenge Cup got off to a huge start; its opening match aired on CBS and drew a U.S. audience of 572,000 viewers, making it by far the most-watched game in NWSL history. The final on Sunday, where the Houston Dash defeated the Chicago Red Stars 2-0 to win the championship, smashed that record, with 653,000 viewers. In between, all the games streamed on the CBS All Access platform, and CBS told Sports Business that it was "thrilled" with the response from fans.
But before the final kicked off, the most important — and impressive — statistic of the tournament was revealed. The NWSL conducted over 2,000 tests during the tournament. There were zero positives.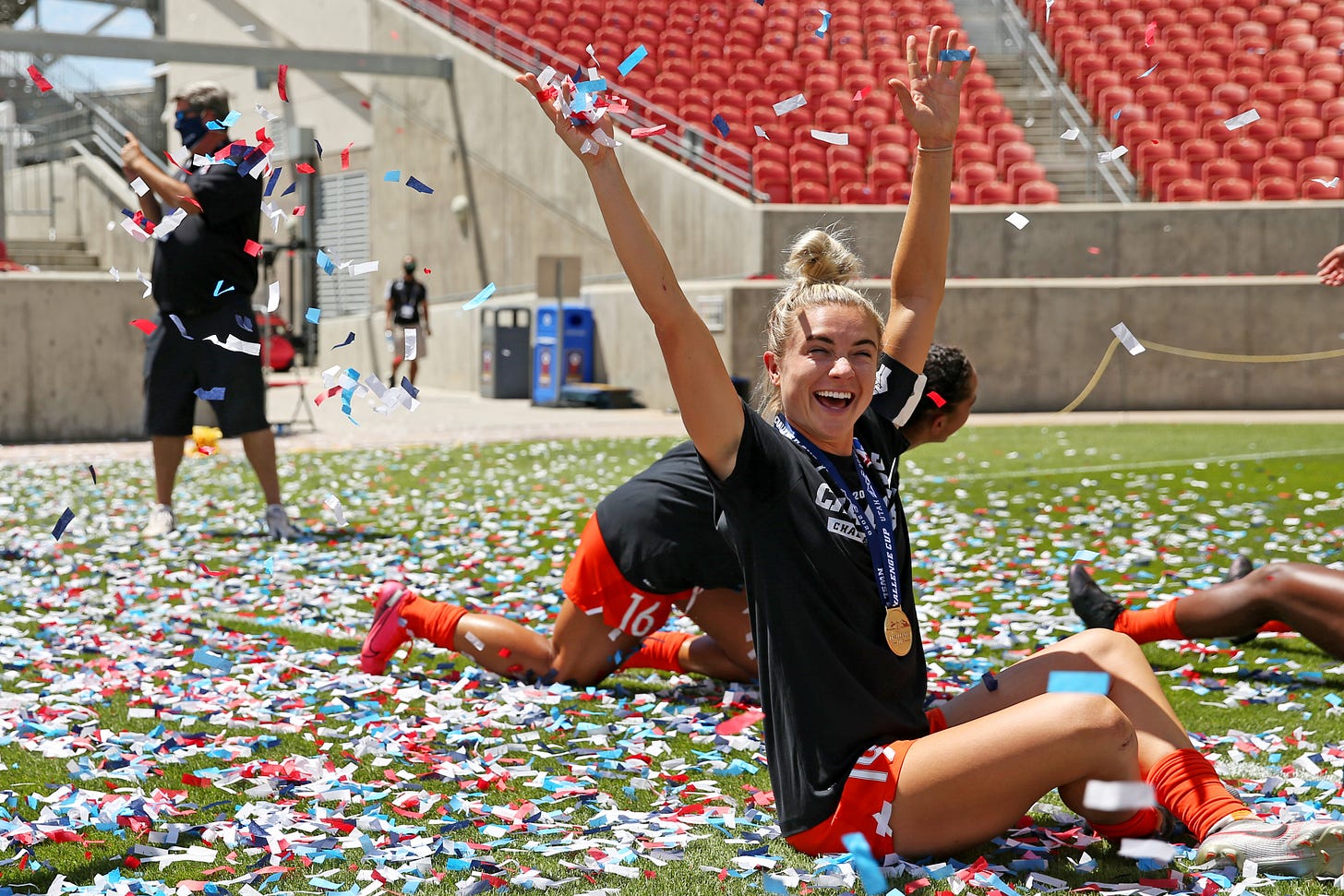 (PIC: Kristie Mewis of the Houston Dash celebrates winning the Challenge Cup; via Getty Images)
The NWSL is only in its eighth season, and is much younger than its pro counterparts. And yet, in so many respects, it is leading the way.
So while the WNBA and NBA are testing their respective quarantine protocols in their wubbles and bubbles in Florida; the MLS Is Back tournament is holding is its breath headed into the knockout rounds; the Miami Marlins are bringing half of the MLB opening week to a halt because they put their short stop in charge of pandemic protocols; and the NFL is fumbling its way into training camps, despite the fact that one team's infectious disease specialist has tested positive for the coronavirus; I thought it would do us all some good to pause for a second, take a socially-distanced breath, and see what lessons can be gleaned from the Challenge Cup.
Step 1: Start with science
March 10 was Baird's first day on the job as NWSL commissioner. On March 11, her second day on the job, NBA star Rudy Gobert tested positive for the coronavirus, and the entire sports industry came to a screeching halt in a matter of hours.
Baird has an impressive and extensive resume, featuring three years as the Senior Vice President of Marketing and Licensing for the NFL, and a decade as the Chief Marketing Officer at the United States Olympic and Paralympic Committee. But nothing had quite prepared her for this.
"You're used to dealing with disruption and change in sports, I get that," Baird said. "But I started calling around and talking to people, what was quickly apparent was, nobody had a playbook. No one had a game plan."
So, she had to make one herself.
On March 12, Baird announced that all preseason matches had been cancelled. The following day, she issued a league-wide moratorium on training She listened to the scientists, and understood immediately that the virus wasn't merely a passing storm; there wasn't going to be no return to "normal" this summer.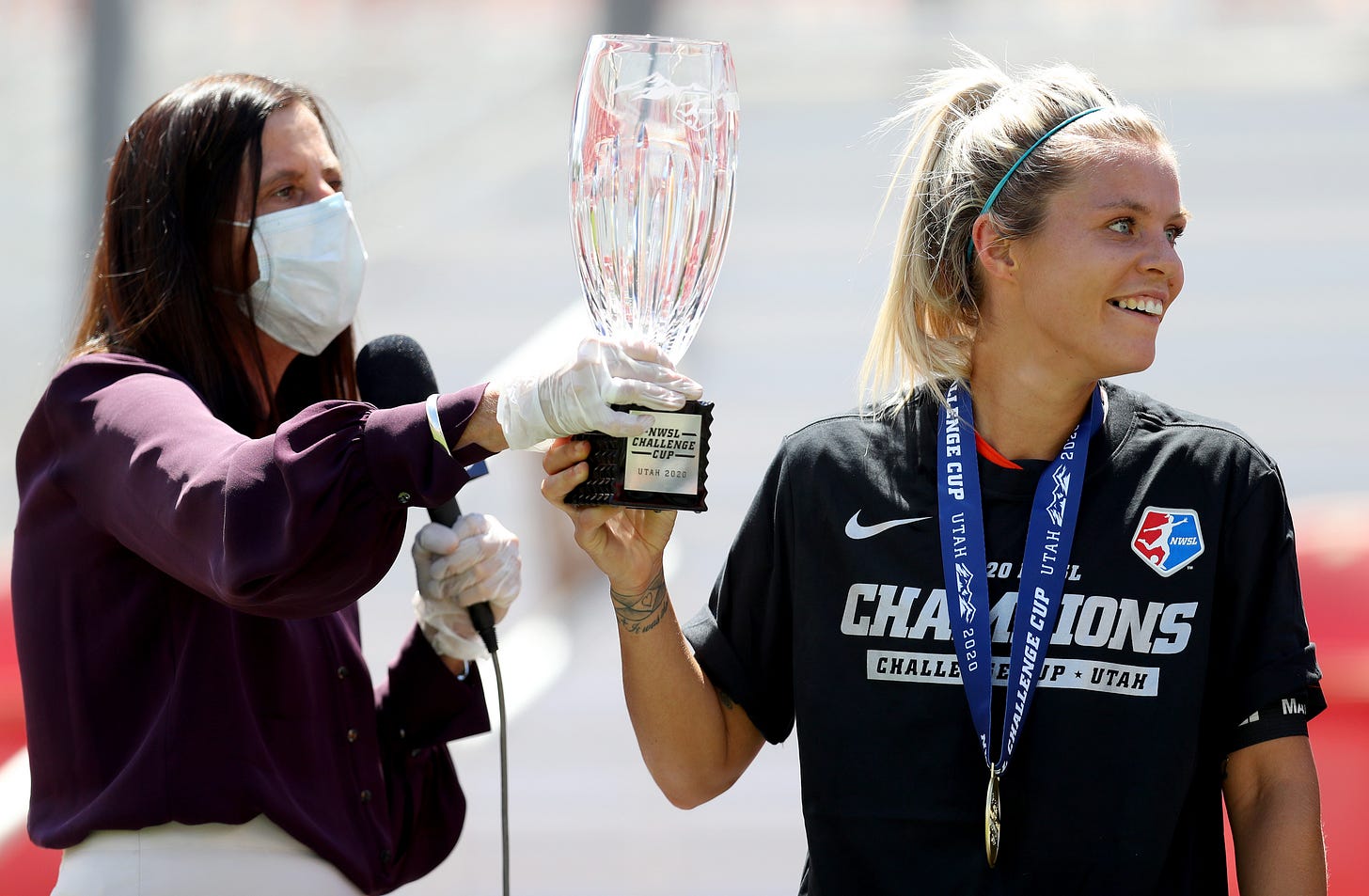 (PIC: Baird, with her mask on, hands the Challenge Cup trophy to Houston Dash's Rachel Daly; via Getty Images)
So, while sports executives around the country remained in denial, she moved swiftly to acceptance and action.
Before the end of March, Baird had assembled medical task force of 15 physicians — including team physicians from all nine teams, the chief medical officer of U.S. Soccer, and other experts on infectious diseases. While it was difficult at times to get that many doctors on the same page, she recognized that coronavirus protocols were being set on the local level, so she needed people familiar with every market.
That task force established the NWSL's five-phase return-to-play protocols, which have been the cornerstone of its successful comeback.
Step 2: Cater to your strengths
The 2020 NWSL season was scheduled to start on April 18 and end on October 18, with the playoffs running until November 14. But in her first weeks on the job, Baird had to completely re-envision what a NWSL season during a pandemic could look like.
After health and safety, she had three main objectives: Take advantage of the momentum created by the World Cup; develop a plan that fit within their limited budget; and find a way to add a value proposition to broadcasters and sponsors.
A couple of things worked in the NWSL's favor here. Since preseason began just days before the world stopped, many players were already in market and living in their team-provided housing. Since the NWSL still only has nine teams, the league was able to be nimble about scheduling and accommodations.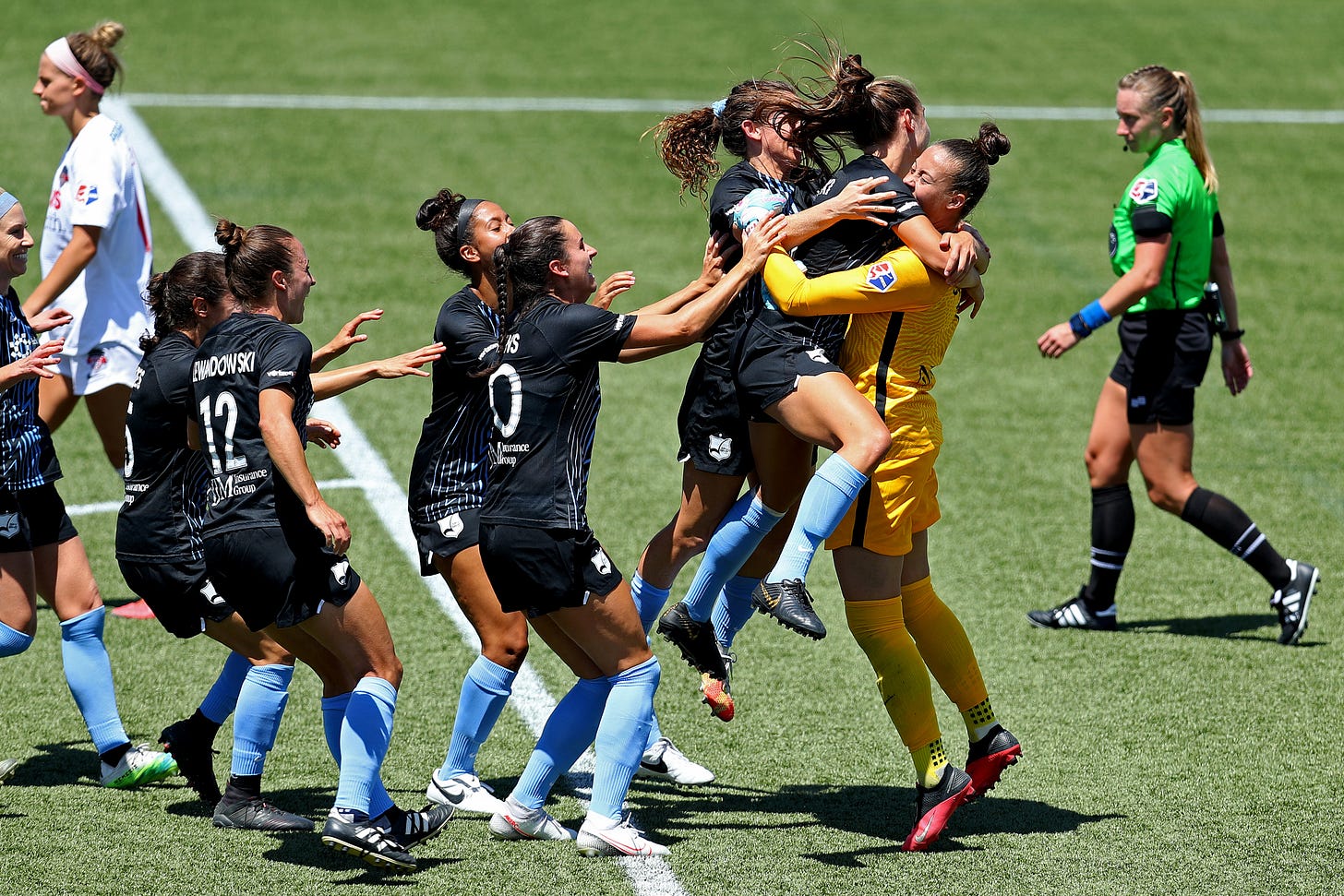 (PIC: Sky Blue FC celebrates its quarterfinal victory in the Challenge Cup; via Getty Images)
Also, it was clear by mid March that the Summer Olympics would be postponed or canceled. That gave Baird the idea to replicate that tournament format — a series of group play matches, followed by knock-out rounds from the quarterfinals to the championship. The tournament could all take place in one clean site, and ensure each team was able to play 4-5 matches.
"That was definitely a way to grow our audience, because people are familiar with an Olympic style tournament," Baird said.
On May 6, players began phase one of the return-to-play protocol — they were permitted to transition from zoom-only workouts to voluntary household workouts at outdoor team training fields.
"That was the game plan that we wrote," Baird said. "And honestly, we're able to write it pretty quickly, and return to play because we're smaller, more agile, we're solving for, you know, nine teams."
Step 3: Keep you league in one place, preferably not in Florida
One of the most important decisions for every pro sports league right now is location, location, location. According to Baird, the NWSL received four host bids, but the one submitted by Utah Royals FC owner Dell Loy Hansen instantly stood out from the rest.
"We looked at Utah, immediately because of how their response to COVID was," Baird said.
When the tournament was announced, Utah only averaged 4.4 coronavirus cases per 100,000 people, and was one of the best states in the country when it came to keeping the virus under control and infection rates low. Additionally, ARUP, a major coronavirus testing facility, was located right there in Salt Lake City. Baird was able to secure a contract with them, and assure bot Hansen and Utah's governor that the NWSL would not take any resources away from local Utahns.
Since ARUP is owned by the University of Utah, the NWSL was able to extend its medical coverage on the ground, to have access to more doctors, MRIs, an emergency room, and also pediatricians, which was important since they were traveling with children.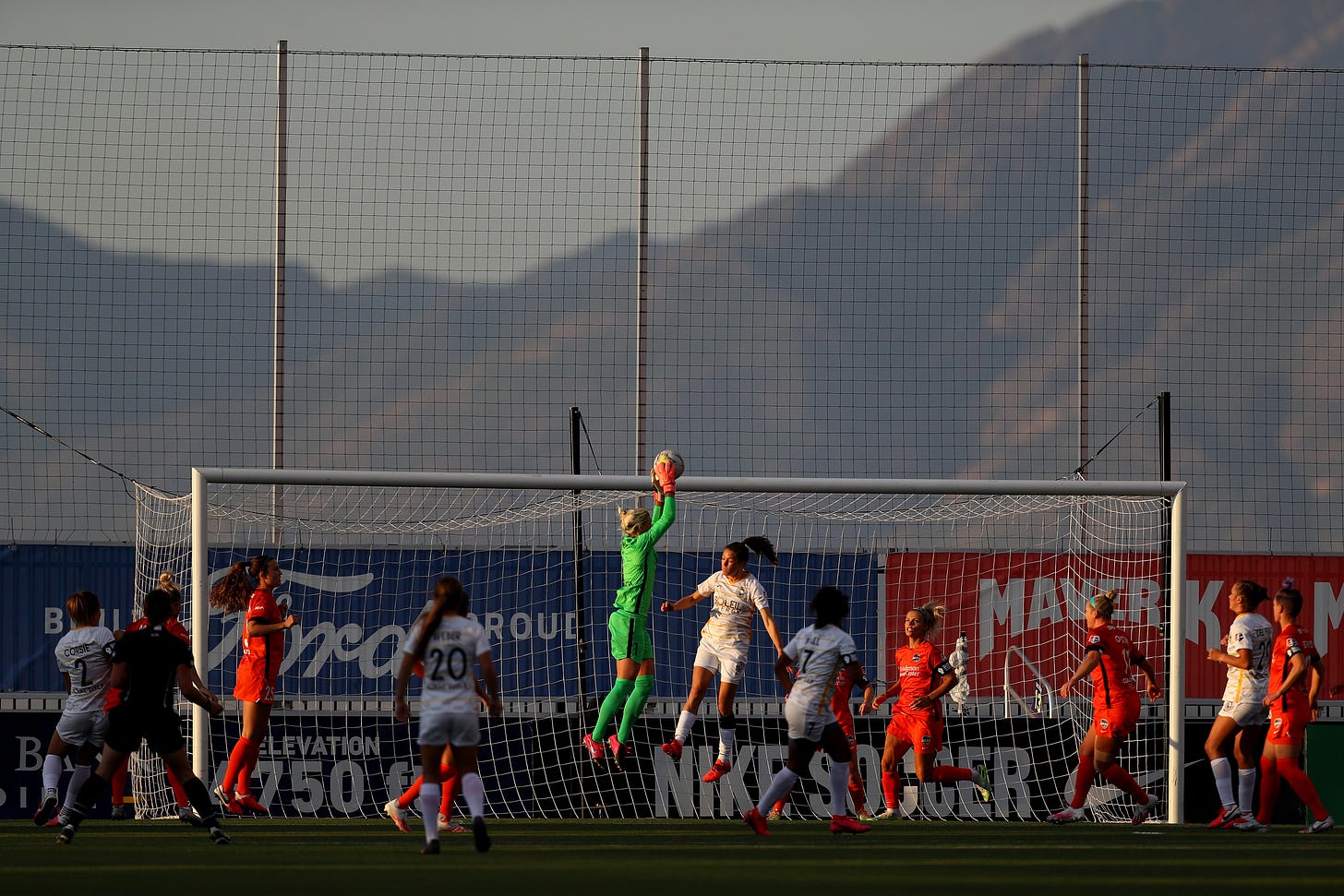 (PIC: Utah's mountains provided a stunning backdrop for Houston Dash goalie Jane Campbell's save; via Getty Images)
Hansen's proposal also included great access to facilities, since he also owns Real Salt Lake and the Real Monarchs, and has a lot of real estate holdings in Utah.
He offered two game-day stadiums — Zions Bank Stadium, which was to be used for the preseason, group stages, and quarterfinals; and Rio Tinto Stadium, which would host the semifinals and finals — as well as eight training fields. Hansen also was able to host some NWSL staff and players in apartments at the Zion Banks Academy, extensive work-out spaces and meal areas, and provide an entire Embassy Suites hotel that could be used exclusively for NWSL teams.
For Baird, Hansen's proposal checked every box. And it meant even more since the proposal was coming from within the NWSL family.
"We're in an owner's facility, doing everything that services the need of eight teams right now, and it's in an incredible location, it's a beautiful broadcast, we're housing people, we're doing everything we need to do. What a great ad for the NWSL," she said.
Of course, that doesn't mean everything was perfect. The timeline to pull off the tournament and get the facilities ready was incredibly tight; up until the last minute, apartments were being furnished, hotel accommodations were being shifted, testing schedules were being tinkered with. Even the first week of the tournament, the league was working hard to upgrade the facilities and catering options for first-class athletes.
"Ice baths. We spent a lot of time on ice baths," Baird said.
And it's important to note that players were not in a true bubble. While there was one hotel that was exclusive to NWSL teams, the league confirmed to Power Plays that said hotel only had enough space for four teams: the Portland Thorns, Chicago Red Stars, Washington Spirit, and North Carolina Courage. Utah Royals players were able to stay in their typical NWSL season accommodations — which, for most, meant apartments at the Academy.
But the other three teams were in hotels that were also open to the public. The Sky Blue FC and the Houston Dash each had their own floors in one hotel in town, and the OL Reign were alone in a sequestered space within a third hotel. (After the quarterfinals, the four semifinalists came together in a hotel exclusively for the NWSL for the remainder of the tournament.)
While Utah is not as much of a coronavirus hot spot as, say, Florida, that doesn't mean it's been immune to the nationwide spike in cases this summer. By the time the tournament started on June 27, cases had surged from 4.4 per 100,000 people to 15..7 cases per 100,000. During the tournament, it peaked at 20.4 cases per 100,000.
Step 4: Be generous to your players
Every step so far has been important; but this is the one I found the most impressive. While many leagues — particularly the WNBA — have fought against players who did not feel comfortable playing this season due to the pandemic, the NWSL and NWSL Players Association came to a very player-friendly agreement at the start.
Players were given complete freedom to choose whether or not they felt safe playing in the Challenge Cup; if they opted out, no questions were asked, and their contract was still guaranteed — housing, insurance, and benefits included.
While some feared such an arrangement would lead to a slew of withdrawals, it turns out, that if safety protocols are established, athletes want to play for their teams! Only three national team players opted out for health reasons — Megan Rapinoe, Tobin Heath, and Christen Press. Carli Lloyd, Mallory Pugh, and Adrianna Franch did sit out due to injuries, and five other World Cup stars weren't in Utah because … well, we'll get to that in a minute.
But the point is: The good-faith measure paid off!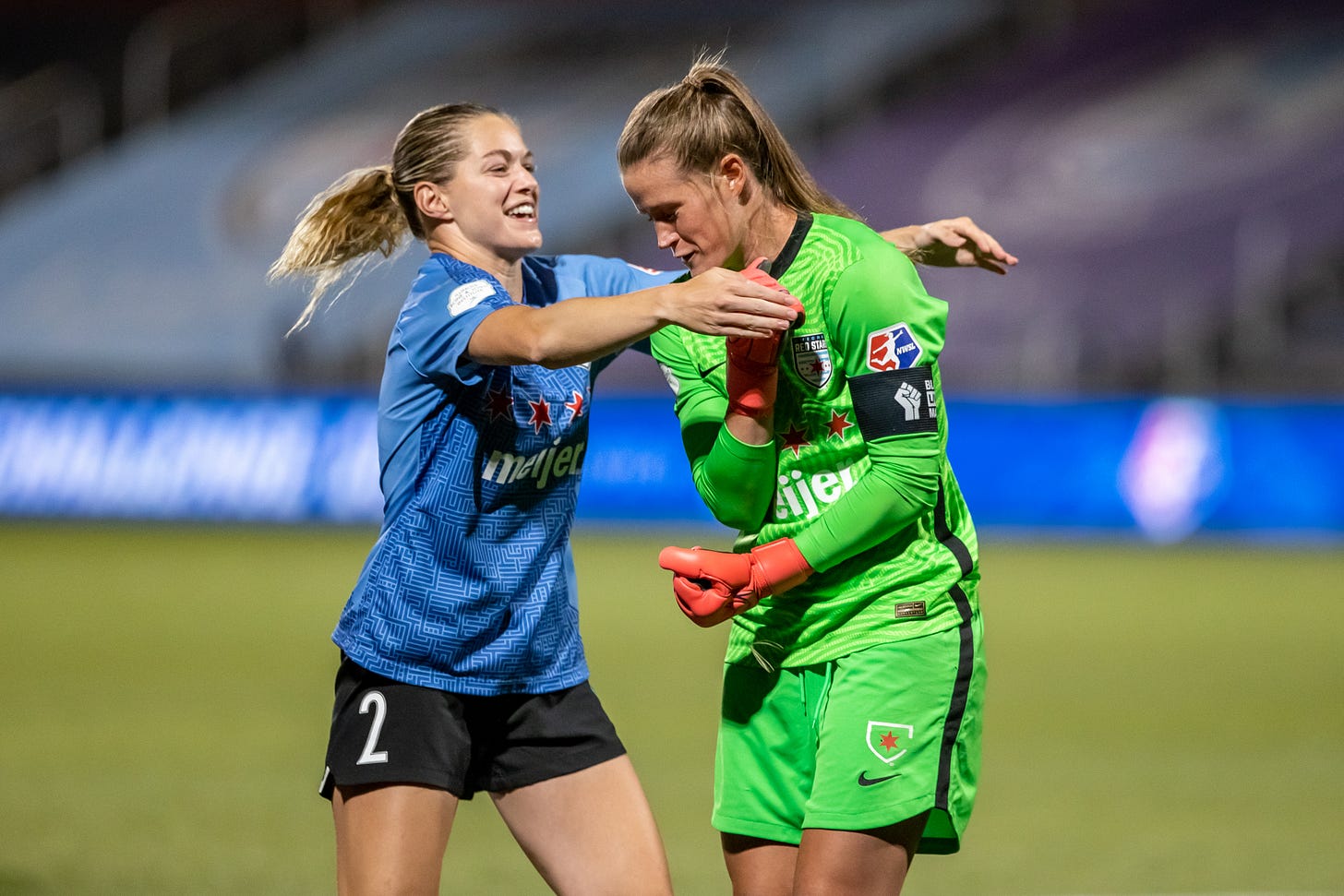 (PIC: Kealia Watt of the Chicage Red Stars hugs her teammate, goalie Alyssa Naehr, during the Challenge Cup; via Getty Images)
Baird also made sure that moms could bring their children and an additional caregiver to the tournament, and established a special coronavirus testing program just for the kids.
I also appreciated that they allowed roster flexibility to accommodate the challenging tournament conditions. Rosters were expanded to include 28 players, teams were allowed five substitutions in three windows during games, hydration breaks were added to to the schedule, and overtime periods were eliminated.
Additionally, teams who had players opt out of the tournament were provided salary cap relief — while the players received their salaries, they did not count towards a team's roster count or salary cap.
Step 5: Be willing to make tough decisions
Remember that medical task force we talked about back in the first step? Well, they established a very detailed return-to-play protocol, and the tournament protocols were particularly detailed. (The Challenge Cup is considered "phase 4" since there are no fans in the stands; fans will be the final phase.)
The protocols — which are all available publicly online, a level of transparency that is rare in professional sports — permitted players to enter phase 2 (small group workouts, with a maximum of eight players) on May 25, and phase 3 (full team training) on May 30. During these periods, players were tested weekly, and there were daily symptom checks.
Unlike the NBA and WNBA, the NWSL held teams held their training camps across the country, primarily in their home markets. Teams weren't scheduled to arrive in Utah (via a charter plane) until June 24, just three days before the tournament kicked off.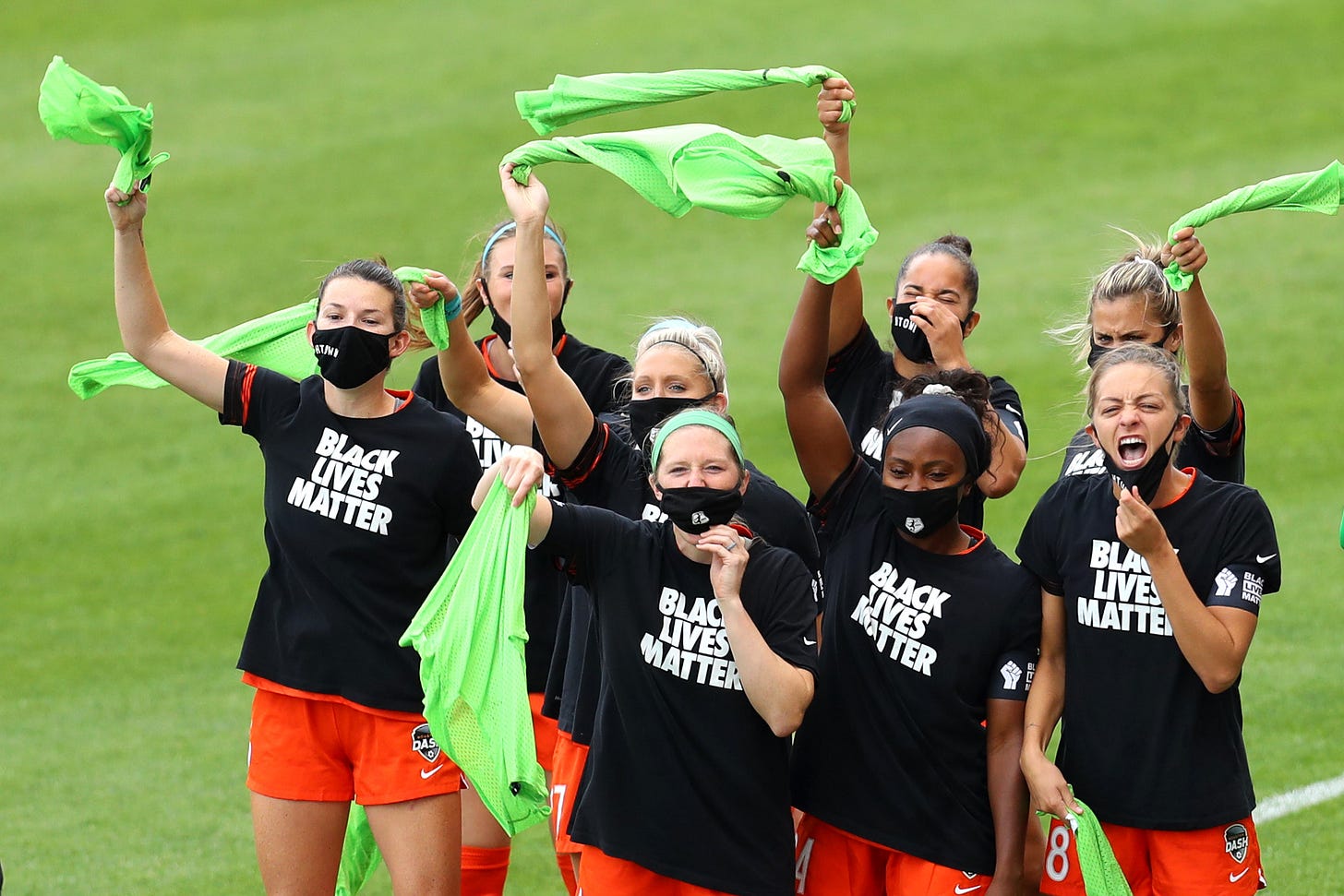 (PIC: Players on the sidelines had to wear masks to cheer on their teammates; the masks were, however, supposed to go over the mouth and nose; via Getty Images)
But on June 18, the league announced that a player tested positive for COVID-19, and on June 22, announced that at least six Orlando Pride players and four staff members tested positive for COVID-19. Given the quarantine and testing protocols that every member of the team would be required to follow — which would take at least a week — and the fact that the Pride were scheduled to play on the opening day of the tournament, there was no logistical way for the Pride to make it to the Challenge Cup.
So, the Pride withdrew.
It was a devastating decision, because of how hard the players had trained for the event; but it wasn't necessarily a difficult one. The protocols led the way.
The Pride instantly alerted Baird to the positive tests. Within the next 30 hours, Baird had talked to the other owners about the issue, briefed broadcast partners CBS and Twitch, the soccer operations team had completely re-done the schedule, sponsors were updated, and the commissioner was on the phone talking to over 200 players about the situation.
"What was amazing about it was it was a mutual decision, made immediately," Baird said. "I think that's where it all came together, having a small, agile team, but also having the principles, first and foremost, which is we had to protect the health and wellness of the collective, and that was most important to the Pride and the most important to us."
Step 6: Get lucky
The NWSL did so much right during the Challenge Cup, and I certainly believe there's a lot to learn from them. That's why I spent so much time writing this piece!
But, the truth is, an element of luck was certainly involved.
The coronavirus can have a lengthy incubation period, and tests aren't 100 percent reliable, so there was certainly a small chance a player could have brought it to Utah. As mentioned above, the players were not completely sequestered in a bubble; it is extremely fortunate that the players staying at the hotels open to the public didn't contract the virus. After all, based on the protocols, if one player on one team caught it, her entire team would likely have to quarantine for at least a week, which would be the end of their tournament.
Still, the protocols were strict enough and Utah was safe enough to minimize the risk, and the NWSL and the NWSL Players Association decided that the risk versus reward equation would most likely work out in their favor. That turned out to be a great bet.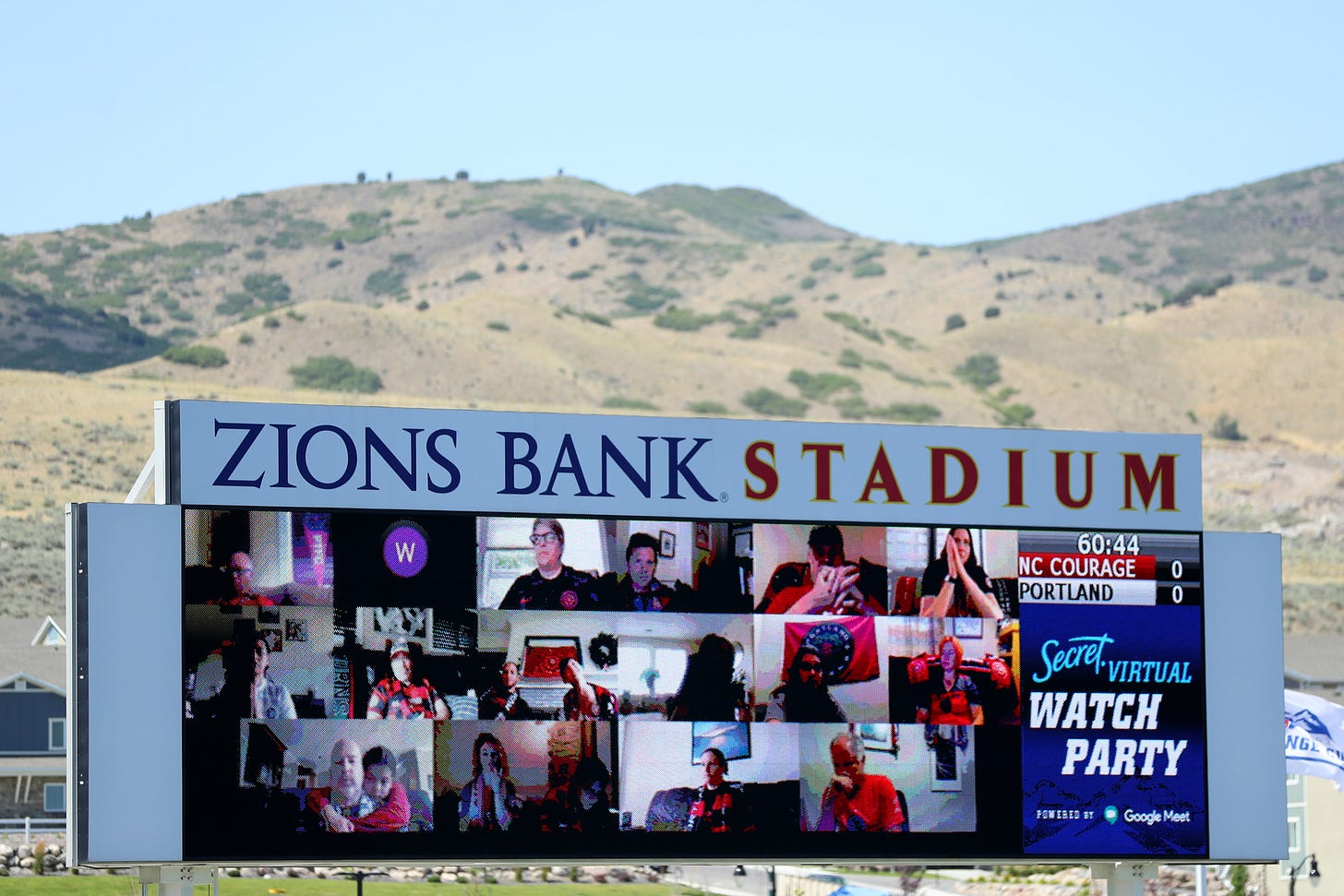 (PIC: Since no fans were allowed at the games, select supports could attend Secret Virtual Watch Parties via Google Hangouts, which would get broadcast in the stadium and on the CBS All Access streams; via Getty Images)
After all, not only did everyone in Utah stay safe, but the league managed to significantly raise its profile during the tournament.
The league unveiled partnerships with P&G, Secret, and Verizon when it announced the Challenge Cup at the end of May. Then, right before kick off, the NWSL added Google as its ninth national sponsor.
As Jeff Kassouf at The Equalizer put it, this was particularly notable given not only the global pandemic, but the struggles that the league has had in the past to add sponsors.
"For context, the biggest sponsorship news out of the league in 2015, a World Cup year, was that mangoes became the official superfruit of the NWSL," he wrote.
(The rest of Kassouf's article on how the NWSL managed to make the most of its partnerships and sponsors during the Challenge Cup is behind The Equalizer's paywall, and I highly encourage you to subscribe to it if you care about women's soccer.)
As if that wasn't enough, fan engagement was off the charts on social media throughout the tournament, the quality of play was really good given the difficult conditions, and, oh yeah, the league had two big expansion announcements during the tournament — the new Louisville franchise unveiled its name and logo, and a Vanity-Fair-Oscar-party's worth of celebrities revealed they were launching a team in Los Angeles.
So, after weeks of holding my breath — and a couple of weeks of holding this article, because the curse of a sports journalist can feel incredibly real at times — congratulations are officially in order.

Thank you so much for supporting Power Plays, friends! Don't forget to sign up, take advantage of the huge discount that expires on Wednesday, and share this newsletter with your friends!