The Super Bowl remembered women exist. Is that enough?
Plus: Happy National Girls and Women in Sports Day!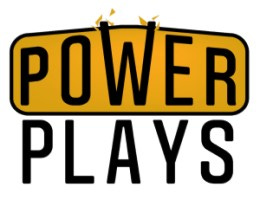 Hello, friends. Welcome to Power Plays, where we take down the sports patriarchy, one newsletter at a time.
I can't thank you all enough for the support, particularly last week, which was difficult for many of us. Being able to talk through my feelings on Kobe and Gigi's death with all of you helped so much. If you missed WNBA center Imani McGee-Stafford's guest post on Kobe's complicated legacy, please go back and read it. You don't want to miss it.
Please sign up for Power Plays and spread the word, if you haven't already. It helps so much.
Before we get going, a couple of quick things:
First, Happy Nationals Girls and Women in Sports Day! I don't really have anything special planned, because, well, every day is #NGWSD here at Power Plays. But I did want to point you all back to the newsletter I wrote a couple of weeks ago: Data shows the staggering state of gender inequity in sports. It's based on the latest report from the Women's Sports Foundation, and gives us all a stark reminder of why we're fighting the good fight.
ALSO: Last Monday night at the UConn vs. USA Basketball game, I had the honor of meeting up with a few Power Plays readers! It was beyond incredible to meet you all thank you so much for not leaving me alone standing outside section 206! I can't wait for the next Power Plays meet-up. I'll keep you posted.
And if you're one of the 10 fabulous people in the photos below, please send me an email identifying yourself — I meant to make sure I had the correct email for everyone before we parted, but of course I forgot. Say hi: lindsay@powerplays.news.
Okay, friends. Let's do this.

Super Bowl reflections
Every day in this era lasts about two months, but believe it or not, the Super Bowl was less than three days ago. I've tried to move on, but truly, I haven't been able to stop thinking about it since — and not just because of Kyle Shanahan's fourth-quarter meltdown, Patrick Mahomes' heroics, or Andy Reid's post-game quotes.
Rather, I've been thinking about the messages that the Super Bowl, as One Collective Entity, sent to women. And considering my e-mail inbox is still filled with P.R. pitches talking about what a "win" this Super Bowl was for women; my facebook page is still arguing over the appropriateness of the epic halftime show; and my twitter timeline can't stop talking raving about Katie Sowers, I don't think I'm the only one still mulling it over.
Let's start with the positive: Katie Sowers is a revelation
Often, I find the "OMGZ THE FIRST WOMAN TO XXX" talk to be patronizing. But I can't get enough of the Katie Sowers talk. If you're unaware, she's an assistant offensive coach for the San Francisco 49ers, and is now the first woman and first openly gay coach to coach in a Super Bowl.
Sowers doesn't want to be the center of attention, but she also recognizes how big of a deal it is to be able to have representation. Last year, I interviewed Sowers for the feminist sports podcast I co-host, Burn It All Down, and here's what she told me about the moment she started dreaming about coaching in the NFL:
"It wasn't until I saw Becky Hammon coaching in the NBA. I remember, at the time, I was coaching youth football, I was trying to get into coaching at some level. I was thinking basketball at that point, because that was really what I had my mind set on since after moving on from football when I was young. But I saw (Hammon), and I remember posting on my Instagram, 'NFL, I'm coming for you.' It was a picture of me coaching youth football at the time. That was the first moment where I had an aha moment. And it's crazy, with how passionate I was about football, how passionate I was about coaching, that it never registered to me that (coaching in the NBA) could be a possibility for me. And seeing that really made it a possibility and I knew it was gonna happen."
I think it's safe to say that Sowers is having the same impact that Hammon had on her on girls and women all over the world.
Owners and directors and performers, oh my!
While Sowers' presence was the most moving to me, she wasn't the only trailblazer on hand Sunday.
According to the (too) many P.R. pitches I have received, this was the first Super Bowl where both teams have women as owners — Denise York, the Niners' co-owner and co-chair, and Norma Hunt the matriarch of the Chiefs.
But truly, nothing about that inspires me in the slightest. I am sure both of them are lovely women and work hard and love football, but being a billionaire and owning a team with your husband aren't quite the #GOALS that get me up and going. (Though, I'm sure it works for many.)
This note from Richard Deitsch, however, really had me pumped:
So often what we're watching in sports is, quite literally, being directed by the male gaze. It's so crucial that while we push for equality on the field and in front-facing media, that we include producers and camera ops and directors as well.
And, of course, I was completely empowered by the halftime show. JLo and Shakira were sensational, and as far as I'm concerned, the complaints against it are racist, sexist garbage. Yes, they looked great and their songs are so much fun, but I was most enamored with their strength and energy and joy.
As I tweeted this during the game, their performances were both artistic and athletic. (I must note that while it is not fun to have a tweet go that viral, it is fun to upset so many men — and a few Karens.)
Dancers are athletes. I stick by my tweet. I cannot even fathom the amount of training it took to get in shape enough to pull off a performance like that. I am grateful they exist.
I felt a bit conflicted about the commercials, though
We've come a long way from the days of oversexualized Go-Daddy and Carls Jr. commercials. In recent years, companies have recognized that women are actually watching the Super Bowl, too, and have started — imagine this — targeting ads to them. This year, some of those ads even remembered that women play sports, too. Imagine that!
Right before the Super Bowl kicked off, Fox played an ad for the NFL that included 32 kids playing football; one-third of them were young girls. The ad also featured Toni Harris, the first woman to receive a full college scholarship as a position player, U.S. soccer champion Carli Lloyd, and 97-year-old Chicago Bears owner Virginia Halas McCaskey. In the spot, Harris tackles former NFL linebacker Ray Lewis, and Lloyd, of course, is a field goal kicker, and McCaskey hands out the game ball.
Even though I felt icky watching the blatant use of kids to spread NFL propaganda, any commercial that sees Toni Harris tackle Ray Lewis gets high marks from me.
By my count, there were three other commercials during the game that featured women in sports. One was Microsoft's great Katie Sowers commercial, which has already been airing for a couple of months. Another was a Budweiser commercial that casually included the USWNT in a montage of "Typical Americans."
Those were fine! But then there was the Secret commercial. If you have't seen it yet, here it is. It got a lot of rave reviews, but I honestly hated it.
Now, I didn't hate it because Carli Lloyd and Crystal Dunn were football players. That's great. What I hated was the fact that it was a SECRET that they were women?! That the crowd cheering had no idea they were women? This is ridiculous. People would know! It would have been a much more powerful commercial if the reveal had only been for the television audience, and the crowd in the faux-stadium hadn't even blinked an eye because this was so normal in their reality.
It felt gimmicky. Which, I know ads are, by nature, gimmicky. But this really hit a sore spot, because the gimmick shouldn't need to be the fact that a woman is good at a sport and people are shocked.
This gets to my main problem, with, well, everything.
Supporting women's sports is more than just a P.R. slogan
As genuinely happy as I was with Sowers and JLo and Shakira and the producers, and as relieved as I was to have female athletes featured as athletes in the commercials, and not sexual props, I still left the Super Bowl feeling frustrated.
It's a feeling that has remained in the pit of my stomach today, as brands and organizations celebrate National Girls and Women in Sports Day. Like, it's good that you want people to know that you support women in sports, but it feels hollow when you're not actually doing the hard work to support women in sports. A tweet isn't going to cut it, and neither is a gimmick.
If you think women's soccer is so wonderful, just as it is, why can't Lloyd and Dunn be inspiring without having to moonlight in another sport? Why aren't brands using WNBA stars like Elena Delle Donne and Skylar Diggins-Smith and Brittney Griner as their spokeswomen? Why can't we get women in the football booth on a full-time basis?
And I'm sorry, ESPN and Bleacher Report, but I'm not going to get emotional over your tweets about #NGWSD when I believe that between the two of your companies, there are maybe three reporters who cover women's sports on a full-time basis?
I know we've come a long way. I know that there was progress was on display on Sunday night, and I truly enjoyed it. And I know that I've been in a bad mood for the past few days, which could be the root of all of this. But every step forward reminds me just how possible true progress is, if only the Powers That Be would stop patting themselves on the back for supporting women and girls and nonbinary people in sports, and just actually do it.
Speaking of that, here's a link to the Women's Football Alliance's 10-week schedule — its season begins on April 4, the same day the season kicks off in the Women's National Football Conference. I'll have more on women's football in the next couple of months, but there are teams all over the country. Let's get out and cheer.

From the archives: 'Ignored wives study the enemy'
Enjoy this gem of an article from the New York Times on October 5, 1983.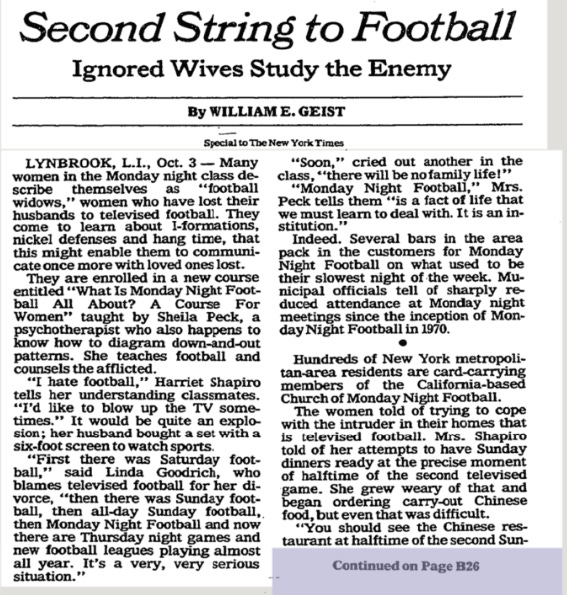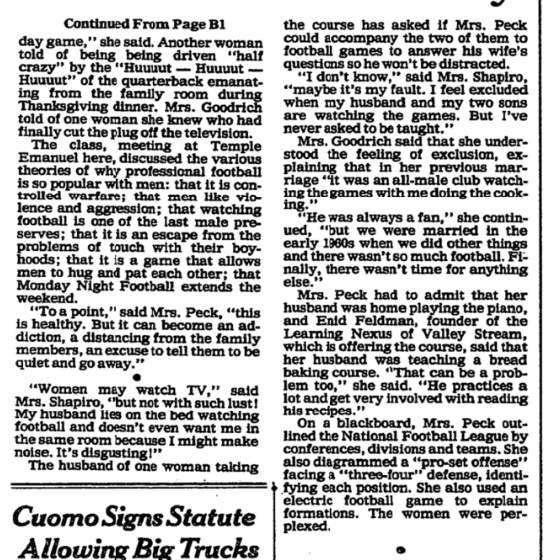 There's just so much going on here.

Thank you all so much for following Power Plays! See you all tomorrow for a thread. (We're on a Wednesday/Thursday/Friday schedule this week.)