The telling tale of two junior hockey broadcasts
New year, same old shit.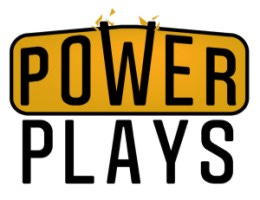 Welcome to Power Plays, your beloved no-bullshit newsletter about women in sports.
I know I sound like a broken record, but I have it on good authority that everyone in the world hasn't subscribed to this newsletter yet, so I still have to kindly ask that you do your part to fix that, and add your email in the box below.
You can also help me out by spreading the word! Like this:
Okay, let's dive right in, shall we?

Boys get prime time packaging, girls get a fish-eye lens
On December 26, 2019, two International Ice Hockey Federation (IIHF) world junior championship tournaments kicked off — the men's version, the IIHF World U20 Championship, was played in the Czech Republic, while the IIHF World Women's U18 World Championship, took place in Slovakia.
But while the events were similar in name and significance, when it came to broadcast investment, the two events could not have been more different.
Every single game of the men's tournament was given the bells-and-whistles broadcast treatment from TSN, a Canadian sports network that showed all the games live with the full backing of a top-end broadcast crew. Viewers were treated to the same production quality — if not better — as they would expect during a NHL or Olympic game.
Meanwhile, during the first few days of the women's tournament, the games were streamed on a security camera whose footage was so bad, it might not even be admissible in court.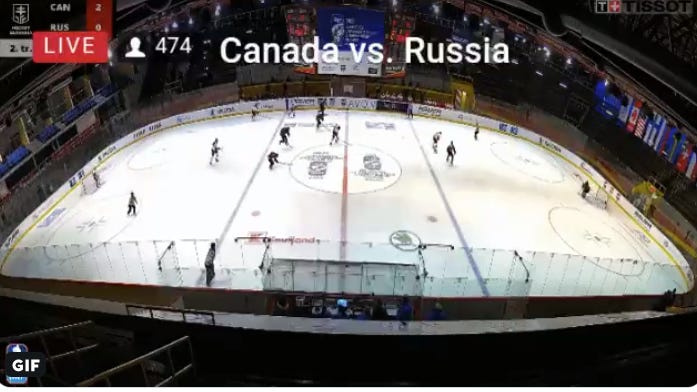 If you think the static shot is bad, just look at how nausea-inducing it looks in motion. Thankfully Kirsten Whelan, a women's hockey writer at The Victory Press, memorialized the mess for us all.
Honestly, I still can't believe that's real. How does the international governing body of a sport even, for a single second, think that it anything close to acceptable?
As you might imagine, there were plenty of complaints by viewers, who had turned into the streams with the hopes that they would be able to identify players, and maybe even follow the action without getting queasy.
The IIHF admitted that the stream was sub-par, but blamed the local organizing committee in Slovakia for the poor quality.
After a few days, there was a better-quality, multi-camera stream available, thank goodness. But still, it was dark, there were no commentators, and the graphics were iffy at best.
The men's juniors tournament became a big deal because TSN made it a big deal
In order to fully grasp what all of this meant, I called up the brilliant Dr. Courtney Szto, assistant professor of kinesiology and health studies at Queens University and senior editor at Hockey in Society, for some (Canadian) perspective.
"[Men's World Juniors] has become very much a cultural institution in Canada, purely because someone in the media decided to invest in it," Szto told Power Plays. "It was just investment. It's really that simple. Somebody saw potential there, and they tried. But then with the women, they don't try."
In 2018, Scott Stinson at The National Post detailed how TSN pretty much single-handedly "transformed the world juniors from small-time curiosity into must-see TV."
The network bought the rights to the entire tournament back in 1991, when it was, to directly quote Stinson, "the broadcasting equivalent of a speculative mining stock."
TSN bought the rights because the tournament took place around the holidays, which was a dead time for the network, and they needed something to fill its airtime.
At first, TSN just showed five games in the tournament. The stands of the games were almost barren — dozens were there, at most. There wasn't a huge demand to see the games, in person or on television. But as the years went on, TSN started to unleash the full force of its promotional and production chops onto the tournament.
"There was a time at our network where basically everyone went on vacation except the guys doing the world juniors," says (Paul) Graham, now TSN's vice president and executive producer of live events. SportsCentre — then called SportsDesk — mostly showed year-in-review type stuff and canned highlight packages. By the end of that decade, TSN started to put its full might behind the tournament sending a much larger crew, making live world juniors content a big part of the daily news shows, and telling the stories of not just the Canadian team but the NHL prospects from different countries.

"Then it expanded into a promotional, marketing and business thing where really the whole network got involved," Graham says.
Today? TSN's well-produced broadcasts of every game — please note that they don't just cover Canada's games, they broadcast every single game in the tournament — get picked up and broadcast all over the world. In Canada, the tournament has become an integral part of the holiday season.
On Hockey in Society, Szto pointed out that TSN's promo for the event includes the line, "The future of hockey lives here." Of course, what they really mean is "the future of men's hockey."
Because while TSN built the men's tournament from an afterthought into appointment viewing, it hasn't shown any interest at all in the women's tournament.
"I think it just exacerbates the disparity between men's and women't hockey, and how early it starts," Szto said. "It's beaten into you that hockey is Canada's game, but girls have never been a part of that conversation."
Hold on for a second, let's watch this video
It's been hard for me to grasp just how seriously Canada takes the men's juniors tournament. And then I saw this music video.
Oh. My. Goodness.
I thought it was a parody at first. It is not.
The men's tournament gets an uncomfortably earnest official song and music video. Women get a fish-eye lens.
This is par for the course for women's sports
The saddest part of all of this? None of it is really surprising. Men's sports get the investment from the governing bodies and the television networks. Women's sports get the scraps, if anything at all.
When you look at how little institutional support women's sports have received across the board, it's phenomenal how successful they are! Imagine how popular — and profitable — women's sports could be if they received even one-third of the investment and patience that men's sports receive.
This whole saga reminded me of a piece from last September on front office sports, "NBC Finds Success With Premier Lacrosse League In Year One."
It is about how NBC has worked closely with the PLL as a broadcast partner, and has already well surpassed its preliminary audience targets.
The article opens by saying, "NBC Sports prides itself on taking leagues that may be unfamiliar to sports viewers and turning them into top-tier TV properties."
As happy as I was for the PLL and NBC, I couldn't help but fume after reading the article. Why, oh why, aren't we seeing any of that initiative put into broadcasting a women's professional league? How did PLL get to skip to the front of the line?
The trolls like to come out in full force any time we complain about the lack of coverage or support for women's sports, and claim, "No one cares." That's wrong, of course. But it's also worth noting that caring is not a prerequisite for investment in men's sports. The investment comes first.
The women's tournament was still thrilling, and more than 10,000 people watched the final
It's important to note that despite all of this bullshit, the women's U18 world championships was still a phenomenal tournament, capped off by a thrilling U.S. win over Canada in overtime, thanks to Kiara Zanon's golden goal.
You can read more about the game over at The Ice Garden.
And there was a silver lining. Nearly 11,000 people tuned in to the shoddy stream to watch the final. That's despite the fact that there was no television coverage and the IIHF's own twitter account tweeted more than 60 times about the men's tournament and less than 10 times about the women's tournament on January 2, the day of the women's gold and bronze medal games.
There is an audience for women's hockey, and they are dedicated. But both the audience — and, more importantly, the athletes themselves — deserve far better.

From the Archives: Remembering the 1914 women's hockey league
So, excuse my boastfulness, but today I have a real gem for you.
It seems that in 1929, Madison Square Garden was in talks to launch a four-team women's pro hockey league. The model was a Canadian league that had folded 15 years prior, the Lower Canada Women's Professional Hockey League.
In this article, reporter Richard Harrison reflects back on the league that shuttered in 1914. And my goodness, I hope some of my readers know more about the LCWPHL, because now all I want is to write a movie script based off of it. It. Sounds. Phenomenal.
Enjoy this article, from The Courier-Journal on December 22, 1929.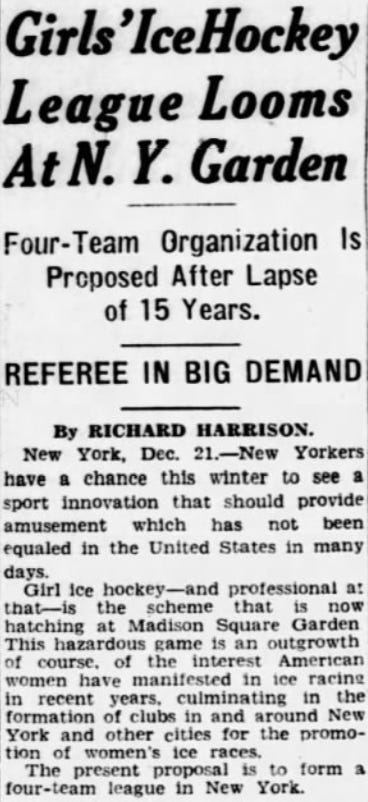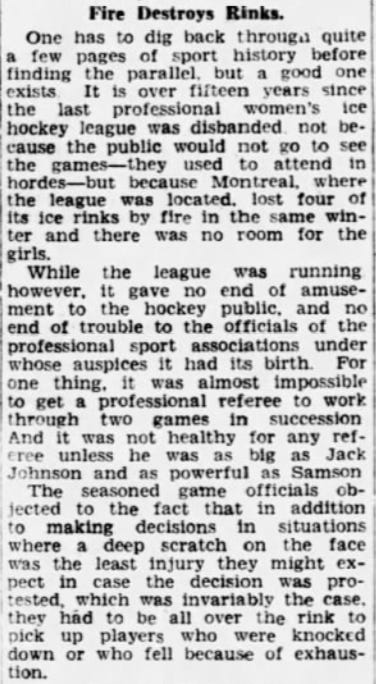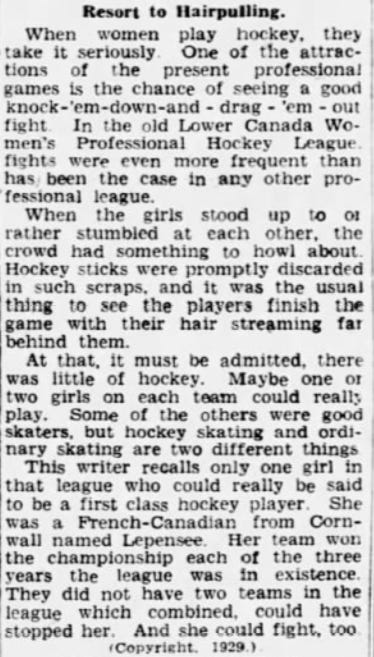 That's all for today, friends. I'll be back on Wednesday.
Remember to sign up, share, and don't let the patriarchy stop you from shining.