The WNBA didn't need a white knight
In the new CBA, the league bet on itself.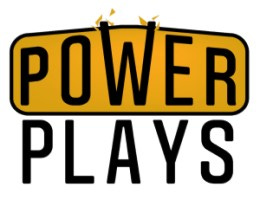 Hi, friends! Welcome to Power Plays, where we topple the sports patriarchy, one newsletter at a time.
If someone forwarded you this newsletter, or you got here through a link from social media or another website, be sure to subscribe by adding your email in the box below. I can't do this without you.
And spread the word, too, if you're so inclined. I can't tell you how much it helps. Like this:
Today, we're obviously going to be talking about the new WNBA collective bargaining agreement (CBA). I have a lot of thoughts and feelings, and we're going to explore them together.
But first, a couple of quick announcements:
As I mentioned last week, I will be at the NWSL draft in Baltimore on Thursday, and I know that some of you will, too. Unfortunately I have not gotten my act together to plan an official get-together, but please email or DM me if you will be there, and let's figure something out. Also, be sure to keep an eye on my twitter, @linzsports, where I'll announce any impromptu meet-ups, if life cooperates. (Since I've never been to a NWSL draft myself, I don't know what to expect, which is making it hard to plan ahead.)

Every Wednesday I'm going to be joining the WiSP Sports Desk to talk about stories I'm covering for Power Plays and the latest news facing women in sports. for their Sports Desk news program. You can hear last week's podcast here. WiSP Sports is the only global podcast network for women's sport and can be found wherever you listen to podcasts.

Sorting out my feelings
We're here. In one of my first issues of Power Plays, I looked back at the history of the WNBA, and stated, "Collective action and solidarity is the only way forward for women's sports."
The new CBA between the WNBA and WNBA Players Association (WNBPA) hammered that point home on Tuesday.
Over the past 24 hours, since the announcement was made on Good Morning America (!!!), I have been overwhelmed with a cycle of conflicting emotions.
I've felt ecstatic that a deal was reached, and that it was trending on twitter and featured on general-interest morning shows. That salaries are going up and rights are being broadened, that the game will go on — and on, and on, and on. That free agency can truly begin, and the speculation can end.
I've felt depressed that it's 2020, the league's 24th season, and we're just now to the point where elite players can earn over $200,000, and every player can earn more than $50,000. That it took this big of a fight to get individual rooms on road trips and full salaries on maternity leave. That we're celebrating a move from economy to economy plus.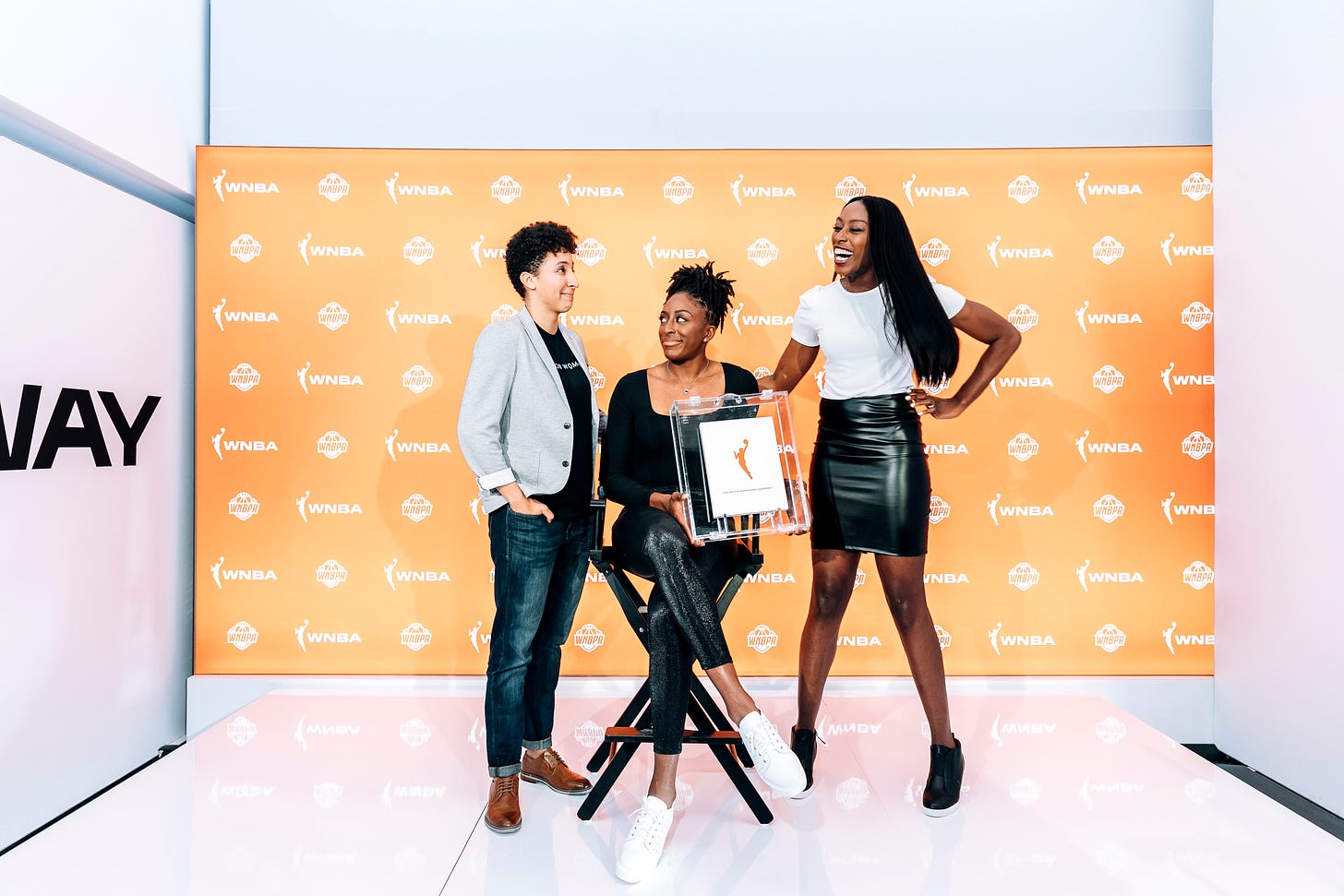 (CAPTION: Layshia Clarendon, Nneka Ogwumike, and Chiney Ogwumike. Photo via WNBA)
I've felt a deep sense of gratitude and pride for the women who fought so hard to get this deal done. For the leadership of Nneka Ogwumike and the compassion of Elena Delle Donne, the advocacy of Layshia Clarendon and the steadiness of Sue Bird. For WNBPA executive director Terri Jackson, who has been a force of nature behind the scenes, to WNBA CEO Cathy Engelbert, who I'm certain was a dogged negotiator, but who had the vision to recognize that what was best for the players and what's best for the league are not concepts at odds with one another, but rather, partners in crime.
And, I must admit, I've felt skeptical, too. Because the entire CBA hasn't been made public yet, and with these things, the devil is in the details. Because I've learned not to trust press releases. Because there is always a catch.
Honestly, I was very, very close to making today's newsletter all about the skepticism. I had an outline and a headline all ready to go, I was up late poking holes in statements and feeling very self-satisfied for and smug for finding ways to rain on everyone's parade.
But while I still have plenty of questions, the more I wrote about my doubts, the more I realized I was telling the wrong story. Of course I still have questions, but we can dig into those in future newsletters. Right now, it's okay to be excited. This is a huge deal for the WNBA, and for women's sports as a whole. It's a giant leap forward, an imperfect, imaginative, inspiring agreement that builds beautifully on groundbreaking work of its WNBPA predecessors, and carefully constructs a new foundation that should reset the baseline for women in sports.
The trickle-down effect and ripple waves of this CBA should be felt for years to come, in all women's sports, all over the globe. (Sorry, I'm too pumped/sleep deprived to just pick one metaphor.)
Most importantly, this deal didn't depend on white knights coming out of the woodwork — or from the NBA offices in Manhattan — to save the league from peril. They weren't needed.
In this new CBA, the WNBA has redefined what investment in women's sports looks like. It's not stop-gap solutions from outsiders; it's the faith that given the proper time, resources, and support, women's sports won't need rescuing at all, because they'll be soaring solo.
A quick overview of the CBA
The full CBA is likely to be available very soon — it might even already be out when this lands in your inbox — so I'm going to save a full, nitty-gritty breakdown until I have time to dig through it all.
But I wanted to give a brief overview, so we're all on the same page. After initially "quickly" summing up the agreement in 1156 words, I gave myself a 400-word limit. You're welcome.
(If you are familiar with the details by now, please scroll down, more analysis and context is below.)
SALARIES AND EXTRA MONIES: The max salary increased from $117,500 to $215,000, which is an increase of more than 80%. Not all salaries are increasing that much, though. Matt Ellentuck of SB Nation reported that "the league's minimum salary for inexperienced players in the new CBA will increase to $57,000, and for more experienced players, $68,000. Last year, players with two years experience (or less) could earn as little as $41,965, and players with three or more years experience, $56,375."
Crucially, here are other, innovative ways for players to get cash monies in this deal. In the past, each team had $50,000 they could spend on players under contract during the offseason to entice them to stay in market and help with promotional activities. That pot automatically increases to $100,000 this year, and beginning in 2023, it will be $150,000 per team. There will also be a minimum of $1.6 million in league-based marketing agreements available to players, which could be worth $250,000 per year for top players. There will also be a new in-season tournament, called the Commissioner's Cup, and starting in 2021, a minimum of $750,000 in prize money will be available for special competitions.
One of the big trade-offs for these accommodations? Players need to prioritize the WNBA. Beginning in a few years, players who miss WNBA training camp or games due to overseas commitments will be suspended. There will be some carve-outs for national-team commitments and younger players, but this is a paradigm shift.
PLAYER ACCOMMODATIONS: All payers will get individual rooms when they travel — previously, only veteran players got their own room during road trips. Players will get economy-plus or comfort-plus flight accommodations, which is good news for basketball players, most of whom are quite tall!
Players under contract are granted maternity leave with full salary and a $5,000 child care stipend. There will be a dedicated space in arenas for nursing mothers, and, per the press release, "new, progressive family planning benefits of up to a $60,000 reimbursement for veteran players for costs directly related to adoption, surrogacy, oocyte cryopreservation or fertility/infertility treatment." The league now guarantees two-bedroom apartments for players with children.
Some restrictions on player movement have been lessened, there's a new domestic violence policy, and increased mental health support.
The CBA lasts until 2027. Eight years. A long time. (386 words! I did it!)
The WNBA is betting on itself, and it is beautiful
At first, I was terrified by how much of the success of this CBA hinges on marketing prowess and business savviness — two areas that, to put it mildly, have not always been the WNBA's forte over the past 24 years.
But the more I dive in, the more I realize, that's the brilliance of it. At the start of these negotiations, Nneka Ogwumike brilliantly framed this fight with three words: Bet on women.
That bet could have involved a monumental influx of cash from reluctant NBA owners, many of whom still view the WNBA as a burden. But that doesn't seem to be the case. The bulk of this CBA is built around new initiatives that aim to get the WNBA to the place where it is generate that extra cash itself.
The WNBA and WNBPA didn't merely bet on women; they bet on themselves.
The league has to spend a minimum of $1.6 million, directly to the players, to help market and promote the league during the offseason. While many players will still decide to play overseas, this will definitely increase the number of players who stay in the U.S. — and, even more significantly, heavily incentivize the league to actually take advantage of their presence to increase the visibility of the WNBA, engage sponsors and fans, and increase media coverage during the long winter months.
The league is also launching a Changemakers platform, which is a way to meaningfully collaborate with corporate sponsors — AT&T, Deloitte, and Nike have already signed on. And Engelbert repeatedly emphasized in the conference call that she is looking for new ways to brand and promote the league during the season — both by finding partners for the new midseason tournament, the Commissioner's Cup, and via "a new basketball event that fuses culture, music and fashion in a way that represents our players' interests, that drives in new fans, new quite frankly attention to our league" starting in 2021.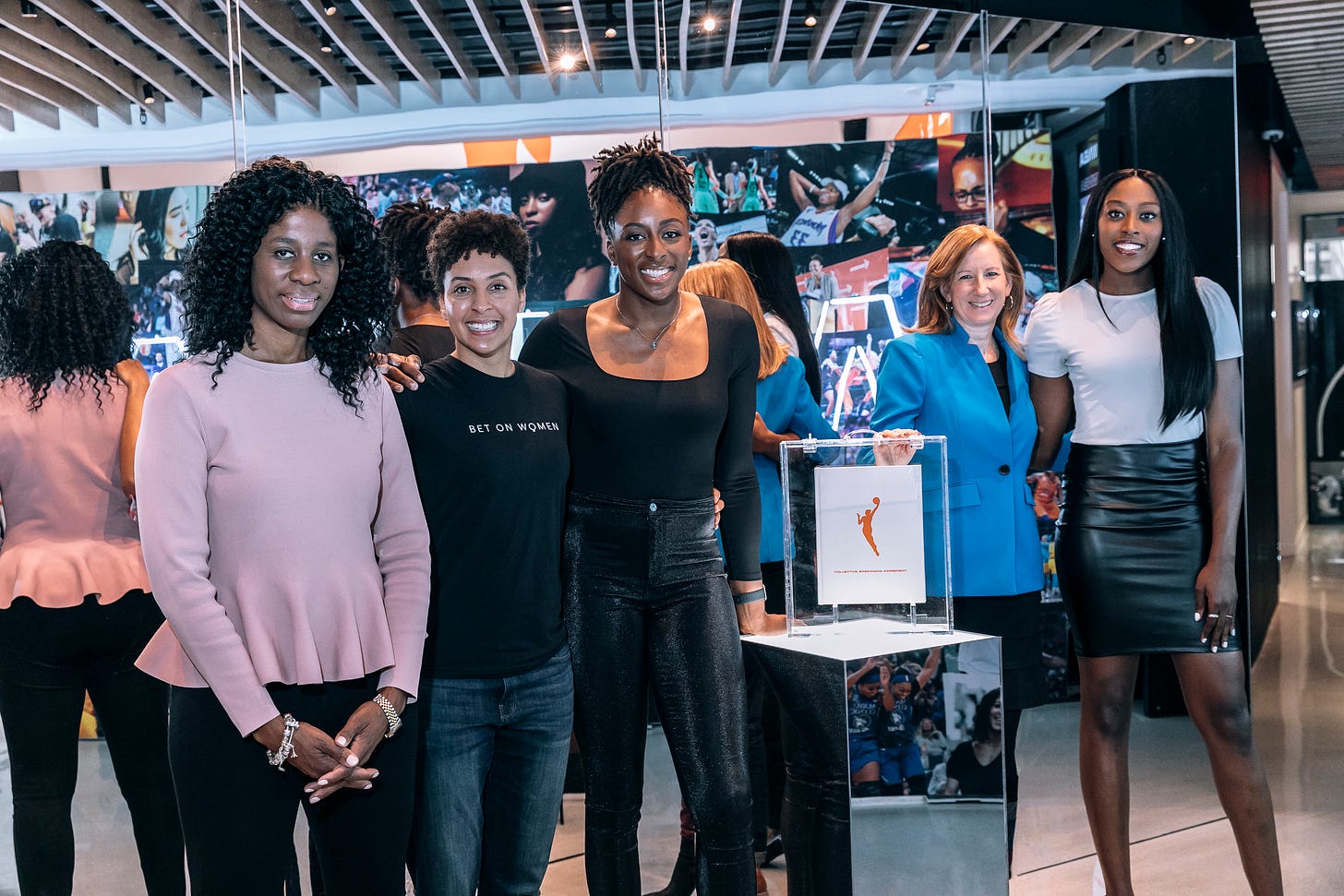 (CAPTION: WNBPA executive director Terri Jackson, Clarendon, Nneka, WNBA CEO Cathy Engelbert, and Chiney. Photo via WNBA)
While there are many areas where the WNBA needs to improve — social media, merchandise availability, television contracts, among others — one reassuring thing is that the players will have a say in how they are marketed.
"I asked Cathy on our panel yesterday how she's going to market women of color, how she's going to look at this league as a league full of black women," Clarendon said on the conference call.
"I think particularly the fact that we're going to be more directed and targeted in our marketing with a league full of women and league of color and queer women is a big hit. I think for women who have often been underpaid, we know black women are underpaid, queer people, adds a layer on top of that, fight this fight and take our power back, have this moment."
A rising tide lifts all boats
The benefits this deal has for WNBA players, present and future, is obvious. But yesterday, a tweet helped me think even bigger than that.
Rebecca Harris played for the University of Illinois, graduated in 2008, and has been playing overseas for 10 years. She talked with Power Plays from Turkey at 11:00 p.m. last night to elaborate on her tweet.
"I don't think younger players realize how big this is for everyone — we talk about the WNBA, but that doesn't even cover it," Harris said.
"I could do backflips. A lot of WNBA players talk about getting more money in the W. Well, if they don't come overseas, that leaves the door open for more money for me and other players like me. It trickles down."
It's also clear that athletes in other women's sports are taking a huge boost of inspiration from this deal. Soccer players and hockey players will be able to use this structure as leverage in their own bargaining sessions.
The WNBPA knew that other athletes were following their CBA negotiations closely. And they relished that responsibility, and carried the mantle with pride.
"Actually throughout this year, I've had the opportunity to go to several events and appearances in which I've been able to meet these soccer players, also hockey players," Nneka said.
"It really occurred to us as an EC that we're ahead of this race when it comes to women in sports. Specifically women in team sports. We mentioned that this morning on GMA, how monumental this is for women in team sports."
To truly appreciate these achievements, you have to remember where the WNBPA began
For today's archival footage, I'm going to embrace the world of self-plagiarization, and refer you all back to an article I wrote for ThinkProgress in 2018, "The WNBA union is at a crossroads."
I was so happy that at the start of the conference call on Tuesday, Nneka gave a shout-out to past WNBPA presidents, Coquese Washington, Sonja Henning, and Tamika Catchings. Because as much-maligned as prior CBAs have been, each one of them was the result of a monumental amount of effort; the WNBPA had to fight for everything.
It's so important In 1997, when the WNBA launched, salaries ranged from $15,000 to $62,500.
"There were no contract guarantees, no group marketing licensing rights, no free agencies, no maternity benefits, no revenue sharing, no year-round health care," Pam Wheeler, who was the WNBPA executive director from 1999-2014, told me last year. "It was pretty much nothing."
Players formed a union after the second season, which many feared was too soon, because it wanted to professionalize the league. Little by little, the fight paid off:
In that first contract, they were able to establish a $25,000 minimum salary for rookies and a $30,000 minimum for veterans, and ensure that contracts were guaranteed if a player was active at least half of the season. They also got a maternity plan in place, as well as year-round health care and dental, and established a 401K for the league. It wasn't as much as they wanted, but it was a huge start.

In 2003, during the highly-contentious bargaining agreement detailed above, they still didn't get as much money as they were hoping for, but they were able to get increases. And, they were able to secure what Wheeler considers her crowning achievement.

"Free agency is vital to any sport, so when we achieved free agency, to me that was the pinnacle," Wheeler said.
Two years ago, right after the WNBPA announced that it was opting out of its current CBA, I asked Coquese Washington, the first WNBPA president and current associate head coach at Oklahoma, if she had any advice for Nneka and Co.
"The advice I would give is to be together and to stay strong," Washington said. "There's definitely going to be some differing of opinions, but they have to stay together, stay committed, and know what it is that they want and not settle for anything less than that."
I think it's safe to say: mission accomplished.


In no particular order, a non-comprehensive list of tweets that made me emotional in the last 24 hours
And, I know this isn't about the CBA, but it's important to me. I hope Kim and Kanye know they just met basketball royalty.

Okay, friends, that's all for now. I'll be back Friday, if not sooner. (There's so much happening!) And I'll try to find my skeptical glasses.
Please keep spreading the word about Power Plays, I appreciate it more than you know.