The WNBA must immediately oust racist owner Kelly Loeffler
Multiple players say they will never sign with the Dream if Loeffler remains at the helm.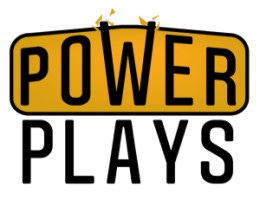 Hello, friends, and welcome to Power Plays, a no-bullshit newsletter about sexism in sports, written by me, Lindsay Gibbs. If you haven't subscribed yet, you can do so at the link below. It's very simple.
It has been a busy, exciting, and at time enraging week in the world of women's sports, and it's only Tuesday! You'll likely be hearing from me often over the next few days. Today's newsletter is all about Kelly Loeffler. But first, the announcements portion of the program:
To help keep up with news on the whole sports world as leagues attempt to return from the coronavirus break, subscribe to The Gist. You get two newsletters per week, completely free. It's written by women, for women, and gives women's sports the same attention as men's sports. Love.

As WNBA news begins to pour out about the league's season at the IMG Academy, independent outlets are leading the way when it comes to breaking said news. I want to give a shout-out, and follow recommendations, to a few of my favorite indie reporters/outlets:
Okay, friends, let's dive into it, shall we?

Kelly Loeffler's time is up
The beginning of this week was always going to be a hectic one for the WNBA, as players moved into their summer homes at the IMG Academy in Bradenton, Florida; the league released its first round of covid testing results; and players unveiled their activism platform for the season — which will focus on the Black Lives Matter movement, and specifically honor female victims of police brutality.
But on Tuesday, Senator Kelly Loeffler (R-GA), the co-owner of the Atlanta Dream since 2011, managed to overshadow the chaos and increase the already-immense pressure on her players' shoulders when she wrote a letter to WNBA commissioner Cathy Engelbert disparaging the league's 2020 social justice campaign, The Justice Movement, stating, among other things, "I adamantly oppose the Black Lives Matter political movement." The letter was first reported by the Atlanta Journal-Constitution.
Instead of players wearing jerseys with the name of Breonna Taylor — a Black woman from Louisville who was murdered by police in March — on the back, Loeffler said all the jerseys should have the American flag on them, because the flag is an "important symbol will unite us as we work toward a better, brighter, and more equitable tomorrow."
To borrow the wise words of Washington Mystics point guard Natasha Cloud, the WNBA needs to immediately get Loeffler's "weak ass out of the league."
As Power Plays first noted back in *November,* when Loeffler was appointed as a GOP Senator by Georgia's governor, Loeffler's political positions go directly against everything the league stands for.
Unfortunately, the fact that the league remained silent about Loeffler's agenda set up its predominantly Black players to be used as props in the disingenuous culture war being waged by president Donald Trump and his supporters.
Even today, the WNBA and the Dream organization issued spineless statements rather than taking a stand.
"The Atlanta Dream is not a political entity — we are in the business of sports and entertainment," the Dream told Power Plays in a statement. "The Dream players and staff are focused on building a successful team on the court, winning games and creating a second-to-none fan experience."
"The WNBA is based on the principle of equal and fair treatment of all people and we, along with the teams and players, will continue to use our platforms to vigorously advocate for social justice," said WNBA commissioner Cathy Engelbert. "Sen. Kelly Loeffler has not served as a Governor of the Atlanta Dream since October 2019 and is no longer involved in the day-to-day business of the team."
Neither of those statements will cut it. The Dream might not be a political organization, but one of its co-owners is willfully using the women that play for her team as political pawns. And it doesn't matter if Loeffler isn't involved in the day-to-day running of the Dream; she is still a co-owner, and still invested enough to use her platform and privilege to debate the humanity of the Black women in the league.
Engelbert's first year as commissioner of the WNBA has been filled with many challenges, from bargaining a new CBA, to scrambling to get a season off the ground amidst a global pandemic. But ultimately, how she handles Loeffler will be a massive part of her legacy. One thing is certain: The status quo is not tenable.
Players are pissed off, and vowing never to play for the Dream again
WNBA players have never been ones to mince words, and the league's leaders are certainly speaking up on this issue. Everyone from Skylar Diggins-Smith to Elena Delle Donne, Breanna Stewart to Candace Parker, Sue Bird to Natalie Achonwa, have called for Loeffler's ouster.
The WNBA Players Association even tweeted out an emphatic, "E-N-O-U-G-H! O-U-T."
The most damning — and heartbreaking — condemnations have come from former Dream players. Layshia Clarendon, who played for the Dream from 2016-2018 and is currently a point guard with the New York Liberty, tweeted about how "hurtful" Loeffler's comments were, and added, "Happy to own us as long as we stay quiet and perform."
Alaina Coates, who played briefly for the Dream in 2019, and is currently a center with the Washington Mystics, told Power Plays that she was not aware of Loeffler's views when she played for the Dream, but expressed relief that she was no longer a member of Loeffler's team.
"After seeing what she's been saying, I'm MORE than happy that I have a new opportunity with a whole new team," Coates said via a message on social media. "I wouldn't feel right playing for a team whose co-owner feels the complete opposite as (I do). I know I haven't gotten my feet all the way wet yet in this league, but I stand by my convictions, and belonging to a team she is affiliated with is no goal of mine."
Coates — who was a stand-out player at the University of South Carolina, and has bounced around multiple teams since being selected as the second overall pick in the 2017 draft — wasn't satisfied with Engelbert's statement released on Tuesday.
"I feel like that's not enough, because clearly any affiliation with (Loeffler), in my eyes, goes against what the league stands for," she said.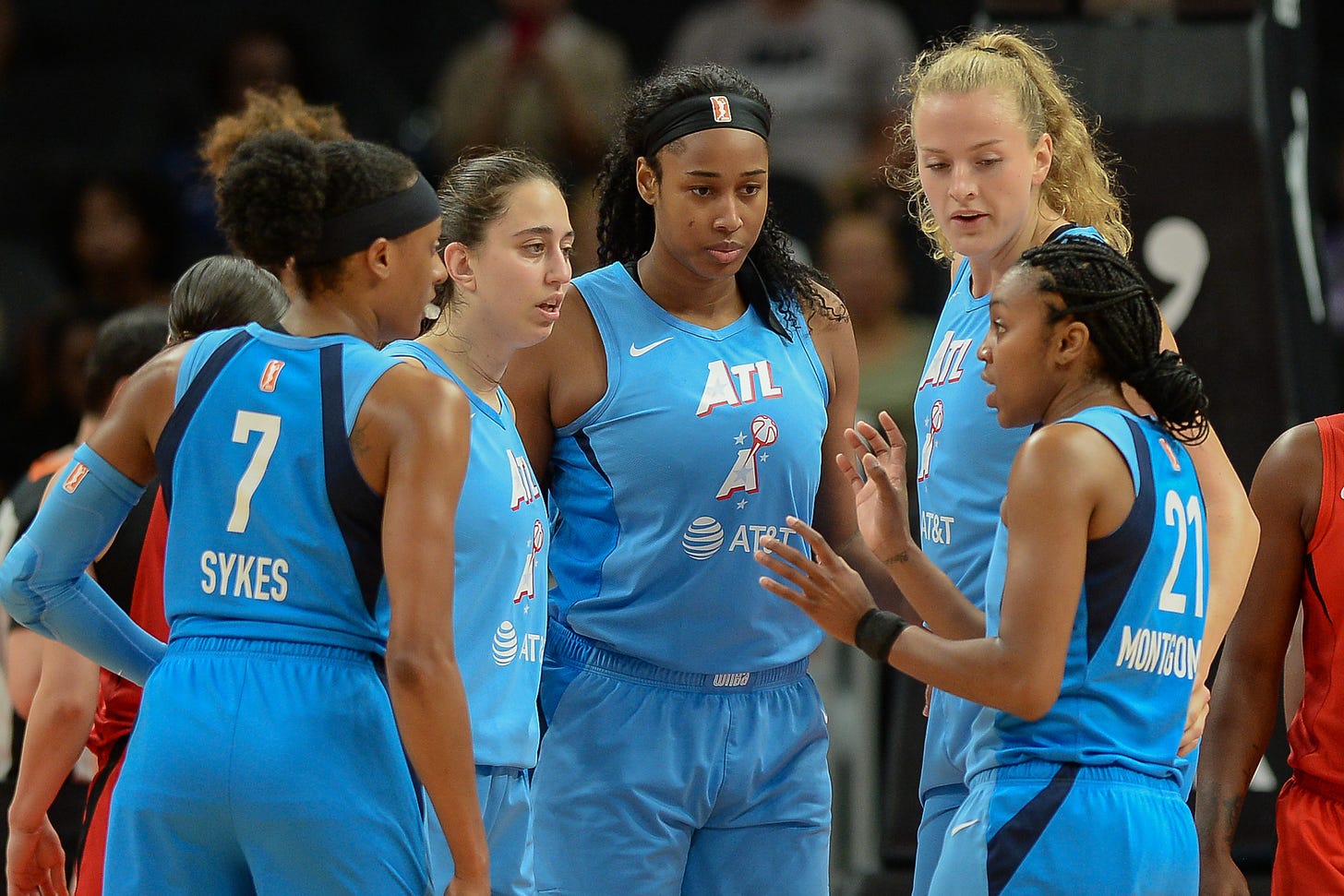 (PIC: Alaina Coates, center, with her Atlanta Dream teammates in 2019; via Getty.)
Coates didn't want speculate on what current Dream players might do in response to Loeffler's comments, but said she has talked to some of her former teammates about it.
"I know those I'm close to aren't happy about it. And if I was still on the team, I definitely wouldn't feel comfortable having any type of ties (with Loeffler)," she said.
Since Coates has experienced the precarious life on the edges of competitive WNBA rosters, I asked her explicitly whether she would ever sign with the Dream again if Loeffler remained a co-owner.
"Like I stated earlier, what she's saying is completely opposite of how I feel, and if it was on any other kind of topic I'd probably just sweep it under the rug, but this isn't something minor, and I'll never agree with her," she said.
"Which leads me to answer your last question with a VERY hard pass for there to be any chance of me with the Dream in the future if she's affiliated."
Diamond DeShields, an All-Star who has spent her entire young career with the Chicago Sky, expressed the same sentiment on Instagram.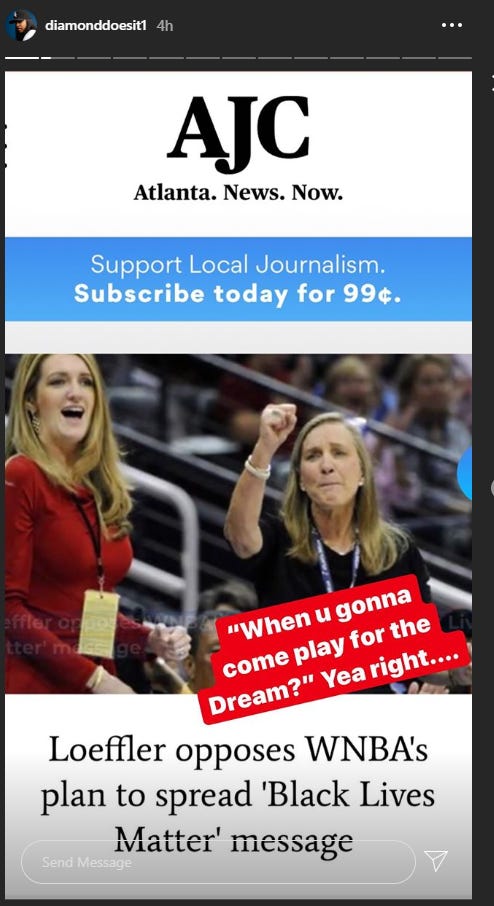 Most current Dream players have remained quiet on the issue, beyond sharing tweets from others. But Renee Mongomery, a Dream player who decided to sit out this season to focus on racial justice causes, tweeted an invitation to Loeffler to talk.
As of publication, Loeffler has not responded to Montgomery. She did, however, tweet at the WNBA, demanding its players stand for the national anthem.
Loeffler's despicable views have been public for a while
It's devastating that this situation has reared its head during such a stressful and pivotal time for the WNBA. But none of this is a surprise. When Loeffler first started being floated as a potential appointee to Georgia's open Senate seat last fall, she immediately aligned herself with Trump.
She is currently running to retain her Senate seat via a special election this November, and her campaign website is very open about her anti-choice views.
"A devout Christian, Loeffler is unapologetically pro-life and backs Governor Kemp's 'heartbeat bill,' which was signed earlier this year," it reads. "She will champion life – from conception to natural death – and stand firm against the left's abortion on-demand agenda. In the Senate, Kelly will strongly support S. 160, Senator Lindsey Graham's 20 week abortion ban and proudly back President Trump's conservative judges."
And now, as the country is experiencing a long-overdue reckoning over racism, Loeffler's letter to Engelbert purposefully misconstrues the Black Lives Matter movement, presumably to ward off the Tucker Carlsons of the world before they attack her ties to the WNBA.
The truth is, we need less—not more politics in sports. In a time when polarizing politics is as divisive as ever, sports has the power to be a unifying antidote. And now more than ever, we should be united in our goal to remove politics from sports.

The lives of each and every African American matter, and there's no debating the fact that there is no place for racism in our country. However, I adamantly oppose the Black Lives Matter political movement, which has advocated for the defunding of police, called for the removal of Jesus from churches and the disruption of the nuclear family structure, harbored anti-Semitic views, and promoted violence and destruction across the country. I believe it is totally misaligned with the values and goals of the WNBA and the Atlanta Dream, where we support tolerance and inclusion.
Each time I read that section of the letter again, my blood boils even hotter.
Sports, are, inherently political. Especially women's sports. Especially women's sports played by a league that is 80 percent Black and has a very visible queer population.
The flag, too, is CLEARLY political.
You know what's not — or shouldn't be — about politics? Black lives mattering. Anti-racism work. Denouncing police brutality. She clearly has no understanding of the Black Lives Matter movement, and doesn't want to.
Instead, Loeffler is, predictably, taking a page out of Trump's playbook and attacking Black athletes who are taking a knee or openly speaking out against systemic racism. She's trying to win an election, and she's willing to run over her Black players in the process.
Engelbert must step up immediately
The words "simple" and "easy" are often used as synonyms. But in this case, while I would say the answer is simple — Loeffler must go, and she must go quickly — I understand that the situation is not an easy one for the league.
First off, this is a particularly tumultuous time, financially and logistically, thanks to the coronavirus. Engelbert and pretty much everyone else associated with the WNBA is busy trouble-shooting housing issues at the IMG Academy, waiting on medical review panels to determine if certain star players are available to play this season, and trying to establish a competition and television schedule that will best showcase the league. It's a lot!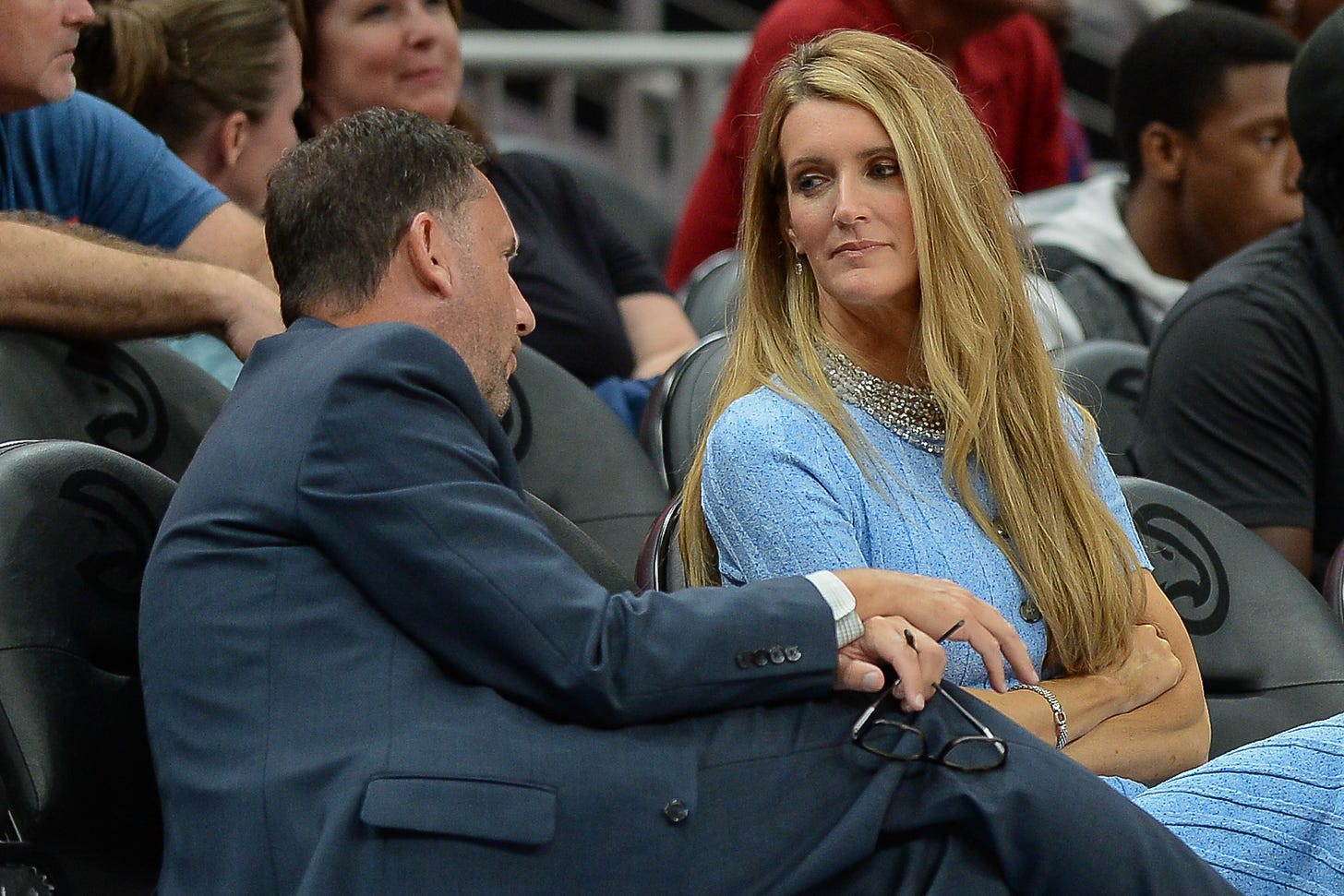 (PIC: Loeffler talking to Dream general manager Chris Sienko; via Getty)
Secondly, while the WNBA is on the rise, it is not yet a ridiculously profitable investment. I have no doubt that there are concerns about whether anyone would be willing to buy out Loeffler, particularly considering the Dream franchise has struggled to attract attendance and a national profile over the past few years.
And, of course, ousting an owner isn't exactly a straightforward affair; nobody I spoke with was sure exactly what the process would look like, though the Donald Sterling/NBA blueprint is certainly worth studying. Ultimately, it's going to take a coordinated effort from Engelbert and the WNBA's Board of Governors, which will likely only come after intense pressure from players and the media.
But these are hurdles to clear, not barriers to entry. If Loeffler is willing to publicly spit all over everything the league stands for right now, in July, as the league is only beginning to emerge from its coronavirus cocoon, it is apparent that her bigotry will only get bolder as the WNBA's season gains steam, and as her election day gets closer.
It's unlikely that her views have drastically shifted over the past few years. It's just that now, she cares about her own political aspirations far more than the health and humanity of her players. Her priorities are clear, her hypocrisy is laid bare.
The WNBA is its players. It is Black women and queer women and powerful women and progressive women. It's not a monolith, no league is. But long gone are the days where players stay silent on issues pertaining to homophobia and racism and reproductive rights; they will not allow their existence to be up for debate, particularly by a member of their own WNBA family.
So, while the coronavirus complicates this situation a bit, it also provides a chance for players and coaches and executives to be together, in one place, focused on hashing this out. While it is annoying that the WNBA isn't as profitable as it soon will be yet, that also mean it's more affordable, and therefore it should be easier to find someone to buy out Loeffler.
It's reached the point where players would rather not play in the WNBA than play for a team owned by Loeffler. If Engelbert wants to continue to push this league forward, she must take a stand, and get read of the dead weight holding it back. There is simply no other option.

Thank you all so much for supporting Power Plays. Every share and subscription helps prove that there is an appetite for in-depth coverage of women in sports.