UCLA softball and other women's teams will visit Trump's White House on Friday
"Legendary Bruins like Jackie Robinson and Arthur Ashe must be turning over in their graves today."
Welcome to  Power Plays, a newsletter for people who are sick of hearing bullshit excuses, and ready to see equality for women in sports.
I'm Lindsay Gibbs, your captain on this journey. If you haven't already, please subscribe by adding your email in the box below. That's the only way to keep this thing going.
If you're enjoying yourself here at Power Plays, please help me spread the word.

Today, we're looking at the decision of UCLA softball and other NCAA championship programs to visit the White House and take a photo op with President Trump.
Plus, the latest horrific revelation from USA Gymnastics' enabling of Larry Nassar.
And a reminder: Next week is Thanksgiving week, and we all need a bit of a break. You'll still be getting your Wednesday and Friday newsletters, but one will be a mailbag that I'll prewrite this weekend. Please send me your questions to: lindsay@powerplays.news this weekend, with "mailbag" in the subject line.
Alright, let's do this.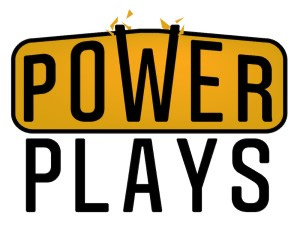 For some alumni, UCLA softball's visit to the White House feels like a betrayal
Murshed Zaheed, UCLA Class of '96 and a lifetime member of UCLA Alumni association, is still an online member of Washington DC's UCLA alumni club, despite the fact that he no longer lives in the nation's capital. Earlier this week, he was shocked when got an email inviting him to a mixer with the UCLA softball coaching staff on Thursday night. The team was in town because, the invitation said, the next day they would be visiting the House.
He was horrified. UCLA athletics has a long tradition of social activism — from being the school of trailblazers like Jackie Robinson and Arthur Ashe, to recently, when the school celebrated women's soccer players taking a knee during the national anthem and leading the Women's March in Los Angeles shortly after President Donald Trump's inauguration.
And now, UCLA softball — which won its 13th national championship this summer at the Women's College World Series (WCWS) — was going to be stopping by the White House and rubbing shoulders with Trump for a photo op.
"Legendary Bruins like Jackie Robinson and Arthur Ashe must be turning over in their graves today" Zaheed, who has been a diehard Bruin fan for over three decades and is a major donor to UCLA's academic programs, told Power Plays
"By visiting the White House occupied by a racist, sexist, misogynist who has relentlessly attacked women, people of color, immigrants and the state of California, the UCLA softball program disgraced those hallowed four letters immortalized by the ideals of Coach John R. Wooden."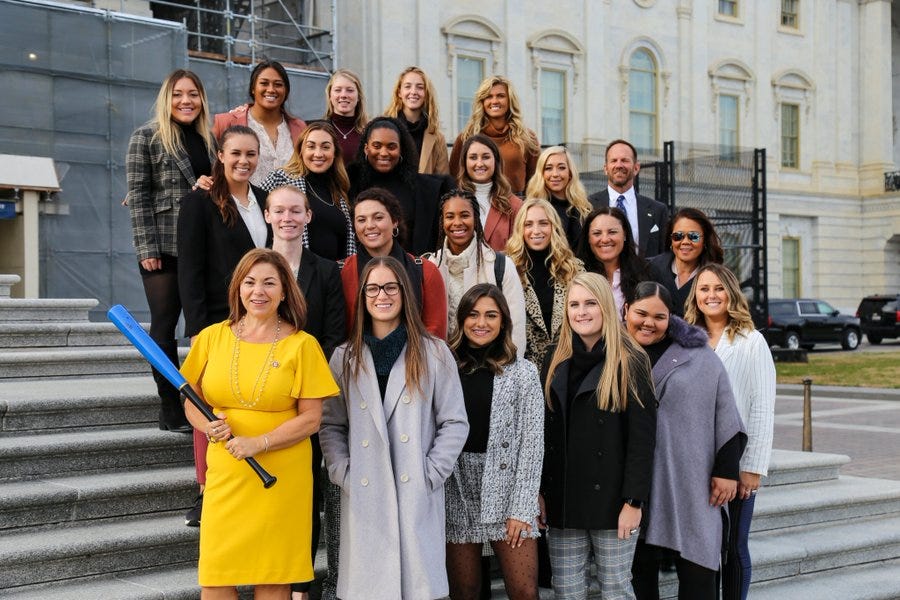 Photo via Rep. Linda Sanchez (D-CA) on twitter
UCLA is visiting the White House as part of NCAA Collegiate National Champions Day, which will also include multiple national champions from across NCAA sports. They spent Thursday visiting with their federal elected officials, touring the Capitol building, and visiting museums in the area.
While some alumni questioned whether this visit was something forced upon the athletes and coaches, a spokesman told Power Plays that was not the case. James Ybiernas, an assistant athletic communications director at UCLA, said, "The team came together to make the decision to attend Washington, D.C., and no, every player was not required to attend."
And not all alumni are upset with decision. Jen Schroeder, a former UCLA softball player, said she was thrilled the players had this opportunity.
"I think getting the chance to visit the White House is an incredible honor. As a member of the first class from UCLA Softball NOT to win the WCWS, beyond the actual winning & earning a ring, getting to visit the White House seems like a rite of passage only National Champions share," Shcroeder said. "I would feel this same way no matter who was president."
Visiting the White House after a national championship in college or pro sports used to be a customary thing for teams and individuals across men's and women's sports. But, of course, Trump is not like other presidents, even from the Republican party. He has attacked black and gay athletes — such as LeBron James, Steph Curry, and Megan Rapinoe — on twitter for refusing to come to the White House, and rarely even extends an invitation to women's teams, because he's so afraid of rejection.
His administration goes out of its way to roll back protections for women, minorities, and the LGBTQ community, all while regularly attacking black and brown immigrants and putting children in cages.
So, it's understandable why some alumni are unhappy with the decision.
"For me, Donald Trump wakes up every day thinking about how he can run roughshod over everything UCLA athletics stands for," Dante Atkins, UCLA Class of '03, told Power Plays. "It's upsetting they would validate Donald Trump's presidency by appearing at the White House, because it grants him a legitimacy that he doesn't deserve."
Many other women's teams will join UCLA at the White House, and stress it's not 'political'
UCLA's softball team will not be there alone. Many other NCAA national championship teams — and individual championship winners — from the last two years will join them on Friday morning. Each team is expected to have a photo op with Trump, and, if past years are any indication, many will bring gifts for Trump.
In 2017, the last time Trump held a mass celebration of this sort for NCAA championship teams, 18 teams attended, and one — the Oklahoma softball team — even stopped to pray with Trump.
Power Plays could not get a master list of teams that would be attending, though by the time you all are reading this that might be public. But I was able to figure out quite a few of the attendees.
Duke women's golf will be there. They have been enjoying their trip to D.C., and even got a private tour of the International Spy Museum.
Oklahoma women's gymnastics will be there as well. Head coach, K.J. Kindler, described the trip as a "huge opportunity" for her athletes.
"I don't look at it as political at all. It's a tradition — an American tradition — for the NCAA teams to be honored in Washington D.C.," Kindler said, as reported by The Norman Transcript. "To me, we qualify, and we want to be part of that tradition. And, regardless of the president that might be in office at the time, I don't know that that's truly what that's all about."
Maggie Nichols, two-time NCAA All Around champion, agreed.
"We're all just very excited to be invited and tour around and stuff," Nichols said. "I don't think we second-guessed it."
Maryland women's lacrosse team will take the quick trip down to D.C. from College Park, as will Queens women's swimming and diving, the only Division II program attending, according to a press release on Swimming World.
Emily Clark, Sam Cogan, Mikaela Gardner, Annie Pankowski, Maddie Rolfes, and Sophia Shaver — all Wisconsin '19 graduates — will be on hand to represent the Wisconsin Badgers' national championship women's hockey team. (The current squad has a game.)
Rolfes told the Kenosha News there was some hesitancy about going, but ultimately decided it was about them, not Trump.
"But we all ended up deciding this isn't about who is in the office, what they believe politically, etc.," Rolfes said. "It is about reuniting with our friends and being honored for winning a national championship."
Stanford women's water polo will be there, too. In a lengthy statement on twitter, Stanford explained that it was pretty rare to get a White House invitation for a Women's Water Polo national championship, and stressed that it would be a learning experience, and that the athletes would not be required to participate in visits to Congress and the White House if they didn't want to.
(I'm focusing on women's sports here, because this is Power Plays, but many men's teams will be there as well. I'm going to keep track of the master list of teams and will have an update on all of this on Monday.)
There is no way to de-politicize a trip to visit President Trump
Look, here at Power Plays, we are well aware that there is no way to separate sports and politics, particularly when it comes to women's sports. But there is EXTREMELY no way to separate sports and politics at this White House.
Nobody has done more work to hammer that point home than Trump himself. Slate has a good round-up of the teams that have, and have not, gone to the White House during President Trump's time in office, and how Trump has reacted to each attendance or snub.
He takes it all extremely personally. When teams attend, he makes it about their support of him, and how well he is doing as President; and when teams or players decline to attend, he lashes out.
I mean, just look at his tweets about Rapinoe from earlier this year, while she was proudly representing the country at the World Cup.
Now, look, I have much more leeway for college athletes than pro athletes when it comes to White House visits. For many, they might fear retribution if they don't attend. For many, this might be their only chance to ever visit the nation's capital and take in the sights and meet with Congress and get a tour of the White House. For many, this is a trip about networking and celebration and learning and togetherness.
But, especially for those involved in women's sports, it's also a political statement, whether they like it or not. Trump has explicitly excluded many women's teams from even having the option of visiting the White House — predominantly women's basketball teams on the pro and collegiate level, who also happen to be predominantly black women.
Notably, the women's teams he invited to this celebration come from sports that don't include many black athletes. There are women of color on these teams, and I don't want to erase their existence, but when predominantly-black teams are regularly excluded and other teams happily accept the invitation, it feels like these teams are saying, "Your mistreatment of others are okay, as long as you smile and shake my hand."
Of course, one women's basketball team has been invited to and attended the White House visit: The Baylor Bears, who are coached by noted conservative Kim Mulkey, who made it known as soon as the Bears won the 2019 national championship that her team would accept an invitation to the White House. As I documented on ThinkProgress at the time, that entire visit was a shitshow, to put it mildly. Trump made inappropriate comments, fed the elite athletes a smorgasbord of fast food cuisine, and many players were obviously uncomfortable with the visit. I don't blame the players for attending, but I do blame Mulkey and the Baylor administration for putting them in that position.
No WNBA team has ever been invited to Trump's White House, either. But in 2018, the Minnesota Lynx — who won the WNBA championship in 2017 — figured out something else to do when they visited the nation's capital to play the Washington Mystics.
In lieu of a White House visit, the champions held a day of community service, and partnered with the organization Samaritan's Feet to visit Payne Elementary School in Southeast D.C., where 30% of the students are homeless and 100% are "low income." There, the WNBA stars literally washed the feet of the children and gave them brand new Jordans.
"I think patriotism is subjective," Lynx head coach Cheryl Reeve, who grew up in a military family, told me that day. "Service is a form of patriotism. This is what patriotism looks like."
I find myself wishing that more teams would go this route. Schools should go to Washington, take the national champions to museums, visit Congress, see the Supreme Court, learn about our nation's history. Gosh, even take a tour of the White House.
But when it comes to shaking the President's hand, to smiling for a photo op, to giving him customized gifts, a line needs to be drawn, because Trump sees all of those actions as an endorsement of him and his leadership. Every single coach, every single player, every single school needs to grapple with that reality and think, "Is this really the message we want to send?"
For UCLA and the other teams visiting on Friday, the message has already been sent.

From the very, very recent archives: We are still unmasking the depth of USA Gymnastics' corruption
Yesterday, the phenomenal Louise Radnofsky of the Wall Street Journal reported that back in 2015, USA Gymnastics knew that Simone Biles was one of the athletes who had problems with Larry Nassar, the former USA Gymnastics doctor and serial predator who received a veritable life sentence last January.
But, while USA Gymnastics had an investigator talk to a few of its other athletes with concerns — including Maggie Nichols, McKayla Maroney, and Aly Raisman — nobody talked with Biles. The FBI didn't contact her until after the 2016 Rio Olympics, and USA Gymnastics itself didn't reach out until she publicly tweeted about being a Nassar victim in 2018.
Instead, they made sure the best gymnast in history was available for plenty of media appearances. Because, you know, priorities.
Sorry to leave you all on such a down note, but that's all for today. I'll be back in your inbox on Monday.
Remember to subscribe if you haven't already, and to spread the word.
Also, if you're in the D.C. area on December 3, come to this! It's going to be a blast.