When the NWSL returns, this Spirit rookie will be taking a knee
"I'm doing it for my community, I'm doing it for what I believe in."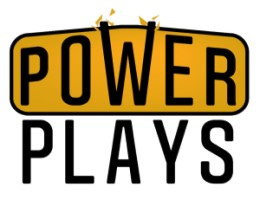 Hello, and welcome to Power Plays, a no-bullshit newsletter about women in sports, written by me, Lindsay Gibbs. Every day, people in positions of power in sports media tell their newsrooms that there isn't an audience for this work. Your continued support makes them look foolish.
I'm extremely pumped to share today's newsletter with you, so I'm going to just move straight to it. Let's do this, friends.

The Washington Spirit's Kaiya McCullough will not compromise when it comes to protesting racism
Since Minneapolis police murdered George Floyd a couple of weeks ago, many white Americans are expressing long-overdue willingness to engage in uncomfortable conversations about systemic racism. Because of the size of their platforms, many black athletes have been leading the dialogue; for some, this is the first time they've publicly used their voices and opened up about how racism and police violence has impacted their lives.
For others, such as UCLA graduate and current Washington Spirit rookie Kaiya McCullough, this has just been an emotionally draining continuation of work they've been doing for as long as they can remember.
"I have been and I will always be very, very outspoken about the things that matter to me," McCullough told Power Plays in a phone call last Friday.
McCullough grew up in the predominately white and wealthy Orange County, California. (She wrote a must-read article about her childhood last week, "Letter to a younger me.") Her mother is white, and her father is black.
"Growing up with a white mother was very difficult for me because I didn't look like her," she said. "I've never had the privilege of not looking like I do. It has definitely been a conversation I've been having for most of my life."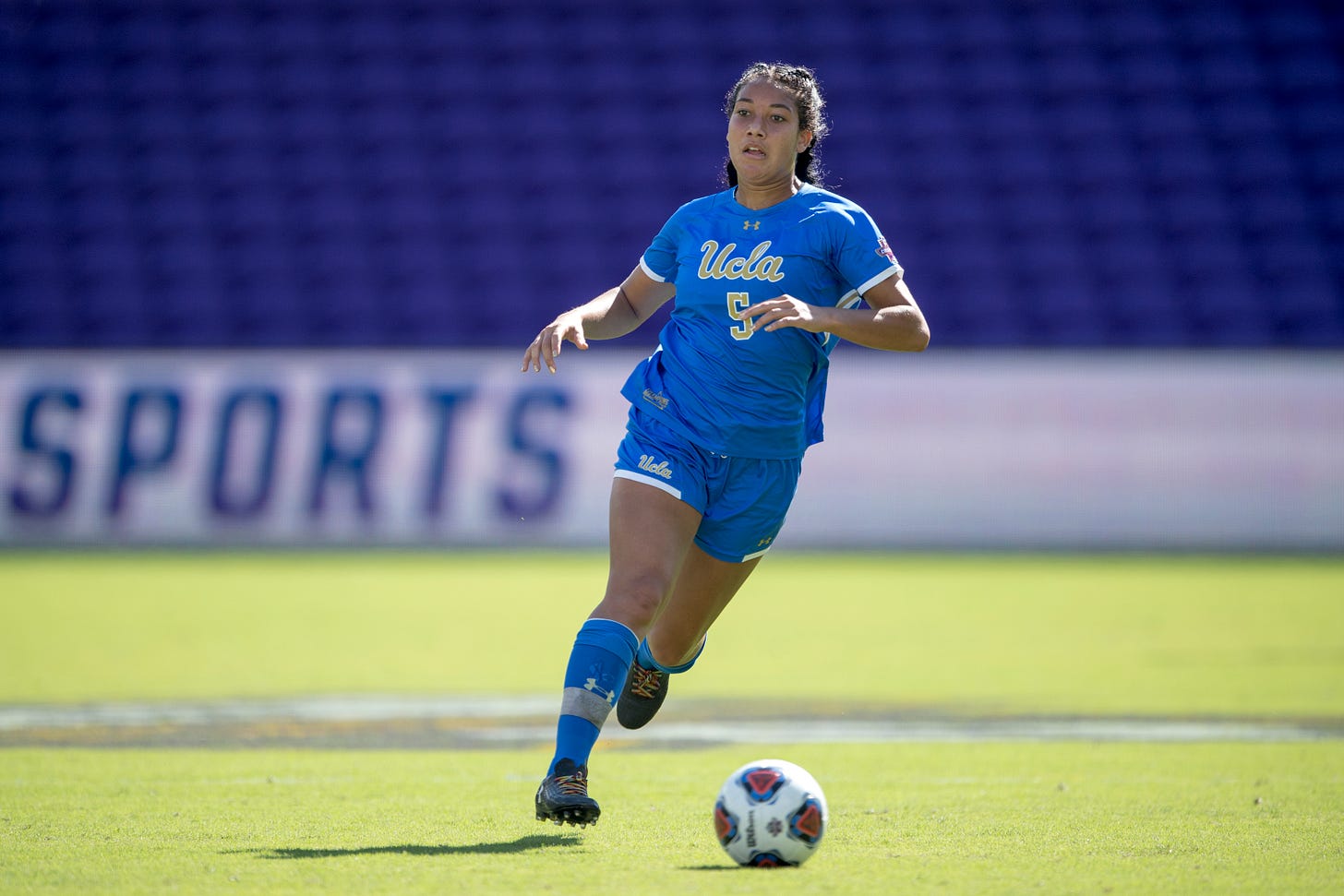 (McCullough at UCLA; via Getty)
When she was a junior at El Toro High School in Lake Forest, California, McCullough decided she didn't want to stand for the Pledge of Allegiance anymore. She ended up standing after pressure from her homeroom teacher, but refused to say the words. She even wrote a bill in her civics class about why nobody should be forced to say it.
"I didn't think that it was fair of me to say, 'Liberty and justice for all,' when I didn't think that it was happening," McCullough said.
This created a lot of controversy in her school, and one classmate even told her to, "Go back to Africa." But the criticism didn't slow her down. In fact, it did the opposite.
"I think that seeing that reaction, and seeing the impact that it could have on creating conversations, only made me want to be even louder," she said.
As McCullough's platform grew, so did her advocacy. In 2017, during her sophomore season at UCLA, she began taking a knee during the national anthem before every game, in solidarity with Colin Kaepernick's protest against police brutality and systemic racism. While many athletes across the nation took a knee once or twice, or even for a single season, McCullough continued to take a knee throughout her entire collegiate career.
And now, just three weeks shy of making her professional debut during the National Women's Soccer League's (NWSL) Challenge Cup in Utah, McCullough has decided she will continue to protest during the anthem — becoming just the second NWSL player to do so, and the first since Megan Rapinoe in 2016.
"That is something that I have decided cannot be compromised within myself," she said.
Her call to action
The first game that McCullough took a knee beforehand is a blur. She can't remember who UCLA played, what the score was, or how she performed on the field.
She just remembers the overwhelming emotion, and the tears. She cried before the game, barely pulled herself together for warm-ups, then started crying again when she knelt.
"That was a pretty powerful moment for me. I was just thinking about the reasons I was doing it," she said.
"I was doing it because I was scared for my community, I was scared for my family, and I didn't believe that I could sit there and show pride in the anthem when people were being treated so poorly. I think the weight of all of that really hit home as I was doing it. It felt like everything was happening, like, every force that had led me up to that point was converging on me at once."
A few days before she took a knee, McCullough was scrolling through social media when she saw yet another video on twitter of an unarmed black man being killed by a police officer. This was around the time that President Donald Trump re-ignited the protests during the national anthem by calling Kaepernick a "son of a bitch." She'd always supported Kaepernick's protest, but this evening in the fall of 2017, she had what she referred to as a "breakdown," and knew immediately what she had to do.
"It was a split instance where I was like, 'I need to do this,'" McCullough recalled. "It was like a call to action. I can't even describe the amount of conviction that I felt when I when I made that realization."
That night she called her mother in tears, and told her the plan. Then she called her father. Both encouraged her to follow her conviction. The next day, she spoke with her UCLA coaches, and all — especially head coach, Amanda Cromwell — were supportive. Finally, talked to her teammates about her decision, and they were all completely on board.
"It was probably a moment for a lot of my teammates when they first realized that I was feeling that way, and that a lot of black Americans felt that way," she said.
The first time she protested, the entire team took a knee together before the anthem. Then, when the anthem began, those who wanted to stand did so. For the rest of McCullough's collegiate career, every game, individual players and coaches made their own decision about kneeling. The protesters would change from game to game; but McCullough was the constant.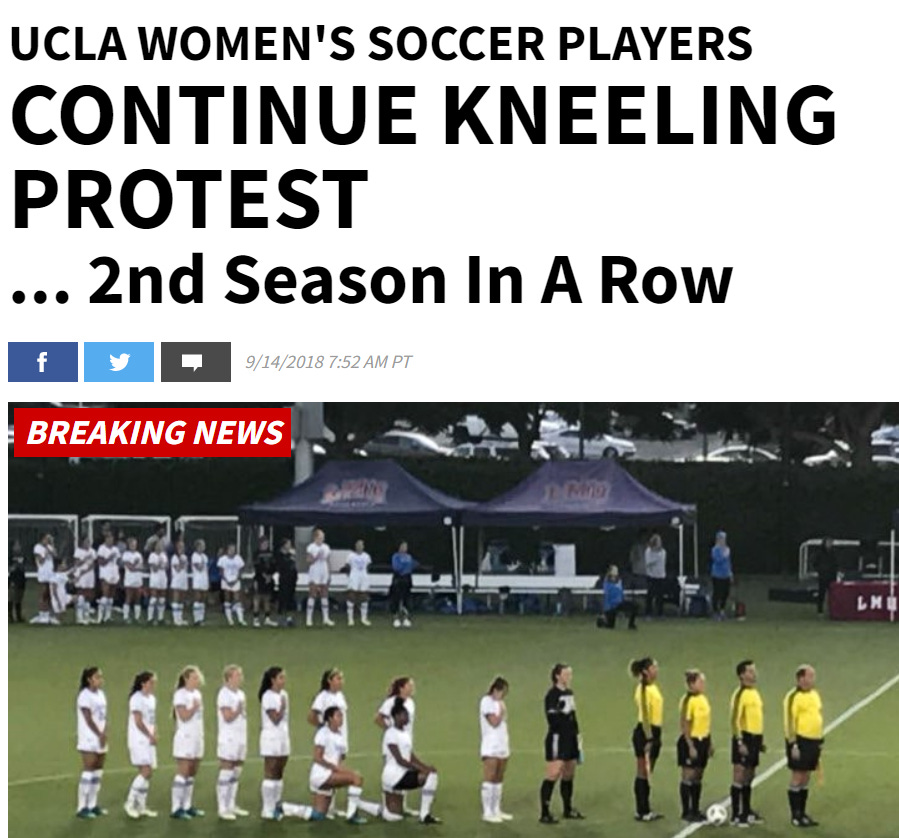 While the President continued to attack anyone protesting during the national anthem, and leagues like the NFL had regular debates about how "distracting" it any protests during the national anthem would be, McCullough and her teammates proved how silly the concern-trolling was.
The Bruins were one of the best teams in the Pac-12 during McCullough's entire four years, and were NCAA tournament runner-ups in 2017, NCAA quarterfinalists in 2018, and semifinalists in 2019. McCullough was second-team All-Pac-12 her senior year, and was named Pac-12 Scholar-Athlete of the Year in 2019. She was one of three Bruins selected in the 2020 NWSL draft; the Spirit selected her with the 32nd-overall pick in the 2020 NWSL draft, and picked her Bruins teammate Ashley Sanchez fourth overall.
McCullough felt nothing but support from her teammates, fans, and the UCLA administration during her protests. Yes, she would occasionally hear opposing fans taunt, "Stand up!" when she was on the road. And once, when TMZ picked up the story, she was flooded with racist comments.
"That was the worst of what I can remember in terms of backlash," she said. "It was an overwhelmingly positive reception."
If there are any consequences to kneeling in the pros, McCullough is willing to accept them
In college, McCullough was in a predominantly liberal enclave in southern California, and playing a sport that gets very little national attention.
The professional ranks could be a different story. She is entering rarefied air for female athletes. Fourteen WNBA players from three different teams took a knee during the national anthem at the end of the 2016 WNBA season, but only one WNBA player has taken a knee since — center Kelsey Bone, who knelt during the anthem for the entire 2018 season when she played for the Las Vegas Aces.
Rapinoe is the only pro women's soccer player in the country to have taken a knee. She's most well known for doing so during two USWNT games in the fall of 2016. U.S. Soccer disapproved of Rapinoe's protest, and proceeded to change its rules to ban players from taking a knee during the anthem. (There are reports that U.S. Soccer is looking to overturn that policy, possibly as soon as this week.) Rapinoe was also left off the USWNT roster for months following her protest, an act many view as a de-facto punishment for kneeling.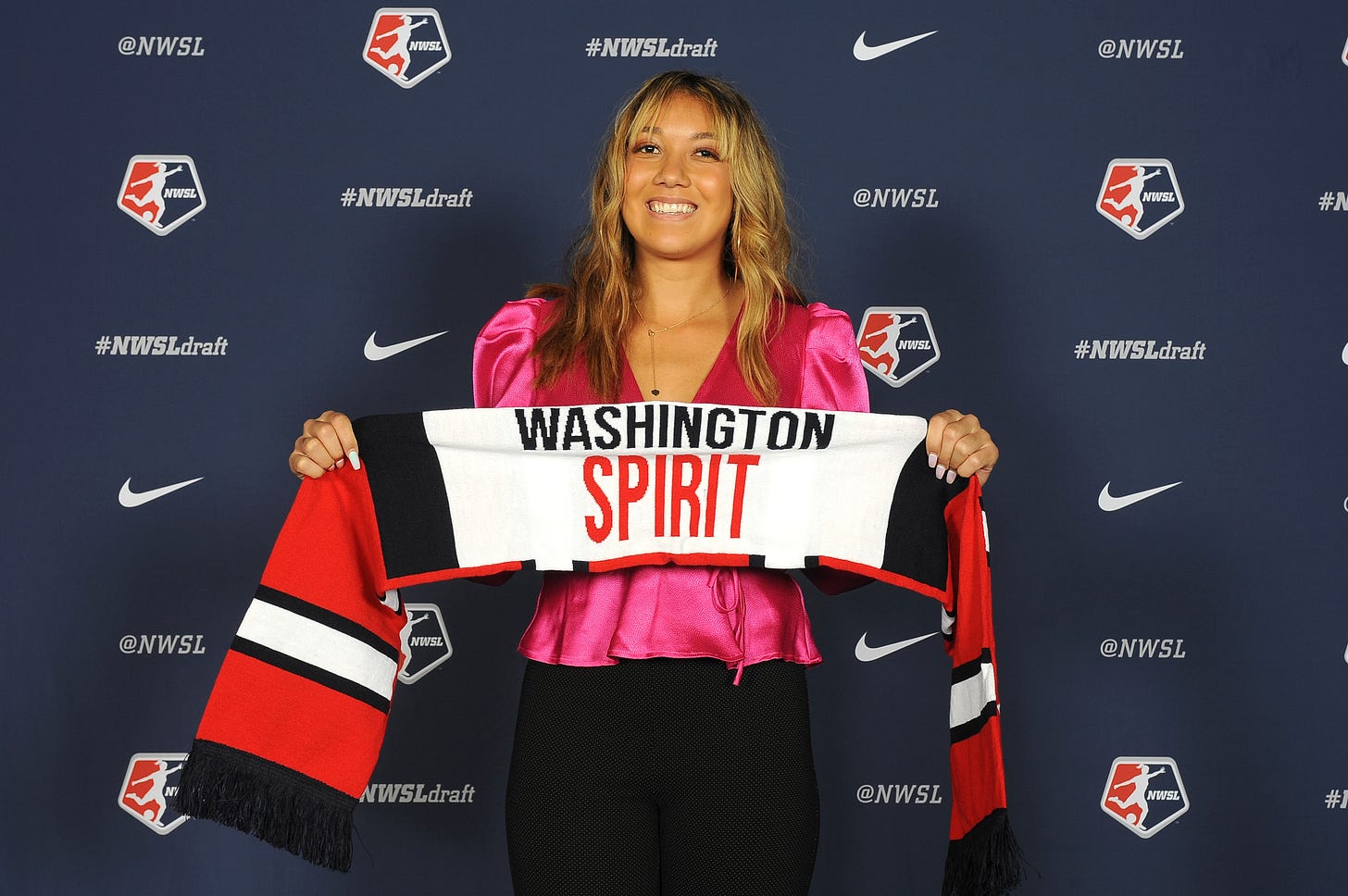 (McCullough at the 2020 NWSL draft; via Getty Images)
But Rapinoe also protested in the NWSL. She first took a knee on September 4, 2016, before her Seattle Reign faced off against the Chicago Red Stars. Notably, three days later, the Washington Spirit organization thwarted her protest when the Reign came to town.
On September 7 at Maureen Hendricks Field in Boyd, Maryland, Spirit owner Bill Lynch played the national anthem while players were still in the locker rooms, much to the surprise of both the Spirit and the Reign.
He released a statement during the game saying that the decision was to prevent Rapinoe from "hijacking our organization's event" by taking a knee.
Lynch's decision was widely condemned. Rapinoe called it a "fucking joke." Many Spirit fans were distraught, and the Spirit players denounced the act. The NWSL wasn't happy, either. I was covering that came, and in a conversation with a clearly-flustered Jeff Plush, who the NWSL commissioner at the time, he said he was "disappointed" by Lynch's action.
But times have changed since 2016 — and, perhaps more pertinently, Spirit ownership has literally changed. Bill Lynch is now only a minority owner of the team, while Steve Baldwin is the majority owner. McCullough said that Baldwin and Spirit head coach Richie Burke have been very supportive of her during discussions about racism and police brutality over the past two weeks.
Power Plays asked the Spirit about McCullough's decision to take a knee, and the organization responded with the following statement: "We support Kaiya. We respect all of our players as individuals and we will not silence their voices." The NWSL also confirmed to Power Plays that they do not have any policy on the books against protests during the national anthem.
But, if there is backlash, McCullough is prepared to take it.
"I'm not doing it for me, and I think with anything, if it's for something bigger than yourself, you take the consequences," she said. "I am more than willing to carry the burden of it."
This moment feels different
McCullough's decision to take a knee wasn't sparked by the police murder of George Floyd, or the nationwide protests against police brutality over the past 10 days.
But her protest during the national anthem will undoubtedly be viewed through that lens, because the conversations around police brutality and protests are shifting in real time. Last Wednesday, New Orleans Saints quarterback Drew Brees came out and said that he didn't support anyone taking a knee during the national anthem, because it was disrespectful to the flag. By Friday, after being taken to task by his teammates and disappointed fans around the world, Brees had changed his tone so drastically that he was defending protests during the national anthem to President Donald Trump.
That same day, in a response to a powerful call-out video from a few prominent black NFL players, NFL commissioner Roger Goodell released a video saying "Black Lives Matter," and supporting his players if they wanted to peaceful protest.
"I hope that's not naive of me to say, and I hope it's not performative on a lot of people's parts, but it does feel different," McCullough said.
"I feel like people are finally waking up to what's going on around them. I don't know if there was some sort of weird like mist in the air that was keeping everybody's eyes closed, but what I'm seeing is that people are finally starting to understand, and that definitely makes what I do, kneeling, a lot more acceptable, because people are becoming more comfortable with talking about race."
This fall, coronavirus permitting, many more NFL players are expected to take a knee during the national anthem. There is also speculation that WNBA and NBA players might take a knee when they return to play this summer; the NBA is scheduled to play a few regular-season games and their entire playoffs at Disney World beginning at the end of July, in front of no fans, while the WNBA is in tentative talks to play their entire 2020 season and playoffs at the IMG Academy in Bradenton, Florida, beginning in about six weeks, though that has not been confirmed yet.
But the NWSL will be the first pro team sports league in the United States to return to play, via the Challenge Cup, a 25-game tournament in Utah from June 27 through July 26. The Spirit will play their first game on June 30 against the Utah Royals. This means, unless other NWSL players take a knee earlier in the tournament, McCullough will be the first pro athlete to protest during the anthem since Floyd's murder.
With the increased attention on her actions, she wants to be sure her message gets across.
"When I originally started kneeling, it was very specifically for the reasons that Colin Kaepernick said. It was about the police brutality against black and brown people. And I don't think that message has changed for me. It's only grown," she said.
"Black and brown communities are disproportionately affected by racism in our country. And whether that's in sports, whether that's in education, whether that's in the private sector, there's not one aspect of our country that isn't touched by racism in one way or another. I cannot sit there and be proud of a country that does that to people. This country was founded on the backs of slaves. I've trace my ancestry to Africa. That generational pain resonates with me and I will continue to speak up against it for as long as I'm living."
Thanks so much for supporting Power Plays. Every sign-up, paid subscription, and share makes this work possible.
Take care of yourselves, friends.