WNBA player Imani McGee-Stafford grapples with Kobe's complicated legacy
"As a survivor of sexual abuse, there are things I will never be able to forget."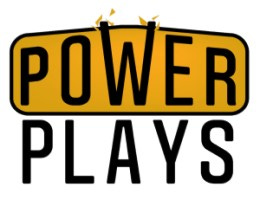 Hello, and welcome to Power Plays, a newsletter for people who are sick of hearing bullshit excuses, and ready to see equality for women in sports. I'm Lindsay Gibbs, the author and founder. Every day, people in positions of power in this industry tell me there's not space for this type of reporting. Help me prove them wrong by signing up, and by spreading the word. Every single email address, every single share, helps immensely.
This week at Power Plays has been all about mourning Kobe and Gigi Bryant, and discussing Kobe's complicated legacy. On Monday, we had a group discussion, where we all tried to work through the shock. Some people are still contributing to the thread, and it remains open if anyone else wants to join.
Yesterday, I shared my journey coming to terms with the impact he had on the women's basketball community, while also holding space for the pain he caused survivors of sexual violence.
Today, I'm very honored to share the first guest post on Power Plays, by Imani McGee-Stafford.
McGee-Stafford, 25, is a WNBA center who is currently a restricted free agent with the Dallas Wings. But she's much more than just a basketball player. She is a mental health advocate, a survivor of sexual abuse, the founder of the Hoops and Hope Foundation, a brilliant poet, and, as you will read below, a phenomenal writer and essential voice. I am so grateful that she's sharing her words with us.
Understanding the Grey: Examining Kobe Bryant's Complicated Legacy
by Imani McGee-Stafford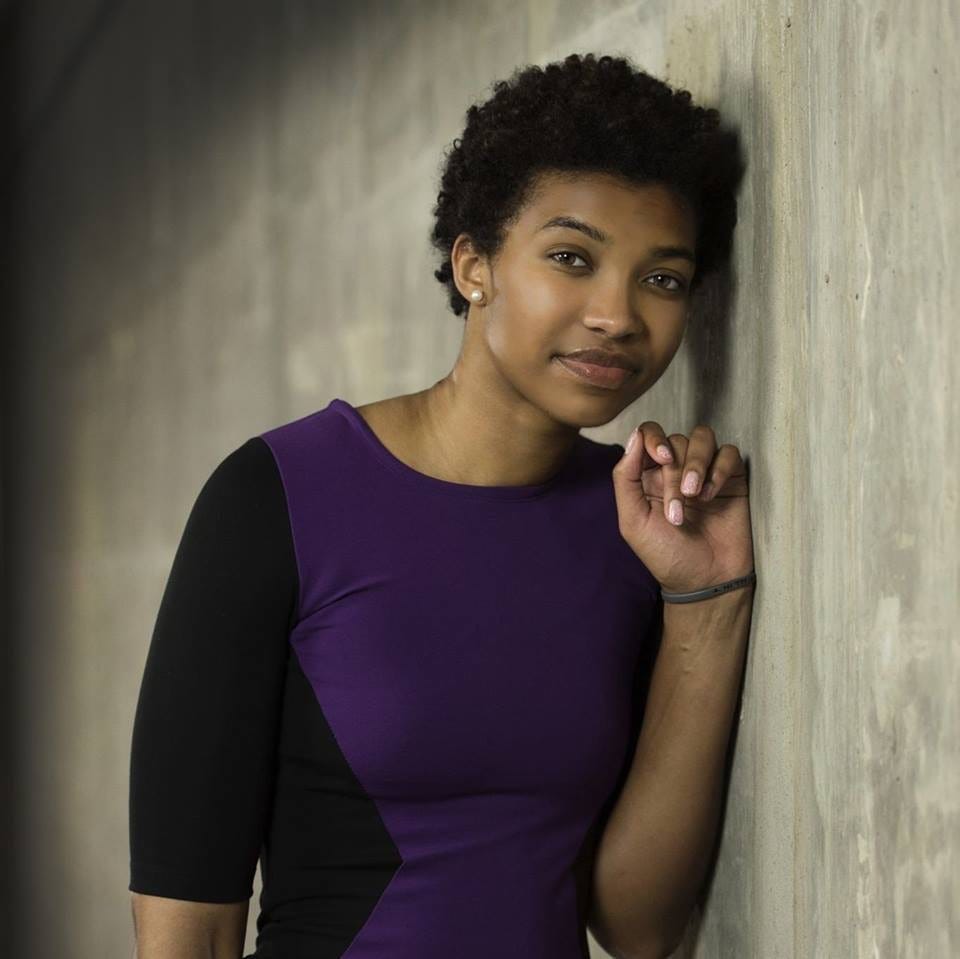 (Photo c/o Imani McGee-Stafford)
I am a black woman, a WNBA player, and a survivor of sexual violence. I was born and raised in Inglewood, California. Lakers games were a must, and Kobe was otherworldly. It was commonplace to yell "Kobe" as you attempted an off-balance jumpshot, no matter whether it was on a basketball court or shooting trash in the back of the classroom. Truthfully, it almost feels traitorous writing this. 
We've been through a lot this week. We saw nine lives be taken far too soon, two of those lives being Kobe and his 13-year-old daughter, Gianna. For the basketball world, players and fans alike mourned a legend. We mourned the 18 all-star appearances, five championships, and his never-say-die attitude. We mourned a cultural icon, a black man that redefined aggression and the many stereotypes placed upon him. 
Then there were the survivors of sexual violence, who saw a man, an alleged abuser, praised in his passing, and felt silenced and ignored yet again.
So, what is the correct response? When is it too soon to speak about a man's violent mistakes after his passing? How do you balance the legacy of a hero and a villain? When examining these issues, we must first look at our own biases and positioning.
I was in third grade in 2003. Too young to pay attention to the news and become involved in the story of the NBA's young star who was not only found to be cheating on his wife, Vanessa Bryant, but also accused of rape. I merely remember thinking, "He did it, but he's Kobe." It was a juvenile lesson about the politics of rape, and the consequences — or lack thereof — for powerful men. 
A couple of days before he passed, as yet another article came out praising Kobe for championing women's sports, specifically the WNBA, I complained about how he may not have been the best representative. I was never blessed to meet Kobe, so I never knew if his support for the game was genuine. My friend lamented to me how unfair it was Kobe had yet to have a son, to which I flippantly replied, "2003."  I told her it was either God's joke or karma. The phrase, "as a father of daughters," is overused, but unfortunately, it is true: Most men don't learn to value women until they raise one.
When I heard the news of his passing, it didn't feel real. I felt guilty for making such a crass joke mere days before. I was in utter shock and disbelief, and when I learned of his daughter and the other young lives lost, I teared up. It all felt like too much loss at once, too unfair, too much sorrow, just too much. When I listened to the greats of our game, Sue Bird and Diana Taurasi, talk about his genuine support and interest in our league, I grieved. My heart hurt for Vanessa, because I can't imagine losing my husband and daughter so tragically and still having to raise three other children. My heart hurt for his children, who won't be able to mourn their own father alone, and will instead have to share his legacy and the pain of his loss with the world. And I, too was angry at Washington Post reporter Felicia Somnez when she tweeted the article about his rape case just hours after his death. It felt performative, like a cheap shot. 
At the same time, I understood how necessary, specifically for his alleged victim and others like her, that we not forget. I've spent this entire week arguing with family, Kobe fans, and survivors like myself. Did Kobe have to live the rest of his life as an alleged rapist for something that happened when he was 24?  Could his alleged victim shed the title of Kobe's victim or accuser as easily as he seemed to shed the title of the accused? Would he be the man we knew and loved if that hadn't happened? 
Ultimately, I think Kobe's life shows how multidimensional people are, how real life does not fit into the dichotomous boxes of black and white.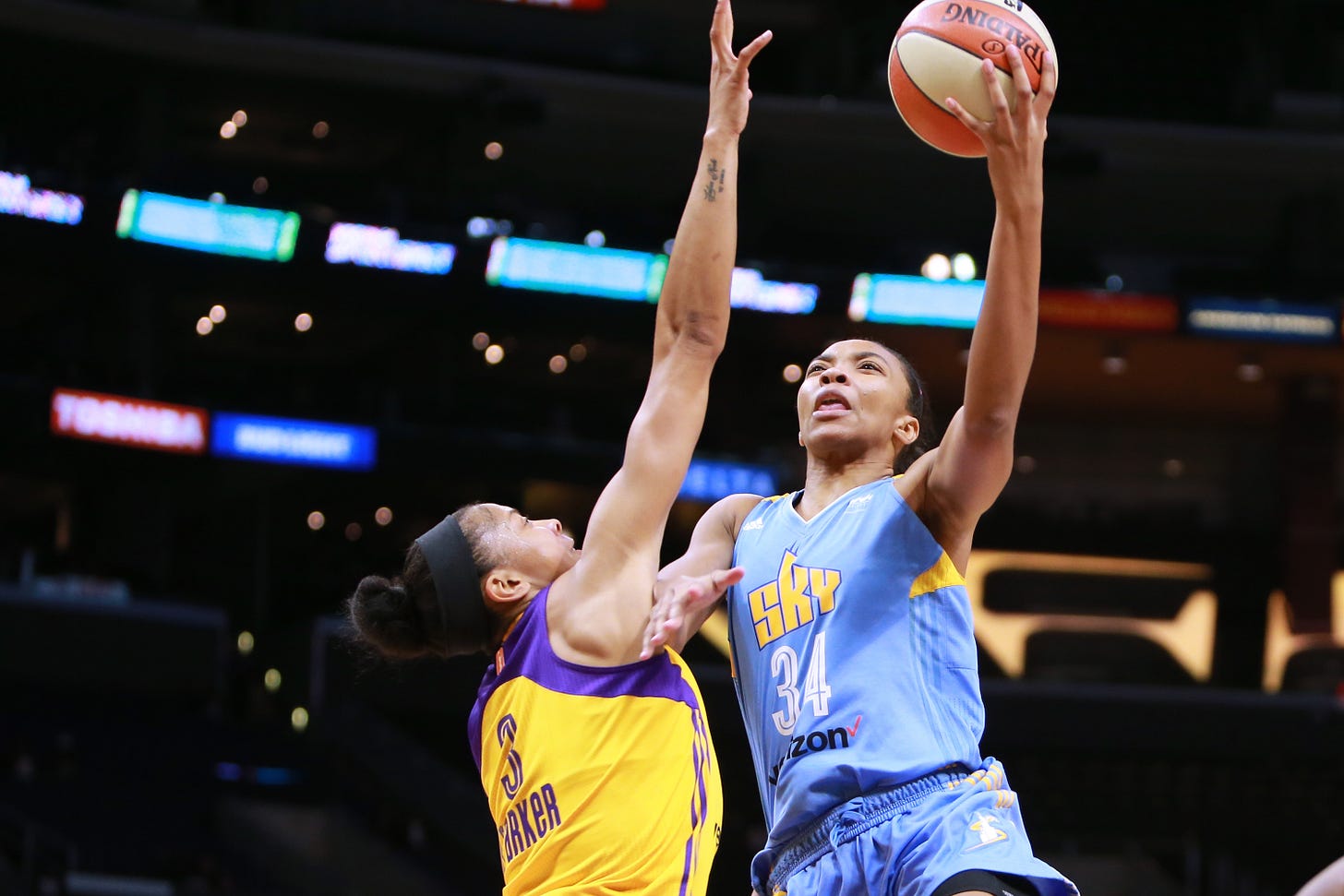 (A 2017 photo of Imani McGee-Stafford, then a center for the Chicago Sky, and Candace Parker of the Los Angeles Sparks. CREDIT: Getty Images)
Pop culture and the media have painted sexual predators as a few bad apples, as  stranger danger, as a villainous few. However, in reality, things are far more complicated. Seventy-five percent of victims know their assailant. How do you reconcile the fact that your villain could be someone else's hero? What does one have to give to society for it to forgive the trauma they've caused? In Kobe's case, many merely needed his unrivaled basketball prowess. But for his victim, and everyone like her, it's not as easy to forget. No amount of championships or public praise erases our trauma, heals our nightmares, fixes our mistrust. 
In his post-basketball career, Bryant became a consummate husband and father. He could often be seen courtside with his daughter, Gianna. He would frequent WNBA and UConn games, both organizations that Gianna about playing for. He coached Gianna's basketball team, and received praise from all the parents involved. He championed women's sports. From the outside, he had changed his persona, and possibly even put enough good into the world to undo the damage done by his 24-year-old self. 
Part of me thinks that maybe, he corrected his life just in time for God to call him home. I hope that the lives of his young daughters allowed him to understand just how important consent is and was, even if he could not publicly acknowledge it. I imagine that, while he saw himself in Gianna's bright future, he also understood the realities of the space in which his black daughter occupied. 
But as a survivor of sexual abuse, there are things I will never be able to forget, my abuser being one of them. So, it often feels unfair that a perpetrator can move on with his life, be forgiven, and all can be forgotten. I want to be remembered. I want my trauma to be acknowledged. Sometimes that looks like revenge, like the money that often fills the space between a failed judicial system and the truth. Other times, it looks like silence, like new cities and new names, like fresh starts. 
I didn't write this to malign Kobe's legacy, or cause any more heartache to his family. But as victims who are so often told, "not now, quiet down," it is imperative we take up space. As we all experience the loss of an icon, I believe we must allow each other to grieve in our own separate, complicated ways. 
In reality, abusers are not pure evil like we prefer to assume; they are often lovable and powerful, too. We cannot combat rape culture and sexual violence until we acknowledge that people are multidimensional, and that people often idolize someone who terrorizes someone else.  
I hope Kobe's passing allows us to look at how rape culture operates, how history can rewrite itself for the chosen few, and how hard and complicated these issues are.

Thank you so much to Imani for sharing her thoughts with us, as we all try to figure out where to go from here. To share this post, click on the link below.
Power Plays will be back on Monday, when we'll return to our regularly scheduled programming. Thanks for the support this week, and always. Remember to sign up, and to practice self care this weekend. As always, I can be reached at lindsay@powerplays.news.