Women's bowling is the NCAA's hidden gem
Marisa Ingemi takes you inside this unique universe, and ponders its post-coronavirus presence.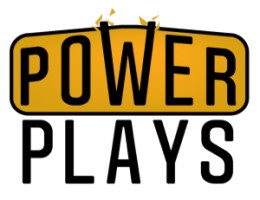 Welcome to Power Plays, a no-bullshit newsletter about sexism in sports, written by me, Lindsay Gibbs.
I know there's a million things going on in the professional women's sports ranks, and trust me, we'll be covering that on Power Plays. The NWSL and WNBA have turned my vacation into a working one, and I'm not even mad about it. (Well, I'm not *that* mad about it.)
But today I'm thrilled to have freelance reporter Marisa Ingemi back on Power Plays, telling you everything you never knew you needed to know about the elite women's college bowling scene.
Remember: Your support of Power Plays makes freelance contributions possible. Please consider becoming a paid subscriber, or donating a subscription to someone who can't afford one.
Alright, that's enough preamble. Marisa, take it away!

Inside the quirky and cutthroat world of women's college bowling
Twenty-six miles away from the Vanderbilt campus sits Smyrna Bowling Center. It is the home to BBQ wings, bored teenagers, and one of the most elite college sports programs in the nation: The Vanderbilt Commodores women's bowling team.
That's right. Bowling.
It turns out, women's college bowling is one of the hidden gems of the NCAA.
"People are like, 'Oh, there's bowling in college?'" said Breanna Clemmer, a recent graduate of McKendree University in Illinois and the top-ranked bowler in the nation this past season. "They're shocked. They don't think it's a sport, a competitive sport you get scholarship money for."
---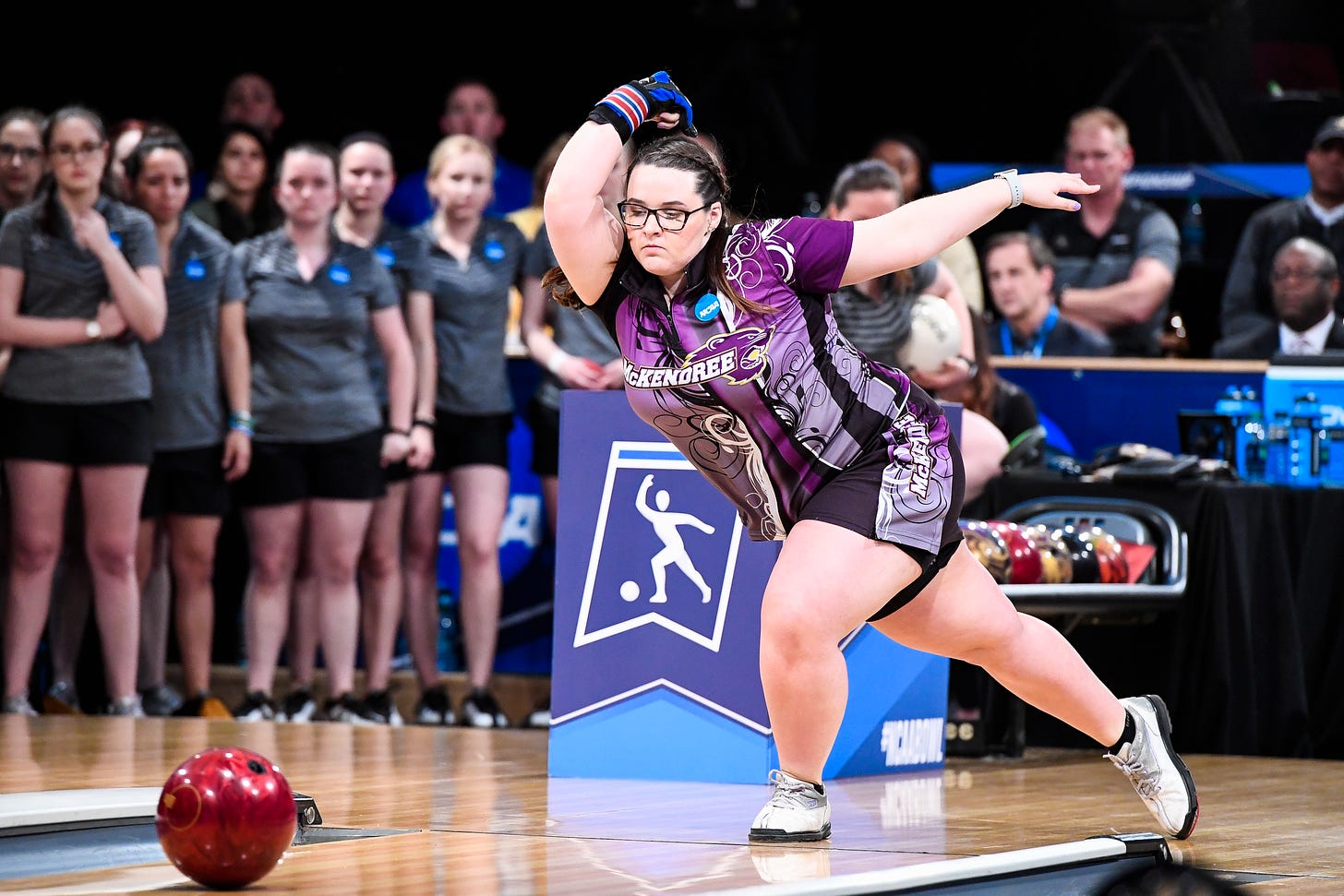 (Breanna Clenner in action at the 2018 NCAA championships; via Getty Images)
---
For those inside the college bowling universe, there's nothing shocking about it. The sport of bowling has much in common with other NCAA sports, especially those on the women's side — it is directly tied to Title IX, has its own recruiting and fandom quirks, establishes a direct pipeline in to the professional bowling world, and, like most sports, is worried about its future in a post-pandemic world.
How women's college bowling became an NCAA sport
Since it was initiated as an NCAA sport in 2003, women's college bowling has developed a presence at 84 schools across the nation at the Division I, Division II, and Division III levels. Since the sport is still relatively small, all teams compete for the Division I championship.
Before 2003, bowling was a club sport for both genders across many colleges in the nation. Men still bowl at the club level, but the NCAA sponsorship has changed the sport for women.
Professional Women's Bowling Association ceased operations in 2003, and didn't start up again until 2015, limiting bowling opportunities for pros until the past half-decade, though major events like the U.S. Women's Open were still ongoing.
The rosters across the modern-day PWBA nearly all come from the NCAA now.
"Everyone you see, they bowled in college," said Sacred Heart head coach Becky Kregling.
It's also a sport that can help schools stay compliant with Title IX. With small rosters and off-campus facilities, it's one of the more cost-effective NCAA sports to add, and balances the scales to have additional women's scholarships, especially at football schools, and one of the few sports that is women-only, along with field hockey and beach volleyball.
The Vanderbilt Commodores are one of the highest profile schools to rank consistently within the top 15, along with Nebraska, which has become a powerhouse. In 2018, they even won the national championship.
---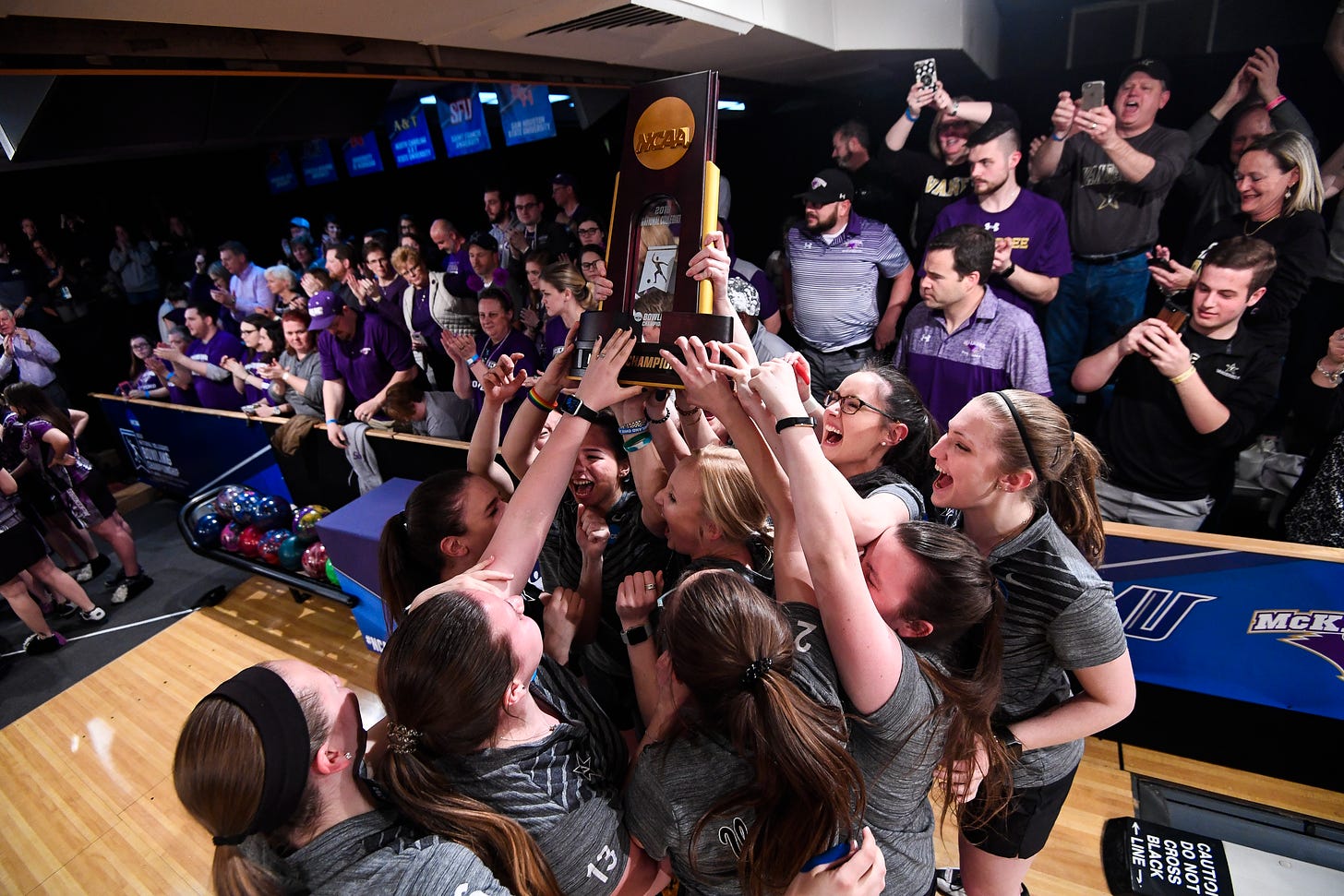 (Vanderbilt celebrating its 2018 national championship; via Getty)
---
But mostly, in women's bowling, smaller schools reign supreme. The University of Maryland Eastern Shore had an early run as the national champions in 2008, 2011, and 2012, and still maintains a presence in the top rankings, finishing this abbreviated season ranked No. 6 in the nation.
And then there's the team at the top of the 2020 rankings, McKendree.
McKendree isn't on the radar of many sports fans. It's a Division II school that didn't officially become an NCAA school until 2010, moving up from the NAIA.
Bowling quickly became what the athletic department was known for, winning its first NCAA title in 2017, which is how it attracted a talent like Clemmer.
"I first heard about it through Bryan and Shannon," said Clemmer, referring to Bryan and Shannon O'Keefe, the married duo who serve as the director and coach at McKendree, and are very involved with the national program. "Bryan is a very good coach and I always looked up to Shannon with her bowling, so that's part of the reason I went to McKendree.
"I felt like I was at home."
Recruiting athletes and audiences
Most bowling athletes come from a family of bowlers, and participate in tournaments growing up. Once a bowler is in one of the elite tournaments and high school age, schools start recruiting.
"I started when I was two years old," said Sacred Heart junior Rachel Bradford. "My grandparents bowled, my parents bowled, my uncles all bowled, so we (siblings) started when we were little. I was 12 when I won a state tournament and qualified for nationals. I kept working and getting better at regional tournaments, and by the time I was in high school I started looking for colleges that had bowling."
Bowling, like any NCAA sport, offers full scholarships for the best in the nation. With five scholarships available, typically they're spread out over the course of a roster.
For big name schools like Vanderbilt, they might swing for the fences and offer a full scholarship to an elite bowler, but typically that kind of generational talent doesn't show up more than once a year.
"There was something like 4,000 kids out there last year, or something crazy," said Kregling. "You go to state championships, local tournaments, find people on the Internet and watch tournaments you're not at, people send you videos. We have some combines but not as many as baseball or football, we get a handful of them."
Since bowling doesn't have the same budget as something like football or basketball, oftentimes schools rely on their reputation to draw in recruits. High schoolers will reach out to coaching staffs, and if they're intriguing, the school will scout that tournament.
Sometimes, that's where they find unexpected talent, too.
Vanderbilt has bowlers from across the country between Indiana, New Mexico, and Maryland, but also Australia and Russia. Recruiting internationally like that requires intense research without the same resources to travel around, unlike bigger revenue sports.
But since even the big-named schools don't have unlimited recruiting budgets, smaller schools are better able to compete for top talents.
"I knew I wanted to do college bowling when I was in middle school," said UMES freshman Brooke Roberts. "I contacted coaches myself and waited for an email from them. I put academics beforehand because I wanted a good school with the major I wanted first, and then if they had bowling, then that'd be a definite yes."
While the reputations of these programs spread far and wide within the bowling community, it's tougher to get penetration within campus communities.
Smyrna Bowling Center doesn't list a capacity, so it's tough to gauge how many people can watch Vanderbilt compete in person. But it's safe to say it's not many. Usually an iPhone or iPad will sit overhead and film the matches for a livestream, and most of the team's followers watch on the livestreams or follow results online.
Without the same facilities as some revenue sports to build a live audience, it's tougher for bowling teams to prove the same type of interest.
---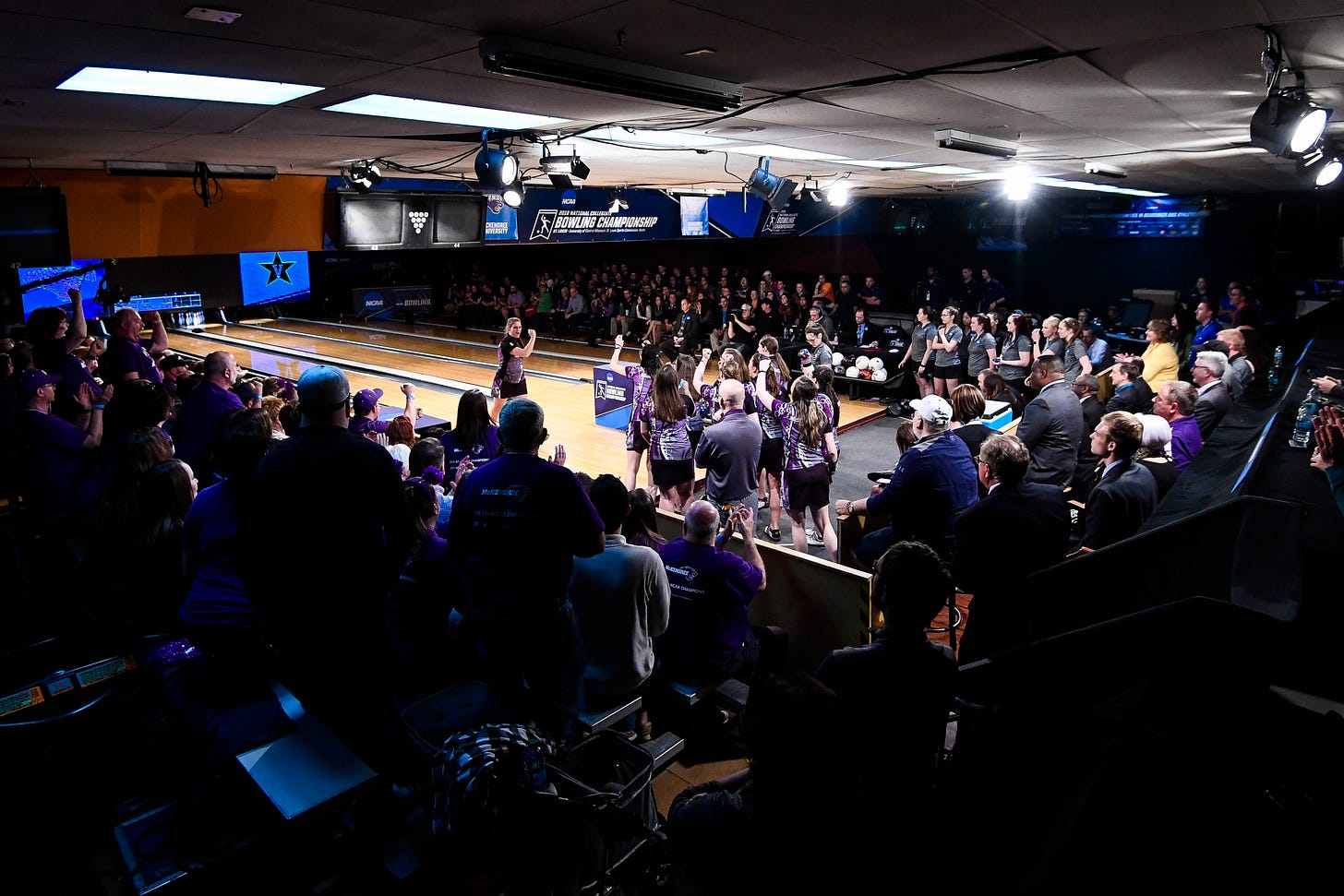 (There's always an enthusiastic crowd for the NCAA championships, though. Credit: Getty)
---
"It's not spectator friendly, because bowling alleys aren't built with the idea of spectators," said Vanderbilt bowling coach John Williamson. "Being off campus for most sports isn't good…. Even football has less student involvement off campus. When we have a home event, it's the same time as an SEC baseball weekend or second round of NCAA basketball, so during a big sports time it isn't conducive for our students to watch a less popular sport that's 26 miles away.
"It's tougher to be attracted to a sport you might not understand."
Williamson, who played college football and anticipated working as a coordinator at some point, ended up in his role at Vanderbilt while the school was seeking its first bowling coach and word got around the athletic department he was a good recreational bowler.
"I kind of backed into the job," he said.
He took advantage of that opportunity to bring the team to a title two years later, and then another in 2018.
They were on pace to make another run this year before it was cut short.
Going pro
Bowling has created memories and opportunities for thousands of student athletes, many of whom have gone on to be pros in the Professional Women's Bowling Association or returned to their coach at their alma mater, giving past college bowlers an avenue to stay in the sport for life.
The most well-known pro bowling governing body is the PBA, where the average salary for the top 10 pro — men's — bowlers is $155,000 (though they can win more money by winning the pot in a tournament). Bowlers ranking around 20th, though, bring home $26,645.
Despite seemingly no physical advantages for one gender or another, men and women are segregated in pro bowling, and that means salaries are different, too. In 2018, O'Keefe was the top ranked women's bowler and made $61,925.
---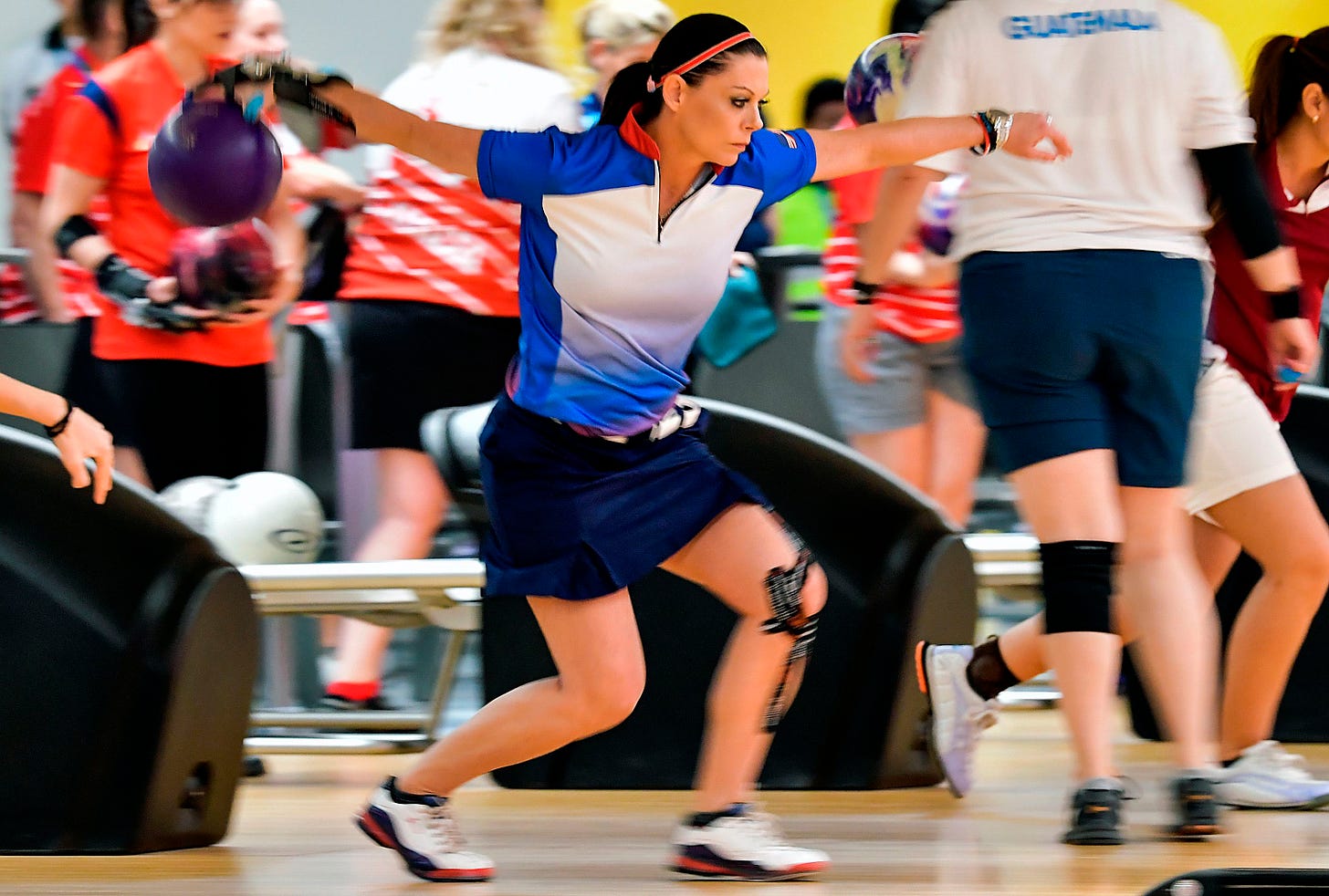 Shannon O'Keefe bowling for Team USA at the 2019 Pan-American Games (Credit: Getty)
---
Most of the elite talent at the college level goes on to play in the Professional Women's Bowling Association, and without a full-time salary outside of the elite, that leaves some of the best bowlers in the world with decisions to make.
Kregling, who was a member of Team USA — the national team that partakes yearly in the Women's Worlds, played on the tour, but didn't have the opportunity to play in college when she was in the midst of her career, long before the NCAA added bowling.
It's not the same as many professional sports where that's the lone focus.
"I was 35 before I took a vacation without bringing bowling balls with me," she said. "You're going to the US Open, team trials, traveling, those are your three weeks vacation. A lot of the girls and women do that too."
It's a long, hard path to becoming an elite bowler and get through the college ranks, and even the best of the best can go unnoticed in a saturated, male-dominated sports landscape.
College sports is the great equalizer where all sports are expected to receive the same treatment, and for women in sports, its oftentimes the only luxurious experience they get that matches a man's athletic experience.
In a sport like bowling where there's no glamour at the end of the tunnel, that makes the college level all the more important.
The coronavirus conundrum
Like other winter sports, the pandemic took away the opportunity to complete the 2019-20 bowling season.
The Sacred Heart team was on their way to practice when they got an email on March 13 saying it was canceled. They had to hold their senior night party via zoom.
"So many of them just wanted to go practice," Kregling said. "It was emotionally this bizarre of highs and lows, just like any other sport, we have a bunch of student athletes who work all season to hit goals."
When Clemmer got the news that the season was over, she instantly started crying. Her freshman year, McKendree won the national championship and Clemmer was named the most outstanding bowler of the tournament. The team finished as runner ups her sophomore season and a disappointing fourth place last year, and had worked so hard all season to regain the crown.
"I didn't think it was the way I should have ended my senior year," said Clemmer, who plans to turn pro now. "We were destined to win a national championship this year, and were good enough to win a national championship this year."
While seniors like Clemmer are mourning the abrupt end to their college careers, others are worried about what the future of the sport will look like after the coronavirus.
---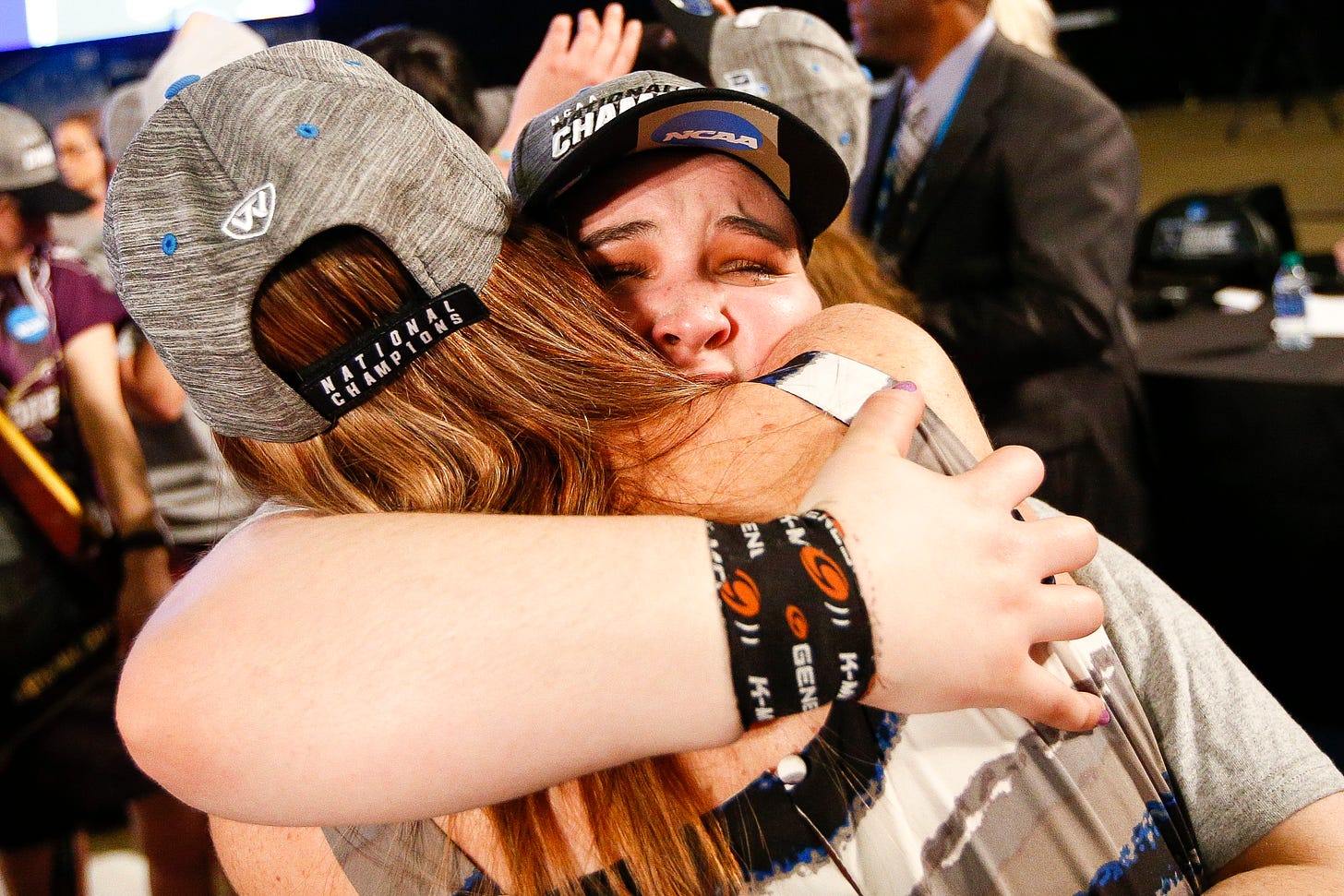 (McKendree celebrating the 2017 NCAA national championship; via Getty)
---
Title IX offers some protections for women's sports, requiring schools to create equal participation opportunities for men and women. But, in practice, very few schools are in full compliance with Title IX, and with schools worried more about profits especially after a pandemic, some women's sports might have to fight to retain a presence.
Currently, there's concern some smaller women's sports might be the way to trim the fat for some budgets, especially at schools trying to reduce costs enough for a football season.
Bowling Green cut baseball last week, but it's mostly been smaller sports such as Sonoma State women's water polo, Akron women's tennis, St. Edward's University women's golf, and others.
Even though bowling is a relatively cheap sport, those in the community are still worried.
"I can't say I'm not concerned, because that wouldn't be correct," said Williamson. "I look at it as we're operating as business as usual until we're told to be different, then we'll figure out what that means. At a place like Vanderbilt, I don't think cutting sports is on their radar at the moment."
Williamson thinks being a successful program on campus helps the cause of the bowling team as well if they ever were to look at cutting costs by eliminating some sports.
"The one thing Vanderbilt does a great job of is treating all their sports equally. They don't expect us to travel differently than football, so we have universal guidelines," he said.
When NCAA sports do return, bowling is hoping to keep things rolling. On some campuses, like UMES and McKendree, it's the most successful sport, while on others like Vanderbilt, it's a secret gem that adds to the school's athletic legacy.
Whatever it represents to an athletic program, it's one of the many secret worlds under the surface of more publicized revenue sports, and it's one that's ready for a fight to stay in the picture while schools across the country make cuts.
"I never thought I'd love for the opportunity to lose," said Williamson. "It would have been closure."
Marisa Ingemi is a freelance sports reporter, who most recently was a Boston Bruins beat reporter for the Boston Herald. She is a must-follow on twitter for all your women's sports needs.

Thanks so much for supporting Power Plays, friends. I'll be back in your inbox soon.
-Lindsay