Women's soccer is growing. But female coaches are being left behind.
There is only *one* female head coach in the NWSL.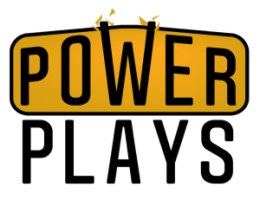 Hello, friends, and welcome to Power Plays, a no-bullshit newsletter about sexism in sports, written by me, Lindsay Gibbs. I hope you had a wonderful week!
This week's free newsletter is coming to you on Saturday morning in order to get you excited for the NWSL Challenge Cup, which starts today at 12:30 p.m. ET on CBS. (If you're in the United States, you're going to need to subscribe to CBS All Access to watch most games; it's only $5.99 per month.)
Remember: In order to get access to all of my newsletters, the Power Plays Book Club, and the fresh-out-of-the-oven Power Plays Slack channel I am debuting this weekend, become a paying subscriber.
Today, I have five free gift subscriptions to give out to those who want one, but can't quite afford one. This weekend only, those five gift subscriptions will come with a subscription to CBS All Access, because we want CBS to know that investing in the NWSL is good business. If you want this deal, email me (lindsay@powerplays.news) and include your venmo. (You do *not* need to explain why you need the help. Trust me, I completely understand.)
Gift subscriptions are made possible by generous readers. If you're interested in donating a subscription, you can do so right here:
While we celebrate the return of the NWSL — and worry like crazy about the health and safety of all involved — I thought it would be a great time to focus on a problem in women's soccer that doesn't get nearly enough attention: the lack of women on the sidelines.
Today, Power Plays contributor Pardeep Cattry dives into the issue through the lens of the NWSL and NCAA soccer. It's a must-read.
But first, a couple of announcements:
As you might have noticed, there is A LOT of sports news happening right now. It is hard to keep up. These days, I've been relying on my friends at The Gist more than ever. You can subscribe to their free newsletter here, and get updates on the sports world in less than five minutes every Monday and Thursday morning. What makes The Gist special is that it is written by women, for women, and it puts women's sports news on equal — often even higher — footing than men's sports news. Love it.

There's still time to sign up for NWSL fantasy games at She Plays, a fantasy sports site for women's sports. I'm going to be playing some games, so join so that you can mock me, because this is the type of thing I am certain I will be horrible at.
Okay, that's enough from me. Time to hand it to Pardeep. Let's do this.

In women's soccer, female coaches are few and far between
By Pardeep Cattry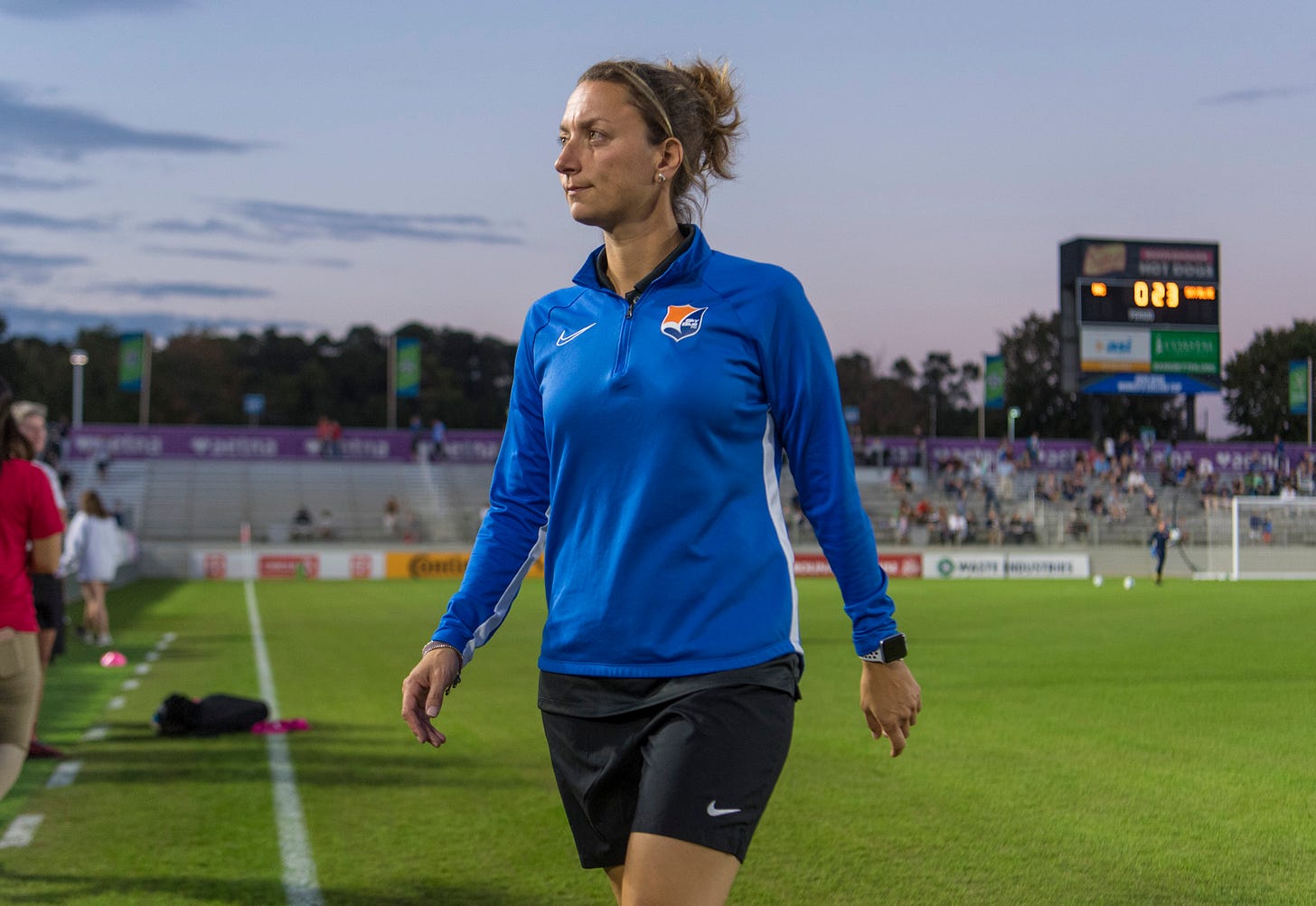 (PIC: Freya Coombe, the lone female head coach in the NWSL; via Getty Images)
Women's soccer in the United States is growing, but the opportunities for female coaches aren't keeping pace. The National Women's Soccer League has only one female head coach — Sky Blue FC's Freya Coombe — and only nine women make up the league's 36 total coaching jobs.
One way to close the gap? Get more professional female soccer players to make the leap to the coaching ranks. Thirteen of the NWSL's male coaches were professional soccer players, but there are only six former female pros coaching in the league — Portland Thorns FC goalkeeper coach Nadine Angerer, Chicago Red Stars assistant Julianne Sitch, Utah Royals FC assistant Amy LePeilbet, Sky Blue FC's Coombe and assistants Becca Moros and Becki Tweed.
According to Haley Carter, the chairwoman of the women coaches advocacy group at United Soccer Coaches, this gap isn't because of a lack of interest, or even a lack of initial opportunities. 
"For the players that are retiring and transitioning, we're seeing quite a few go into coaching," Carter told Power Plays in May. "There are avenues out there that are available already." 
The biggest struggle? Growing the pipeline, changing the minds of those in hiring positions, and retaining talent.
Some programs are already in place
In the midst of a playing career that saw her lift an NWSL championship with FC Kansas City and win Olympic gold with the USWNT,  Utah Royals FC assistant Amy LePeilbet did not think much about coaching. It had never been one of her dreams. 
Then, in 2013, she tore her ACL and couldn't play for 18 months.
"When I got injured, I was out for quite a while," LePeilbet said. "I was on the sidelines watching. I think I realized that I had some real opinions, thoughts, and I really was enjoying breaking down the game. I think it was that moment that I realized coaching might be something I might really enjoy."
LePeilbet retired in 2015, and admits she "definitely didn't go searching" for coaching opportunities. One found her, though.
"I went into [an under-14 girls national team] camp right after retirement," she said. "I knew the head coach [April Kater] really well, and she gave me a call and said they were doing a bigger camp. I think there was probably 60 players. It was quite big. They brought in a couple of [former] players. We were assistants to the head coaches."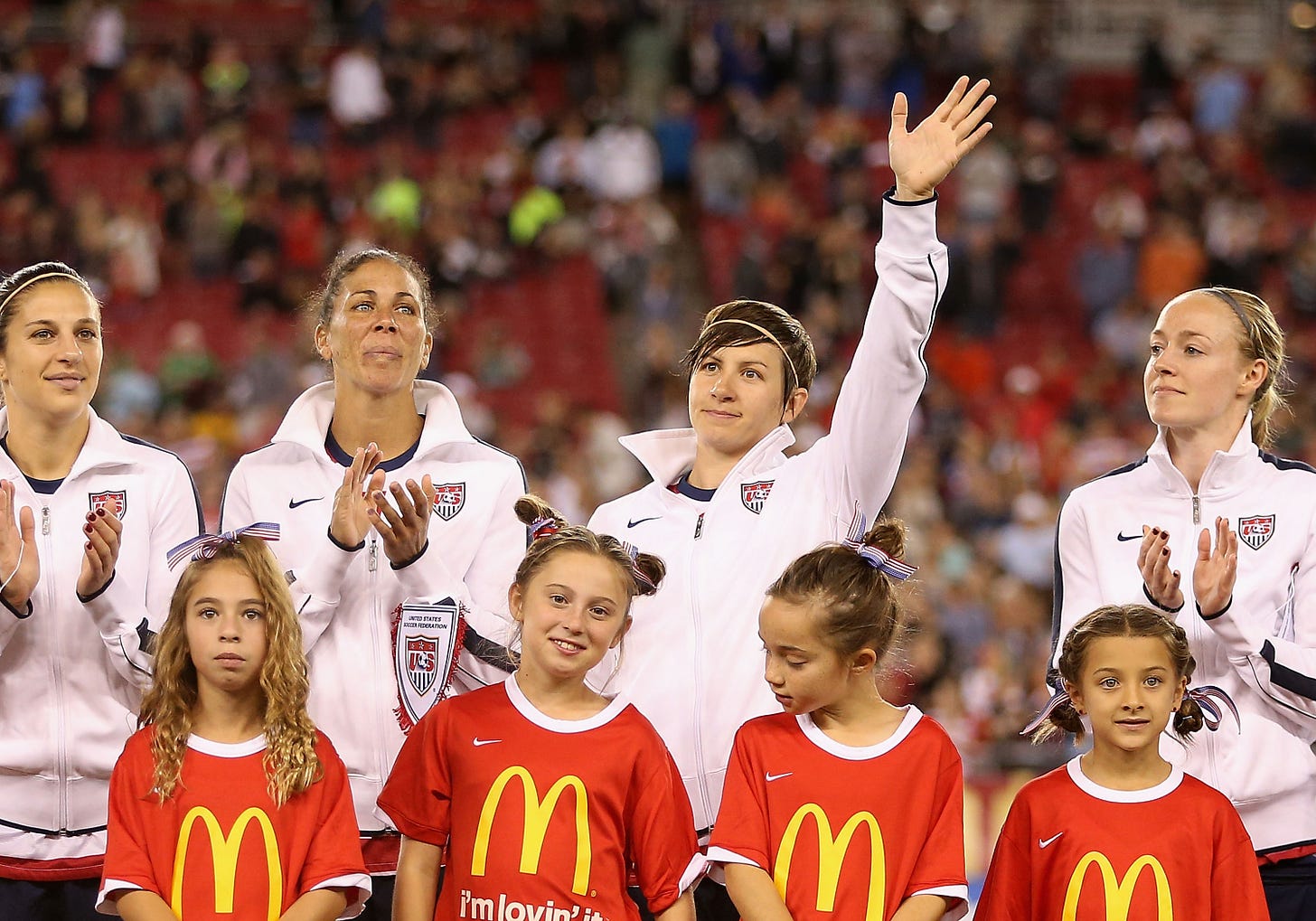 (PIC: LePeilbet waving to fans before a friendly against Ireland in 2012; via Getty)
LePeilbet was a beneficiary of a decades-old U.S. Soccer practice to introduce former USWNT players to coaching with guest coaching roles at youth levels. In recent years, opportunities have emerged for players who didn't make it to the national team. The C License is the first license needed for anyone interested in a professional coaching career, and beginning in 2018, U.S. Soccer began offering C License courses for free to interested NWSL players.
This helps NWSL players pursue additional streams of income, something especially important for those on the lower end of the salary spectrum. When the NWSL launched in 2013, the base salary was only $6,000 per season. In seven seasons, the base salary has only risen to $20,000.
"Coaching tends to be a relatively straightforward means of supporting oneself," Carter said.
But there are still logistical obstacles
With those smaller salaries, it's a big deal that U.S. Soccer now provides waivers to NWSL players and others with at least two years playing on a senior national team, and/or two years playing in a FIFA recognized "first division" professional team. After all, the C License course alone costs between $1,000-$2,000.
Unfortunately, Carter said she and other retired players have been denied waivers because the rule was not retroactive, and therefore didn't apply to former players. U.S. Soccer has not responded to a request for comment.
But money isn't the only obstacle. The course schedule is extensive. The C course requires two in person meetings for the whole class, each lasting five days, plus six to eight weeks at home with assignments and mentoring. The more advanced courses require more in-person meetings and home assignments.
"I know full time coaches that agree it's very difficult to get time off and to spend the money to do it," said Sky Blue assistant coach Becca Moros. "Then with the weird soccer season, you can't do anything during the actual season so you can't really fit into the other programs really easily."
U.S. Soccer's program for NWSL players to get their C Licenses changes the format so it's more accommodating to the players in the course, something Moros said players had been campaigning for. Normally, the C License takes two to three months and requires candidates to travel twice for in-person sessions lasting five days each, a hard thing for players to fit in their playing schedules.
"There was a lot of wires crossed over the years trying to get players to coach and to have opportunities to get their education," she said. "[U.S. Soccer] said they offered that course many years before, but some of the teams never informed the players of the opportunity."
A failing grade in college
Throughout college sports, female coaches are still outnumbered by their male counterparts in women's sports, and practically nonexistant in men's sports. When Title IX was enacted in 1972, 90% of the coaches of women's college sports were women. These days, it's about 41.5%. While Title IX brought more money to women's sports, that had the unintended consequence of attracting more male coaches.
And, believe it or not, the coaching gender divide is even worse than average in women's soccer.
In 1996, Amanda Cromwell — now the head coach at UCLA — was named the head coach at the University of Maryland, Baltimore County, when she was still a member of the USWNT.
That season, women held 39.3% of the head coaching jobs in women's Division I NCAA soccer, up from 27% in 1992.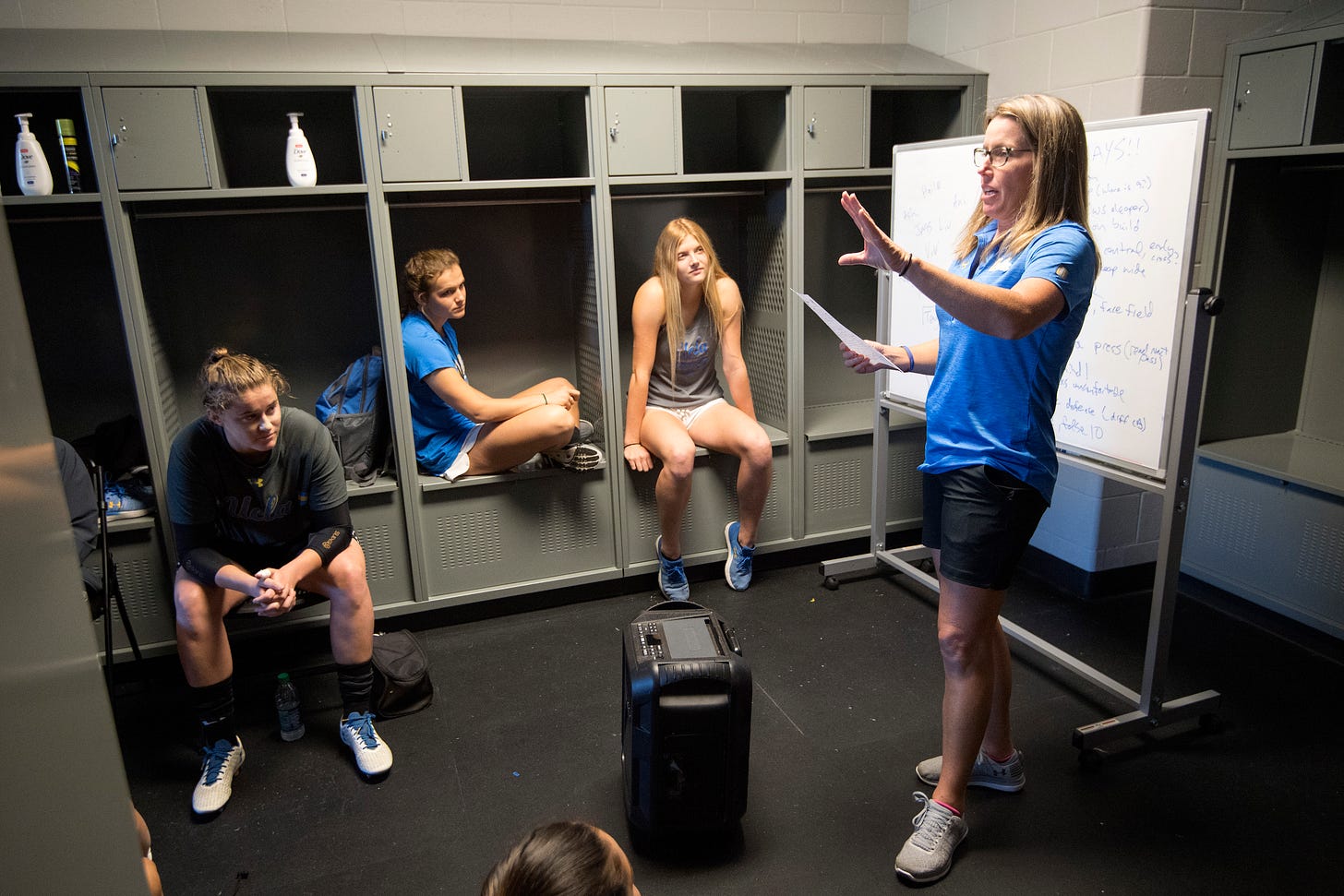 (Amanda Cromwell coaching her Bruins; via Getty)
But in 2018, the Tucker Center found that only 26.2% of Division I NCAA women's soccer teams were coached by women. Of the 64 teams that competed in the 2019 Division I tournament, only 19 teams are currently coached by women.
Things are moving in the wrong direction.
The decline is particularly troubling given the surging popularity in women's soccer, especially on the collegiate level. In 1992, only 45.8% of Division I schools offered the sport; in 2014, that increased to 92.5%.
"Job opportunities have grown overall because there are more college teams, but the percentage of women coaching is still much lower than men," Cromwell said.
Cromwell — whose big break came when she was hired as an assistant coach for the University of Central Florida when she was only 29 — says those with hiring power still aren't casting a wide enough net, perhaps because the group doing the hiring is not at all diverse. According to the 2019 Racial and Gender Report Card, last year, 84.5% of athletic directors were white, and only 13.6% were women.
Notably, only 1.2% of all athletic directors in Division I in 2019 were Black women. This just compounds the lack of racial diversity in women's soccer. In 2018, there were only three Black female head coaches in DI. And according to the NCAA, only 5.3% of women's collegiate soccer players are Black.
Everyone in the sport needs to work on broadening the pipeline.
As someone who has had hiring power when looking for assistants, Cromwell said others should "talk to more people and especially to women about women who need to be given a chance to coach at the higher levels."
The lack of female coaches is bad for the game
Hurdles in pursuing a coaching career frequently just compound the hardships that come with being a professional female soccer player, especially compared to their male counterparts.
Men's soccer also has a rocky history in the U.S., but Major League Soccer's survival since its inaugural season has created a fairly healthy men's soccer ecosystem. The MLS now has 26 teams compared to the NWSL's nine, and the lowest paid player in MLS in 2019 had a base salary of $56,250 compared to the NWSL's $20,000 for 2020. All MLS teams have academies now, and many have minor league teams in leagues that continue to expand and grow themselves. The NWSL has few to no equivalents; some have academies, but no minor league presence. There are simply fewer opportunities afforded to female soccer players overall, which means fewer women stay involved in the game after college.
For those that do want to coach, almost none of the myriad of jobs on the men's side are open to them, and as of now, just a fraction of the jobs on the women's game are made available. The reality is distressing.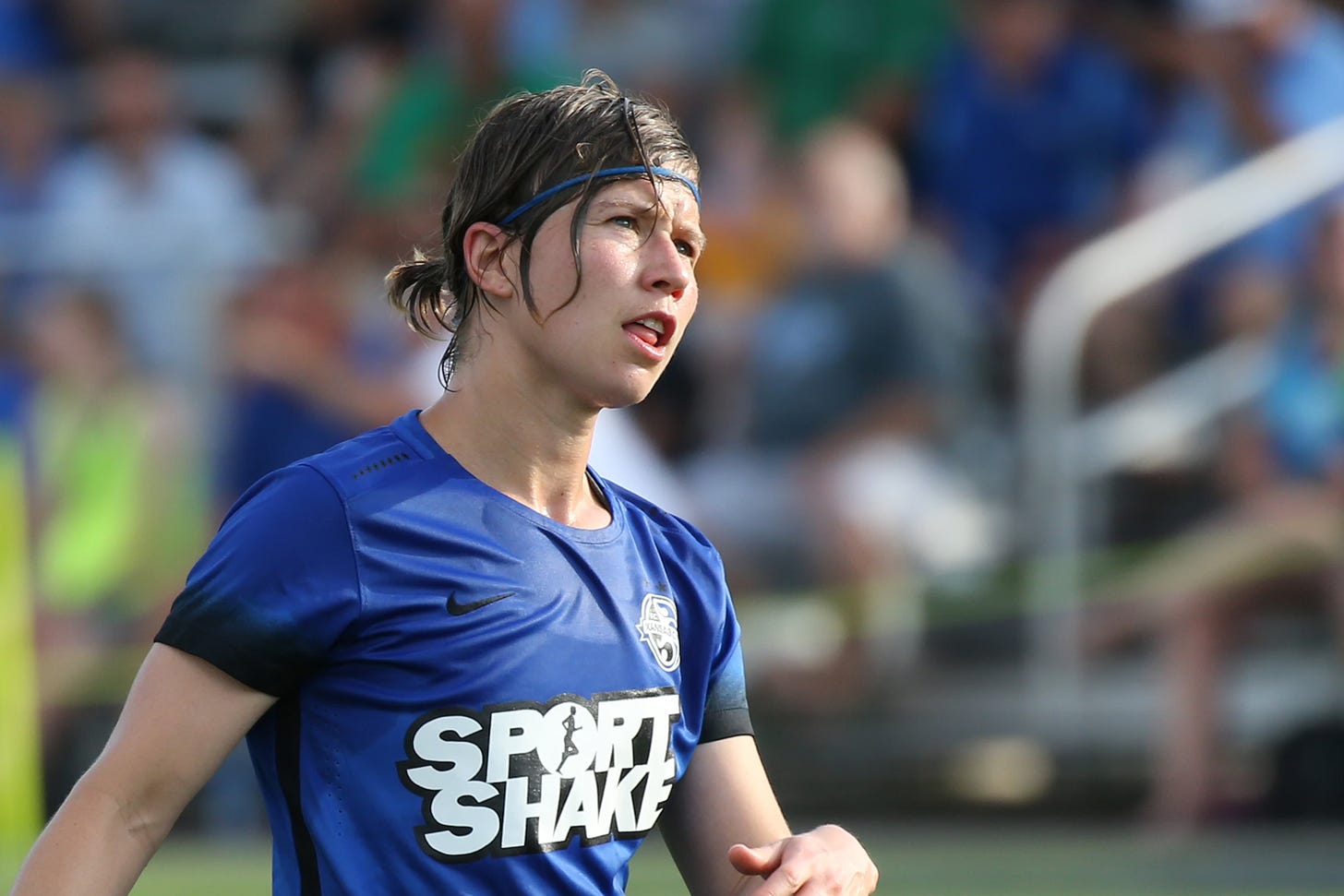 (Becca Moros, back in her NWSL playing days; via Getty)
"The number of people that have so much expertise and can come back into the game that haven't is sort of mindblowing," Moros said.
"I think the women's soccer environment also spits and chews out players a little bit, which is unfortunate. Just because of where it is in its development, I don't think it's intentional. You work really hard. You grind it out. You don't make a great paycheck. You might get traded. … A lot of people don't have easy experiences so maybe the idea of coming back in and staying in that environment feels like maybe it's just enough of a grind at that point."
Coaches go through similar rough patches. Cromwell said her UCLA assistants are paid well, but other programs don't offer the same, which takes away an incentive to keep women in coaching. That can encourage former players, many with four year degrees at some of the country's top universities, to pursue other careers entirely; Cromwell assumed she would go into biology after getting a degree at the University of Virginia.
Of course, every player isn't meant to be a coach and coaches don't need to have playing experience to succeed. But one thing is certain: the lack of women coaching soccer, and the lack of opportunities for female soccer players to rise through the coaching ranks, is terrible for the game.
"You have a whole host of male counterparts that are interested in all those jobs, never played anywhere near that high a level," Moros said. "What I do have, someone else isn't going to have in a year."
Pardeep Cattry is a freelance soccer journalist who covers both the women's and men's game, and the intersection of the sport with the world outside it. Her area of focus is the NWSL, but you can catch her writing and tweeting about as much soccer as she can.

Hi. It's Lindsay again. Thanks so much for supporting Power Plays, friends. We (well, I) asked for women's sports to come back first. I guess I should have been more specific about the containment of the coronavirus when I wrote that, but here we are!
Might as well enjoy it.