A year ago, Hanna Hall's video about her anorexia battle went viral. Here's what happened next.
Jenn Hatfield catches up with the Buffalo basketball star.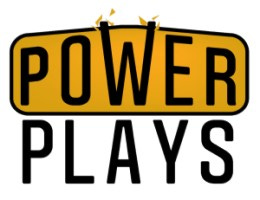 Hello, and welcome to Power Plays, a newsletter for those sick of excuses and ready to see equality in women's sports, founded by me, Lindsay Gibbs.
May is Mental Health Awareness Month, and I'm honored to be able to share this moving story written by Jenn Hatfield.
Remember, your paid subscriptions allow me work with freelancers to bring these stories to life, and to pay them for their phenomenal work. Thank you.
As the title suggests, this piece does discuss disordered eating and mental illness, so this is a content warning if you find such talk triggering. Take care of yourselves, that's the most important thing.
Okay, friends. Let's do this.
For this NCAA basketball star, telling the world about her mental illness was only the start of her story
---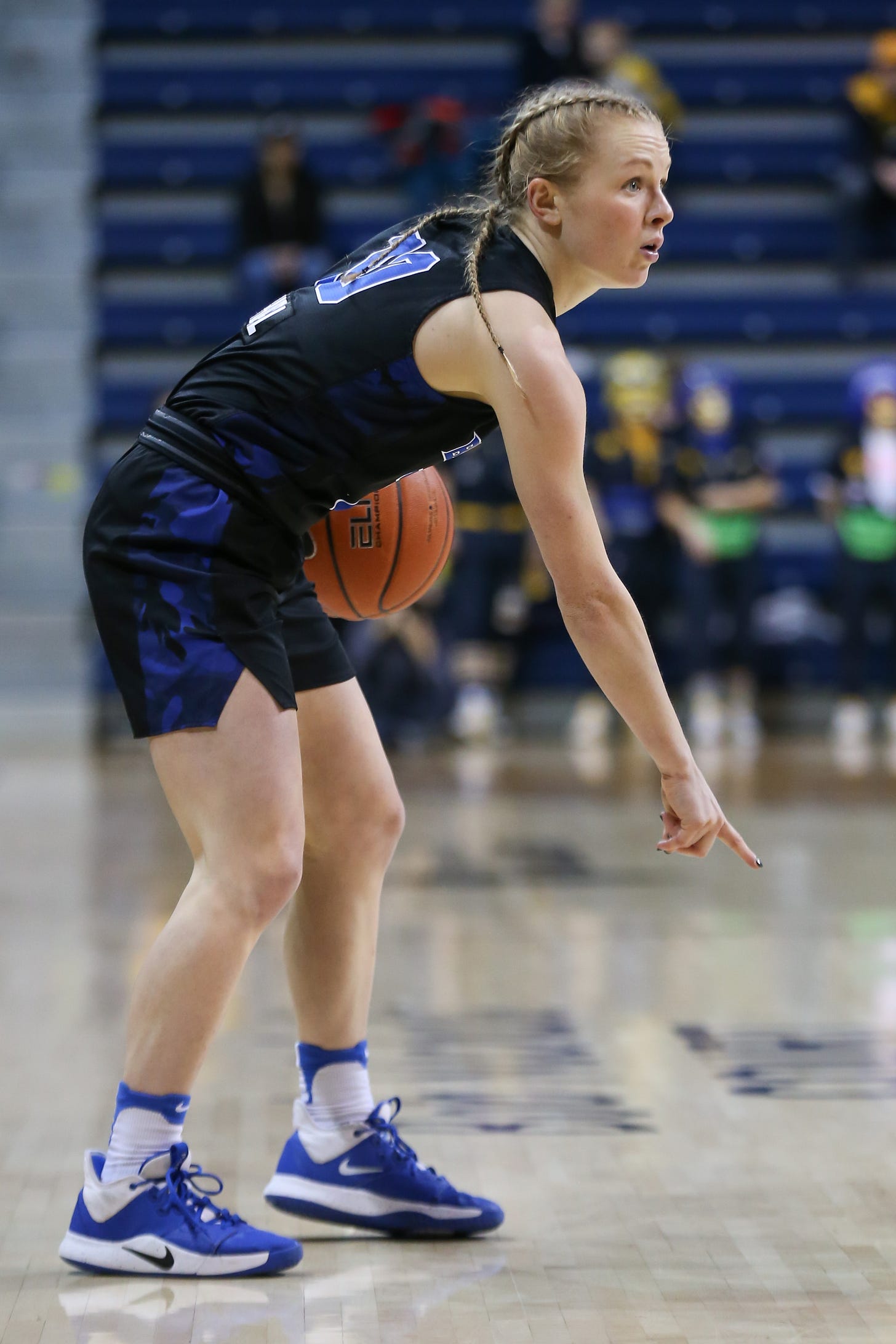 ---
"I'm Hanna Hall, a 5-foot-3 Division I point guard from the University at Buffalo, and I struggle with mental illness every day."
It's been exactly a year since Hall, then a sophomore, decided to share her struggle with anorexia in a deeply personal and powerful six-minute video that was posted on the University of Buffalo Athletics' Twitter account.
Since May 6, 2019, the tweet containing Hall's video has gotten more than 3,380 retweets, 9,680 likes, and has been viewed nearly 710,000 times. The NCAA shared it on Twitter as part of its Mental Health Awareness Month programming and again for Bell Let's Talk, a Canadian campaign to raise awareness of and money for mental health issues.
---
---
The video continues to be shared multiple times per week on Twitter, and professors at Buffalo, coaches, and parents of athletes have all thanked Hall for telling her story. Others have told Hall that watching her video helped them recognize that they, too, needed help.
The public response "hasn't stopped," according to Hall, and at times it has been "overwhelming."
In the year since her story went viral, she's been working hard to re-establish herself as an elite basketball player on the court and continue her mental health advocacy off of it, all while prioritizing her recovery. It hasn't been easy.
But today, Hall told Power Plays that she is proud of what she created. The process of writing and filming the video helped her recognize that battling anorexia was not something to be ashamed of and that she could use her experience to help others who were struggling in silence.
"In the time and the place, that's what I wanted it to be," she said, "and that's what I kind of respect myself for, posting it and staying true to who I was at that time and sharing it."
Coming to terms with the problem
When Hall was a senior in high school, she was a starter for the Canadian women's national team. As a freshman at Buffalo, she found herself playing less than 10 minutes per game. That setback, coupled with her well-meaning desire to be the best she could be in her sport, led to one of the lowest periods of her life.
"You go from being the top to the bottom, really fast, and you have to work your way back up," she said. "So I did what I've always done: accepted the challenge, put my head down, and got to work."
When it didn't immediately pay off with more playing time, Hall redoubled her efforts. Eventually she was working out up to three times a day while adopting an increasingly restrictive diet to try to feel lighter and quicker.
Buffalo's head coach, Felisha Legette-Jack, soon realized something was wrong—though she wasn't quite sure what. She called Hall into her office anyway to discuss her concerns.
"It just seemed like the only thing to do," Legette-Jack told Power Plays. "What people don't understand is that we coach basketball, but that's an eighth of what we do. We're psychiatrists, we're mentors, we're friends, we're mothers, we're confidants."
"I realized that she was in trouble," the coach added, "and so we had to go in."
---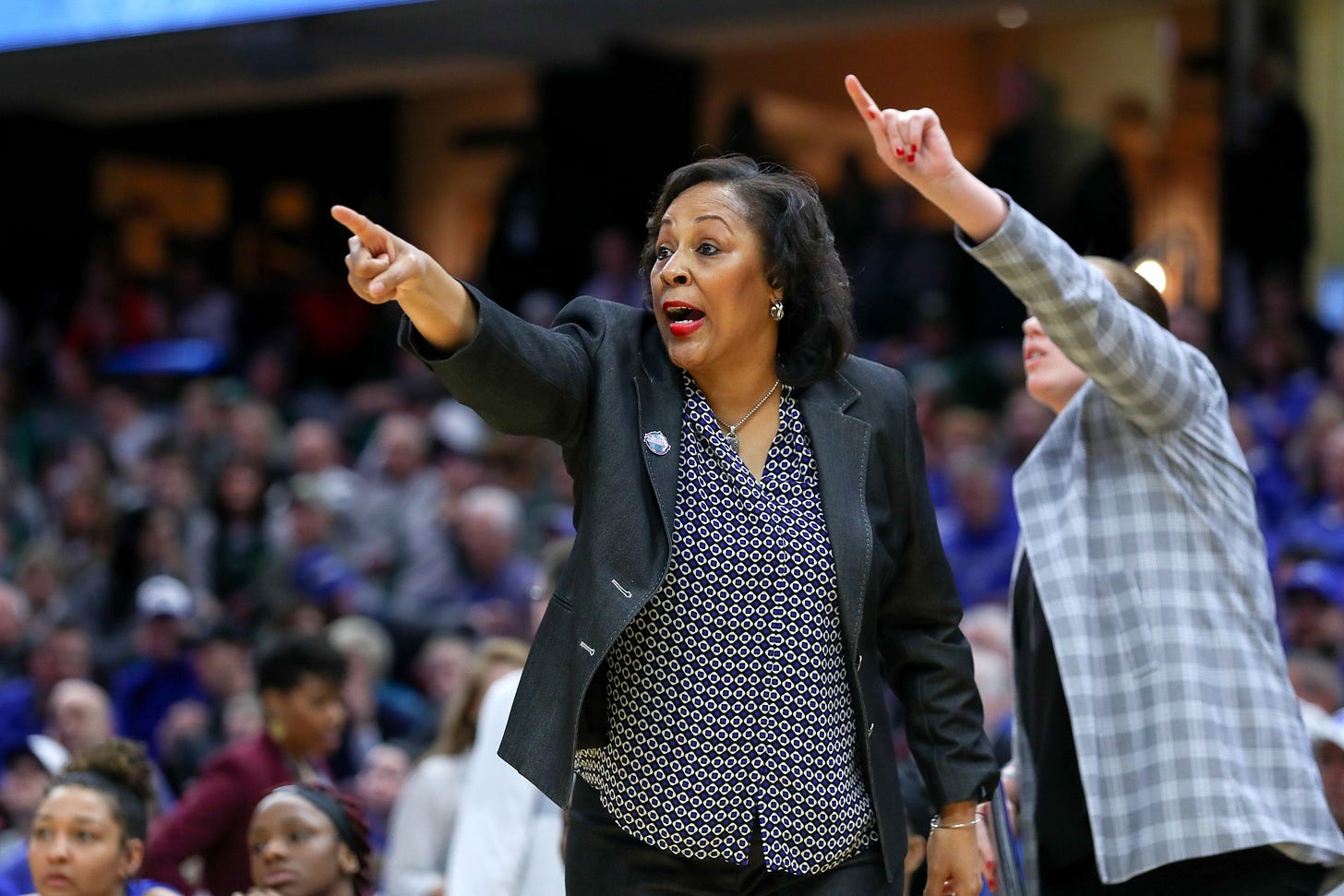 Buffalo head coach Felicia Legette-Jack coaching her team during a MAC tournament game in 2019. (via Getty)
---
At Legette-Jack's urging, Hall began to see a psychologist, who diagnosed her with anorexia.
Still, she didn't really understand she had a problem until the summer after her freshman year. When she got home to Hamilton, Ontario, her friends and family didn't even recognize her. "My mom was in tears," Hall said in the video.
Hall's workouts and dieting had gone beyond what might help her basketball career and developed into a mental illness that threatened to end it. Eating disorders are relatively common—an estimated 31 million people in the U.S. and Canada currently suffer from one—and in many cases they can be life-threatening, with the highest mortality rate of any mental illness.
Hall briefly returned for the start of Buffalo's summer workouts before being sent home to get treatment. That's when she fully committed herself to working with a therapist and dietitian. She made enough progress to return to the court that fall, playing over 25 minutes per game and helping her team make the NCAA tournament while continuing to recover.
It was a very tense time. With the help of her treatment team, Hall was constantly fighting the disorder so that she could eat enough food and give her body enough rest to be at her best on game days. Her teammates were supportive, but Legette-Jack was perpetually worried.
"That was a challenging time for the team because my whole concentration for her was is she safe? Is she safe on the road? Is she safe when we go to sleep in these hotels? ... Is she awake?" Legette-Jack said.
"With anorexia, it's life and death. This is a growing thing. This is not something you just kind-of have and you don't have it anymore. It's real. And one thing I loved about her is she let me in and she helped me fight with her."
After the season ended, Hall began thinking about sharing her journey publicly.
Returning to "normalcy"
Last April, Hall approached Sarah Tranelli, an assistant director of athletics communications at Buffalo who works with the women's basketball team, about her desire to open up about her mental health struggles. With the help of Tranelli and another athletic department staff member, Hall wrote and produced the video.
Coming off of the program's second straight NCAA Tournament berth, she thought the timing was right.
"Something that really was important to me through my story was telling it while I still am an athlete rather than waiting until I'm older," Hall said. "I wanted athletes to understand that you can still struggle and still have mental health issues … and be an athlete, a successful athlete."
---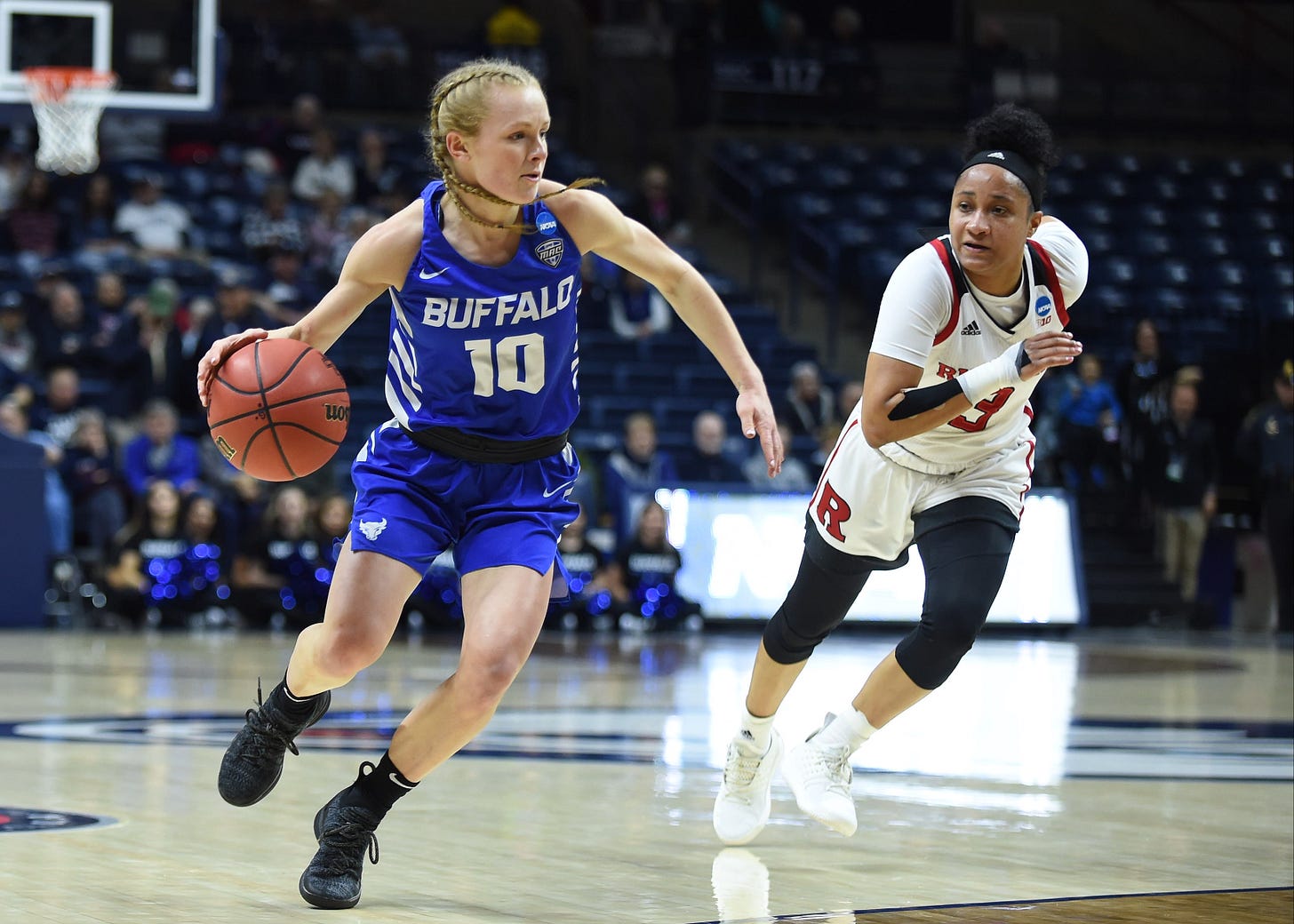 Hanna Hall drives to the basket during a game at the 2019 NCAA tournament. (via Getty)
---
Over the summer, while people all around the world watched Hall tell her story, the Canadian set her sights on becoming the best basketball player she could be and reinforcing healthier routines.
This season as a junior, Hall assured Legette-Jack that her recovery was on track and asked her coach to focus primarily on helping Hall better herself on the court during her junior season. Legette-Jack agreed, and the results were clear.
Hall was healthy enough to play over 32 minutes per game and set new career highs in points, rebounds, assists, and blocks per game. She made 46 3-pointers this season, which put her in the 93rd percentile nationally, and she also ranked in the 90th percentile in assists per game. The team struggled at times, finishing with a 19-12 record, but it was a great learning year for Hall on and off the court.
"[Legette-Jack has] supported me as a basketball coach, which is what I told her that I need from her the most," Hall said. "I think it's hard to be able to understand my story and what I've gone through and then still push me every single day to be the best athlete and best basketball player I can be or hold me to that high standard. So I really respect her for that ... [and] I really appreciate that she's able to still do that."
---
---
Off the court, Hall can rely on several people to help her continue to recover, including Buffalo's athletic trainer, a dietician, and a counselor. Reflecting on the progress she made this past season, she said, "I've just been able to use my resources a lot more." Hall has also embraced yoga and meditation as ways to help her relax and take care of her body, which she said she had never previously been able to do.
"Something I really started doing is just prioritizing my rest and recovery and it's helped me so much," Hall said.
Of course, the last couple of months have brought on unexpected rest—and an unexpected set of challenges. The coronavirus pandemic has reportedly impacted the mental health of over half of American women, and just last month, a study of soccer players in 16 different countries found that the number of players who reported symptoms of depression has doubled since the coronavirus shut down sports, to 22% of female players and 13% of male players.
Many NCAA athletes also have struggled with this abrupt change of pace. But when COVID-19 prematurely ended Buffalo's season, Hall found that she was uniquely prepared to deal with that disappointment because she had had basketball taken away from her the summer after her freshman year.
"I understand what it's like to be taken away from the game pretty drastically," Hall said. "So, as hard as it was for me, I kind of used it as an opportunity to be able to reach out to the people I knew were also struggling."
A lasting legacy
Last year, when the video was complete, the first thing Hall did was bring it to Legette-Jack's office for a surprise screening.
"Coach, we got through the season," Hall said.
The coach, who had been laser-focused on keeping Hall safe and helping her recover all season, let her emotions take over.
"She showed the video and that strength that I had through the whole year just poured out in tears as I watched what we went through," Legette-Jack said. "I'm like, 'Wow, we did some things, didn't we? And more than basketball.'"
This May for Mental Health Awareness Month, Hall will continue to share her story, and she did not rule out making another video in the future to continue to support athletes grappling with mental health issues.
---
---
"Being able to allow athletes to be in the best mental state as possible will just allow them to perform and allow all the work that they've put in to really shine through," she said.
In the past 12 months, other female athletes have spoken frankly about their struggles, and the spotlight on mental health in sports has continued to grow. Last August, Las Vegas Aces center Liz Cambage wrote a powerful essay for The Players' Tribune about the mental health challenges that she has battled for nearly half her life and that caused her to take a "DNP- Mental Health" in the middle of the WNBA season. Three months later, professional runner Mary Cain shared that she had been body-shamed and abused by her coach, Alberto Salazar, which led her to have suicidal thoughts and begin cutting herself.
Ultimately, Hall hopes many others will follow her and Cambage and Cain and discuss mental health issues more openly.
"I would want a million other people to do the same thing just to get to normalize [mental illness] a little bit more," she said.
---
Jenn Hatfield is a women's basketball writer based in the Washington, D.C., area. Her work can be found on Her Hoop Stats, High Post Hoops, and FiveThirtyEight.
---

Thank you so much for your support, and for helping to spread the word about Power Plays. We couldn't do this without you.