How the Atlanta Dream reclaimed their message
In a season dedicated to the #SayHerName campaign, there's one name that Dream players refuse to utter.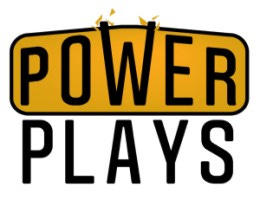 Hello, everyone, and welcome to Power Plays, a no-bullshit newsletter about sexism in sports, written by me, Lindsay Gibbs.
We've talked about racist Atlanta Dream owner Kelly Leoffler a few times in this newsletter before — once, back in November, when she was first appointed to the U.S. Senate, and again last month when she came out and attacked the Dream players and the WNBA for their social justice initiatives.
Today, we're taking a deep dive into how Dream players, Dream staff members, and the entire WNBA have brilliantly responded to Loeffler's attacks.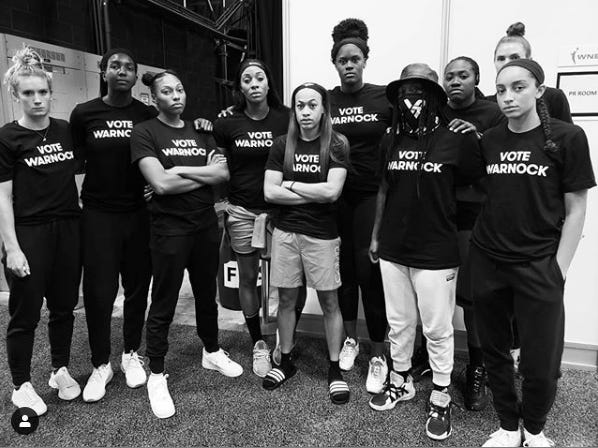 Remember, you can sign up for Power Plays for free by just putting your email into the box below. It is very quick and easy, and it will guarantee you won't miss a public post!
Additionally, you can become a paid subscriber to help make the work here at Power Plays more sustainable, and/or share this post with friends and help spread the word.
I know that this continues to be a tough time for everyone, and I appreciate you spending a few minutes of your precious time with me today. I hope you're taking care of yourself, giving yourself grace, and leaning on loved ones, even if you can only do so virtually. As for me? Well, I'm going to try to follow my own advice.
Okay, friends. Let's do this.
---

---
Dreaming on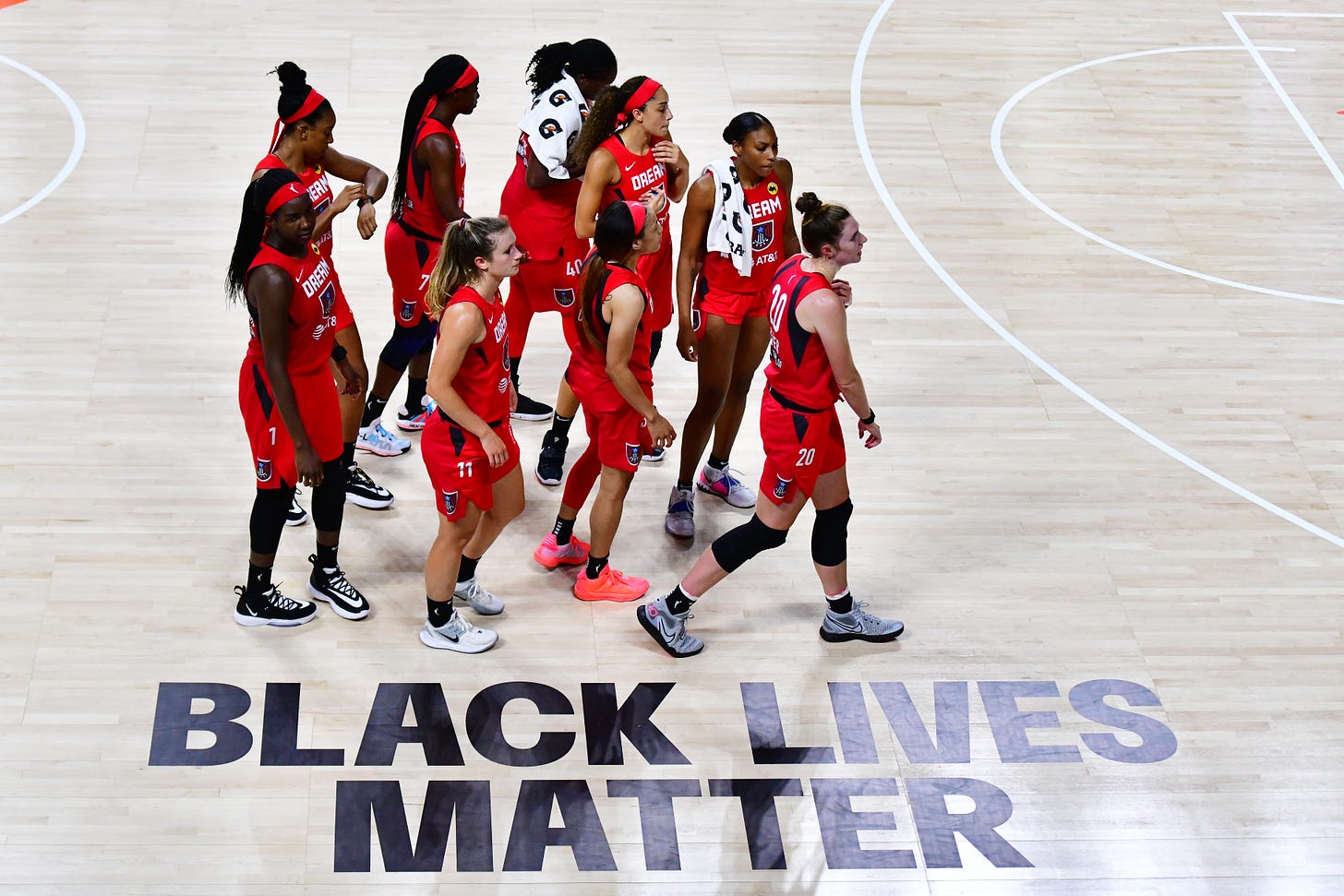 On Monday, July 6, WNBA players from all 12 teams arrived at the IMG Academy in Bradenton, Florida to quarantine ahead of their 2020 season in the WNBA's pandemic bubble, which is referred to as the "wubble." Just one day later, Sen. Kelly Loeffler (R-GA), the co-owner of the Atlanta Dream, issued an open letter to WNBA commissioner Cathy Engelbert.
In it, she expressed disgust that the WNBA was dedicating its season to anti-racism and anti-police brutality initiatives via the Black Lives Matter and Say Her Name movements.
"I adamantly oppose the Black Lives Matter political movement, which has advocated for the defunding of police, called for the removal of Jesus from churches and the disruption of the nuclear family structure, harbored anti-Semitic views, and promoted violence and destruction across the country," Loeffler said — or, rather, lied — in her statement.
Loeffler's plan was transparent: To play politics by using the WNBA team she had quietly co-owned since 2011 as pawns to get her more publicity and praise from the MAGA-loving, mask-hating voters she needs to lure to the polls in order to retain her seat in Congress. Loeffler was appointed to the Senate by the Gov. Brian Kemp (R-GA) late last year after Sen. Johnny Isakson (R-GA) stepped down due to health problems. There will be a special election for her seat in November.
Over the next few days, WNBA and NBA players, fans, and media outlets — Power Plays included — called for the WNBA to oust Loeffler. She made headlines and was provided a platform everywhere from CNN to ESPN, The Athletic to The Hill.
But Engelbert said she would not force Loeffler to sell her shares of the team, and Loeffler said she had no plans to pursue a sale. So, all eyes turned towards the Dream players to see how they would respond.
Would there be a boycott? A public plea for the WNBA to punish her? Would they continue to participate in the league's social justice initiatives, or would they be scared into silence?
The players seemed stuck in an impossible predicament, a no-win situation straddling two fields where winning is everything — sports and politics.
After all, how could they continue to wear a Dream uniform and cash Dream paychecks without undermining their values? How could they make it clear that they denounced Loeffler's beliefs, without playing directly into her hands and helping her become a household name?
Well, somehow, in the last month, the Dream players have managed to tow that line perfectly. By not agreeing to her terms of the debate, staying disciplined with their message, and building an inclusive coalition, the Dream have beaten Loeffler at her own game.
Playing politics
For the first few days after Loeffler's initial open letter, Dream players remained relatively silent on the issue. Then, on July 10, they released a joint statement, which began and ended by stating, "Black lives matter."
The message did not mention Loeffler by name, but was a clear response to her comments.
"Our team is united in the Movement for Black Lives. It is not extreme to demand change after centuries of inequality. This is not a political statement. This is a statement of humanity," it read.
The players shared the letter on social media, and the official Atlanta Dream Twitter and Instagram accounts shared it, too. The letter was signed by almost every player on the team. (Courtney Williams' signature is missing, but she was not at the IMG campus at the time due to covid protocols. Sources confirmed to Power Plays that she was involved in discussions drafting the letter.)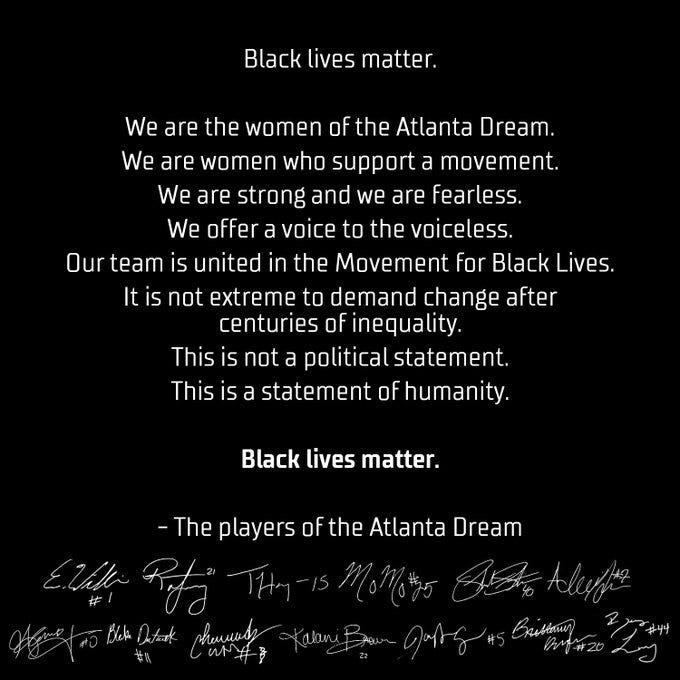 After that, Dream players went publicly silent about the issue again. But not because they were scared of speaking out. Rather, they recognized that Loeffler was trying to use them as pawns, and refused to participate in the plot. But behind the scenes, veteran center Elizabeth Williams — the longest-tenured Dream player and one of only two returning players from last year's roster — was having conversations with her teammates and the executive committee of the WNBA Players Association about how to respond.
"We wanted to be bigger, more impactful," Williams, who is also the secretary of the WNBPA, told Power Plays. "We obviously wanted to say something, but we wanted an action behind it."
About three weeks ago, Sue Bird — the vice president of the WNBPA executive committee — suggested that they look into Loeffler's democratic opponent in the upcoming Senate election. Since they didn't want to draw attention to Loeffler, what if instead, they elevated and endorsed her opponent, Reverend Raphael Warnock? Not only would that hurt Loeffler's campaign, but it would also allow them to raise awareness of voting in general, which was another issue the players were trying to push using their platform this summer.
Of course, this plan would only work if her opponent was a candidate they truly believed in. So, while the most intense and condensed season in their careers tipped off, the players spent their minimal free time researching Warnock. Stacey Abrams, a politician and voting rights advocate from Georgia who is a member of the WNBPA's Board of Advocates, connected the two parties, and the WNBPA set up zoom calls that players from across the league could join if they wanted to talk with Warnock and learn more about him and his campaign.
Ultimately, players were impressed, and the Dream decided that they would wear "VOTE WARNOCK" t-shirts as their warm-up gear on August 4, the day the Dream played the Phoenix Mercury on national television.
"Ordinary people with extraordinary vision can redeem the soul of America by getting in what I call good trouble, necessary trouble. Voting and participating in the democratic process are key. The vote is the most powerful nonviolent change agent you have in a democratic society. You must use it because it is not guaranteed. You can lose it." - John Lewis
We are
@wnba
players, but we are also ordinary people with extraordinary vision. With so many critical races coming up we encourage everyone to use their right to vote so their voices can be heard. We certainly will!
@raphaelwarnock
"We definitely decided to wear (the 'Vote Warnock' shirts) because he supports Black Lives Matter, he supports the league, and the movement, and we support him," Dream rookie Chennedy Carter told the media last week. "So vote for Warnock."
It wasn't mandatory for players to wear the shirts; after all, it's understandable why some might feel uncomfortable making such a high-profile endorsement. But the vast majority of Dream players, and players on teams across the league — including the Las Vegas Aces, Phoenix Mercury, Chicago Sky, Connecticut Sun, and Seattle Storm — participated in the action before games early last week.
"We thought it would be really impactful if other teams showed solidarity and also wore the shirts, because other players have been vocal about this — they were speaking up even before we the Dream players were," she said.
While Dream players kept their statements completely focused on Warnock and his campaign — they have purposefully refused to mention their co-owner's name in public statements —others across the league took a more direct approach.
"Kelly Loeffler is just not good for the progress of our nation, not good for the progress of social justice in general," Storm head coach Gary Kloppenburg told reporters.
"It's bigger than basketball. We're more than athletes. And to have someone in our league that doesn't represent or support African Americans — which are 80% of our league is just — it's disheartening, honestly, and sickening," said Storm point guard Jordin Canada. "We're going to continue to do what we need to do to make sure that we have people in this league who support not only women, but Black woman as well."
According to an update from his campaign last week, after the WNBA players wore the t-shirts, Warnock raised more than $185,000 online, added more than 3,500 new grassroots donors, and grew his twitter followers by nearly 3,500.
Meanwhile Loeffler — who pushed the players to this point when she tried frame their identities and activism as foils to fuel her fundraising and fame — was not thrilled to see what it really looks like when WNBA players take a political stand.
"This is just more proof that the out of control cancel culture wants to shut out anyone who disagrees with them," she said in a statement.
Officially sticking to the script
This season, all WNBA teams are amplifying the Black Lives Matter movement and #SayHerName campaigns on their official social media feeds and in the game notes that they provide to media members before and after each game.
And yes — despite the fact that Loeffler referred to the BLM movement as partisan, political propaganda that is "totally misaligned with the values and goals of the WNBA and the Atlanta Dream, where we support tolerance and inclusion" — the Dream's public relations department is participating in the amplification as well.
In fact, the Dream are taking the messaging a step further.
Every single time there is a timeout during every single Dream game, the team account tweets out a score update accompanied by a story about a Black woman who was killed by police officers or died in police custody.
The idea was the brainchild of Kelsey Bibik, the Dream's public relations manager. Before the season, she brainstormed social media strategies with Dan Goldberger, the team's director of digital media and marketing.
"If the players want a season dedicated to social justice, I feel like our social media has to reflect that in a way," Bibik told Power Plays.
Bibik wanted to honor the #SayHerName campaign in a way that was productive, not performative. Many on social media have turned Breonna Taylor's name into a contextless meme, and she didn't want to contribute to that. She thought using the spotlight of the games themselves to elevate lesser-known stories of women who have been killed by the system that was supposed to protect them would strike the right balance.
"The whole point of the #SayHerName campaign is to do just that — to say the names of women whose stories sometimes get lost in the news, specifically the names of Black women and women of color and trans women of color," Bibik said.
She started researching stories using resources like the African American Policy Forum, the organization that launched the #SayHerName campaign. It wasn't hard to find women's stories to showcase; unfortunately, there are far more many victims of police brutality than there will be timeouts this season. She drafted a number of tweets, and then sent them to interns to fact check.
Bibik didn't tell the Dream players about the timeout tweets before the season started, but they've given her a lot of positive feedback about the project. Since Bibik is in the wubble, players will sometimes give her suggestions about stories to include when they're hanging out in the villas.
"Really the only time the players talk to me about social media are for these posts, and when I tweet mean things that other people," she said.
Like the Dream players, Bibik never mentions Loeffler on social media, and would not directly talk about Loeffler during our interview. (She did say that she had not received any pushback about the tweets.) But she's using multiple outlets to get a message across.
The Dream's post-game notes start by mentioning the number of days it has been since Breonna Taylor was murdered by police officers in Louisville, and the fact that the cops who killed her still have not been arrested. (Teams across the league do this, too.
The Dream's pre-game notes — an extensive preview of the upcoming game, which includes storylines to follow, franchise records, detailed player biographies, and match-up history — include a specific section with detailed information about the #SayHerName campaign.
There's also a section in the pre-game notes entitled, "WNBPA Messaging Around Actions with the Anthem."
The blurb highlights the WNBPA's stance that "the anthem does not represent freedom, justice, and liberty for all Americans." Some WNBA teams have chosen to leave the floor while the national anthem is played, while others take a knee.

Notably, this section is not included in game notes distributed by other teams. In her open letter on July 7, Loeffler said that instead of having Breonna Taylor's name on jerseys this season, the WNBA should add the American flag.
"Our flag has weathered countless storms, wars, and civil unrest. It symbolizes the strengths unique to our country and the American people," Loeffler said. "It stands for freedom, equality and hope. This important symbol will unite us as we work toward a better, brighter, and more equitable tomorrow."
After the WNBA's opening weekend, when many media outlets reported that players were leaving the court before the anthem, Loeffler tweeted that their actions were "shameful" and "a political stunt that disrespects every man, woman & child who has given their life for this country."
When asked about the team's overall P.R. strategy this season, Bibik said her only priority is to showcase and celebrate the players and their passions.
"We just try to support them," she said. "You know, I think they know that we'll always amplify their voices, no matter what."
A winning coalition
The schedule of this unique WNBA season, with an abbreviated training camp and games every other day, has put an exorbitant amount of stress on every team in the wubble.
The Dream have had it more difficult than most teams. As previously mentioned, there are a staggering 10 new players on their roster this season. Their biggest offseason free agent signing, Courtney Williams, tested positive for the coronavirus in Atlanta and didn't join the team at IMG until a week into the season. Two other players, Glory Johnson and Kalani Brown, tested positive for the coronavirus during their initial quarantine period at IMG, and remained in quarantine until the end of July. Their star rookie point guard, Chennedy Carter, injured her ankle in a game against the Connecticut Sun this week, and will be sidelined for about two weeks. They're currently on a five-game losing streak.
But, while there are certainly frustrations, through it all, the Dream players have managed to stick together and stay positive and supportive of one another. They partially have Loeffler to thank for that.
"I mean, these are not easy conversations to have," Williams said. "So in that sense I think it has brought us closer together, being in that vulnerable space, that uncomfortable space saying, 'Hey, this is upsetting. What are we gonna do about it? How can amplify and use our voices effectively?'"
Loeffler's letter could have irreparably fractured the Dream and the WNBA. It did the opposite. And it certainly didn't convince the WNBA to abandon its social justice initiatives.
She wanted the WNBA players to take Breonna Taylor's name off of their jerseys. Instead, they helped launch a nation-wide campaign with the Breonna Taylor Foundation focused on arresting Jonathan Mattingly, Brett Hankison, and Myles Cosgrove, the cops who killed Taylor in her own home. She wanted the league to focus solely on honoring the flag. Instead, each week, the league takes time before every game to honor a different Black woman who was murdered by police or died in police custody— Taylor the first week, Sandra Bland the second week, and Michelle Cusseaux this week.
She wanted to define what the Dream stood for; the Dream players and staff — including head coach Nicki Collen, who wore sneakers amplifying the #SayHerName and #BlackLivesMatter movement last week — refused to give her that power.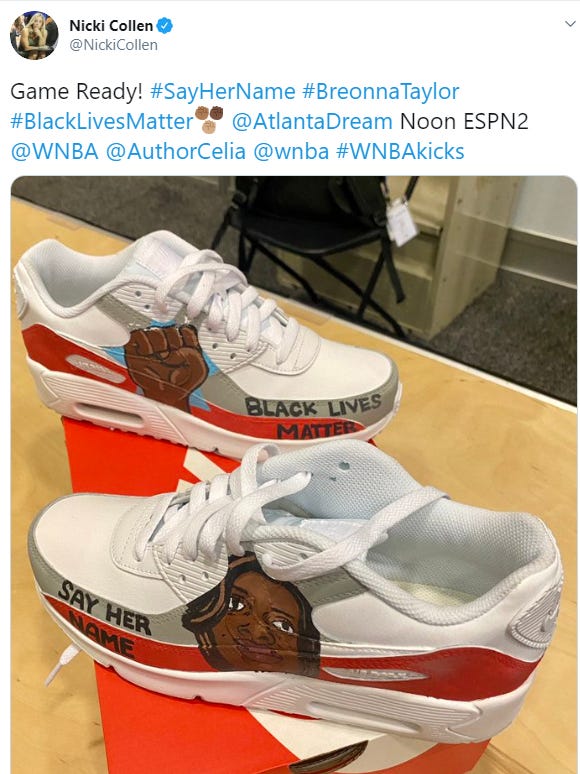 She tried to draw more attention to herself and her campaign; they refused to say her name, and amplified her opponent instead.
Going forward, it would be best if Loeffler was ousted from the Senate and from the WNBA. Players should not have to play for a racist owner who doesn't see them or treat them as full human beings. Hopefully she won't be part of the league for much longer.
But by sticking together and staying on message, the Dream have found other ways to take her power away. And they're not alone — their on-court competitors across the league are their teammates in this fight. Together, they can't lose.
"Our women in our league are, to me, the political conscience of America. Black women. They're leading, and I'm really proud," Kloppenburg said.
"So yeah, we're fully behind (Warnock's) campaign down there in Georgia."

Thank you so much for supporting Power Plays. I'll be back in your inbox tomorrow, so stay tuned!