In one week, Australia aims to set a new attendance record for women's sport
95,000 people could #FilltheMCG for the final of the Cricket T20 Women's World Cup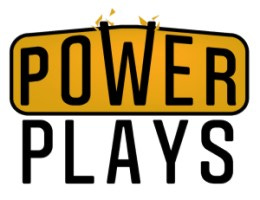 Hello, and welcome to Power Plays, your no-bullshit newsletter about sexism in sports.
The first newsletter for paid subscribers will be sent out on Wednesday, March 4. Through Monday, I am offering the Sue Bird Launch Special — 10% off of Power Plays forever, in honor of Sue Bird, who wears No. 10 and will play basketball forever.
HAPPY LEAP DAY! I figure it'll be a while before I get a chance to send another Leap Day newsletter, so I'm seizing the moment.
I'm really excited about today's newsletter, which I see as an extension of last Friday's newsletter. (It's all really just one long, unending conversation here at Power Plays.) Last week, Anna Kessel told us about how much The Telegraph's investment in women's sports coverage was paying off. Today, we're looking at how Cricket Australia's investment in women's cricket has paid off — and might even smash a 21-year-old attendance record for a women's sporting event.
But first, a quick programming note: This weekend, I'll be at the Metropolitan Riveters game against the Buffalo Beauts at 6:30 on Saturday night in New Jersey, and at the PWHPA Dream Gap Showcase on Sunday in Philadelphia. If you're going to be at either, please let me know, would love to have an impromptu meet-up: lindsay@powerplays.news.
I'm so excited to finally be attending women's hockey in person this season, and to be doing some reporting for Power Plays that I've been wanting to do for months. Your paid subscriptions have made this reporting trip a possibility.
ALSO: We're taking a trip to Australia for this newsletter, so I want to give a shout-out to my friends over at Siren, a women's sports collective all about Australian women's sports. You can subscribe to their newsletter by clicking here, and follow them on twitter by clicking here. I learn something new from them every single week about what is happening across the globe, and I actually interviewed Danielle Warby, one of the founders of Siren, for this newsletter.
If you happen to be reading this from Australia, I highly recommend going to their first ever Siren Meetup on Monday at the huge match between Australia and New Zealand.
Okay, friends. Let's do this.

The quest for 95,000
Sunday, March 8, is International Women's Day. If you don't have plans yet, you're about four years behind Cricket Australia (CA) and the International Cricket Council (ICC).
That is the day of the final of the ICC Women's T20 World Cup. The match will be played in the biggest cricket stadium in the world, the Melbourne Cricket Garden. It has a maximum capacity of over 100,000. Katy Perry will be performing. Billie Jean King will be attending. And the event organizers are unabashedly aiming to make this the most-attended women's sport event of all time.
The current record? That was set way back in 1999 at the FIFA Women's World Cup final, when the USA beat China in front of 90,185 fans at the Rose Bowl in California.
The goal is to get 95,000 people to come watch this final in person. THAT IS SO MANY PEOPLE.
If, like me, your media consumption tends to be far too U.S.-centric, you might not be very familiar with this quest, or even the sport of cricket in general. But that's okay. You don't need to be a cricket expert to understand this story. (I'm certainly not.) At its heart, this a tale about intentionality, investment, and ambition — three ingredients that are rarely combined in women's sports.
So pull up a chair, get comfy in bed, or just make sure you're not going to run into anything while you read this and walk down the street at the same time. Because this is inspiring stuff.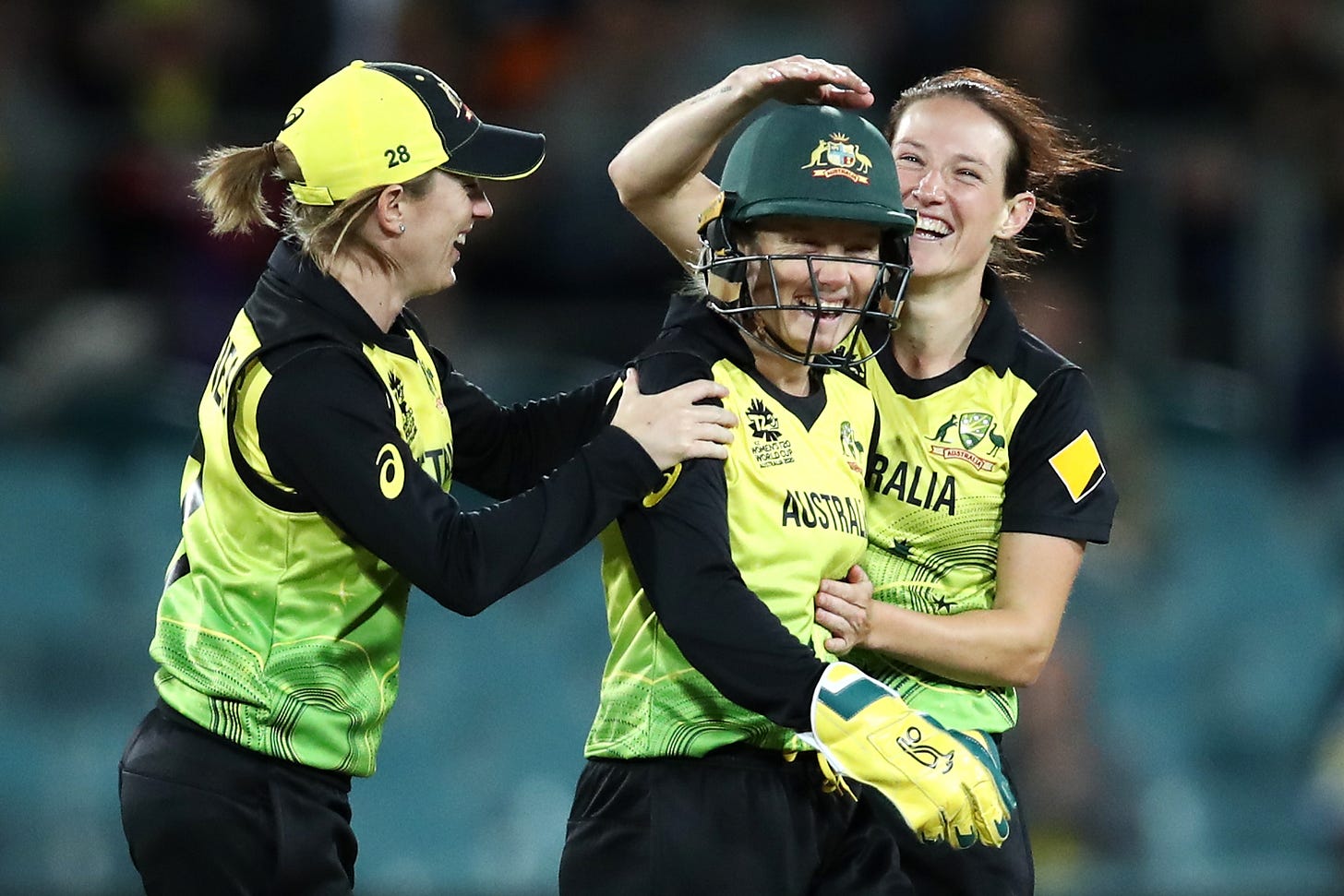 (Alyssa Healy of Australia celebrates with team mates in a match against Bangladesh at the ICC Women's T20 Cricket World Cup; via Getty Images)
The basics about the Women's T20 Cricket World Cup
Again, I'm far from a cricket expert, but I figure it will help to set the stage before dig any deeper into this. Cricket is a bat and ball game, played between two teams of 11 people, on a circular field called a pitch, with wickets on either side.
There are multiple different versions of the game. Test cricket is the most traditional form of cricket, and those are the matches you've heard about that can go on for up to five days. There's also one-day cricket, which is limited at 50 overs. But here, we're talking about Twenty20, which is the shortest form played international competitions. T20 matches can be played in about three hours, making it very television friendly
"It's shorter, it's faster, there's more trials or runs scored. It's more exciting," Siren co-founder Danielle Warby told me.
This version of the sport is relatively new. The first official T20 matches were played in 2003 in England, and the first T20 Women's World Cup was held in 2009 in England. It was played again in 2010, and then has been held every two years since. Australia has been the most successful team, winning four of the six championships. (The ICC Women's World Cup is a separate event; it has been held 11 times since 1973, and its matches are One Day Internationals. Australia is also a dominant force in this event.)
Ten teams are participating in this T20 World Cup: Australia, England, India, New Zealand, Pakistan, South Africa, Sri Lanka, and West Indies all qualified automatically due to their world rankings, while Bangladesh and Thailand gained entry via a qualifying tournament.
Matches are being held in four cities across Australia — Perth, Sydney, Canberra, and Melbourne. The tournament began on February 21, and of course, will end on March 8. Australia is the favorite to win it all, but India was actually the first team to qualify for the semifinals; it upset Australia in the first match of the tournament. But Australia still controls its own destiny on the way to the semifinals, it just needs to beat New Zealand on Monday. South Africa and England are also favorites to make the semifinals.
Got it? I'm going to have some more tips for following the tournament at the bottom of this post. But first, let's talk about how Australia has reached the precipice of women's sports history.
In 2015, Australia invested in women's pro cricket domestically and established the Women's Big Bash League
Cricket Australia didn't just wake up a month ago, and realize that the attendance goal was within reach. It has been building towards this deliberately for years.
"From the outside, I could see that there was a strategic vision from the sport to consciously develop it in this way and to be a leader in the space," Warby said.
"There seems to be this reluctance from other sports to really jump in with both feet. You know, there's a lot of just testing the waters. But I feel like (Cricket Australia) has just gotten where, we're going to smash this out of the part — we're going to hit it for six, if you like a cricket cliche. That's what it takes for women's sport to be successful. I mean, that's what happened with men's sport. There was all this investment and planning. It wasn't like it was making money from day one, or even breaking even from day one, which seems to be some kind of condition that is put on women's sport."
Cricket Australia launched the Women's Big Bash League in 2015, with eight city-based teams in Australia that were branded directly alongside men's Big Bash League teams. The goal was to make Australia the best place for women to play pro cricket in the world; each of the eight teams could have up to three international players. The WBBL grew quickly. The first three seasons all had games available on television and via streaming, and in 2018 the league signed a six-year broadcast rights deal that put 23 matches aired live on broadcast television and the remaining 36 matches streamed live on the Cricket Australia website and app.
Due to salaries available through the national team and WBBL, cricketers are the highest-paid female athletes in Australian team sports right now. That means many women can commit themselves full time to the sport, and play year round, which means the on-field talent improves, the sport becomes more entertaining, and the public becomes more familiar with the players and the game. That investment breeds growth.
This past WBBL season was the first standalone season for the league; the matches weren't doubleheaders with men's matches, the women were the full attraction. It worked. In 2019, televised WBBL matches were watched by an average of 191,000 people.
In 2016, Cricket Australia decided to make the 2020 Women's T20 Cricket World Cup a standalone event
The first five women's World T20s were held alongside the parallel men's events, and semifinals and finals were double headers, often leaving the women in the shadows. The 2018 women's World T20 was a standalone event in the West Indies, but there was not a concurrent men's event that year.
Australia was scheduled to hold the 2020 men's and women's World T20s. In 2016, CA made the decision to hold them separately — the men's event will be eight months later than the women's event.
Why? Because the organizers realized that in order for the women to truly thrive, they needed to be the showcase.
"Women's cricket is undoubtedly gaining in popularity around the globe and we felt that by separating the two events we could accelerate that growth," David Peever, the chairman of Cricket Australia, said in 2016.

"Having the ICC Women's World Twenty20 as a stand-alone event means we can hold it in stadiums that we can fill, put on TV at prime-time and ensure it has the space to be promoted away from the shadow of the men's game. WBBL has taught us that there is an audience for women's cricket both live and on prime-time television and this decision means we have the opportunity to hold the biggest women's sporting event ever held in Australia."
This is so incredibly important. Cricket Australia didn't see women's cricket as an afterthought, or view holding their T20 World Cup as a condition to holding the men's. They saw their investment in WBBL paying off, and felt it was time to push the sport even further.

In 2017, Cricket Australia decided to go for the record: "If not now, when?"
In late 2017, organizers for the 2020 T20 World Cup met in Melbourne to decide where the women's final would be held. The Melbourne Cricket Grounds was one of the options, but there were also other stadiums in Australia that were about half of its size, where they could still break a record for attendance at a women's cricket match, just not have a chance at the overall record for women's sport.
First of all, I urge you all phenomenal story about the history of women's cricket at the MCG by Raf Nicholson in The Cricket Monthly. Nicholson goes into great detail about the history of women at the MCG, and what went in to Cricket Australia's decision.
It was a risk of sorts to hold the women's event at the MCG; no women's cricket match has gotten anywhere close to 95,000 in-person spectators. In fact, in 2017 at the ICC Women's World Cup, England set the record for the most-attended women's cricket match when 26,500 came to see the final at Lord's.
But again, Cricket Australia believed.
"If not now, when, and if not here, where? We'd already decided that we wanted the women's tournament played as a separate event. That affords you the opportunity to market the final in its own right. If the best male players are playing on that big stage, which they are, then absolutely, of course, logically the best women players should also play on that stage. You're on this great trajectory, with the WBBL, with the profile of the game globally," Nick Hockley, the CEO of the T20 World Cup, told Nicholson.
"We took a lot of confidence from the 2017 tournament in England, which took place when we were doing a lot of the decision-making, and particularly the sold-out final at Lord's. The MCG is the biggest cricket ground in the world, so it was a case of, 'If we don't try, we'll never have this opportunity again.' And it's the right thing to do."
In 2019, Cricket Australia announced Australian women would be paid equally to men in the #T20 World Cup
I've loved everything about this so far, but this, for me, is the best part. Because the money is the message, my friends.
So, last year, the ICC announced it was increasing the overall prize money for the 2020 Women's World T20s by 320% over the 2018 event. This year, the winners will receive $1 million, and the runner-ups will get $500,000.
That's a huge increase, obviously. But it wasn't enough for CA, because it didn't bring the women's prize money equal to the men's prize money. So CA has vowed to top up the prize money for the Aussie women's team in the event, so it matches what the prize money would have been for the men's team at whatever stage of the tournament they reach. If the women win it all, that means that CA will be adding in an extra $600,000 to the ICC's $1 million.
"It's a strong message from Cricket Australia, just to say 'That's not good enough,'" Warby said. "I mean, they're playing on the same stage, the same grounds, doing the same work, bringing in the same crowds, and it's just ridiculous that the governing body of the sport itself internationally doesn't recognize that and pay out the value that that's worth."
The question remains: Can the record really be broken?
According to Warby, there is definitely a buzz in Melbourne right now. There are signs for the event everywhere, ads on the radio, and the sheer audacity of the goal has everyone talking.
"Everyone I talked to is really excited about it," Warby said. "It's something to really grab the imagination of any cricket fan."
Cricket Australia is putting its all into this event. Having Katy Perry performing at the final, having Billie Jean King flying in, it's all leading to a palpable energy that I can feel around the globe.
That's what's so wonderful about this. So often in women's sports, the expectations are set low. And then, if they're met or surpassed, everyone feels good, and if they're not, well, it's just women's sports and not much was at stake in the first place. By setting the goal so high, Cricket Australia is putting the pressure on themselves to promote the sport the way it deserves to be promoted.
And it is working. Already, the tournament is breaking attendance records. Already, 50,000 tickets have been sold to the final, which is double the attendance at Lord's in 2017. Already, the bar has been raised.
Yes, the hope is that Australia makes the final. If it does — and especially if it faces India or England in the final — the record is in serious danger. But even if that doesn't happen, even if the record isn't set, this whole mission was already a success. Just going after it has already pushed the sport so much further ahead.
I keep coming back to this quote from Hockley, when he was explaining why Cricket Australia set out to #FilltheMCG: "So really, since the beginning of the planning, the overriding philosophy is that we've got this opportunity, we've got this moment in time and we're absolutely going to make the most of it and that means not waking up in 2021 and thinking, 'if only we'd played in a bigger stadium'."
No regrets. Just investment and action. If only more women's sports got such treatment.
How else can I follow the T20 Women's World Cup?
I'm glad you asked. Obviously, the quest to set the attendance record is only a small part of the event, which is filled with phenomenal stories and feats.
First off, I recommend your read this story about the Thailand team, because it might be my favorite sports story of the year so far.
Then, Shireen Ahmed, a phenomenal sports writer and one of my fabulous co-hosts on the Burn It All Down podcast, was nice enough to send Power Plays readers her personal list of cricket commentators to follow. I've linked to their twitter profiles below, for easy access.
(Also, while I have you here, watch Shireen's Ted Talk.)
If you want to actually watch the event, in the United States, Willow TV will be broadcasting the tournament. You can check here to see if your TV provider or streaming service has Willow. And this is a good guide of how to stream the matches in other countries.
Enjoy, friends. I know I will.

Thanks so much for the support during the first week of the paid launch, friends. It's been overwhelming, in a great way. I've got a lot of great things planned for this week, so stay tuned. I'll be back on Monday.
In the meantime, take advantage of the Sue Bird Discount, and help me spread the word. Let's build this together.