Lessons from Pat and Geno
As a rivalry is renewed. Let's get nostalgic, friends.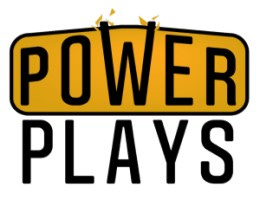 Hello, welcome to Power Plays! If you missed it, Wednesday's was a rant about how women don't have to compete against men to prove their greatness.
This week, we have a BONUS Thursday newsletter, to celebrate the revival of the University of Connecticut vs. University of Tennessee women's basketball rivalry.
The two teams face of tonight, Thursday night, at 7:00 p.m. ET on ESPN.
No big speeches or pleas to kick off this special edition. Just a button where you can sign up, and another button you can click on to share this with your friends and loved ones.
Okay, let's do this!

Why UConn vs. Tennessee matters
This is the first time in 13 years that UConn and Tennessee have faced off. UConn is ranked No. 3, Tennessee is ranked No. 23. They are not in the same conference.
So, why is this game getting so much hype?

Well, it's because history matters. For 12 years, between 1995 and 2007, this rivalry brought women's basketball to new heights. And the two legendary coaches behind it, UConn's Geno Auriemma and the late, great Pat Summitt, have separately or collectively defined the sport for the past 50 years.
There's a lot we can learn from how they build their programs, how the rivalry blossomed, why it ended, and what its return means.
Before Tennessee was a powerhouse
Pat Summitt coached Tennessee from 1974 to 2012, before retiring at 59 because of early-onset Alzheimer's disease. She died in 2016 at the age of 64. As a head coach she had 1,089 wins, and led the Vols to 22 Final Fours (18 NCAA, four AIAW), and eight national championships.
She literally built the Tennessee women's basketball program from nothing. I love this passage from her book, Sum It Up: A Thousand and Ninety-Eight Victories, a Couple of Irrelevant Losses, and a Life in Perspective, about her first game as a head coach of Tennessee:
The day of our first game arrived: December 7, 1974, against Mercer University. I got to Alumni Gym early because, in addition to doing the team laundry, it was my responsibility to see that the floor was ready. Our men's team played in Stokely Athletics Center, a modern 12,700-seat arena with a full staff to set it up on game days. But it was up to me to get Alumni, a sagging old redbrick relic of the 1920s that also housed a swimming pool and a stage, ready for a crowd. It seated 3,200 people on shaky pull-out bleachers that closely crowded the sidelines, and the floor was so dim with varnish and had so many black lines on it you could hardly tell where to shoot a free throw from. Also it was dark — you practically needed a miner's lamp to see.
Summitt turned things around quickly. In 1977, her team made the AIAW Final Four for the first time. In 1984, it made the national championship game in the NCAA tournament. In 1987, the Vols won it all for the first time. And by 1995, when it first faced UConn, Tennessee had won three national championships and was the marquee program in the sport.
Before UConn was a powerhouse
Geno Auriemma was hired to be the head coach at UConn in 1985, when the women's basketball world was, well, a decade ahead of where it had been when Summitt got her start.
However, that doesn't mean he had things easy, as he describes in *his* memoir, Geno: In Pursuit of Perfection:
When I get to UConn, it is hard to believe it is a Division I program. We hold practice in a field house. It isn't a gym; it is a basketball court in the middle of a track. And it isn't like we have the place to ourselves. We have track athletes working out in there. We have the baseball team doing indoor drills. We have weightlifters all along the perimeter. We also have students, faculty, and workers getting in shape.
Like Summitt had done in Knoxville, Auriemma turned the program in Storrs around fairly quickly. In 1989, they made the NCAA Tournament for the first time. In 1991, they were in the Final Four. In 1992, they landed All-American Rebecca Lobo, which changed everything. In the 1993-94 season, they won 30 games for the first time and were ready for the game's ultimate measuring stick.
How the rivalry was born
In 1995, ESPN wanted to broadcast a marquee women's college basketball game on Martin Luther King Day. Due to a contract with the Big East, it really needed to be a UConn game, in Connecticut. As the Hartford Courant recalled in this wonderful piece published this week, ESPN's program planner Carol Stiff called around in May 1994 to find them an opponent. She called North Carolina, the defending national champions, but then-head coach Sylvia Hatchell refused, since it wasn't a home game.
In his memoir, Auriemma said he suggested that Stiff call up Pat. So Stiff did, and Pat agreed — even though it was a scheduling headache for the Vols. The rest is history.
"Pat has always been very good at understanding what it's all about," Auriemma said. "She knows it would be good for the women's game, even though it means bringing her team to our place."
It's a good thing for women's basketball that Hatchell wasn't in the mood to travel. By the time January 16, 1995 rolled around, Tennessee was the No. 1 team in the country, and UConn was the No. 2. Both teams were undefeated. The New York Times decided to cover the game, which was a really huge deal, and immediately, it was clear that this match-up was more than the sum of its parts.
"The game means more to women's basketball around the country than to the teams," Auriemma told the NYT before the teams faced off for the first time. "Win or lose, this will be a great game for women's basketball, great for this opportunity on live television."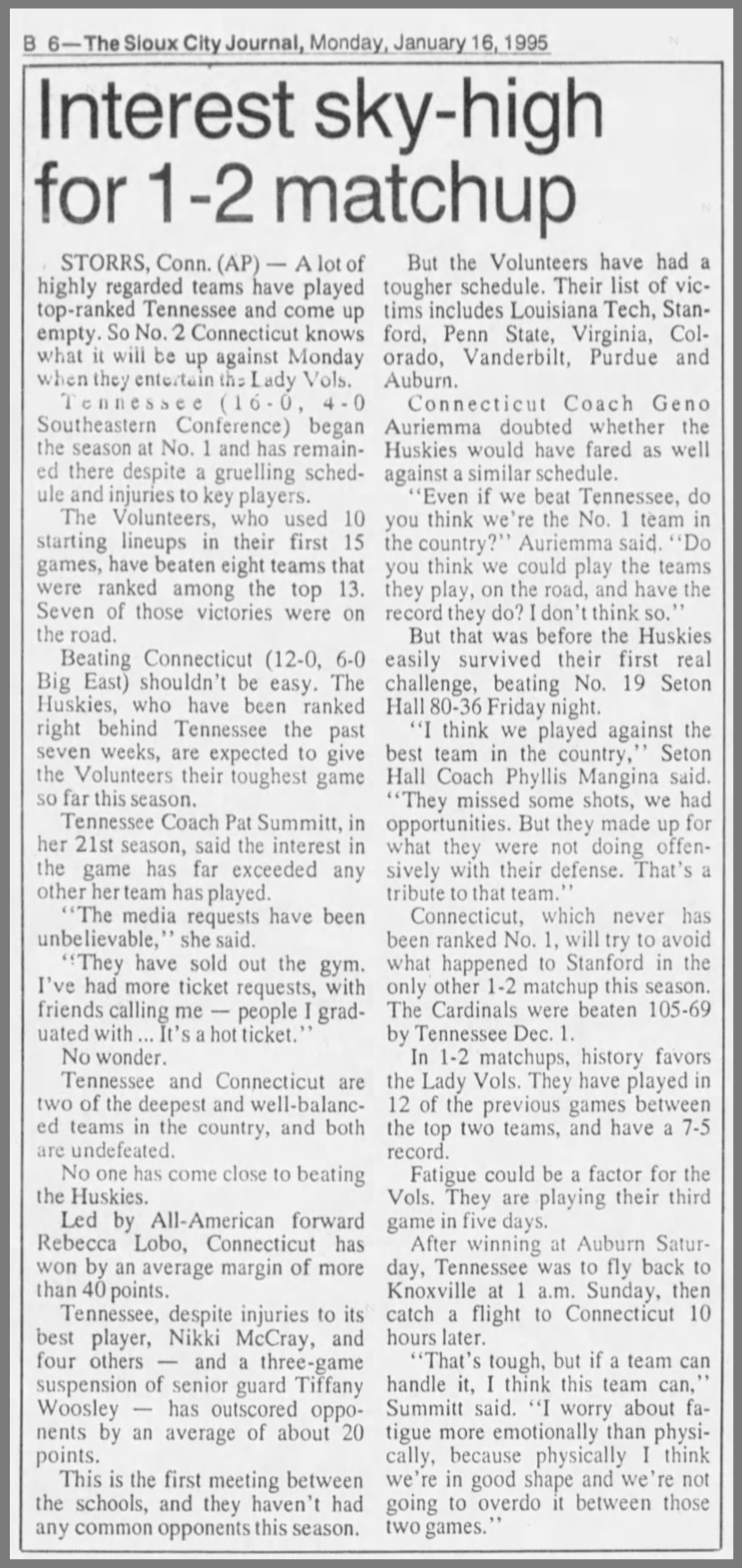 UConn ended up winning that game, and that win really put them on the map and vaulted the team to No. 1 in the rankings. Tennessee and Uconn faced off again in the national championship game that April, with UConn winning again.
UConn actually won the first three games in the series, before Summitt's squad bounced back and won five of the next seven games. (Ultimately, UConn holds a 13-9 advantage in the series.) Each time the teams met, it was a nationally televised MOMENT for the sport. And as the stakes grew, the rivalry became more personal for the coaches.
In her memoir, Summitt calls Auriemma "the first opponent I'd met who could match me for stormy intensity."
Auriemma's wise-cracking, direct way of addressing the media didn't always go over well with Summitt. In 2000, when the Final Four was in Philadelphia, native son Auriemma pointed out to the media that the city's best two cheesesteak places were named Pat's and Geno's, and happened to be across the street from one another.
''Pat's is old, beat up and dilapidated," he said. "Geno's is bigger - I noticed that when I was over there. Not that it means anything, don't get me wrong.'' He also referred to the Vols as "The Evil Empire."
"I don't have his cell number," Summitt said in 2004. "We don't talk. We speak before and after the games. That's it. But that's the relationship that Geno worked very hard to create. You would think as many times as he's beaten us, he would feel sorry for me and talk to me."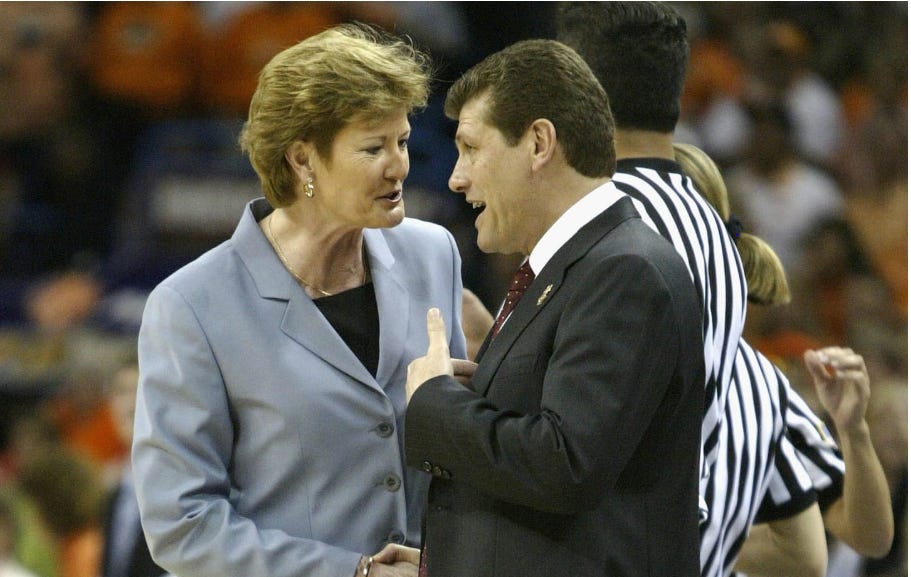 (Photo via Getty Images)
The rivalry went back and forth as the two continued to amass national championships and produce WNBA legends.
But in 2007, Summitt put an abrupt end to the series, when she refused to schedule any more regular-season games against UConn. She never went into detail about her decision, but it coincided with drama around Maya Moore's recruitment; Tennessee was upset that UConn arranged a meet-and-greet tour at ESPN for Moore, and that the NCAA didn't properly punish UConn for this recruiting violation.
"When I make my mind up, I'm as stubborn as my father was," Summitt in 2008.
Summitt never showed signs that she wanted to resume the series, and Auriemma said for years he'd only resume it if he got an apology.
The lessons we can learn from the rivalry, interrupted
Thankfully for the sport, we're getting to see the two programs square off again — at least this year and next — in a home-and-home series. A charity component helped get both schools back on board, it seems. Proceeds from both games will go to the Pat Summitt Foundation and the Naismith Memorial Basketball Hall of Fame.
It won't be the same, of course. Summitt isn't here; it can't be.
Summitt's long-time assistant Holly Warlick took over as head coach after Summitt retired in 2012. But she struggled to keep the team in contention for titles, and last year, she was let go and former Vols player Kellie Harper was named head coach. The Vols have shown flashes of greatness, and UConn has not looked as dominant as they did even just a few years ago. Women's basketball is deeper than ever; it is no longer just defined by two teams. This game tells the story of the sport's past, but not its present. Tennessee hasn't won a national championship since 2008, and UConn has come up short the past three years.
Still, there might be fireworks. After all, there is still no love lost between the two schools, particularly since the Evina Westbrook transfer drama earlier this season, and there is PLENTY of interest in the game itself.
Which ultimately leads me to the lessons I think we can all learn from this series. Yes, absolutely, it helps to have legendary coaches like Pat and Geno. They are irreplaceable. But this rivalry also had unprecedented media coverage (which we've seen this week, too — ESPN has been pumping up this game on its website, television programs, and podcasts like it's a national championship game). Imagine if the media paid half as much attention to other stories in women's basketball as they do to UConn/Tennessee? Media coverage, and prime television broadcast windows, matter. ESPN's decisions about where to put its resources matter, too.
You know what else helps? Shit talking. Real dislike. Animosity. Drama. When you devote real resources to covering games, you find out not everything is roses and tulips, and not all women's sports stories are inspiration porn. Shit gets petty! And it's wonderful! We need more coaches and players willing to share that part of the game with us, and we need more media there to hear it.

Your memories
On Twitter, I asked for my followers to share their favorite memories of the rivalry. Posting some of the answers below, because they're wonderful.
I'll give Pat the final word, because it just feels right:
"Here's the thing that would distinguish the UConn rivalry for me: it made everybody better," she said in Sum It Up. "The two teams had pushed each other so hard that the quality of basketball just kept rising."

This was a fun bonus edition. I'll be back tomorrow with Friday's Power Plays! Enjoy the game tonight, friends.