MISSING in DC: Washington Mystics WNBA championship gear
Women's sports have a merchandise problem.
Welcome to  Power Plays, a newsletter for people who are sick of hearing bullshit excuses, and ready to see equality for women in sports.
I'm Lindsay Gibbs, your captain on this journey. I'm so glad that you're here. My email is lindsay@powerplays.news. I look forward to hearing from you, as we work together to build Power Plays into a true power player in this field.
Today I'm taking you on my search for Washington Mystics WNBA championship gear in the Washington, DC area.
Plus: Women net rebels, and "female applause" as a reward.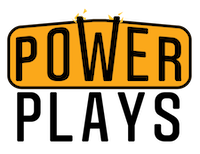 Before we go any further, I want to thank you so much for your support so far. It has meant the world to me. If you're enjoying , please tell someone about it! Here are a few nice things readers posted during our first week. (I love all my readers, but I'm not going to lie, there are extra points if you're an Olympic champion. This is a sports newsletter, after all.)

The mission: Find any Washington Mystics merchandise for sale in DC, three weeks post-WNBA championship
It's no secret that women's sports have a merchandise problem. Every single women's sports fan I've ever met has at least one horror story to share about trying, and failing, to buy merchandise to show support for their favorite team or player or league.
But anecdotal evidence will only get you so far. So this Sunday afternoon, I drove all around the Washington, DC area with one mission in mind: Locate and purchase Washington Mystics championship gear. (Or, actually, Washington Mystics gear of any kind.)
A shirt. A hat. A jersey. Heck, I'd even take a decal. Something in this city that would signify that the Washington Mystics WNBA championship, which they won just three weeks ago, hadn't been forgotten.
I didn't expect there to be a big selection — and I certainly didn't expect it to be prominently displayed, like the Washington Nationals World Series gear was, everywhere I went. But I didn't expect to strike out, either.
Out of the eight stores I visited on Sunday (three Dick's Sporting Goods, Nike, Champ's, Lids, WalMart, and Target), zero had so much of a trace of Mystics gear.  Furthermore, every store said they'd never had any in stock, not even in the days following the thrilling Game 5 victory.
''People have asked, but we don't have them"
I started off a place I never, ever want to be on a Sunday: The mall in Wheaton, Maryland. (This isn't anything personal about this particular mall; any mall on a Sunday is the stuff of nightmares.)
First I went to Dick's, and I must admit, I had high hopes. During the WNBA Finals, I received a PR email stating, "Ahead of tonight's game 5 matchup of the WNBA Finals between the Sun and the Mystics, I wanted to share that The DICK'S Sporting Goods Foundation Sports Matter program is celebrating women in sports, by donating $50 for every point scored in games 4 and 5, up to $20,000." The email added, "it would be great if you could include a mention about this donation in any upcoming WNBA Finals coverage."
So, clearly, Dick's wanted their support of women's basketball to be known.
But when I walked into the Dick's at Westfield Mall, the very kind employee who was standing watch by the droves of Nationals t-shirts and hats, flags and signed photos, told me that they had never had any Mystics gear.
"People have been asking," she said. "But there's nothing."
When I told her that was disappointing, she said, "I agree. I don't know why."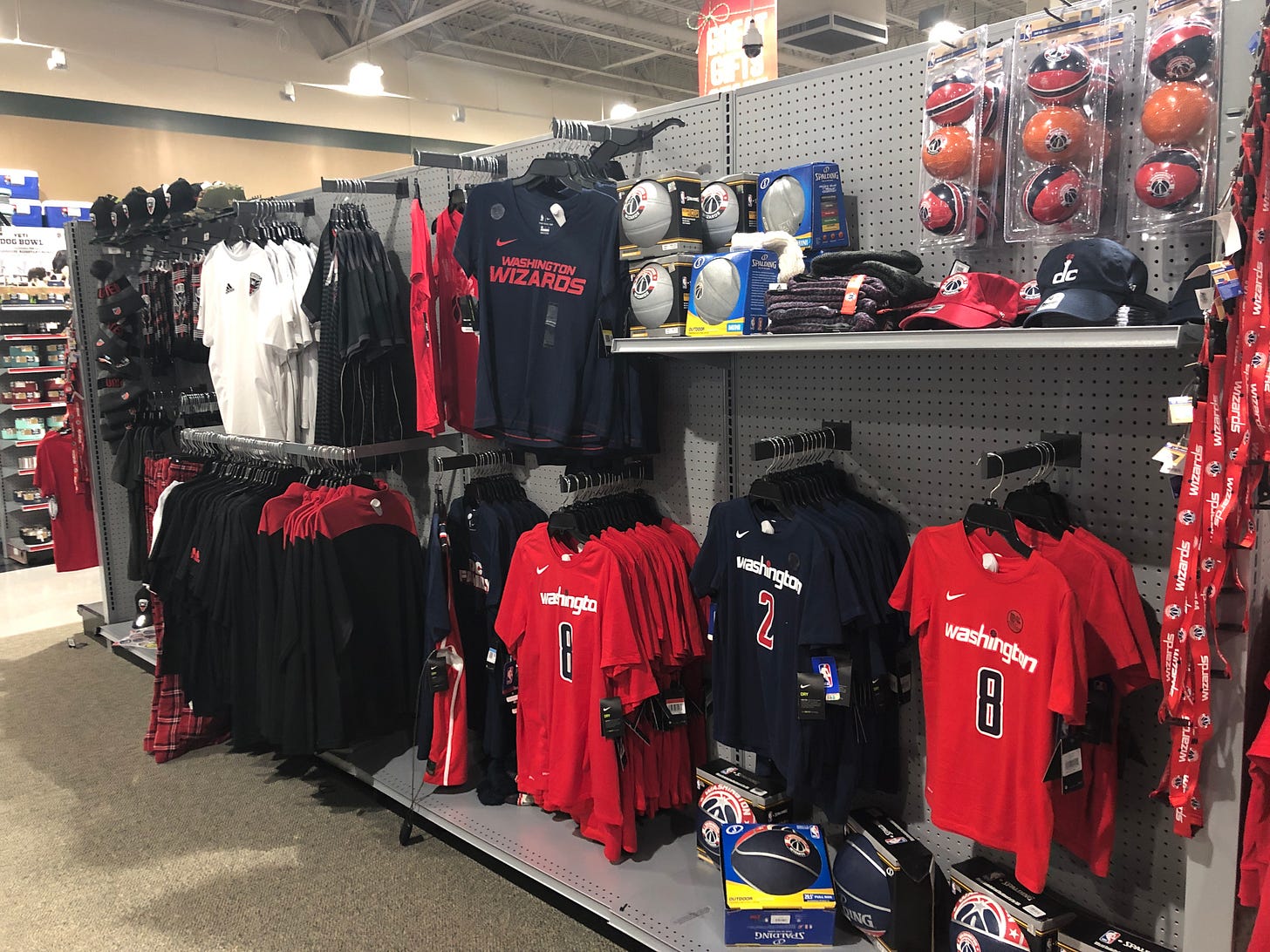 The basketball section confirmed this: It was Wizards only.
Next I went to Champs Sports in the mall, where I got a similar response from an equally kind employee, who was standing next to a prominently-displayed Los Angeles Lakers jersey.
"No. We've never had them," she said about Mystics gear. "People have asked, but we don't have them." 
I stopped by a few other stores on my way out of the mall. Of those I browsed, only Lid's and Target were selling any team-specific merchandise; neither of those had any Mystics gear. Same goes for the Walmart in DC proper I stopped by next. (But hey; if you want a baby cheerleader uniform with a racist logo on it, you're all set!)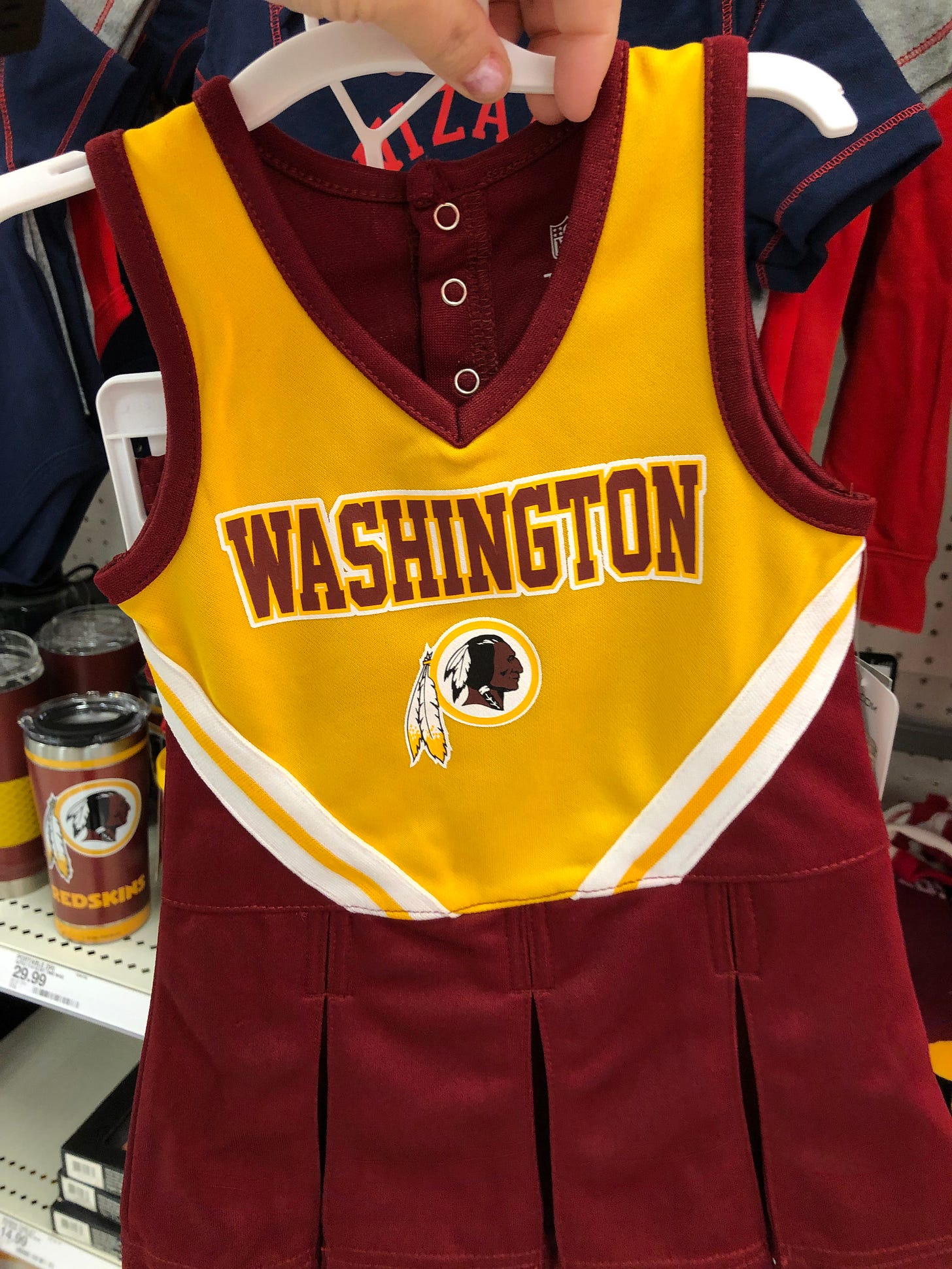 The Dick's in Arlington, Virginia gave me hope; while they never had any Mystics gear, they did say that the Dick's in DC had been sent some right after the WNBA Finals. So, I drove another 40 minutes in traffic. When I arrived, I found plenty of pink "World Series champions" t-shirts for children, for some god-forsaken reason. but there was no Mystics gear to be found. And again, according to the salesman, there never had been. The guy at the Arlington store had been mistaken.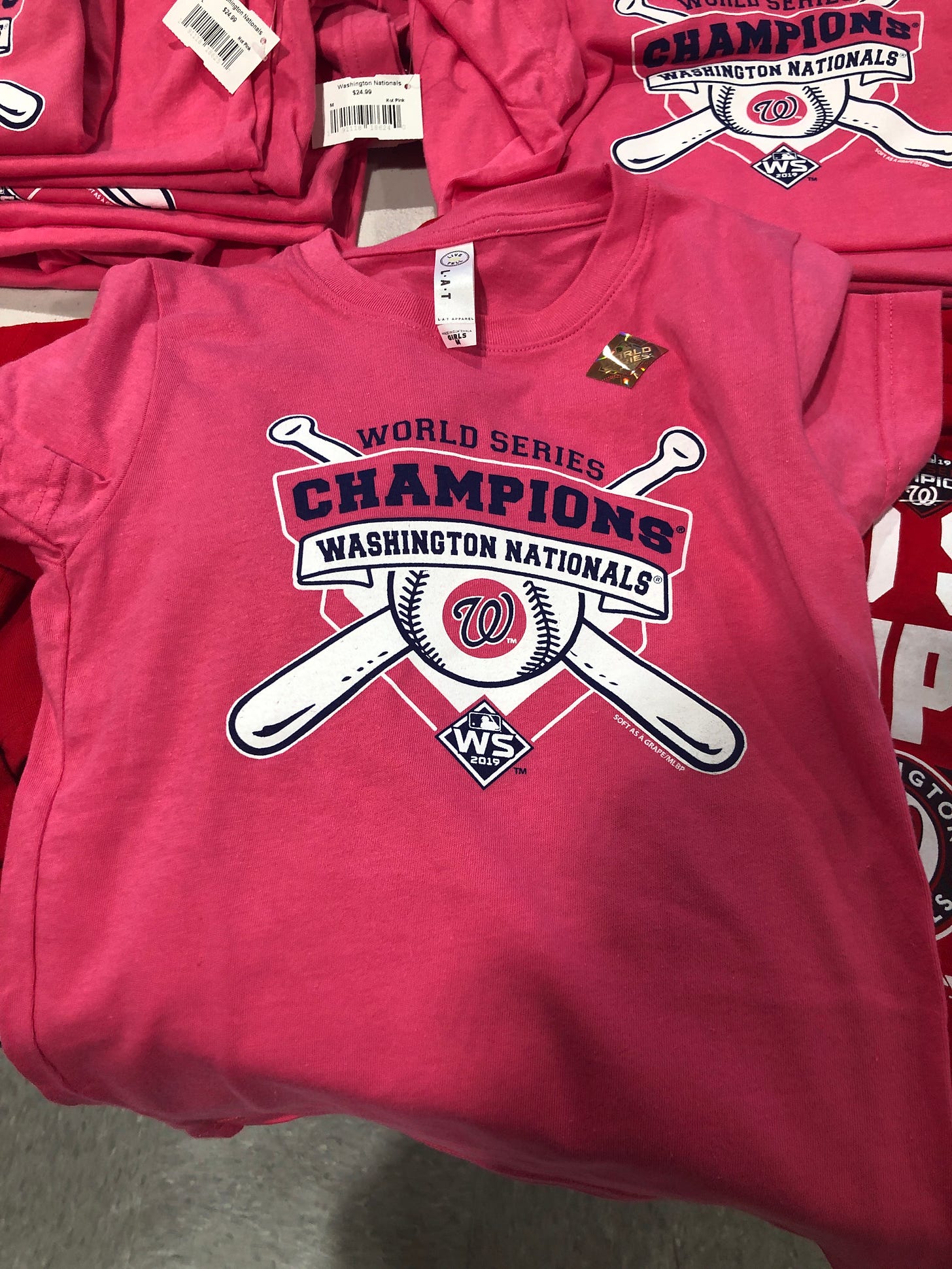 My last hope was the Nike store. After all, Nike makes WNBA uniforms and is a partner with the WNBA. So I stopped by the Nike Community Store in Ivy City, which was covered, from ceiling to floor, in Nats gear. But there was no sign of the existence of the Mystics.
At this point, I called the Nike store in Georgetown. (Because, you know, while I was dedicated to the bit, there was no way I was driving back across the city.) They had no Mystics gear in stock, though the employee did say there had been some during the WNBA playoffs, which is great! But by the time a friend of mine stopped by the store 11 days after the Mystics won the WNBA championship, all of it was gone.
As far as I can tell, there is only one place in DC where you can buy Mystics gear in person: The Capital One Team Shop, at Capital One Arena, where the Wizards and Washington Capitals play. (Unfortunately, I could not confirm that they had any in stock, because the store is closed on Sunday. It is only open from 11:00 a.m. to 5:00 p.m., six days a week. If you want to pick up a Mystics shirt in person in the DMV area, schedule accordingly.)
The situation online is still pretty bleak
Of course, I know, yes, you can get gear online. But not at many places. Modell's Sporting Goods online store defaults to regular "Washington" sports teams when you search for Mystics gear. Target gives you Elena Delle Donne children's books. (Which are great! But, you know, not what I was looking for on this particular day.)
Dick's only has four options to choose from for Mystics fans, compared to 100 options for Wizards fans. And honestly, I have no idea what is happening with Nike.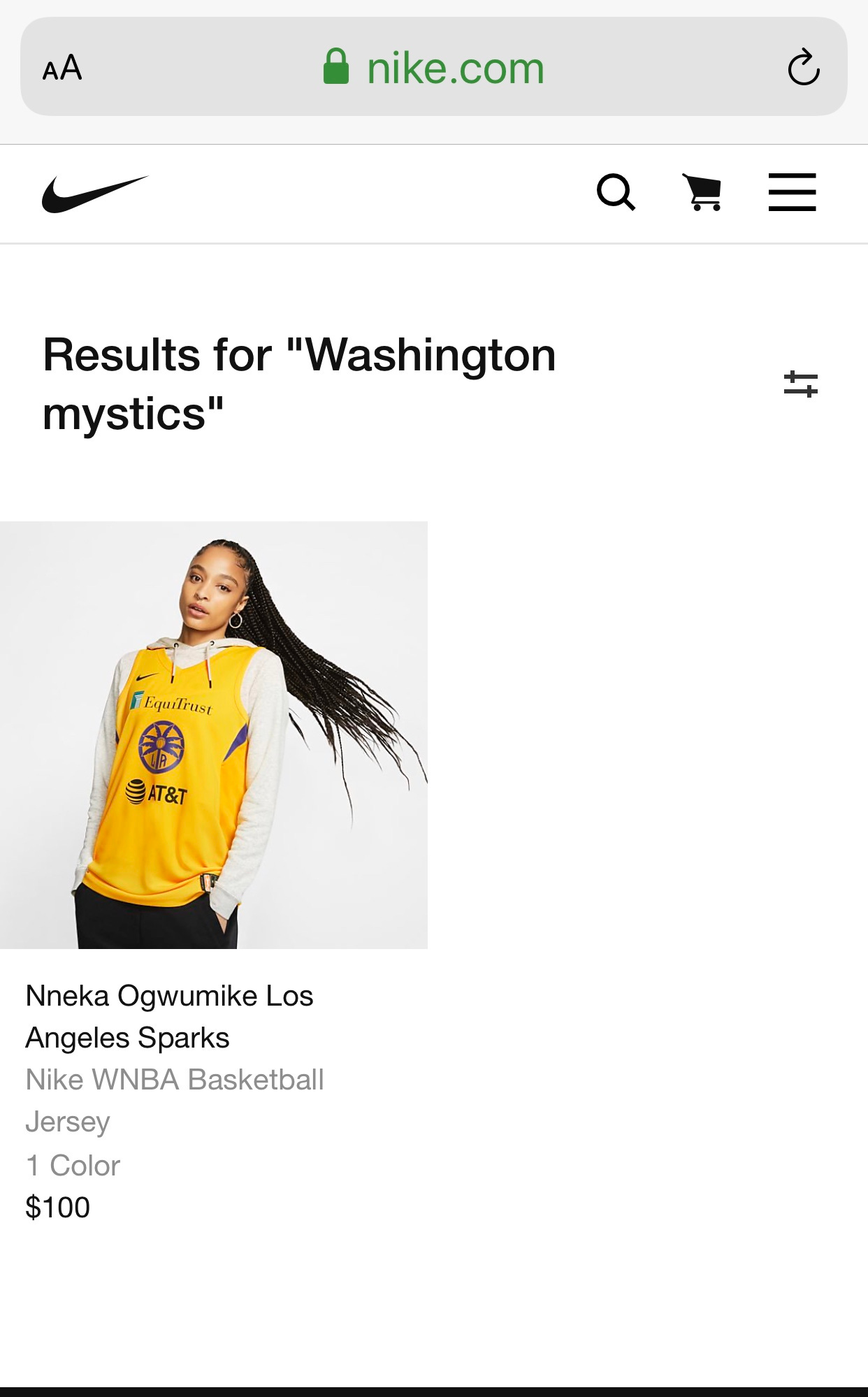 The main places to purchase official gear online are the WNBA store and the Capital One Team Shop (or, as it's called online, the Monumental Team Store.) These two sites seem to be working with the exact same inventory, and it's fairly limited. The only two jerseys you can purchase as-is are Elena Delle Donne's and Kristi Toliver's. Of course, you can custom-make your own jersey. But that's an extra $40 — $139.99 vs. $99.99.
That means on the WNBA website, you can't specifically buy jersey for the WNBA Finals MVP, Emma Meesseman. 
There are about 150 option for Mystics gear in both stores. Comparatively, the Wizards have 1,760 items available at the Monumental Sports Network shop. (The Capitals win, with 2,383.) And for the Wizards, 17 players have already-customized jerseys available for purchase — every member of the active roster, except Chris Chiozza (ouch), plus Otto Porter, who was traded to the Chicago Bulls in February. (Though act fast if you want a Porter Wizards jersey; they're almost gone!)
The best spot to buy fun Mystics gear online, in my opinion, remains the Breaking T store, which is an official partner with the WNBA Players Association.
Decision-makers continue to undermine women's sports
Speaking to store employees, there was a sense of resignation: This is just the way it is.
The day of Game 7 of the World Series, mammoth shipments of Nats' championship gear showed up to the stores, so they could begin selling immediately if the Nats won. But nobody ever sent any Mystics gear.
This is a decision taking place high up the food chain — above the heads of the store managers, and, in many cases, even the district managers. Somewhere, the powers-that-be have decided before the market even had a chance to act that nobody is interested in women's sports.
This isn't happening in a vacuum, and it's not just happening in the WNBA. This summer, according to Caitlin Murray at Yahoo Sports, Nike initially only made about 1,000 official Women's World Cup jerseys available right after the World Cup ended. Just 1,000! Can you even imagine? And this was after it was announced that the USWNT jersey the players wore during the World Cup was the top-selling soccer jersey ever sold on Nike.com.
Men's sports make it simple for even those who aren't interested to become attached to the sport, because it's so easy to find their merchandise and advertising, games and highlights, everywhere you look. 
Women's sports, on the other hand, make it nearly impossible for even die-hard fans to show interest in the sport they love. It's infuriating.
So yes, on the surface, it's just a t-shirt. But in reality, the lack of easily-accessible merchandise is just another barrier of entry for women's sports.
---
NOTE: Merchandise woes in women's sports is a topic I want to keep coming back to. I'm interested in investigating how this whole process works -- contracts, distributors, decision-makers, manufacturers, everything. We need to get to the root of how these choices are made. If you have any information on this, or suggestions for people I should talk with, please reach out. Also, reach out if you just want to share merchandise struggles of your own. lindsay@powerplays.news.
---

Each newsletter, we're going to look back at bullshit that women in sports have had to deal with and barriers they've broken throughout the ages. Submissions are encouraged. Please send old newspaper clippings, recent examples, enraging quotes, and anything else you can think of to lindsay@powerplays.news.
FROM THE ARCHIVES: Women net rebels
On Sunday, Ash Barty won a staggering $4.42 million by winning the WTA Finals in Shenzhen. This was the largest pay day in tennis history — men's or women's!
So, I thought it would be fun to take a look back into the archives at an article written when Billie Jean King and her fellow trailblazers first laid the groundwork for the WTA as we know it today. (Much more on this very, very soon.)
September 25, 1970; The New York Times

MOTIVATIONAL QUOTE: "The Olympic Games must be reserved for men."
With the New York City marathon happening on Sunday, I've been thinking back to the not-so-distant past, when women were banned from officially competing in  marathons across the world, including at the Olympics. Which always takes me back to the torch-bearer of sexist bullshit himself, Pierre de Coubertin.
"The Olympic Games must be reserved for men … [We]must continue to try to achieve the following definition:  the solemn and periodic exaltation of male athleticism, with internationalism as a base, loyalty as a means, arts for its setting, and female applause for its reward."

-Pierre de Coubertin (1863-1937), the founder of the modern Olympics 
Do you feel icky and ragey after reading that? Use it. Channel it. 

Okay, that's all for today—thank for reading the third issue Power Plays! Trust me, the fun has only just begun.
The next edition will hit your inbox on Wednesday. Don't miss it.
Questions? Comments? Tips? I'm lindsay@powerplays.news. I would love to hear from you. And you can share the website version of the newsletter by using the button below.