Remember when Billie Jean King founded a pro softball league?
Let's take a trip back to 1976.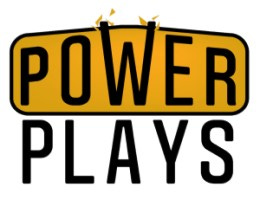 Happy Wednesday! Welcome to Power Plays, your home for a no-bullshit look at sexism in sports. This newsletter will hit your inbox every Monday, Wednesday, and Friday.
Today's newsletter is a look back at the International Women's Professional Softball Association (IWPSA), which existed from 1976-1980. I think you're going to enjoy reading how much has changed — and how much has stayed exactly the same.
Remember: It's very important that you sign for the Power Plays newsletter, and tell a friend! The only way we can prove to those In Charge that there is an audience for this type of reporting is to build up this email list and grow this community.
It takes 2 seconds to sign up, and is completely free for another 6 weeks. (And one newsletter per week will be free in perpetuity.)
If you've already signed up, you have my undying love and devotion. Also: Please take a second to share it with someone who needs it in their life!
First off: Thank you! The very first Power Plays Open thread yesterday was a raging success. I was so nervous I would be in there talking to myself — because fretting is my thing — but instead, it became so busy I couldn't keep up! It's nearing 300 comments already, and was one of the top-five posts in all of Substack for most of the day.
In other words, it was yet another bad day for those who insist nobody cares about women's sports.
I am probably not going to dive back into the thread until Friday or Saturday, but it is still open, so please keep your suggestions of the most important women's sports moments of the decade coming. I'm going to be using that thread to create the list. (If you email or tweet me your suggestions, I can almost promise you I will lose track of them.)
Also? Bookmark the thread. Because it is filled with happiness and joy.
Alright. Let's do this thing.

Let's start by cheering for Fallon Sherlock
I've been slacking on my archival bits lately, so today, I've got many old newspaper clippings for you all to peruse through, all showcasing the journey of the IWPSA. Consider this a primer for Friday's newsletter, which will be focused on the current state of pro women's softball in the United States.
But first I want to show you a clip that makes me SO HAPPY. Seriously, I did not know darts could make me so happy. THE CROWD'S REACTION IS SO GOOD!
Congratulations, Fallon Sherrock. What an icon.

Okay, now let's focus in on the launch of the IWPSA.
Today, National Pro Fastpitch (NPF) is carrying the torch for professional women's softball. It launched in 2004, though officially it was a re-launch of the Women's Pro Softball League (which was re-named Women's Pro Fastpitch after a couple of years), which competed from 1997 to 2002.
But the WPSL wasn't the first women's pro softball league in the United States.
Forty-four years ago, Billie Jean King joined with LPGA star Janie Blaylock and softball legend Joan Joyce to found the IWPSA.
If you're wondering about the state of women's softball at the time, let me link you to this 1974 New York Times article on amateur women's softball, called, "It's not a sissy sport played for laughs." The piece is almost 4,000 words (!!) and impossible to excerpt, so save it for a rainy day.
Anyways, here's an article from The Hartford Courant on April 7, 1976, announcing the launch of the league, which had 10 teams in its inaugural season.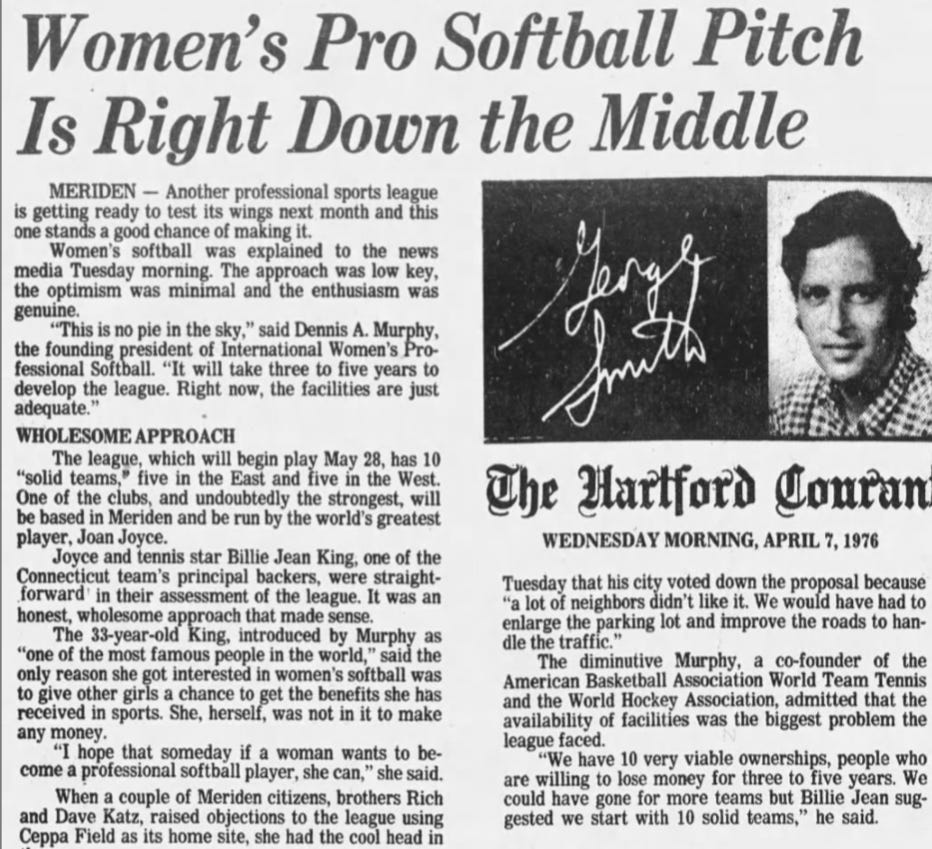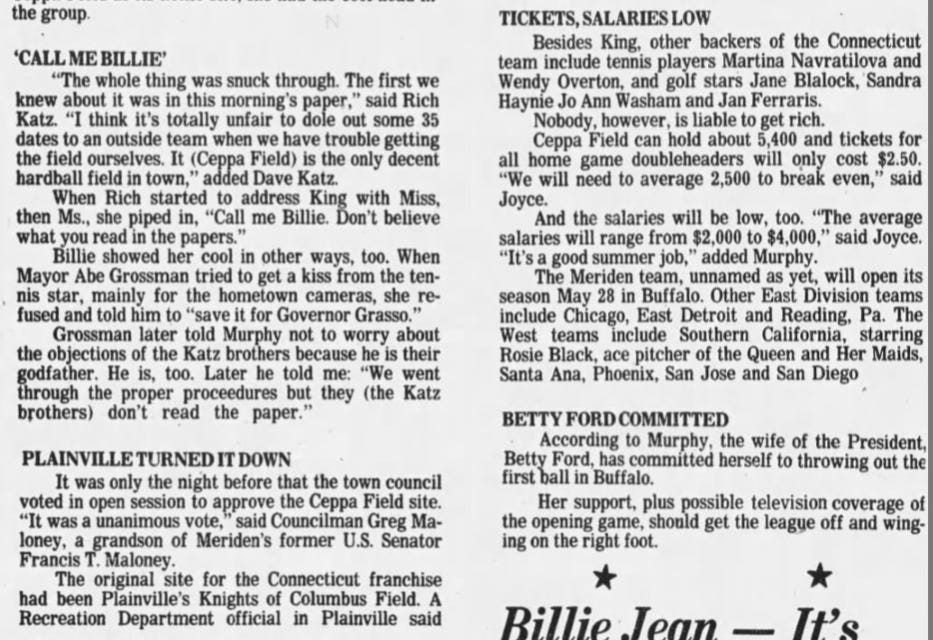 Please note:
The statement, "It will take three to five years to develop this league," makes me so sad. People thought that was a realistic timeline — that it would just take a few years to establish a new pro sports league. Hah!

The phrase "wholesome approach" feels awfully gendered, doesn't it?

The "Call Me Billie" anecdote makes me want to throw things, and makes me want to cheer. The man stumbled over what whether to call her "Ms." or "Miss!" Then the Mayor tried to kiss her! Ban men.

The salary ranges — from $2,000 to $4,000 — aren't that far off from where NPF salaries are today. (Typically NPF salaries are in the $5,000-$6,000 range.)
Nobody knew what to do with pro female athletes in team sports. It was uncharted territory.
While the LPGA and WTA were rising in popularity during this time, and Title IX was pushing forward team women's athletics in colleges across the country, the IWPSA was the first pro league for women in team sports.
It seems that legitimate energy had to be put into convincing people that this wasn't a joke, as detailed in this article from The Evening Sun on August 24, 1976.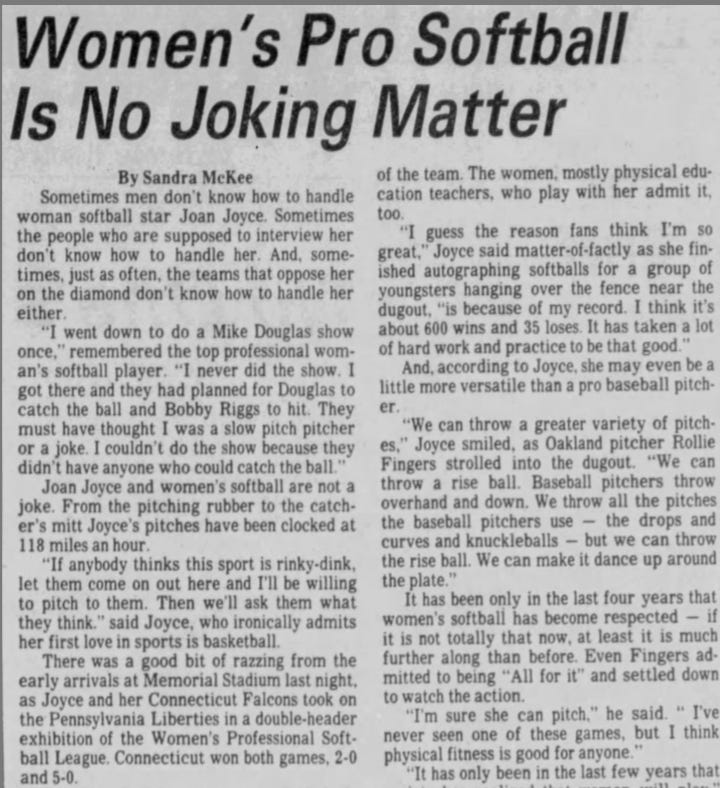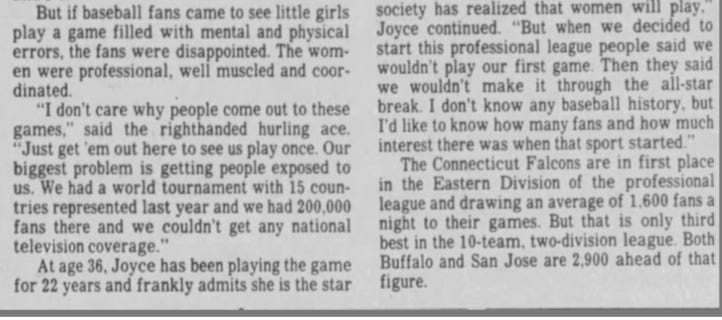 Please note:
"I couldn't do the show because they didn't have anyone who could catch the ball."

I'm obsessed with Joan Joyce.

Those attendance numbers listed at the end don't sound that bad at all — an average of 1,600 fans per night? Two teams averaging 4,500 fans per game? All in the first season? Goodness it's frustrating that this league wasn't given the chance to overcome growing pains.
The league was either in peril or on the rise, depending on who was writing the article.
I came across two articles, written months apart in 1977, that tell very different narratives about the league.
On August 25, 1977, an article from the Erie County Independent, said the future of the league was in doubt.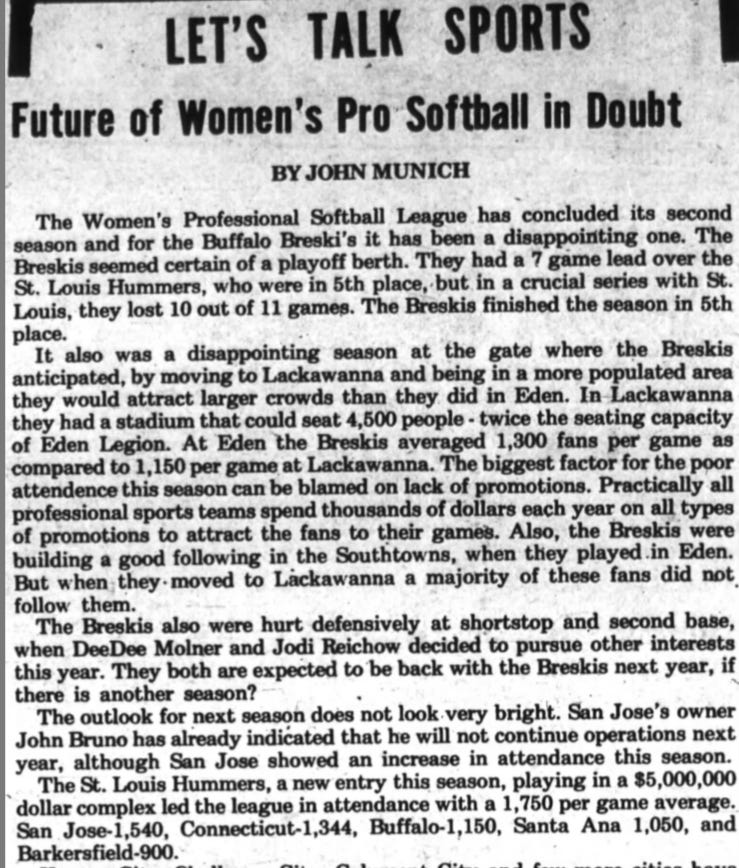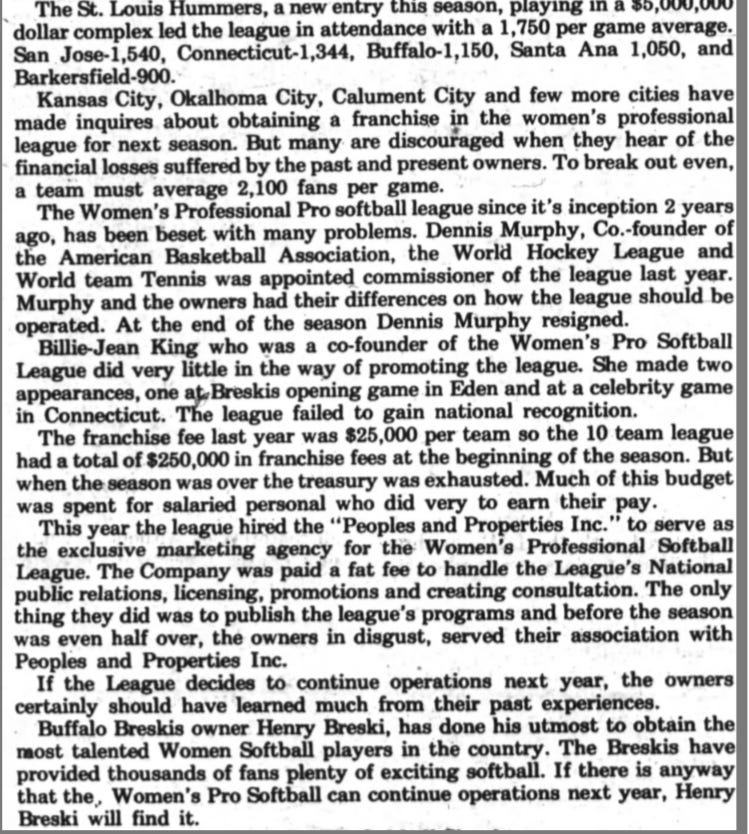 Please note:
Again, averaging over 1,000 fans per game in just the second season doesn't sound that dire to me.

"The biggest factor for the poor attendance this season can be blamed on lack of promotions." Goodness — if you're a fan of women's sports, that sounds incredibly familiar!

Actually, all the stuff in here about the lack of marketing and promotions is fascinating. Seems like there was a lot of shady stuff going on behind the scenes.

I now really want to know more about what went on between BJK and the league. (Email lindsay@powerplays.news if you have any info.)
A couple of months later, on October 11, 1977, the York Daily Record reported that the league was on the upswing!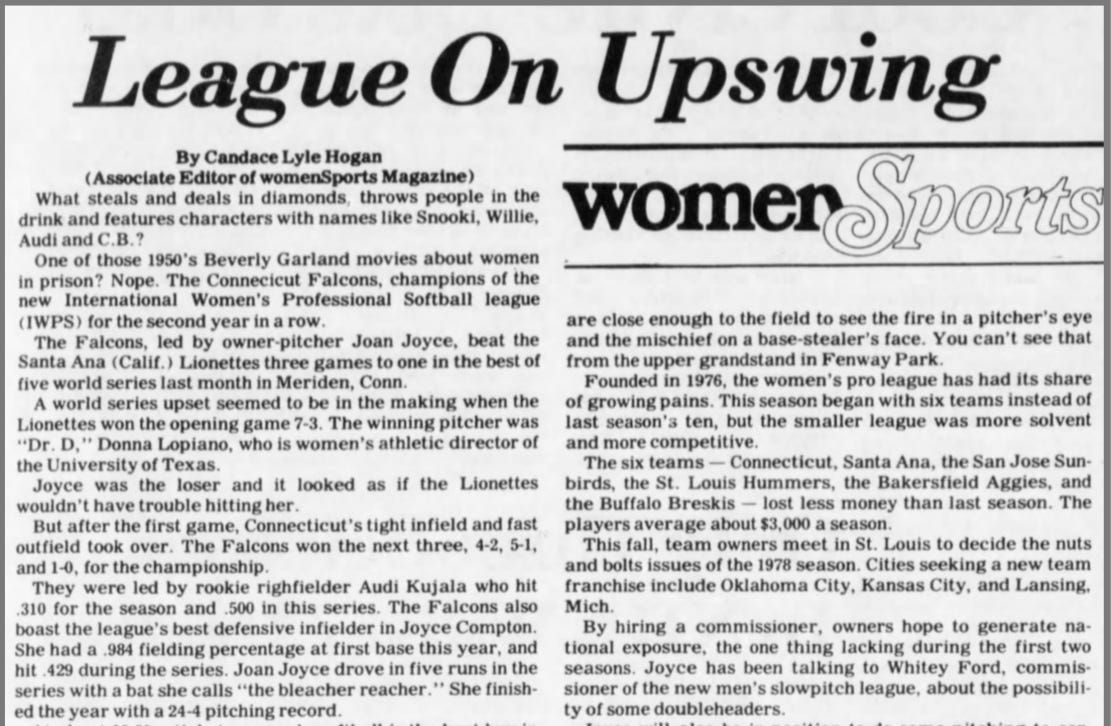 Please note:
That lede (the article's introduction) is incredible.

"At about $2.50 a ticket, women's softball is the best buy in pro sports — and the best party." All I want in life right now is to go back to 1977 and party with the Connecticut Falcons.

Interesting that in previous articles, it was implied that the league could have had more than 10 teams in 1976, but decided to keep it modest. But by 1977, four teams already had dropped out. The next year it dropped down to four. Again, I believe this speaks to unrealistic expectations.
Ultimately, the league folded in 1980 because it seems like nobody knew what they were doing.
I found this wire article published in The Press Democrat on May 28, 1980 to be pretty enlightening about the dysfunction behind the scenes.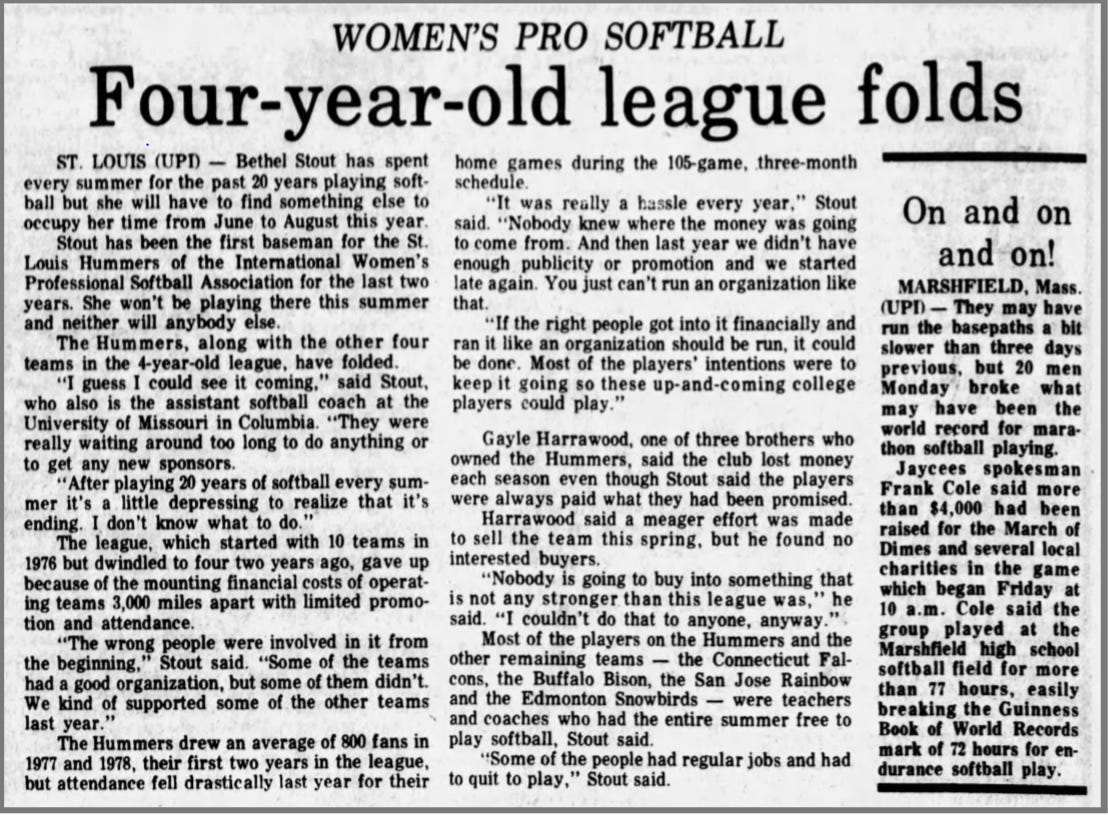 Please note:
Honestly, read the whole thing. It is the same story we see time and time again in women's sports — owners and league officials not having the patience, initiative, or organizational skills to harness the talent of the players and the existing fan base and turn it into a steady business.

Sigh.

I'll be back in your inbox on Friday morning with a look at pro women's softball today. Be sure you're subscribed, you're not going to want to miss this!
Hope everyone is hanging in there — it can be hard to focus the last couple of weeks of the year. I'll do my best to keep you properly distracted.