Starting with softball, this new pro league aims to revolutionize women's sports
An interview with Athletes Unlimited co-founder and CEO, Jon Patricof.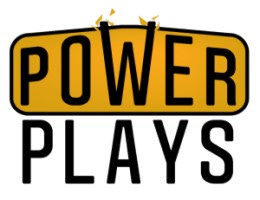 Hi friends, and welcome to Power Plays, a newsletter for those who are sick of excuses, and ready to see equality for women in sports, written by me, Lindsay Gibbs.
***A NOTE FOR PAID SUBSCRIBERS: In a recent newsletter, I linked a finicky google form for people to fill out to help me schedule the Power Plays Book Club group discussion on "Course Correction." Here is the correct link. PLEASE weigh in so I pick a time people can participate! I will announce the time in tomorrow's newsletter. Thanks for your patience!****
If you want to join in on the fun, you can become a paid subscriber by clicking here:
Today, we're diving into the new pro women's sports league, Athletes Unlimited. I start with an overview of things, and then there's my Q&A with CEO and co-founder, Jon Patricof. He told about the genesis of the idea, why AU from traditional league structures, how they have addressed racism, and what they learned from the XFL.
Okay, friends. Let's do this.

Athletes Unlimited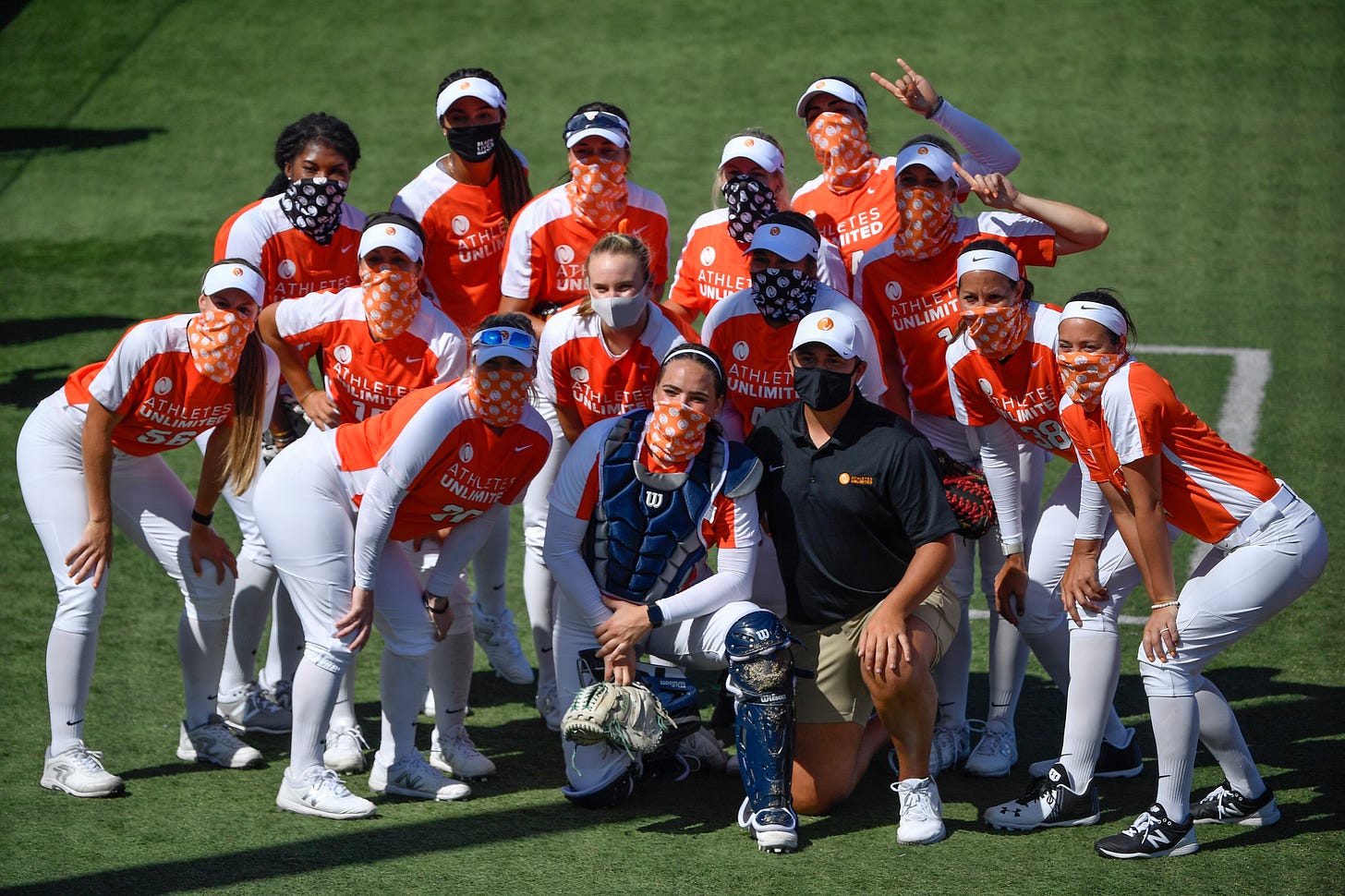 (Photo via Getty Images)
So, let's start this with a confession: I was skeptical in March when I first heard about Athlete's Unlimited and its mission to "reinvent women's sports."
I was a bit off-put that two people with established no connection to the women's sports world (Jon Patricof and Jonathan Soros) were swooping in with millions of dollars to launch a completely new model for women's sports, one that takes a lot of cues from fantasy sports. Why not invest that capital into the existing infrastructure?
Working in this space has a way of making one jaded, I suppose. (Truthfully, I'd be jaded no matter what field I entered, it's at my core.)
But over the last six months, in the midst of a global pandemic, Athletes Unlimited has added corporate sponsors, locked down television partnerships, recruited world-class athletes, collaborated with those athletes and given them a true seat at the table, and launched a six-week-long softball season that provides players with real salaries, great professional development opportunities, and a platform to both showcase their talents and raise awareness for social causes.
Oh, and they've already announced a women's professional volleyball season that will launch next February in Nashville, Tennessee, too.
Consider me officially impressed and intrigued.
The Athletes Unlimited softball season began last weekend, with six nationally televised games — four on ESPNU, and two on CBS Sports Network. They were really, really fun to watch, and I can't wait to see how the rest of the month unfolds.
The format does take a little getting used to, though. So to help us all get settled in, I'm going to start off this newsletter by giving you the basics about the format and the league itself. Then, please enjoy my Q&A with CEO and co-founder Jon Patricof.
What you need to know about Athletes Unlimited and this softball season:
The season is five weeks long, lasting from August 29-September 28. There was one preseason week, too.

All games are being played at the Parkway Bank Sports Complex in Rosemont, Illinois. Long before the pandemic, Athletes Unlimited had already planned to hold its seasons at single sites. It truly was a league built for the times. (Of course, they had hoped fans would be present, but that is not the case.)

There are 56 players, split up into four teams. But the teams are not static. Every week, there is a new draft. The top four players based on the previous week's points — more on that in a second — serve as team captains, and they draft the teams for the week. (The Week 2 draft is tonight, Tuesday, September 1, at 6:00 p.m. ET on Facebook. This week's team captains are Aleshia Ocasio, Samantha Show, Victoria Hayward, and Cat Osterman.)

Each team plays three games per week.

Teams compete for wins, but individuals are competing for a championship. In other words, one individual player will be determined this season's winner. That winner will be based on a points system, which is tallied through team and individual performances. Here is me, doing my best to break that down:

Individual players get 10 points for if they hit a single, 20 for a double, 30 for a triple, and 40 for a home run. Players also earn 10 points for walks, 10 for stolen bases, and lose 10 points if they get caught stealing bases.

Pitchers get four points for each out recorded, and lose 10 points for each run allowed.

If a team wins an inning, all of its players earn 10 points. If nobody wins that inning, those 10 points roll over to the next inning. If a team wins the game, each player earns 50 points.

Players from each team also vote for their top three performers after every game, and the top three cumulatively will earn MVP points — 60 points for the player who comes in first, 40 points for second, and 20 points for third. (Fans who join the premium club can also participate in this voting.)

As mentioned above, the top four players in the points standings are named captains for the next week.

There are no coaches or team owners. The captains are the de-facto general managers and game managers, though there are four "facilitators" assigned to each captain to help with roster decisions and strategy as requested.

Wacky points structure notwithstanding, AU plays with pretty standard fastpitch softball rules. If someone has a basic softball explainer for those who are new to the sport, please drop in the comments below!

There is a total compensation pool worth more than $1 million. The base salary for all softball players is $10,000, and team and individual performance bonuses can permit a player to earn as much as $35,000.

Players also get a share of the league's profits for the next 20 years.

Every game will be broadcast on CBS Sports Network, ESPN2, ESPNU or ESPN3.

AU has also launched an Athletes Causes program, powered by Give Lively, which donates an amount equal to 50% of an individual player's end-of-season bonus money to a charity of their choice. Here is a list of the causes the players are supporting.

Athletes Unlimited has partnered with Wolfpack Endeavor, which is co-founded by Abby Wambach, to launch Athletes+," "a next generation professional education and career exploration enrichment program for athletes." Wambach is also on the AU advisory board.
If you need more details, this ESPN article also does a great job explaining things, and here's the official Athletes Unlimited breakdown.
---
Interview with CEO and co-founder, Jon Patricof
Here's my interview with Patricof, which as you will see, took place in the middle of last week when wildcat strikes broke out across the sports world. This interview has been edited and condensed for length and clarity.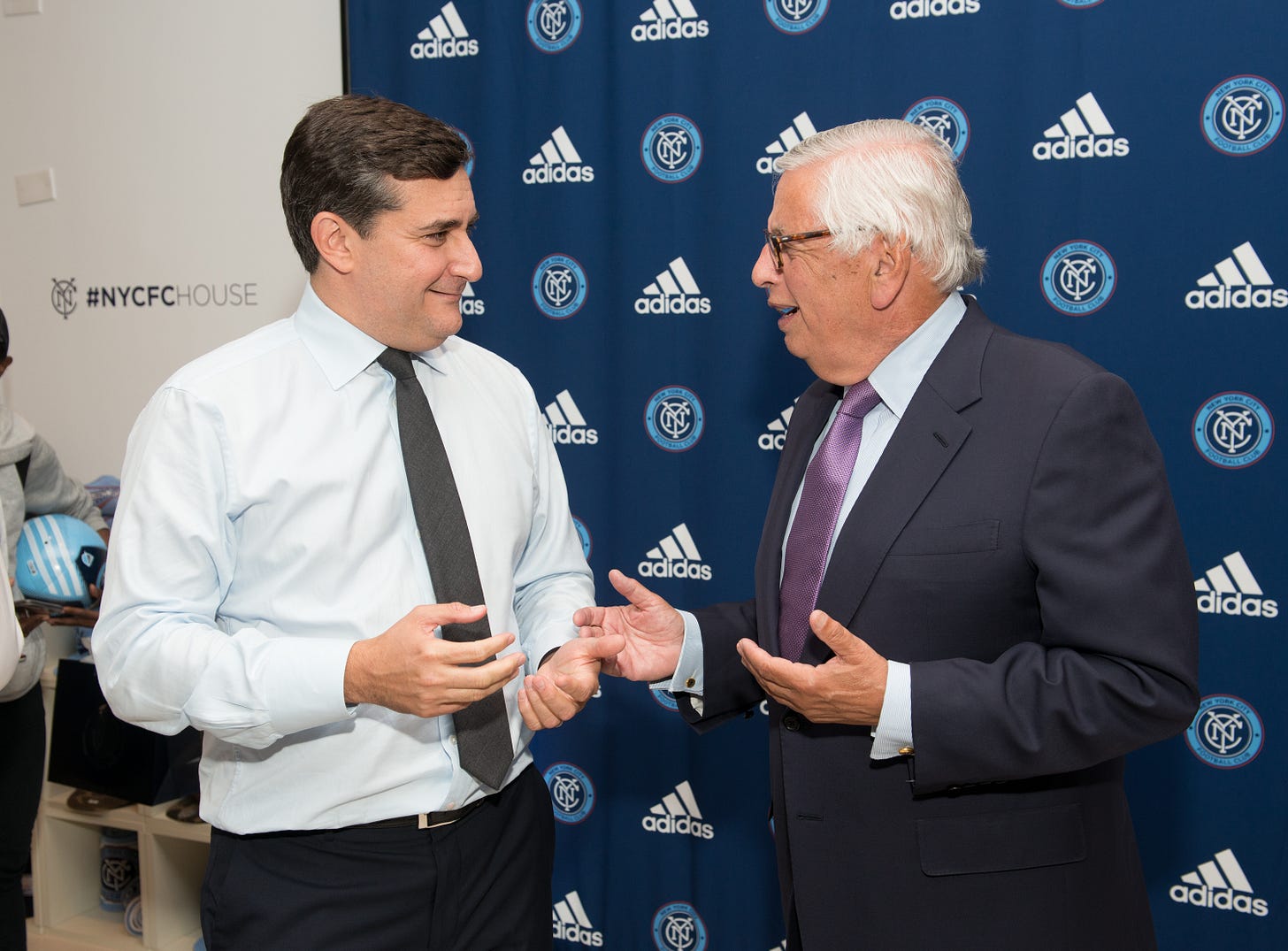 (Photo: Patricof and David Stern at the NYCFC pop-up store in 2017; via Getty Images)
Power Plays: Where did the idea for Athletes Unlimited come from? How did it get started?
Jon Patricof: So it really is the combination of two different kind of bigger ideas around the growth of women's sports and the perceived opportunity and unmet need, as well as the changing nature of the fan, and the importance of athletes versus fixed teams.
I was looking for the best opportunities and areas of potential for growth in sport, and I really think women's sports is undervalued. And then, when we were trying to figure out how to best go about investing, we spent a lot of time looking at existing teams and existing leagues, but ultimately we thought the best opportunity was to start something new. I think too often, what's been done in sports is to just replicate existing models of an NBA or the NFL, and just copycat it in a different sport. But for new and emerging leagues, that's been a really hard model to pursue. I think you really need to be creative and different, and I think that's what we've done here.
PP: What is your background? Have you always been interested in women's sports?
JP: I started my career at Disney, in their corporate studio planning group. Then I went to spend time in the private equity world. And then in 2005 I joined Tribeca Enterprises, which was the parent company of Tribeca Film Festival. I spent 11 years there as president, member of the board, and I really helped grow Tribeca into a multi-platform event and media company. Then I left to go into sports and became president of the New York City Football Club in 2016.
I joined Tribeca in the earlier days of the live event boom, for festivals in particular, and then moved into soccer when the MLS was on an upward trajectory, and I see women's sports in the same way. When I joined NYCFC, people told me that the MLS wasn't going anywhere, but over the course of three years, I just saw the dramatic shift in team evaluations, investment levels, sponsorship, TV deals, and everything. I think that that's what the trajectory looks like for women's sports.
PP: What's the timeline here? How long has this been in the works? 
JP: Two years ago was the start of my real exploration in the area of women's sports. I just saw extremely low valuations for National Women's Soccer League teams, and I saw the power of a number of those individual athletes. I knew that there was so much focus on social media, which I think is probably one of the biggest drivers of sports, you know, going forward. A lot of value comes from connecting with the athletes themselves, and I said, "These women are amazing, not only as athletes, but they have big fanbases."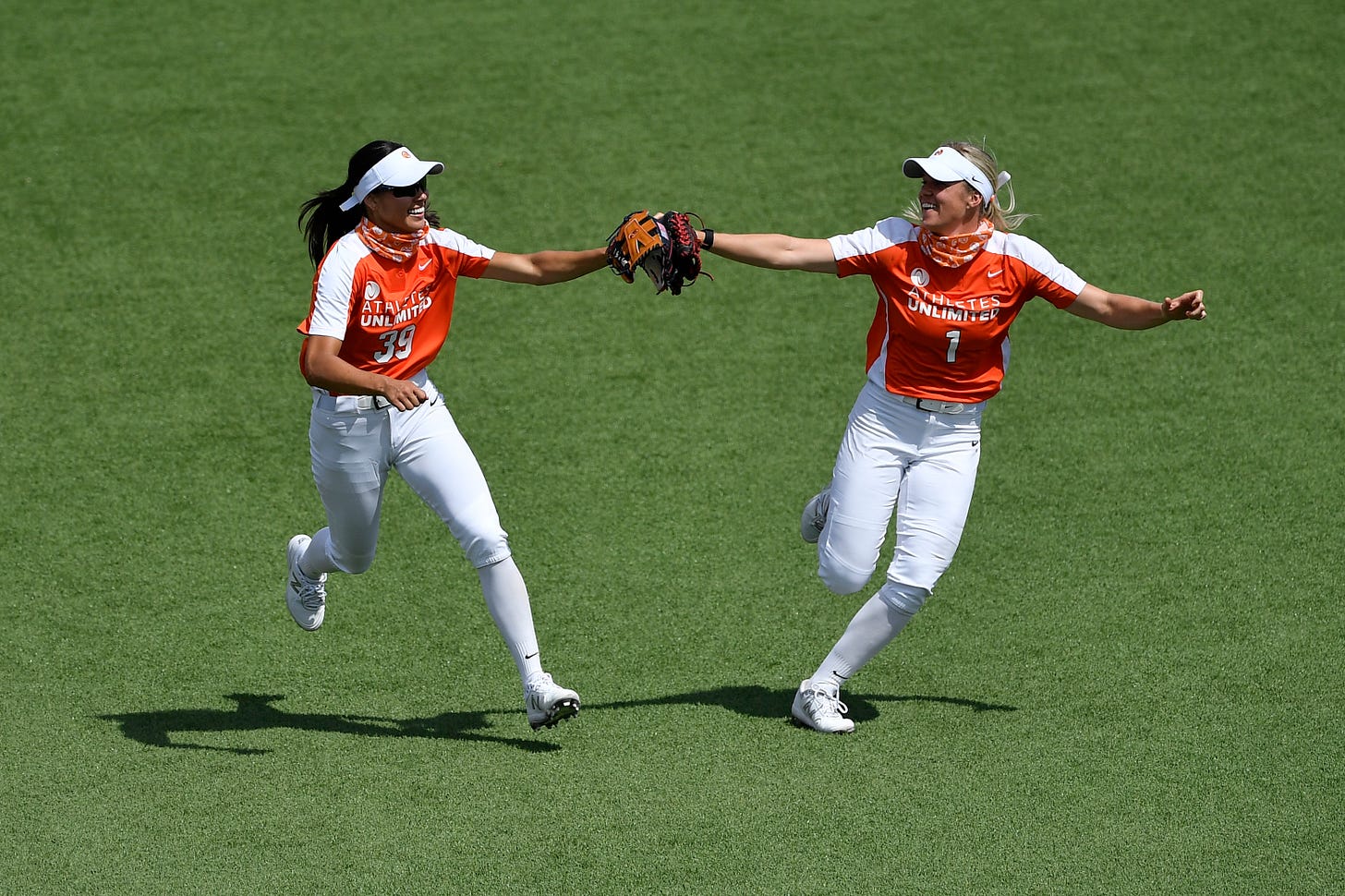 (Photo via Getty Images)
That's when Jonathan Soros and I were first getting connected — we'd known each other 15 years, but we started to talk about this a couple of years ago. Jonathan was the one, because he came from outside of the sports world, he was even more willing than I was to challenge a lot of the conventional thinking. We then spent a year brainstorming around it, talking to a lot of people, and then in June of last year we formed Athletes Unlimited. 
PP: I apologize, I got a little distracted there, I just got the notification that the Milwaukee Bucks are sitting out of their game tonight. So with that on the front of my mind, I want to jump ahead in my list of questions. We're in the middle of a national reckoning about racism, particularly anti-Black racism. Leagues such as the NWSL and the WNBA have been incorporating racial justice and Black Lives Matter into their seasons, and we saw that in the softball world this summer with the formation of "This is Us." How has Athletes Unlimited addressed issues of racism, not only directly with the athletes in terms of activism, but also, internally?
JP: I would say that for the first nine or 10 months of Athletes Unlimited, our particular focus was on being inclusive from a gender perspective, especially considering Jon and myself were the founders. We put together a leadership team that is entirely women except for our CTO and myself. And then when everything started earlier this summer, we spoke to a lot of the players, talked internally about how we wanted to respond, and looked at ourselves. We actually formed a racial equity working group that was made up of a number of player representatives, myself, Jonathan, two other full-time staff members, and then one member of one of our advisory firms.
We started a weekly meeting where we had open conversations about how we, collectively as an organization, wanted to take action. We spent about six weeks working as a group, and I that led to a working plan that we brought to the entire player group.
One of the important things to know about Athletes Unlimited is it's a player-driven organization. The players are sharing in the profits of the league, but day to day, the decision making is made in concert with the players. The first week, when the players arrived, we actually had one particular session that was on creating dialogue and creating safe and open spaces for people to talk about issues of race and racial inequality. The plan is to have those open spaces for the players on an ongoing basis.
I mean, of course we're looking to make sure we're being inclusive, and like everybody we have a lot of work to do on that front. But the key part about it from from our perspective is we're just doing that in hand-to-hand with the players.
The other big part of it for Athletes Unlimited more broadly is, athletes are competing here for points and for financial incentives and prizes. But we've put aside an additional 50% of the prize pool for athletes to donate to causes that are important to them. On the website, you can see who they are playing for.
PP: Can you explain the ownership structure, and how it differs from your typical franchise and owner and static-team model?
JP: Athletes Unlimited is a B Corp. So basically, we have a dual purpose of being a for profit organization but also one that by nature of its charter pursues social causes as a bottom-line objective.
Then, Jonathan Soros, who's put up the capital for the league, has agreed to cap the financial returns. So he needs to be able to get a return on the capital, and then he caps the returns, and all the excess profits and additional profit from his investment will go into players. Outside of that, we have an equity pool for the staff. The way that'll work is, as a player, you will share in profits from this year and 19 years in the future. So the player group as a whole will have 50% of the profit, and you'll get your share of the profit the current year you play, and also 19 years in the future.
We have multiple leagues. We've got a softball league and a volleyball league, and we're planning to launch another league, too. They all fit into the same structure and work the same way.
Then, we have a player executive committee for each sport. We meet weekly with them, and we go through the agenda, everything from player recruitment to corporate partnerships to the different platforms that we're elevating. And then the player group as a whole meets twice a week. We join some of that call, and they talk independently about all aspects of the league. It's really pretty deep player involvement across the board.
PP: The points system is also unique to this league. How do you explain it, and what would the entry point be for, say, someone like myself, who doesn't play a lot of fantasy sports?
JP: The entry point is the concept of every moment counts. So basically, while you're watching the game, the players are getting points based on how well the team does in the inning, in the game as a whole, and how well the player individually performs. There are always certain lulls in the game, but in the case of Athletes Unlimited, there really are no lulls. So I actually think it's pretty straightforward. I mean it's actually a lot easier in some ways than any kind of fantasy model.
PP: You were a bit prescient from the start, since your entire season was already planned to take place in a single site, even before coronavirus. What other safety protocols are in place?
JP: The design of Athletes Unlimited has been to be in one city with a fixed group of players. One of the things I'd seen in the pro sports world was if you don't own your facility — and increasingly, the barriers to doing that are so big that most new leagues can't — you spend so much money renting out facilities, that the economics end up going to the facility owner, rather than the people who are actually creating the value, which is the players.
So, from the beginning, our idea was, how do we rationalize this cost structure and also, how do we create a setup that works incredibly well for media? Why move around cameras and productions across the country every week? Why not put it all in one place, and also have the athletes all in market with us for the entire time, so we're able to do so much more with them? So it's efficient for them, it's great from a content collection and media perspective, and ultimately it is a much more rational business model.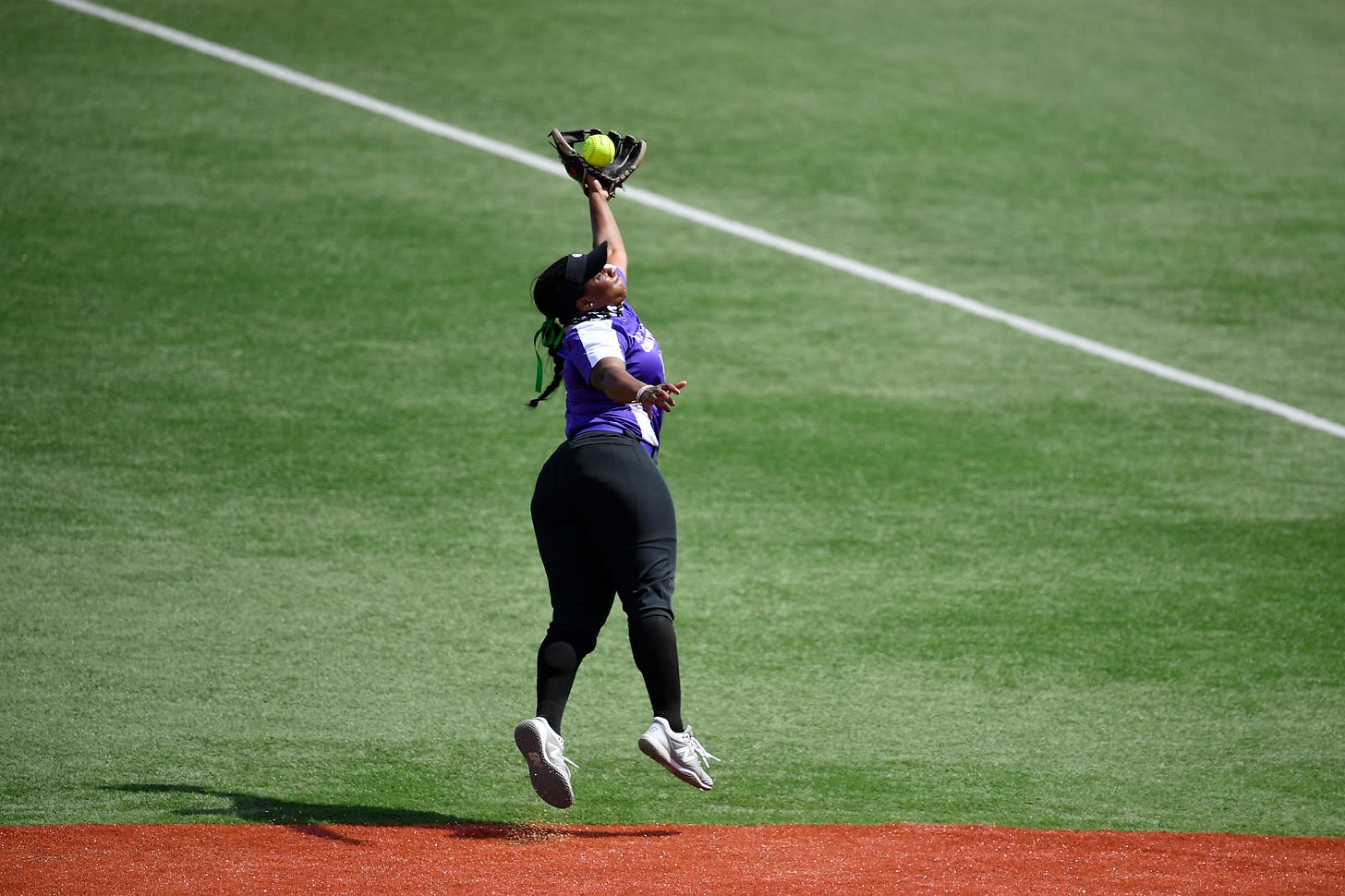 (Photo via Getty Images)
As far as the pandemic, we have a medical advisory board, and collectively we spent two months putting together medical protocols, which involve two tests per week for both athletes and staff, social distancing guidelines, mask wearing, mandates around how we transport people from one place to another, and of course, just overall sanitary conditions. It's been a really extensive process.
PP: Most people who want to invest in women's sports get stuck worrying about the barriers. How did you all go about looking for sponsors and broadcast partners, and what did you learn through that process?
JP: Developing any meaningful partnership is hard, it takes a lot of work. Regardless how much money you're asking for, you're asking companies to take a risk on a new property. And so we've been we've been really pleased. Our hallmark, alongside women's sports, is about empowering athletes on and off the field, and I would say that that has really resonated with a lot of partners.
Softball is a sport that's been proven. It's done really well on television with ESPN in the past. Ratings were up dramatically in 2019 over 2018. Volleyball has 900 million fans worldwide. So we really emphasize listen, you're investing in sports that are big, that have a lot of involvement, but haven't been maximized at the pro level.
On top of that we stressed that we were going to be providing a program where we're going to empower the athletes to invest in social causes. That's never been done before. We're going to put together a program with Abby Wambach and Wolfpack Endeavor around professional leadership development, which will bring going to bring in expert leadership coaches and trainees. And we're going to partner with a wealth management firm. Mariner Wealth has come on board, and we're doing an hour and a half zoom with the athletes about financial management and literacy, and they're so excited about that.
PP: Unfortunately, we've seen a lot of start-up leagues come and go in the last few years, particularly in football. What's the what's the long term outlook for Athletes Unlimited? What do you hope the future holds?
JP: In my experience, most new leagues put way too much emphasis on what can happen that first week — you had the Alliance for American Football or even XFL, where it didn't make it past week five. It's kind-of incredible that you could have any business that would launch and then shut down within two months of operation. I think we learned a lot from that. We wanted to build something sustainable, something with a long-term focus from the beginning. We've been really fortunate that we've gotten so much great support from our media partners and our corporate partners.
We started with one sport, we then added volleyball, we will add another. But I think our vision is to have a significant network of multiple sports. We may have multiple seasons in a sports, and we may have the softball season running in August, and also add another six weeks season in the  springtime. And a lot of it's going to be hearing from the athletes, what they want.
We call it Athletes Unlimited — they're players, but they're more than just players, they're the whole person. So how can we create a business that partners with them, that makes them great, and in turn benefits the league?
Thanks so much for reading Power Plays, friends! If you enjoyed this, please consider becoming a paid subscriber, and/or sharing with your friends.