Thanksgiving Mailbag #2: WNBA coverage, sexism in coaching, pro volleyball, and more!
I'm so thankful for each and every one of you. Truly.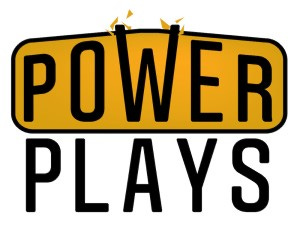 Welcome to  Power Plays, a newsletter for people who are sick of hearing bullshit excuses, and ready to see equality for women in sports.
I'm Lindsay Gibbs, your captain on this journey. If you haven't already, please subscribe by adding your email in the box below. That's the only way to keep this thing going.
This is Part Two of our Thanksgiving mailbag extravaganza. If you missed Part One on Wednesday, go back and check it out.
I'll be back in your inbox on Monday with your regularly scheduled newsletter programming.

Big fan of the newsletter. My question for the mailbag edition is this: As we move into 2020 and beyond, what needs to happen to keep propelling women's sport onwards and upwards? This can apply to whichever groups you think need to be involved (organisations, fans, media etc.).
Have a great Thanksgiving, 
Litty
Thank you so much for the question, Litty.
Look, the marginalization of women in sports didn't happen overnight, and it wasn't the decision of one person or entity. So fixing it can't be the responsibility of one entity, either. Everyone needs to do what they can to reverse this trend.
First of all, it starts with investment. For too long, when it comes to women's sports, the "chicken vs. egg" argument — "What comes first, investment or interest?" — has resulted in a stalemate. But from the Olympics to college women's sports, the Women's World Cup to the WTA, we've seen what happens when legitimate investment is made in women's sports: Interest follows! Maybe not overnight, but sooner rather than later.
That investment needs to come from all sides. But here I'd like to focus on sponsors. It's beyond time to step up. I am so, so sick of organizations like Nike running women's empowerment commercials, while not actually putting their money into women's sports leagues, women's sports merchandise, and into properly showcasing its female athletes. (Also, as I wrote about for ThinkProgress after the Women's World Cup, what would happen if all-powerful sponsors like Nike put more pressure on leagues and organizations to, say, offer equal pay?)
And fans? They need to show up. Bring friends. Even when things aren't perfect. It's annoying that the burden falls on the fans to prove interest, and that sometimes even proving it doesn't move the needle, but it's a part of the equation we can control. Challenge yourself to watch more streams of women's sports, even outside your usual rooting interests. Plan trips to see a women's basketball or volleyball or softball game at a college nearby over the next few months. Buy merchandise, if you can find it. If you can't find it, ask the store owners for it. Request it. Show that there is a demand for it.
Of course, media needs to play its part, too. I'm going to address this more in the next question, so I'll be brief here, but this doesn't need to be an overnight shift to equal coverage. Just, like, move in the right direction. Right now, women's sports only receives four percent of all media coverage. What if in 2020, every single company that covers sports in any way makes a commitment to increase that to 10 percent. That would more than double the coverage of women's sports instantly, and it would take very, very little effort from the companies themselves on a day-to-day basis.
And, as for organizations themselves? Respect the women you employ. This doesn't just mean to show them more money, though that would be great. But try treating them like equals when it comes to facilities and food, support staff and messaging. Show, publicly, that you value them. It matters. And it doesn't have to be complicated.
After some time away from it, thoughts on the WNBA coverage from the Athletic and/or coverage of the league in general? The TV coverage seemed like a mixed bag to me this year. The ESPN coverage was cool, but anecdotally, it didn't really get anyone in my circle to watch which was sort of disappointing. 
-Felicia
I don't want to delve too deeply into The Athletic, because there's an obvious conflict of interest there, but I'm happy to talk about coverage generally.
Overall, WNBA coverage is moving in the right direction. While it's understandable (and wonderful!) that people want them to do more, The Athletic's coverage did help improve the whole landscape. We saw more local papers have coverage of their teams, most notably the Los Angeles Times and Los Angeles Daily News having reporters (Brady Klopfer and Mirjam Swanson, respectively) cover the Los Angeles Sparks regularly, and the Chicago Sun Times having Madeline Kenney on the Chicago Sky beat. The Washington Post and the Hartford Courant continued their coverage of the Washington Mystics and Connecticut Sun, and it was especially great to see both papers send multiple reporters to cover WNBA Finals games, both home AND away.
People like Howard Megdal over at High Post Hoops are doing a great job building a pipeline of young, brilliant, knowledgeable women's sports reporters in local markets, which helps fuel local newspapers to catch up — Bria Felicien, a reporter for HPH, started covering the Atlanta Dream some for the Atlanta Journal-Constitution last season, which is a big deal considering how rarely there has been any Dream coverage in the AJC in the past.
Basically, this was the first year in quite some time that I felt print/online coverage of the league took huge steps forward.
As for ESPN? There are so many good people there doing so much good work on the WNBA, but it continues to feel like the investment from the network-at-large is far too "one foot in" for a league partner. It is inexcusable not to have pre-game and post-game shows, at least during the WNBA Playoffs. Absolutely, positively inexcusable. One game on TV per week is not enough, and it's particularly frustrating when that game isn't on at a regular time each week; there should be at least one consistent night every week during the WNBA season when there will be a big game on ESPN, and the network should blow up the production, have it involve a pre-game and post-game show, updates from around the league, exclusive interviews, everything. ESPN has the talent and access and clout to pull this off, and it would do wonders.
And it was beyond frustrating not to have CBS Sports Network games available on WNBA League Pass. That needs to change.
Okay, I think I'm done ranting now. Basically: There are a lot of positives. But it all continues to feel underwhelming with the league's primary television partner treating the league like an obligation and afterthought.
Why has professional volleyball never been successful in the US? There are multiple leagues in other countries (notably Brazil, Italy, Turkey, China, Japan), and the US men's and women's teams are consistently on the podium at the Olympics. Is it because it's traditionally a women's sport? Top tier college teams (particularly in the Big 10) consistently sell out home matches so it seems there would be a market. And I think high school girls volleyball has actually surpassed girls basketball in many states, although it's been a while since I looked at the statistics.
Maren
Hi Maren! Love this question because it makes me think.
First, some context: Here's a good article from ESPN about why more girls are gravitating to volleyball than basketball, a statistic that you mentioned in your questions. And I did some googling, and found a blog by Christy Swagerty that I believe does a good job of breaking down a lot of the in-the-weeds details here — and since she actually has played volleyball overseas, I trust her much more than myself on this!
But since you asked me, I think this ultimately boils down to the way all of our sports traditions in the United States have been dominated by the men. Volleyball is the rare team sport that is more popular with women than it is with men. (Well, if you treat softball and baseball as equivalents, which I know can be controversial, because women play baseball, too, but this is how things have evolved.)
We're just getting to the point where people can envision a successful women's basketball or women's soccer or women's hockey league in the United States, and all of those are sports that have male professional leagues that investors can model after. But volleyball doesn't have that. And that means that the Powers That Be can't even begin to fathom it working for women if it doesn't work for men.
Megan Rapinoe recently had a good quote about this — how we stick too close to the model of men's sports when thinking of women's sports, and how we all need to start thinking more out of the box.
"I think part of the problem is that anytime someone tries to approach a problem with women's sports, they just do the exact same thing that has been done, or that's being done, in men's sports, and it needs to be treated as a similar but separate product that deserves its own attention, it's own brain power, its own creativity and branding and marketing and advertising and everything that is put into the men's side," Rapinoe told SFGate, in an interview that was actually conducted by an eight-year-old.
Like I said in Wednesday's newsletter when discussing the National Pro Fastpitch league, I hope that the increased popularity of the sport on the collegiate level and the exposure it will get at the Tokyo Olympics will force people to question why women's volleyball hasn't been given a real chance at the pro level here in the U.S., and inspire People With Money And Power to take steps to change that. There is definitely a market.
Big fan so thanks for keeping on the fight!  One question that's always bothered me is the ease of which men get into coaching positions. I was rather shocked when the women's national soccer team announced a male coach. I thought that was a real insult no matter how great a guy he is. This team is about role models and should definitely have a woman in the coaching position. And the WNBA and women's collegiate sports etc. etc. 




-Felix
Phew, Felix, this is a topic that I spend a lot of time thinking about. Much earlier this year, I wrote a profile of Notre Dame women's basketball head coach Muffet McGraw, in which she told me that she was done hiring male assistant coaches, because she knows that women need those opportunities more.
The statistics that everyone always points to, because goodness are they damning, is that: When Title IX was enacted in 1972, 90 percent of the coaches of women's college sports were women. Today, it's about 41.5 percent. Meanwhile, the number of women coaching in men's college sports has remained below 3.5 percent since before Title IX.
Essentially, as women's sports grew in financial prosperity and power, men suddenly wanted to coach them. This is exacerbated by the fact that less than 10 percent of athletic directors at top schools are women, and less than two percent are women of color. We need more women in positions to make hiring decisions.
But none of this is going to be fixed simply by hiring a woman at the top level. The pipeline has to grow, and that's going to take some watering from all directions. We need more women coaching at club and high-school levels. We need more women coaching in college. We need more mentorship programs to get female athletes into coaching. And we need head coaches and administrators to be more accommodating to the realities of motherhood, so that isn't a barrier of entry.
To be explicitly clear, this is a systemic issue — I actually think in this case, Vlatko Andonovski was the right man for the NWSL position. But hopefully, going forward, there will be more women in the pipeline and a woman will truly be the right person for the job.
The percentage of women who get ACL injuries is far higher than for men. I believe that, over the years, there have been studies showing that certain types of training can lower the number of injuries. And yet I never hear anything about what the various teams, leagues, conferences, etc, do about it. It would be great to hear the policies of some entities for lessening the injuries.
(And keep up the great work that you do!)
Mike Shaw
Thanks, Mike! I have to say, I was actually ignorant about this issue, so I'm so glad you brought it up. A cursory search shows me that you are absolutely right — studies have shown that ACL tears are more common in women and girls.
This is a great example of what we talked about a few weeks ago, which is sexism in sports science. In this case, it seems there have been some studies done, but your question is a great one: What are professionals in the field doing with this knowledge?
I usually wouldn't put a question in the mailbag that I'm this clueless about, but I wanted this to be a call for help, because I know I have very knowledgeable readers from across the sports sphere. So please, if you know the answer to Mike's question, email me (lindsay@powerplays.news) and I'll loop back to this in a future newsletter.

It's cheesy but it's true: Today, and always, I'm grateful for all of you! One month of Power Plays down, a lifetime to go. I have so much great stuff brewing for December, I can't wait to share.