The biggest problem with ESPN's HORSE show
Nobody puts #VanderQuigs in the corner.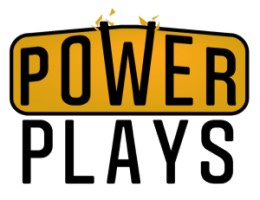 Hello, and happy Monday! Welcome to Power Plays, a newsletter about sexism in sports, written by me, Lindsay Gibbs.
Today, I'm going to give you an official Power Plays update, then rant about a televised HORSE competition, because we're living in Extremely Dark Times.
We're diving right in today. Okay friends, let's do this.

Look at what you have made possible!!
I'm a fan of transparency, and am committed to maintaining that with you all, especially during this trying time.
Three weeks ago I announced that since Covid-19 had changed the sports landscape for the foreseeable future, and putting many sports reporters out of work, I was going to use the (now meaningless) Power Plays travel budget to pay freelancers who need work.
It has been a big undertaking, but a thrilling one. While everyone else is cutting back on their coverage of women's sports, and laying off people from their staffs, here at Power Plays, I am adding contributors and publishing more newsletters than ever. (At least four per week, two that are free, and two for paid subscribers only.)
I initially agreed to pay a minimum of $1,100 a month for three months to contributors. Thankfully, you all responded by buying more subscriptions, and last week, Power Plays passed the 1,000 paid subscribers threshold — a huge mark for long-term sustainability. As I promised, a lot of the money from new subscriptions has gone directly to freelancers.
At the end of this week, I will have paid contributors a total of $1,500, and I have a total of $1,900 in assignments in the works. That is $3,400 going directly to writers who are reporting stories about women's sports that would not see the light of day without Power Plays.
YOU. DID. THAT.
The work in the pipeline is absolutely phenomenal, and I can't wait for you all to get a chance to read it.
But right now, I only have enough money to commission one or two more stories. I have so many more great pitches in my inbox, and I don't want to have to turn them down.
I know that most are going through a really difficult time financially right now, and completely understand if you need to prioritize other things right now. But, if you are able, I wanted to remind you about a few ways you can help Power Plays:
We're in this together, friends. I appreciate you more than I can express. I truly believe we are just getting started.

Yes, I have to complain about HORSE now
There's no way to sugar coat this. I am about to go on a feminist rant about the HORSE competition shown on ESPN last night. This is just who I am, and it can't be helped.
And honestly, if you're here, you're an enabler. So let's just embrace it.
In case you somehow missed it, perhaps because you are a well-rounded human being who has found productive ways to fill your time during this social-distancing saga we are indefinitely trapped in, on Sunday night, ESPN showed the quarterfinals of a HORSE competition.
Yes, HORSE. That game you used to play in P.E. or with your neighbors or cousins, the one where you have to have to make the same shot your opponent makes, or else you get an "H." Then an "O." And so on. It is surprisingly weird to type out the instructions, but in real life, it is extremely basic.
In the absence of sports, ESPN and the NBA and State Farm partnered to hold this virtual HORSE competition. All the players were on their home courts, and commentator Mark Jones was hosting the event from his home office, too. There were six current and former NBA players involved, and two current and former WNBA players, Tamika Catchings and Allie Quigley. That was, of course, why I tuned in.
While I really, really commend ESPN and the NBA for being creative and for trying to bring some live entertainment into our lives during these trying times, there were … a lot of problems with this broadcast. It seemed like all the players were filming with 2010 blackberries on Best Western-quality wifi. The pacing of the show — which was not completely live, but edited together by brave souls who deserve a raise — often felt like a middle school newscast.
And while it was wonderful to have women included, the competition between Catchings and Mike Conley was an incredibly awkward 30-minute showcase of the wealth gap in sports; Conley was shooting in a massive, indoor climate-controlled gym, while Catchings was shooting in a small driveway outside on a cold, gusty Indiana day. Conley dominated, and it was pretty painful to watch.
(Catchings RTed the following tweet, btw.)
The absolute best part of the show was the final duel between the Chicago Sky's Allie Quigley and the great Chris Paul. Quigley is a three-time WNBA All-Star, and a two-time winner of the Three-Point Contest, in 2017 and 2018. Any WNBA fan knew she would be a tough out. (And thankfully, she and Paul were both playing outdoors, so we had a somewhat equal playing court — I mean, Paul had an entire private outdoor court, while Quigley was on a cramped, cobblestone court in her driveway, but at least nobody was indoors.)
It was a great back-and-forth battle, and the two had fun banter and attempted creative shots and it felt like something was actually at stake. Quigley got out to an early lead, but then had to fight off a Paul comeback, before ultimately claiming the win. Paul — in his great "Black Colleges" hoodie — handled the whole thing well, sexist trolls online were pissed off, and Quigley advanced to the semifinals on Thursday, which oh my god I just realized means I have to watch more of this.
It was fun!
So, why am I angry? Why am I being a buzzkill?
Because in the entire 30 minutes of the Quigley/Paul duel, Mark Jones never once acknowledged that Quigley's wife, Courtney Vandersloot, was right there on the court, helping film the contest! Of course, not only is Vandersloot Quigley's wife, she's also her teammate on the Chicago Sky, and a two-time WNBA All-Star herself, who led the WNBA in assists in 2014, 2017, 2018, and 2019, and holds the all-time WNBA record for most assists in a season (300). SHE IS PRETTY FREAKING GREAT.
It is important to note that Jones did mention Vandersloot and the fact that she was Quigley's wife in a very quick "upcoming" promo earlier in the competition, but it was so quick that I honestly missed it during the actual broadcast.
But while Jones took time during the segment to interview Paul's son, he never mentioned Vandersloot or interviewed her during the 30-minute HORSE face-off between Quigley and Paul.
I am not calling Jones or the ESPN production team openly bigoted, to be clear. But the choices they made during this broadcast deserve scrutiny, because their platform is powerful. And in this case, those decisions perpetuated sexism and homophobia.
Sexism, because if a man with Vandersloot's credentials was helping film one of the NBA players in this competition, there is no way that ESPN wouldn't have hyped that to the extreme, interviewed the player, and just generally used their presence to add to the fun of the competition. But Vandersloot was an afterthought.
And homophobia, because ESPN was provided with a golden opportunity to pretty effortlessly feature one of the most successful same-sex couples in sports, and opted to make the only mention of them a blink-or-you'll-miss-it shoutout.
On Thursday, Quigley will be back in action, as will Vandersloot, I assume. I hope that this time, ESPN gives Vandersloot at least as much camera time as it gave Paul's son. When you're trying to make entertaining television, and you have a power couple at your disposal, count your lucky stars and use it to your advantage.
Visibility matters. And everyone should be clued into the absolute wonder and joy that is #VanderQuigs.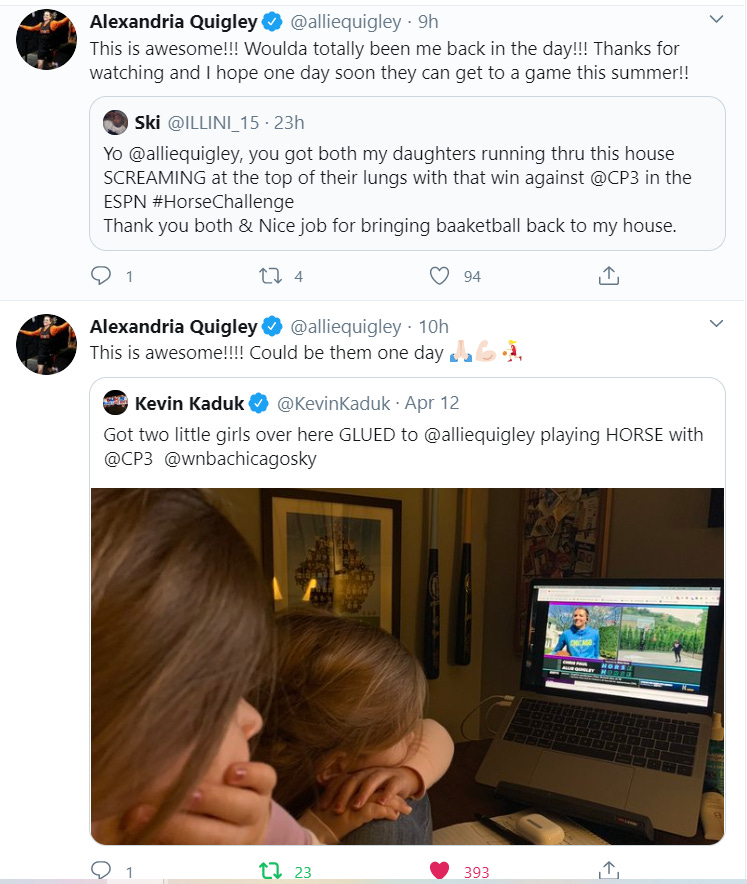 That's all for today, friends. We've got a big week here at Power Plays, can't wait to share it all with you. Take care of yourselves.