The WNBA didn't follow in the NBA's footsteps. It blazed the trail.
Inside the WNBA players' decision to pause the season in the wake of Jacob Blake's shooting.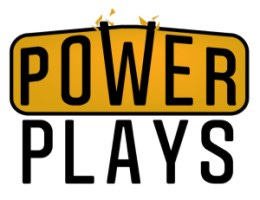 Hi, all. Welcome to Power Plays, your favorite no-bullshit newsletter about sexism in sports, written by me, Lindsay Gibbs. I have spent the past 48 hours reporting and writing about the WNBA's decision to cancel games for two days in the wake of the shooting of Jacob Blake.
There's a lot more to explore where this comes from, but let's start here, with a deep dive into the choice, the WNBA's history of activism, and what happens next. We're witnessing history, my friends.
"What's more important than living?"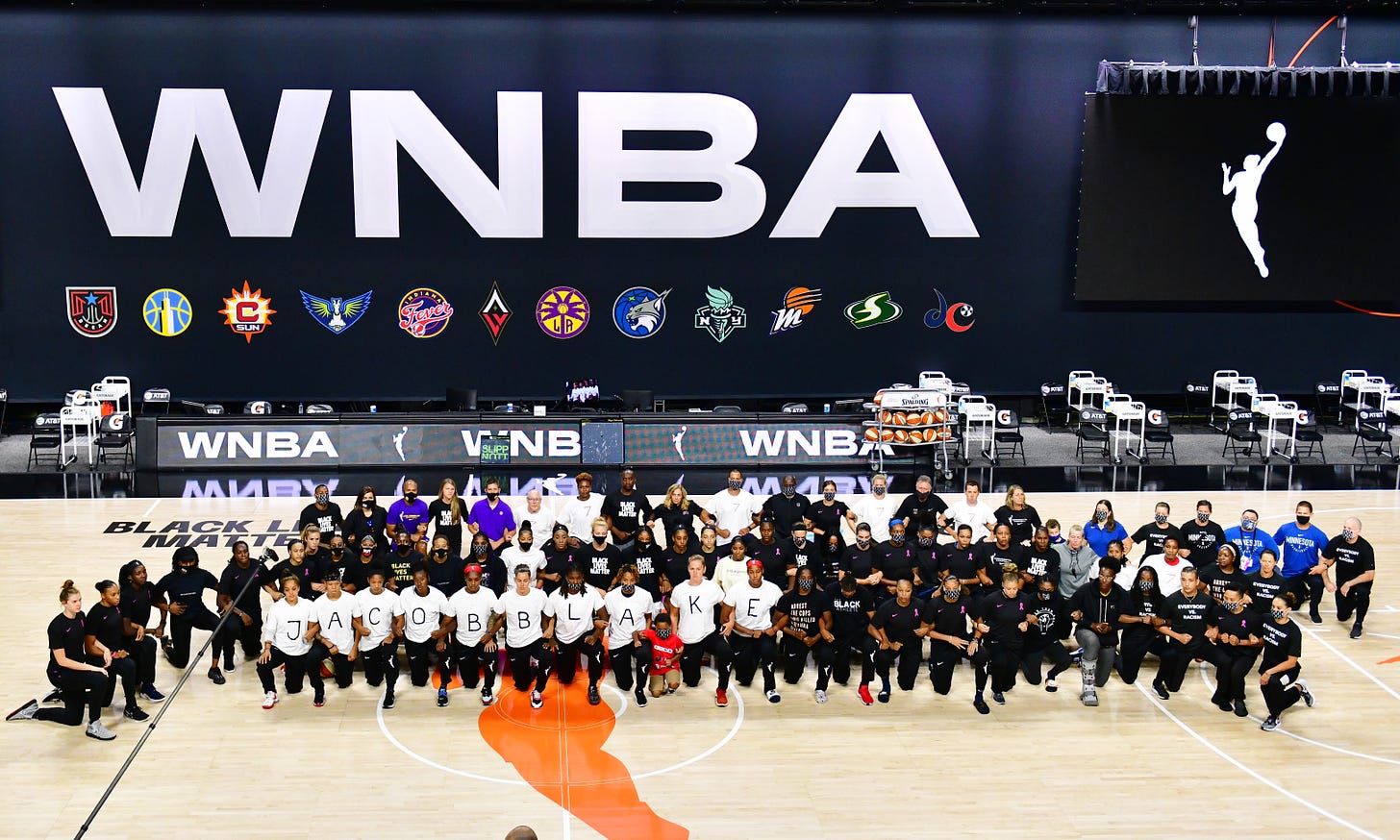 (Pic via Getty Images)
On Wednesday morning, the Washington Mystics gathered for shootaround to prepare for their game that night against the Atlanta Dream at 7:00 p.m. ET. But they were not in the mood to talk about basketball.
It had already been a long week. On Sunday night in Kenosha, Wisconsin, police shot a Black man, Jacob Blake, seven times in his back at close range, as he entered his car, where three of his children were sitting and watching. He survived, miraculously, but is paralyzed, likely for life. The shooting was caught on video, and quickly went viral.
From inside the wubble — the WNBA's clean-site at the IMG Academy in Bradenton, Florida, where the league is playing its 2020 season amidst the coronavirus pandemic — players followed an all-too-familiar news cycle: Protests erupted in Kenosha, the media smeared Blake's character, the police remained secretive about details, and powerful politicians pearl clutched over looting and property destruction, while ignoring the pandemic of police brutality against Black people.
The WNBA's 2020 season is dedicated to the #BlackLivesMatter and #SayHerName campaigns. The league is constantly doing work to raise awareness about police brutality against Black people. But this week felt different. This wound was fresh, this trauma was raw. It was exacerbated on Wednesday, when players awoke to news that a 17-year-old white boy with a rifle had shot three protesters overnight in Kenosha, killing two of them. He walked away from the scene unscathed.
"Police brutality is just not stopping, no matter how many protests we have, how many how many movements we have, how many petitions we have to sign," Mystics center Alaina Coates told reporters after the Mystics' shootaround. "So at this point, it's just like, what else can we do? Because it's too much, and we're tired of it."
Just eight hours later, Coates and her Mystics teammates became an integral part of sports history, joining in a sit-out movement that began that afternoon when the Milwaukee Bucks decided not to take the court for their playoff game. On national television, the Mystics linked arms with the Dream, Los Angeles Sparks, and Minnesota Lynx, and announced they would not be playing basketball that evening.
The WNBA's decision has been described as an act of solidarity with their NBA counterparts, and solidarity is certainly part of the story. But reducing the WNBA's sit-out to a mere footnote of the NBA's protest is an act of erasure. It ignores the groundbreaking activism that the Black women in the WNBA have been organizing for years; it minimizes the extreme professional risk the players took when they chose not to capitulate to concerns over sponsor obligations or television contracts or the league's bottom line; and it belittles the overwhelming anguish and anger and anxiety that the players felt as they agonized over their choice.
"It became a situation where our players felt like, if we're not going to take the last step and make the final stand now, when are we ever going to do it?" Mystics head coach Mike Thibault said on Wednesday night.
Minnesota Lynx head coach Cheryl Reeve said that as difficult as the decision was for her players, it ultimately came down to a simple question: "What's more important than living?" 
Making the decision
At shootaround, Mystics' head coach Mike Thibault talked to his players about Blake's shooting, and asked what they wanted to do that evening to make a statement. Their game on Wednesday night would air on ESPN2, meaning they had a national television audience.
The team initially decided to play the game, but hold a media blackout, meaning they wouldn't answer questions about basketball, but would only talk about Jacob Blake and police brutality. Thibault planned to read a statement to the media saying, "Since the beginning of 2020, over 100 Black women and men have been killed by police officers. We cannot stand by quietly and act as if life can just go on normally."
The Mystics wanted to make an impact with their entrance, too. The team spent the afternoon making t-shirts that spelled out the name of Jacob Blake, and had seven red dots on the back, representing the seven bullets the police officer fired into Blake's back.
"This was a very graphic thing that was reported on Sunday night, for someone unarmed to be shot seven times at close range. It was mind boggling to me," Thibault said. "And so, the discussion then became, 'Let's make [the image on the shirts] graphic and mind boggling.'"
But as the game got closer, players started second-guessing their decision to play. Natasha Cloud — a point guard for the Washington Mystics who opted out of the season to focus on racial justice work — told The Athletic that she texted her teammates that afternoon, and challenged them to consider sitting out.
Mystics' forward Tianna Hawkins began to question things when she put on the shirt and hopped on the bus to the game with her teammates. Her five-year-old son Emmanuel is living with her in the wubble, and she couldn't stop thinking about the world he was growing up in.
"I was emotional, because, you know, just putting on that shirt with bullet holes in the back, just raising a young man, just knowing that could be him in the next 12 to 13 years," Hawkins said. "We're tired."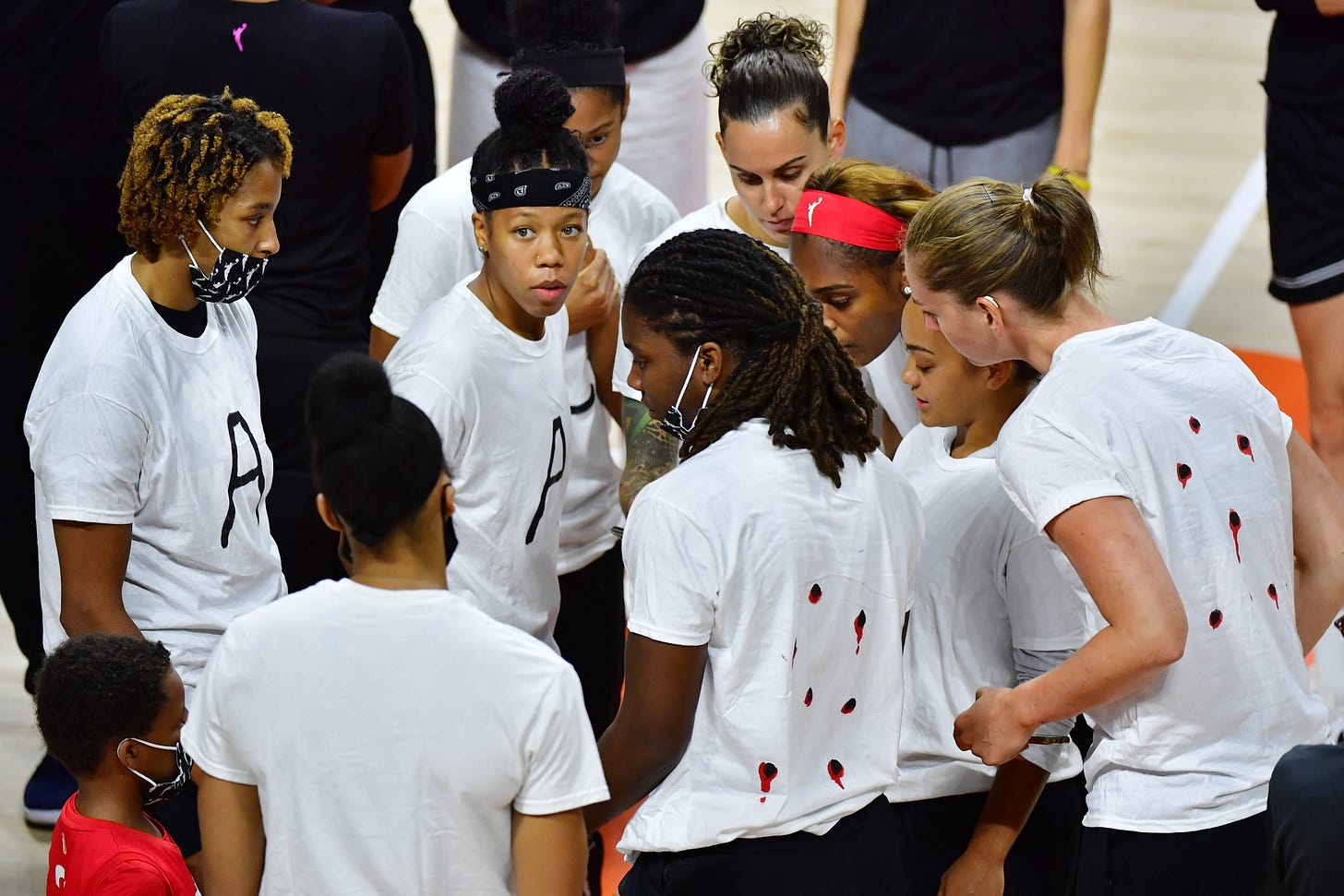 (Pic via Getty Images)
While the Mystics were en route, the Bucks announced they weren't playing in their playoff game that night. When the Mystics arrived at the game site, instead of sequestering in their locker room to get ready for warm-ups, they gathered with the Dream players on the court to discuss options.
Staff members mainly stayed out of the discussions, though Thibault did offer some words of advice early on in the conversation: "If you're willing to do things, understand that you accept whatever consequences come with that. And don't make your decisions in a vacuum."
Heads were spinning. Emotions were high. Some wanted to play, some couldn't fathom taking the court. There were tears and testimonials, fear and anger, unity, and, at times, discord. Soon, the two teams that were scheduled to play the 8:00 p.m. game, the Los Angeles Sparks and the Minnesota Lynx, arrived.
Lynx captains Sylvia Fowles and Napheesa Collier told media on Friday that by the time they joined the conversation, it was pretty clear that the Mystics weren't playing. But the discussion was far from over. There was a lot to consider.
The WNBA players have a different calculus than their brothers in the NBA. The biggest WNBA contract right now is around $215,000. The league is much younger, and has to fight significantly harder for relevancy and exposure. This offseason, the players negotiated a historic collective bargaining agreement, which is seen as a landmark deal for women's sports. They worked so hard to earn their platform, was it worth stepping off of it? And if they did sit out, would they irreparably burn bridges with television networks or sponsors or team owners or league executives?
"There's a lot of back and forth because you have people with differing opinions on what they felt was best, and so there was a huge scramble," Collier said.
The rest of the sports world was scrambling, too. While the WNBA talked it through, some MLS and MLB teams decided to sit out of their games, tennis superstar Naomi Osaka withdrew from her semifinal match at the Western & Southern Open in solidarity, all NBA playoff games for the night were canceled, and the entire NBA season suddenly seemed in jeopardy.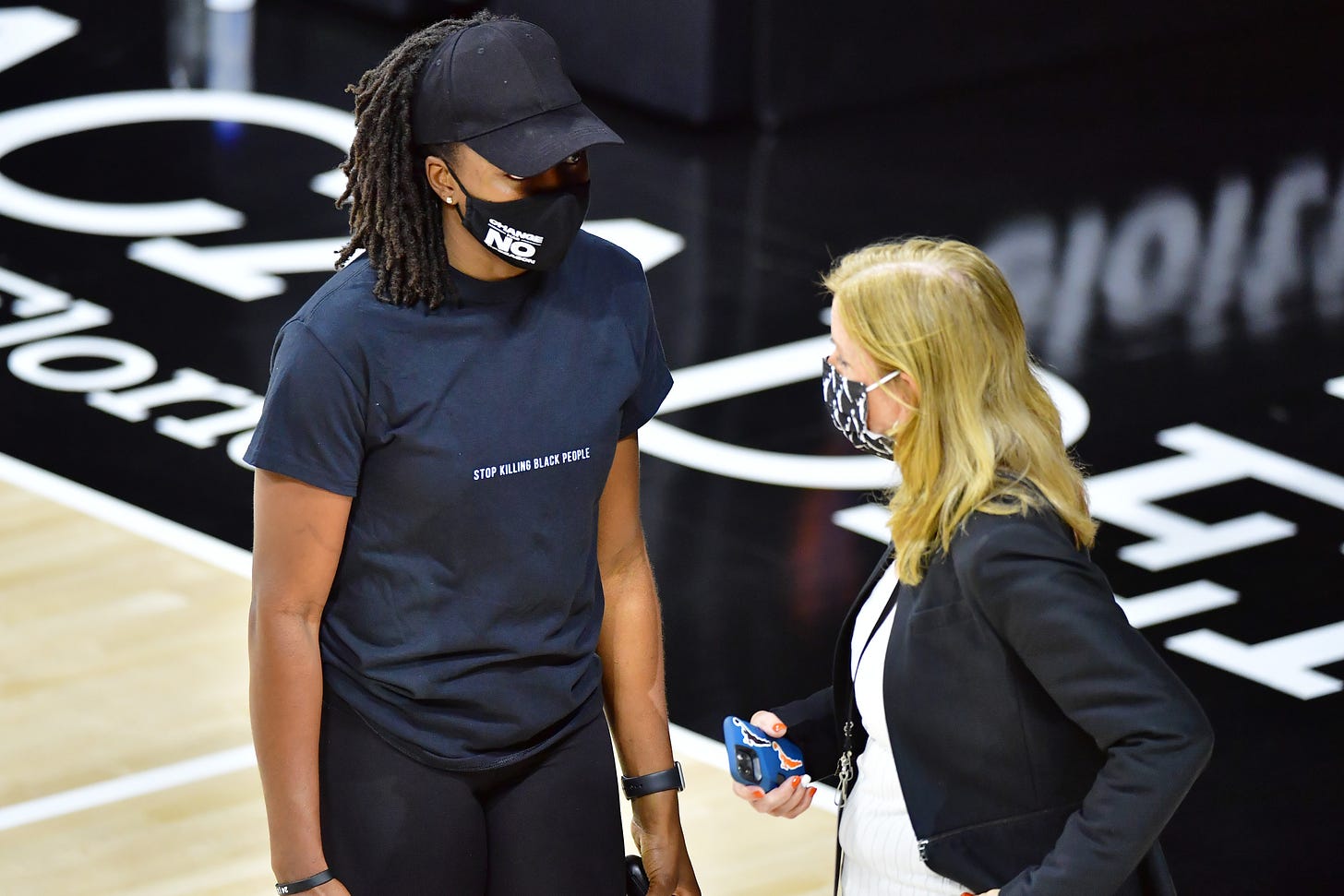 (Pic via Getty Images)
Meanwhile, in a pre-scheduled media availability, Chicago Sky head coach James Wade — one of only two Black head coaches in the WNBA, along with Sparks head coach Derek Fisher — opened up about how hard this was for him.
"It's kind of hard to think about basketball with all this stuff going on, and if Jacob Blake was a dog, and police were to shoot him seven times in the same spot, it would have more people up in arms," Wade said. "So what does that tell you about my value?"
As the clock ticked closer to tip-off time, the Mystics momentarily reached a compromise with those who wanted to play; the games would go on, but every seven minutes they would stop play, a reminder of the seven bullets a cop shot into Blake's back. 
But when the Mystics returned to their locker room to change out of their bullet-ridden t-shirts and into their game uniforms, the players let their guards down, and admitted to one another that it didn't feel right. This was not a decision they wanted to base off of business figures.
"I think that there were players feeling pressure to play from the outside," Thibault said. "I think when they got into their own locker room and talked amongst themselves and the true feelings came out, their heart wasn't in it."
Finding unity
Just a few minutes before the previously-scheduled game time, the Mystics alerted the Dream, WNBA president Cathy Engelbert, and WNBA Players Association (WNBPA) president/Los Angeles Sparks forward Nneka Ogwumike about their decision. At that point, nobody pushed back. All other teams quickly followed the Mystics' lead and decided not to play that evening, including the Connecticut Sun and the Phoenix Mercury, who were slated to play the 10:00 p.m game that night.
"I think it made it very clear for every team after that, because they were the ones who were going to set the tone with whether they were going to play or not," Fowles said, when asked about the Mystics' decision. "I think the platform would have been a little different if they would have played, then everyone else would have played. So it just says a lot about how we moved in unison. You just try to stick together. Believe in what we believe in, and make sure we don't let each other down."
Within minutes of making it official, all four teams came together on the court, linked arms, took a knee, and raised fists in solidarity, live on ESPN2. It was a striking scene, especially since Hawkins' son Emmanuel, in a child-size replica of his mother's Mystics jersey, was kneeling right in the front.
While Atlanta Dream center Elizabeth Williams read a statement explaining the choice reiterating the players' commitment to creating change, an ESPN2 camera panned around the court. Players were crying. On-court rivals were embracing. Coaches from opposing teams stood arm in arm. The weight of the moment was visible on everyone's face. It was a league in mourning.
"The depth of the pain that our players, coaches, all of us are feeling is indescribable," Reeve said on Wednesday night. "It takes a great deal of courage to take the steps like these that we that we feel are necessary. Something has to change. Something has to change. Not one more, is how we feel."
After the group photo, the Mystics gathered around Rowe in their Jacob Blake t-shirts to talk about why they had made the decision. Atkins — who was so shy when she entered the league two years ago that she had to remind herself to talk to the stars on her team, Elena Delle Donne and Kristi Toliver — spoke for the team.
"This league is close to, if not over 80 percent Black women. We have cousins, we have brothers, we have sisters, mothers, everyone: We matter. I think that's important. And I think people should know that. And I'm tired of telling people that," Atkins said.
"A lot of people were like, 'Oh, you'll be silenced.' We're Black women, we're used to people trying to tell us to shut up. We don't care. We're here. We're gonna say what we gotta say and we're gonna say how we feel."
A sit-out four years in the making
The seeds that grew into Wednesday's movement were planted four years ago. In the summer of 2016, two videos of police murdering Black men, Philando Castile and Alton Sterling, went viral in the span of 48 hours. Castile's murder occurred in a suburb of St. Paul, Minnesota, close to Minneapolis, where the Minnesota Lynx play. The four Lynx captains, Maya Moore, Seimone Augustus, Rebekkah Brunson, and Lindsay Whalen, were so outraged by the murders that they wanted to do something. On July 9, they called a press conference before a home game against the Dallas Wings to talk about police brutality, systemic racism, and senseless violence.
They wore shirts that said "Change Starts With Us — Justice and Accountability" on the front, and on the back had Castile's name, Sterling's name, the phrase "Black Lives Matter," and the Dallas Police Department shield, in honor of the five Dallas police officers who had been murdered in a BLM protest earlier that week.
"Racial profiling is a problem. Senseless violence is a problem. The divide is way too big between our community and those who have vowed to protect and serve us," Moore and Brunson said.
This seems like a very mundane statement now. Back then, it was unprecedented. The next day, the New York Liberty wore shirts that said #BlackLivesMatter and #Dallas5 on the front, and #______ on the back, representing the tragic deaths that are yet to come.
The league wasn't supportive at first. They sent a memo reminding players they must wear league-approved warm-up gear, and players felt they were trying to be silenced. In response, the Liberty, the Indiana Fever, and the Phoenix Mercury wore all-black Adidas t-shirts inside out before games. The WNBA fined them for violating uniform rules, and players across the league were furious. The Liberty, Fever, Mystics, and Seattle Storm held media blackouts — refusing to talk to the media about the game, and only talking about police brutality and systemic racism. This all took place weeks before Colin Kaepernick took a knee during the national anthem. (During the WNBA playoffs that fall, multiple teams took a knee during the national anthem, too.)
The WNBA's activism didn't end when the season finished. In fact, 2016 was only the beginning.
"I think in 2016, nobody knew yet how powerful our voices could be. Even still, people were kneeling, people were still wearing the shirts," Elizabeth Williams told Power Plays earlier this month.
"I think that was part of our growth, for sure. I think that step was really important in understanding how to approach everything, and understanding what activism looks like."
In the summer of 2017, the Seattle Storm held a Planned Parenthood rally before one of their nationally-televised games. A couple of weeks later, after the white supremacist rally in Charlottesville, Virginia turned deadly and President Donald Trump defended the violence by saying there were "very fine people on both sides," the Sparks and Mystics linked arms during the national anthem and released a joint statement condemning the events: "It is not a surprise that racism and bigotry exist in this country, but it is not something we stand for in any way."
During the WNBA Finals that season, after Trump called Kaepernick and other NFL players who took a knee during the national anthem "sons of bitches," the Sparks refused to come onto the court during the national anthem before games. The Lynx ended up winning that championship, and when they weren't extended the customary invitation to celebrate at the White House, they held a day of community service in the nation's capital the next summer when they played against the Mystics. (It's safe to say that, had Trump extended the invitation, the Lynx would have declined.)
Two-time MVP Maya Moore has taken two WNBA seasons off to advocate for criminal justice reform, and successfully fought to get the prison sentence of Jonathan Irons overturned. Last season. Natasha Cloud led a media blackout for the Mystics to raise awareness about gun violence in Southeast D.C., and the WNBPA launched an anti gun-violence campaign. This season, Cloud — along with a handful of other WNBA players, including Renee Montgomery and Tiffany Hayes — opted out of playing in order to focus on ending racial injustice.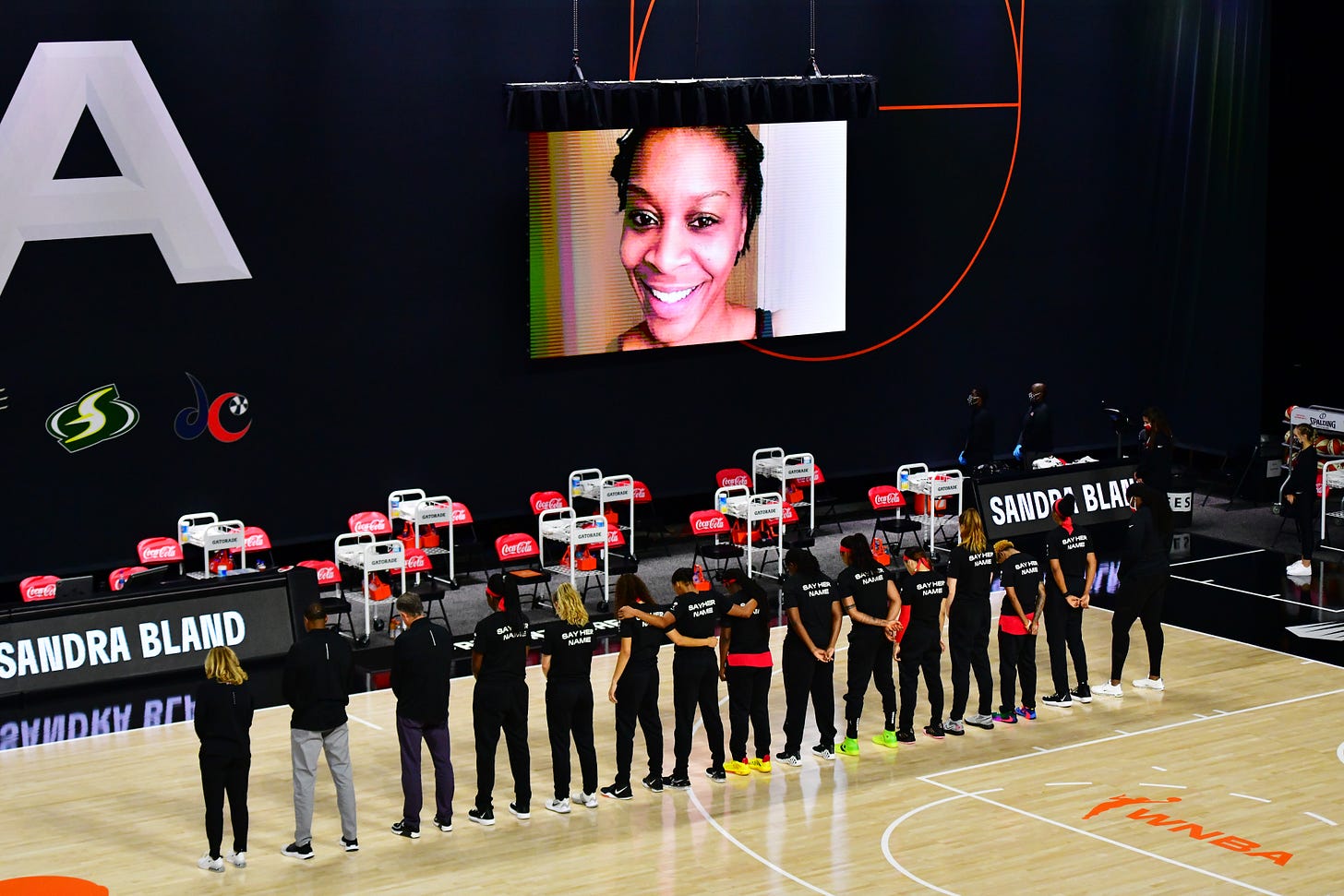 (Pic via Getty Images)
Inside the wubble, the season has been dedicated to raising awareness of the #BlackLivesMatter and #SayHerName campaigns. Breonna Taylor's name is on the back of the players' jerseys, and each week is dedicated to telling the story of different Black women who have lost their lives due to law enforcement. Each team has their own local social justice initiatives, too, like the Connecticut Sun's #ChangeCantWait initiative. The league formed a Social Justice Council before the season, which has already organized multiple zoom panels with activists and political leaders, including Stacey Abrams and Michelle Obama. (The NBA announced on Friday that they were forming a social justice of their own.)
When Dream co-owner Sen. Kelly Loeffler (R-GA) spoke out against the WNBA's Black Lives Matter initiatives in July, the WNBPA executive committee and Dream players helped organize a league-wide campaign to support her democratic opponent, Reverend Raphael Warnock. The New York Liberty were holding a virtual panel about the #SayHerName campaign, featuring Sharon Cooper, the sister of Sandra Bland, and Liberty guard Layshia Clarendon, on Wednesday afternoon as the news about Milwaukee sitting out was breaking.
Over the last four years, the WNBA has been at the forefront of every social justice movement, particularly anti-racism work. They have showed the entire sports world how to combine awareness and action.
"I mean, it's us. It's what we're about," Ogwumike told Rowe on Thursday, when discussing the league's activism and solidarity. "It's embedded into us."
The next steps

On Wednesday night, every WNBA player and staff member in the wubble met for a candlelight vigil in honor of Jacob Blake. It was the first time all summer that they congregated together, in person.
Layshia Clarendon called the vigil "long overdue."
Getting the vigil put together in such short notice was yet another testament to the unity and versatility of the group. Liberty trainer Terri Acosta initially proposed the idea to Clarendon earlier in the summer, but it got lost in the shuffle of the season. When the players decided to sit out of Wednesday night's games, Acosta thought the timing was perfect. She teamed with the Liberty's Director of Operations, Ohemaa Nyanin, to get hundreds of candles from Target to the IMG campus in about an hour. The WNBPA helped spread the word to all the players through WhatsApp. The referees in the wubble even came through, providing a speaker when the players were struggling to find one.
Clarendon's wife, Jessica, even had the idea from afar that they should end the vigil by reading Maya Angelou's poem, "And Still I Rise."
"Everyone showed up for one another in that moment, everyone was helping light the candles, it was just this a collective effort to get it done by any means necessary, because this moment is bigger than all of us and we need to come together," Clarendon said.
It turned out to be just what the group needed.
"We're all dealing with so much hurt and pain and loss in all of 2020, and people forget that we're athletes, but we're not machines," Clarendon said. "We show up every day, we have to perform through anything that's going on in the world. So at this time, we needed a pause, we needed a break, and we needed a moment of healing, of reflection, because it's been heavy and it's been really difficult to carry every single day."
Through talks after the vigil and many text messages the following morning, WNBA players decided collectively that they wanted to continue their season on Friday, after a 48-hour pause. 
On Thursday afternoon, while Ogwumike and four other members of the WNBPA executive committee — Clarendon, Williams, Sue Bird, and Natalie Achonwa — spoke to Rowe about the WNBA's plans on ESPN, all other players gathered on a practice court and stood together in unison, to show their solidarity.
"We wanted to stand with our brethren yesterday, and we did," Ogwumike said. "But we came here for a reason and that was to amplify our voices and the only way that that happens is if we're out here. And so that's what we're here to do."
The WNBA has already rescheduled the games missed on Wednesday and Thursday night, and on Friday night, the season will resume. For some, it will be a welcome distraction. Others think it's too soon to re-start. But they're moving forward together, with all of the players, especially the Black ones, carrying the weight of their worlds.
For the rest of the season, the WNBA will continue to work with the #SayHerName campaign, drive voter registration and education, and call for justice for Breonna Taylor and Jacob Blake. The players aren't really taking on new social justice initiatives, as much as they are reaffirming their commitment to the work they've been doing.
"I think we have to be really careful of now, in this moment, of being like, 'We haven't done enough. What are we going to do, what's the big one thing that we're going to change the world with overnight?' That's not how social justice works, that's not how organizing work," Clarendon said.
So much about the future is uncertain. But no matter what, we can count on WNBA players deftly leading the fight for justice. It's inspiring that they want to. It's infuriating that they have to. And it's imperative their work is remembered, respected, and recognized; this is not something they opt in and opt out of. It's their core.
"We're not just basketball players," Atkins said. "And if you think we are, then don't watch us."

Thank you so much for supporting Power Plays. I appreciate you taking the time to read, subscribe, and share.