The WNBA has dropped the ball
"I don't think we've forgotten."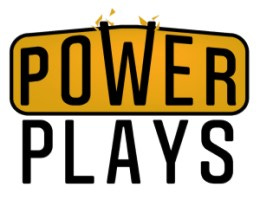 Hi all, welcome to Power Plays, a no-bullshit newsletter about sexism in sports, written by me, Lindsay Gibbs.
Earlier this week, we looked at how a few young, black female athletes were feeling in the wake of the murder of George Floyd and the nationwide protests against police violence. And we will be hearing from more female athletes in future issues. But today, we're looking in at the WNBA's response.
All newsletters on this topic will be free; this discussion does not belong behind a paywall. You can support Power Plays by subscribing below:
But first, I have a few announcements:
SUBSCRIBE TO 'THE NEXT:" There's a new women's basketball newsletter that you must follow and subscribe to! The Next offers 24/7/365 women's basketball coverage, written, edited, and photographed by a young, diverse group of writers and editors and photographers. This is yet another phenomenal project by the incomparable Howard Megdal — if you enjoyed High Post Hoops, this is the same team, just on a better platform. Support them!

FREE WEBINARS ON SPORTS & SOCIAL JUSTICE: The Inclusion Playbook is launching a new timely webinar series on Sports & Social Impact. This free webinar series will cover topics from gender equity to racial justice and  feature industry leaders from sports organizations and associations, including the NCAA, NFLPA,USA Basketball, NFL, MiLB, and the PGA. The series will start June 11th. I'm going to be a special guest in this series, and will be tuning in for the rest; Ashland Johnson, the founder of The Inclusion Playbook, is one of the best in the business. You can check the schedule and sign up here.


I NEED A VOLUNTEER FOR THIS WEEKEND: I am seeking a volunteer or two to help me with a timely Power Plays project this weekend. I will be reaching out to a few people who have emailed me in the past (I know, I know, I am desperately behind on email responses), but thought I would put a call-out here, too, since I need someone who has availability over the next few days. It's a research and twitter-heavy project, best for someone at least a little bit familiar with the sports media world, and I think will result in a very special resource. I'll give you more info if you email me: lindsay@powerplays.news.
Okay, that's plenty of a preamble. Friends, let's do this.

The WNBA still can't say "police brutality"
Over the past week and change, as sports leagues across the country have released statements about the police murders of George Floyd and Breonna Taylor, and the subsequent protests over police brutality and systemic racism that have swept the nation, one league has been surprisingly, well, silent.
The WNBA — a league that many view as a progressive, socially-conscious entity — tweeted one statement directly from its account on May 29, "The time for change is now. Enough is enough." The logo attached, "Bigger than Ball," was sold on merchandise in the league store, with no explanation for where the proceeds would go.
For more than five days, this was *it.* As leagues such as the NHL, MLB, and even the NFL released statements on Floyd's death, albeit to varying degrees of sincerity, and WNBA teams, players, and coaches spoke out, the WNBA twitter account went mostly silent.
And trust me, the players noticed.

According to Madeline Kenney at the Chicago Sun Times, the WNBA had a virtual town hall this week to listen to players voices. But still, many were upset by the silence.
"You can't tip-toe around it, like, it's frustrating," Sky guard Diamond DeShields told Kenney. "It's beyond frustration, though, you know what I mean? For me to say 'I'm frustrated' is me putting it very lightly and nicely."
On Thursday night, WNBA commissioner Cathy Engelbert *finally* said something on twitter, mentioning George Floyd by name and saying, "The WNBA opposes racism in all its forms and will work to bring measurable and meaningful societal change." Additionally, she noted that the "Bigger than Ball" merchandise proceeds would be donated to groups working against racial inequities, though she didn't specify which ones.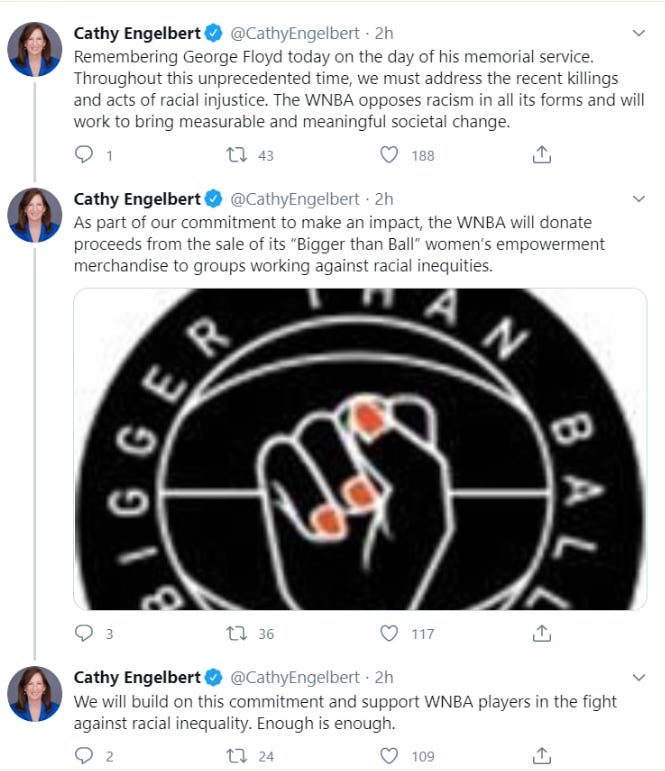 While this statement was a step in the right direction, it was still ridiculously vague and short, especially considering it came a full week after tweeting the logo. It didn't even say the words "police brutality," which is the primary point.
At this time you might be asking, why does this even matter? But to so many players and fans, it does. Police brutality is a topic predominately-black league feels incredibly passionately about, and the players want to know that the front office has its back.
Because it certainly hasn't in the past.
The WNBA failed on this issue in 2016
Let's go back to the summer of 2016. On June 12, Omar Mateen killed 49 people and wounded 53 others in a mass shooting at a gay nightclub in Orlando, Pulse. It was an unfathomable tragedy, in the heard of Pride month. Within days, the WNBA had tributes planned for its teams, which included #OrlandoUnited warm-up t-shirts. The players, many of whom are members of the LGBTQ community, were happy to participate and to honor the victims.
Then, the first week of July, police murdered two black men in a 36-hour period: 37-year-old Alton Sterling, who was selling CDs outside of a Baton Rouge convenience store; and 32-year-old Philando Castile, who was murdered during a routine traffic stop, with his girlfriend and her five-year-old daughter in the car. Both murders were caught on video and went viral, igniting #BlackLivesMatter protests across the country.
To make a long story short, players reached out to the league to ask for a WNBA-wide initiative addressing police brutality and racism, but the WNBA pointed to a corporatized, weak statement it made in conjunction with the NBA, and thought its job was done. When WNBA players on individual teams took it upon themselves to make their own #BlackLivesMatter t-shirts to wear before games, or to turn their black warm-up shirts inside out in protest, the WNBA proceeded to fine them.
Players were absolutely, positively livid, and teams across the league proceeded to hold media blackouts, where they refused to talk basketball, and would only talk about police brutality.
I will never forget walking into the Washington Mystics locker room that summer after they suffered a brutal loss to the Los Angeles Sparks, and seeing players such as Natasha Cloud, Ivory Latta, Stefanie Dolson, and Tierra Ruffin-Pratt, wearing t-shirts that said, "Black Lives Matter: Enough Is Enough," and, with tears in their eyes, talking about how police brutality impacted their lives.
Tierra Ruffin-Pratt, who played with the Mystics from 2013-2018, and has been with the Los Angeles Sparks ever since, helped organize the Mystics' blackout and get the t-shirts made for everyone. Police brutality is a particularly personal issue to her. The same day she found out that she made the Mystics' final roster in 2013, her cousin and best friend, Julian Dawkins, was murdered by an off-duty police officer just outside of Washington, DC, in Ruffin-Pratt's hometown of Alexandria, Virginia.
"This whole situation has just been something close to my heart, so being part of the change is something that I want to do," she said that day. "Until people step out of their comfort zone and speak on it, nobody will really understand."
The players felt completely betrayed by the league they devoted so much of their lives to growing.
"If they want to take away our right and our voice to advocate for something so important to 70 % of our league which is African Americans, then we'll find other ways to do it," Cloud said.
"We would like a little support. The league was quick to jump on the Orlando thing, and we fully supported that, but we're kind of frustrated that we're picking and choosing which events we want to support and which we don't."
The trust was never fully restored
After the media blackouts, the league rescinded the fines, and many teams went on to take a knee during the playoffs without facing repercussions.
Then-WNBA president Lisa Borders talked often over the next two seasons about how much she learned in 2016, and how she had learned to listen to the players. In 2017 and 2018, the league openly marketed itself as a much more socially-conscious league. But things were not perfect between the players and the league. For example, in 2018, the WNBA launched a "Take a Seat, Take a Stand" campaign that ear-marked a portion of WNBA ticket sales to certain organizations that empowered women and girls, including Planned Parenthood.
The campaign got a lot of positive attention in the media, and the league was widely praised for its activism. However, the league did not consult with players before picking the organizations it partnered with, and many were upset that there wasn't a Black Lives Matter or other anti-police brutality organization selected.
Borders left the WNBA after the 2018 season, and Engelbert came on as commissioner about a year ago. Since then, she's helped negotiate a forward-thinking collective bargaining agreement, and established a good relationship with the players, thanks to her communication and leadership, particularly during the pandemic.
But players didn't let their guards down completely. Many were upset about the league's silence over the past week, and Ruffin-Pratt stressed that players had not forgotten what happened back in 2016.
"That's always in the back of our minds, like this is the league we're playing for, 80 percent black, but how can you fine us for standing up for something that's a part of us?" she said.
"But I think they made statements and Cathy has done some good things standing with us and standing for us. So maybe it'll be different. I know they put out quotes and put out different things to stand with us, but I don't think we've forgotten that they fined us back then for standing for the exact same thing."
Over the past week, WNBA players have attended multiple marched across the nation, shared anti-racism resources on their social media feeds, dealt with tons of abuse from the "All Lives Matter" crowd, and appeared everywhere from ESPN to their team's social media accounts bearing their souls and trauma to show how police brutality and racism has hurt them and their loved ones.
The WNBA has, well, retweeted a few of them on the main account.
Why didn't the WNBA learn its lesson?
Considering how much the WNBA benefits from the excellence and labor of black women, and how much press and attention the WNBA has gotten for its players' activism over the years, the league should have been far out front of other sports organizations in the wake of Floyd's death.
It's not hard to envision a world in which late last week, the league released a statement condemning police brutality and racism, and reflecting on how the WNBA itself can be better — perhaps even committing to getting more black, female head coaches in the league. This week, they could have partnered with the WNBA Player's Association for a powerful anti-racism PSA, and then specifically led the fight for justice for Breonna Taylor, who should have turned 27 today. Yes, the league is busy trying to figure out how to play an abbreviated season this year, but it had a chance to prove that it thinks some things are, well, Bigger Than Ball.
Instead, it was yet another reminder that the WNBA has much more in common with corporations than causes. (Though, to be fair, dozens, if not hundreds, of corporations put out better statements than the WNBA did this past week.)
I've been thinking a lot about what the great Henry Abbott wrote over at True Hoop, when he had a similar lament about the NBA's lack of leadership during this time:
The NBA has calculated that it is worth doing whatever it takes to stay on Trump's good side. Silver is close to Jared Kushner. Several of Silver's bosses—Micky Arison, Tilman Fertitta, Josh Harris, James Dolan, Anthony Ressler—have cultivated ties to the White House and have their own business fortunes at stake. The DeVos family, whose Magic franchise is soon to become the NBA's de facto hosts in Orlando, don't only have a presence in Trump's cabinet, but a history in bankrolling many of the right-leaning causes that have shaped the current American moment—up to and including, reportedly, key support for Operation Gridlock, the Michigan protests lauded by the President, and that reportedly included some confederate flags.

It's easy to imagine this could be why the NBA says almost nothing—to avoid rousing a volcano.
Perhaps right now, the WNBA is prioritizing playing nice with lawmakers in Florida and IMG, since the league is in talks to hold its entire season at the IMG Academy in Bradenton, Florida. Perhaps it's trying to appease Disney, or DeVos, or Adam Silver. Perhaps Engelbert just truly doesn't get it. But whatever the reason, the WNBA is refusing to come out publicly against police brutality, and the players have noticed.
It will certainly be interesting to see what happens from here. On Thursday, NFL players released a powerful video directed at the NFL, demanding that it publicly condemn racism and the systemic oppression of black people, admit wrong in silencing our players from peacefully protesting, and admit Black Lives Matter.
Now, I'm not suggesting that the relationship between the WNBA and its players is as fractured as the NFL's, but I also wouldn't be surprised if, going forward, the WNBA players demand more from the league than a "woke" logo.
One thing is certain: The players are not going to shut up.
"We're going to speak out, we're going to say what we feel. If people agree with us or don't agree with us, it doesn't really matter to us, because like I said, we're standing for something far greater than ourselves, something far greater than this league, something far greater than anything that any businessperson can say. We're standing for black people in this country that haven't gotten justice, black people who've lost their lives and black people that come before us," Ruffin-Pratt said.
"We're going to lead the charge, we're going to step up and speak out, we're going to be the people to lead and maybe other people will follow, but if not, our voices are going to be heard."

Thanks so much for supporting Power Plays. Next week, we'll hear from more black, female athletes; look at ways to fix systemic racism within our own women's sports community; start our exploration of Pride Month in the Book Club; and #CoveringtheCoverage just might make a grand return.
Take care of yourselves, friends.