The WTA must protect its power
There's a lot of talk about a merger in tennis, and I have some concerns.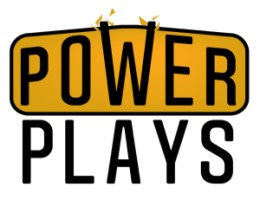 Welcome back to Power Plays, your no-bullshit home for coverage about sexism in sports. I'm the founder, Lindsay Gibbs, and I'm so happy that you're here.
Today, I'm going to be diving into my concerns about the latest buzz in tennis about possibly combining the ATP (men's tour) and WTA (women's tour). If you want to skip straight to that, scroll down.
But first, a couple of very quick announcements:
ON EXPANSION: This was a month of transition for Power Plays. It went from being a one-woman show to a full-blown publication. I'm so proud of the (paid!) work contributors published on Power Plays in the last four weeks, and even more thrilled by the 13 (!!) stories that are in the pipeline. There are also phenomenal readers currently helping me with research projects, and helping to grow our social media presence. (Follow on Instagram, please!!)

I'll provide a full update on Power Plays freelancing and expansion next week, but for now, if I haven't responded to your email about a pitch or an offer to volunteer, please feel free follow up: lindsay@powerplays.news. The response to my initial call-for-contributors was overwhelming (and thrilling), and I am just now getting close to being caught up.

ON THE BOOK CLUB: I am extending April's Power Plays' Book of the Month selection, "Futbolera: A History of Women and Sports in Latin America by Brenda Elsey and Joshua Nadel," into May. Because of the pandemic, shipping has been incredibly slow, and I know a lot of people are still waiting for their copies.

So, there's still time to order your copy (there's a kindle version, too) and join the fun. There's a bit more about the book club, which is for paid subscribers, at the top of this post.
Okay friends. Let's do this.

Proceed with caution, WTA
Last week, Roger Federer — the world-renown tweeter, who some poor souls know only as a tennis champion — tweeted out a message that lit the tennis world ablaze.
"Just wondering," he said, casually, "am I the only one thinking that now is the time for men's and women's tennis to be united and come together as one?
In subsequent tweets, Federer clarified that he was "picturing a merger between the WTA and ATP" — not on the court, of course, but rather a merger between the two governing bodies. He noted that having the two separate tours is "too confusing for the fans and that the move is long overdue."
My initial response to all of this? "Duh."
Labor solidarity is something I am always in favor of, and in the sport of tennis, it truly is maddening how disparately men's tennis and women's tennis are run. Despite the fact that the biggest tennis events on the calendar are all joint affairs — not just the four Grand Slams, but also Indian Wells, Miami, Madrid, Cincinnati, and many others — the ATP and WTA have separate television contracts, websites, communications staff, sponsorship deals, ranking systems, tournament classifications, coaching rules, weather rules, and the list goes on and on!
Federer is right: It is confusing for fans, and a merger is something that, in theory, should have happened a long time ago. The tennis world often spends so much time infighting that it drags itself down.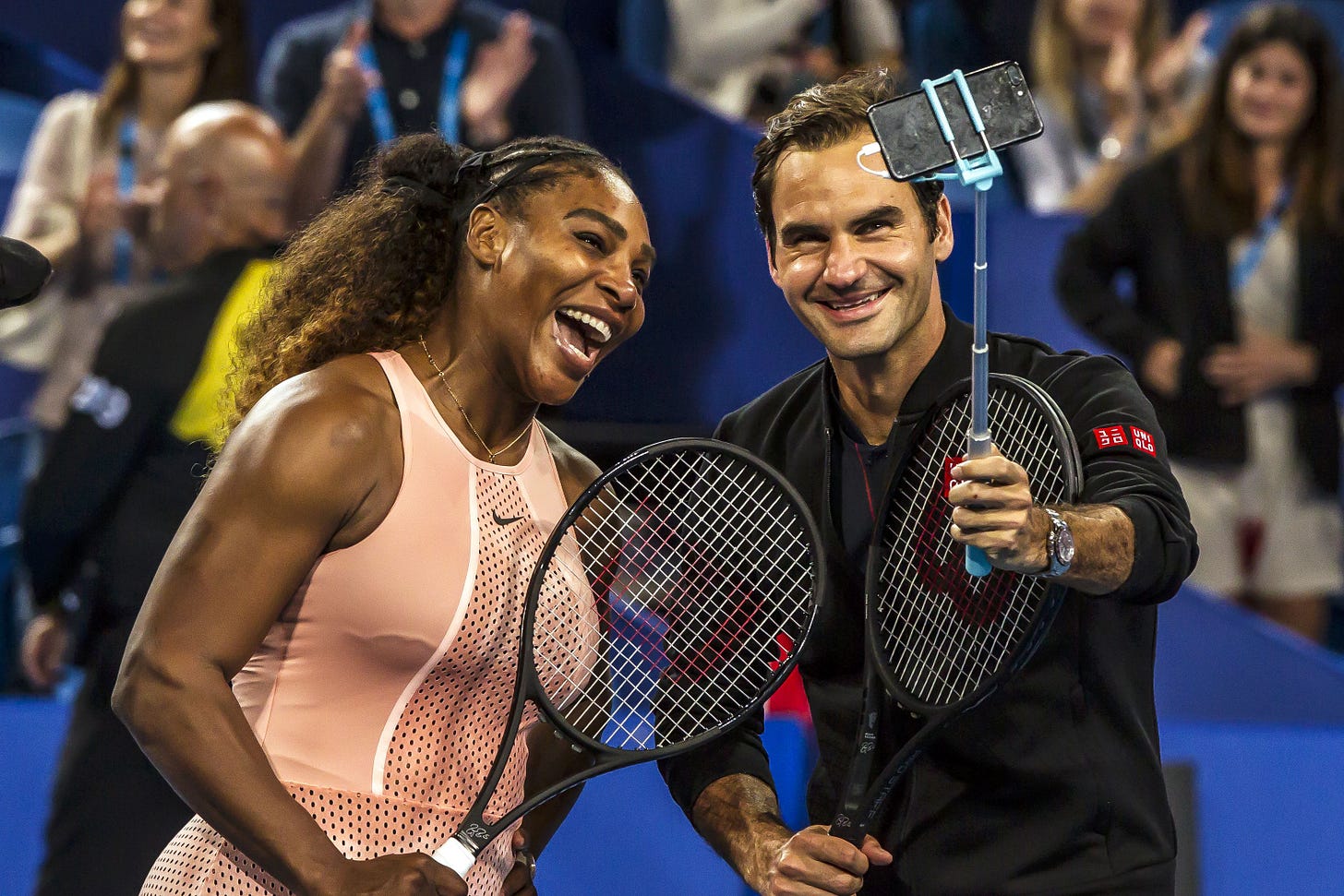 (PIC: Serena and Federer, via Getty Images)
That's why, of all people, WTA founder and women's sports icon Billie Jean King was thrilled when she heard saw Federer's tweet. King has always wanted for the tours to be unified.
"I'm thinking, 'Yes! Maybe there's still hope,'" King told the New York Times. "I'm 76, but I'm hoping before I die that the men and women are together. It's the right thing for our sport."
But my initial excitement came with a heavy helping of dread.
While this could be a move that strengthens the WTA and all of tennis as a whole, it could also backfire, and cause the most powerful women's sporting body in the world to be relegated, permanently and officially, to second-class citizens.
If this tweet does become an official proposal, the women need to tread very carefully.
There's reason to question the motives
Federer tried to paint his tweet off as just a casual utterance. But it was very obvious, almost immediately, that this was anything but; this was, in my opinion, a calculated move to gauge public interest and try to drum up support for an ATP-led merger.
I'm confident of that because of the tweet his rival and friend Rafael Nadal sent not long after Federer's initial "float."
"Hey Federer, as you know per our discussions I completely agree that it would be great to get out of this world crisis with the union of men's and women's tennis in one only organisation," Nadal said.
Nadal has not historically been an advocate for anything that has to do with women's tennis.
As journalist Reem Abulleil pointed out on Twitter, Nadal got down-right defensive when asked about the issue just a year ago, saying outright that he didn't know if tennis would be a stronger product if the ATP and WTA were combined.
"Why? I don't know. I don't get the point," said Nadal. When the reporter suggested that it might result in a stronger product, Nadal responded: "Why is a stronger product? I don't know.
"I don't know. I don't have the whole information to know if that would be a stronger product or not."
Now, of course, Nadal has every right to have changed his mind after learning more information — and particularly after a global pandemic forces everyone's reality to change — but what scares me about this is that the ATP seems to be leading this conversation, which means it's likely that whatever proposal is being batted around is happening on their terms.
Indeed, Christopher Clarey confirmed in the New York Times, that new ATP chairman Andrea Gaudenzi has been openly pushing for combining forces in tennis, not just between the WTA and ATP, but also with the Grand Slams, which are governed by the International Tennis Federation (ITF).
"If you only talk about the WTA and ATP together, it's probably one plus one equals four," Gaudenzi told Clarey last week. "But if you add the Grand Slams into the equation, it's probably one plus one plus four equals 20."
That is promising math, for sure. But ever since women's tennis players started to demand proper treatment and payment, back with the Original 9, the ATP has been hesitant about a merger. Yes, there were times late 1990s and early 2000s, when the Williams Sisters were first taking the WTA to new heights and the ATP had few recognizable faces, when the men's tour made some half-hearted attempts at outreach.
But mainly, they've scoffed at thoughts of a merger, particularly over the last decade when the dominance of Federer, Nadal, and Novak Djokovic took men's tennis to new heights, while the WTA failed to produce new superstars and develop sustained rivalries. Additionally, Andy Murray is the only top male player who has been a vocal advocate for women's tennis, while many male players still argue against equal pay. And the ATP has not been considerate of the WTA at all when it comes to scheduling concerns or the tennis calendar — just earlier this year, the new ATP Cup literally relegated WTA stars to the outer courts at their own tournament in Brisbane.
Today, of course, the economy is in free-fall. The Big Three are — in theory, some day, maybe — nearing the end of their careers, and the ATP hasn't had a first-time Slam winner since Marin Cilic won the U.S. Open in 2014. Meanwhile, the women's tour has a bevvy of young, phenomenally talented, exceedingly marketable and beloved stars, from Naomi Osaka to Bianca Andreescu to Ash Barty to Garbine Mugruza to Coco Guaff to Sofia Kenin, and the list goes on.
So, it definitely bears asking, why now?
Women need to be sure to hold onto their power
If this merger goes forward, there is going to be a lot of talk about how beneficial this will be for the WTA. And a lot of that conversation will be based on truths, and be happening in good faith. Because of systemic sexism, this will be a boost to the ability of women's tennis to get better sponsors and television contracts. Also, this should push tournaments that have been dragging their feet about equal prize money to finally pony up.
But what I fear will get lost in the conversation is how much the men will gain, too.
"Most of the sports are mostly male-dominant in terms of audience," Gaudenzi told Clarey. "So it's a big advantage for tennis, because in today's world both the broadcasters and the sponsors want to reach both the men's and women's audience."
The truth is, right now, the WTA has a whole lot of power on their rackets, power they have earned the hard way.
Let's briefly go back to one of the first editions of Power Plays, when I interviewed one of the founding members of the WTA, Julie Heldman, about those early days.
"By the middle of 1970 there were almost no tournaments available for women professional players," Heldman told me in November. "The men wanted their own tournaments. The men players didn't want the women there, even though there had been decades of joint tournaments. And it was getting worse."
The men would literally tell the women to get back in the kitchen.
"It was the living out of prejudice," Heldman said.
"They said, 'Well, you women can have a tournament, but it'll have to be an amateur tournament and you can take money under the table. That was their idea how to deal with us. So it became clear that we were on our own. The association that was supposed to be managing us was harming us."
I think about that line a lot — "The association that was supposed to be managing us was harming us." Because goodness, that is something we see happen SO OFTEN to women's sports.
I understand why Billie Jean King has always pushed for a union with the men's tour, and why she thinks that it would be beneficial to do so now.
But truth be told, I've always wondered whether the WTA could have reached the heights it has today — last year, when Ash Barty won the WTA Finals in Shenzen, she won $4.42 million, the biggest payout in tennis history, men's or women's — if it was completely unified with the men from the start.
When I posed that question to Heldman last year, she shared my suspicions.
"I think what you're saying is, 'How do you do this working within a male structure?' And the answer is, 'You can't,'" she said. "How the hell do you get out of it?"
Learning from other sports
In the past couple of months at Power Plays, two separate newsletters have looked at exampled of women's sports faced with the choice of merging or separating with men's sports.
At the end of February, we looked at how women's cricket was absolutely thriving because those who oversee the sport had decided to separate the men's and women's T20 World Cups, so that the women wouldn't be in the shadows of men's game.
That decision was a rousing success. This year, the Women's T20 World Cup received 1.1 billion video views across ICC channels, and 5.4 billion video minutes in India; and 86,174 people packed the Melbourne Cricket Grounds in Australia to watch the final.
"Women's cricket is undoubtedly gaining in popularity around the globe and we felt that by separating the two events we could accelerate that growth," David Peever, the chairman of Cricket Australia, said in 2016.
"Having the ICC Women's World Twenty20 as a stand-alone event means we can hold it in stadiums that we can fill, put on TV at prime-time and ensure it has the space to be promoted away from the shadow of the men's game."
On the other end of the spectrum, there are women's college sports. The situations are not at all perfectly analogous, of course, but earlier this month we talked about the rise and fall of the Association of Intercollegiate Athletics for Women (AIAW), which governed college women's sports between 1971-1982.
Before the AIAW stepped in, the NCAA had zero interest in women's sports. It was only after the AIAW grew women's sports that the NCAA stepped in and decided to put the organization out of business, as this 1975 article, which quotes AIAW lawyer Margot Polivy, points out.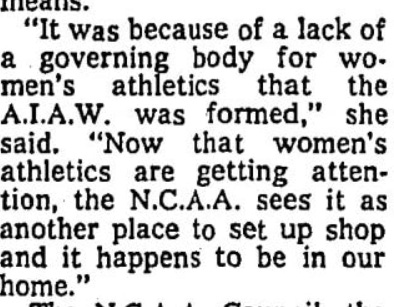 Ultimately, women's college sports joined men's college sports in the NCAA. While that certainly meant more money and more exposure, especially in the short-term, it has also meant that most decisions about women's college sports over the past 40 have come from men who do not consider women's sports a top priority. We'll never know whether that power exchange was worth it.
How squash (kind-of) made a merger work
Reem Abulleil — who also recorded a No Challenges Remaining podcast with Ben Rothenberg last week on the possible tennis merger, which is a must-listen — did some great reporting about what happened within the Professional Squash Association (PSA) when it merged the men's and women's squash tours at the end of 2014.
She reported that there were huge benefits to the PSA as a whole. When it merged, the PSA required every tournament to offer equal prize money, and gave them three years to figure out how to increase the women's prize money to the level of the men's prize money, without ever decreasing the prize money given to the men.
The theory was that by combining the two tours, the pot would increase for everyone. The theory was correct. Within three years, the PSA's revenues increased by 68.4% as a whole. The women saw an increase of 52.9% in prize money, while the men's prize money increased by 19.4%.
So, everyone was happy, right? Well, not so fast.
Nour El Tayeb — a top female squash player married to a top male squash player, Ali Farag — told Abulleil that the men aren't happy at all about equal prize money because the women have benefited from it more.
"They're definitely not on board and they're not hiding it. So many of the men's players are unhappy about equal prize money, and in a way they have a valid reason," El Tayeb said.
"The PSA said that combining the tours would be beneficial for both the men and the women, but because our tour was originally smaller than the men's, most of the money that came into the sport went to the women so we can have equal prize money compared to the men."
That's right — even though the numbers prove that the tours are stronger together, and nothing has been taken away from the men, there are still men who are unhappy over pay equality!!!
*Screams forever*
If this merger happens, there need to be major protections for women, and men need to STFU
That attitude from the male squash players is definitely something I'm concerned about when it comes to tennis. And it's why I'm worried so much about the fact that the ATP is taking the lead in this conversation.
Going forward, the question needs to be: How can the WTA get the benefits of a merger without letting go of its power, something the tour has worked so hard to create, something that we know they have to fight for every time they step on the court?
The men seem to be waking up to the fact that combining with the women will give tennis more overall power in the marketplace, and be a smart financial decision during uncertain times. But are they willing to put in enough protections so that women's tennis gets a completely equal cut of that power?
If this merger talk goes forward — which, again, I think could be beneficial to everyone in the sport — it needs to go forward with men and women side by side.
I want to see joint statements between Roger Federer and Serena Williams, and the ATP players listening and uplifting, not just blindly leading the way.
I want to see WTA players use every ounce of leverage they can to make sure that women's tennis is treated as an equal each step of the way; the fear is that they will be so thrilled that the ATP is taking this notion seriously, and so worried about the economic realities of coronavirus and the disproportionate impact it will have on women's sports, that they will bargain away a seat at the table.
I want to see provision after provision put in place to ensure a 50/50 split across the board. This means making sure women's tennis has equal representation in ever rules committee, governing body, and digital strategy session. It means ensuring not just equal prize money across the board, but equal advertising budgets, court scheduling considerations, digital promotions, and television air time.
The ATP is in a better financial situation right now, so they're likely to have the home turf if there is a merger; it would essentially swallow up the WTA. That makes it even more imperative that the WTA stand its ground.
Every day the market, the media, and society-at-large conspire in a myriad of ways to relegate female athletes to second-class status. Even well-intentioned ATP allies can't counteract that. So before there's any merger, equality must be enshrined into every corner of tennis's new joint contract. It's the only way forward that isn't ultimately a step backwards for the WTA.

Thanks all for the support. Take care of yourselves. If you're not a paid subscriber, have a great weekend! If you are a paid subscriber, I've got more (infuriating) treats coming your way.
If you want to be a paid subscriber — or donate so that others can become paid subscribers, or give a paid subscription as a gift — click on the buttons below.