U.S. Soccer has put the worth of women's sports on trial
"Shall we fight it out to see who wins and then we get paid more?"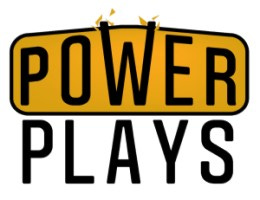 Hello, friends. Welcome to Power Plays, a no-bullshit newsletter about sexism in sports.
Today, we're going to dig through the latest filings in the USWNT lawsuit against the U.S. Soccer Federation, and take a reflective trip to the archives.
BUT FIRST, this is a day I have been both dreaming about. And, if I'm being totally honest with you, I've been dreading it, too. (It's scary!) But after more than three months of free newsletters, I am starting to charge for Power Plays.
Many of you kind, generous souls have been messaging me for a while now, asking when you can give me money. I kept asking you to wait, because I wanted some time to prove that this was truly worth your money; I don't take asking for it lightly. I wanted some time to really figure out what Power Plays is, and can be, before starting subscriptions.
But now I'm ready. Thanks to your support and feedback over the past few months, and a lot of sleepless nights, I am confident that at Power Plays you are getting coverage of women in sports that you can't get anywhere else in media. I'm confident our #coveringthecoverage mission is going to make a difference, that we are going to continue to lift up voices that get drowned out elsewhere, and that we are forming a community to be reckoned with.
I'm confident that investing in Power Plays will be money well spent. Here are the payment options:
$8 per month. This is less than most local news subscriptions, which we know don't devote many resources at all to women's sports. Here at Power Plays, it all goes to the cause.

$72 per year. This is a great deal. It brings the monthly price down to $6 per month, and yes, in case you were wondering, I landed on $72 in honor of 1972, when Title IX was signed into law.

A "Founding Member" subscription for $196 per year. I know this isn't an option for everyone. Trust me, I get it. But if you're a die-hard fan, this is a way to really help me get Power Plays off the ground. (And yes, I landed at $196 because of how important the 1996 Olympics were to women in sports, particularly in the United States, and particularly for a 10-year-old girl in Greensboro, North Carolina watching at the time.) (And yes, I'm just now realizing it would have made more sense — and been more profitable — to make the price $199.60, but MOVING ALONG.)
Now, look. I know that this is a lot. That's why for just the next TWO DAYS through Wednesday — I am offering 30% off monthly and yearly subscriptions. This means you can get a Power Plays subscription for a monthly cost of $5.60, or a yearly price of $50.40!
I realize I am going to sound like a shady a salesman right now, but trust me, the prices will not go this low again. I'm offering this fantastic deal right now because I want the readers who have been with me since the beginning to get access to the best deal. And this is it.
You can also give a subscription as a gift, if you know someone who needs a Power Plays subscription, but can't afford it.
Here are a few other things to remember:
The first post just for paid subscribers will be on Wednesday, March 4.
Even if you can't pay or aren't interested in paying right now, one issue of Power Plays per week — typically Monday's newsletter — will remain free in perpetuity. So I'm not going anywhere.
This Wednesday I will be hosting an Ask Me Anything thread — which, as you might guess, will give you all a chance to ask me literally anything you want. While I certainly won't limit your creativity or curiosity, Wednesday's thread will be a particularly great time to ask questions about Power Plays and the move to paid subscriptions. Plus, it will be a good chance for me to get some feedback from all of you as we lock down the details of the perks for paid subscribers. We're in this together.

Speaking of perks, one of the initiatives I'm most excited about is the Power Plays Book Club. I'll have more information on Wednesday, but right now I can go ahead and share that the pick for March will be "Sum It Up: A Thousand and Ninety-Eight Victories, a Couple of Irrelevant Losses, and a Life in Perspective" by Pat Summitt and Sally Jenkins. It just seemed like the perfect choice as we embark on conference and NCAA women's basketball tournaments. It's been years since I read it, and I can't wait to revisit it with all of you.
Okay, friends. Back to our regularly scheduled programming. Let's do this.

The USWNT is asking for $67 million to end lawsuit. But much more is at stake.
On Thursday night, lawyers representing the U.S. women's national team (USWNT) players and the U.S. Soccer Federation (USSF) both dumped hundreds upon hundreds of pages of documents into the world relating to the USWNT's gender discrimination suit against USSF, which was granted class-action status last November, and is set to go to trial on May 5th.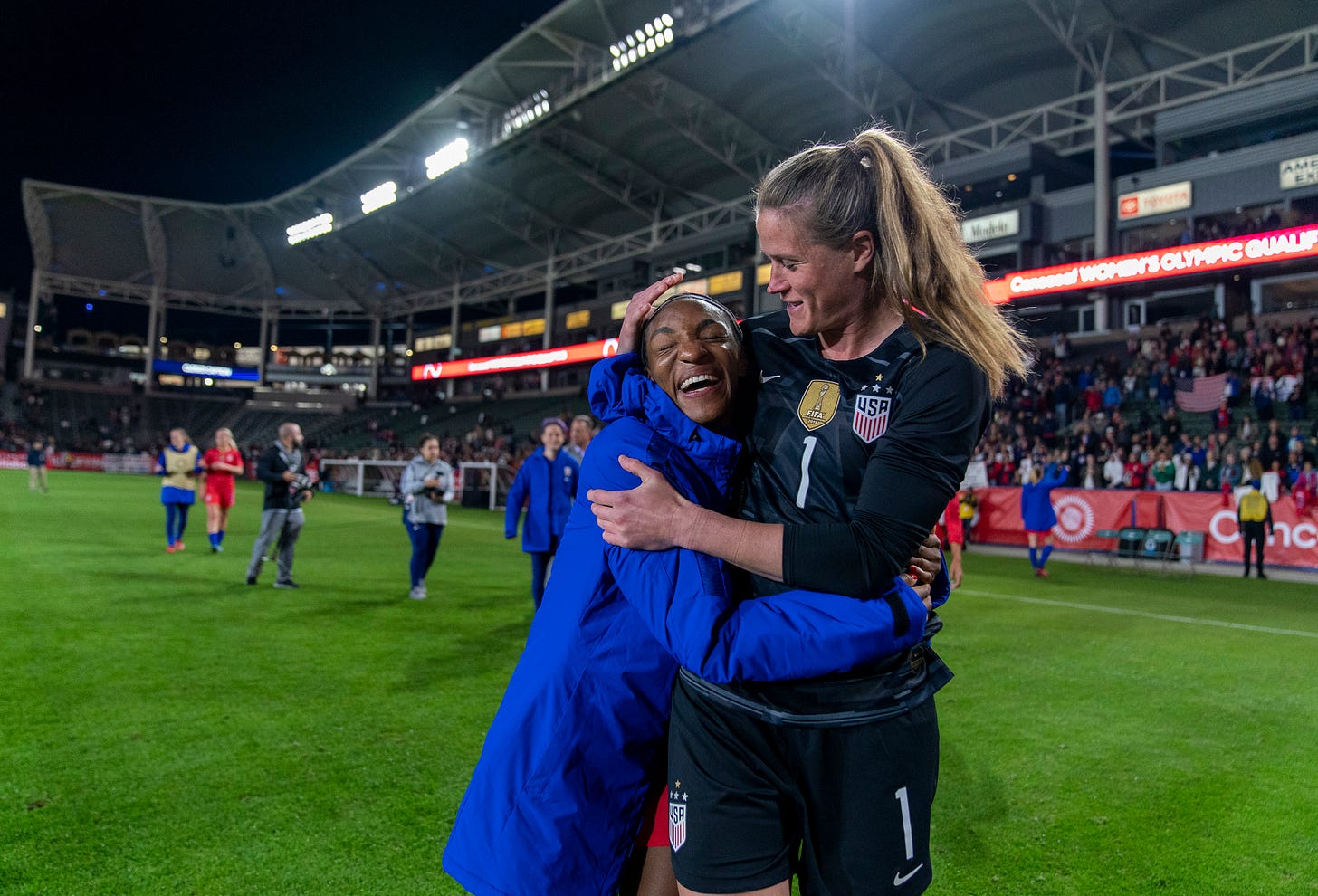 (This photo of Crystal Dunn celebrating her 100th USWNT cap with Alyssa Naehr is the epitome of pure joy, and I needed more of that in my life today, which is the reason I chose this photo. CREDIT: Getty Images.)
I planned to spend the weekend reading through the hundreds of pages, and pulling out the most eye-rollingly sexist parts, and placing them here today so that we could all have an angry laugh. But the more I read and read and read (and read and read and read), the less I felt like angry laughing. I simply felt sick to my stomach.
You see, the USSF is trying to convince a judge that is it paying the USWNT fairly, and isn't discriminating based on gender. And, according to these documents, a substantial part of USSF's strategy rests on arguing that women's soccer is just a lesser product than men's soccer, women don't play against comparable competition to the men, and the women's team couldn't beat the men's team, and therefore the women just don't deserve as much money as the men.
Am I doing a bit of emotional paraphrasing? Admittedly, yes. But just barely.
This strategy is apparent at first in the deposition excerpts included in the document dump. Below, a USSF lawyer (Q) is questioning USWNT star Carli Lloyd (A) about whether the women's national team is as skilled as the men's team.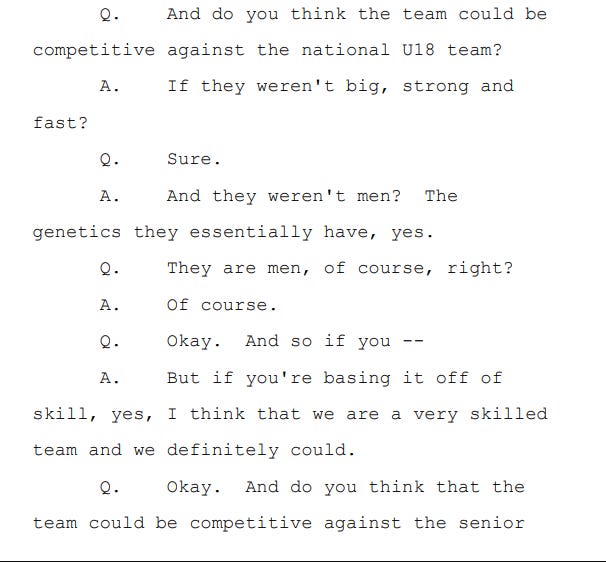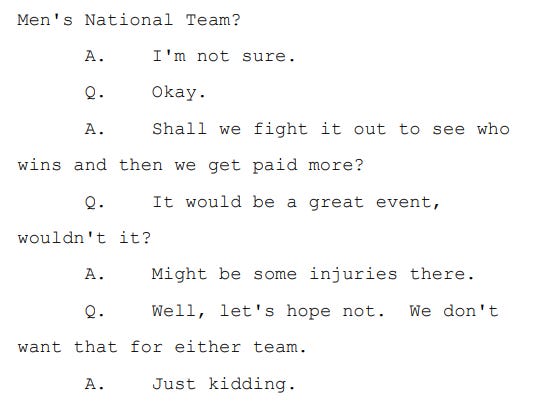 Lloyd, cutting through the bullshit as always, sees what they're doing immediately: "Shall we fight it out to see who wins and then we get paid more?"
(SIDE NOTE: YESSSSSSSSSSSSSSSSSS, well done, USWNT Players, monetize that sexism.)
The USSF (Q) subjected Alex Morgan (A) to the same demeaning line of questioning.

And they even got former USWNT head coach Jill Ellis (A) to join in on the fun, too.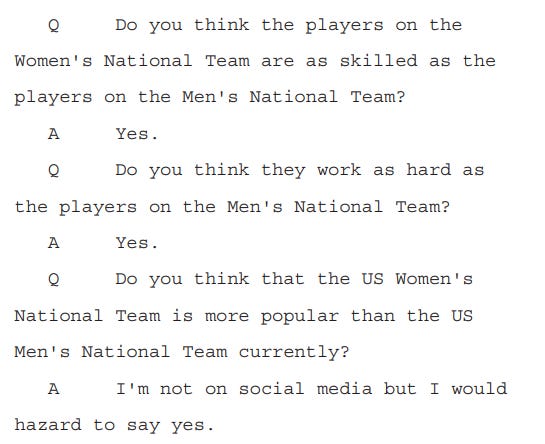 Yes, it's fun to imagine the faces of Ellis and Lloyd and a pregnant Alex Morgan as the USSF lawyers asked them those questions.
But what's not fun is how the answers they gave are being used to support one of the USSF's argument against equal pay, presented below in their memorandum of points and authorities in support of its motion for summary judgment.

In the excerpt below, you can see how the Lloyd's words were used against her to support the above claim.
Here's what really gets me about this: The USSF does have some points, that in a court of law, could potentially work in their favor in this case. The USWNT voluntarily agreed to its collective bargaining agreement in 2017, and USSF has not broken it. The amount of money FIFA provides federations for men's World Cup participation vs. women's World Cup participation is astronomically different, and makes things trickier for federations. The structure of the USWNT's current CBA is very different than the one for the men's, since it prioritizes security and benefits over big-time bonuses.
I'm not saying that I agree with the USSF's position in this. I do not. I'm saying, there are arguments they can make that don't put the inherent worth of women's sports up for debate in a court of law.
Unfortunately, the USSF legal team has chosen to support pay inequity by arguing that women are physically different than men and a top women's team likely couldn't beat a top men's team and so the two sports should not be valued in equitable ways.
As I've said before in Power Plays, you either respect women's sports or you don't. Women don't have to beat men to prove their worth.
But now? I guess we just have to hope a judge agrees. That is, frankly, terrifying.
This document dump also gave us a true glimpse into the disrespect that former USSF president Sunil Gulati had for the USWNT. You can see that in the confidential email below, which was unclassified in the filings, that he told the now-president Carlos Cordeiro to stop showing support for the women's fight for more pay.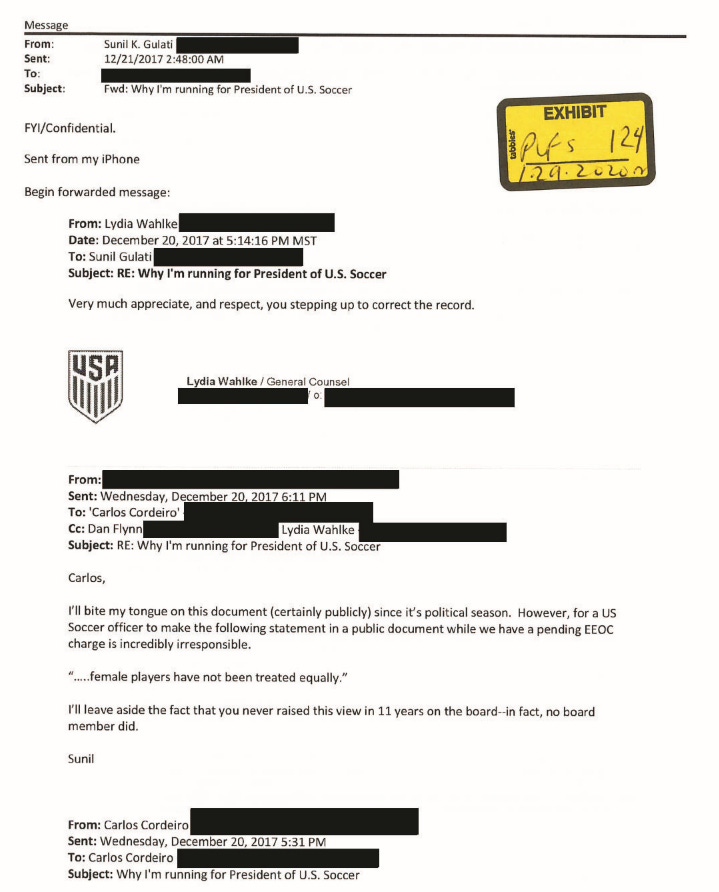 And, you can also see Gulati's disrespect in his declaration as part of the motion for summary judgment, where he essentially said the quiet part out loud.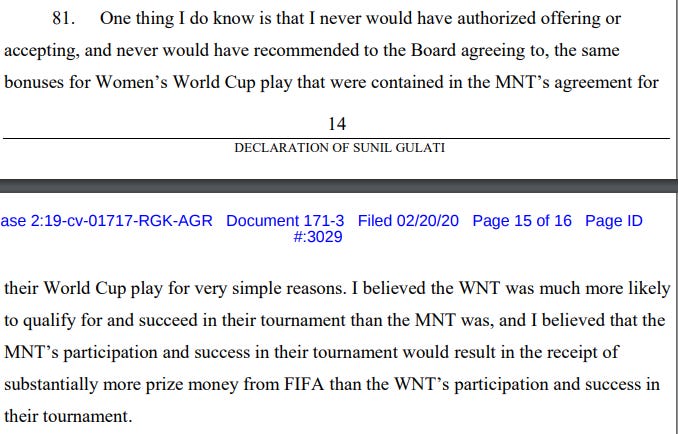 There's another deadline for motions and such at the end of March, so we'll certainly be keeping an eye on the advancement of the case. But things are getting more serious by the day, and I'm honestly not feeling great about it.
(I've just touched on a very small part of the filings here. As always, when it comes to any women's soccer news, read The Equalizer; Kim McCauley at SBNation.com — who I realize now made a very similar point to mine, albeit with some added context about the USSF because she's brilliant; Steph Yang at SBNation's Stars and Stripes; and Meg Linehan at The Athletic.)

From the Archives: "For women, soccer reigns"
I went into a deep hole looking for an archival clipping for today's post, partly because I was using it as a way to cope with my anxiety about the launch of paid subscriptions, but also because the history of collective bargaining in women's soccer is endlessly fascinating to me.
And yet, the piece I ended up selecting today has nothing to do with union solidarity. Rather, it's a piece published in the Providence Journal on June 10, 1995 about the growing popularity of soccer among girls and women in the United States.
All in all, it's an informative but fairly standard article, not highlighting one earth-shattering moment in time or anything like that. But I can't get it out of my mind because of the last two paragraphs, which include a quote from Jim Kelly, who at the time was the director of Rhode Island's Olympic development program.
Here's what reporter Stephen Heffner wrote:
One of the things Kelly feels that has made it easy for girls to step into soccer is the relatively late start that soccer in general got in America, which means it lacks the lengthy, male-dominated history that, say, baseball has.

"Women have had more of an opportunity in soccer because they have not had a tradition to go against," said Kelly. "Women don't have to be men to play this game. Women's soccer has its own territory to lay out."
I think a lot about why certain female athletes break through to the mainstream and why others don't. And I'm asked a lot in particular about the difference in the popularity between the U.S. women's basketball team and the U.S. women's soccer team. Racism, certainly, plays a huge part. But that's not the entire reason. Because men's soccer wasn't as established in the United States when women's soccer started to take off, the women were given the space to define their own identities in a way women's basketball players — and, say, women's hockey players, too — never did.
The quote, "Women don't have to be men to play this game," is problematic for multiple reasons, but I do understand what is at the crux of his statement. Women soccer players in the United States didn't have to fight as much tradition; instead, they got to create their own.
Of course, even though they blazed a new trails, and set their own traditions, they still have to fight tooth and nail for respect and money. *GIANT SIGH*

Thank you all so much for supporting Power Plays. Remember, the 30% off deal is only available through Wednesday, so take advantage now.
I'll be back on Wednesday for an open thread, so get your questions ready.